Travel trailers with bunk beds are true blessings when you have kids, a large family, friends within your RV circles, or just enjoy entertaining guests. And, if you're concerned about space, the RV industry knows a thing or two about space conservation and innovative, roomy designs.
Bunk beds provide RVers with a larger degree of freedom. When sleeping arrangements are adequate and you don't have to toss pillows down on the floor or tell guests they'll have to get a motel, planning is far more convenient.
Of course, not every travel trailer is created equally. So we scrounged around and compiled some of the best options, large and small, available on the RV market. So, if you're sick of feeling smothered by kiddos sharing your bed, check out our choice of best travel trailers with bunk beds!
1. Airstream Flying Cloud 30FB Bunk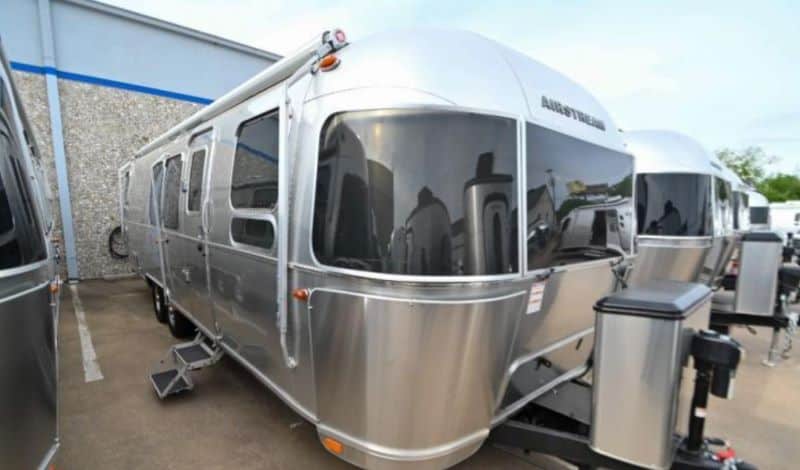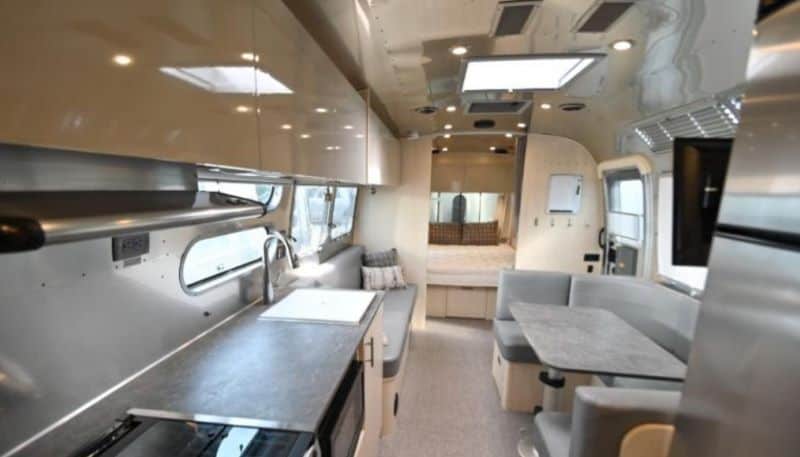 Our Pros And Cons
✅ Prewired 'Airstream Connect'
⛔ The TV isn't in the best location for comfortable viewing
Length: 23′ 9″
UVW: 5,000 lbs
GVWR: 6,000 lbs
CCC: 1,000
Tongue Weight: 500 lbs
Sleep: 4
This bunk floor design is different from the Airstream Flying Cloud 30 FB Office (which is excellent in its own right). Families will love this floor layout. It's been popular with families for the past few years. Even before the office layout came out.
You can choose between the Sunlit Maple with Carolina Clay or the Sunlit Maple with Seattle Mist interior aesthetics. 'Sunlit' Maple is a popular wood color with Airstream, though the clay and mist variations are nice and complement cushion color tones.
The huge, U-shaped dinette really stands out and is the perfect size for a traveling family. You also have the jackknife sofa for more leisure on a hot afternoon. There's a solid amount of counter space and a ton of large overhead storage compartments.
The iconic, classic Airstream aesthetic is prevalent, inside and out, with gleaming, shiny aluminum juxtaposed against light, maple woodwork. It's a nice look, and the amenities throughout are more than enough to accommodate a large family.
2. Coachmen Catalina Summit Series 8 261BH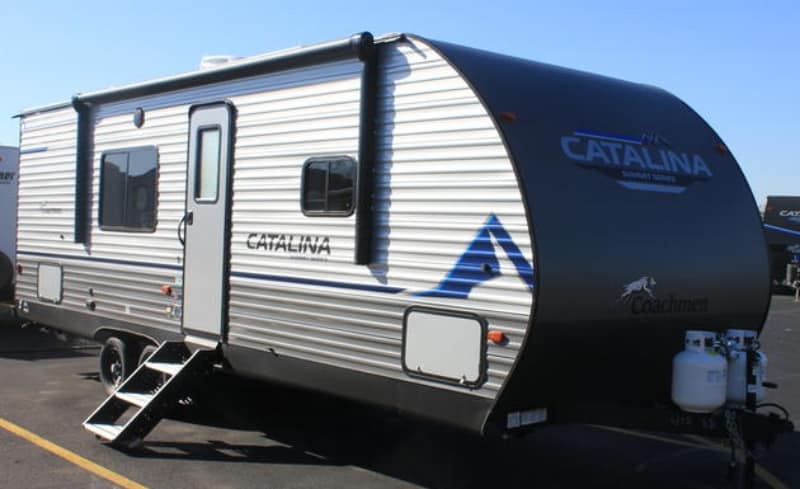 Our Pros And Cons
✅ Large, double-bed bunks for big sleepovers
⛔ Counter space is a little limited
Length: 30′ 1″
UVW: 4,822 lbs
GVWR: 6,400 lbs
CCC: 1,578 lbs
Tongue Weight: 515 lbs
Sleep: 6
The Coachmen RV Catalina Summit Series 8 261BH is very family-friendly. It takes more than bunk beds to make a great RV space for families, and the Catalina does a fantastic job down to the tiniest details. For instance, the sofa has flip-down cup holders so you can lay back and relax or keep the kiddos from spilling their Kool-Aid on the sofa.
Besides, what family doesn't appreciate fully customizable LED lights on a 15' electric awning? The 261BH includes a full bathroom, which is nearly a necessity if you have kids along for the ride or frequently host guests.
As far as traveling goes, the leaf-spring suspension isn't known for being the best but it's more than adequate. However, the self-adjusting brakes are a welcome addition for those who spend a lot of time on the road. There are five packages to choose from, including one which features interior touch lighting!
3. Cruiser RV Radiance R-28QD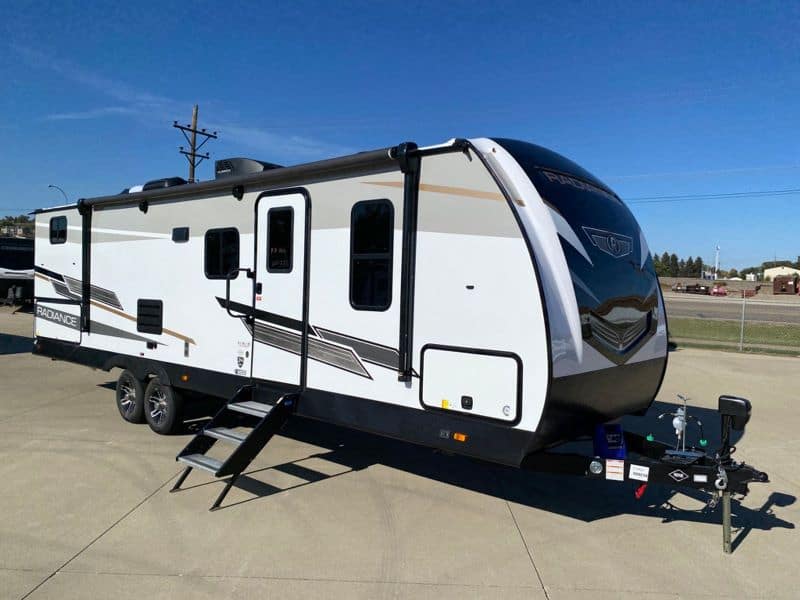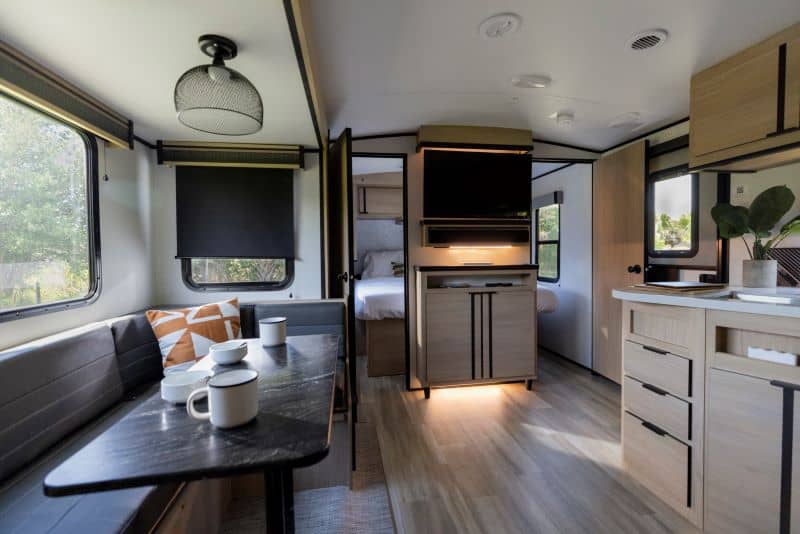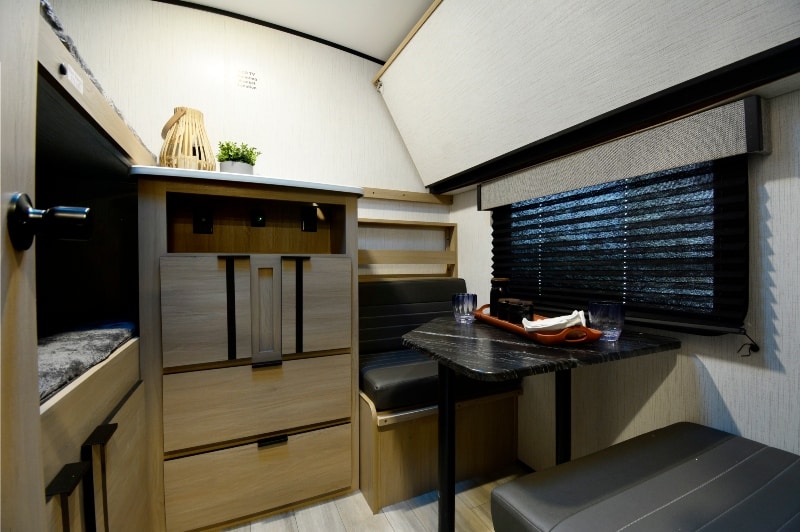 Our Pros And Cons
✅ This bad boy sleeps up to 9!
⛔ Vent fan is on the smallish side and could use an upgrade
Length: 33′ 4″
UVW: 6,680 lbs
GVWR: 9,634 lbs
CCC: 2,922 lbs
Tongue Weight: 834 lbs
Sleep: 9
The Cruiser Radiance R-28QD is all about privacy, featuring a private master bedroom and a private bunkhouse. That's not the end of the features by any means. For a travel trailer that sleeps 9, accommodations must be made, including a tri-fold sofa, four bunks, and a king in the master bedroom.
Obviously, that's a lot of people under one roof, so Cruiser took an interesting tack. Instead of a traditional dinette adjacent to the galley, the R-28QD dinette is integrated with a part of the bunkhouse. As you can see on the floorplan, the camp side bunk is over the top of a portion of the dinette.
This does wonders for opening up space in the center area of the RV. The Cruise Radiance also features a full bath, adequate counter space, and a sliding king bed. That's right, a sliding king gives you some leeway to open up one side of the master bedroom or the other.
A full belly storage system and plenty of cabinets, nooks, and crannies offer plenty of storage capacity for a large group on the road.
4. East to West Della Terra 291BH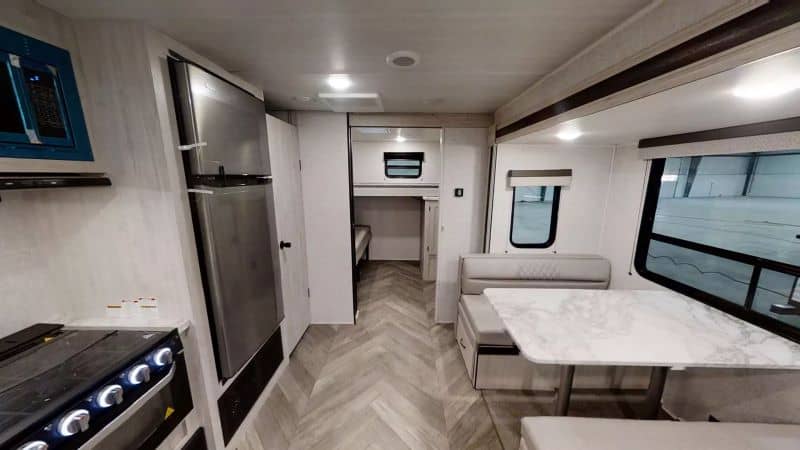 Our Pros And Cons
✅ Fantastic bunkroom design with complete privacy
⛔ Bunkroom and kitchen windows are very small
Length: 37′ 8″
UVW: 8,328 lbs
GVWR: 9,990 lbs
CCC: 1,662 lbs
Tongue Weight: 1,190 lbs
Sleep: 8
East to West's Della Terra 291BH manages to pack in bunk beds, space for sleeping up to eight, and a king bed while still remaining a spacious RV overall. With a full bathroom and a radius shower, there's plenty to accommodate a large family and a feeling of spacious luxury for couples.
The sliding door leading into the bunkhouse is one of those tiny little details that makes a huge difference in space-saving design. The oversized booth dinette and jack knife sofa mean plenty of room for a boy scout eggs and pancakes feast in the mornings.
The Bluetooth and HDMI connectivity always goes over well with kids, and there's plenty of ceiling height (81") for taller adults. If you're traveling through Minnesota in January, the heated, anti-puncture underbelly comes in handy.
One of the lower bunks is a queen that folds into a sofa, so the kid's or guest room can quickly convert into an alternative entertainment pad.
5. Forest River R-Pod RP-193
Our Pros And Cons
✅ A ton of storage for a travel trailer this size
⛔ Sink is outside the bathroom
Length: 22′ 2″
UVW: 4,059 lbs
GVWR: 5,317 lbs
CCC: 1,258 lbs
Tongue Weight: 447 lbs
Sleep: 4
It's a rare travel trailer and tear-drop hybrid that comes along, with plenty of space for families or groups. This little 'R-Pod that could' manages to do an awful lot in a small amount of space. Only 22' in length, the RP-193 features a queen Murphy bed, a large bathroom, and twin bunks.
Once the Murphy bed is folded back, the sofa has enough seating room for five if you want to scrunch or enough room for a couple and a very large, space-hogging doggy. The refrigerator is adequate at 6 ft³, and there is a surprising amount of 'move-around-the-house' space.
Storage space is also emphasized in the RP-193, with a ton of interior storage options to pack away enough supplies, gear, and luggage for moderate family sizes. Forest River seemed to have anticipated heavy cooking smells in a small space.
Instead of sticking with the status quo, they offer an optional outdoor griddle. Of course, if you like filling your R-Pod up with the smell of bacon, you can still cook indoors.
6. Grand Design Reflection 312BHTS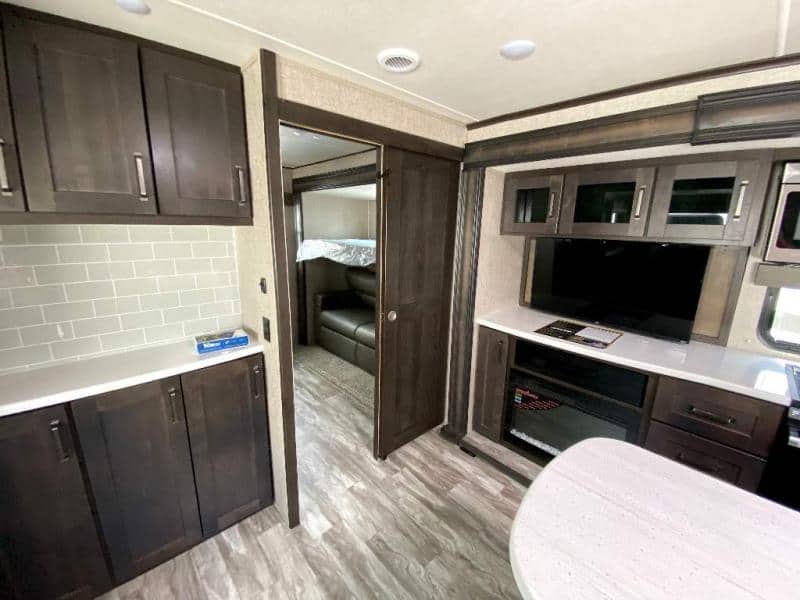 Our Pros And Cons
✅ Tankless water heater saves water for large families
⛔ Leaf spring suspension is a bit bumpy
Length: 37′ 4″
UVW: 9,432 lbs
GVWR: 11,295 lbs
CCC: 1,863 lbs
Tongue Weight: 1,044 lbs
Sleep: 6
It's always a good idea to follow up a 22' travel trailer with a 37'+ monster and, with that being said, we arrive at the Grand Design Reflection 312BHTS. The 312BHTS is nearly 5 tons dry, a pretty sizeable (understatement) travel trailer for a traditional hitch and go.
It's also one of Grand Design's top models, so it features the accompanying luxuries and accommodations you would expect in a behemoth. Seeing as you can cram a lot of people in here, the tankless hot water heater comes in very handy. You don't have to waste water waiting on it to heat up.
The bunk room is fantastic for kids and guests but can easily flip into a fine office or study—even a room with enough space to practice your favorite hobby. If you want to turn it into a gaming center with consoles, smart TVs, or projectors, go for it.
The 312BHTS features a fully loaded outdoor kitchen for family gatherings and cookouts with a dual burner, sink, and mini-fridge.
7. Gulf Stream Envision Signature Series 18RBD
Our Pros And Cons
✅ Features a full, private bath in a small package!
⛔ Only pre-wired for an A/C unit
Length: 21′ 1″
UVW: 3,160 lbs
GVWR: 3,900 lbs
CCC: 740 lbs
Tongue Weight: 320 lbs
Sleep: 4
The Gulf Stream Envision Signature Series 18RBD features several family-friendly accommodations. Even smaller than the R-Pod, the 18RBD features a full bath, bunks, and a full-size bed. All these are loaded with storage options, whether in the overhead or in the pass-through.
It's also incredibly easy to set up, with four manual stabilizer jacks. As small as it is, it's nothing to level and set up once you're parked. However, you'll need to keep your eyes open on the market for an A/C since the Envision only comes pre-wired for an A/C unit. Not all RV dealers order A/C units that are optional.
There are a total of three wardrobes, a tub/shower, and a sizeable refrigerator round out the surprising number of campground luxuries Gulf Stream managed to cram in. The dinette is more than adequate for a family of four, and there's enough living space to add in a foldout chair or two for company.
8. Heartland Prowler 335SBH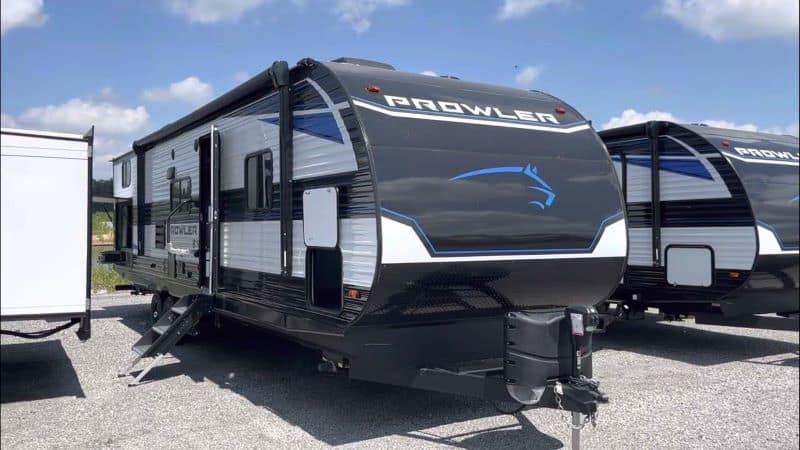 Our Pros And Cons
✅ Huge living space with plenty of seating
⛔ TV location catches glare from widows to either side
Length: 37′ 8″
UVW: 8,830 lbs
GVWR: 11,380 lbs
CCC: 2,518 lbs
Tongue Weight: 1,180 lbs
Sleep: 8
The triple slide Heartland Prowler 335SBH is a loaded powerhouse for families looking for a roomy, accommodating travel trailer. Heartland is all about 'largesse' in its 335SBH model, including a double-door fridge, a long, U-shaped dinette, and a king bed slide-out.
With triple slides, the 335SBH transforms into a highly spacious interior, with large closets, plenty of walking space in the living area, a sofa, and all stainless steel appliances. Outside living is on the menu as well, with a 20' power awning and a fully loaded, exterior kitchen.
Lighting makes a huge difference, in terms of roomy aesthetics, and the panorama windows make a large living space look even larger. If the kiddos are outside playing, you'll be able to keep them in the corner of your eye no matter what you're doing.
For those who use their smartphones as an additional appendage, there are USB charging ports everywhere in this large and comfortable travel trailer. With a completely closed-off bunkhouse and a sizeable room to boot, you have a number of customization options, whether you want a playroom in there or a large entertainment and gaming center.
9. Keystone Bullet 250BHS
Our Pros And Cons
✅ It has a laundry chute!
⛔ The TV space is a bit small
Length: 29′ 5″
UVW: 5,748′
GVWR: 7,400 lbs
CCC: 1,652 lbs
Tongue Weight: 715 lbs
Sleep: 8
Of all the nice things you will find in a Keystone Bullet 250BHS (double-size bunks with one that flips up, bedroom privacy, a 19' electric awning, exterior kitchen, a large, U-shaped dinette, bunk beds), the laundry chute is the most amazing. That's right. The Keystone Bullet 350BHS has a laundry chute.
It also has some extra, L-shaped counter space and a large, 10 ft³ refrigerator. For an 'ultra-lightweight' RV, it certainly lacks the feel of it. Even the queen bed in the master bedroom leaves enough 'walk-around' space.
Pass-through storage is pretty much a standard feature nowadays, but it's always good to mention it, especially for those who are traveling with a large enough family to merit the extra storage options.
Sure, the kitchen sink is only a single-basin affair, but it's also huge and stainless steel! To top everything off, there's a laundry chute.
10. KZ Sportsmen SE 332BHKSE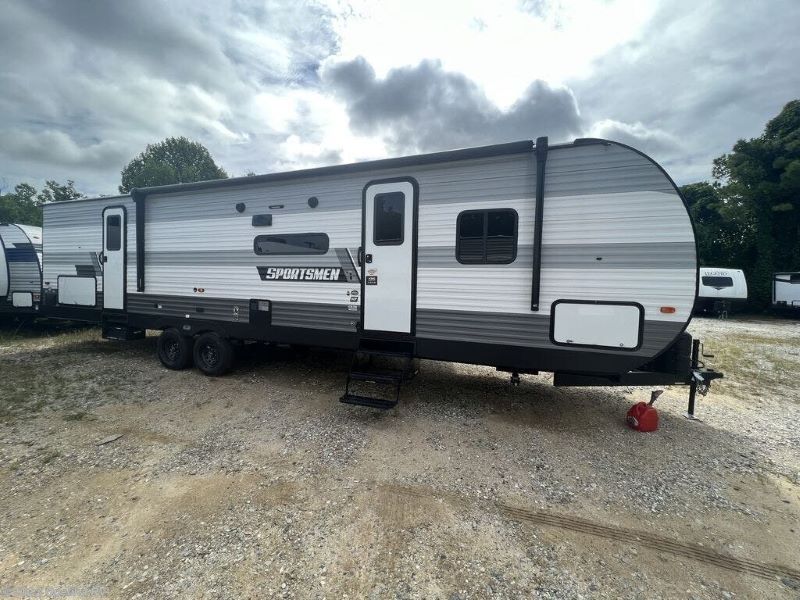 Our Pros And Cons
✅ Tough Shield Exterior and Tufflex roofing
⛔ Bathroom door interferes with the bunk house entrance
Length: 37′ 3″
UVW: 7,390 lbs
GVWR: 8,800 lbs
CCC: 1,410 lbs
Tongue Weight: 930 lbs
Sleep: 10
It's an up-and-down, rollercoaster ride with our picks, small to huge, light to heavy. Now, we're back to large and heavy with the 37' 3", three-and-a-half ton LZ Sportsmen SE 332BHKSE. Don't you just love those long acronyms with three or more digits?
With two bunk beds (one has a Jiffy Sofa on the bottom), an 80" U-shaped dinette, a queen-sized bed in the master bedroom, and a bench seat, there are plenty of rest and relaxation spots for a pretty crowded affair.
KZ is really pushing its Tough-Shield exteriors and Tufflex roofing, both of which are fantastic in terms of durability and longevity. Speaking of technology, the RV Airflow system is fairly impressive on its own, and it will keep the entire trailer cool no matter how many are crowded inside.
There is plenty of storage space as well, with large cabinets throughout, along with pass-through storage (which still retains its obligatory mention even when we're 10 travel trailers in). Overall, this is an excellent choice for large families.
11. Northwood Nash 29S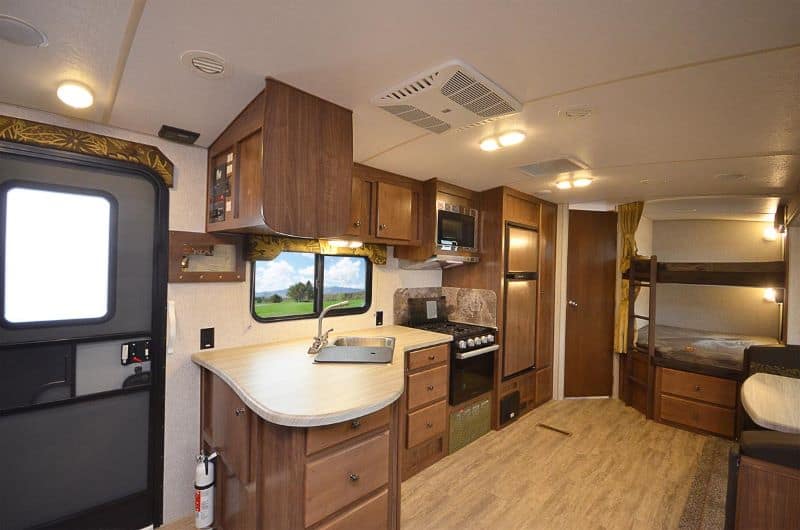 Our Pros And Cons
✅ Entry door to bathroom keeps the camper cleaner
⛔ Only has one A/C unit
Length: 32′ 4″
UVW: 6,564 lbs
GVWR: 10,700 lbs
CCC: 6,564 lbs
Tongue Weight: 796 lbs
Sleep: 10
It's nice to see a simple, three-character name—29S—for our next travel trailer with bunk beds option. The Northwood Nash 29S has a strong, home-feeling, warm aesthetic going for it, something you immediately notice when walking in either of the two entryways.
If you're kids like plenty of bed space, the double-over-double is more than enough. Also, if you're having adult guests over, they'll appreciate the larger real estate they get to lay on. In case you need more sleeping room, the 85" dinette converts into a bed as well.
Both the dinette and the jack knife sofa take up the camp-side slide out and, across from them, you have the galley area with a good deal of counter space and a three-burner stove. The queen-size bed leaves plenty of space to move about, with two, extra deep wardrobes for all your finer clothes.
Back to the bunk beds, the lower bed is hinged, so you can easily move it out of the way and make yourself some office space or give the little ones a little more playroom throughout the day. It even works as an office if you have the extra table and chair to bring in there.
12. Palomino Puma 32BH2B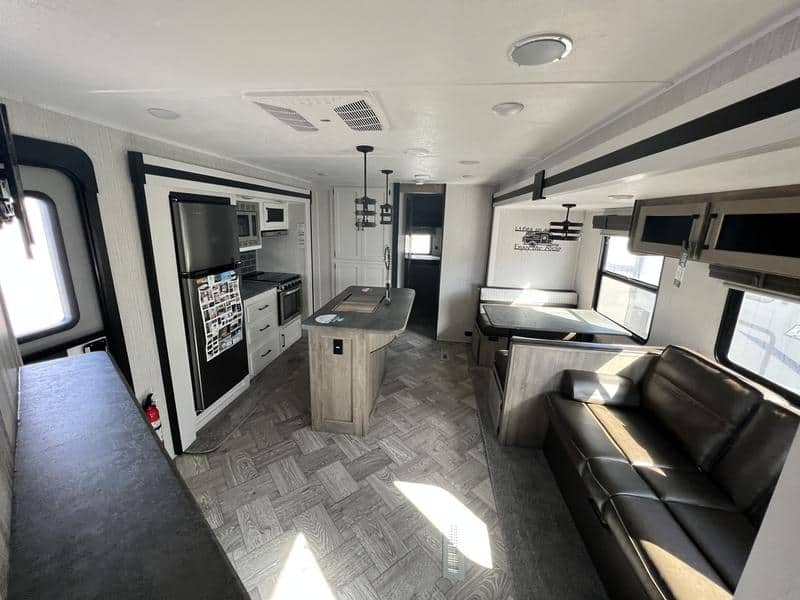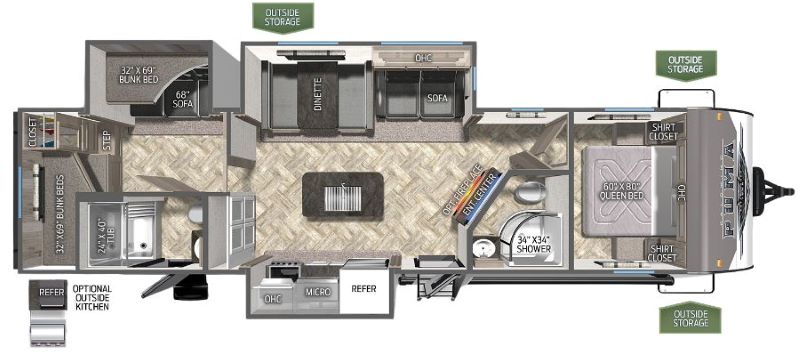 Our Pros And Cons
✅ Features two, full bathrooms
⛔ Walking space is a little more limited with a kitchen island
Length: 38′ 6″
UVW: 9,023 lbs
GVWR: 11,230 lbs
CCC: 2,207 lbs
Tongue Weight: 1,030 lbs
Sleep: 7
The Palomino Puma 32BH2B is another largish travel trailer on our illustrious, magnificent travel trailers with bunk beds article. It's pretty awesome too. Palomino sacrificed a bit of living space by opting for a kitchen island but the island is too nice to gripe much, if at all.
It features a dual-basin sink, with outlets on one end and a curving, detachable faucet head for easy rinsing and washing. But, that's not the star of the show. Aside from the unique layout of the bunkhouse, this Puma has two, full bathrooms!
One is completely enclosed in the private bunkhouse so the kids can have their own bathroom, all to themselves. There's also a load of storage, especially with the pass-through storage and a separate storage compartment on the exterior.
The bunkhouse is essentially a room unto itself—more than just a spot to sleep and nothing more. It features steps leading up to one of the bunks, with the steps uniquely entangled with a storage closet. The standing space and wall allow room for some customization and a wall-mounted TV.
13. Prime Time Tracer 200BHSLE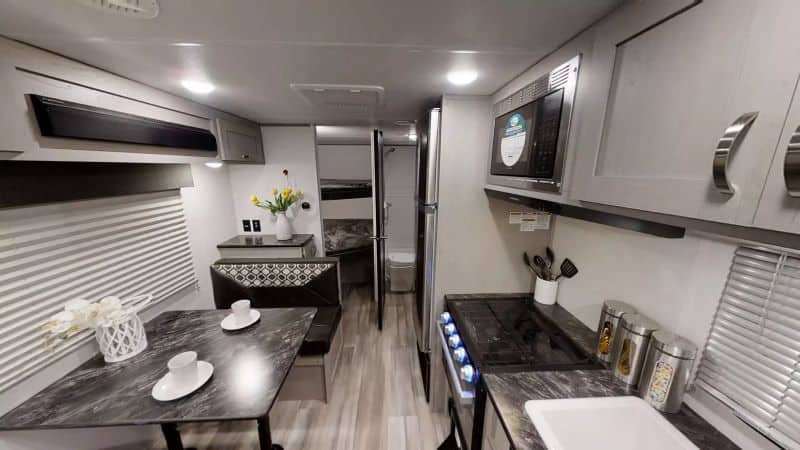 Our Pros And Cons
✅ Over 3,000 lbs of cargo carrying capacity
⛔ It might be a little packed for more than a small family
Length: 24′ 11″
UVW: 4,128 lbs
GVWR: 7,450 lbs
CCC: 3,322 lbs
Tongue Weight: 450 lbs
Sleep: 7
The Prime Time Tracer 200BHSLE is another fantastic option. As travel trailers with bunk beds go, it stands up under scrutiny. This is especially true when you consider the goal of Prime Time was to manufacture a roomy travel trailer with bunk beds at a reasonable price.
They did just that. The 200BHSLE features a double over double and plenty of space for a travel trailer with no slides. Some things are packed in a little tight but it still features a full bathroom, a queen with dual-opposing wardrobes, and a sizeable dinette.
You can take your adventures outside as well, with a 17' awning providing plenty of shade. In order to drive down cost, there is no exterior kitchen but you can pack plenty with over 3,000 lbs of cargo carrying capacity. It's also a solid travel trailer in the winter, with an enclosed underbelly that's heated.
The full bathroom is roomy enough that you can do more than just spin in a 360° circle, with enough room in the shower to make cleaning up plenty comfortable. This is a rock-solid travel trailer with bunk beds—affordable, with limited 'extra options' and everything you would expect from its class.
14. Rockwood Signature 8336BH
Our Pros And Cons
✅ Two refrigerators—one in the bunkhouse and one in the kitchen
⛔ Awning is a bit on the small side at 11′
Length: 36′ 8″
UVW: 9,669 lbs
GVWR: 11,320 lbs
CCC: 1,651 lbs
Tongue Weight: 1,320 lbs
Sleep: 9
Forest River is back on the list with an ultra-light offering otherwise known as the Rockwood Signature Ultra Light 8336BH. This is also another RV that features a kitchen island. The King-U dinette is as large and comfortable as it sounds, and it sits next to a 60" sofa for plenty of seating options.
The queen bed is a part of the forward, camp-side slide-out, allowing for some much-needed space in the master bedroom. Across the way is a sizeable wardrobe that also features a washer and dryer hook-up. Of course, if you install a washer and dryer, it eats up some of that space.
The awning is on the small side, only 11', and a part of the central slide-out. However, its location is right next to the exterior kitchen, so it works out in the end. This is also the perfect RV for keeping the kids out of the refrigerator and away from your favorite snacks.
That's because there is a second fridge in the bunkhouse, beneath the 42" x 72" bunk. Prepare to load up on icicle pops! There's also plenty of extra space in the bunkhouse so if you want to turn it into a second entertainment center or a large office, the possibilities are endless.
15. Wayfinder RV Go Play 26BH
Our Pros And Cons
✅ L-shape living space is designed to accommodate everyone
⛔ Due to an affordability focus, it lacks add-ons and extra options
Length: 29′ 6″
UVW: 4,740 lbs
GVWR: 6,500 lbs
CCC: 1,760 lbs
Tongue Weight: 615 lbs
Sleep: 8
Last but not least on our travel trailers with bunk beds (it's the best article on the subject by the way) rundown, is the Wayfinder RV Go Play 26BH. This is another bunk bed offer that is built with affordability in mind, without losing out on the primary features of a nice travel trailer for families.
The L-shaped living space is fairly roomy and is designed to keep everyone from being right on top of each other, even if the whole family is hanging out inside. The dinette folds out into a bed for additional sleeping space and the jack-knife sofa provides even more sitting space for large groups.
If you have kids along for the ride, they'll be happy to know that the sound system within features Bluetooth, so they can catch stream their favorite tunes without plugging in. The kitchen is fairly sizeable, with moderate counter space and plenty of cabinetry for a fully stocked galley.
The split bathroom actually works out great for a family, allowing you to wash your hands without having to wait for one of the kids to finish up.
It certainly helps that the Wayfinder is one of the most affordably priced travel trailers in its class. If you're looking for a great travel trailer with bunk beds but don't need all of the excess, it's the perfect choice.
How Much Weight Can An RV Bunk Bed Hold?
Generally speaking, an RV bunk bed holds anywhere between 200 lbs and 400 lbs. The specs should be in the RV owner's manual. It's worth checking out if the kiddos are planning a slumber party, and there might be two or three hanging out on a bed at a time.
If you have kids, you're probably familiar with what they can do to a poor bed mattress in short order. This is especially true when they confuse their bed with a trampoline.
Can Adults Sleep In RV Bunk Beds?
For the most part, adults can sleep in RV bunk beds without an issue. The only potential drawback would be height. Bunk beds are usually twins or doubles in terms of size, so someone taller than 6' might not find it the most comfortable experience.
If you're tall and sleep curled up, it might be okay for a night or two. Just don't attempt to stretch out in the middle of the night. Human heads versus walls is mostly a one-sided battle that no one should fight at two o'clock in the morning.
How Can I Make Camper Bunks More Comfortable?
You can make a camper bunk more comfortable by adding mattress toppers or simply changing the mattress to another brand. Most mattress companies manufacture RV mattresses, so you shouldn't have any trouble tracking down what you want.
Tochta is a popular brand within the RV industry, as well as a few others. One of the benefits Tochta offers RV customers is the opportunity to 'custom build' their own mattresses. This includes the mattress size, choice of sheets, mattress protectors, whether or not you want it hinged, and the option to add moisture barrier technology.
For those of us who need a very specific mattress type (it's also fantastic to have choices when one of your children deals with eczema or gets heat hives), a custom order is the way to go.
4 FAQs On Travel Trailers with Bunk Beds
1. What is a quad-bunk RV called?
They are called bunkhouses. Sure, the term gets thrown around for any RV that has bunkbeds, whether it's two or four beds total. However, the correct terminology for a quad-bed travel trailer is a bunkhouse. The two-bed versions are just travel trailers with bunk beds.
2. What size are RV bunk beds?
For the most part, RV bunk bed sizes are twins or full-size beds. However, keep in mind there are often disparities between RV bed sizes and residential bed sizes. If you're RV shopping and need to know, bring a tape measure along or break out the owner's manual.
3. How do you make sheets fit an RV mattress?
The aforementioned disparity in bed sizes mentioned above is a problem when it comes to buying sheets. Your best bet is to purchase your sheets from camping and online stores with an RV focus.
4. Is it legal to sleep in bed while the RV is moving?
Not in a travel trailer. It may be legal in any type of motorhome, however, it's a matter of law in the state you're traveling through or live in. Check your state's seatbelt laws to find out for sure (in motorhomes, of course), but avoid sleeping in a travel trailer bed while on the move.
Final Thoughts on Travel Trailers with Bunk Beds
If you're on the lookout for travel trailers with bunk beds because you have a large family, love to entertain guests, or just want to have that option, it's hard to go wrong with the above, fifteen options on our list.
From the smallest to the largest, these travel trailers are incredibly accommodating and spacier than they look from the outside. Any one of them is ideal for a family on the go or RVers who need a guest room for kids and grandkids!
---
Related Reading:
---
About the Author:
Thomas Godwin is a full-time freelance writer with a BFA in Creative Writing, a U.S. Marine, and an avid outdoorsman.
When he's not writing, he's raising chickens and Appleyard ducks. Thomas also constructs teardrop campers (attempting to anyway) and kayaks the Blackwater River with his wife, two daughters, and his Dobermans.