In recent years, travel trailers with office space have been increasingly in demand. RVing is still, for many, an escape from work. But dedicated office space in a travel trailer is a must for digital nomads, remote workers, and homeschoolers.
As the demand for office space on the road has increased, many RV manufacturers have taken note. It's becoming more common to see travel trailer floorplans with desks or even dual-purpose office spaces.
Still, DIYers love the relatively blank slate of a toy hauler's garage when looking to create an on-the-go office. Even bunkhouses are great options for retro-fitting office space in a travel trailer.
This article will show you the best travel trailers with office space. You'll also learn about some DIY ideas about turning your existing space into an RV workspace.
Office Space in Travel Trailers Makes Remote Work Possible
Dedicated office space within a travel trailer is a huge bonus. Sure, you could set up a workstation at a dinette, but that's one of many solutions and might not be your best option. Constantly setting up your computer and other office supplies, only to store them away for a meal, is inconvenient at best.
Not only that, but the inability to separate a workspace from the main living room within your travel trailer can be very distracting. Office space in a travel trailer makes remote work feasible by keeping everything you need in one place and as free from distraction as possible.
12 Best Travel Trailers with Office Space
There are many great travel trailers with office space, so we wanted to take some time to highlight some of our favorites.
Full Desks in Travel Trailers with Office Space
1. Airstream Flying Cloud 30FB
Our Pros and Cons
✅ When expanding the bunk, the comfortable office chair stores under the desk!
⛔ The front walkway space in the master bedroom gets tight.
UVW: 6,804 lbs.
Tongue Weight: 814 lbs.
Length: 30.10 ft.
GVWR: 8,800 lbs.
CCC: 1,996 lbs.
Sleep: 2-7
One of the best things about the Airstream Flying Cloud 30FB Office is that you don't sacrifice sleeping space for office space in this travel trailer. When you aren't hard at work, the office converts to a bedroom with a pull-out twin bed.
This dual-purpose private space is tucked behind a curtain behind the back of the travel trailer. Free from distractions, you'll really be able to get some work done in this on-the-road executive office. The plush desk chair and windows offer amenities previously reserved for more high-end home offices.
Although Airstream's founder, Wally Byam, could likely never imagine the boom that would be remote working, the company has done well keeping up with the times. Airstream gives you that iconic Silver Bullet aluminum look with the latest innovations from the biggest names in residential furnishings.
2. East to West Alta 2810KIK
Our Pros and Cons
✅ The real desk and televator provide a massive amount of multi-use surface space!
⛔ A big window prevents you from mounting a computer monitor
UVW: 7,228 lbs.
Tongue Weight: 797 lbs.
Length: 33.8 ft.
GVWR: 9,597 lbs.
CCC: 2,369 lbs.
Sleep: 2-6
Maybe you can telecommute a few days a week and use that opportunity to extend your camping weekends from two days to four. If so, you'll appreciate the East to West Alta 2810KIK fifth wheel style travel trailer with office space perfect for part-time RVers.
Unlike traditional desks, this office space offers open cubbies. It's a great option because you can store office supplies, crafts, and school supplies. When you think of office space, your mind might go to telecommuting. But artists and vloggers will also appreciate this desk space's flexibility.
The Alta 2810KIK has features beyond the unique office space that are worth mentioning too. One of our favorites is the rooftop solar panel with a trickle charge for your RV battery. This means your refrigerator can run off the battery as you travel down the road. An excellent feature for anyone moving their RV from place to place!
3. Grand Design Imagine 2670MK
Our Pros and Cons
✅ The desk has contained drawers, and the kitchen counter is one level!
⛔ There's no king-bed option
UVW: 6,485 lbs.
Tongue Weight: 690 lbs.
Length: 32.3 ft.
GVWR: 8,495 lbs.
CCC: 2,010 lbs.
Sleep: 2-6
As one of the best luxury travel trailers with office space, the Imagine 2670MK spares no expense. You'll love the oversized desktop, which can fit dual computer monitors. Overtop the desk, you'll find a panoramic window that offers both light and a change of scenery when you're hard at work.

Above the expansive desk, you'll also find enclosed cabinets with an under-mounted light for working past sunset. The desk also has drawers, which you'll surely appreciate for concealing all your office supplies.
Expansive storage is a theme throughout the Imagine 2670 MK. Beside the desk, you'll find an oversized pantry and extra large refrigerator. After a long day of telecommuting, the luxurious indoor and outdoor kitchens offer all the appliances you'll need to prepare yourself a top-chef-style meal.
Grab a bottle of wine from the dedicated wine drawer and enjoy your meal in front of a cozy fire. With all of its upgrades, the Imagine 2670 MK is a luxury travel trailer with office space perfect for full-time RVers.
4. KZ Connect C292RDK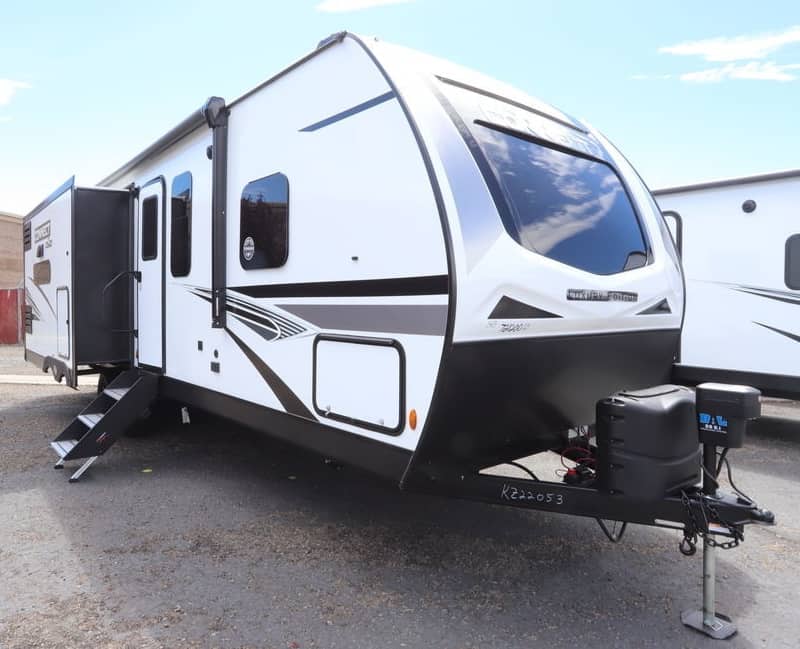 Our Pros and Cons
✅ The desk comes with a chair, and this RV has a king bed!
⛔ Office chair positioning can be tight next to the dinette.
UVW: 7,140 lbs.
Tongue Weight: 740 lbs.
Length: 32.5 ft.
GVWR: 9,175 lbs.
CCC: 2,035 lbs.
Sleep: 2-6
The rear desk fifth-wheel style floorplan has been around for a while. KZ's Connect was one of the first to debut this layout. It's easy to see that the Imagine and Alta have both taken inspiration from this popular floorplan. But the KZ Connect 292RDK has also been modernized and upgraded too.
Recently their aesthetic has evolved from a backwoods cabin vibe to more of the ever-popular farmhouse rustic style. With the knotty pine design of the floors and two-toned cabinetry, even the top interior designer TV personalities are sure to love the decor of this RV.
Speaking of aesthetics, we love the rustic paneling and many coat hooks that comprise the mud room-like entry. We also can't get enough of the large walk-in pantry.
Whether you shove workday snacks on a shelf or organize them with perfectly coordinated mason jars, this pantry has all the space you need!
5. Cruiser RV Shadow Cruiser 215RBS
Our Pros and Cons
✅ This is a great mid-size travel trailer with a real desk!
⛔ Due to its weight, this is a 1/2-ton travel trailer.
UVW: 5,264 lbs.
Tongue Weight: 714 lbs.
Length: 25.7 ft.
GVWR: 7,714 lbs.
CCC: 2,418 lbs.
Sleep: 2-4
At just over 25 feet, the Cruiser RV Shadow Cruiser 215RVBS is the most compact travel trailer with office space on our list. You'll be impressed with all of the amenities packed into this travel trailer under 30 feet.
The office space is tucked in the back of the coach beneath a large panoramic window. You'll love the ample drawer space. The desk's proximity to the entertainment center also means that the cabinets can easily be used for extra office storage if necessary.
In addition to the desk, you'll find features like the L-shaped kitchen, U-shaped dinette, and king-sized sliding bed. These amenities are all intended to maximize space within this small travel trailer. The Shadow Cruiser 215RBS is a compact little camper with a lot of bang for your buck.
Learn more about the Shadow Cruiser 215RBS and other cool unique floorplans in 2023 in the November 22 edition of RV Camping Magazine!
Bunkhouse Travel Trailers with Office Space
6. Heartland Trail Runner 30RBK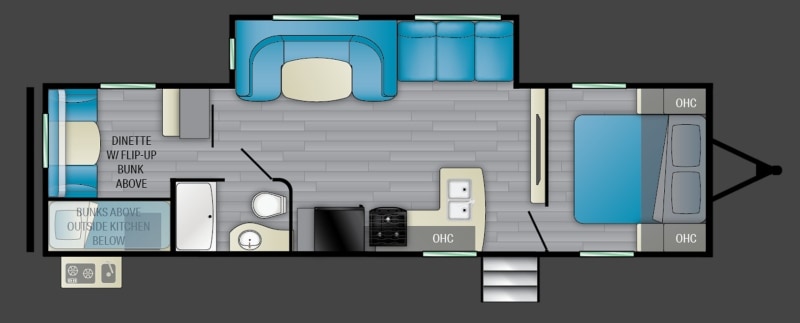 Our Pros and Cons
✅ The bunkhouse can seat 2 remote workers!
⛔ Windows in the road side living room are the only ones good for Zoom backgrounds
UVW: 6,590 lbs.
Tongue Weight: 722 lbs.
Length: 35.5 ft.
GVWR: 9,000 lbs.
CCC: 2,378 lbs.
Sleep: 5-10
Bunkhouses are great options for those that work on the road. There are so many innovative ways to utilize the bunk room as an office space. The Heartland Trail Runner 30RBK has a bunkhouse that easily doubles as an office.
Located in the back of the coach, the private bunkhouse has a dinette that can double as a desk. The overhead bunk flips up, giving you extra headroom while you work.
There's even additional storage in the form of a small entertainment center that can be repurposed for office supplies. DIYers can add an extension to the open storage space, making it ideal for a keyboard, turning it into a third RV workspace.
This 35-foot camper has three distinct spaces. Due to the privacy of the doors and the distance between the bunkroom/office and the rest of the living space, your office area will be quiet and distraction-free.
The bunkhouse can easily transform from an office by day to a sleeping space by night. The Heartland Trail Runner is a great option for RVing families with work-from-the-road needs.
7. Forest River X-Lite 273QBXL
Our Pros and Cons
✅ Easy to adapt the bunkhouse to office space!
⛔ Don't lean too hard on the Versa-Lounge back cushions.
UVW: 6,028 lbs.
Tongue Weight: 752 lbs.
Length: 33.5 ft.
GVWR: 7,752 lbs.
CCC: 1,724 lbs.
Sleep: 5-10
Forest River doesn't offer built-in desks, but the X-Lite 273QBXL still ranks among the best travel trailers with office space on the market. That's because the versatile bunkhouse can be easily transformed into office space.
The tall wardrobe cabinet in the bunkroom is perfect for a standing desk. If a traditional desk is more your style, the Jiffy Sofa can easily be removed and replaced with a desk of your choosing.
But if you want to work comfortably, set up an adjustable surface space for your keyboard and mouse so you can lounge while working.
With the bunkroom/office, the X-Lite is one of the few travel trailers under 8,000 pounds that offers this type of separate space. You can easily tow this travel trailer with a Ford Expedition or Toyota's Hybrid Sequoia.
With office space out of the main living area and its easy towing capabilities, the X-Lite 273QBXL is an excellent choice.
8. Jayco Jay Flight 33RBTS
Our Pros and Cons
✅ There are plenty of 110v, USB, and TV hookups in the right spots!
⛔ We'd prefer a cooktop in the outside kitchen.
UVW: 8,600 lbs.
Tongue Weight: 1,090 lbs.
Length: 37.10
GVWR: 10,950 lbs.
CCC: 2,350 lbs.
Sleep: 5-12
Jayco's best travel trailers with office space are the Jay Flight 33RBTS and its sister coach, the 324BDS. With the TV outlet and coax cable hookup conveniently located near the dinette, we think the 33RBTS is the better pick purely for ease of hooking up a computer.
You can easily use the bunkhouse dinette as your workstation. However, if you prefer a more traditional desk, you could remove the rear dinette and replace it with a desk of your choosing.
If you prefer a proper desk, then the 324BDS is also worth considering. The TV and internet hookups are located on the camp side and, therefore, less conveniently located to your workspace. That being said, the J-cube sofas in the bunkhouse are easy to remove, even for the most novice DIYer.
Either one of these Jaycos is an excellent choice of travel trailers with office space. Which one you prefer is really a matter of preference.
Travel Trailer Pro Tip: Before the RV office space revolution, the bunkhouse dinette became passe in the mid and late 20-teens. Yet Jayco had the foresight to keep the feature going in some of their lineups. So if you're lucky enough to find a used model with the bunkhouse dinette, grab it before it's gone.
Toy Hauler Travel Trailers With Office Space
9. Keystone Outback Ultra-Lite 240URS
Our Pros and Cons
✅ The garage is long enough to hold most motorcycles and your office!
⛔ If you prefer a flat floor, look into its sister coach, the Outback 342CG.
UVW: 5,491 lbs.
Tongue Weight: 590 lbs.
Length: 28.6 ft.
GVWR: 7,590 lbs.
CCC: 2,099 lbs.
Sleep: 2-8
Another travel trailer under 30 feet with office space is the Keystone Outback Ultra Lite 240URS. This RV has a really great layout because of the rear slide-out for the owner's bedroom area. We love how spacious this innovative floor plan feels.
This Keystone Outback is also untraditional because the front garage has 2 twin bunk beds rather than a drop-down queen. The garage area in the front is perfect for carrying heavy cargo as it helps prevent travel trailer sway by concentrating more weight towards the tongue of the trailer.
The front cargo space is also easily transformed into an RV office space. Use the large ramp to move office furniture in and out. This compact and lightweight toy hauler allows you to maximize your living space in more ways than one.
10. Alliance Valor 42V13
Our Pros and Cons
✅ We like how the garage half bath doesn't take up garage space!
⛔ For child safety, we'd prefer the loft open in the living space.
UVW: 15,600 lbs.
Tongue Weight: 3,050 lbs.
Length: 44.1 ft.
GVWR: 20,000 lbs.
CCC: 4,400 lbs.
Sleep: 2-9
If you have a work hard, play hard mentality, the Alliance Valor 42V13 is the towable RV with office space for you. The Valor 42V13 has three distinct spaces and two bathrooms, making it perfect for larger families or couples with staggered schedules.
The garage can be modified into a spacious office. With a push of a button, the HappiJac sofas are easily stowed, creating enough space for two separate desks. Using the sofa supports to hold your desks has the added benefit of allowing you to move your surface space to various heights.
Modifying the trailer in this way also means that your desk easily stores up and out of the way with the push of a button. You'll also love the track tie-down system, which allows you to secure anything from a file cabinet to a four-wheeler.
The Valor 42V13 is an investment worth making for those who need a dedicated RV workspace that can still do double duty as a garage.
11. Genesis Supreme RV Vortex 2715V
Our Pros and Cons
✅ All of the garage furniture is moveable!
⛔ The slide-out isn't flat-floored, so it may not be the best place for your desk.
UVW: 7,460 lbs.
Tongue Weight: 1,320 lbs.
Length: 32.9 ft.
GVWR: 9,900 lbs.
CCC: 2,440 lbs.
Sleep: 2-8
If you want a lightweight toy hauler under 10,000 pounds, take a look at the Genesis Supreme Vortex 2715V travel trailer toy hauler. This RV is a half-ton towable toy hauler that needs a heavy tow package. The tow package upgrade is worth it since this Vortex has a 15-foot garage with an optional slide-out.
That optional slideout is ideal for a DIY-standing RV workspace. You can create the perfect out-of-the-way office space in this travel trailer by replacing the sofa with a desk.
There's even overhead storage in the slide, which is great for housing all of your work supplies. With two additional sofas in this toy hauler travel trailer, you won't miss the sofa on the slide.
This travel trailer sells regionally. If you aren't near a west coast authorized dealer, consider making the drive because this travel trailer with office space is hard to pass up.
12. Grand Design Momentum 397THS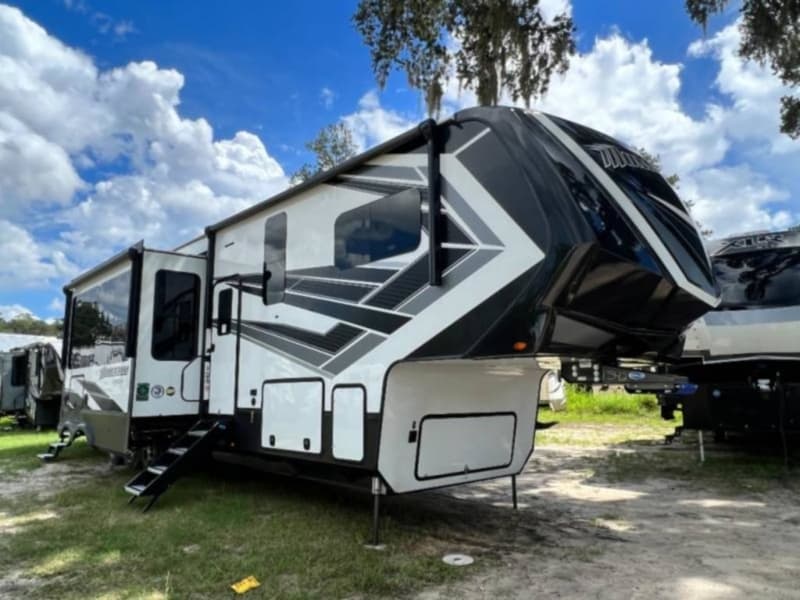 Our Pros and Cons
✅ Dropping the floor in the master shower adds more height!
⛔ The garage overhead bins are very high up and don't have doors.
UVW: 16,250 lbs.
Tongue Weight: 3,570 lbs.
Length: 44.2 ft.
GVWR: 20,000 lbs.
CCC: 3,750 lbs.
Sleep: 2-7
Another luxury towable RV with office space is the Grand Design Momentum 397THS. This RV has a large garage that's easy to customize. Not only that, but this RV boasts a spacious owner's bedroom in addition to a living area with dual slideouts.
The garage space is perfect for an office area for many reasons. Many like the upgraded three-season doors that come in clear, tinted, or blackout. Regardless of the amount of light or privacy you need in your RV workspace, there's an option for you.
Like other fifth wheel toy haulers, the two sofas under the drop-down bed are easily removable. Replace them with a desktop anchored to the HappiJac supports for an adjustable-height RV workstation.
You can also wheel in heavier, more substantial furniture with the ramp and open garage floorplan. This RV garage is a great jumping-off point for any type of home office.
Perks of Having Built-in Office Space in Your Travel Trailer
One of the main advantages of having office space built right into your travel trailer is the time you'll save. Dedicated office space means your monitor, computer, printer, and any other office supplies you need on a regular basis can all remain set up and in one place.
You won't have to waste time setting up your RV office space whenever you need to get some work done. Also, this'll decrease wasted production time searching for things you need for work.
Office storage space allows you to keep everything from client files to video equipment organized and easily accessible.
Another benefit of having dedicated office space in your travel trailer is the ability to free yourself from potential distractions. If your office area is in a bunkroom or toy hauler garage, it's easy to close the door and focus on your work.
There are so many options for creating the perfect RV home office in your travel trailer. If you work from the road, an on-the-go office can be a dream come true.
Do You Need a Big Travel Trailer to Have an Office Space?
Many RVers may be under the impression that they need a large travel trailer in order to dedicate space to an office. However, it's important to think outside the box when determining ways you might be able to incorporate office space into your travel trailer.
You are one step ahead if your RV has a desk already included. However, if you're looking to retrofit a travel trailer with an office, consider space-saving solutions like standing desks or wall-mounted murphy desks.
You can't sleep and work simultaneously, so making a bedroom pull double duty as an RV office is another great option. There are many ways to incorporate an RV office space into even the smallest travel trailers.
Does a Toy Hauler Garage Make a Good Office Space?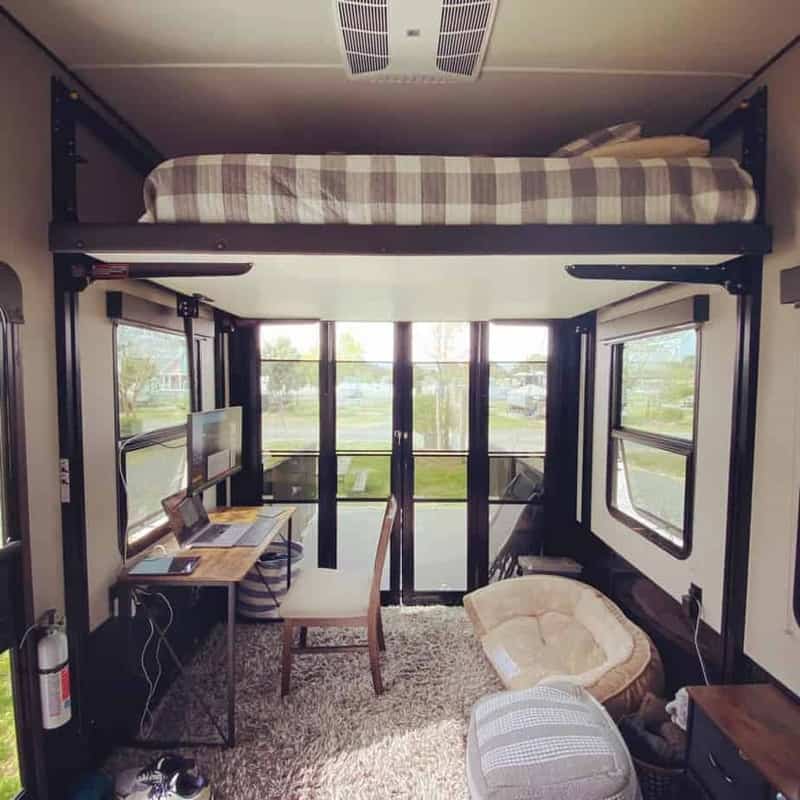 As large, open, yet separate living spaces, toy hauler garages have always enticed RV DIYers. These garages are excellent blank slates from which you can create the RV office space of your dreams.
Toy hauler garages are especially well suited for office transformations because many have HappiJac sofas. These sofas are easily removable, and the brackets left behind make excellent desktop supports.
Toy hauler garages also have ramps and D-ring tie-down brackets. You couldn't ask for a better space to move in and secure heavy work furniture and equipment.
Also, most RV toy hauler garages are separated from the rest of the travel trailer by a door. You'll be free from distractions in this type of travel trailer office space.
Should You Just Use Your Dinette as an Office?
You can set your computer up at your dinette and work from there, but it's definitely not ideal. Dinette spaces are cramped. Unless you use a laptop computer, there likely won't be enough space for your various computer peripherals.
Also, dinettes are typically located in the center of any camper's living space. This makes them one of the loudest and most distracting places to work.
If you and your significant other both work from the road, you almost certainly won't have enough space or privacy at a dinette. As you can imagine, those noise and privacy concerns increase exponentially with kids.
You'll want to use an ergonomic laptop stand and other aids to avoid long-term wrist injury. Remember, the dinette's design is for eating, not working.
How to Make Your Own DIY Office Space in a Travel Trailer
There are many options for creating your own DIY office space in a travel trailer. You can simply remove the cube sofa and add a desk without any demo.
You can uninstall HappiJac sofas in a toy hauler and add desktops that can be raised or lowered.
Another possibility is to fully remove an unneeded bunk or dinette and replace it with a traditional desk.
Whatever route you choose, carving out the perfect office space in your travel trailer is relatively easy. You just need to know what to look for to make your on-the-road office great.
5 Things to Look for in Travel Trailer Office Space
1. Dedicated Desk Space
Any office space in a travel trailer needs dedicated desk space. You'll save so much time when you can leave your computer and RV workstation set up even when not working.
2. Adequate Space for Your Chair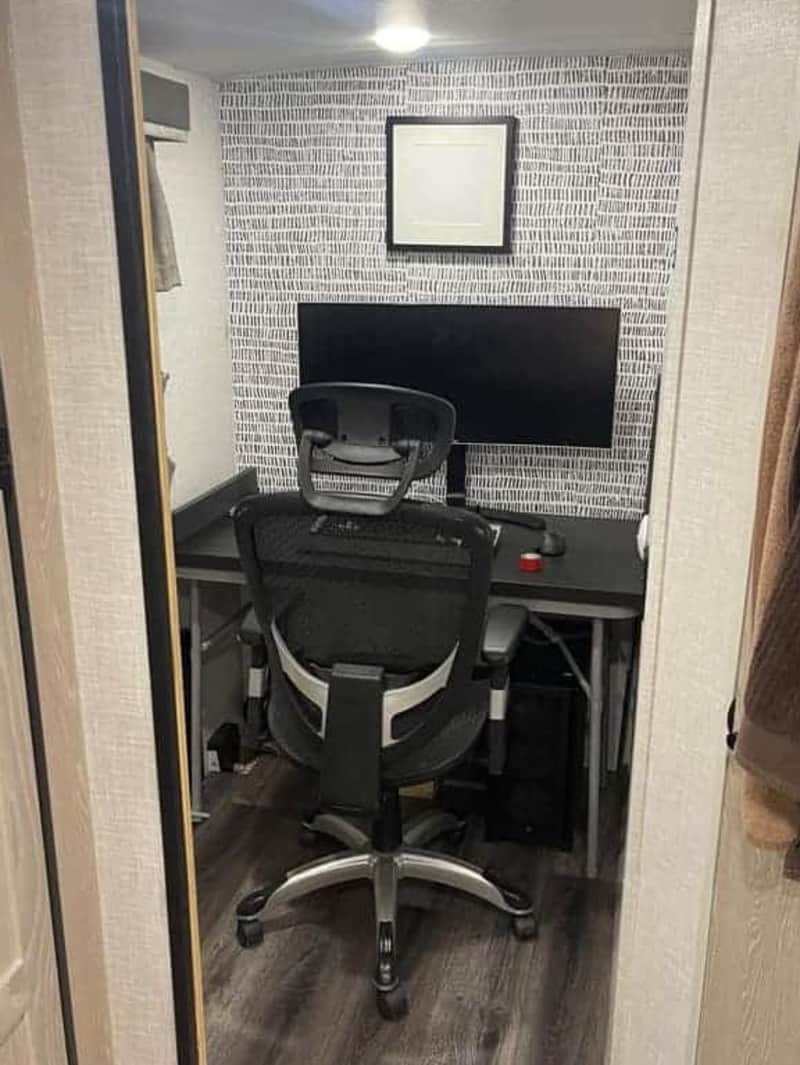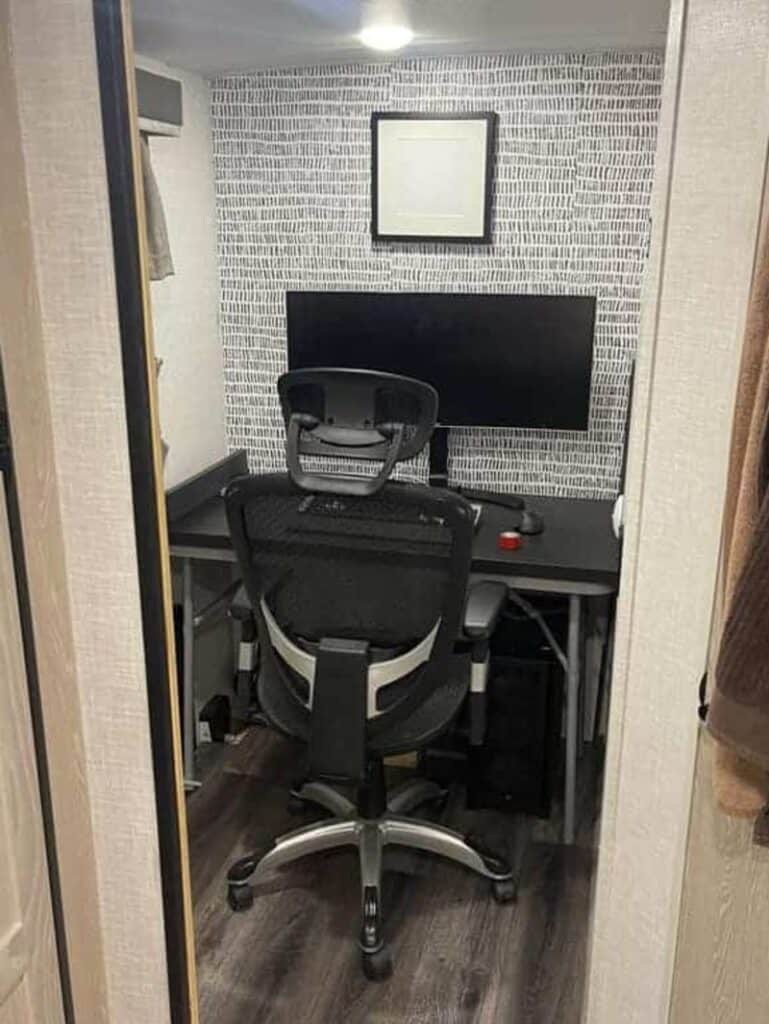 A proper office space, even one in a travel trailer, needs a proper desk chair. Look for space with room for a standard office chair. Just be careful if you go with a rolling model. You'll need a way to lock the wheels or secure the chair as you travel down the road.
3. Desk Storage
Don't forget you'll want somewhere to store your work essentials. You may want to keep your computer set up, but things like printer paper, hard drives, and files need to be organized and out of the way properly.
Look for storage you can repurpose, like overhead cabinets and secondary wardrobes. You can even find portable storage units to add to your RV workspace.
4. Personal Tastes
If you spend a lot of time in your travel trailer office, you'll want the ability to personalize the space. You'll appreciate the room with a small plant or picture of your family.
Adding personal touches and making the space comfortable are easy ways to increase happiness and productivity while you work.
5. Good Lighting
Regardless of whether or not you have a house plant, you'll want good lighting in your RV workspace. Look for a space with lighting that meets your work needs.
Perhaps large windows are ideal for your office space. But if you work on the computer, the ability to block light and glare may be better. Vloggers may have additional lighting challenges as more space may be needed for their equipment.
Remember, you can always add extra lights that can be turned on and off as needed. This can be especially important in a toy hauler where the overhead bed can create a cave-like feel.
Should More RV Manufacturers Put Office Spaces in Their Travel Trailers?
In 1997 David Manners and Tsugio Makimoto published a book called the Digital Nomad. They predicted that technology would eventually allow people to return to a nomadic state by making it possible to work from anywhere. The events of 2020 saw that prediction become a reality for millions.
At the same time, a global pandemic shifted thousands of workers out of traditional offices; teleconferencing on internet platforms exploded in popularity. Suddenly work-from-home professions, once considered rare, became the norm.
At the same time, the demand for motorhomes and travel trailers was on the rise. RVing attracted more attention than ever before because it was one of the few forms of travel that remained possible and relatively safe.
More and more people flocked to the RV lifestyle. The changing nature of the workforce also meant they could extend their trips beyond weekend getaways. Suddenly, the RV industry was inundated with requests for travel trailers with office space.
Since then, manufacturers have begun including everything from full desks to more dual-purpose spaces in their floorplans. But they could do more.
While some professions have returned to traditional office settings, the nature of work for many has permanently shifted to telecommuting. Not only are more people working from home than ever before, but there are more options for virtual learning as well.
Families, no longer restricted by the need to report to an office or school building daily, are taking their lives on the road. No longer is full-time RV living restricted to retirees. RV manufacturers would do well to continue this trend and develop even more travel trailer floorplans with office space.
---
About the Author:
Laura Tyrell is a part-time RVer and full-time mom of three.  Long-time campers and RVers before children, Laura, and her husband have fallen even more in love with the RV lifestyle since becoming parents to a child with food allergies. 
Having her own kitchen on wheels makes her RV trips amazing. Laura is passionate about finding ways to make traveling with young children fun, easy, and attainable.