Travel trailers with a bunkhouse are a great option for those with kids, but they are also a fun option for the kid in you. A bunkhouse offers that little bit of extra sleeping room that's often lacking in standard travel trailers.
Plus, it's great for traveling with friends or extended family when you need that extra bunk or two to make it happen. Adults typically prefer to avoid sleeping on the floor unless there are a lot of good bourbons involved.
Not all travel trailers with a bunkhouse are created equally, which is great for you if you're in the market for one. They generally range from 22' to 40', with a ton of floorplan options and the efficiency of extra sleeping space.
What's the Difference Between a Bunkhouse and a Travel Trailer?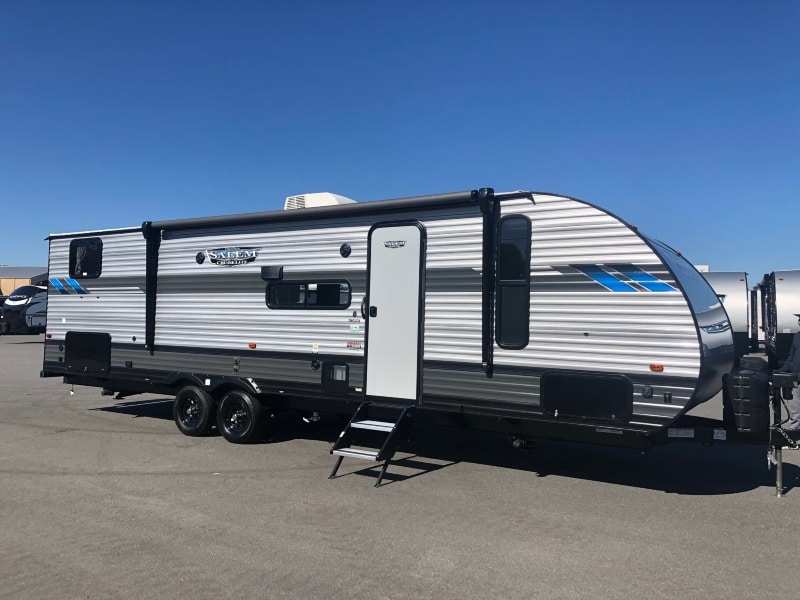 Technically, they're both still travel trailers. The only difference is the bunkhouse option has bunk beds or some variation of a bunk. Travel trailers dominate the RV camping industry. There are so many of them it's easy to get confused as to which is the best.
Manufacturers of travel trailers with a bunkhouse use some pretty ingenuous ways to fit those bunks in there as well, including lofts, which help maintain plenty of vertical space. There's also a large enough variety, including affordable, mid-range, and premium options.
Plus, bunkhouse travel trailers always seem to have the edge regarding a suitable floor plan. If you lay out the bunkhouse models next to their standard cousins, it's easy to see that bunkhouse versions often have a spacier layout.
10 Best Travel Trailers with a Bunkhouse
Travel trailers with a bunkhouse have a nice indoor aesthetic, especially when the bunkhouse resembles a loft. Depending on the size of your family, sleeping space is one of the key factors, along with budget and quality.
That said, here are some of the best travel trailers with a bunkhouse on the market today.
1. Jayco Jay Flight 294QBS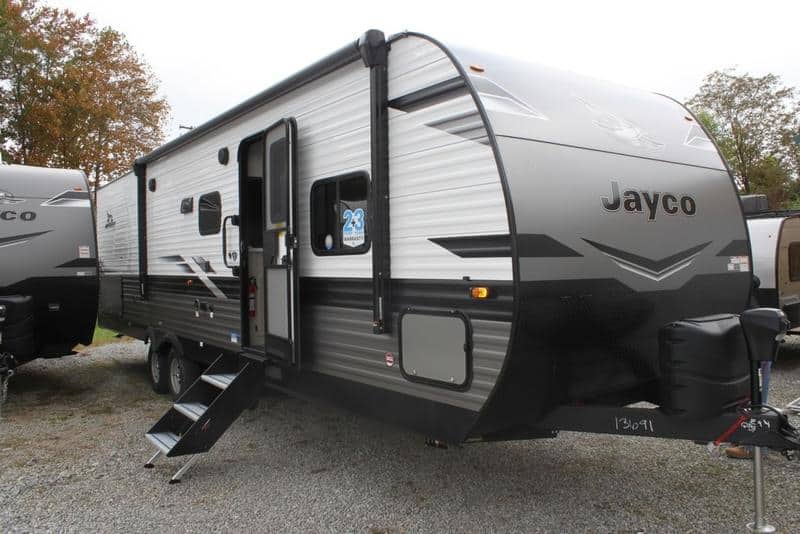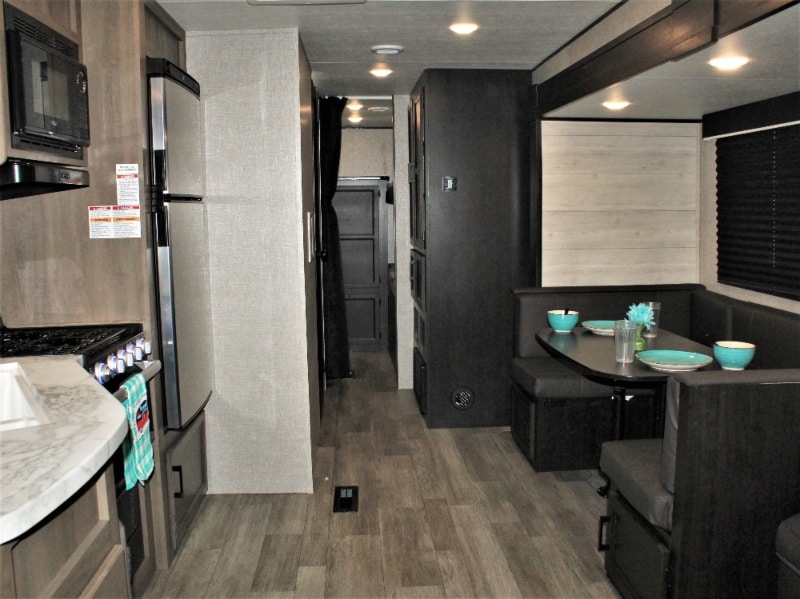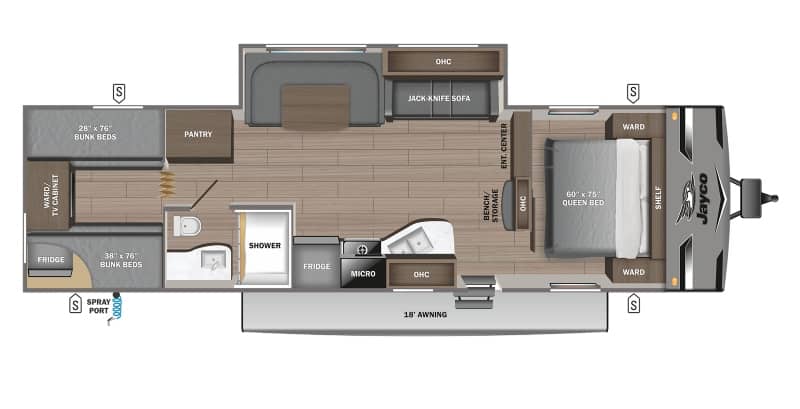 Our Pros and Cons:
✅ Quad bunks in the rear
⛔ Dark interior aesthetic might not be for everyone
UVW: 6,715lbs
GVWR: 8,250lbs
Tongue/Hitch Weight: 910lbs
CCC: 1,535lbs
Length: 35' 7"
Sleep: 14
The quad-bunk room in the back is very spacious. With two foldable beds for optional storage while the others are stationary. The camp-side bunks are a little wider than the right side, but there are plenty of windows and lights for all four.
The Jayco Jay Flight 294QBS sleeps up to 10. Not only can you bring your family along, but they can also bring their friends. Everyone will have a place to sleep.
There is only one full bath, which may have trouble accommodating 10 people, but it's nice nonetheless. The Queen bed sits on the road side of the trailer, next to a loaded kitchen and entertainment combo, seamlessly integrated and loaded with amenities.
The dinette is U-shaped, restaurant style, and sits next to a jackknife sofa. The kitchen contains all the expected amenities, and it's easy to take everything outside to the exterior kitchen if needed.
2. Grand Design Imagine 3210BH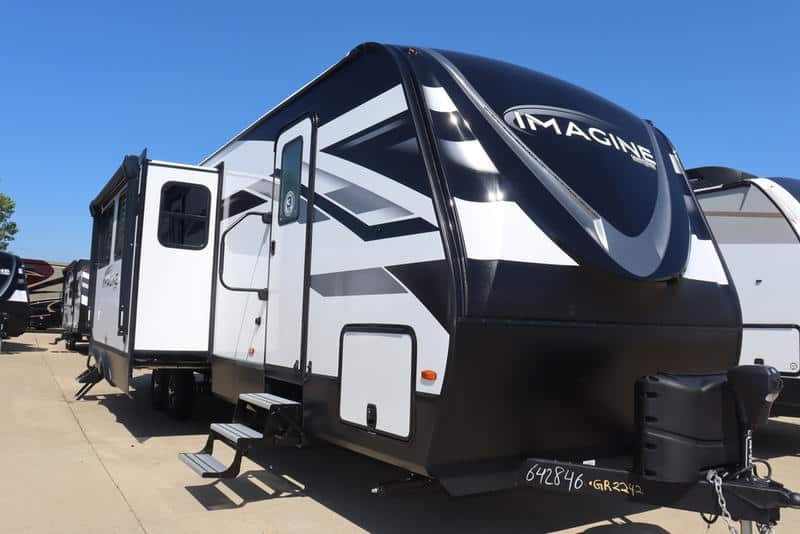 Our Pros and Cons:
✅ Interior is one of the spaciest designs on the market
⛔Pass-through bathroom is lacking in the way of privacy
UVW: 8,394lbs
GVWR: 10,195lbs
Tongue/Hitch Weight: 889lbs
CCC: 1,801lbs
Length: 36' 11"
Sleep: 8
The Grand Design Imagine 3210BH pulls off a magic trick. It's pretty standard looking from the outside (regarding travel trailer aesthetics). When you step inside, however, the amount of space is truly incredible. "Grand Design" indeed.
If you love the high-tech look, the theater seating is really well-thought-out and designed. The main HD TV sits above the dinette booth, with two flanking, upward-firing speakers.
With all that extra space, the 3210BH designed a quad-bunk room on one end, with two flip-top, 34" bunks on one side and two 30" bunks on the other. The exterior includes an outside kitchen with a fridge, grill, and a 9' awning.
For those who have boondocking in mind, there is an option to add the Imagine Solar Package to support your power needs off the grid.
3. Keystone Hideout 21BHWE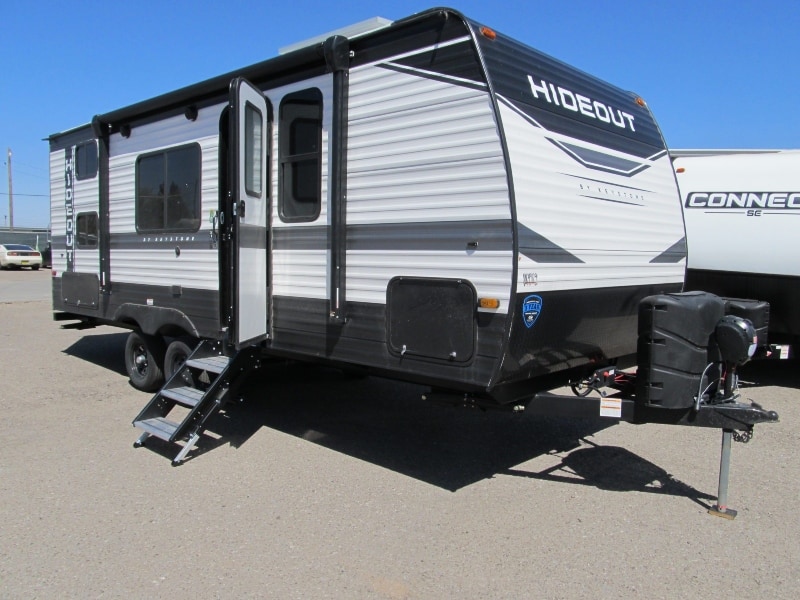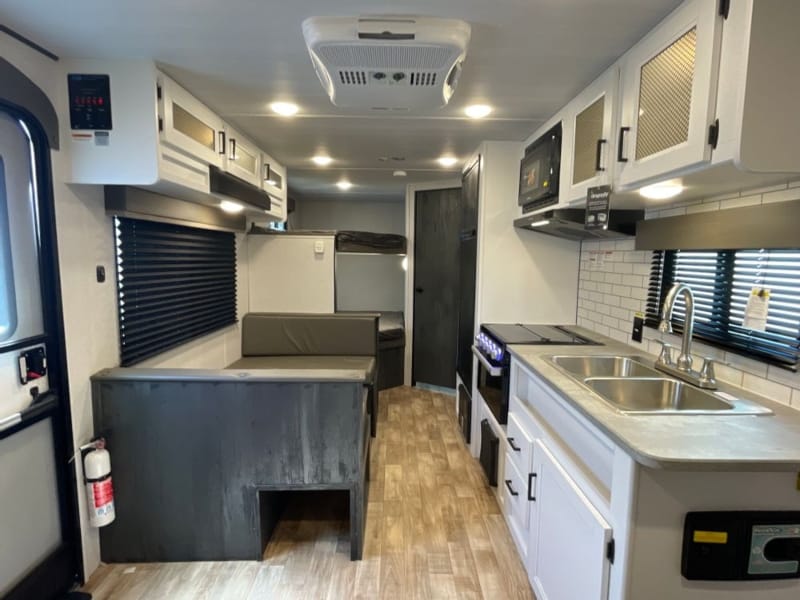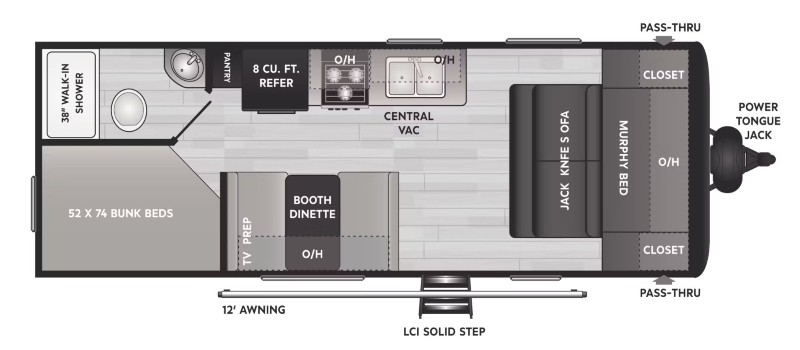 Our Pros and Cons:
✅ Small and easy to tow
⛔ It may be too small for larger families
UVW: 4,496lbs
GVWR: 7,000lbs
Tongue/Hitch Weight: 538lbs
CCC: 2,507lbs
Length: 25' 4"
Sleep: 7
The Keystone Hideout is one of the most affordable travel trailers with a bunkhouse on our list, with an MSRP of $22,639. One of the main attractions of the Hideout 21BHWE is the versatility of the interior.
The jackknife sofa in the living room converts into a murphy bed, converting the front living space into a bedroom in just a few seconds. The Hideout also includes a set of bunks. Being a little smaller has limitations, so there is no quad-bunk here.
The bunk beds are double-size, and despite the small nature of the Hideout, there is still plenty of space inside, along with several storage options.
With that being said, you can still sleep 7 comfortably. This is also a lightweight travel trailer, making it much easier to hook up and tow, especially with the addition of four stabilizer jacks. The power awning is fully adjustable, and the exterior includes speakers for plenty of outdoor entertainment.
4. Palomino Puma 28BHSS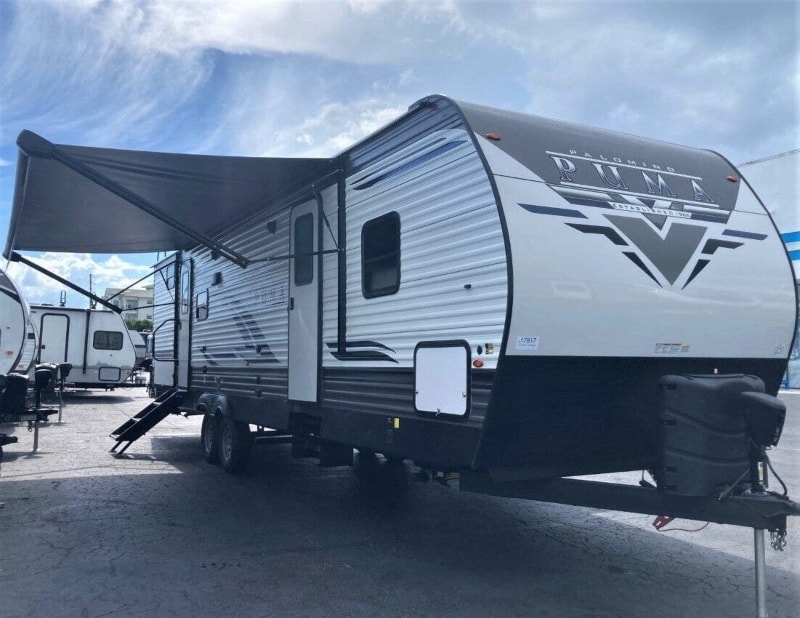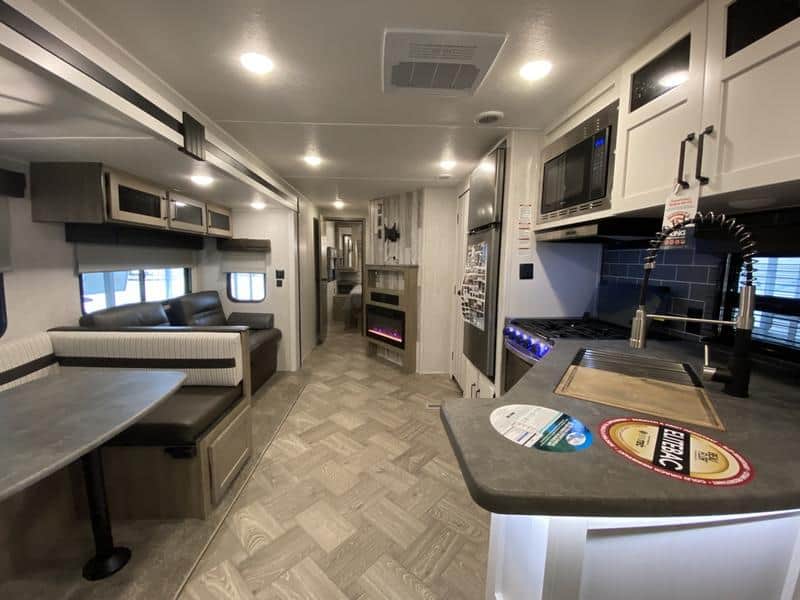 Our Pros and Cons:
✅The interior is high-quality, with a clear focus on craftsmanship
⛔ The EPDM Rubber Roofing has a unique aesthetic
UVW: 7,513lbs
GVWR: 9,063lbs
Tongue/Hitch Weight: 835lbs
CCC: 1,550lbs
Length: 36'
Sleep: 10
Despite that aesthetic, The Puma 28BHSS comes with a 12-year manufacturing warranty, so it's hard to argue with that. Puma placed a premium on interior height, and unless you play in the NBA, you'll never feel like you're about to bounce your head off the top of a door frame.
The Puma 28BHSS presents a unique idea for the bunk house, with wrap-around bunks floating over a sofa bed. Across from the bunks and sofa is a small corner entertainment center crowned with an HD TV.
As a family, your kids might prefer to spend their entertainment evenings in the bunkhouse rather than the living room. It's that comfortable. The U-Dinette and sofa are a part of the slide-out, but despite the depth, they're well situated across from the entertainment center.
The kitchen area is fully loaded, including a walk-in pantry. Everything you need for outdoor cooking and grilling is located in the kitchen. The advantage and value packages add many features already, but the optional limited edition and electric power package features can bring this travel trailer to new heights.
5. Keystone Passport 2401BH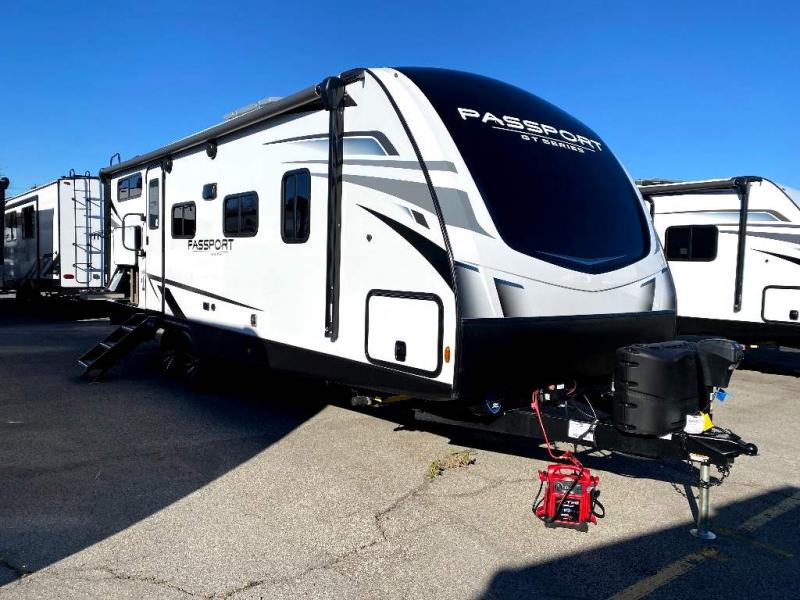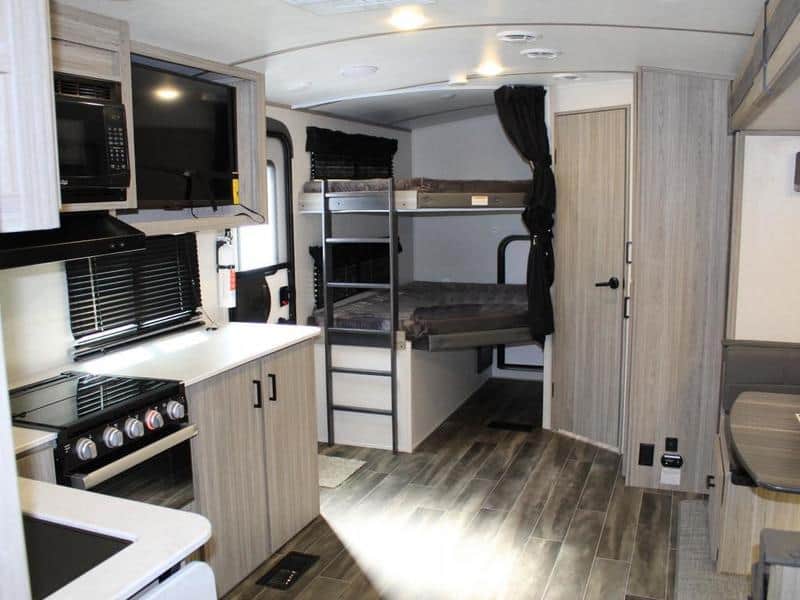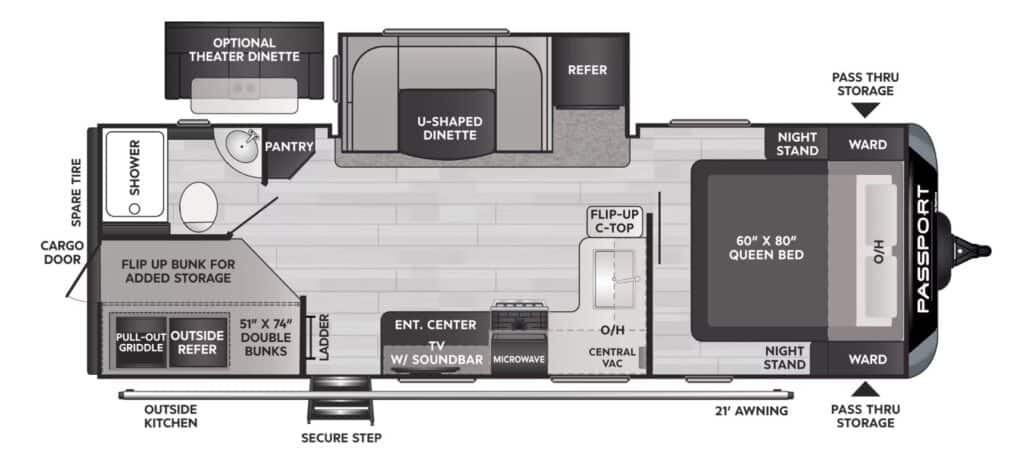 Our Pros and Cons:
✅ Two bathrooms, with one located next to the double bunks
⛔ The microwave is super tiny
UVW: 5,670lbs
GVWR: 7,600lbs
Tongue/Hitch Weight: 685lbs
CCC: 1,930lbs
Length: 29' 3"
Sleep: 8
The Keystone Passport 2401BH travel trailer bunkhouse was designed with storage in mind. You'll love this travel trailer bunkhouse if you like to pack heavily. The Passport 2401BH is a part of Keystone's GT series and is new for 2023.
The bunkhouse in the rear is right next to a rear-corner bathroom, with the other bathroom adjacent to the queen bed. Both bunks are doubles, with a ladder and a bed-length window next to each.
The bottom bunk folds up for more storage options, including pass-through storage. The exterior includes an outdoor kitchen and an extra-large awning to cover all outdoor cooking needs.
The U-dinette converts into a bed, and there is more than enough room to sleep 8. Depending on your floor plan, there is also an optional theater dinette, one of the nicest add-ons if you don't mind the price jump.
6. Winnebago Micro Minnie 2100BH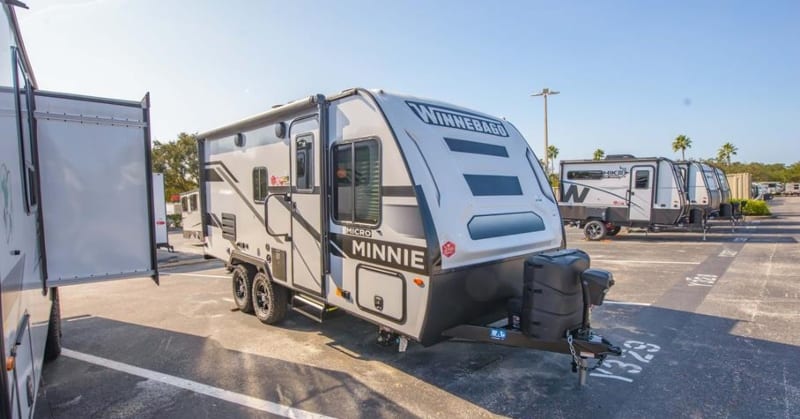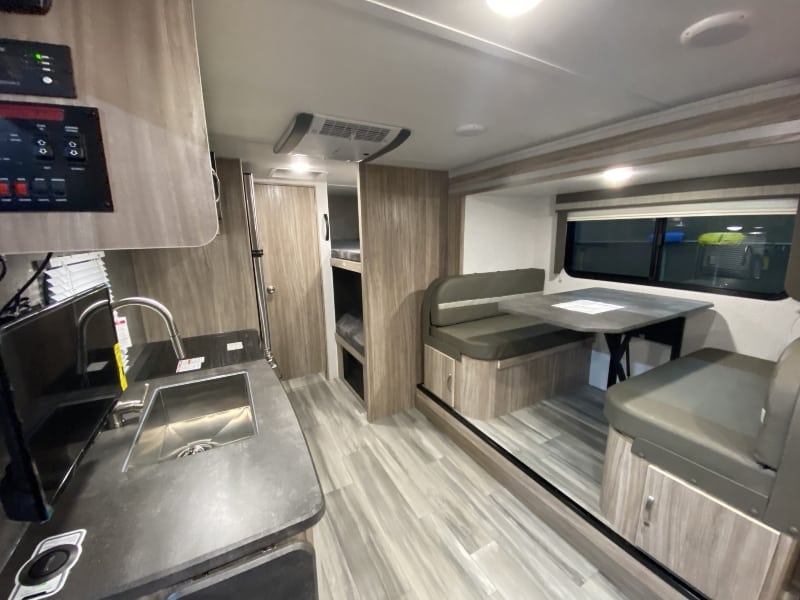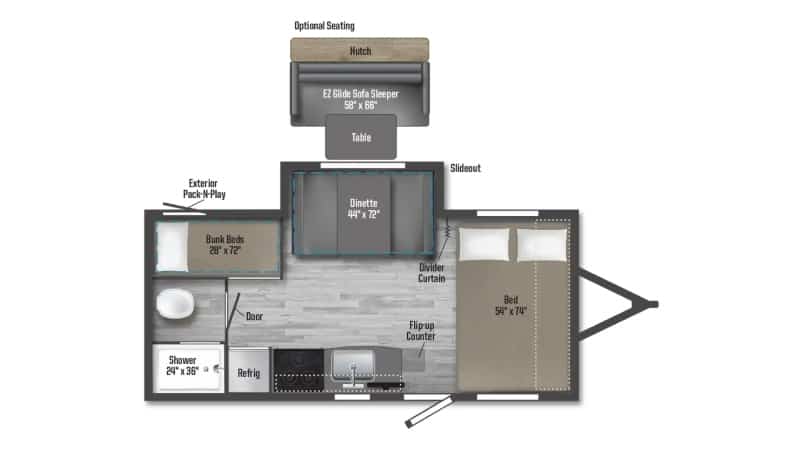 Our Pros and Cons:
✅ Small enough for SUV and ½ ton pickup towing
⛔ You may want to replace the privacy curtain for the master bed with something thicker
UVW: 4,036lbs
GVWR: 5,500lbs
Tongue/Hitch Weight: 448lbs
CCC: 1,464 lbs
Length: 21' 11"
Sleep: 5
Some people may be disappointed at the elevated MSRP on a mini-travel trailer BH, and that's a shame because this one happens to be a very nice bunkhouse option that sleeps 5. Within the 22' length, Winnebago packed two bunks, a full-size main, and a convertible dinette.
Not bad for one of the smallest trailers on the list. It's also a well-equipped, smaller travel trailer with bunk beds. The Winnebago Micro Minnie 2100BH offers a fully equipped kitchen with plenty of storage capacity.
The three-burner stove is standard in this bunkhouse travel trailer and includes a large sink with a high-rise faucet to boot. The dining area is decent, with booth seating that converts into a sleeper. The bathroom is located next to the bunks and is surprisingly sizeable.
It's not a full-size bathroom, but it's definitely more than you would expect for a travel trailer this size. The exterior features are standard but premium, including the LED awning, pass-through storage options, and some basic boondocking features.
7. Crossroads Zinger ZR340BH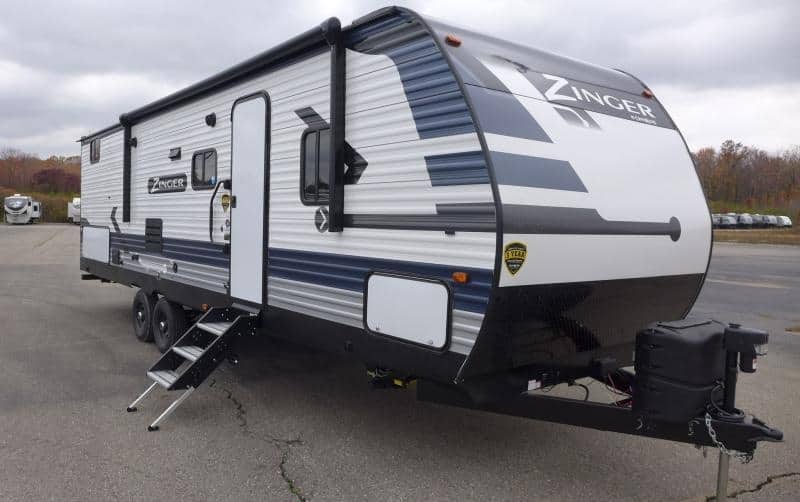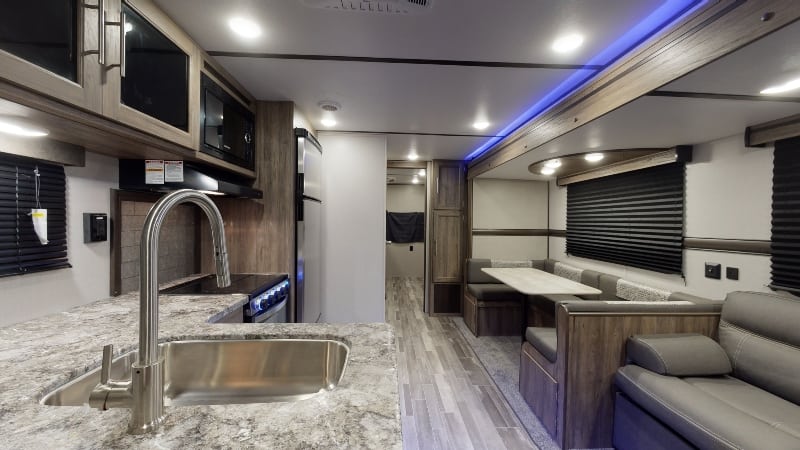 Our Pros and Cons:
✅ Comes with a very premium design aesthetic and feel
⛔ Control center can be finicky in some models
UVW: 9,220lbs
GVWR: 11,450lbs
Tongue/Hitch Weight: 1,252lbs
CCC: 2,230lbs
Length: 38'
Sleep: 9
The word "zinger" conjures images of something small and streamlined, but the Crossroads Zinger ZR340BH is anything but that idea. This monster is going for the royalty look and, for the most part, pulls it off nicely.
The aesthetic is spot on, and when you throw in the roaring fireplace, king-size bed, and wardrobe/entertainment center, this becomes one of the most comfortable BH travel trailers on the market. It is also easy to get into the storage bays with the Keyed-A-Like Locking system.
It's a spacious travel trailer that places a premium on privacy, with the bunk area and the king bedroom completely privatized, assuming you like to close doors. There are storage options aplenty, with a nice entertainment center that melds seamlessly with the L-counter in the kitchen.
There's a lone bathroom, but it retains the overall aesthetic, with enough room to move around. The exterior contains all of the storage and entertainment features you would expect, including a large awning and an outside kitchen built into the side.
8. Coachmen Northern Spirit 2963BH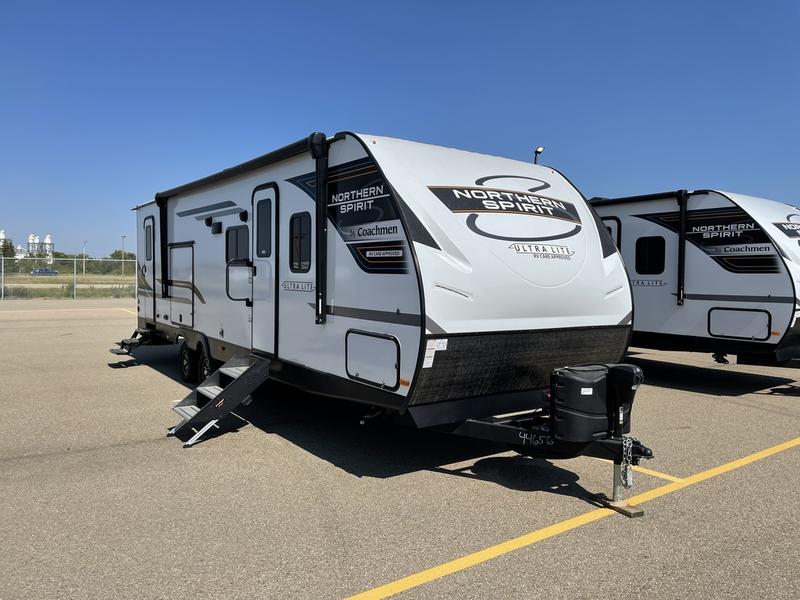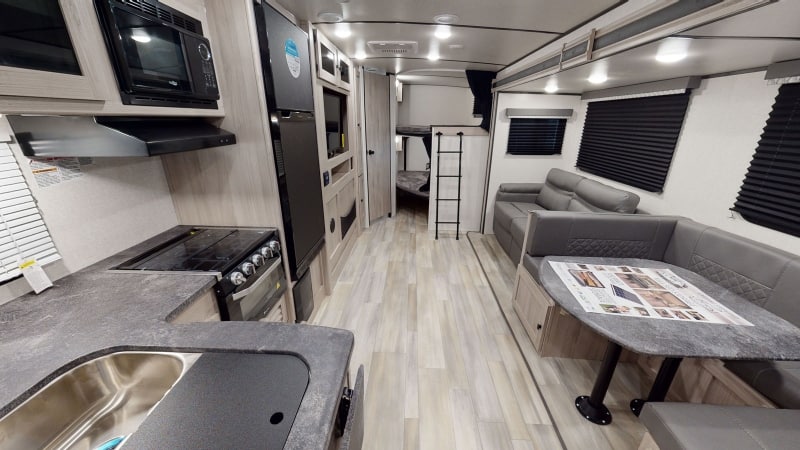 Our Pros and Cons:
✅ Very kid and pet-focused
⛔ The tool center is located next to the door, which may get in the way
UVW: 6,408lbs
GVWR: 7,600lbs
Tongue/Hitch Weight: 760lbs
CCC: 1,192lbs
Length: 34'
Sleep: 9
Coachmen's Northern Spirit Ultra-Lite Series is relatively new to the world of RVs, but if they keep pushing products like the Northern Spirit 2963BH, they'll do just fine. For 34', it's easy to see why.
This is a popular option for large families, especially with younger kids involved. Both double bunks (the lower one flips up) come with kid's convenience centers and a bathroom directly adjacent to the bunks.
The bathroom is one of the largest on the list and includes a full tub and a hamper. Plus, it's accessible with an entranceway from the outside. The queen bed is also a flip-up, flanked by two small wardrobes and plenty of storage beneath the bed.
The U-Dinette is also a convertible bed and includes a pet center. The entertainment center is also a nice touch, butting up against a large L-counter with plenty of surface space. The outside includes storage options and the requisite RV outdoor kitchen.
9. Cruiser Embrace EL280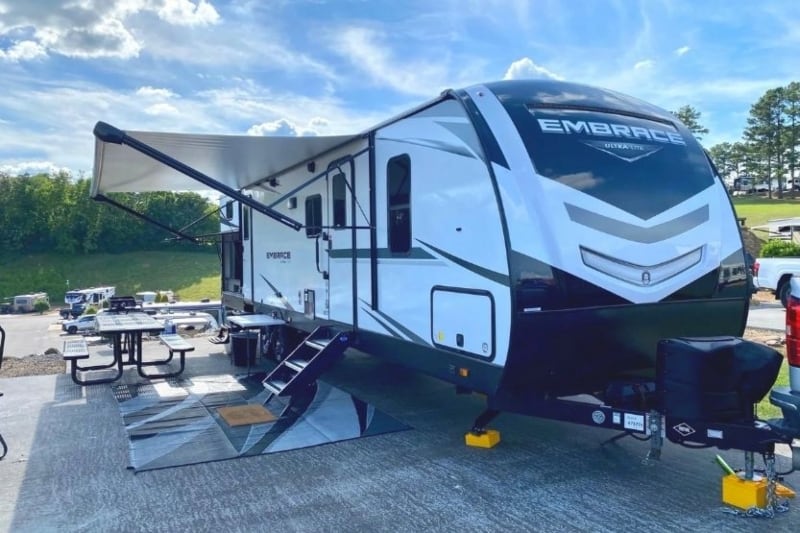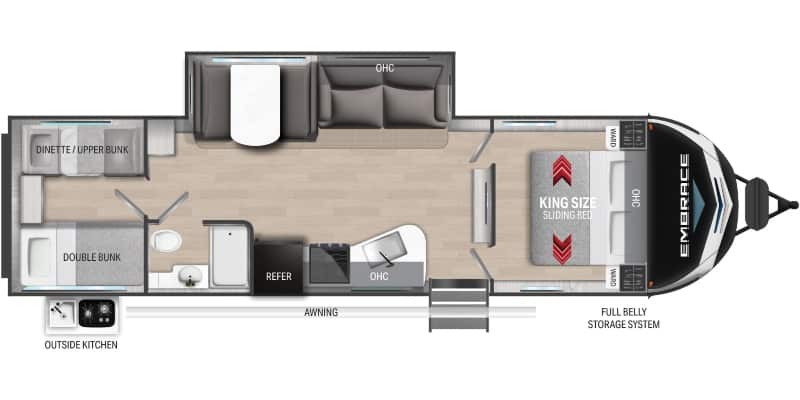 Our Pros and Cons:
✅ Spacious and window-friendly for an airy feel
⛔ Entertainment Center TV is angled poorly to the sofa
UVW: 6,360lbs
GVWR: 9,620lbs
Tongue/Hitch Weight: 820lbs
CCC: 3,228lbs
Length: 33' 4"
Sleep: 9
The Cruiser Embrace EL280 placed a premium on the word "private" with the front bedroom and the three-bed bunkhouse. Each space has doors to close them off from the rest of the trailer. The bunkhouse includes a foldable upper bunk and a lower lounge area.
It's also conveniently located next to the bathroom, which is large enough to include a bathtub. The unique shape of the sink countertop provides some additional counter space and is located across from a booth-style dining area.
The sofa is highly comfortable and standard size, but the HD TV does have a semi-awkward angle to the couch. The primary bed is king-size, leaving plenty of "walk-around" room on both sides.
10. Lance 2185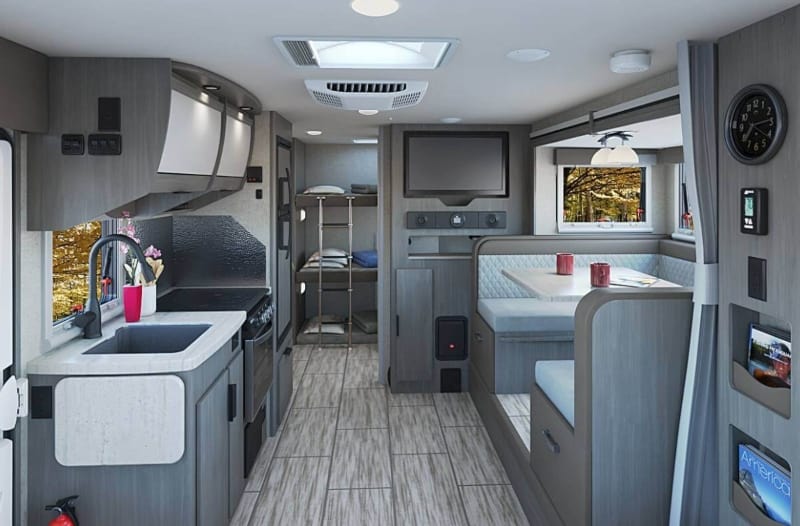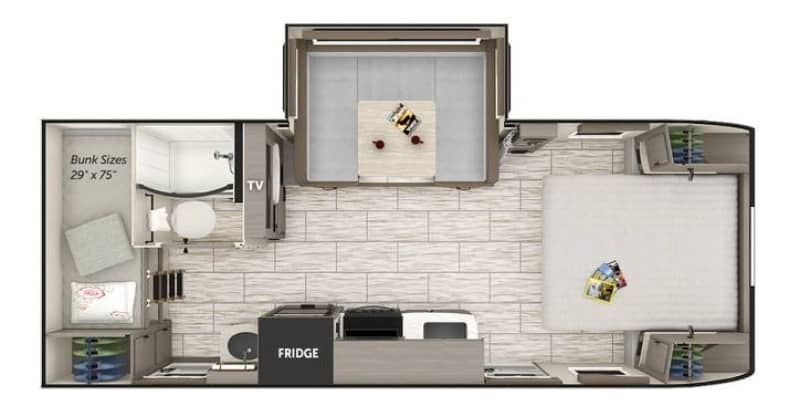 Our Pros and Cons:
✅ With a focus on "flexible" space, sleeping and space are entirely adjustable
⛔ Flip-top table can get in the way of the front entryway
UVW: 5,345lbs
GVWR: 7,900lbs
Tongue/Hitch Weight: 915lbs
CCC: 2,555lbs
Length: 26' 1"
Sleep: 7
The bunkhouse in the Lance 2185 features a three-level bunk, with the bottom bed resting on the floor, which is where the flexibility resides. Since the bed folds up, it presents several storage options or other lounging possibilities.
The front bedroom includes a bed that flips down into a couch, with a forward windshield that gives the room an incredible vibe. Two mini-wardrobes flanks the bed, but the room's overall aesthetic remains spacey and modern.
The kitchen is standard and includes all amenities, including the flip-top counter piece for additional real estate when you're working in the kitchen. The outside space has hookups for three propane tanks and an optional solar array.
Two lithium-ion batteries, three propane tanks, and the addition of solar panels open up the boondocking options if that's your thing.
Do You Need a Big Truck to Tow a Bunkhouse?
You don't need a big truck to tow a bunkhouse travel trailer. Some compact trucks are more than capable of hauling weights above 7,000 lbs. Most bunkhouses are designed for full-size truck hauling, but there are exceptions, like the Winnebago Minnie.
Are Bunkhouses Good for Full-Time Living?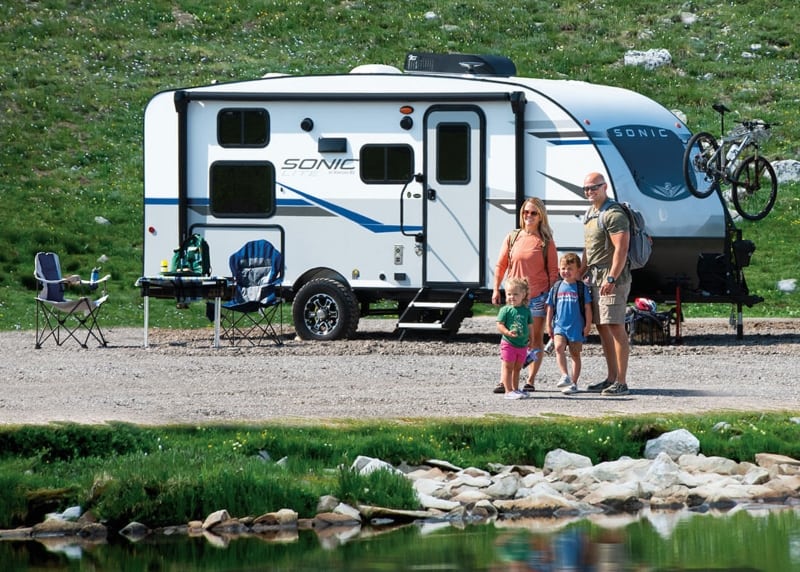 Travel trailers with a bunkhouse are good for full-timing. Some of these travel trailers are monstrous in size, and their amenities are perfect. On the other hand, if you have a family of 8 to 10 and own a Winnebago Minnie 2100BH, well, you have fun with that.
How Much Does a Travel Trailer with a Bunkhouse Cost?
The price disparity can be pretty wide. For instance, the MSRP on the Keystone Hideout 21BHWE is $22k, while the MSRP on the Grand Design Imagine 3210BH is $67k. The numbers are all over the place, but you shouldn't expect to exceed $80k in most cases.
How Long are Travel Trailers with Bunkhouses?
Travel trailers with a bunkhouse are long as 40′ and as short as 20′. Manufacturers create floorplans that include bunkhouses without sacrificing standard spaces in a travel trailer.
8 Things to Look for in a Travel Trailer with a Bunkhouse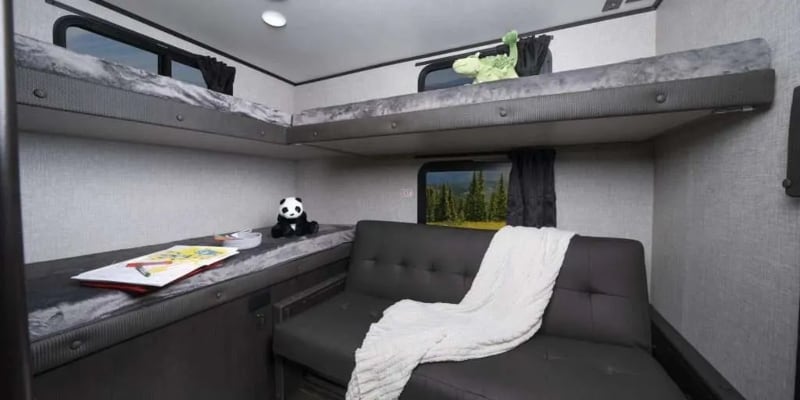 The first and most obvious thing to look for is a bunkhouse. There are sinister things afoot if it's a travel trailer with a bunkhouse and lacks a bunkhouse.
1. Number of Beds
Aside from the necessary, dedicated bunkbeds, the number of beds is just as important. If you have a large family, four bunks, a convertible dinette, and the main bedroom provide a good deal of sleeping room.
2. Length
Length is critical, depending on what (if any) sacrifices were made regarding living space. While a 35' travel trailer bunkhouse is bound to have plenty of space, that doesn't necessarily mean that a 29' bunkhouse is a ripoff.
3. Family-Friendly Layout
Family-friendly travel trailer bunkhouse layouts focus on families. A bunkhouse is great, especially for sleeping arrangements, but the rest of the travel trailer should also be family-friendly.
4. Extra Amenities
The Coachmen Northern Spirit 2963BH is an example of extra amenities, including the kid's convenience centers in each bunk and the pet center in the kitchen/living space. Extra amenities are always a plus, if not a requirement in many cases.
5. Number and Style of Bathrooms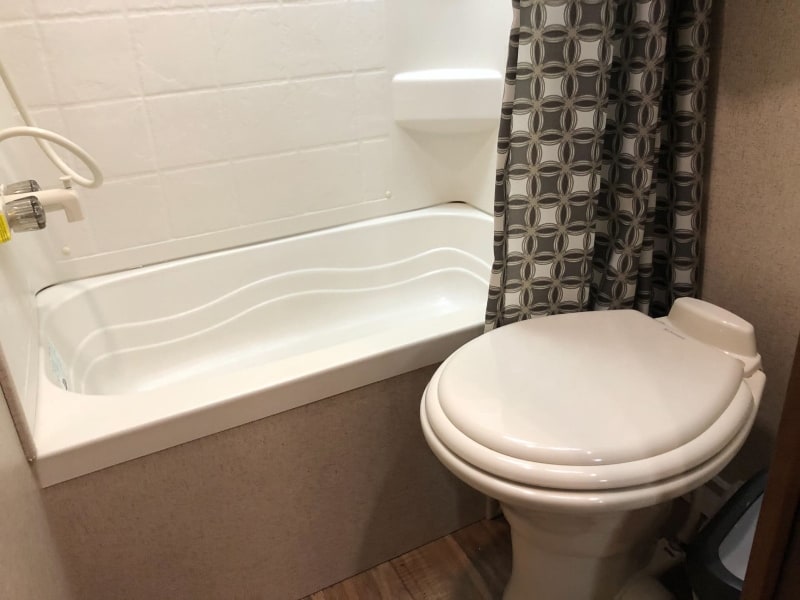 For larger families, bathrooms jump to a higher tier of importance. One full bathroom is great until you have 8 people running around and three need to use it. Simplicity is fine for small families, but the larger the family, the more a bunkhouse travel trailer with a bath and a half becomes necessary.
6. Cargo Space and Capacity
Most of the travel trailer bunkhouses on this list are great in terms of storage. For those that may seem lacking, keep your eyes peeled for flexibility in different rooms, such as fold-up bunks and pass-through storage options.
All towable travel trailers can add more storage with some creative DIY products and devices. Learn simple tricks to increase your storage capacity in our RV storage hacks article on our sister-site Motorhome FAQs.
7. Maintenance
Nobody wants a travel trailer bunkhouse that requires a high level of maintenance. It's more about ease of maintenance. How accessible is everything? Can you get to the back of the water heater? How much access do you have to the wiring?
When shopping for your perfect-size RV, also approach it from a repair and maintenance point of view.
8. Budget
Fortunately, there is a wide spectrum in the MSRPs for travel trailer bunkhouse prices. You can push it as low as $20k without sacrificing too much. Even if you decide to go with a used travel trailer bunkhouse, manufacturer warranties are often multi-year.
Check Out this Video about 3 Small Campers with Bunk Beds
What Do You Look for in a Travel Trailer Bunkhouse?
Look for the best accommodation for your family and their needs, wants, and preferences. The best thing about travel trailer bunkhouses is the focused design for larger families, with applicable features and amenities.
Since bunkhouse travel trailers are designed for several individuals, bathrooms, storage space, privacy, beds, and lounging areas are critical to match your family size.
---
About the Author:
Thomas Godwin is a full-time freelance writer with a BFA in Creative Writing, a U.S. Marine, and an avid outdoorsman.
When he's not writing, he's raising chickens and Appleyard ducks. Thomas also constructs teardrop campers (attempting to anyway) and kayaks the Blackwater River with his wife, two daughters, and his Dobermans.