Lightweight travel trailers under 4000 lbs have many advantages. Typically smaller and more compact, these RVs are easy to tow and park. But there is a tradeoff. Less square footage also means manufacturers are forced to pick and choose which amenities to include and which to skip. Thankfully, innovative floorplans and advancements in manufacturing are revolutionizing the lightweight camper industry.
There are more lightweight camper options on the market now than ever before. We've listed our favorite travel trailers under 4000 lbs to help you choose which is best for you.
What's the Difference Between Dry Weight and GVWR?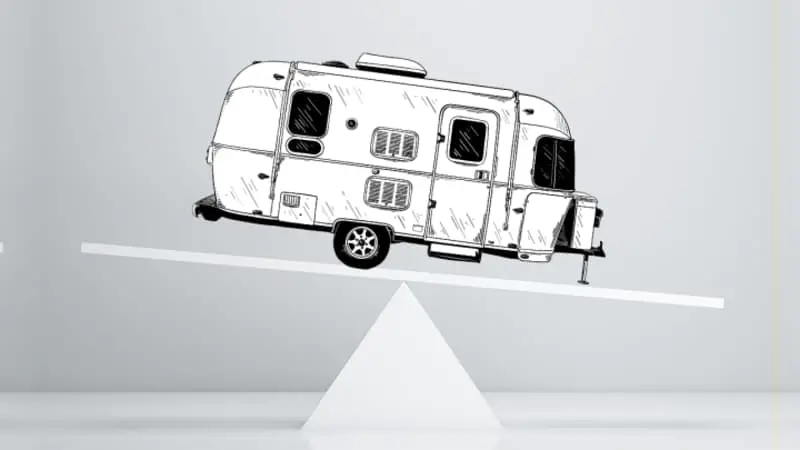 When talking about camper weight, it's important to distinguish between dry weight and GVWR, or gross vehicle weight rating. Dry weight refers to how much the camper weighs when it rolls off the production line. This measurement doesn't consider any fluids or other cargo on board.
Alternately, GVWR refers to the maximum total safe weight of the camper as advised by the manufacturer. Always reference GVWR when looking at your vehicle's towing capacity and your camper's carrying capacity.
Dry weight can be a noteworthy statistic. But GVWR refers to the total amount the camper weighs as it rolls down the road and is, therefore, the more important measurement. That's why we only included travel trailers under 4000 lbs GVWR is on our list of the best lightweight campers.
The Importance of Towing Beneath Your Vehicle's Tow Capacity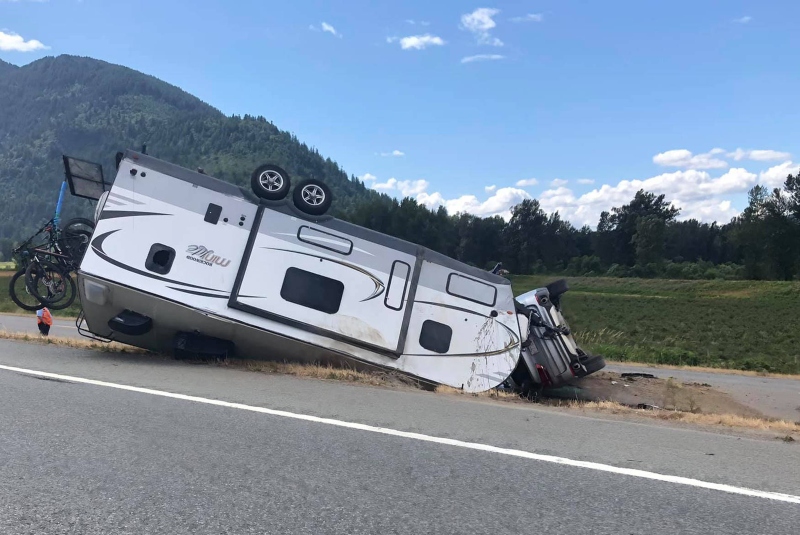 If you exceed your vehicle's towing capacity, the results can be disastrous. An overloaded towing setup can cause the travel trailer to sway. This, in turn, can cause you to crash. If you get into an accident, insurance companies often refuse to pay once they learn you've exceeded your vehicle's towing capacity.
Even if you avoid an accident, towing beyond your limits can damage the vehicle. Overloading your tow vehicle can strain the engine and transmission and cause your brakes and tires to wear faster.
A good rule of thumb is to choose a camper with GVWR at 90% or below your vehicle's towing capacity for extra safety. For travel trailers under 4000 lbs GVWR, you'll want to choose a vehicle with a tow rating of at least 4,444 lbs.
👇 Click the video below to check out 4 awesome campers under 4,000 lbs! 👇
10 Best Travel Trailers Under 4000 lbs GVWR
1. Happier Camper Studio
Our Pros and Cons
✅ The Happier Camper Studio offers a private bathroom and dedicated kitchen space with a customizable interior.
⛔ With just one sleeping configuration, the Studio cannot accommodate more than two people.
UVW: 1,800 lbs.
Tongue Weight: 180 lbs.
Length: 13.5 ft.
GVWR: 3,500 lbs.
CCC: 1,700 lbs.
Sleep: 1-2
As far as travel trailers under 4000 lbs go, the Happier Camper Studio might be the most flexible on the market. Like other trailers in the Happier Camper lineup, the Studio utilizes Adaptiv components. These components can be configured as a dining space or queen-sized bed. You can remove the Adaptive components to transform the Happier Camper into a mini toy hauler.
Unlike the original Happier Camper, the Studio has a built-in bathroom and kitchenette. Couples will appreciate the privacy of a proper bathroom. The kitchenette is also improved over the original floor plan with a built-in two-burner stove, refrigerator, and sink.
Adventurous couples looking for a flexible camper that is compact and easy to tow will love the Happier Camper Studio.
2. Airstream Basecamp 16
Our Pros and Cons
✅ The Basecamp 16 allows you to enjoy all the benefits of classic Airstream design in a lightweight, ready-to-go-anywhere camper.
⛔ At just 16 feet in length, this Airstream can feel cramped.
UVW: 2,650 lbs.
Tongue Weight: 410 lbs.
Length: 16.2 ft.
GVWR: 3,500 lbs.
CCC: 850 lbs.
Sleep: 1-2 lbs.
The Airstream Basecamp 16 brings all the advantages of the iconic Airstream aluminum superstructure to a compact floor plan. This Airstream's compact design, torsion axle suspension, and front stone guard allow you to tow this travel trailer under 4000 lbs well off the beaten path.
Boondocking is a breeze with the optional 200-watt solar package. Not only that, but this travel trailer is especially well-suited for both cold and warm climates. The enclosed and insulated heated underbelly and thermal barrier interior to exterior protection will keep you comfortable in winter weather. Similarly, the UV Protected Aluminum exterior and air conditioner will keep you cool in the heat of summer.
You'll also love that you can load all of your adventure gear through the convenient back hatch. The Basecamp 16 is the perfect Airstream for adventurous campers on the go.
3. Venture Sonic Lite 150VRB
Our Pros and Cons
✅ By incorporating a Murphy bed, the Venture Sonic Lite 150VRB makes room for one of the largest wardrobes and bathrooms in any travel trailer under 4000 lbs.
⛔ The Sonic Lite 150VRB lacks the kitchen cabinet and countertop space that other small travel trailers offer.
UVW: 3,180 lbs.
Tongue Weight: 480 lbs.
Length: 19.11 ft.
GVWR: 3,885 lbs.
CCC: 705 lbs.
Sleep: 2
Full-time camping couples will love some of the higher-end features that come standard in the Venture Sonic Lite 150VRB. The rear bathroom is one of the largest you'll find in a travel trailer under 4000 lbs. The corner shower with skylight offers plenty of headroom. Likewise, the porcelain toilet and large vanity will remind you of home. The bathroom also boasts tons of storage; in addition to the vanity, there is a huge closet.
Speaking of clothing storage, you'll also find a wardrobe on either side of the Murphy bed. One of our favorite features of this Murphy-bed area is another type of dual storage. On either side of the mattress is a hidden cubby for charging your phone or keeping a bedside glass of water.
When the Murphy bed is not in bed mode, it easily converts to a sofa. Use the included table to create a pseudo-dinette. Or you can take the table outside for tailgate or campfire dining. Whether you choose a short weekend trip or a longer adventure, the Sonic Lite 150 VRB will have you feeling right at home.
4. inTech Sol Dawn
Our Pros and Cons
✅ Despite the compact floorplan, the inTech Sol Dawn boasts a tremendous amount of storage space and one of the best wet baths on the market.
⛔ As a reimagined teardrop camper, this travel trailer lacks headroom and can be uncomfortable for taller RVers.
UVW: 2,650 or 2,731 lbs.
Tongue Weight: 280 or 310 lbs.
Length: 16 ft.
GVWR: 3,500 lbs.
CCC: 805 or 910 lbs.
Sleep: 2
The Sol Dawn is InTech's unique take on a teardrop camper. Its unique design boasts more headroom and more natural light than traditional teardrops. This is partly because of the classic InTech front panoramic window that spans the front of the camper.
Surrounded by this window is the multi-configurable U-shaped dinette. You can use this space to dine or as two twin beds. Simply pivot the table, and you can create a space that's a half bed and half dinette. A final option is to drop the table down and create one large oversized bed. Regardless of your configuration, you'll have easy access to the many overhead front storage cabinets.
Beyond the versatility of the front seating/sleeping area, the Sol Dawn boasts one of the best wet baths on the market. The door is double-sealed to prevent any water leakage. The toilet is porcelain, and the lighting is plentiful. A skylight gives you more headroom, and the adjustable height shower head makes bathing a comfortable experience for travelers of any size.
Although geared towards couples, the InTech Sol Dawn is a versatile little camper that can also work well for friends or young families. If you decide to get the off-road version, the upgraded features add a bit more weight, but you'll find it's worth it as you head into the backcountry.
5. Xtreme Outdoors Little Guy Mini Max
Our Pros and Cons
✅ Little Guy Mini Max is a traditional teardrop camper with an interior kitchen and open floor plan.
⛔ Storage space is in short supply in this teardrop camper.
UVW: 2,320 lbs.
Tongue Weight: 240 lbs.
Length: 17.2 ft.
GVWR: 3,500 lbs.
CCC: 1,180 lbs.
Sleep: 2
From the outside, this travel trailer under 4000 lbs resembles other traditional teardrops. But unlike other teardrop campers, the Xtreme Outdoors Little Guy Mini Max's kitchen is located inside rather than in an outdoor back hatch. 
You might worry that the Mini Max would feel less spacious by moving the kitchen inside than some of its counterparts. Surprisingly, Min Max creates an open floorplan by tucking the kitchen and bathroom under the camper's curved front wall.
The main bed that converts into a dinette by day is another feature that opens up the Mini Max floor plan. Couples who love the look and aerodynamic benefits of a teardrop, but the openness of a traditional travel trailer, will love the Little Guy Mini Max.
6. Palomino Puma Ultra Lite 16BHX 
Our Pros and Cons
✅ The Puma Ultra Lite 16BHX boasts sleeping space for five, making it a great lightweight camper for big families.
⛔ Despite its nearly 22-foot length, the Ultra Lite 16BHX has a smaller-than-average dinette that may be a tight fit for a large family. 
UVW: 3,144 lbs.
Tongue Weight: 370 lbs.
Length: 21.6 ft.
GVWR: 3,870 lbs.
CCC: 726 lbs.
Sleep: 4-5
At nearly 22 feet in length, the Palomino Puma Ultra Lite 16BHX is one of the longest on our list of the best travel trailers under 4000 lbs. Palomino expertly uses that space to create a floor plan perfect for families. With bunk beds, a dinette bed, and a front queen bed, this RV easily accommodates a family of five.
In addition to the ample sleeping room, young families will also appreciate the tub shower in the bathroom. Unlike many other compact campers that only offer a wet bath, the Puma Ultra Lite has a tub/shower combo large enough to give little ones a bath.
The RV is great for families because of the sleeping and bathroom arrangement. But, you'll find the tradeoff is that the Puma Ultra Lite offers only a limited amount of kitchen storage and a smaller-than-typical dinette. Still, this camper under 4000 lbs could be a perfect choice for families that prefer outdoor picnic table meals.
7. Jayco Jay Flight SLX 154BH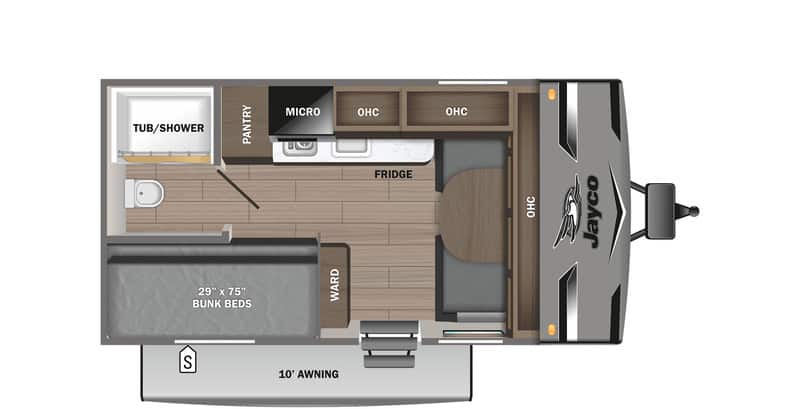 Our Pros and Cons
✅ This versatile travel trailer with bunk beds and a large dinette is great for families.
⛔ This Jay Flight has no dedicated owner's bedroom space. Instead, it boasts an oversized dinette that transforms into a bed at night.
UVW: 2,810 lbs.
Tongue Weight: 250 lbs.
Length: 18 ft.
GVWR: 3,600 lbs.
CCC: 790 lbs.
Sleep: 2-4
The Jayco Jay Flight SLX 154BH is another great family travel trailer under 4000 lbs. Measuring nearly four feet shorter, this Jay flight offers many of the same features of the Palomino in an even smaller footprint. 
You'll find sturdy, plywood-constructed bunk beds that each accommodate up to 300 pounds. Unlike the bunks in other small campers, these are 80% enclosed. This is a great setup for younger children because it safeguards against rolling and provides a less distracting sleep environment.
Like the Palomino, this Jay Flight also has a convenient tub/shower combo. One difference you'll notice between the Palomino and the Jay Flight is the latter has a much larger and deeper dinette. Parents will have to transform the dinette into a bed each night. But for families that don't mind this extra step and appreciate a table that can seat the whole crew, the Jay Flight SLX 154BH is a great choice.
8. Braxton Creek Bushwhacker Plus 17BH
Our Pros and Cons
✅ The Bushwhacker Plus 17BH is one of the only teardrop campers to sleep four and offer bunk beds.
⛔ Although this travel trailer is large by teardrop standards, it isn't quite large enough to incorporate a dry bath. Instead, you'll find a shower/toilet combo situated right in the middle of your living space.
UVW: 2,360 lbs.
Tongue Weight: 320 lbs.
Length: 18 ft.
GVWR: 3,320 lbs.
CCC: 760 lbs.
Sleep: 2-4
The Bushwhacker Plus 17BH is an exceptional travel trailer under 4000 lbs. It's rare to find a teardrop camper that sleeps more than two, but this Bushwhacker Plus does just that.
All of the sleeping spaces in this travel trailer are tucked under the lowest curved parts of the ceiling. This allows you to enjoy the aerodynamic and fuel-efficient benefits of the teardrop shape without sacrificing headroom in the main living space.
The bunks span the width of the front of the camper, while the main bed/dinette spans the back. While in dinette mode, the table pivots so you can easily fit the whole family. The dinette's proximity to the entertainment hookups also means everyone can relax and watch a movie together. Teardrop campers are not often considered family RVs, but the Bushwhacker Plus 17BH is the exception.
9. Forest River No Boundaries (NOBO) 10.6
Our Pros and Cons
✅ This compact toy hauler can go anywhere and boasts both a low GVWR and a large CCC.
⛔ This no-frills toy hauler lacks both a bathroom and an indoor kitchen space.
UVW: 2,255 lbs.
Tongue Weight: 288 lbs.
Length: 13.10 ft.
GVWR: 3,788 lbs.
CCC: 1,533 lbs.
Sleep: 2
Like all No Boundaries campers by Forest River, the NOBO 10.6 is designed to go anywhere. Offroad tires, an enclosed underbelly, and a torsion flex axle with independent suspension allow this small camper to be towed just about anywhere. Once off the beaten path, boondockers will appreciate the space for two deep cycle batteries and the included solar prep.
Designed to get you out and enjoying the great outdoors, this travel trailer under 4000 lbs has an exclusively outdoor kitchen. Interior space is reserved for a basic sofa that transforms into a bed. The simplicity of the interior floorplan means you can easily stack or remove the cushions to make room for a dirt bike or four-wheeler.
When you aren't offroading, you'll love the ample outdoor living space offered in the NOBO 10.6. You can choose to sleep beneath the stars in the optional rooftop tent. You can also add a batwing canopy that wraps around half the trailer and triples the outdoor entertainment space. True adventures and nature enthusiasts will appreciate all the NOBO 10.6 offers.
10. KZ RV Escape E17 Hatch
Our Pros and Cons
✅ The KZ RV Escape E17 hatch is a versatile trailer with room for four.
⛔ This narrow trailer offers a smaller than typical garage space as compared to other toy haulers of this length.
UVW: 3,320 lbs.
Tongue Weight: 550 lbs.
Length: 22 ft.
GVWR: 4,000 lbs.
CCC: 680 lbs.
Sleep: 2-4
The KZ RV Escape E17 Hatch is an unconventional and very versatile toy hauler trailer under 4000 lbs. Like other toy haulers, the back area of this camper converts from a garage to a living space. However, the hatch feature is unique compared with a typical toy hauler's ramp.
Although this hatch provides a nice secondary awning for outdoor living, the lack of a ramp makes loading heavier vehicles difficult. Since the carrying capacity and garage space are both small, it's best to stick to hauling toys like bikes and kayaks in this small travel trailer. Still, the convenient back hatch makes loading and unloading these toys and other camping essentials much easier.
What the Escape E17 lacks in garage space makes up for in interior amenities. The modern farmhouse decor gives the camper an upscale feel. The huge wardrobe, full-length pantry, and large refrigerator are all features not typically found in other toy haulers at this price point.
In many ways, this small travel trailer under 4000 lbs GVWR is the best of both the toy hauler and traditional travel trailer worlds.
Why Would You Want a Lightweight Trailer?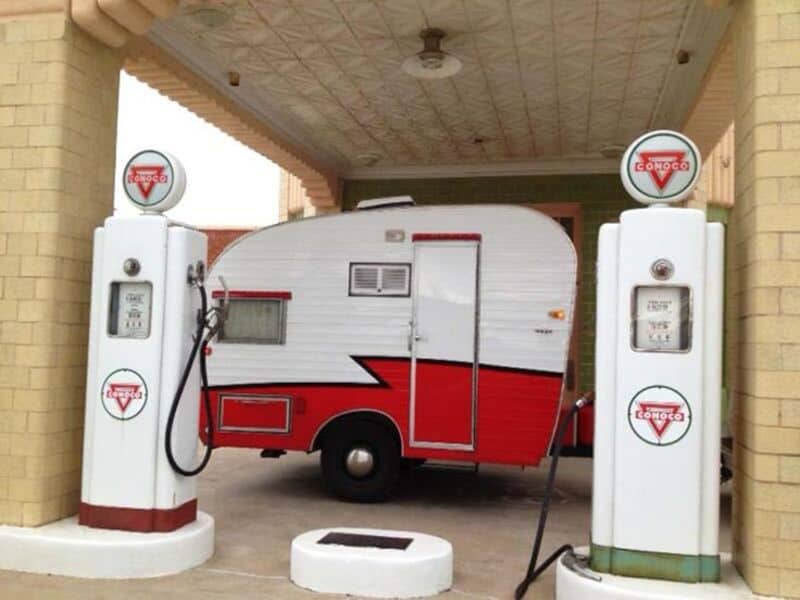 Pros:
Lightweight trailers are easily towable behind mid-sized SUVs and small trucks. They are also more fuel-efficient and budget-friendly. Lightweight travel trailers are also usually on the smaller side. This makes them easier to park and store than their larger, heavier counterparts.
Cons:
As much as a compact floorplan can be an advantage of a lightweight trailer, it can also be a disadvantage. A smaller footprint means that lightweight trailers cannot offer all of the features and amenities that larger campers boast.
What Kind of Vehicle Can Tow a 4000 lbs Travel Trailer?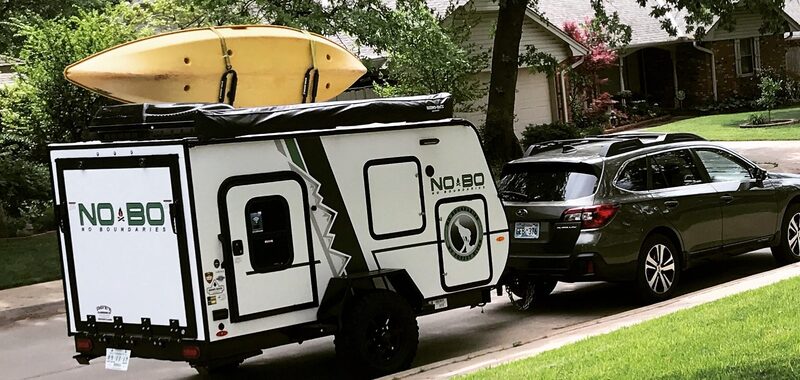 One of the great things about lightweight travel trailers under 4000 lbs GVWR is that a wide variety of vehicles can tow them.
Mid-sized SUVs with tow ratings of just 5,000 lbs. will pull the campers on our list just fine. Quarter-ton pickup trucks are also great tow vehicles for small travel trailers.
Whether you prefer the extra seating of an SUV, the extra cargo space of a pickup, or you simply want to use a vehicle you already own; you'll appreciate the flexibility in a vehicle that a lighter travel trailer affords you.
Can You Travel Comfortably in a Lightweight Camper?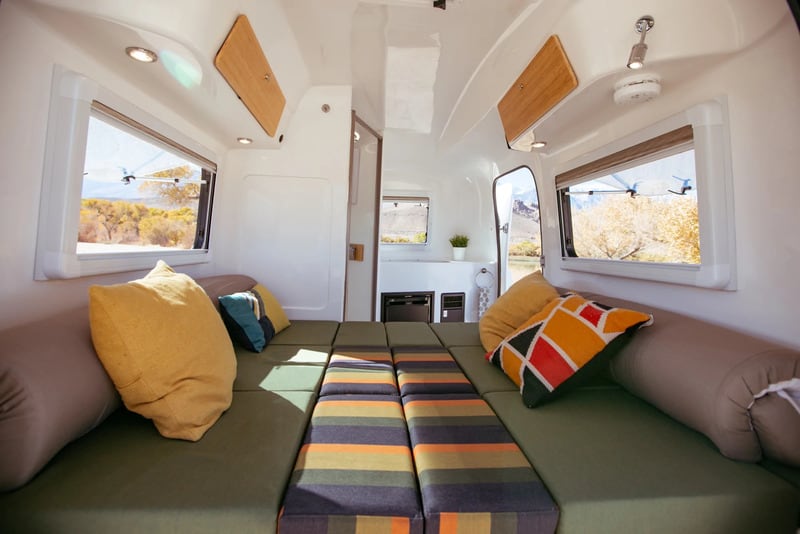 They sometimes say "less is more," and we think that can definitely be the case with small travel trailers. Although they may not boast the storage capacity of other rigs, you can certainly fit all of your essentials in any one of these small campers.
What more do you need really? After all, most RVers are drawn to the lifestyle, at least in part by a desire to lead a more simplified and less stressful life. We think these compact campers encourage a back-to-the-basics camping approach that so many of us desire.
Can You Put a Bathroom in a 4000 lbs Travel Trailer?
You might be surprised to realize that almost all of the travel trailers under 4000 lbs that we've reviewed incorporate a bathroom. It's true that smaller floorplans typically lend themselves to wet baths. However, finding a dry bath in even these small campers is not all that unusual.
Even if you fall in love with one of the few options on our list that are bathroom free, never fear. You can always opt to bring along a portable or composting toilet.
10 Things to Know About Owning a Small Travel Trailer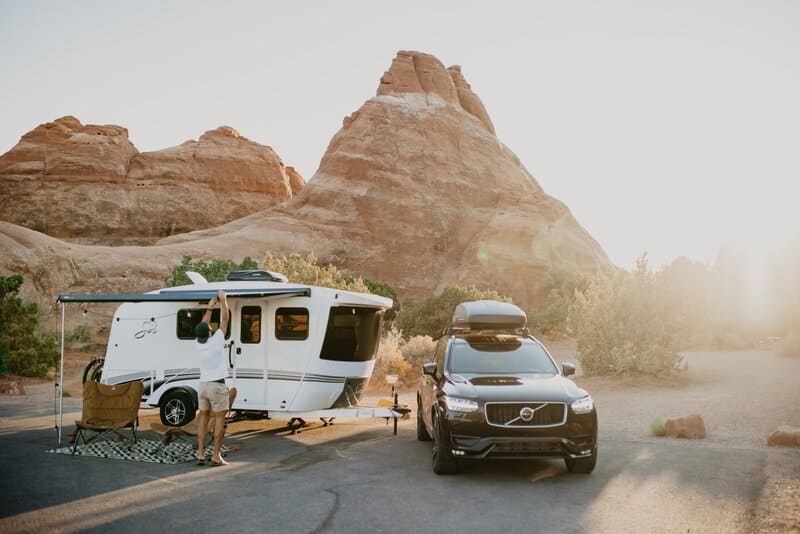 1. They're Much Easier to Tow
Small travel trailers are easy to tow compared to other types of campers. Lightweight campers are less likely to bully a tow vehicle and push it all over the road. They are also easier to tow because a wider array of vehicles can pull them. You won't need a huge pickup to tow a travel trailer under 4000 lbs GVWR, since many SUVs can tow this size camper.
The shorter length of small travel trailers also makes them easier to tow. You will not have to take turns as wide or find parking spaces as long as you would with a larger camper. Small travel trailers are great for those who may not have towed before.
2. Modern Layouts Make Small Campers Feel Spacious
A camper under 4000 lbs GVWR today looks very different from what a camper of the same weight would have looked like a few decades ago. Modern layouts and innovations in dual-purpose furniture and other spaces within the RV make even the smallest floorplan feel spacious.
Advancements in manufacturing and the incorporation of lighter-weight materials in the construction of today's campers also mean that lightweight campers aren't as small or as bare bones as they once were.
3. Storage Can Be Challenging
One thing that is hard to overcome in small travel trailers is a lack of storage. A compact floorplan inherently means less space. Moreover, dual-purpose furniture and spaces are even more prevalent in small travel trailers than in their larger counterparts.
These dual-purpose features are great because they allow RVers more luxuries in a smaller space. The disadvantage is that they tend to encroach on space that would otherwise be allocated to storage.
4. Many Small Campers Have Bathrooms AND Kitchens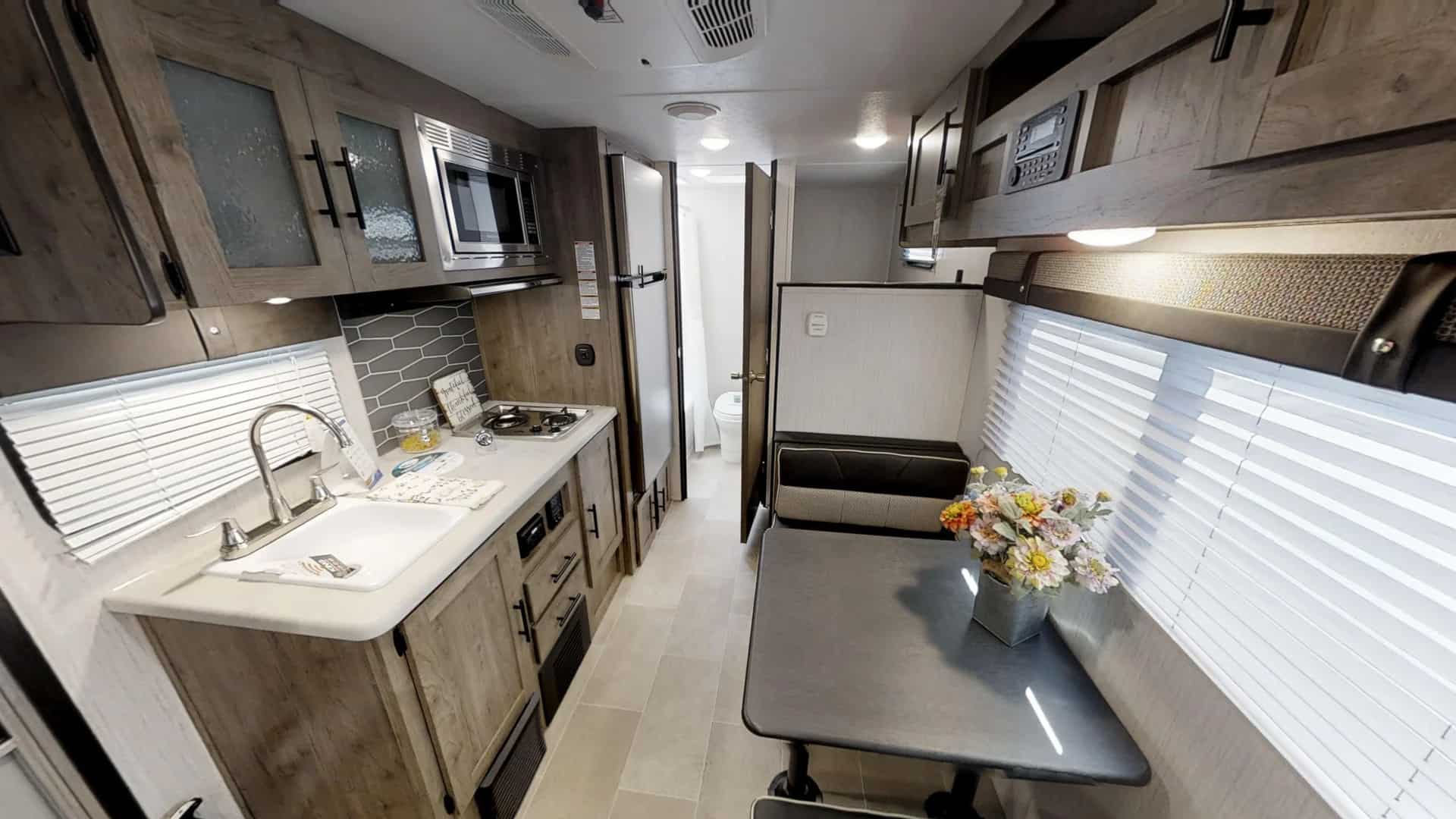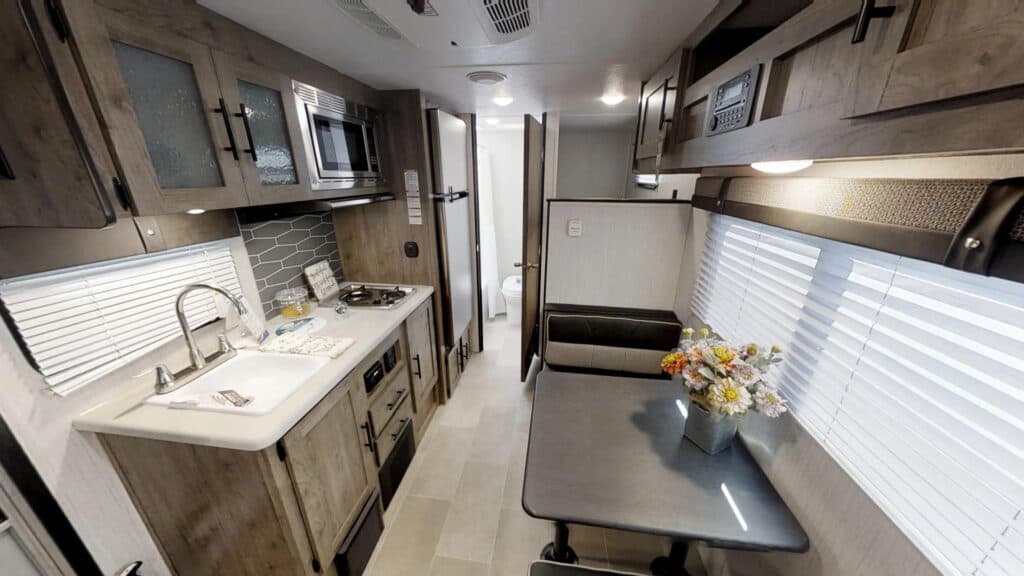 Many small travel trailers today use modern innovation to incorporate both a bathroom and kitchen into their floorplan. Depending on the square footage, the kitchen might be in the form of an outside galley, or the bathroom might be a wet bath. Nevertheless, these small campers are more than just beds on wheels.
5. But Holding Tanks Will Be Small
Incorporating bathrooms and kitchens into compact campers come with the need for holding tanks. Water is very heavy. In fact, just ten gallons of water weigh over 80 lbs. Therefore, although you'll find freshwater, gray water, and black water tanks on board lightweight campers, these tanks are typically small to keep GVWR low.
6. You Can Fit in Any Campground
You won't have to worry too much about the capacity of your tanks if you plan to camp in modern campgrounds with full hookups. The good news is that these small campers fit in any campground and on almost any campsite. This means finding availability is much easier for compact campers than for larger rigs.
7. Boondocking Is Challenging but Not Impossible
Although you can camp just about anywhere with a tiny travel trailer, the smaller tank capacities do make boondock-style camping more of a challenge.
If you choose to take your under 4000 lbs GVWR travel trailer off the grid, you may want to invest in a water purification system. Boondocking can also be made easier in a small-tanked travel trailer by swapping out the traditional toilet for a composting toilet.
8. They're More Affordable to Maintain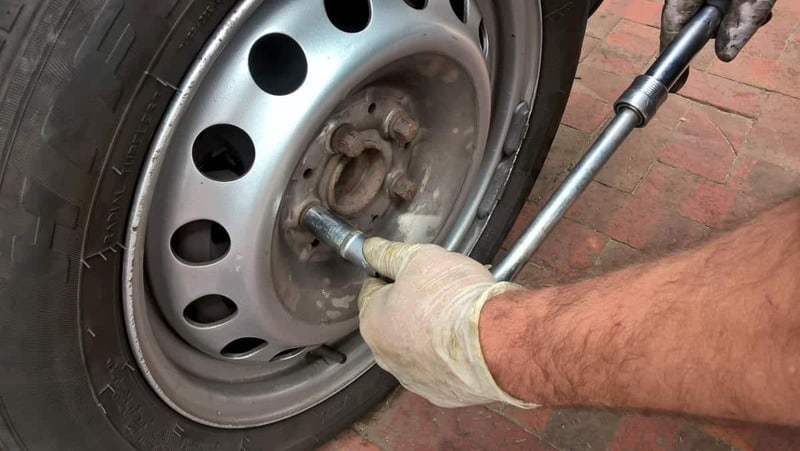 Smaller campers are easier and more affordable to maintain than larger models. Lightweight campers have fewer or no slide-outs. Less moving parts means there are fewer things to break or wear out over time. Souped-up luxury travel trailers also commonly have more plumbing and more electrical to worry about than their smaller counterparts.
9. You Don't Need a Heavy-Duty Truck
Compact travel trailers under 4000 lbs are also more affordable because they don't require you to purchase a heavy-duty truck to pull them. Their low GVWR means that many SUVs can tow them with ease.
10. They're Great for Beginning RVers
Small, lightweight travel trailers are great for beginning RVers. They are easier to tow and park than larger RVs and can often be towed behind a vehicle you own. Their compact size and fewer bells and whistles make them easier for a novice to maintain.
Moreover, their small size also comes with a typically smaller price tag, making them great when testing the waters on an RV lifestyle.
Is It Worth Buying a Travel Trailer Under 4000 lbs?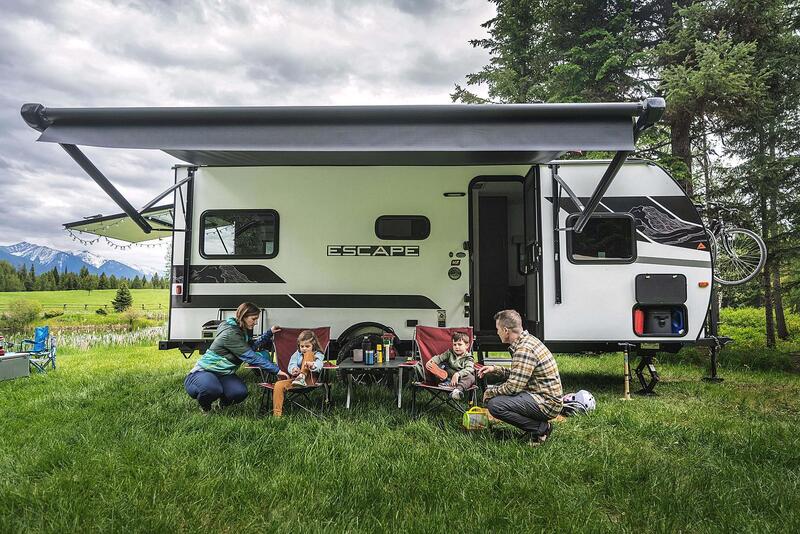 Travel trailers under 4000 lbs are great options. Whether you're a first-time RVer or an occasional camper, these lightweight rigs offer many of the benefits of larger trailers without nearly the investment.
You can often save money with a travel trailer under 4000 lbs by towing your lightweight travel trailer with a vehicle you own. Not only will you save on tow vehicle costs, but also fuel, maintenance, and storage costs are lower with a compact travel trailer.
By nature, these small campers can't include all of the luxuries found in their larger counterparts. Full-time RVers or even dedicated weekend warriors might find themselves desiring more amenities than a small travel trailer offers. Still, for many, a travel trailer under 4000 lbs will meet their needs and be well worth the investment.
---
About the Author:
Laura Tyrell is a part-time RVer and full-time mom of three.  Long-time campers and RVers before children, Laura, and her husband have fallen even more in love with the RV lifestyle since becoming parents to a child with food allergies. 
Having her own kitchen on wheels makes her RV trips amazing. Laura is passionate about finding ways to make traveling with young children fun, easy, and attainable.