For many people, the draw to an RV is the ability to have comfort features anywhere you travel. A bathroom is one of these comforts that some people just can't live without. However, a travel trailer without bathrooms can be cheaper, smaller, and more practical for many people.
A bathroom in your travel trailer adds some work that many people aren't interested in doing. However, travel trailers without bathrooms eliminate the task of emptying a blackwater tank. There are other benefits and downfalls to owning a camper without a bathroom.
In this article, we'll share some great travel trailers without bathrooms and some of the pros and cons of camping with one of these campers.
Do They Make Travel Trailers Without Bathrooms?
Many of the most popular brands of campers have travel trailers without bathroom facilities. Many of these towable RVs have a lower price tag. Some come with cassette toilets instead of a bathroom.
5 Reasons Why You Would Buy a Travel Trailer Without a Bathroom?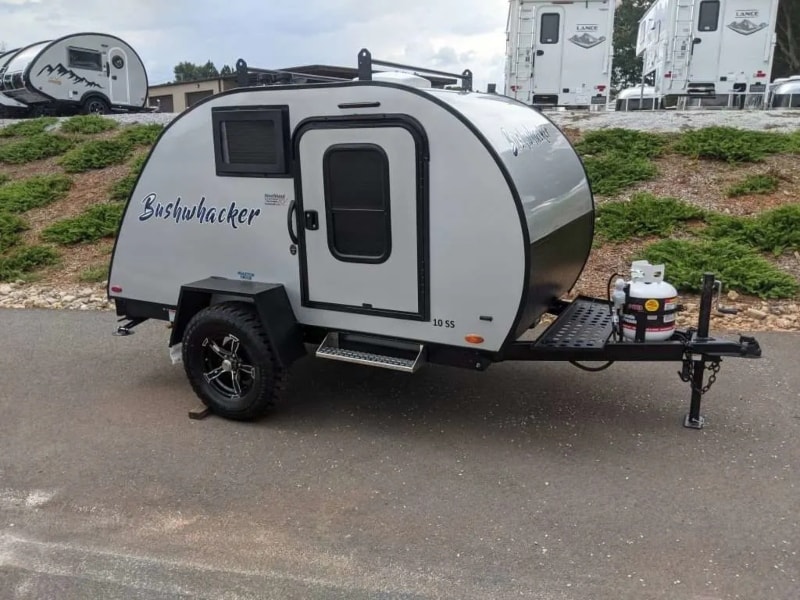 There are a number of reasons you would buy a travel trailer without bathroom facilities. Here are some reasons people pick campers without bathrooms.
1. Price
In some instances, eliminating the bathroom reduces the price of a camper.
2. Weight
Adding a bathroom and blackwater tank can increase the dry weight of a camper. A lighter camper might be necessary if you aren't ready to upgrade your vehicle.
3. Overlanding
Many travel trailers designed for overlanding don't have bathrooms. To get into remote locations, reducing size and weight is a must.
4. No Messy Maintenance
If you have a bathroom, you have a blackwater tank that has to be emptied. Some people just don't want to deal with that task.
5. Camper Size
You may choose a travel trailer without a bathroom if you want a small camper that can fit in your garage. Many tiny travel trailers skip the bathroom in favor of more space for a galley or better sleeping accommodations.
8 Best Travel Trailers Without Bathrooms
1. Happier Camper HC1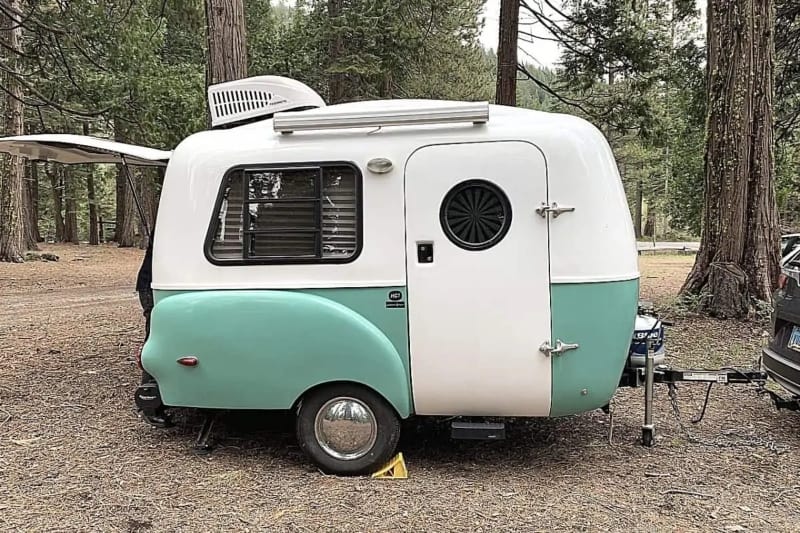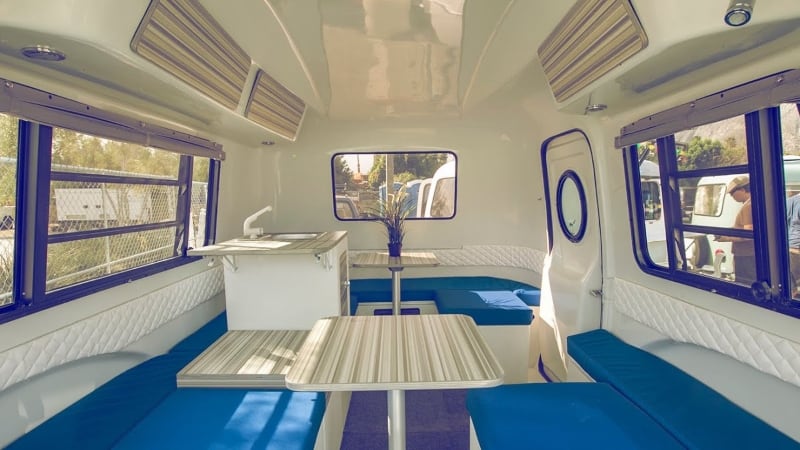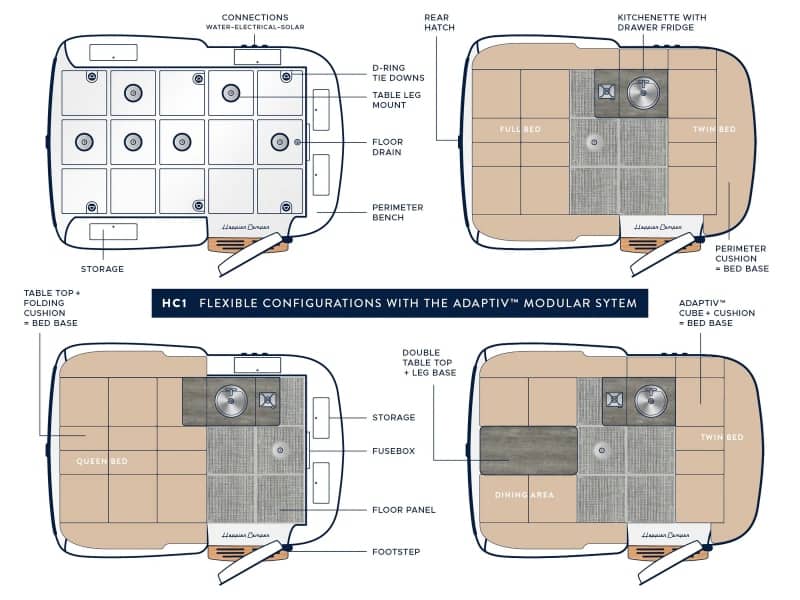 Our

Pros and Cons
✅ You're never stuck with the same interior since the Adaptiv Component system is fully customizable.
⛔ If you're looking for luxury, this isn't your camper.
UVW: 1,100 lbs.
Tongue Weight: 150 lbs.
Length: 13.5 ft.
GVWR: 3,500 lbs.
CCC: 2,400 lbs.
Sleep: 1-5
If you're a free spirit that doesn't want to buy a new car just to pull your travel trailer, the Happier Camper HC1 is one of the lightest travel trailers without a bathroom on the market. Its biggest selling point is that it can be towed by most standard-sized sedans. While this camper looks small, it's quite roomy.
The Adaptiv Component System allows you to create the perfect interior for your needs. Depending on the arrangement, this tiny camper can easily sleep a family of five. The Adaptiv cubes provide versatility and a ton of storage that you can't find with other travel trailers.
The best part of this system is that you can change the arrangement of your camper every time you travel. An optional toilet cube is available for purchase if you need a bathroom.
2. Casita Spirit Standard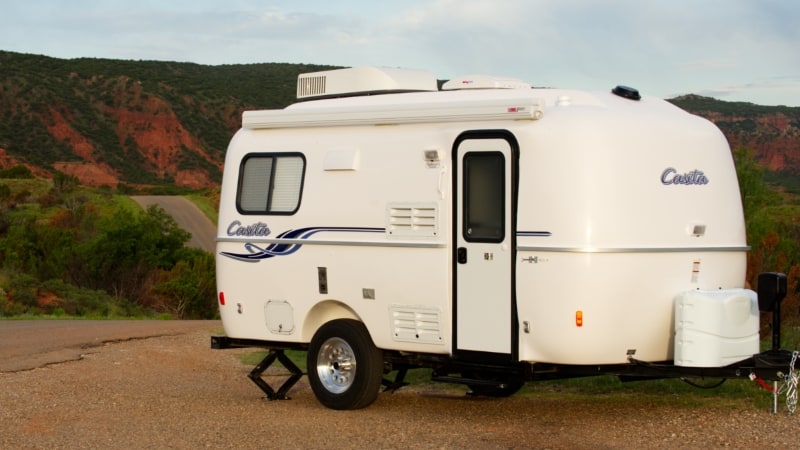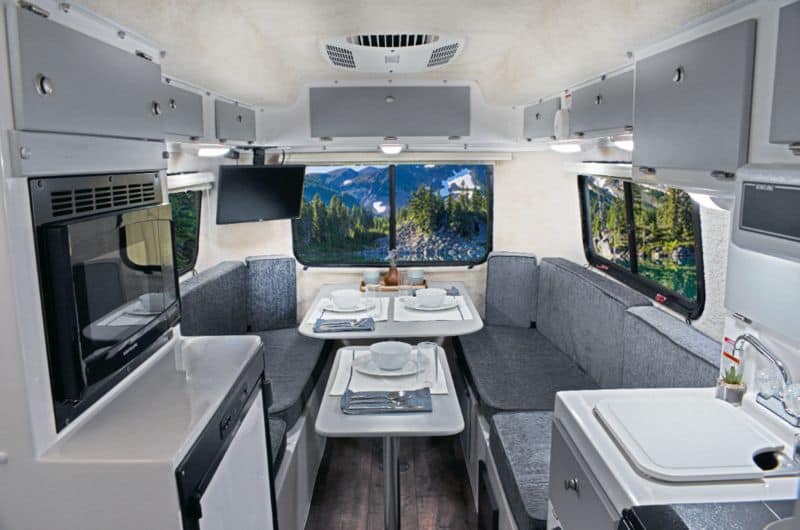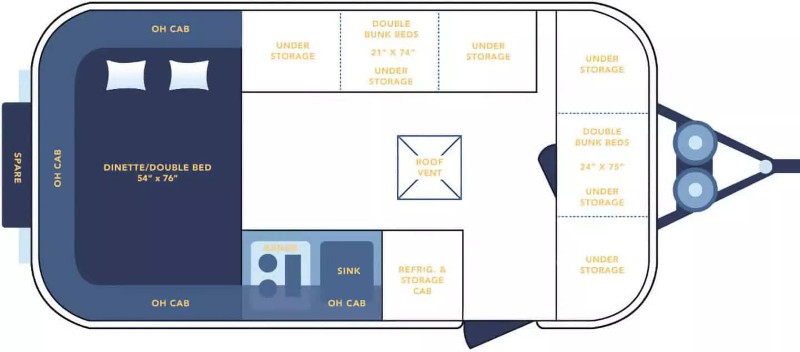 Our

Pros and Cons
✅ This tiny camper has plenty of sleeping space for your whole family.
⛔ Be strategic with your storage since small fiberglass campers don't have the storage others have.
UVW: 2,210 lbs.
Tongue Weight: 295 lbs.
Length: 17 ft.
GVWR: 3,500 lbs.
CCC: 1,290 lbs.
Sleep: 2-6
Casita has been making tiny travel trailers since 1983. In fact, they're descended from Boler, the innovator of the small fiberglass travel trailers. The Casita Spirit Standard is one of their most popular campers. This travel trailer is perfect for couples or families who want to get away but are still connected and comfortable.
The rear 4-seater dinette converts to a two-sleeper for parents while the road side 2-seater makes up to a set of twin bunk beds. The Standard version comes with a front bench with another twin bunk attachment so that you can sleep up to 6 in this 17-foot fiberglass travel trailer without a bathroom.
In day mode, use the dinette spaces for working or enjoying the views from the large picture windows since they're one of the best features of the Casita Spirit. You'll enjoy tons of natural light with the light-colored interior that feels bright and roomy.
One feature of the Casita Spirit that may seem strange at first is the wall covering. Casita uses carpet-like material on the walls and ceilings of the Spirit. While dated, it does provide additional insulation and noise reduction, which is great for late-season campground camping.
3. Aliner Ranger 12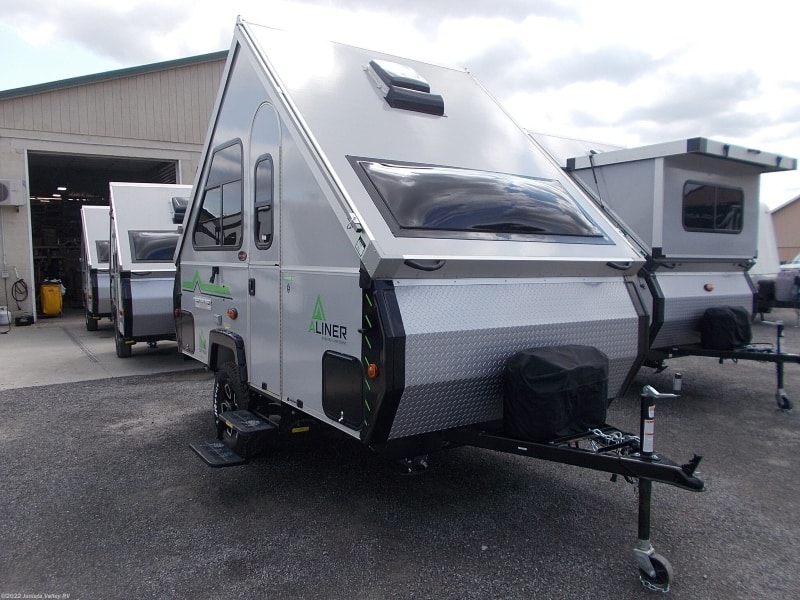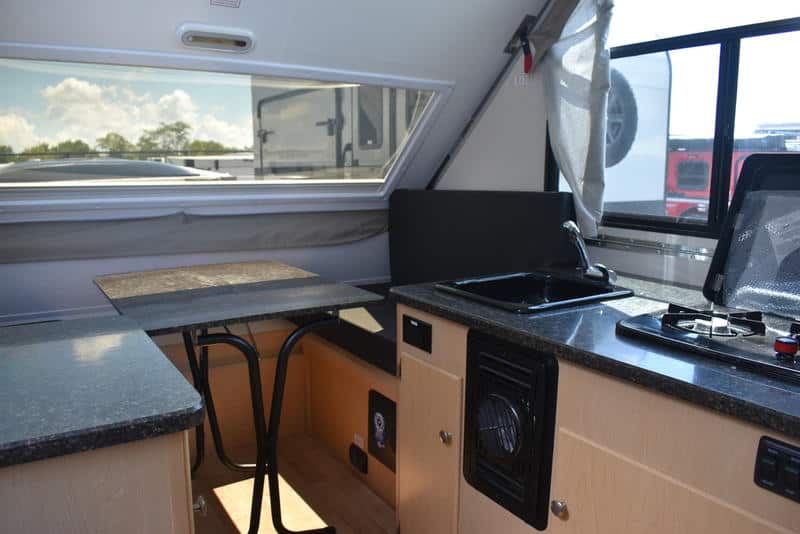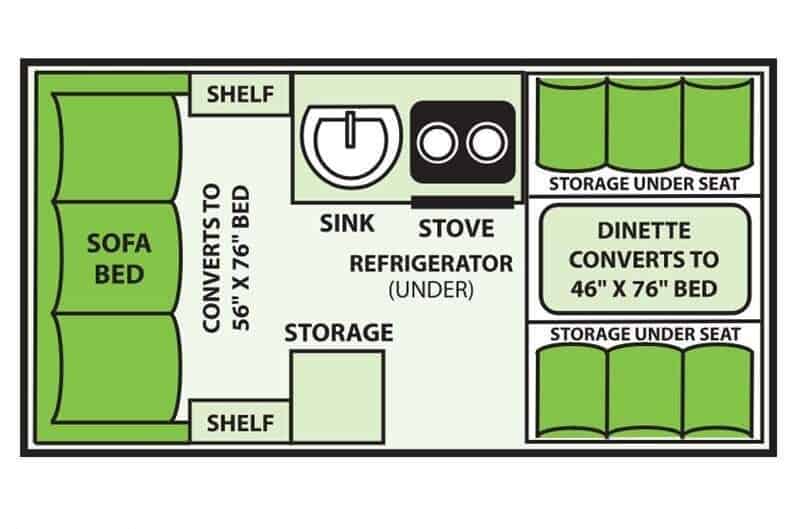 Our

Pros and Cons
✅ Hard-sided pop-up is easier and faster to set up than soft-sided versions.
⛔ You'll need to watch your head since this model doesn't come with dormers.
UVW: 1,450 lbs.
Tongue Weight: 150 lbs.
Length: 15 ft.
GVWR: 3,000 lbs.
CCC: 2,050 lbs.
Sleep: 2-4
The Aliner Ranger 12 is the perfect hard shell pop-up camper for traveling off the beaten path. This travel trailer is like the Ranger 10 but has a number of upgraded comforts and performance features.
The Ranger 12 comes standard with full-size radial tires on 14-inch wheels set on a heavy-duty 3,000-pound axle. This provides added height for easy travel to more remote locations on rougher roads. The diamond plate front stone guard provides additional protection for your trailer on rocky roads.
Once you get to your remote campsite, you'll enjoy many of the comforts of home. The Ranger 12 has interior and exterior stoves, a refrigerator, and a sink for easy meal prep. The 11-gallon freshwater tank provides ample water supply for the outside shower for cleaning up after a day of exploring the outdoors.
4. Classic Bean Roadster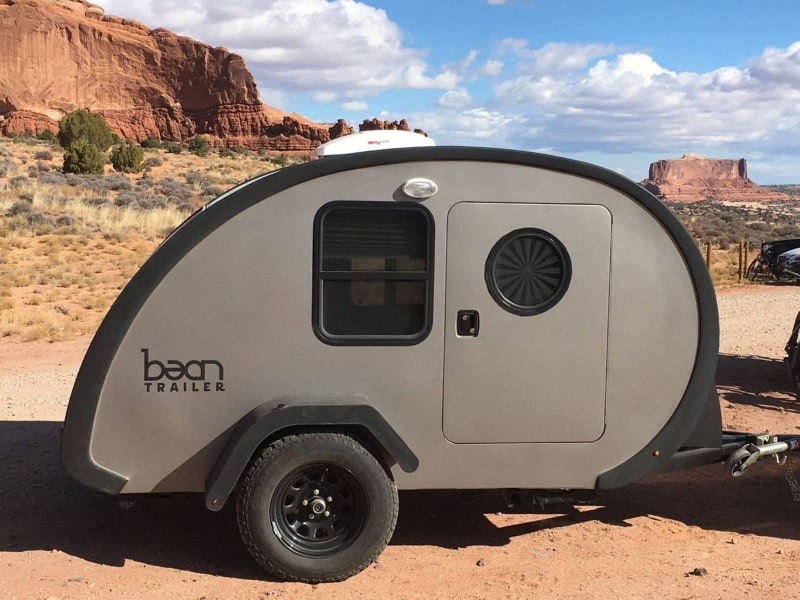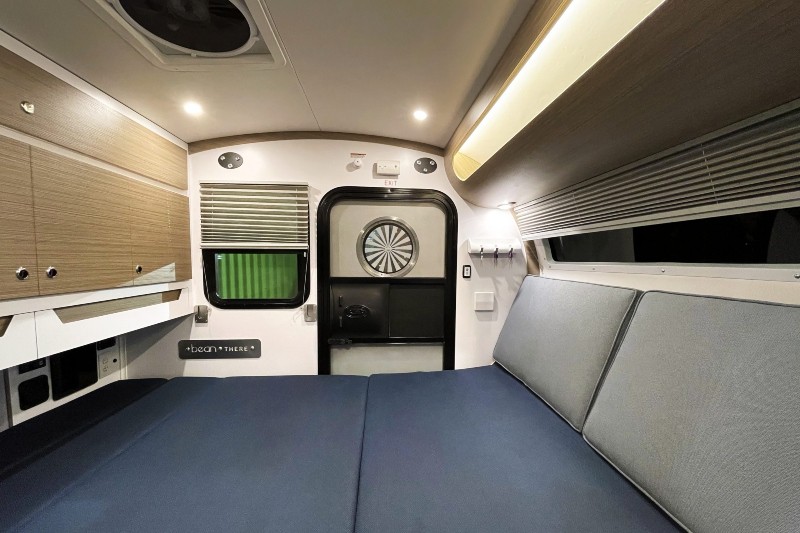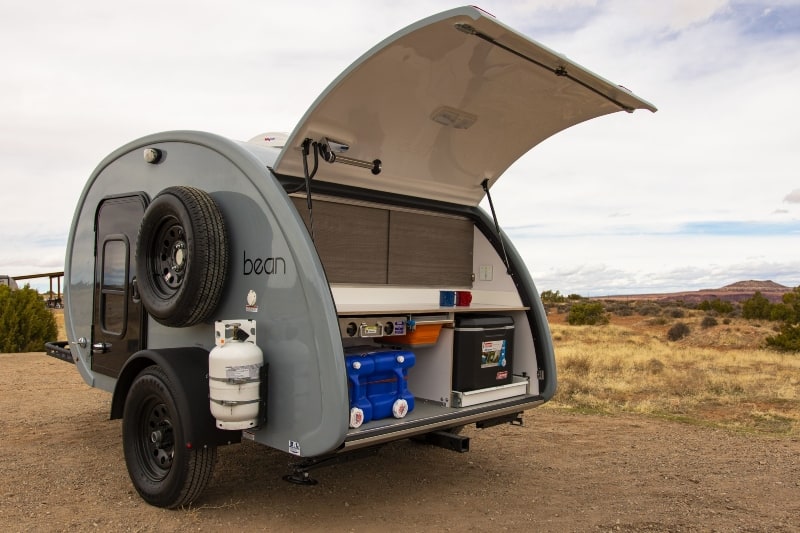 Our

Pros and Cons
✅ The 18-gallon water tank holds plenty of water for longer camping adventures.
⛔ The kitchen is located outside the camper, but the hatch protects you from sun and weather.
UVW: 1,650 lbs.
Tongue Weight: 165 lbs.
Length: 14.25 ft.
GVWR: 3,500 lbs.
CCC: 1,850 lbs.
Sleep: 1-2
Just because you enjoy boondocking doesn't mean that you should be uncomfortable. The Class Bean Roadster teardrop trailer is a fan favorite for boondocking. This compact, lightweight camper is rugged enough for off-road adventures but has many comfort features.
The interior of the camper is quite spacious and can sleep two adults on the queen size bed. The bed converts to a sofa and dining table if needed. You'll be pleasantly surprised at the storage space and handy organizing bins. The pass-through cabinets allow for easy access to items from the exterior kitchen.
Speaking of the exterior, the kitchen is sleek enough to be in your home or a restaurant. The stainless-steel counter, built-in sink, and handy pull-out stove make cooking in the great outdoors a joy. Beans come with standard Thule roof racks to easily haul bikes, kayaks, or your roof-top tent.
5. Rustic Trail Kodiak Stealth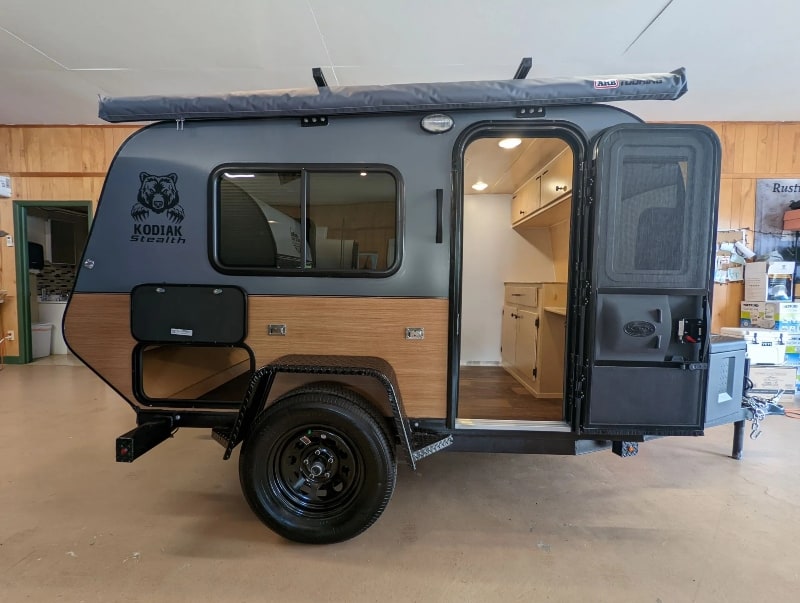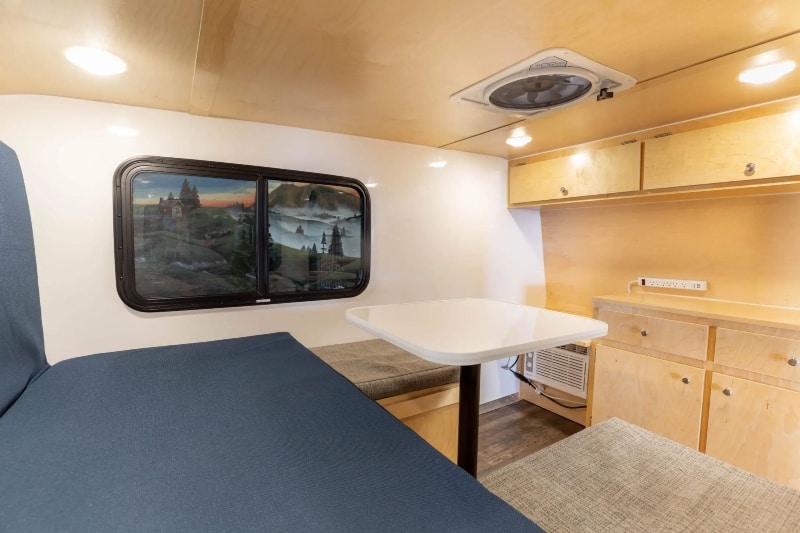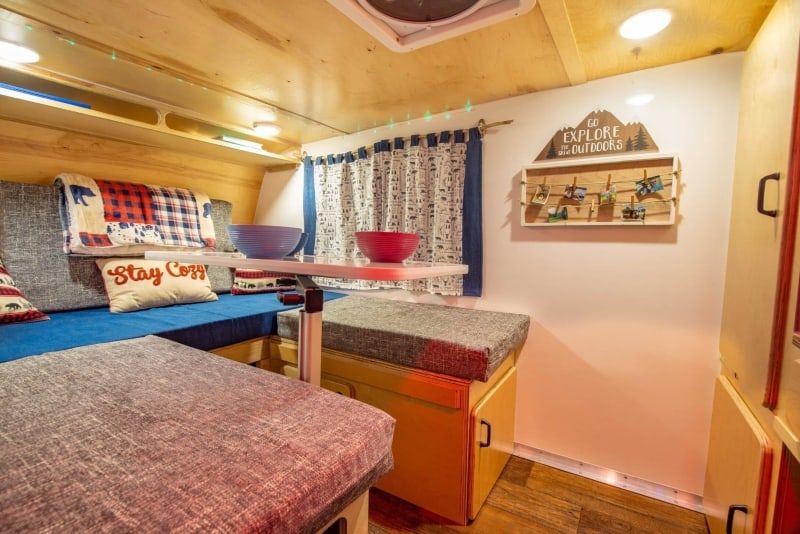 Our

Pros and Cons
✅ The Kodiak Stealth is a really affordable camper that can be pulled with small SUVs.
⛔ his travel trailer doesn't have a built-in galley.
UVW: 1,525 lbs.
Tongue Weight: 175 lbs.
Length: 13 ft.
GVWR: 3,500 lbs.
CCC: 1,833-2,025 lbs.
Sleep: 1-3
The Rustic Trail Kodiak Stealth is a compact travel trailer that provides comfort and simplicity. There aren't many bells and whistles on this camper. As a matter of fact, it doesn't even have a galley. If you're tired of sleeping in a tent but still enjoy cooking over a campfire, this is your camper.
Though the Kodiak is pretty basic, it does have the comfort features of more expensive travel trailers. It comes standard with an air conditioner. The solar-ready AGM battery kit runs interior lights, USB charging ports, and exterior lights.
The extra clearance and full-size tires make this camper ideal for off-road adventures. The powder-coated frame and diamond plate fenders stand up to challenging roads and changing weather conditions. The Kodiak has various great optional features that add to its comfort, including a heavy-duty roof rack with an awning.
6. Coachmen Clipper Express 12.0TD XL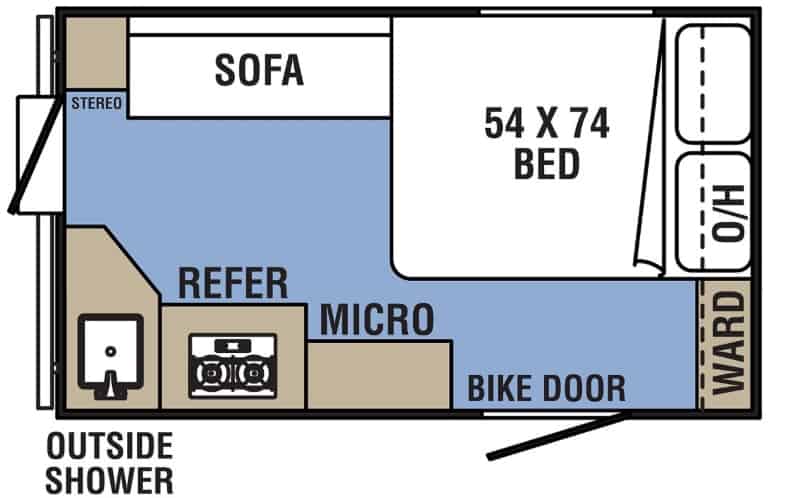 Our

Pros and Cons
✅ Surprisingly roomy despite the small size.
⛔ It's a soft shell expandable camper, so expect some outside noise issues.
UVW: 2,225 lbs.
Tongue Weight: 3,259 lbs.
Length: 16.8 ft.
GVWR: 3,259 lbs.
CCC: 1,034 lbs.
Sleep: 2-4
Coachmen is generally known for its family-oriented travel trailers and motorhomes. The Clipper Express 12.0TD MAX is the perfect combination of popup and teardrop with a rugged exterior. The Clipper is a favorite of overlanders who want an easy-to-modify base camper.
It may not look like it, but this camper can comfortably sleep 4 people. If your family likes to adventure, but you're still unsure if you're ready for a full-size camper, the Clipper Express is a nice in-between option.
The interior features a full galley, including a refrigerator. There's a full-size bed, a gaucho bed, and a small bunk, perfect for your kids. Storing your bikes and other large items is easy with the rear entry and camp side utility doors.
Use the Flex Rod Tech Add-A-Room screen tent that attaches above the rear door to create a bug-free outdoor dining or relaxing space. A portable toilet comes with all versions of the Clipper Express, but it can be stored anywhere or left behind to conserve storage space.
Longer trips off the grid will be simpler with the 27-gallon freshwater tank. The Clipper Express is solar-ready, and the Wide Trac Ultra axle allows you to turn this camper into the perfect overlanding headquarters.
7. TAXA Outdoors Cricket Habitat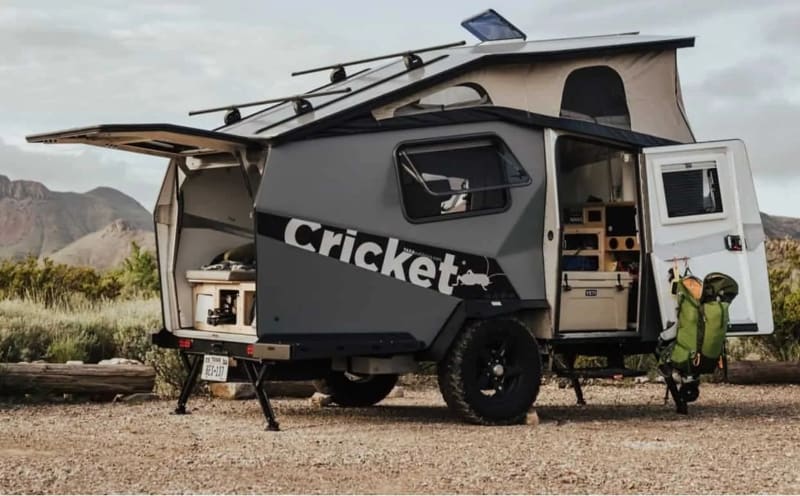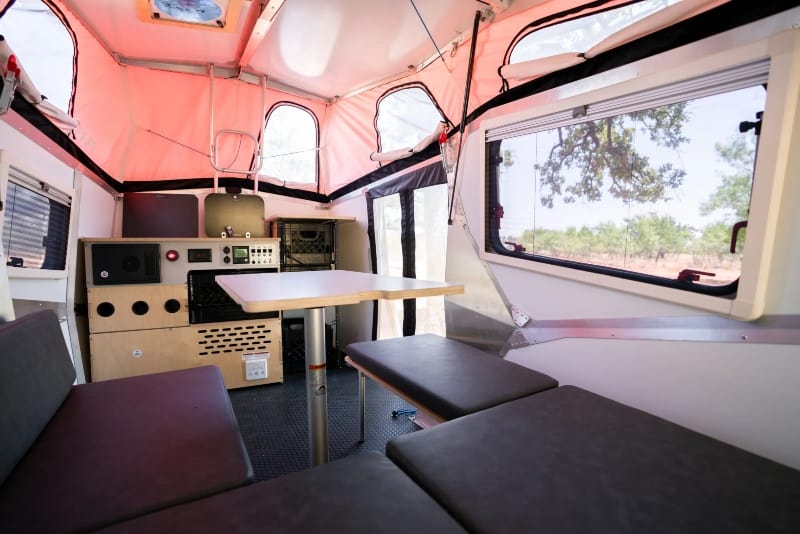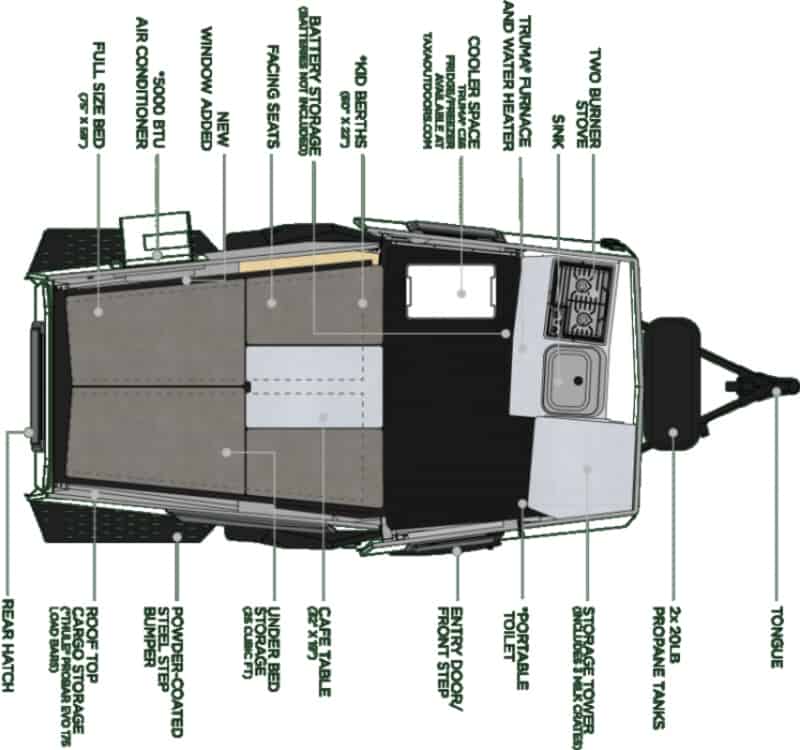 Our

Pros and Cons
✅ The Cricket can easily be towed by most 4-cylinder cars and SUVs.
⛔ The Cricket is a four-person camper with the sleeping berth add-on.
UVW: 1,800 lbs.
Tongue Weight: 245 lbs.
Length: 15 ft.
GVWR: 2,700 lbs.
CCC: 900 lbs.
Sleep: 2-4
Don't let the name of this camper fool you. Though the TAXA Outdoors Cricket Habitat is small, it comes from one of the best overland camper manufacturers. This rugged tent camper is super simple to set up and is perfect for the adventurous couple.
Our favorite feature of this expandable camper is the galley. Though the space is small, the galley offers a ton of counter space for preparing your meals.
The bed can convert to a dinette with a rotating café table. This camper is a great option for camping during the fall and early spring, thanks to the Truma furnace and hot water heater.
Expandable soft-shell campers are often difficult to manage. However, the Cricket uses hydraulic lifts to open the roof with minimal effort.
The 11-inch ground clearance is perfect for off-road adventures. Making your off-road adventure even better, this camper comes standard with roof racks and is prewired for solar.
8. MeerKat Trailer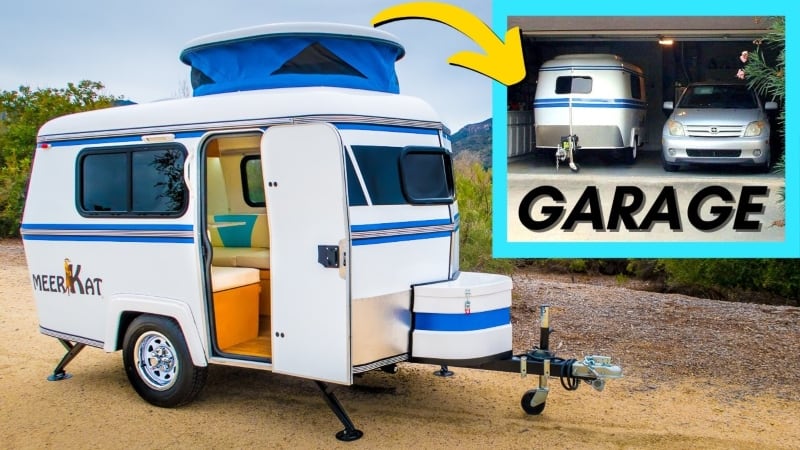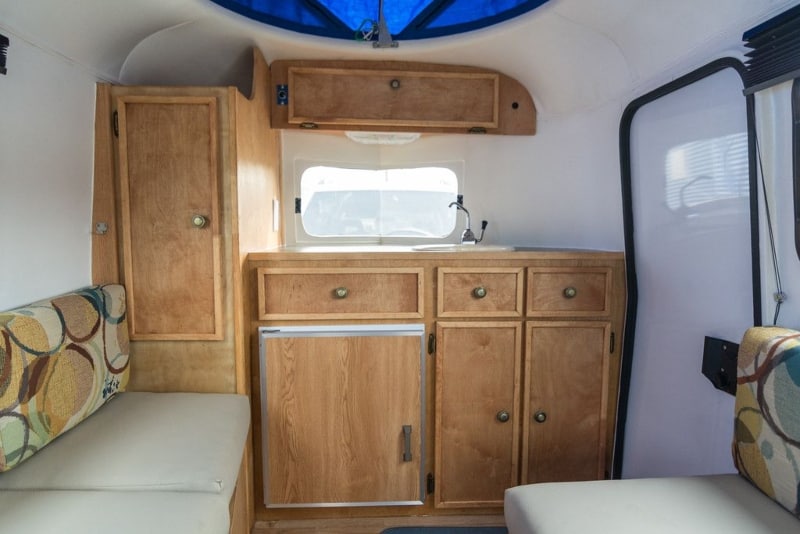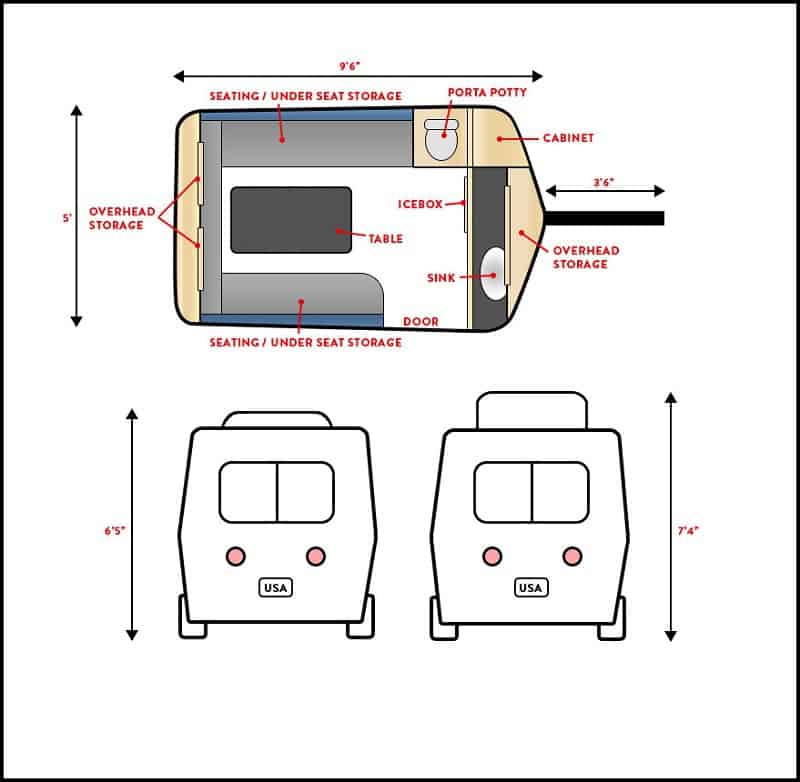 Our

Pros and Cons
✅ The MeerKat looks different, but you'll love the headroom and airflow it provides.
⛔ The galley hand pump sink conserves water but makes doing dishes a bit of a workout.
UVW: 900 lbs.
Tongue Weight: 100 lbs.
Length: 13 ft.
GVWR: 2,000 lbs.
CCC: 1,100 lbs.
Sleep: 1-2
The MeerKat Trailer is the perfect travel trailer for couples who want a more comfortable camping experience without a huge price tag. These travel trailers without bathrooms provide a roomy place to sleep and relax while providing some nice basic essentials.
Inside you'll find a convertible dinette that transforms into a comfortable queen size bed. The seating offers great storage compartments to keep your gear organized. The front of the cabin has nice counter space with a hand pump sink and a stow-away camp stove.
Under the seat cushion next to the road side closet, there is a place for an included portable commode, but you don't have to bring it with you. this under bench space is valuable for portable cooking appliances, coffee makers, and other "real" necessities.
Can you deal with the bathhouse at a campground so you can have your morning coffee? We say YES!
Do You Really Need a Bathroom in Your Camper?
For some people, a bathroom in their camper is a must. However, lots of people don't care about the bathroom situation. They would rather have other amenities to make camping more comfortable.
A travel trailer without bathroom fixtures may be unnecessary if you always camp in a developed campground with bathroom and shower facilities. Or, you may not want a bathroom if you're boondocking or overland camping.
The need for a bathroom in your camper is really a matter of where you're camping and what comfort features are important for your personal camper.
How Do You Go to the Bathroom When Boondocking?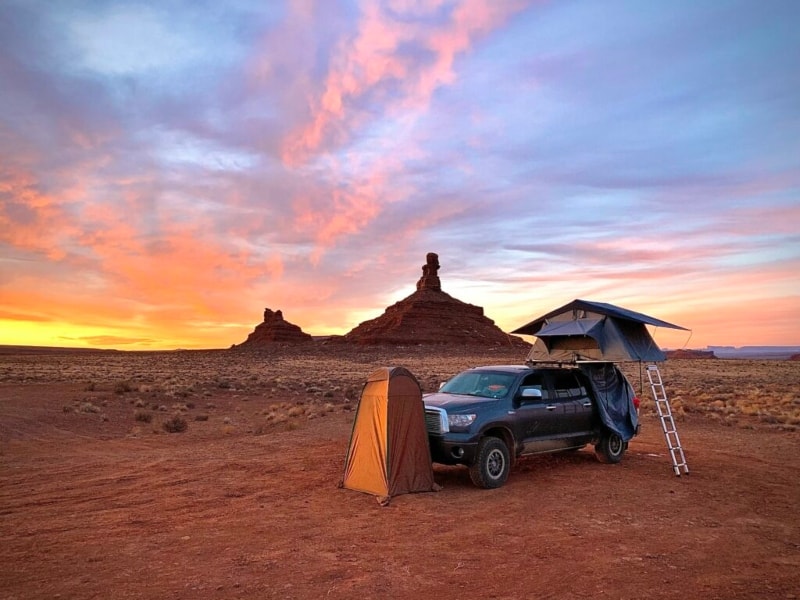 One of the joys of boondocking is the ability to get far away from the hustle and bustle of life. Solitude often comes with some sacrifices, and no bathroom facilities are one of those sacrifices. People who boondock have a couple of options for where they do their business.
A Bush and a Cathole
This sounds funny, but if you don't have a toilet and you're truly roughing it, you may need to learn to "go" in nature. If you're digging a cathole, ensure it's at least 6-8 inches deep to keep your waste from washing away during precipitation events.
Ensure you're more than 200 ft. away from camp, trails, and animal scat (you don't want them to perceive you as challenging their territory). Also, make your cathole far away from any water source like a lake, river, or stream.
Liquid waste should be evacuated on rocks or gravel, not plant life. Animals seeking salt will be drawn to your "spot" and also perceive you challenging their turf. Remember, they're not too keen on letting guests borrow their "facilities."
Portable Cassette Toilet
Many overlanding travel trailers come with cassette toilets, or you can buy one. These small commodes offer you the comfort of a toilet without much additional camper weight. They do have their challenges.
You can invest in a small shelter for privacy or rig up some rope around some trees and hang tarps.
Portable cassette toilets have a holding tank of up to 5 gallons and need toilet treatment agents to break everything down. You can empty them at RV dump stations or campground bathhouse toilets.
4 Ways to Shower Without a Bathroom in Your Travel Trailer?
If you have a travel trailer without a bathroom, you'll have to figure out how to shower. There are some options; some are actually more comfortable than trying to shower in a tiny, tiny space.
1. Outdoor Shower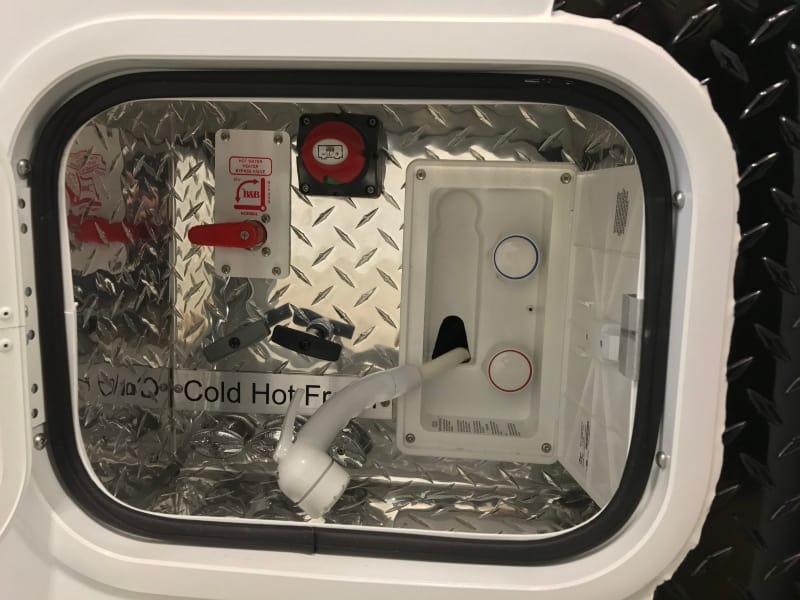 Some travel trailers without bathroom facilities have an outdoor shower. These are tied to the water pump and water heater of your camper. These allow you to shower without taking up space inside the camper. If you have an outdoor shower, invest in a shelter or shower in a swimsuit.
2. Portable Solar Shower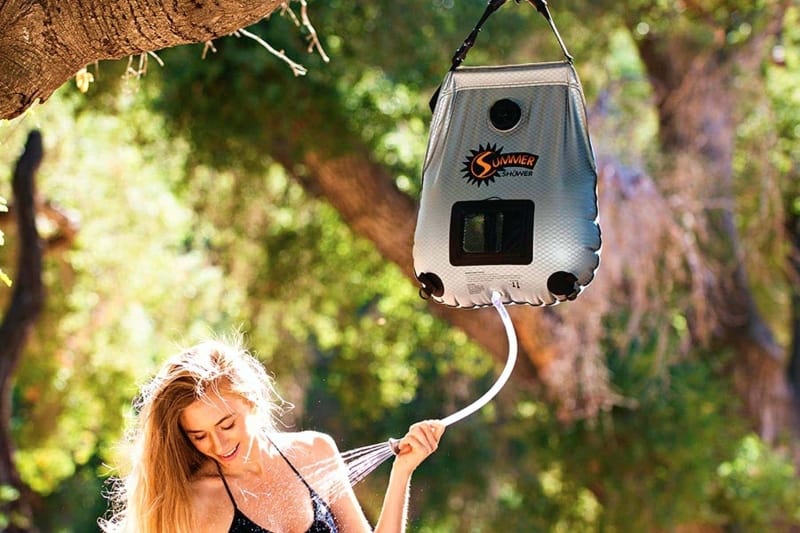 Tent campers demanded a portable shower option, so the portable solar shower was invented (sort of). These small bags hold about 3 gallons of water and are heated by the sun. They can hang from a tree or inside a shower/toilet shelter.
3. Campground Bathhouse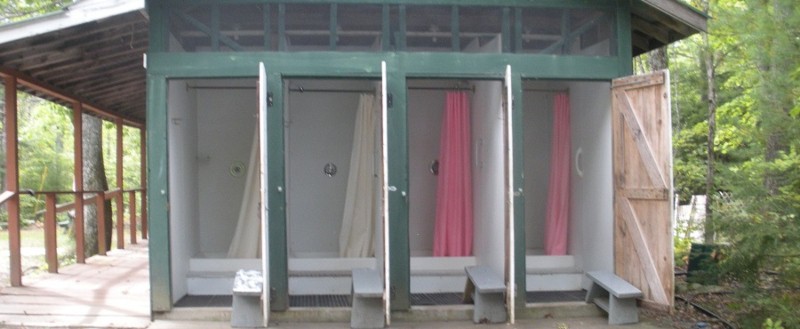 If you're camping in a developed campground or RV park, you can utilize the shower facilities on-site. Most are free for registered campers. If you're not staying in the campground, many RV parks will let you shower for a small fee.
4. Local Rec Center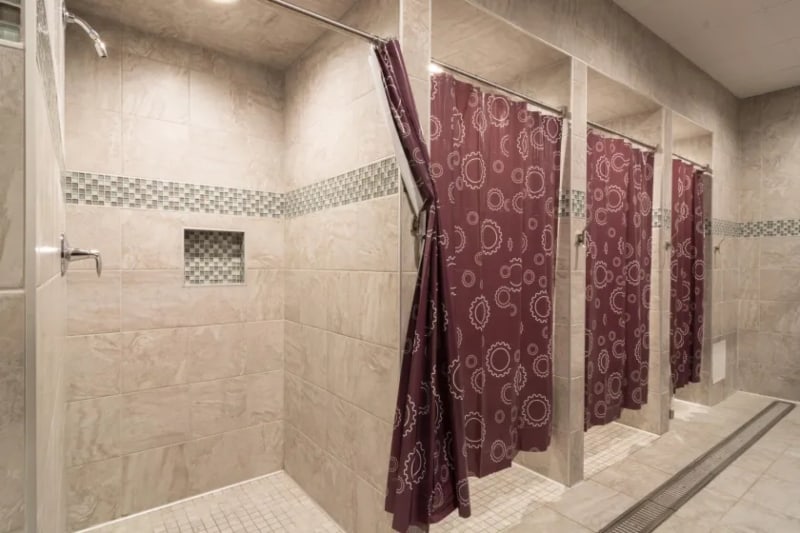 Recreation centers, particularly those in tourist areas, will often let people use the locker room facilities for showering for a small fee. Some full-timers even have gym memberships to national fitness center chains to clean the road off of themselves.
Do Travel Trailers Without Bathrooms Hold Their Value?
The depreciation of a travel trailer without bathroom facilities depends on its style and where you sell the RV.
Travel trailers made for boondocking or overlanding tend to hold their value well, even without a bathroom. Many factors determine the resale value of a travel trailer. The best way to get the best price is to keep your travel trailer well-maintained for the next owner.
On the other hand, if you want a travel trailer and are on a budget, standard travel trailers without bathrooms tend to depreciate faster. This might be a nice way to save money on a travel trailer.
Can You Camp Self-Sustained Without a Travel Trailer Bathroom?
Technically, if your travel trailer doesn't have a bathroom, it's not considered a self-sustained camper. However, if your travel trailer has an outside shower, purchasing a cassette toilet could be an easy way to become self-sustaining.
What Is the Most Reliable Small Camper?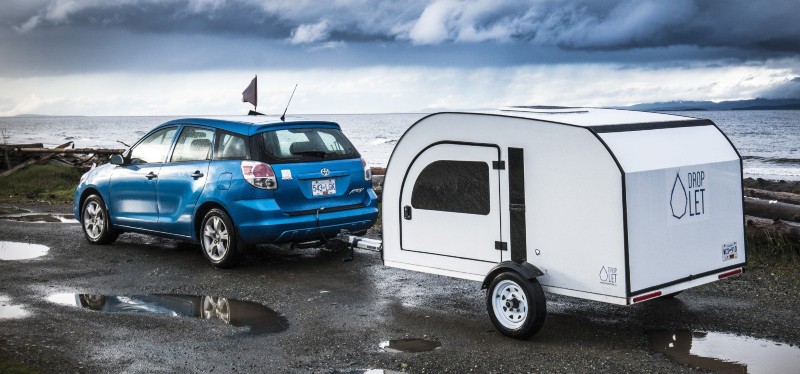 Selecting the most reliable small camper really depends on how you maintain your RV. We've seen legendary name-brand travel trailers with many problems since they weren't kept in good repair.
Yet, there are plenty of examples of RVs with less-than-stellar reputations that have lasted for decades. The bottom line is how well they're maintained and what their owners do with them.
4 Common Problems with Bathrooms in Travel Trailers?
One of the reasons many people want to skip the bathroom in a travel trailer is the potential for really inconvenient problems. Camper bathrooms aren't the same as your home bathroom, so when problems happen, they can be a nightmare.
Here are some problems people most commonly encounter with RV bathrooms.
1. Water Pump Fails
If the water pump fails, you won't have the ability to flush your camper toilet, run your sink, shower, or do anything else that requires the water pump. The water pump is needed when you're dry camping.
2. Toilet Leaks
Your camper's toilet has seals just like your home toilet. If these fail, you've got a mess to clean up.
3. Bad Water Pressure
Bad water pressure is usually caused by a broken water line or pump issue. You'll have to locate the actual source of the problem to repair the leak or mechanism.
4. Odors
Travel trailer toilets empty directly into the blackwater tank. As waste sits in this tank, it can begin to smell. Use odor control tablets in your blackwater tank to reduce toilet odors. In our feature article, learn about how to eliminate toilet odors and other RV toilet issues.
Is It Worth Buying a Travel Trailer Without a Bathroom?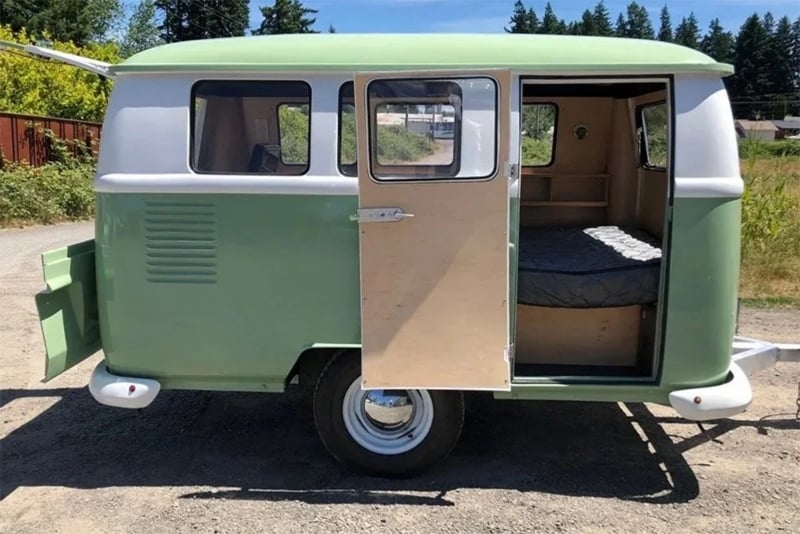 Travel trailers without bathrooms can be a great investment for those that can let go of the comforts of home. Campers that come without bathrooms can be more affordable and may have fewer maintenance needs.
These two factors alone make a travel trailer without a bathroom worthy of consideration. Travel trailers without bathrooms may also be a better option for boondocking.
However, a travel trailer without bathrooms may not be a good investment if you're looking for home comforts. Before buying a travel trailer, consider what you actually need and want so you get the best camper. This may mean you find a great travel trailer without a bathroom.
---
About the Author:
Jason Gass is a full-time freelance writer and part-time RVer whose goal is to share great stories around a campfire with good friends.
When he's not working, he spends most of his time camping, searching for the best breweries, and road-tripping in his teardrop trailer with his wife, daughter, and two dogs.