Finding a travel trailer that fits your needs is important. If you don't want a large, heavy trailer when a small one will suffice, a Murphy Bed is a great option. Travel trailers with Murphy beds for couples or families can be a great space-saving option in smaller RVs.
The best thing about travel trailers with Murphy beds is that they allow you to essentially "hide" the bed during the day, and a quick pull-down will make the bed usable at night, as opposed to other foldable bed options in an RV.
What Is a Murphy Bed?
A Murphy bed is a bed that's hinged at one end to store vertically against the wall in the RV. Murphy beds can also be an additional bed in your RV for kids or guests. When the bed is raised, most have a couch underneath that's great for more seating.
Murphy beds are used for space-saving purposes. They're popular where floor space is limited, such as travel trailers under 30 feet.
What Is the Benefit of Having a Murphy Bed in a Travel Trailer?
Travel trailers with Murphy Beds are great for creating more usable space inside your camper. The area where the Murphy bed is located has a couch during the day and a bed at night. These multi-functional beds are a great way to maximize the living space in any trailer. A Murphy bed is also called a wall bed or pull-down bed.
An RV Murphy bed is an excellent choice that allows you to purchase a small RV while still having enough seating and maneuvering room during the day. Whether you're looking for a drivable motorhome or towable trailer, you can find floorplans with a Murphy bed.
Is There a Disadvantage to a Murphy Bed in a Travel Trailer?
Unfortunately, Murphy beds require a thinner mattress. If you plan to sleep on it every night, make sure you research the best RV murphy bed mattress upgrade.
Of course, they must be folded up and locked away after each use. Although the process is not time-consuming, it must be done daily. Most can be folded up with the bedding still in place, although you might have to stow the pillows elsewhere.
14 Travel Trailers with a Murphy Bed
We've compiled some travel trailers with Murphy beds that would be great for couples. Check these out.
1. R-Pod RP-153 – Rear Entry Door to Maximize Space
Our Pros & Cons
✅ The rear entry door allows for better features and more open space!
⛔ You'll need that dinette table as counter space since the kitchen doesn't offer much.
UVW: 3,159 lbs.
Tongue Weight: 330 lbs.
Length: 17.6 ft.
GVWR: 4,730 lbs.
CCC: 1,571 lbs.
Sleep: 2-3
The Forest River R-Pod RP-153 is one of the smallest travel trailers with Murphy beds on our list. It's lightweight and has a rear entry, much like a pickup camper. But take note of some of the key features of this little giant.
It has a dry bath with a decent amount of space. A Showermiser feature redirects water into your fresh tank while you wait for it to get hot, saving water.
In the kitchen are a pantry, a propane-electric refrigerator, a microwave, and a two-burner stove.
This little camper has a feature everyone will love. It has a built-in vacuum system at floor level, which will suck your debris into the vacuum system when kicked on. There are also attachments available.
2. Forest River No Boundaries NB19.6 – Breakfast Bar
Our Pros & Cons
✅ The breakfast bar countertop adds extra seating for many purposes.
⛔ White cloth interior on an RV meant to go off-road? (Don't worry, it's a vinyl cloth material)
UVW: 4,919 lbs.
Tongue Weight: 650 lbs.
Length: 24.8 ft.
GVWR: 7,650 lbs.
CCC: 2,731 lbs.
Sleep: 2-4
This Forest River No-Bo 19.6 features an axle-less design that provides independent suspension, taking you beyond the dirt road and way off the trail. The Curt Beast Mode suspension is for extreme off-road and is available only in this series.
The suspension on this trailer also helps to reduce rattles and vibrations while towing. The ground clearance and larger diameter tires make this the perfect backcountry RV.
The suspension system allows you to explore and set up camp in places that would otherwise be inaccessible. It can be towed by both 4-cylinder and 6-cylinder tow vehicles.
The No Boundaries Series also offers adaptable storage for kayaks, bikes, surfboards, skis, and more. You don't have to sacrifice space and comfort with the queen-size Murphy bed up front and a jack-knife sofa in the slideout. The breakfast bar provides a lot of countertop space and the perfect indoor dining area.
3. Jayco Jay Feather Micro 173MRB – Huge Bathroom
Our Pros & Cons
✅ Check out all that elbow space in the bathroom!
⛔ The Murphy bed mattress folds, so replacing it with a different brand can be difficult.
UVW: 3,980 lbs.
Tongue Weight: 440 lbs.
Length: 20.10 ft.
GVWR: 4,995 lbs.
CCC: 1,015 lbs.
Sleep: 2-3
The Jayco Jay Feather Micro 173MRB is a travel trailer under 5,000 lbs. GVWR, so it can be towed by most mid-size tow vehicles. The JayCommand Smart RV System allows users to connect their mobile device to their RV from just about anywhere. You can monitor and control key RV features in the palm of your hand.
With the Jay Feather Micro, the floor plan is compact, but you've everything you need for a great camping experience. Check out the JayPort system with a 17-inch griddle which allows you to cook outside.
Off-road, Goodyear tires allow you to be safe on the road and get away from it all when you're ready.
4. KZ-RV Connect SE 191MBSE – Lots of Counter Top Space
Our Pros & Cons
✅ Check out that long countertop!
⛔ You'll need to bring an extra freestanding table if you're hosting guests.
UVW: 4,700 lbs.
Tongue Weight: 670 lbs.
Length: 22.6 ft.
GVWR: 4,700 lbs.
CCC: 1,800 lbs.
Sleep: 1-2
Check out the KZ RV Connect SE 191MBSE with a spacious floor plan. It's lightweight enough to allow you to explore what you want with all the comforts of home.
Some of the key features of the Connect 191MBSE include an exterior docking station, a OneControl monitor panel that monitors battery levels and controls slide rooms, leveling system, awnings, inside/outside lighting, and a tire pressure monitoring system.
A solar package will allow you the convenience of powering your electronics anytime and anywhere. An optional "off the grid" package powered by Xantred includes 110-watt flexible solar panels, a 30 amp MPPT solar charge controller, and a 1,200-watt pure sine wave inverter.
Upgraded linoleum and a 10 cu. ft. 12V refrigerator with dual temperature control and stainless steel microwave will allow you to enjoy meals made in your RV.
The off-grid package includes 2 110-watt roof-mounted solar panels, a 30 amp MPPT solar charge controller with remote, and a 1,200-watt inverter.
5. Winnebago Micro Minnie FLX 2108DS – Multifunctional Space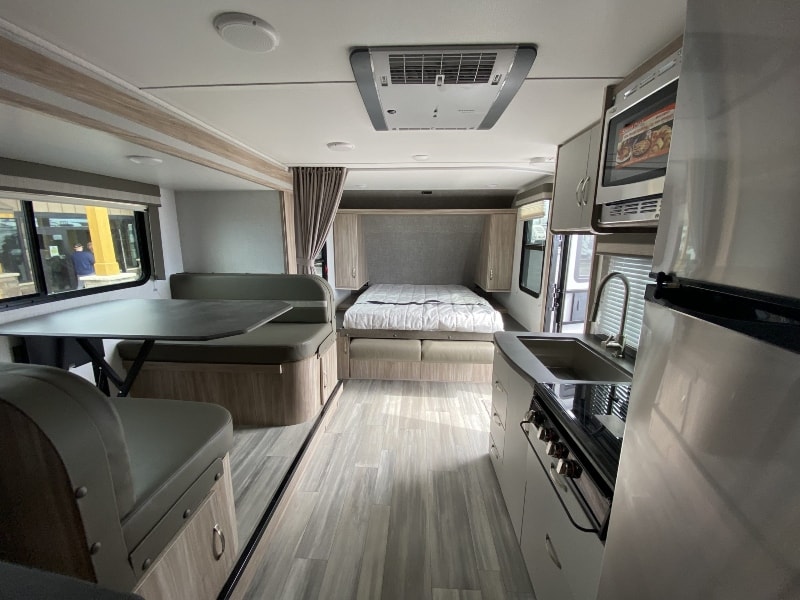 Our Pros & Cons
✅ The dinette makes this Micro Minnie a family sleeper, but the sofa adds space.
⛔ The FLX version is good for off-pavement, but take it easy in the backcountry.
UVW: 4,370 lbs.
Tongue Weight: 404 lbs.
Length: 22.5 ft.
GVWR: 5,500 lbs.
CCC: 1,130 lbs.
Sleep: 2-4
As RVers, we love to roam, hike, and spend time off the grid, but we always like it when we can have our technology back at camp. The new high-tech Winnegabo Micro Minnie FLX 2108DS has a full suite of factory-installed, integrated technology to keep you connected when disconnected for up to five days.
The 2108DS has USB charging ports, Wi-Fi prep, a wireless cell phone charger, and an all-in-one control panel. The trailer also features two 200-watt solar panels with a 30-amp MPTT charge controller.
There are additional roof and a sidewall port to add additional panels. Winnie sends all of this energy to a 320-amp Lithium Ion battery. The 3,000-watt inverter makes this power useful for all your electronics.
The 15-inch off-road tire/axle lift will allow you to take your adventure as off-road as you want to go. Features such as a power tongue jack, power awning with LED lighting, and power stabilizing jacks will get you set up quickly, allowing more time for fun.
6. Northwood Nash 18FM – Great for Half Ton Trucks
Our Pros & Cons
✅ This is a travel trailer for half-ton trucks that can be used in January!
⛔ This true 4 season travel trailer is extra heavy due to the "winter coat" features.
UVW: 5,662 lbs.
Tongue Weight: 556 lbs.
Length: 22.11 ft.
GVWR: 7,400 lbs.
CCC: 1,738 lbs.
Sleep: 2-4
Like all Northwood travel trailers, the Nash 18FM is a true cold-weather travel trailer. It has heated and enclosed holding tanks and extra thick walls with extra thick insulation. Enjoy custom features, including exceptional cabinetry, one-piece formed countertops and dinette table, and the Nash signature key rack.
Everything Northwood builds has been tested and certified from the bonded roof truss system, the easy lube axles, and shock absorbers. Unlike others, this manufacturer builds everything in-house, including the chassis.
The beautiful interior has hidden hinges on the custom-built cabinet doors, stainless steel appliances, and plenty of USB charging ports.
When you walk inside the Nash 18FM, you'll find plenty of storage in this coach, including three wardrobes, a pantry, and lots of exterior storage. The Murphy bed and front roll-over sofa provide great sleeping space, and the dinette converts to a 45X85 sleeping area. The kitchen offers a residential microwave, range, and large refrigerator.
7. Coachmen Freedom Ultra-Lite 238BHS – Residential Queen Bed
Our Pros & Cons
✅ The Murphy bed is a true residential queen!
⛔ Mom and Dad may want to invest in an aftermarket privacy curtain.
UVW: 5,314 lbs.
Tongue Weight: 694 lbs.
Length: 25.9 ft.
GVWR: 7,600 lbs.
CCC: 2,286 lbs.
Sleep: 4-8
The Coachmen Freedom Ultra-Lite 238BHS is a great option for families with plenty of sleeping and living space. With double-over bunks and the Murphy bed, you can sleep your own family and add a few more to the mix.
The 8 cu. ft refrigerator, with an option for 10 cu. ft. will hold plenty of food so that you can focus on your great time of adventure.
The heated underbelly allows you to camp past Halloween and maybe even mooch-dock at grandma and grandpa's place for Thanksgiving in certain regions.
You'll feel confident of your family's safety with Alumicage construction, vacuum-bonded walls with Azdel composite, tinted safety glass windows, aluminum wheels, a spare tire, and much more.
The pass-through storage lets you bring all the stuff you need for a great camping adventure.
8. Gulf Stream Coach Ameri-Lite Ultra-Lite 248BH – Upper and Lower Double Bunks
Our Pros & Cons
✅ Gulf Stream has upper and lower double bunks.
⛔ The dinette can be tight for 4 people.
UVW: 3,899 lbs.
Tongue Weight: 500 lbs.
Length: 26.7 ft.
GVWR: 7,500 lbs.
CCC: 3,601 lbs.
Sleep: 4-7
The Gulf Stream Ameri-Lite 248BH offers some great RV options to transport your large family to their next outing. In this non-slideout travel trailer, you'll find quality construction, roomy and comfortable features, and a great floor plan for all your RVing needs.
The 248BH has double-over double bunks, a convertible dinette, and a master bed. What's unique about the master bedroom is that you can choose whether you want the extra space with a Murphy bed or have it as a permanent queen. Either way, it's the same size.
Oversized tanks for freshwater (30 gallons), grey water (36 gallons), and black water (36 gallons) will keep you off-grid for a while. The one-piece synthetic vinyl roof with a 12-year supplier warranty, wood roof decking, screwed and glued, hand-cut fiberglass insulation in the floor, walls, and ceiling, and a residential-style subfloor, will keep you moving in style for a long time.
Popular options include aluminum wheels, an outside shower, a three-burner range with an oven, or a 6-gallon gas/electric 110-volt DSI water heater.
9. Venture RV Sonic SN211VDB – Secure Bunks for Kids
Our Pros & Cons
✅ The wardrobe and the bathroom wall will keep the kids secure in their bunks.
⛔ The kids are close to the TV in the bunks, not the master bedroom up front.
UVW: 4,560 lbs.
Tongue Weight: 560 lbs.
Length: 27 ft.
GVWR: 5,890 lbs.
CCC: 1,330 lbs.
Sleep: 4-8
The Venture RV Sonic SN211VDB is a great way to have it all in one ultra-lite travel trailer package. The Sonic boasts 82-inch ceilings, a residential kitchen, and plenty of storage. Solid construction, maximum towing efficiency, and a tandem axle allow for a smaller tow vehicle.
Choose the Discovery Package 1.4, which includes LevelMatePRO. This leveling system is the easiest and most user-friendly way to level your RV.
The package also includes aluminum wheels, a power tongue jack, solar prep, Wi-Fi prep, heirloom maple cabinet doors, an 8 cu. ft. double-door refrigerator, a Euro-style dinette, a pet defender screen protector, and much more.
Options also include a backup camera and an off-road tire package.
10. Heartland Prowler 172BHX – Huge Dinette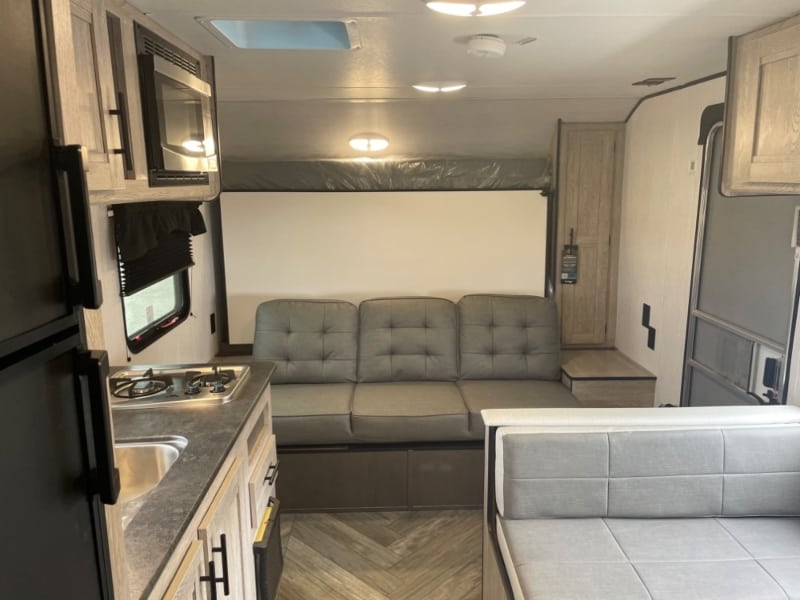 Our Pros & Cons
✅ This Prowler has a dinette that can comfortably seat 4!
⛔ Beware the shower curtain; it'll get uncomfortably close during your morning routine.
UVW: 3,820 lbs.
Tongue Weight: 610 lbs.
Length: 22.6 ft.
GVWR: 5,010 lbs.
CCC: 1,174 lbs.
Sleep: 4-8
The Heartland Prowler 172BHX is another RV travel trailer with a Murphy bed with double bunks. The Prowler Series is known for its family-friendly features, including plenty of sleeping and living space.
If you're a young couple preparing for a future family and empty nesters, use the bunks for guests or storage.
The Prowler boasts a 13.5k BTU A/C with up to 50 percent more ducts for more efficient air circulation. The MEGA Bright Pass-Thru storage gives you 52 cu. ft. of storage with large access doors and energy-saving LED lights.
Top features include power stabilizing jacks, an adjustable power awning, and an optional power-lighted tongue jack, quickly getting you set up and ready to enjoy your camping trip.
11. Coleman Light 1905BH – Great Entry Level Camper
Our Pros & Cons
✅ This Coleman is the best entry-level travel trailer with all the features you could want!
⛔ You'll need the dinette table and a flip-up countertop for meal prep space.
UVW: 4,486 lbs.
Tongue Weight: 602 lbs.
Length: 23.11 lbs.
GVWR: 5,610 lbs.
CCC: 1,124 lbs.
Sleep: 4-8
Don't let the word "light" fool you on this one. It may be small, but this Coleman Light sleeps 8—plenty of room for a multi-family trip. The double-over bunks, convertible booth dinette, and Murphy bed, plus lots of floor space with one slide, make for lots of space.
The Colemen Lite 1905BH is lightweight but durable with aluminum framed construction. It includes powered features like stabilizer jacks, awning, tongue jack, and more. The pass-through storage will help you bring all you need for a great time camping.
A fully-enclosed underbelly, assures your storage tanks and vital functions are out of the elements, keeping you camping into the late fall and early spring. Also, sensitive systems are protected from road hazards or blowouts.
Check out the 35th Anniversary package, which includes the Solo OneControl Command System, slideout toppers, on-demand tankless water heater, and rearview camera.
12. Keystone Passport SL 221BH – Amazing Storage Space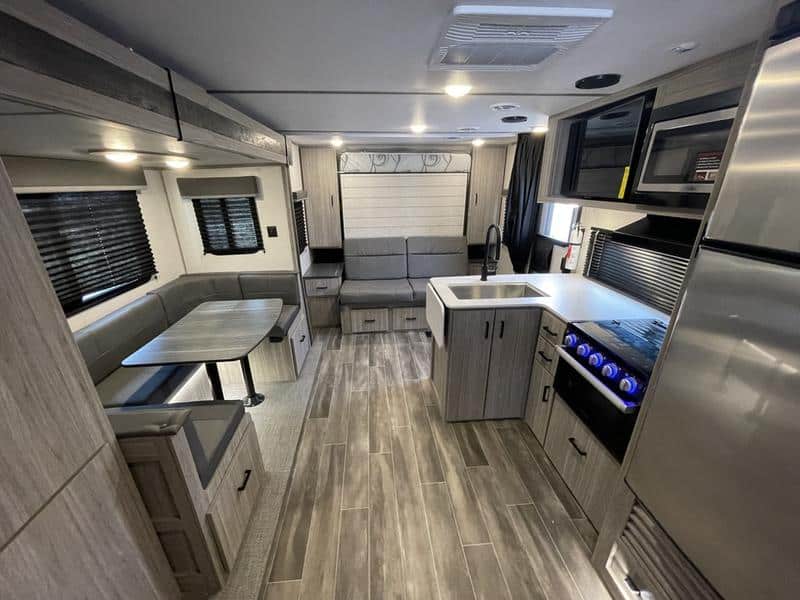 Our Pros & Cons
✅ The rear cargo door and flip-up bunk are perfect for long and tall gear!
⛔ You may want to find a replacement privacy curtain that's a little thicker.
UVW: 5,219 lbs.
Tongue Weight: 685 lbs.
Length: 26.4 ft.
GVWR: 7,000 lbs.
CCC: 1,781 lbs.
Sleep: 4-8
The Keystone Passport SL 221BH touts itself as the Swiss army knife of RVs for its multi-functional features and best-in-class storage. A rear cargo door and flip-up bunks are featured on this model, which sleeps 8 comfortably.
Keystone also boasts a stronger, lighter, and more resilient flooring called Hyperdeck, designed to resist water and water damage. The marine-grade material in the slideout is also water-resistant and easy to clean.
Among the many other great features of the Keystone is the power stabilizer jacks which are standard on most Keystone travel trailers. You can stabilize the RV with the push of a button.
13. Grand Design Transcend Xplor 235BH – Great Quality
Our Pros & Cons
✅ The surface and storage space is grandiose in this Grand Design! (yeah, we went there)
⛔ Making this coach adaptable for couples and families added some heavier-than-average weight.
UVW: 5,462 lbs.
Tongue Weight: 532 lbs.
Length: 26.4 ft.
GVWR: 7,462 lbs.
CCC: 2,033 lbs.
Sleep: 2-6
Is it a couple's RV with a bench and swing-down bunk or a multi-functional family travel trailer? You decide? Grand Design has some great travel trailers with murphy beds. The Transcend Xplor 235BH is one of their best examples.
Like all Grand Designs, the Transcend Xplor is well-built and has a great design with open floorplans and great towability with a half-ton truck or larger SUV.
The Murphy bed gives you plenty of floor space, while the bunks and convertible booth dinette allow for additional sleeping for a big family. The walk-in shower and tub surround, upgraded residential furniture, hardwood door fronts, and residential countertops will make you feel like you are at home.
14. East to West Alta 2210 MBH – Removable Dinette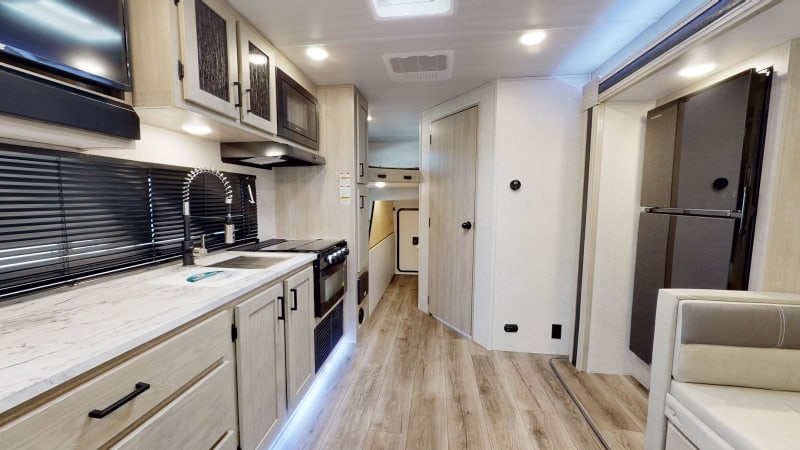 Our Pros & Cons
✅ Remove the freestanding table for your big dog's sleeping space!
⛔ Don't leave the kayak door open for your dog to sneak out.
UVW: 5,326 lbs.
Tongue Weight: 735 lbs.
Length: 28.4 ft.
GVWR: 7,735 lbs.
CCC: 2,409 lbs.
Sleep: 4-8
The beautiful East to West Alta 2210 MBH is a great option for a nice-sized family. This travel trailer sleeps 8 and features a kayak door at the back with a flip-up bunk. The double-over double bunk beds can sleep four kids or provide space for more outdoor gear.
Standard features include a 10.7 cu. ft. stainless steel refrigerator to pack away plenty to feed your crew. A tri-fold "EZ-Out" Murphy bed sofa accommodates owners. An 81-inch ceiling height, porcelain toilet, upgraded appliances, lots of storage, and even a pet drawer so Fido can join in the fun.
11 FAQs About Murphy Beds in an RV
1. How Do You Use Murphy Beds in Travel Trailers?
A Murphy bed comes down by grabbing and pulling on the handles. Most beds can be easily opened with one hand. Generally, the bed can be closed with the sheets and blankets still attached, so you don't have to make the bed whenever you need it.
The thickness of the blankets and the mattress will make a difference in whether the bed will close completely made.
2. Are Murphy Beds Easy to Use?
Murphy beds are very easy to use, allowing you to have plenty of extra space when the bed is closed.
3. Is a Murphy Bed Practical for Daily Use?
This type of bed is very practical for daily use but with everything, it's a matter of choice. Some RVers don't like the idea of a bed that you must set up every night. They'd rather have a permanent bed they can fall into whenever they want to use it.
4. Is a Murphy Bed Comfortable?
A Murphy bed can be as comfortable as a regular bed. Make sure you have a good quality mattress that fits in the space allotted. You must be able to close the bed, particularly when traveling. If the pre-installed mattress isn't to your liking, you can always add a mattress topper for better comfort.
5. Can You Leave the Bedding on Your Murphy Bed When Folded Up?
In most cases, you can leave the bedding on your Murphy bed. You'll probably need to stow your pillows but getting ready for sleep should be as easy as pulling it down, finding your pillow, and crawling into it.
6. Will a Murphy Bed Hold a Lot of Weight?
Most Murphy beds can hold a lot of weight. Be sure to check with your RV dealer or owner's manual for an exact amount. You don't want to strain the bed's mechanism with too much weight.
7. Can You Leave a Murphy Bed Down While Moving Your Travel Trailer?
Traveling with the Murphy bed is okay if the bed doesn't interfere with the slideout.
8. Could I Build a Murphy Bed in My Travel Trailer?
Yes, plenty of YouTube videos help you along the way. You'll need to consider the weight of the wood and other building materials so your trailer's cargo capacity isn't overloaded. There are Murphy bed kits for a home installation, but your RV bed will likely need to be tailored to the size of your trailer.
9. Are RV Murphy Beds Dangerous?
Murphy beds shouldn't be dangerous. They lock into place and shouldn't fall unless they're improperly installed. If you are building your own Murphy bed, make sure the frame can't become dislodged from the wall due to not being secured correctly.
Heavy-duty latches or bungee cords are a good way to double-secure the bed when the trailer's in motion.
Also, make sure the bed frame is screwed into something that's solid wood and that more than one screw is used per side.
10. How Big Are Murphy Beds?
While all of the travel trailers we highlighted have queen-size murphy beds, a few have kings. The Leisure Van Unity is one Class C with a king-size Murphy bed.
11. Do Murphy Beds in a Travel Trailer Offer Privacy?
You won't have privacy walls in travel trailers with Murphy beds. Most are made to be folded out in the living room area. Many family versions come with a privacy curtain. If you're handy, you could add a curtain at the front of the bed for more privacy.
Is It Worth It to Buy a Travel Trailer with a Murphy Bed?
A Murphy bed is a great option if a small trailer is what you can afford, tow, or prefer. You get a lot of extra daytime space when you fold the bed up.
Most Murphy beds in the models we mentioned have a couch that's revealed when the bed is folded up. The bed only takes up space when you're using it. Otherwise, you'll have room for seating, dining, or just extra space to move around.
The negatives of a Murphy bed include no privacy, which would certainly factor in when children and guests are around. Of course, you must put up the bed in the morning and put it down again at night. This process doesn't take long but could be a turn-off for some people.
In general, travel trailers with Murphy beds are a great option for many RV lifestyles.
---
About the Author:
Terri Nighswonger and her husband Todd have been RVing and work camping for five years with their Cavalier King Charles Spaniel, Newton, and their Minnie Australian Shepherd, Remi.
They originate from the Midwest but plan to enjoy the West for a few years, wintering in Arizona and summering wherever the road may lead. Writing is Terri's passion, but she also loves hiking, kayaking, walking her dogs, and anything she can do outdoors.