It's understandable that small travel trailers for retired couples are a disorienting cavalcade of options when the ultimate adventure still waits before you. The adventurous couple looks for a life on the road, after all, so finding the right travel trailer that's durable and solid for the long run.
Retirement is often associated with hanging up the work gloves and messing about in the garden or watching too much TV. The fact that the focus here is on small travel trailers for a retired couple betrays that assumption. Traveling is about adventure, after all.
You're done with the working life or, at least, the working life that exchanges labor or skills for pay, but the adventure is just beginning. After all, you deserve it, along with a comfortable, small travel trailer you can park in an RV lot or haul across the country on your next great undertaking.
What is Considered a Small Travel Trailer?
Size is subjective and depends on your needs and what level of comfort you desire. Of course, there is a generalized understanding of what is "small" in the RV universe, and, for most, it's a travel trailer that is shorter or equal to 20' with between 5,000 and 9,000 GVWR.
Are Small Travel Trailers Best for Retired Couples?
Not necessarily, but once again, that's entirely up to the couple and their personal preferences. There are several advantages a smaller travel trailer has over a larger one, such as maintenance costs and affordability, but they're not better or worse on their own.
👇 CLICK on the video below to see some awesome travel trailers for couples! 👇
15 Best Small Travel Trailers for Retired Couples
With that being said, there is one intangible advantage that smaller travel trailers have over their larger cousins: a sense of home. Now, everyone's idea of "home" is certainly different, but small travel trailers just seem to exude that overall aesthetic all the time.
1. Lance 1575
Our Pros and Cons
✅ Dinette slide-out adds a spacier feel
⛔ Some may not prefer the bathroom right next to the dinette
UVW: 3,490 lbs.
Tongue Weight: 350 lbs.
Length: 20.5 ft.
GVWR: 4,600 lbs.
CCC: 1,010 lbs.
Sleep: 2-4
Lance is a well-known brand in the RV industry and is fairly popular. You don't get that way by slapping together garbage RVs.
The Lance 1575 is another example of RV manufacturing excellence in a small form. With a GVWR that's sub-5,000 lbs, there are a wide variety of vehicles that are capable of towing it.
The interior is small and neat, with a queen bed on one end and the bathroom on the other, only a few feet away. The slide-out dinette opens up the space nicely, making it feel much larger inside than it looks outside.
The frame is aluminum and well-insulated with a PVC roof and laminate flooring. For its size, the features are extensive, including excellent storage space, solid-surface countertops, USB charging ports galore, a subwoofer, and a 24" HDTV.
2. Starcraft RV Autumn Ridge 20FBS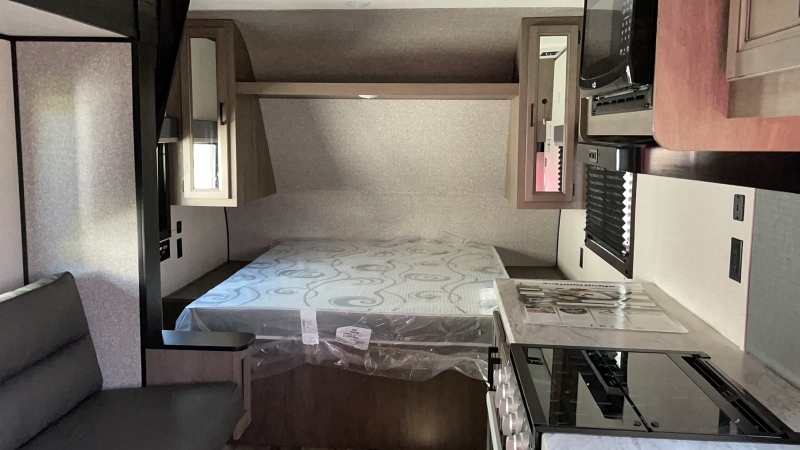 Our Pros and Cons
✅ Outstanding utilization of interior space
⛔ Single Slide-out doesn't make a huge interior space difference
UVW: 4,595 lbs.
Tongue Weight: 465 lbs.
Length: 23.8 ft.
GVWR: 6,000 lbs.
CCC: 1,405 lbs.
Sleep: 2-4
Starcraft has built a reputation around making campers fun, and that's exactly what the inside looks like— fun. No, there's not a bouncy house or a retro arcade inside. The interior of the Starcraft Autumn Ridge 20FBS is just slick, streamlined, and fantastic.
The unique aesthetic combines light and dark with smooth, blue LEDs reflecting off the stainless steel stove and vent. There are several variations to choose from, but all of them feature modern styles, with plenty of walking space throughout. You won't feel clustered in a 20FBS.
Starcraft managed to put this spacey environment together while keeping the GVWR right at 6,000, making this one of the easier-to-tow travel trailers. Starcraft utilizes a rigid, hardcore Magnum Roof System, vinyl flooring, and tinted safety-glass windows.
The zoned audio system is an interior and exterior setup, so you won't miss a single note when you step outside. Meal prep is simplified with an array of kitchen amenities, and the dry bath is surprisingly spacey, considering the size constraints.
3. Jay Flight SLX 195RB
Our Pros and Cons
✅ Stunning interior aesthetic
⛔ No bathroom vent fan
UVW: 3,100 lbs.
Tongue Weight: 255 lbs.
Length: 21.10 ft.
GVWR: 3,995 lbs.
CCC: 895 lbs.
Sleep: 2-4
Jayco is probably one of the best known for creating an interior ambiance that is just so cool to look at. The only manufacturer knows exactly what to do with black and white or even pale cream colors and midnight blacks.
Looking nice and performing nicely are two different things, however, and Jayco doesn't slack in either department. The Jay Flight SLX 195RB is a fantastic little camper that does much more with little. The Goodyear Endurance tires are an immediate indication that Jayco cares.
Speaking of the exterior, Jayco installs a SMART lighting system on all of its trailers these days, which incorporates upper and side marker lights that work in coordination with the blinkers. The dry bath is small but economical and efficient inside, with 6' 5" standing space in the shower.
4. Gulf Stream Vintage Cruiser 23RSS
Our Pros and Cons
✅ Old-school diner appeal meshes nicely with included amenities
⛔ Non-ducted A/C
UVW: 3,920 lbs.
Tongue Weight: 420 lbs.
Length: 26.1 ft.
GVWR: 6,060 lbs.
CCC: 2,140 lbs.
Sleep: 2-4
If you love the aesthetic of those old-school roadside diners, the kind you often see in a classical road trip of gangster movies, you'll love the Gulf Stream Vintage Cruiser 23RSS. While modern looks are cool and all, there's something about the wild and vibrant colors and curves of the 50s that exudes positivity and fun.
The interior exceeds the exterior, resembling the above-mentioned diner down to the turquoise and cream dinette and matching drapes. One thing is for sure; the 23RSS stands out from the crowd of modernized travel trailer aesthetics.
The 23RSS comes with a fleet of interior amenities, including vacuum laminated walls, a high ceiling, a 4-burner stove with a 17" oven, and a split-bathroom design with a self-contained bathtub/shower across from a toilet and sink.
5. Oliver Travel Trailers Legacy Elite II Twin Bed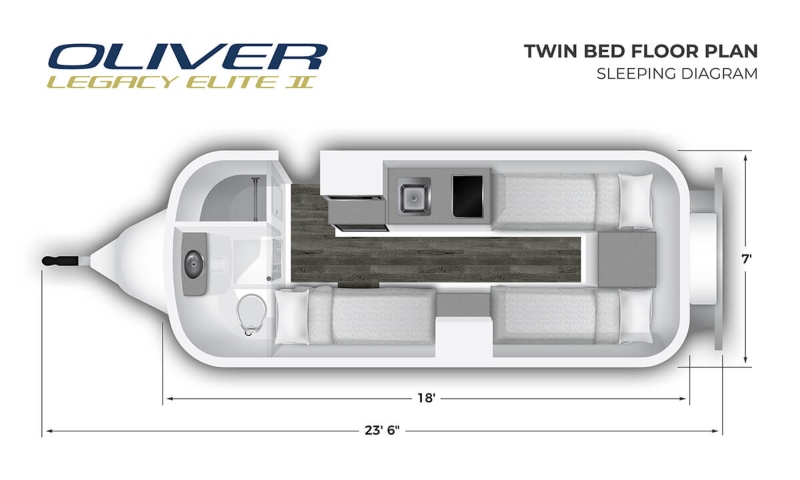 Our Pros and Cons
✅ A fantastic boondocking option
⛔ Aesthetic is somewhat sterile and unchangeable
UVW: 3,700 lbs
Tongue Weight: 370 lbs
Length: 18.5 ft.
GVWR: 5,000 lbs
CCC: 1,300 lbs
Sleep: 2-3
If the worst thing we can come up with is a generally sterile aesthetic appeal, that's saying something. The fact is, Oliver II has a sizeable following that is enthralled with these little campers, and for good reason. These travel trailers feature designs with a sky-high degree of quality.
As an independent RV manufacturer in Tennessee, Oliver built its reputation on outstanding quality construction, and though that means a higher price tag, these puppies are constructed to last. Since they are built to order, the Legacy Elite II has many options.
One of the most popular builds is focused on boondocking. Oliver offers many options, including a 630-amp-hours worth of batteries, a 3,000-watt inverter, and a 340-watt solar panel.
6. Coachmen Apex Nano 201RBS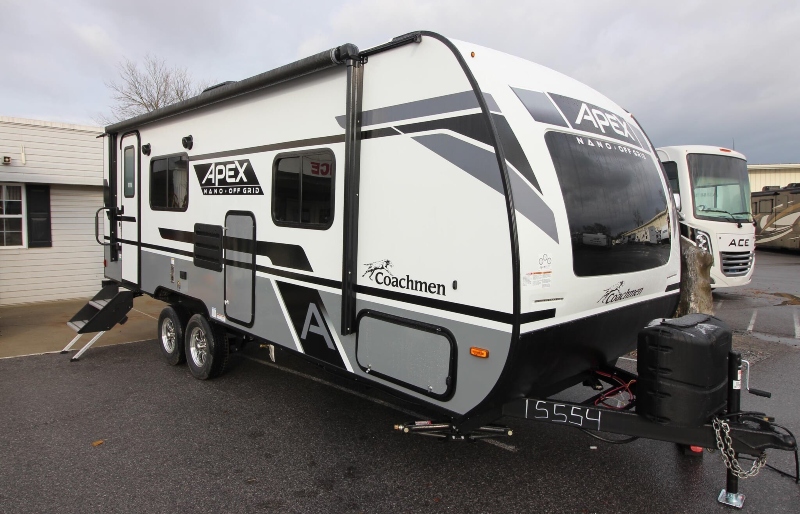 Our Pros and Cons
✅ Numerous interior and exterior storage options
⛔ Cutlery drawers are mysteriously absent
UVW: 4,048 lbs
Tongue Weight: 544 lbs
Length: 24.11
GVWR: 7,544 lbs
CCC: 3,496 lbs
Sleep: 2-4
The layout is one of the best features of the Coachmen Apex Nano 201BHS. The slide-out dinette optimizes the available space around you, and the dinette itself is crafted with high quality and comfort in mind. It easily converts into a bed if you need extra space.
The bed is a permanent or optional Murphy bed. If you're planning on spending a lot of time in the Apex, the Murphy is the way to go if you want more space and storage options. Storage space is solid, and the counter space is adequate, with the microwave and stove installed below the sink.
The dry bath is very spacious, with plenty of room to move about and a stand-up shower with ample head space as well. The exterior includes a slide-out, two-burner stove, and pass-through storage.
7. Casita Freedom
Our Pros and Cons
✅ Marine-grade fiberglass built over a steel frame
⛔ Hard choice between bathroom and space for additional sleepers
UVW: 2,480 lbs
Tongue Weight: Unspecified
Length: 17 ft.
GVWR: 3,480 lbs
CCC: 1,000 lbs
Sleep: 2
All Casita Travel Trailers come in either a deluxe or standard version. If you're just a couple with no plans of having anyone else along for the ride, the Deluxe version includes a bathroom and an additional closet. The standard version drops the bathroom in favor of two twin bunk beds.
One thing is a certainty with a Casita, and that builds quality. Like the Oliver listed above, Casita is an independent company that offers these travel trailers through a build-your-own process. They are exceptionally sturdy and well-made.
The Casita Freedom's double bed on one end converts into a large dinette, and there's still enough space for dual swivel chairs that are exceptionally comfortable. There's also a smaller, more intimate dinette in the center, across from a small but neatly organized kitchen.
8. Venture RV Sonic Ultra-Lite SN190VRB
Our Pros and Cons
✅ Huge bathroom for a travel trailer this size
⛔ Windows are smallish and few in numbers
UVW: 3,880 lbs
Tongue Weight: 390
Length: 23.3 ft.
GVWR: 5,775 lbs
CCC: 1,895 lbs
Sleep: 2
For starters, the Venture Sonic RV Ultra-Lite SN190VRB is a mouthful, but it comes with a permanent Murphy bed (unless you prefer something different), which more than makes up for it.
Under the Murphy bed lurks a fantastic love seat that's been the brand's focus for a long time (in terms of improving the love seats for maximum comfort and appeal). The SN190VRB is well-built and designed with a seamless fiberglass roof and plywood floor decking.
The motion-activated interior lights are a nice touch when you first step in, and the interior furnishings (an obvious focal point in the manufacturing and design process) are exceptionally comfortable. The kitchen is extensive and about as close as you will come to a home kitchen you will find in an RV of this size.
9. Cruiser RV Radiance Ultra-Lite R-25RB
Our Pros and Cons
✅ King Bed Sliding System
⛔ Plywood flooring requires a higher degree of maintenance
UVW: 6,080 lbs
Tongue Weight: 780
Length: 30.8 ft.
GVWR: 9,580 lbs
CCC: 3,452 lbs
Sleep: 6
The king slide bed is the stand-out feature on the Cruiser RV Radiance Ultra-Lite R-25RB. It's nothing special but brilliant in its operation. When you need more space, simply slide the bed off to one side. It features a full range of movement from east to west or vice versa.
The rest of the Radiance is a well-constructed travel trailer featuring plywood flooring, solid countertops, Azdel Composite Laminated Walls, a barrel roof, dual-ducted A/C, a black tank power washing feature, and two 20-lb LP tanks.
The interior has a richly designed aesthetic with light-colored wood juxtaposed against granite-look countertops and brindle plywood flooring. It's a joy to look at and contributes to a relaxing atmosphere. The dry bath is large and spacious, while the kitchen amenities are extensive, with a well-designed layout.
10. Rockwood Signature 8263MBR
Our Pros and Cons
✅ Exquisitely designed, luxury styling and comfort
⛔ The lighting is a little on the dark side for some
UVW: 7,809 lbs
Tongue Weight: 1,065
Length: 29.11 ft.
GVWR: 10,315 lbs
CCC: 2,056 lbs
Sleep: 2
One glance will tell you all you need to know—the Rockwood series and the Rockwood Signature 8263MBR, specifically, are built with luxury in mind. This is one fine-looking RV; if you like to travel in style and comfort, it's worth more than a single look.
A modern touch is applied to all of the furniture, yet they retain a high degree of comfort, especially the queen bed. The kitchens are fully loaded and share space with an electric fireplace and an HDTV.
There is also a ton of storage space available on this particular model. One of the best features about the 8263MBR is an unseen one—the exceptional build quality, with laminated, fiberglass sidewalls, the 6-sided aluminum frame, and the plywood tongue and groove subfloor.
11. KZ Connect SE C221RESE
Our Pros and Cons
✅ Highly durable, lightweight NXG Frame
⛔ Bedroom entertainment counter and mount is too close to the bed
UVW: 5,240 lbs
Tongue Weight: 570
Length: 27.1 ft.
GVWR: 7,000 lbs
CCC: 1,760 lbs
Sleep: 6
The two knock-out features of the KZ Connect SE C221RESE are the RV airflow system and the NXG frame. The latter is a rigid, lightweight frame with a high degree of longevity and durability.
The airflow system improves the air circulation in the RV by up to 40%. The KZ Connect pulls no punches, and it's loaded with amenities and features. The exterior is built for durability, with walk-on Tufflex roof material, a diamond plate front protection panel, four stabilizer jacks, and a durable frame.
Once you step inside, it gets even better. Technology-wise, it is also loaded with USB charging ports, a dual speaker system, a multimedia entertainment system, the RV airflow system, and a 10 cu. Ft. fridge with dual temperature control.
The interior is homely, with lights and shades merged to create a nice ambiance. For instance, the matte black kitchen faucet stands out against the pale, marbled countertops. The bathroom is immense and well-designed, with plenty of head space as well.
12. Palomino SolAire Ultra-Lite 208SS
Our Pros and Cons
✅ Highly durable, lightweight NXG Frame
⛔ USB charging ports are located in inconvenient spots
UVW: 4,823 lbs
Tongue Weight: 615
Length: 24.2 ft.
GVWR: 6,315 lbs
CCC: 1,492 lbs
Sleep: 4
This Palomino model is easy to fall in love with, especially with the floorplan, the perfectly located slide-out, and the large bathroom. If you want a small trailer without sacrificing space, you'll find it in the Palomino SolAire Ultra-Lite 208SS.
It's very lightweight, so you won't need a monster to tow it around. They packed a lot of merchandise into the interior with plenty of closet space and storage, a convertible dinette (part of the slide-out), a large pantry, and dual, opposing wardrobes in the master.
The dry bath is huge on other Ultra Lite models but is relegated to the corner in the 208SS. Fortunately, it's for a good reason, as it allowed Palmino to add a large refrigerator and an additional closet on the same end.
13. Crossroads Volante VL25R
Our Pros and Cons
✅ Designed almost exclusively for couples
⛔ The theater seating and entertainment space is a little narrow
UVW: 5,538 lbs
Tongue Weight: 460
Length: 29.7 ft.
GVWR: 7,460 lbs
CCC: 1,922 lbs
Sleep: 4
The Crossroads Volante VL25RL is often touted as the "couples travel trailer," and it certainly looks that way. The outside features some conveniences, including the electric tongue jack and stabilizer jacks. There's also a pass-through storage option on the front.
For entertainment, exterior speakers, a small fridge, sturdy steps, and a backup camera are standard. On the inside, it's designed with two people in mind. The rear contains an intimate theater seating design. Across the way are the entertainment system and a fireplace.
The other end features a nice king bed for those who love an extra wiggling room at night. There's also some additional storage under the mattress. The shower is massive for this size class, and the windows throughout are huge, making for some nice views.
14. Wildwood Heritage Glen Hyper-Lyte 22RK
Our Pros and Cons
✅ Enclosed undercarriage with heating for winter weather
⛔ Panoramic window across from the TV throws a glare
UVW: 5,198 lbs
Tongue Weight: 530
Length: 26.7 ft.
GVWR: 7,530 lbs
CCC: 2,332lbs
Sleep: 4
One glance at that floorplan, and you know the Wildwood Heritage Glen Hyper-Lyte 22RKHL is packed. The title of this particular travel trailer is a bit of a word salad, but it's fitting considering all that Forest River packed into this thing.
It's only a single slide-out, but that lone slide-out contains theater seating, a 10 cu. ft. refrigerator, counter space, stovetop, and microwave. Across the way, you'll find a sizeable booth dinette adjacent to the entry and a pantry on the opposite side. All of that is within the central space.
The back end contains a fairly sizeable shower, while the sink and associated countertop take up the remaining space in the rear. The porcelain toilet and shower are separate from the bathroom sink.
Pass-through storage is located on the outside but runs beneath the interior queen bed, which is flanked by two wardrobes. A lot is going on when you walk in the front door, and storage space is everywhere. The exterior features a full kitchen as well, including an LP quick-connect.
15. Airstream International 25RB
Our Pros and Cons
✅ Quietstream Duct Climate Control System is amazing
⛔ All-pale interior aesthetic may induce a yawn or two
UVW: 5,600 lbs
Tongue Weight: 835
Length: 25 ft.
GVWR: 7,300 lbs
CCC: 1,700 lbs
Sleep: 6
Airstream is a well-known silver-bullet brand that is quintessentially American camping. The interior is incredibly designed and features a dinette with one booth that stretches ⅓ of the way down the Airstream wall. It's the kind of thing that makes for a comfortable, laid-back environment.
The master bedroom is in the back, and the bed sits east to west. However, there is just enough room to walk completely around it without crawling over your partner to get in bed. The kitchen counter space is adequate and includes a three-burner stove and all the amenities you would expect.
The shower is a separate walk-in section on the opposite side of the toilet and sink. One of the best features of the Airstream International 25RB is the Quietstream Duct Climate Control System. It monitors the outside weather and adjusts the interior accordingly.
It even includes a rain sensor, which automatically adjusts the thermostat to combat outdoor humidity. It's a nice design feature and very practical.
What Retirees Should Look for in Small Travel Trailers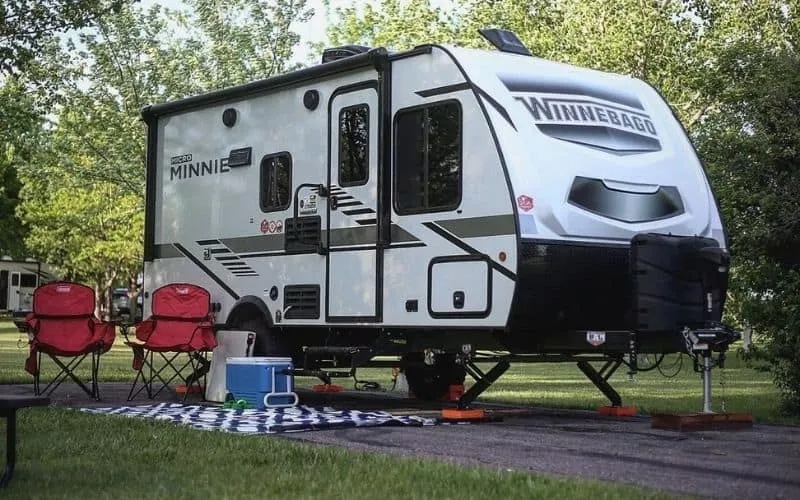 1. Length
Downsizing is the word of the day (never mind, make that the word of the last decade or so) when it comes to RVs. Everyone is looking to live smaller, it seems. Smaller travel trailers open up opportunities to tow them with something that doesn't need to get 5 miles per gallon because it's huge.
You will also find that you can squeeze into small areas and will never have an issue at campgrounds that don't offer gigantic spaces. Shorter travel trailers are easier to tow and control on the road. As a bonus, modern variations are pretty aerodynamic as well.
2. Weight
Weight plays a role right along with length. The less it weighs, the easier it is to tow. Some of the travel trailers on this list are easily towed by a GMC Acadia. You won't have to sell one of your kidneys on the black market to afford a 1-ton or a ¾-ton. That's always a plus.
If you want to live an "on-the-road always" lifestyle, it will save you a ton of gas money as well. Plus, what do you really need? Do you need a massively heavy camper? What are your necessities? Smaller travel trailers have much to offer in a convenient, compact package.
3. Sleeping Quarters
Fortunately, with a few exceptions, most of the above options provide enough space and beds to sleep between 3 and 4 people—sometimes even more. The focus should be the two of you, with the option of visiting with the grandkids now and then.
4. Facilities and Amenities
Well-located facilities and amenities are always a plus, regardless of age. As we get older, joints start to hurt, and muscles get stiff easily, especially first thing in the morning. It's nice to have everything easily accessible and nothing ridiculously complicated.
Take the Oliver Legacy Elite II, for instance. You can get the Deluxe or Standard Edition. However, if you go with the Deluxe, you get that bathroom accommodation. The Standard eschews the bathroom amenities in favor of extra sleeping quarters. Choose wisely.
5. Temperature Control
Simplicity is key. This is your time, and you earned it. It's best to keep things simple and effective. Fortunately, many modern RVs come with smart thermostats, or there are smarts associated with them. It's easier to set your preferred temps and roll with it.
Pay close attention to the brand of A/C as well because some are rated higher than others. The Coleman Mack 15+, Domestic Brisk II, and RecPro RP-AC2801 are highly touted A/C units to keep in mind.
6. Reliability
The brands on this list made the list because they are reliable. If you're looking for something exceptional, build-your-own, independent RV manufacturers are worth looking at, like Oliver and Casita, both of which manufacture supremely hardcore designs that stand the test of time.
7. Ease of Set-Up
An electric trailer jack is one of the most important features you could ask for. They're simple, highly effective, and will save you from having a backache later on. It's also a good idea to do a thorough walk-through before buying. Make sure that all of your connections are easily accessible and simple to hook up.
8. Water Tanks
It helps to know if you'll spend a lot of time boondocking. Some of the options on the above list don't include a blackwater tank, or it's optional. Regarding freshwater, it's easy enough to get some at the campground but not so much when you're boondocking.
9. Towability
Smaller is better when it comes to towing. It's not as easy to haul around a giant travel trailer. It's also easier to decouple and set up when you reach your destination. Plus, you have a wider range of vehicle options when towing a small travel trailer.
10. Fuel Sources
For the most part, it's propane vs. electric. Electric has some advantages when it comes to solar power and maintaining a trickle charge on your batteries. Propane is efficient, long-lasting, and portable for several uses.
8 FAQs About Best Small Travel Trailers for Retired Couples
1. Can retired couples live in a small travel trailer full-time?
It's certainly possible, but it's also entirely up to the couple. Even the most deeply in love couples need some privacy occasionally. But given a small travel trailer's capabilities, it's a viable option.
2. Are small travel trailers good for snowbirds?
They're perfect for snowbirds due to the gas savings they provide. You get more range hauling a small travel trailer, and they can keep you warm in a Florida winter (unless you live in the panhandle, a Florida winter is almost an oxymoron).
3. Which small travel trailer brand is the most reliable?
That's difficult to say, given the vast number of them. Rest assured that all of the travel trailers on this list are from reliable brands.
4. What's the smallest travel trailer with a bathroom?
Probably the Scamp 13' Deluxe since it includes a full front bathroom with shower, toilet, and sink.
5. What's the easiest travel trailer to pull?
It's not just about weight but also aerodynamics. Out of the above list, the Oliver Legacy Elite II and the Casita Freedom are probably two of the easiest.
6. What is the simplest camper to maintain?
Most small campers are easier to maintain just because size equates to materials. Fewer materials equal less maintenance in broad terms. Build-it-yourself variations are often easiest because you choose many of the interior components.
7. What size travel trailer is most popular?
Travel trailers, in general, are the most popular, without any defining statistics to break their popularity down to sizes.
8. What kind of vehicle do you need to pull a small travel trailer?
You should never need anything bigger than a ½-ton. Some of the ones on this list are towable with a mid-size SUV.
Is a Small Camper a Wise Decision for a Retired Couple?
A lot of that depends on you. It could be wise, especially if you like living smaller. They are certainly easier to maintain and easier to tow, both of which are blessings in retirement age when your days of doing backbreaking tasks should be long over.
Convenience is an important decision, but so are space and privacy. Fortunately, the term "small" travel trailers aren't as restrictive a term as it sounds. The above list includes a lot of diversity in "small" camper sizes. In other words, the wisest choice is the one that works for you.
---
About the Author:
Thomas Godwin is a full-time freelance writer with a BFA in Creative Writing, a U.S. Marine, and an avid outdoorsman.
When he's not writing, he's raising chickens and Appleyard ducks. Thomas also constructs teardrop campers (attempting to anyway) and kayaks the Blackwater River with his wife, two daughters, and his Dobermans.