Small toy hauler travel trailer RVs pack as much fun and power in as tiny a package as possible. Not everyone rocks an F-350 Turbo Diesel for hauling those massive travel trailer toy haulers. If you have a fuel-efficient vehicle with enough bang under the hood, small toy hauler travel trailers are on the menu.
These puppies aren't just for hauling around a couple of mountain bikes or kayaks. You can always use racks for those adventure toys. Besides, it'll blow your mind how many features some of these manufacturers load into their smaller toy hauler travel trailer RVs.
What is a Toy Hauler Travel Trailer?
A toy hauler travel trailer is exactly what it sounds like. It's designed to haul around your adventure toys and other bigger equipment. Toy haulers simply travel trailers with interior garage space for ATVs, motorcycles, dirt bikes, kayaks, snowmobiles, and anything else you want to bring with you.
What is Considered a Small Toy Hauler Travel Trailer?
It might not seem small to you, but 27' is about the maximum length for a "small" toy hauler travel trailer. The weight of these RVs can be all over the place; some are heavier than larger versions. This is often related to what's in the trailer and its construction.
So unlike regular travel trailers, don't assume small always means lighter. You may need that Dodge or Chevy 2500 to pull that 20′ small toy hauler travel trailer you have your eye on.
Why Would You Want a Small Toy Hauler Travel Trailer?
Why wouldn't you want a small toy hauler travel trailer? So long as you're not hauling a gargantuan side-by-side, small toy hauler travel trailers are great options. This is especially true since they're travel trailers also, offering the amenities and comforts you expect from a standard camper.
11 Best Small Toy Hauler Travel Trailers
It doesn't get to be the best because the RV amounts to little more than a personal, traveling walk-in closet. These small toy hauler travel trailers are the best because they haul toys, are innovative, well-built, and feature a ton of accommodations.
1. Rockwood Geo Pro G19FBTH
Our Pros and Cons
✅ MORyde Airbag Suspension System
⛔ Not quite big enough for a side-by-side
UVW: 3,433 lbs
Tongue Weight: 581 lbs
Length: 20' 2"
Garage: 6' 11"
GVWR: 4,931 lbs
CCC: 1,498 lbs
Sleep: 3
Ramp: 60" x 68"
In 2021, the Geo Pro line was upgraded with all-new interior aesthetics and compressor-based refrigerators. The featured MORyde Suspension System is an independent suspension that's great for your off-road camping trip.
The MORyde suspension is just the beginning. The Geo Pro G19 includes a 180-watt rigid solar array, an inverter, a Showermiser Shower Valve for recirculating shower water, and a full dry bath. The tech is sweet, and the lounging options are good too! Especially the full-size, east-west bed and a flip-down sofa.
2. Coachmen Adrenaline 21LT
Our Pros and Cons
✅ Ramp doubles as a backyard patio
⛔ The TV is set high on the wall
UVW: 5,750 lbs
Tongue Weight: 935 lbs lbs
Length: 27' 5"
Garage: 13' 8"
GVWR: 9,735 lbs
CCC: 3,985 lbs
Sleep: 4
Ramp: Ramp/Door Patio Kit
The Coachmen Adrenaline 21LT is listed as a half-ton towable, and it's the smallest of the Adrenaline series toy hauler travel trailers at a little over 27'. Coachmen loaded this one out, packing in a dual-entry dry bath, a queen bed, two roll-over sofas, and plenty of space.
The kitchen is fairly large, with plenty of storage room in the overhead cabinets. The roll-over sofas aren't the kind you can fall right into, but they're well-cushioned and easily convert into sleeping space for two.
The cargo space is huge, more than enough for a pair of 13' kayaks, an ATV, or some dirt bikes. The underbelly is heated and enclosed for the winter months, and the cargo area flooring is resistant to moisture, including gasoline and oil. If you enjoy your smart devices, there are a ton of USB outlets to keep you powered up.
3. inTech Flyer Explore
Our Pros and Cons
✅ Curbside tip-out tent bed (additional roadside optional)
⛔ The galley is split between the outside and inside
UVW: 1,450 to 1,990 lbs
Tongue Weight: 240 to 410 lbs
Length: 13.75'
Garage: 8.1'
GVWR: 2,990 lbs
CCC: 970 to 1,540 lbs
Sleep: 2 to 4
Ramp: 63" x 62"
The Intech Flyer Explore is the second biggest of Flyer offerings, next to the Discover. Now, it doesn't come with a traditional indoor galley, but inTech took its inspiration from "down under." InTech offers a slideout kitchen drawer outside like many Australian RVs use. A sink inside is great for cleaning up before you store your cooking and dishware (and brush your teeth) for the night.
A 50-quart 12V cooler-style fridge/freezer, small-bottle propane stove, storage, and counter space make meal prep easy in the drawer space.
This toy hauler/camper is fun and roomy once your toys are outside. The standard version comes with a tip-out bed on the road side. You can add a camp-side tip-out as another option if you want.
The Explore comes with solar power prep, infinity-woven flooring, and 30A power. It's built for a minimalist lifestyle, but you have so many add-on options you can easily turn it into a boondocking powerhouse.
4. Palomino Puma Ultra Lite 187TH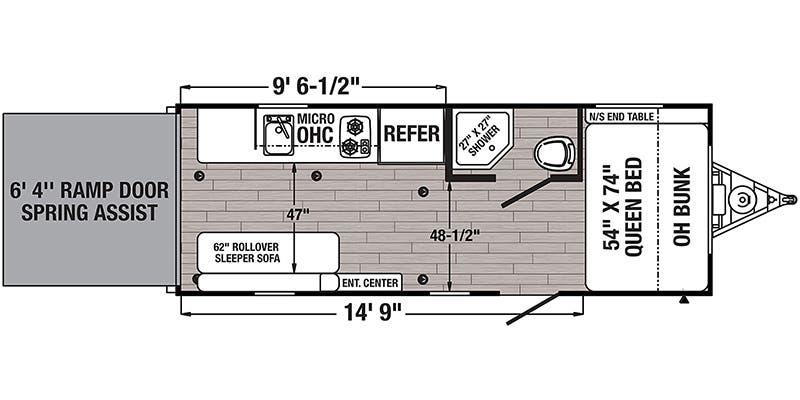 Our Pros and Cons
✅ Massive 14' 9" cargo space
⛔ The floor D-rings can stub toes if you don't cover them
UVW: 3,529 lbs
Tongue Weight: 535 lbs
Length: 22' 9"
Garage: 14' 9"
GVWR: 4,935 lbs
CCC: 1,406 lbs
Sleep: 4
Ramp: 6' 4" long
In most toy hauler travel trailers, the cargo space is primarily in your living area. The Palomino Puma Ultra Light 187TH does a great job stretching that cargo space well into the interior to maximize the storage capacity.
In a lot of ways, this works out great. Everything is streamlined on one side, including the entire galley and the bathroom, with the bedroom taking up one end of the trailer. The tie-down D-rings in the floor can present a problem for those precious little toes, but it's nothing a throw rug can't handle.
The 187TH is capable of sleeping 4. Its neutral gray and light wood tones interior aesthetic is homey and comfortable. There's plenty of cabinetry and storage space as well, both outside and inside.
5. Forest River No Boundaries 19.1
Our Pros and Cons
✅ Includes a J-cradle kayak roof rack
⛔ East-West bed leaves a small space to crawl into bed
UVW: 4,941 lbs
Tongue Weight: 896 lbs
Length: 24' 11"
Garage: 10.6'
GVWR: 7,896 lbs
CCC: 2,955 lbs
Sleep: 4
Ramp: Ramp door/patio conversion
NOBO, for short, the Forest River No Boundaries 19.1, is just lightweight enough to prove the point. You can haul this travel trailer just about anywhere, with no boundaries. It's also designed to handle the big leagues when it comes to getting off the paved roads for a little side-road adventure.
The garage area is sizeable and includes 10 tie-down rings for a variety of vehicles or one giant ATV. The rooftop rack is a Rhino Rack and holds kayaks or canoes just fine. That's less room either watercraft has to take up inside, so it's a fantastic accommodation.
6. Gulf Stream GSX G17
Our Pros and Cons
✅ Continuous hinge ramp rated for up to 3,000 lbs
⛔ No bedroom, so privacy is at a premium
UVW: 4,126 lbs
Tongue Weight: 560 lbs
Length: 24' 11"
Garage: 11.6'
GVWR: 7,820 lbs
CCC: 3,694 lbs
Sleep: 2
Ramp: 8' continuous hinge
The Gulfstream GSX G17 takes a different tack in comparison to the previous toy hauler travel trailers on this list. There is no standard bedroom design here. Instead, the opposing folding sofas convert into a master bedroom.
For two people, it's the perfect option because a separate bedroom just takes up too much space when you're already supporting a full garage. The bathroom and galley both sit on the far end of the travel trailer, with the fridge and entertainment center occupying the center.
This leaves a ton of room for what this travel trailer is designed for, hauling your toys around. The garage space is a sizeable 11' 6", and you can cram just about anything you want in here, including a side-by-side, assuming it's not too tall.
7. KZ Escape E18 Hatch
Our Pros and Cons
✅ The hatch door includes a mosquito net in front of a power bed
⛔ Storage weight gets limited quickly
UVW: 3,320 lbs
Tongue Weight: 550 lbs
Length: 22'
Garage: 6'
GVWR: 4,000 lbs
CCC: 680 lbs
Sleep: 4
Ramp: Hatch
KZ managed to cram quite a few amenities into a 22' space. The best part of the Escape E18 is the power bed, cargo hatch, and mosquito net convertible. Now, this camper isn't designed to hold large ATVs, and depending on how much cargo you're hauling, you can exceed the weight limitation quickly.
The garage area is maybe 6' deep if you don't include the hallway. If you do include it, you can throw a fairly long kayak or two inside. KZ included a sizable bathroom with a spacious, standing shower.
The L-lounge is one of the more popular aspects of the KZ Escape E18. It includes a nice lounging area and an ottoman that converts into a deep storage pocket or a dining table.
8. Alliance Valor 21T15
Our Pros and Cons
✅ Outdoor patio deck
⛔ Overhead lights throw a lot of glare on the TV
UVW: 6,987 lbs
Tongue Weight: 906 lbs
Length: 26' 11"
Garage: 15'
GVWR: 11,000 lbs
CCC: 4,013 lbs
Sleep: 4
Ramp: 8'
The Alliance Valor 21T15 has all the quality and style you would expect from this RV brand. It has many great features we've all come to expect from Alliance. But you'll want to think about a 2500 series truck if you plan to pull this one since it has an 11,000 lbs max weight.
The HappiJac roll-over sofas convert into a gigantic bed, and it all sits directly in front of the cargo ramp, which also features an additional ladder. In other words, it's pretty nifty, and there is more than enough room to store your favorite toys in the back.
The shower is pretty sizable, which is a rarity with smaller travel trailer toy haulers. The slide-out queen size is something these travel trailer types should include more often since it saves space and opens a lot of room for future innovations.
9. Dune Sport Firestorm 12-Foot Narrow Body Toy Hauler
Our Pros and Cons
✅ Massive number of customized build options
⛔ Those same customized build options can be complicated
UVW: 2,374 lbs
Tongue Weight: 300 lbs
Length: 12'
Garage: 6.8'
GVWR: 5,200 lbs
CCC: 2,526 lbs
Sleep: 2 to 4
Ramp: 6′ long
As small as this model is, the Dune Sport 12-Foot Narrow Body Toy Hauler has some unique ways to save space. There's a hatch at the front of the trailer that offers enough pass-through storage for fishing poles, standard luggage, and more. It's a great way to make the best out of the tiny space.
The interior has the traditional flip-up sofas that convert into a bed or fold away for your latest toy. With the 6' ramp and the 6.8' cargo space, it's enough to hold a small ATV or a few dirt bikes, kayaks, canoes, paddleboards, etc.
The kitchen area sits up front with a stainless steel sink, folding countertop, charging station, and 2-burner stovetop. You can build these puppies from scratch, down to the floorplan and the options across the board are seemingly endless.
10. Carson Rebel-X 172FA Front Bath
Our Pros and Cons
✅ Space-saving organization is top-notch
⛔ Cargo to trailer ratio is small
UVW: 4,070 lbs
Tongue Weight: 600 lbs
Length: 17'
Garage: 6.2'
GVWR: 7,000 lbs
CCC: 2,930 lbs
Sleep: 2
Ramp: 78" x 72"
While the Carson Rebel X FA Front Bath doesn't contain enough storage space for very large toys, there's still plenty of room for smaller dirt bikes and even kayaks if you don't mind pushing into the dinette area down the center.
Carson has quite a few toy hauler designs available, so the FA isn't their first rodeo. Carson went with a front-to-back design. The kitchen and bathroom are both situated in the front, leaving plenty of dining and lounge space in the center.
A large, queen-size loft bed is situated in the rear, hovering over 6.2' of listed cargo space. There are a ton of cabinets in this model, especially in the kitchen. If you have a lot of cooking and outdoor gear to bring along, there's plenty to love here.
11. Glacier Ice House 17EXP
Our Pros and Cons
✅ It can be used during the regular camping season for normal camping
⛔ Fish house RVs are not the best for long-distance travel
UVW: 4,790 lbs
Tongue Weight: 495 lbs
Length: 17'
Garage: 6' to 7'
GVWR: 5,500 lbs
CCC: 710 lbs
Sleep: 5
Ramp: X-Large 77″ wide x 84″ tall/long
The Glacier Ice House 17EXP is one of the more exceptional RVs on the list. A beautiful interior design (all cedar) creates a sense of warmth and comfort. That's good because this Glacier is designed to head into cold places.
With 6 fishing holes throughout the interior, you can park the glacier on your favorite ice fishing spot and never leave the comfort of your own home. If you want to bring a snowmobile along, Glacier offers a 6.4' wide by 7' tall ramp door toy hauler option.
Whether you prefer the toy hauler option or not, there's plenty of space inside the 17EXP, with a deck designed to combat water. The HappiJack bed is rated for 400 lbs, and the additional bedding options offer enough space for 5 individuals.
7 FAQs About the Best Small Toy Hauler Travel Trailers
1. How big are toy haulers usually?
"Usually" is the key term. For the most part, they're around 8' in width and 20' to 25' long. However, they can be much longer or much smaller as well. For instance, the Grand Design Momentum G-Class 25G is 31' long.
2. How much do small toy hauler travel trailers cost?
The bottom line—is about $20,000 to kick things off. You shouldn't expect anything above $60,000 unless you're looking at something unique or it's too big to be a "small" toy hauler travel trailer.
3. What is the smallest toy hauler travel trailer on the market?
The InTech Explorer and Forest River No Boundaries 10.6 can compete for that honor. Both are very small but more than capable.
4. What is the smallest toy hauler with a slide-out?
It depends on what you would consider a slide-out. For instance, the InTech Flyer Explore features a "tip out" bed.
5. What kind of tow vehicle do you need to pull a small toy hauler?
Some of the ones on this list are small enough for a vehicle rated for towing less than 5,000 lbs. If you're keeping "small" as your primary focus, a ½-ton truck should work well.
Some of the heavier small toy hauler travel trailers, especially if they're loaded up, may need a 2500 Series truck. So make sure you have a good idea of what you plan to haul, your gear, and all the cargo weight that come with it.
6. Can an SUV pull a small toy hauler?
It would depend on the SUV, but for the most part, an SUV could easily handle a small toy hauler, such as the Carson RV Sport FA, many of the InTech Flyer models (avoid the Discover), and the KZ Escape E18 Hatch.
7. What is the highest-rated brand that makes toy haulers?
The highest-rated brand of toy hauler RV is difficult to answer because different everyone has their own opinions and favorites. All of the major brands put out some fantastic toy haulers but don't overlook some of the smaller companies with custom options.
Is a Small Toy Hauler Travel Trailer Worth It?
It's absolutely worth it if you don't have one of those gigantic side-by-sides. Of course, some of the toy hauler travel trailers on this list will carry a side-by-side, but some of those things get pretty big.
If you need something to haul a small ATV or pair of kayaks, a small toy hauler travel trailer around 20′ or under could be the perfect RV for you. The ones on this list are innovative, spacious, and fantastic options for carrying your toys and you in comfort and style.
---
About the Author:
Thomas Godwin is a full-time freelance writer with a BFA in Creative Writing, a U.S. Marine, and an avid outdoorsman.
When he's not writing, he's raising chickens and Appleyard ducks. Thomas also constructs teardrop campers (attempting to anyway) and kayaks the Blackwater River with his wife, two daughters, and his Dobermans.