Half-ton trucks are certainly the most popular truck size on the market. They're powerful enough for towing and being reasonably economical vehicles for daily use. Before towing an RV, you'll need to consider the travel trailers half-ton trucks can safely handle.
When you shop for travel trailers half-ton trucks can tow, you need to understand your truck's specifications. Half-ton trucks do have towing limitations. Selecting a travel trailer that fits your half-ton truck's towing capacity can be daunting.
As you read through this article, we'll suggest the best travel trailers for half-ton trucks and share a bit about half-ton trucks towing capacities.
What Is a ½ Ton Truck?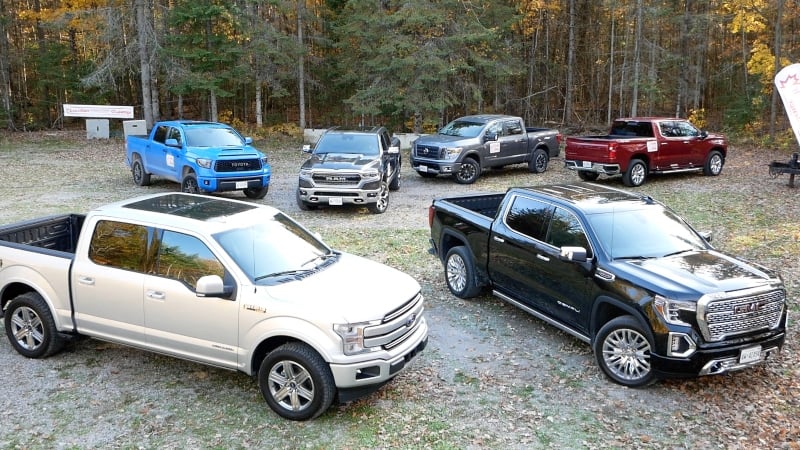 Before we jump into our list of travel trailers half-ton trucks can tow, here's what you need to know about this truck category.
First, it's helpful to understand a bit of math. One ton is equal to 2,000 pounds. So, a ½ ton is 1,000 pounds. Your ½ ton pick-up weighs much more than 1,000 pounds, so this term doesn't refer to the vehicle's weight.
When pickup trucks first started out, this quarter system defined how much the truck could haul in the cargo bed. Back in the 1930s and 1940s, it was pretty accurate. Today's half-ton pickups can haul as much as a full ton in their cargo bed.
The Department of Transportation has its own classification system that's more accurate. The quarter system became ingrained in American Culture, so that's why we still use it.
Check out this YouTube Video by RVBlogger called 3 Towable Campers with a Small Pickup Truck – Like the Toyota Tacoma!
15 Best Travel Trailers for Half-Ton Trucks
1. Keystone RV Outback 342CG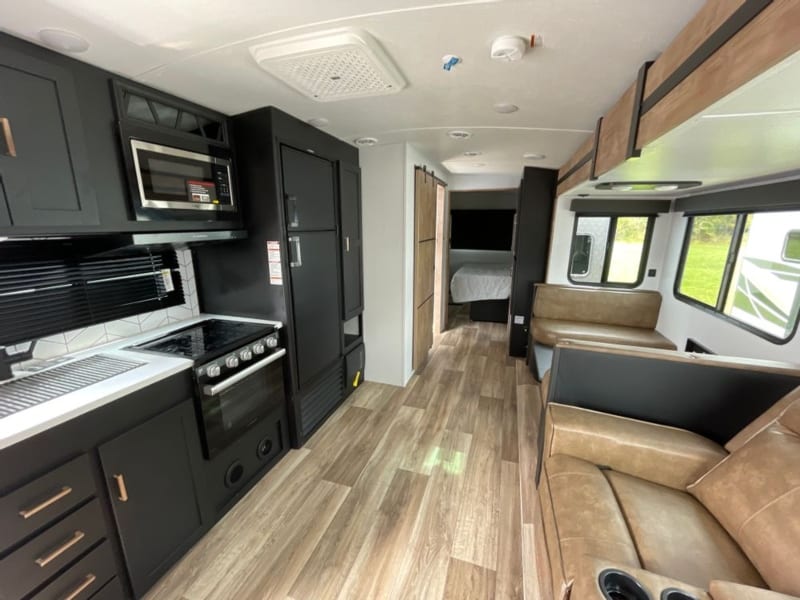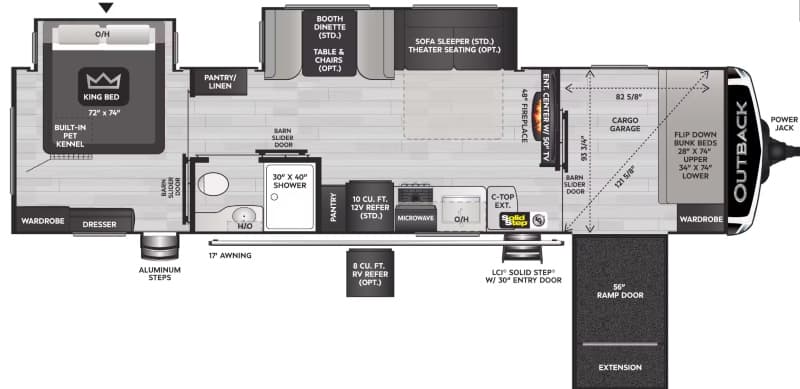 Our Pros and Cons:
✅ The front garage is versatile as a bunkhouse, motorcycle carrier, or RV office space.
⛔ The 342CG requires a heavy tow package.
UVW: 8,040 lbs.
Tongue Weight: 960 lbs.
Length: 38 ft.
GVWR: 10,500 lbs.
CCC: 2,460 lbs.
Sleep: 2-8
The Keystone Outback 342CG is the perfect travel trailer for families. Keystone offers two toy hauler travel trailers with a narrow ramp, but this one has the garage up front (the 335CG is the rear narrow garage counterpart).
This Outback model is new for 2023 and is a travel trailer for half-ton trucks. Yet to pull it safely, it requires your truck to be equipped with a heavy-duty towing package.
The 342CG offers the comforts of home and a lot of versatility. You'll be impressed with the living area, which has a generous convertible sofa, a fireplace, and flat-screen TV. It has enough space to sleep 8 people and includes a king-size bed with a built-in pet kennel and spacious bathroom.
Those with mobility-accessible needs will like the ramp and flat floors throughout the trailer. Motorcycle riders can fit their bike in the front garage. The front space does have 2 twin bunks that hinge down.
2. Keystone Cougar Half Ton 29BHSWE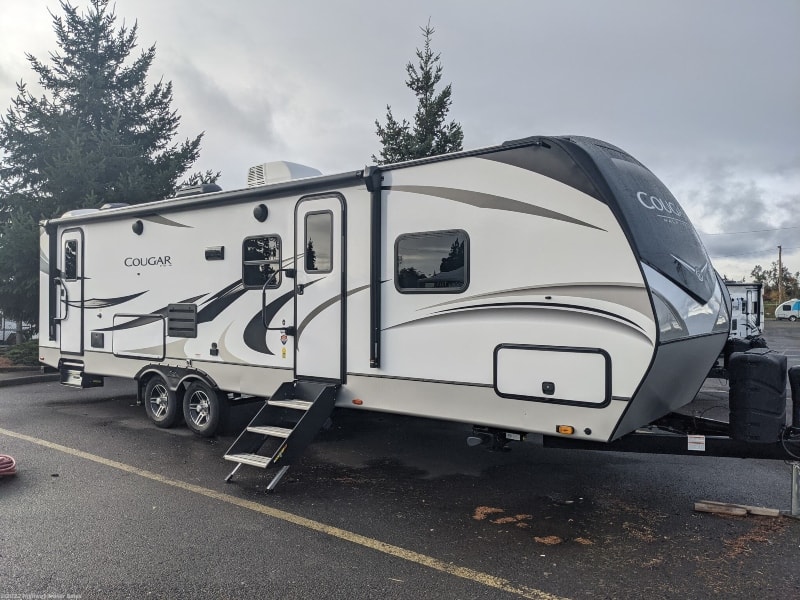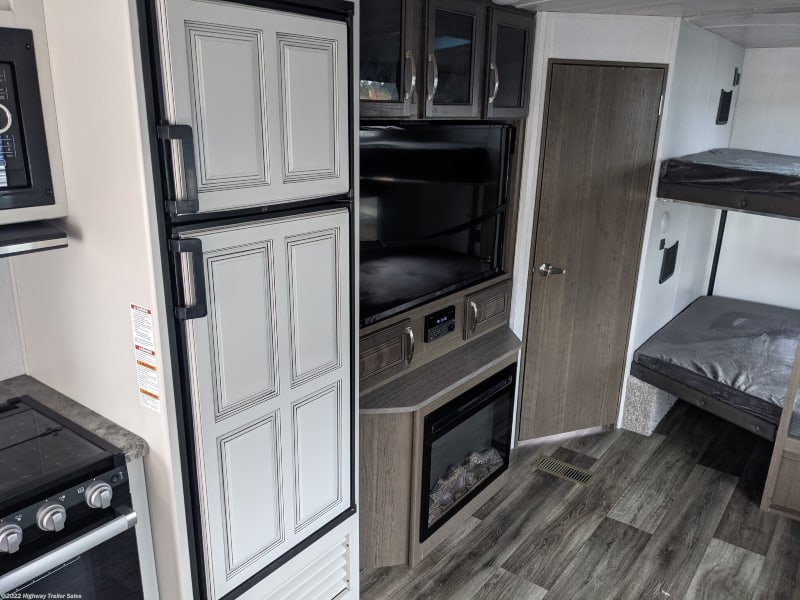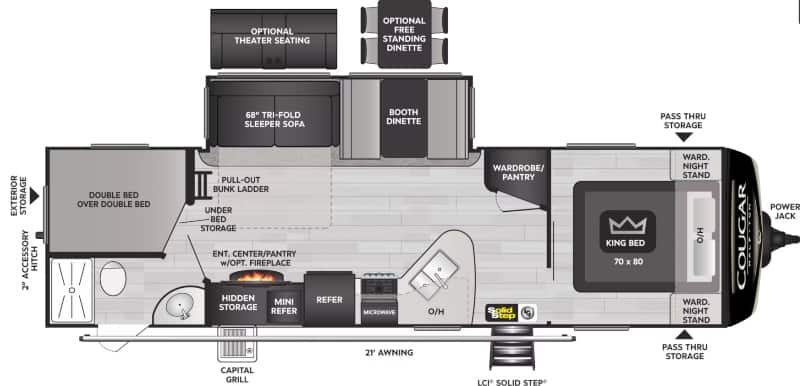 Our Pros and Cons:
✅ When the sleeper sofa is expanded, there's still walkway space.
⛔ Those sleeping on the roadside of the master bed will find the walkway very tight.
UVW: 7,087 lbs.
Tongue Weight: 820 lbs.
Length: 34.1 ft.
GVWR: 8,800 lbs.
CCC: 1,713 lbs.
Sleep: 4-10
The Keystone Cougar line is the most popular travel trailer line from Keystone. Not all Cougar half-ton models are travel trailers for half-ton trucks.
Due to their weight and size, all but the smallest require a 3/4 ton truck. Yet, the western production versions generally fit within the 150/1500 truck series towing range.
The Cougar 29BHSWE is a 34-foot travel trailer weighing in at 8,800 pounds. Keystone describes this travel trailer as a bunkhouse with an RV outside kitchen. The slideout for this model has an optional theater seat and freestanding table for greater customization.
Amenities in this trailer that stand out include the standard king bed, full-size bunks with electric outlets and lights on each level, and the closet-size pantry.
The rear entrance into the bathroom can act as a mudroom to strip off dirty clothes and shoes in an isolated area. We also think an outdoor grill is a fun option you won't find on many other travel trailers.
3. Cherokee Alpha Wolf 26DBH-L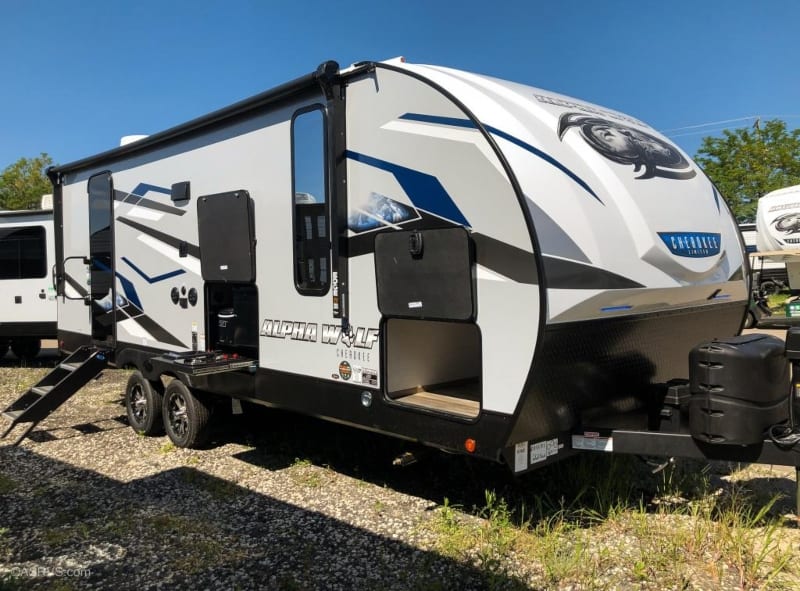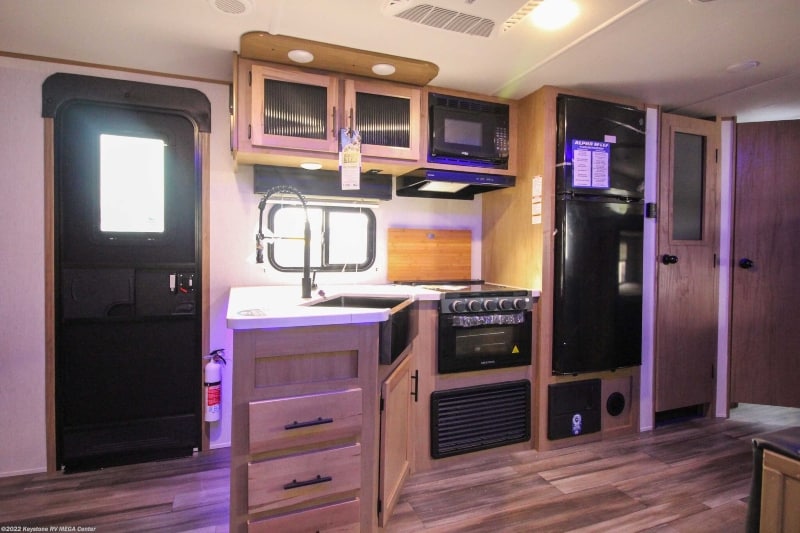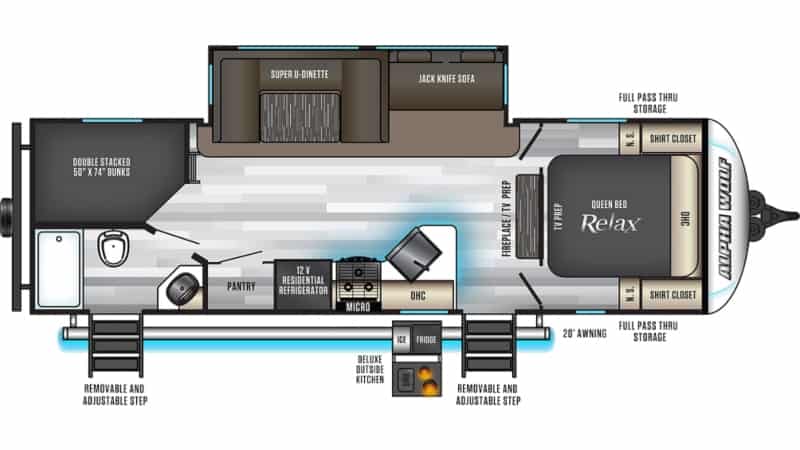 Our Pros and Cons:
✅ A 1/2 ton truck with a standard tow package can pull this Alpha Wolf!
⛔ Very limited kitchen counter space.
UVW: 5,795 lbs.
Tongue Weight: 600 lbs.
Length: 31.8 ft.
GVWR: 7,600 lbs.
CCC: 1,805 lbs.
Sleep: 4-10
Cherokee is a division of Forest River, so you know that with this towable trailer, you're purchasing a reliable product. The Alpha Wolf line has upgraded interior finishes for a more luxurious travel experience.
The Alpha Wolf 26DBH-L model is easily towed with your ½ ton truck since it weighs in at around 7,600 pounds. This model is popular with families thanks to the double-size bunk beds and a U-shaped dinette.
This coach also offers an RV outdoor kitchen. The Alpha Wolf outdoor kitchen includes a two-burner stove, fridge, and storage for ice. The outdoor kitchen is tucked under the oversized 20-foot awning.
4. Winnebago Voyager V3033BH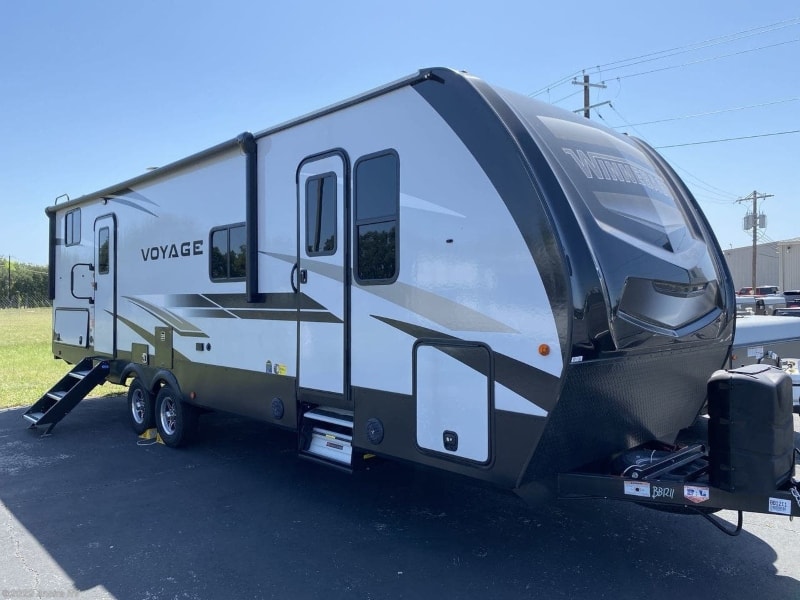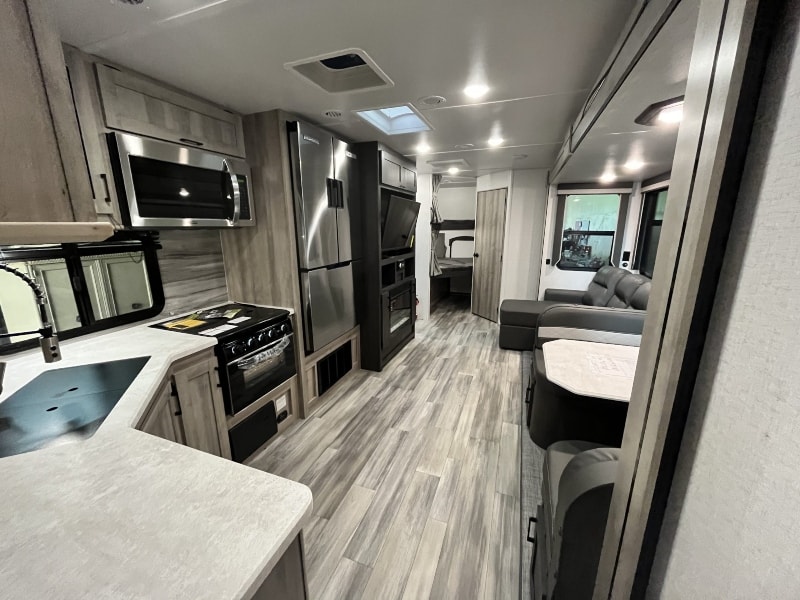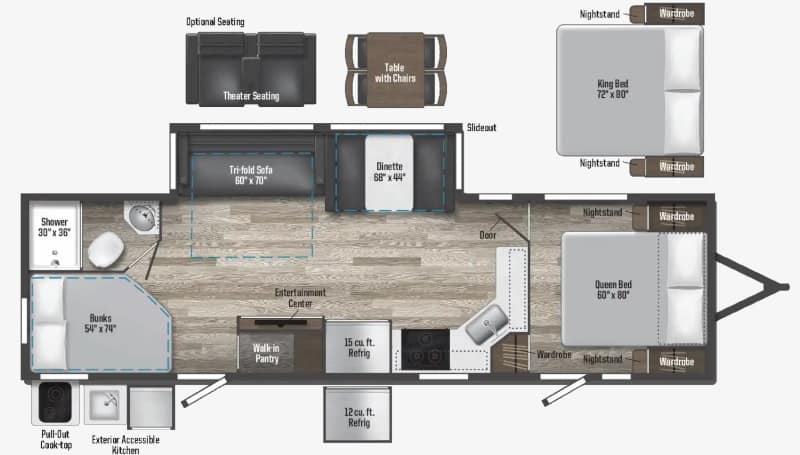 Our Pros and Cons:
✅ The Voyage has many optional furniture and appliance upgrades.
⛔ Remote working parents will have a hard time finding a quiet place to work.
UVW: 8,048 lbs.
Tongue Weight: 832 lbs.
Length: 34.3 ft.
GVWR: 10,400 lbs.
CCC:
Sleep: 4-8
You can't go wrong when you buy a Winnebago. One of the big names in the RV World, the Voyager V3033BH travel trailer comes with all of the comforts of home.
This travel trailer sleeps eight people in the 34-foot trailer. You'll need a more robust ½ ton truck to pull this camper as it weighs in at 10,400 pounds. The V3033BH is one of the travel trailers for half-ton trucks, but a heavy tow package will save you from traveling near the max weight.
The great thing about Winnebago is that their trailers are highly customizable. You can personalize the interior finishes and choose which dining seating and sofa options for the slide-out you want. Also, do you prefer the standard queen or optional king master bed?
5. Airstream Globetrotter 30RB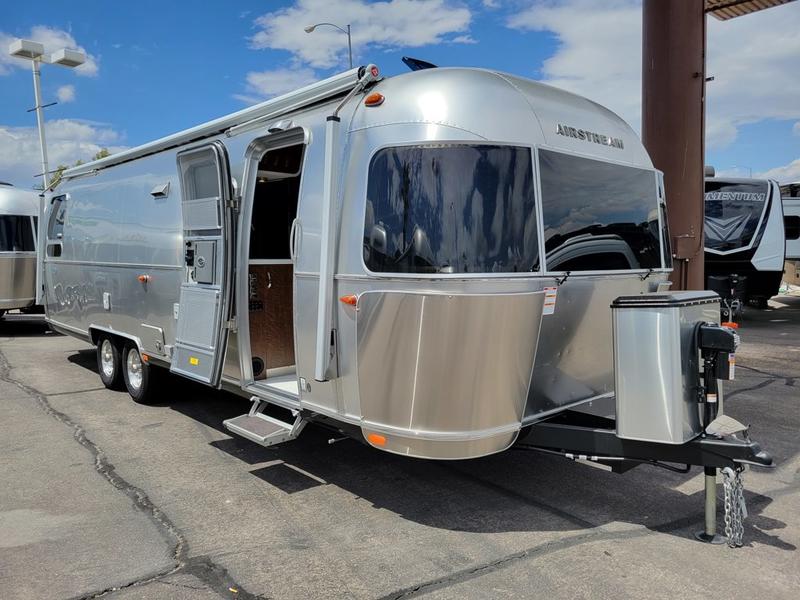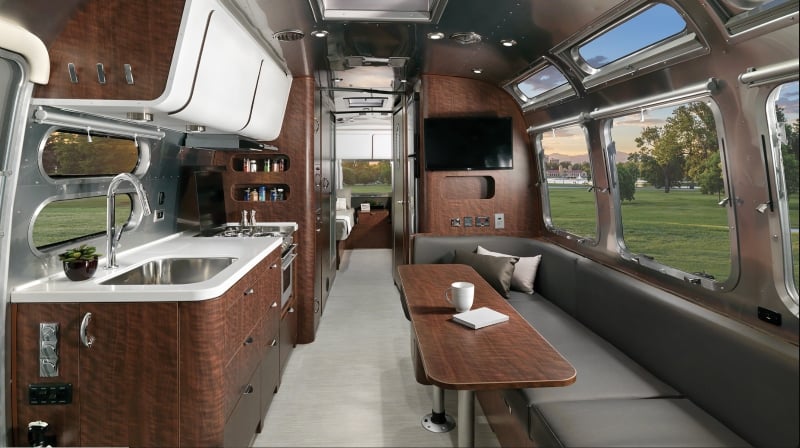 Our Pros and Cons:
✅ Yes, an Airstream can be towed by a 1/2-ton truck!
⛔ Airstreams aren't entry-level RVs, so do your research before investing in one.
UVW: 6,990 lbs.
Tongue Weight: 975 lbs.
Length: 30.11 ft
GVWR: 8,800 lbs.
CCC: 1,810 lbs.
Sleep: 2-6
The Airstream Globetrotter 30RB is a 30-foot travel trailer under 9,000 pounds. It's a travel trailer for half-ton trucks with at least an 11,000-pound towing capacity. Perfect for families, the Globetrotter 30RB sleeps 6 people.
It has a private bedroom with a queen size bed and plenty of storage. The convertible dinette provides additional sleeping space, with extra storage below the seats.
The Globetrotter stands out from the other Airstream large models due to its European interior design. Of course, everyone loves the view from the iconic panoramic windows on the front and back, which is a key feature for Airstream.
You'll find name-brand appliances and features inside from brands like LG, Furrion, and many others. It may not be the same coach that Wally Byam took to Europe, but you'll find that today's Globetrotter has the same heart!
6. Heartland Prowler 271BR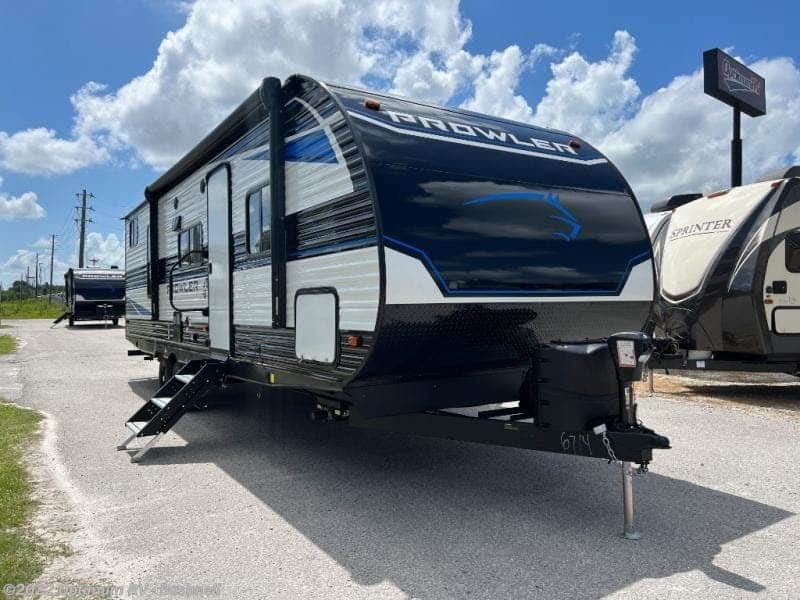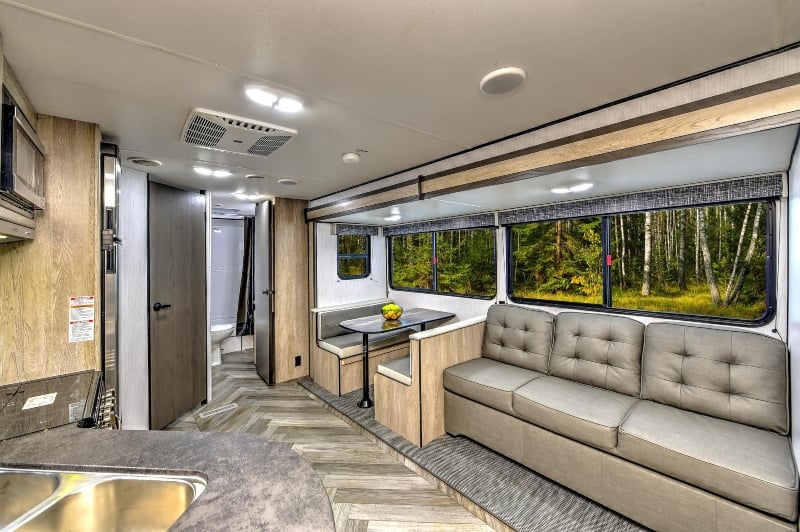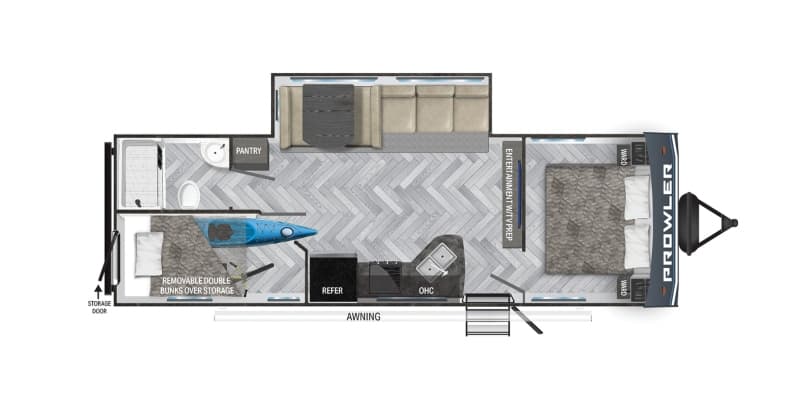 Our Pros and Cons:
✅ The bunk storage space is great for storing long items!
⛔ Don't watch too much TV; your neck will get stiff when turned for a long time.
UVW: 6,570 lbs.
Tongue Weight: 880 lbs.
Length: 31.10 ft.
GVWR: 7,880 lbs.
CCC: 1,278 lbs.
Sleep: 4-8
New for the 2023 model year, the Heartland Prowler 271BR is a surprisingly affordable travel trailer that easily pairs up with your ½ ton truck.
The Prowler 271BR is like a home away from home. It features a spacious kitchen with a double basin sink and a spacious fridge. The bedroom has shirt-length closets framing a comfortable queen size bed. The living area has a dinette and a convertible sofa for added comfort.
The unique feature of this trailer is the gear storage. This space is perfect for bikes, small watercraft, hiking shoes, backpacks, and anything else you can't store in your RV's storage bays or truck's cargo bed.
7. Forest River No Boundaries (NoBo) 20.3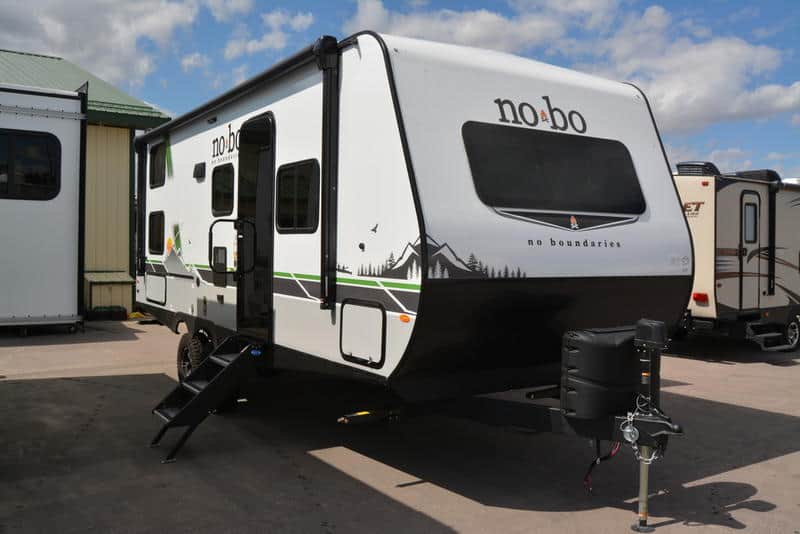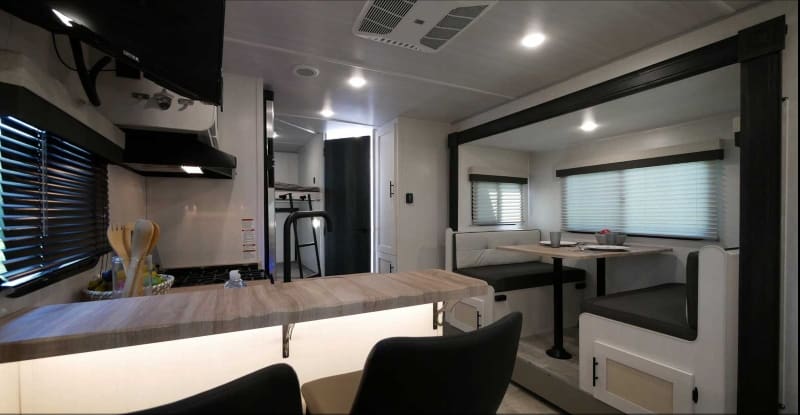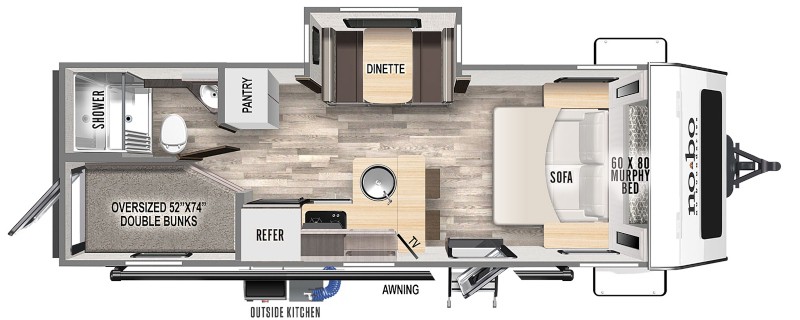 Our Pros and Cons:
✅ The two raised chairs give owners a breakfast bar for additional dining/seating!
⛔ The Murphy Bed doesn't have a privacy curtain, but the bunks do.
UVW: 5,306 lbs.
Tongue Weight: 734 lbs.
Length: 26.2 ft.
GVWR: 7,734 lbs.
CCC: 2,428 lbs.
Sleep: 4-8
Forest River's No Boundaries series is made for the adventurer. This line features higher clearance, a more robust axle, and knobby tires, perfect for traveling off the beaten path.
The NoBo 20.3 travel trailer comes in at 5,360 pounds and is perfect for almost every ½ ton truck on the market. This is especially if you've lifted your suspension for off-road travel. The NoBo provides plenty of amenities that make the outdoors more enjoyable.
The RV outside kitchen that the NB 20.3 comes with has a grill/stove and exterior sink for easy clean-up. The double bunk beds thing up for gear storage so you can store your non-motorized adventure toys.
8. Forest River Cherokee 274RK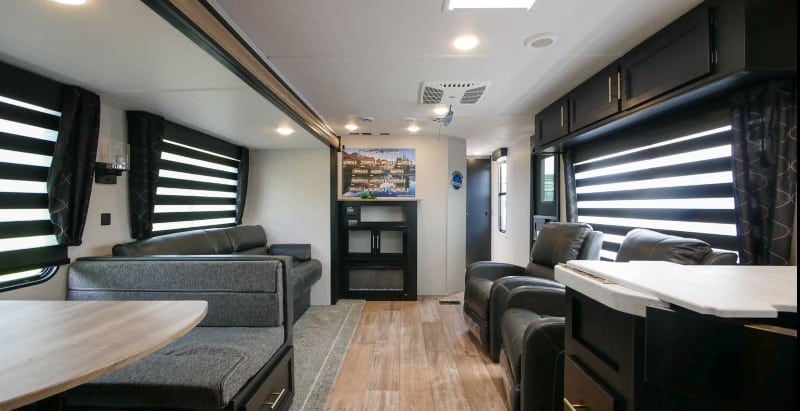 Our Pros and Cons:
✅ The panoramic window and recliners are great for your morning coffee or tea!
⛔ Be mindful of your max towing weight. Some can and some can't tow this one safely.
UVW: 6,742 lbs.
Tongue Weight: 860 lbs.
Length: 33.9 ft.
GVWR: 9,980 lbs.
CCC: 3,238 lbs.
Sleep: 2-6
The Forest River Cherokee 274RK comes with the recommendation that your truck has a heavy-duty towing package. It weighs in at 9,985 pounds, so there are limited options for ½ ton trucks that can manage this trailer.
Setting size aside, this is a great travel trailer. It has plenty of comfort features that make you feel like you never left home. We like the two captain chairs in the living area in addition to the sofa.
This isn't something you see in many other campers. The bedroom has tons of storage around the queen size bed. The uniquely arranged kitchen provides plenty of counter space without dominating the living area.
9. Winnebago Minnie 2500FL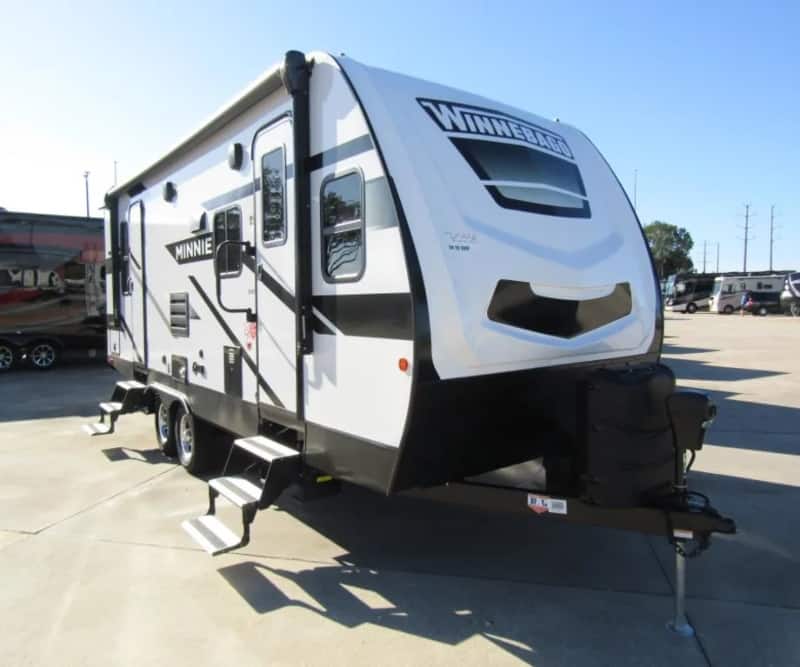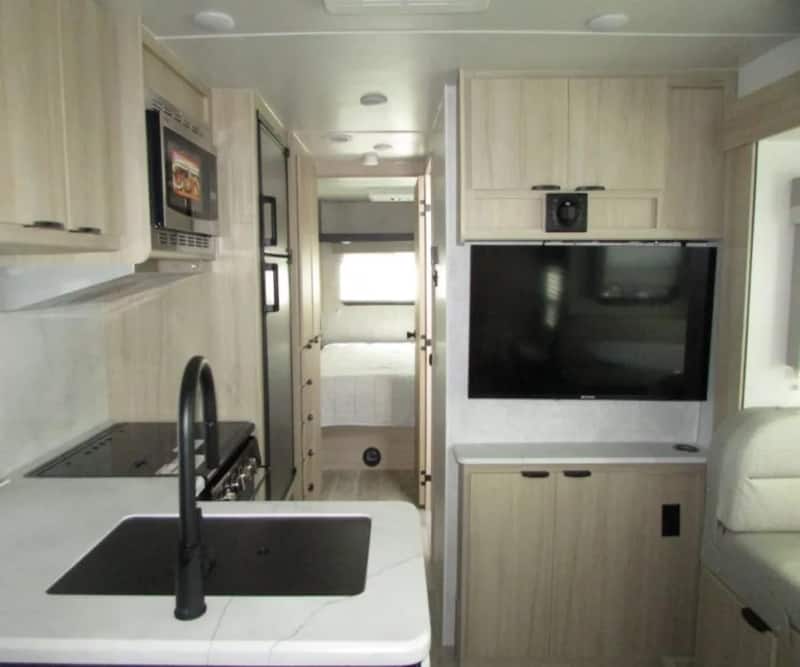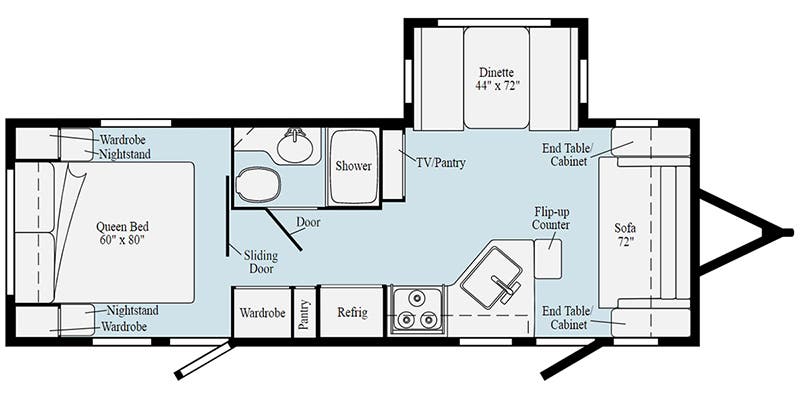 Our Pros and Cons:
✅ Winnebago does a great job with making RVs with big cargo capacities
⛔ Winnie keeps to the modern farmhouse look rather than the new contemporary decor.
UVW: 6,720 lbs.
Tongue Weight: 874 lbs.
Length: 28.3 ft.
GVWR: 8,800 lbs.
CCC: 2,080 lbs.
Sleep: 2-8
The Minnie is Winnebago's solution for lightweight traveling. The Winnie Minnie 2500FL (not to be confused with the Class C Minnie Winnie) is a 25-foot travel trailer weighing only 6,744 pounds. These specs make it one of the perfect travel trailers for half-ton trucks.
This fully customizable coach comes with seven interior finish options. You can also swap the sofa for theater seating with cup holders.
The mid-size travel trailer sleeps four people, so it's perfect for small families or couples. The 28-foot length is easy to manage, even for new travel trailer owners.
You'll like the spacious shower. It's large enough so you won't feel cramped, and the roller sheet stays in place, unlike a shower curtain.
10. Rockwood Ultra Lite 2608BS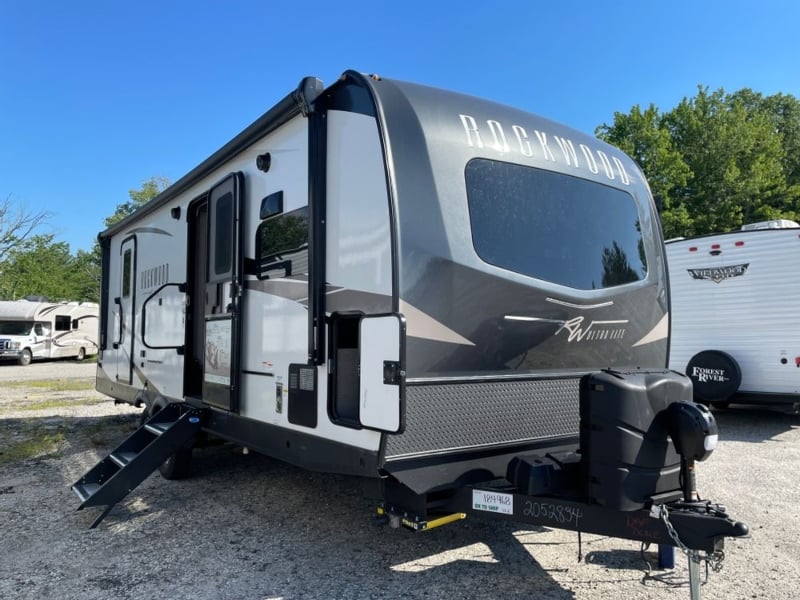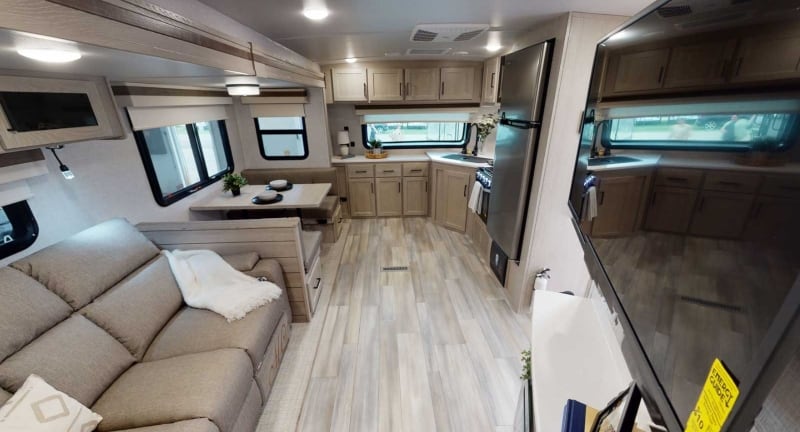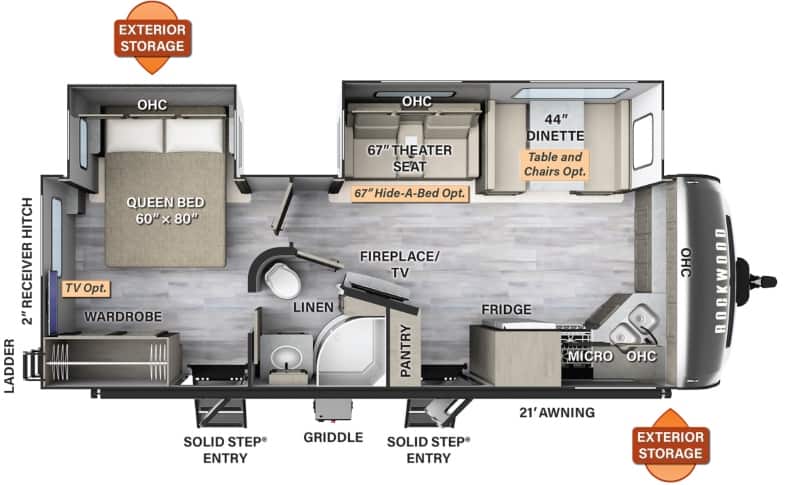 Our Pros and Cons:
✅ RV chefs will love the counter space and large appliances!
⛔ An RV king bed option would be great in here.
UVW: 6,836 lbs.
Tongue Weight: 946 lbs.
Length: 29.8 ft.
GVWR: 6,836 lbs.
CCC: 1,910 lbs.
Sleep: 2-4
Despite the name, you'll need a bigger ½ ton truck to pull the Rockwood Ultra-Lite 2608BS. The manufacturer recommends mid to top-trim ½ ton trucks with higher horsepower and torque.
If you love to cook, even when you're on the road, this is the camper for you. The front kitchen is a really awesome diversion from the normal camper kitchen. You'll enjoy tons of counter space and plenty of storage.
The bedroom has a spacious wardrobe and a queen bed. The extra large slide-out allows theater seating, a dinette, a couch, and a kitchen table.
Certainly, the highlight of this travel trailer is the storage. Besides the kitchen and bedroom, the outdoor storage options are outstanding.
11. Keystone Bullet 330BHS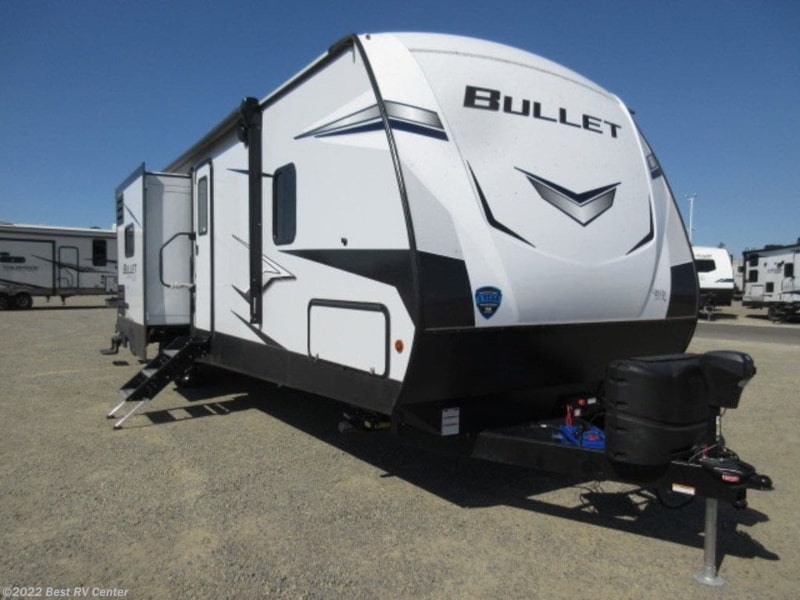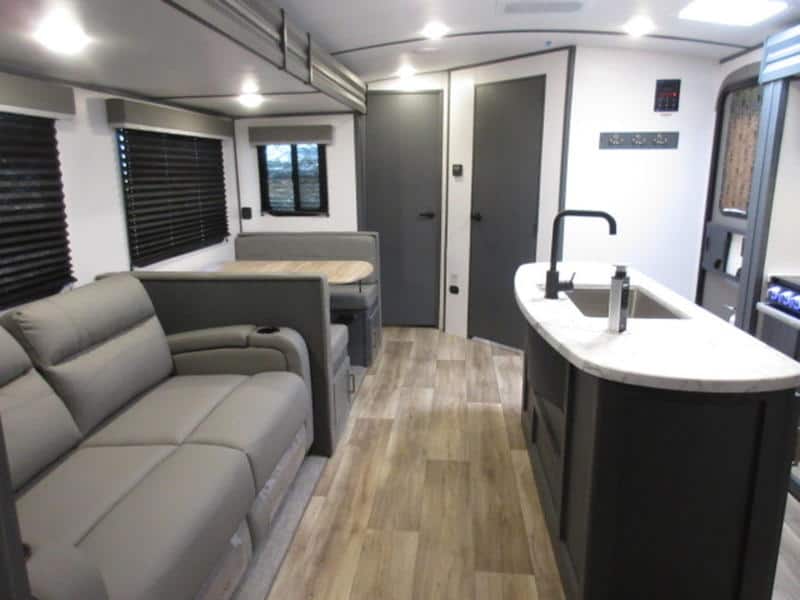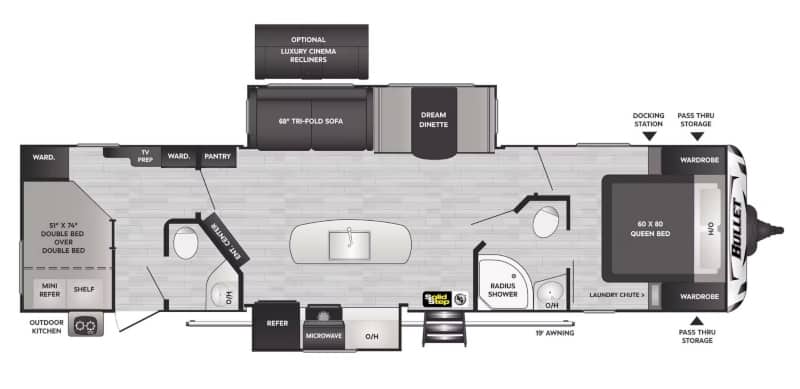 Our Pros and Cons:
✅ Fifth wheel style travel trailer gives you the features without the fiver price!
⛔ This is a long, long trailer, so pulling it with a half-ton truck can be difficult.
UVW: 7,501 lbs.
Tongue Weight: 800 lbs.
Length: 37.6 lbs.
GVWR: 8,600 lbs.
CCC: 1099 lbs.
Sleep: 4-10
The Bullet is one of the Keystone's larger but lightweight model lines. With 18 different floor plans, there's something for everyone.
The Keystone Bullet 330BHS is a bunkhouse travel trailer and one of the longest in the Bullet lineup. The fifth-wheel style travel trailer is 8,600 pounds GVWR and 37 feet long.
A properly equipped 150/1500 series truck can pull this family travel trailer safely. A 250/2500 level truck will handle the mass and length of this travel trailer easier since it has a wider wheelbase. Take slow and steady as you travel with this trailer using your 1/2-ton truck, so the RV isn't driving you.
12. Jayco Jay Feather 25RB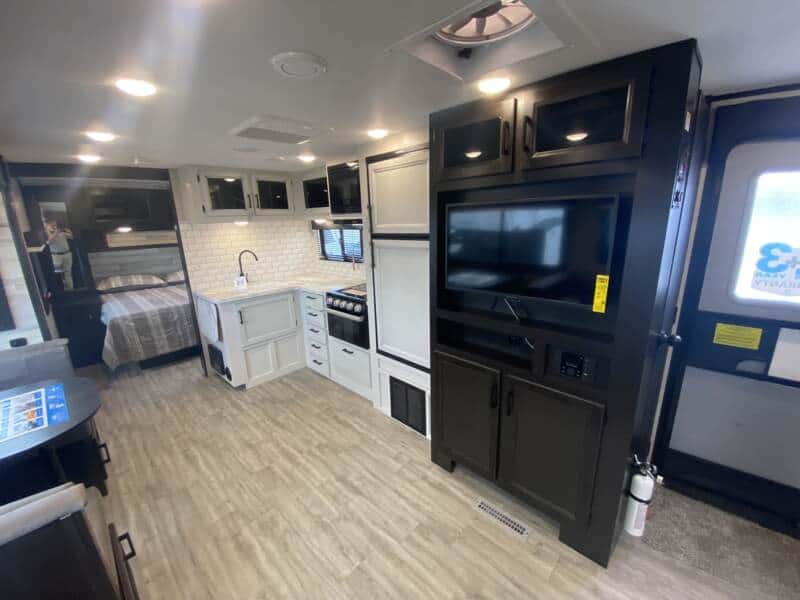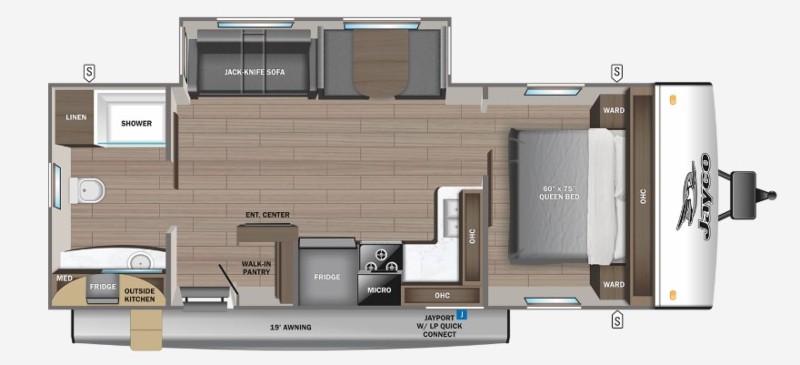 Our Pros and Cons:
✅ We love the wide floor space and walk-in pantry!
⛔ Make sure the bathroom door is locked because the "throne" is front and center.
UVW: 5,815 lbs.
Tongue Weight: 710 lbs.
Length: 30.8 ft.
GVWR: 7,250 lbs.
CCC: 1,435 lbs.
Sleep: 2-4
Jayco didn't name this line the Jay Feather for nothing. This series of lightweight travel trailers for half-ton trucks are perfect for smaller vehicles and trucks. The Jay Feather 25RB is ideal for couples who want plenty of space or need extra room for mobility equipment due to the wide floor the slideout provides.
The rear bathroom has all the counter space, shower space, and commode elbow room you could ask for in a travel trailer. You'll even find decent walkway space in the master bedroom. The real question is, what aren't you going to put in the walk-in closet-sized pantry?
13. Cruiser RV Radiance 26KB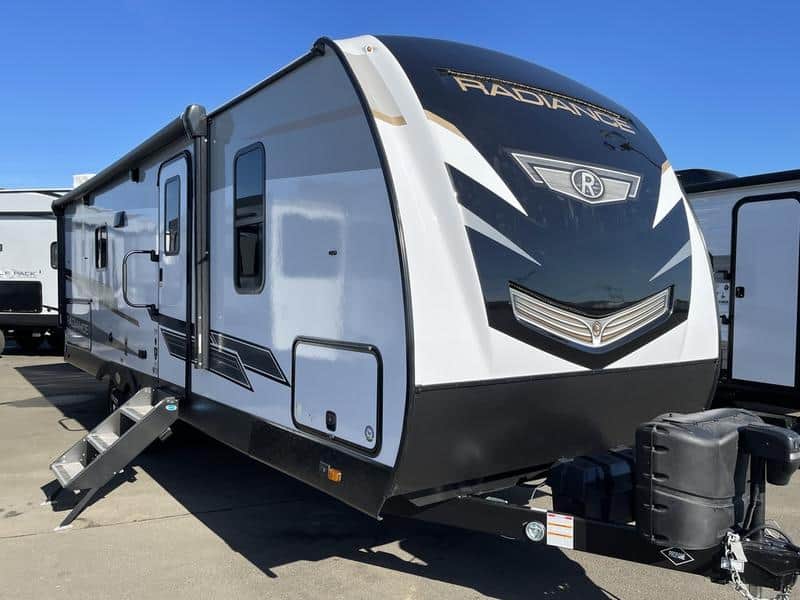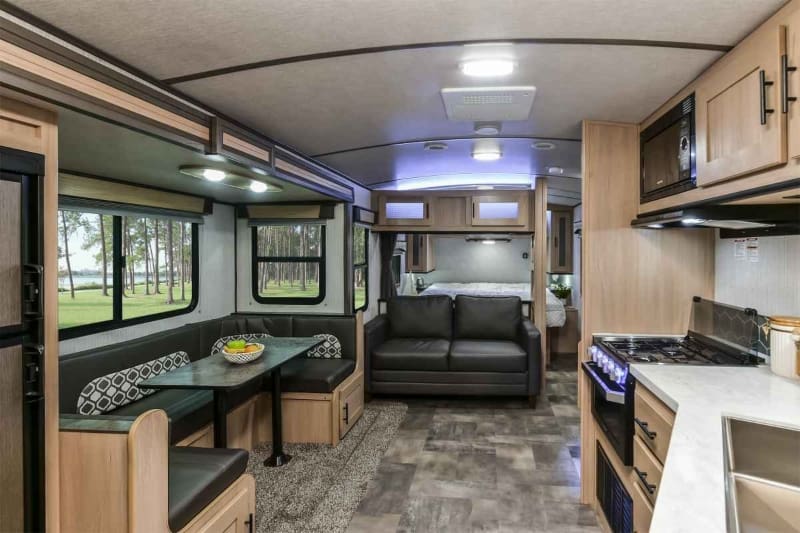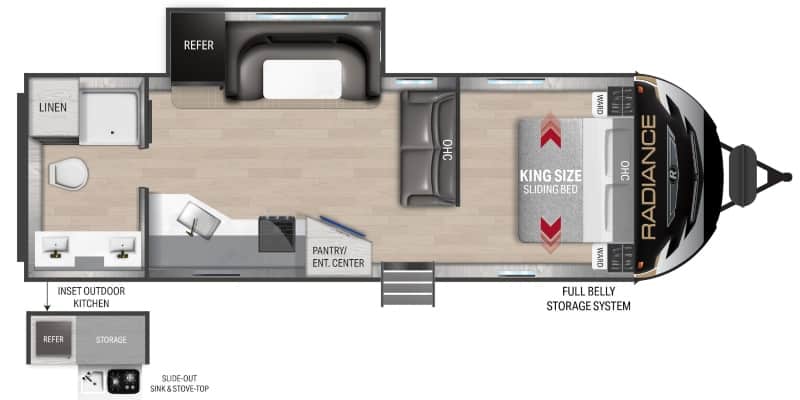 Our Pros and Cons:
✅ The king-size bed and massive storage are impressive in this 30-foot coach!
⛔ The rear vanity sink might be tight for some.
UVW: 6,152 lbs.
Tongue Weight: 750 lbs.
Length: 30.11 ft.
GVWR: 7,750 lbs.
CCC: 1,566 lbs.
Sleep: 2-6
Designed with couples in mind, the Cruiser RV Radiance 26KB is a travel trailer under 6,500 pounds that's ideal for ½ ton trucks.
Modern styling brings a touch of class to this coach. The kitchen has a four-burner stove with an oven and a two-compartment sink, increasing the joy of cooking on the road. The dinette has large windows for perfect views of your surroundings.
The most impressive features of the Radiance 26KB are the bathroom and the expansive storage. You would never know you were in a smaller travel trailer bathroom. The dual sinks and divided vanity are unique features found more frequently in larger travel trailers or RVs.
14. KZ Connect C322BHK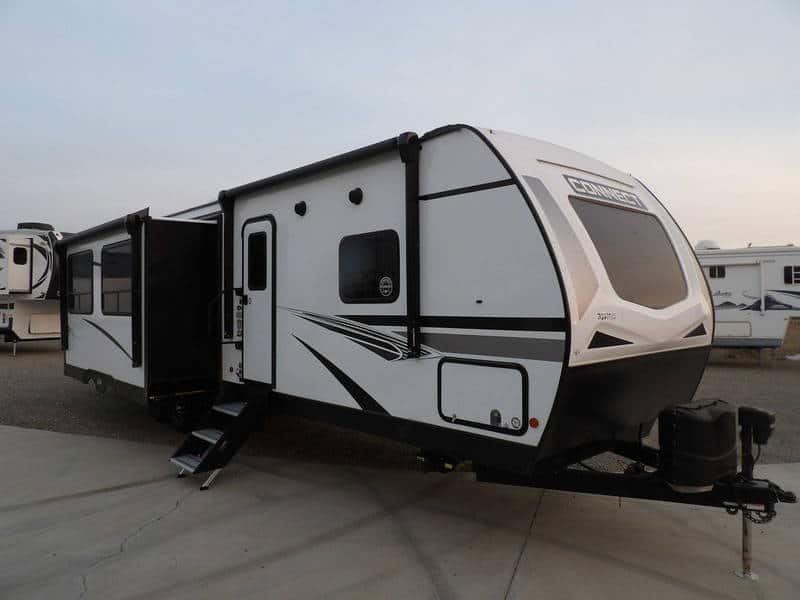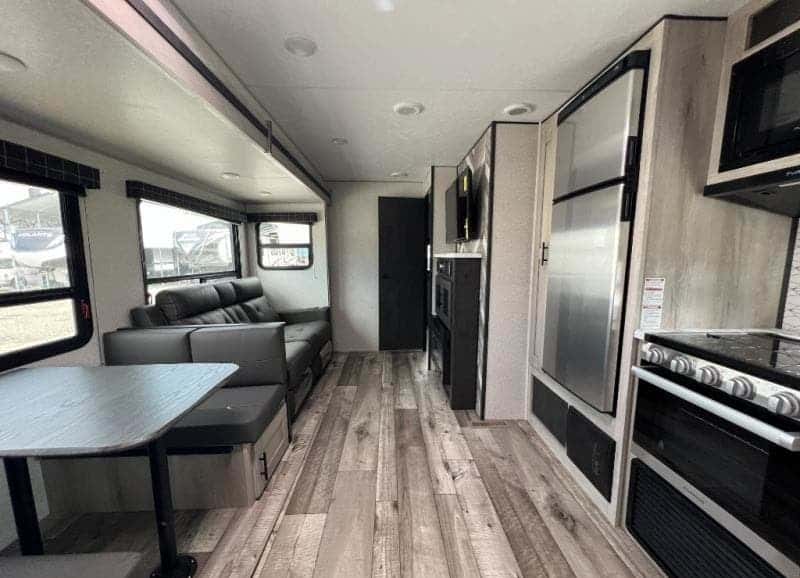 Our Pros and Cons:
✅ The bunkhouse dinette is great for full-timers who roadschool their children!
⛔ The bunkhouse half bath would've been a great mudroom if it had an entry door.
UVW: 7,970 lbs.
Tongue Weight: 890 lbs.
Length: 37.1 ft.
GVWR: 9,560 lbs.
CCC: 1,590 lbs.
Sleep: 5-10
If your family loves to travel and have adventures, the KZ Connect C322BHK is a huge travel trailer that's light enough to pull with a ½ ton truck. You will need a mid or upper-level trim on your truck for more towing capacity since this is a travel trailer of over 9,000 pounds.
Parents will enjoy the fact that this is a travel trailer with a bath and a half. Mom and dad don't have to share a bathroom with the kiddos. Having a space to yourself with no interruptions (ideally), is a vacation unto itself.
Besides the outstanding bathroom arrangement, this travel trailer has a slideout with a 70-inch sofa and dinette. The back of the trailer has an additional slideout with a convertible dinette.
15. Flagstaff Shamrock 235S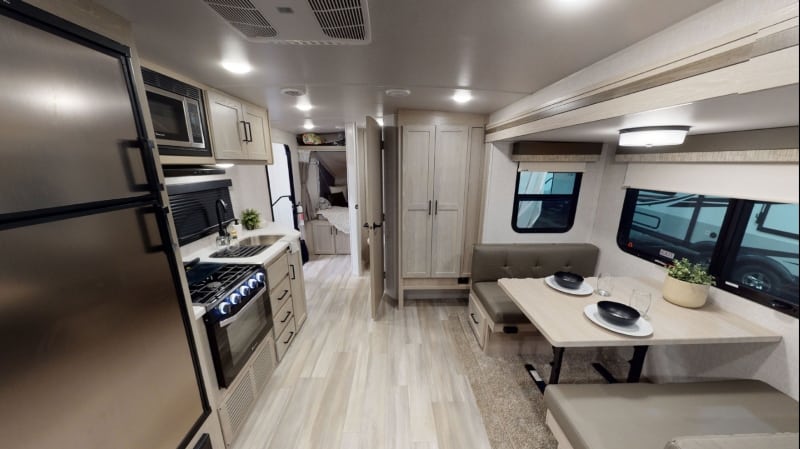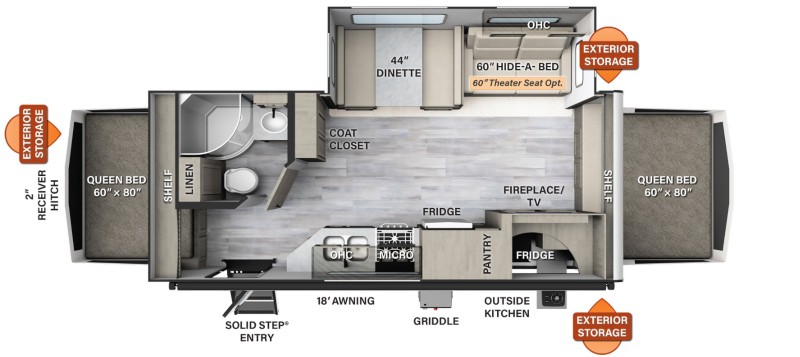 Our Pros and Cons:
✅ You can access the bathroom and fridge with the slideout pushed in.
⛔ Lot or boondocking isn't recommended in soft shell RVs for safety reasons.
UVW: 5,639 lbs.
Tongue Weight: 738 lbs.
Length: 24.10 ft.
GVWR: 6,898 lbs.
CCC: 1,259 lbs.
Sleep: 2-8
We like the idea of a travel trailer that can hold many people but isn't huge. The 23-foot Flagstaff Shamrock 235S hybrid travel trailer has plenty of room inside for the whole family but isn't a beast to pull behind your pick-up.
This travel trailer under 6,000 pounds is light enough for ½ ton trucks and some larger SUVs. You'll have plenty of seats and sleeping space while you travel.
Inside, the large slideout has a roomy dinette and a 60-inch convertible sofa (or theater seating). Each end of the camper is a fold-out soft shell queen size bed. To keep things cozy, this camper also has a gas fireplace.
In short, the main cabin space is truly a high-end travel trailer with the best features, but the beds are pop-up-like fold-out beds. In the end, you get the space of a long travel trailer but the weight of a mid-size.
What's the Biggest Travel Trailer You Can Pull with a ½ Ton Truck?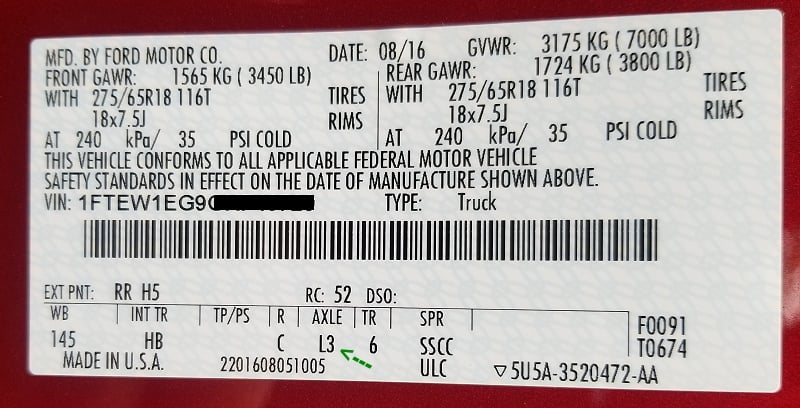 New truck owners often buy an RV only to discover that their truck can't handle the load. Each truck model has a different towing capacity. The biggest travel trailer you can pull with a ½ ton truck depends on your particular truck's gross vehicle weight rating (GVWR).
Half-ton towable is a classification you'll see applied frequently to travel trailers. If you see a travel trailer that's designated as half-ton towable, there's a general assumption that a ½ ton truck is capable of towing that trailer.
However, this isn't always the case. Even if the coach is "half-ton towable," your pickup may not have the right components to handle the load. Before spending your hard-earned cash, know the actual GVWR for your truck.
You'll find the GVWR in your truck's owner's manual and on a sticker on the driver's side door jamb. American auto manufacturers use multiple engines, transmissions, and other parts in different variations of their trucks. So you have to know what your pickup can and can't handle.
Can a ½ Ton Truck Pull 10,000 Pounds?
There are some truck models that come with trim options that beef up the transmission, suspension, and engine capacity of a ½ ton truck. These trucks are generally designated as "heavy-duty." The ½ ton trucks with heavy-duty tow packages can pull a travel trailer that weighs over 12,000 pounds.
However, even with these upgraded features, 12,000 pounds is pretty close to the maximum GVWR for all half-ton trucks. A lighter towable trailer is preferable to protect your vehicle's engine and extend the life of your truck's life.
The 5 Popular ½ Ton Trucks Best for Towing Travel Trailers?
If you want to upgrade your pickup for towing a travel trailer, you've got a range of choices. Almost all truck manufacturers make a ½ ton truck, which means you have plenty of options. This doesn't make shopping for a truck easier.
We've put together the details of the ½ ton trucks from the major automakers in the US to help you decide which truck is best for towing your travel trailer.
1. Ford F-150
The Ford F-150 has been a very popular truck for years. It is reliable and comes with various trim options that increase its versatility. Towing capability is determined by the trim level and engine selected.
Towing Capacity: 5,000 to 14,000 pounds
Payload: 1,721 to 2,780
GVWR: 7,850 pounds
2. Dodge Ram 1500
The Dodge Ram 1500 comes in three different trim levels. Each provides different towing capabilities based on the configuration of the vehicle.
Towing Capacity: 6,290 to 12,560 pounds
Payload: 1,240 to 2,300 pounds
GVWR: 6,010 to 7,200 pounds
3. Chevrolet Silverado/ GMC Sierra 1500
The Chevrolet Silverado and GMC Sierra 1500 are the same vehicles. General Motors manufactures both, using the same chassis configuration for both trucks. As with our other truck options, the towing capabilities of these trucks depend on the trim level you select.
Towing Capacity: 8,900 to 19,000 pounds
Payload: 1,480-2,300 pounds
GVWR: 6,700 to 7,100 pounds
4. Nissan Titan
The Nissan Titan is a surprisingly good vehicle for towing a towable trailer. The Titan comes in four customizable trim levels. Each trim level provides unique towing capabilities based on the trim engine and chassis.
Towing Capacity: 9,167 to 9,323 pounds
Payload: 1,613 to 1,658 pounds
GVWR: 7,100 to 7,300 pounds
5. Toyota Tundra
The Toyota Tundra is quickly becoming one of the most popular recreational trucks on the market. The Tundra comes in three different trims that are fully customizable.
Towing Capacity: 9,400 to 12,000 pounds
Payload: 1,620-1,700 pounds
GVWR: 7,000 pounds
How Much Weight Can an Electric Truck Pull
Electric Vehicle (EV) trucks are making a big showing on the car market right now. With quiet running, and powerful engines, it seems like an electric truck is a great option for towing your travel trailer.
While this, in theory, is true, the technology is still so new that there are some limitations to towing with an electric truck. The biggest limitation is the distance you can travel on a single charge while towing.
Most EV trucks are struggling with distance while towing. You should consider this carefully when pondering the purchase of an EV truck.
Kelly Blue Book has some great information on EV trucks if you are considering an EV truck.
Here are the towing capacities for the EV trucks currently on the market:
Ford F-150 Lightning: 10,000 pounds
Chevrolet Silverado EV: 10,000 pounds
GMC Hummer EV Pickup: 7,500 pounds
Rivian R1T: 11,000 pounds
Tesla CyberTruck: 14,000 pounds
So, What Are the Best Travel Trailers for Half-Ton Trucks?
The properly sized travel trailer, with features that provide the best travel experience, is the best travel trailer for half-ton truck owners.
If you own a half-ton truck, there are many options for travel trailers. Travel trailers for half-ton trucks come in all shapes and sizes. When you're selecting the best travel trailer for your half-ton truck, the most important consideration is the towing capacity of your truck and the GVWR of the trailer.
Keeping this in mind will lead to safe and fun travel no matter where the road takes you.
---
Related Reading:
– 20 Best Small Camper Trailers with Bathrooms
– 11 Best Small Toy Hauler Travel Trailers
– 15 Best Small Travel Trailers For Retired Couples
---
About the Author:
Jason Gass is a full-time freelance writer and part-time RVer whose goal is to share great stories around a campfire with good friends.
When he's not working, he spends most of his time camping, searching for the best breweries, and road-tripping in his teardrop trailer with his wife, daughter, and two dogs.