If you're tired of lugging dirty clothes to a campground laundromat or searching for one in town, you may dream about the best travel trailers with a washer and dryer.
Imagine your own personal laundry machines right in your travel trailer. No more long trips to find a coin-operated machine, no more waiting in line at the laundromat or carrying heavy loads of wet clothing.
The convenience of having a washer and dryer in your RV is hard to match. But what types of RVs have these appliances?
We've compiled a list of the best travel trailers with a washer and dryer, making your next road trip a luxurious and convenient experience.
From full-time RVers to weekend warriors, these top-rated models are sure to impress. So join us as we explore the ultimate on-the-go laundry options.
Can You Fit a Washer and Dryer in a Travel Trailer?
Many newbie RVers may wonder if it's possible to fit a washer and dryer in a travel trailer. The answer is yes!
While travel trailers have limited space compared to larger motorhomes, manufacturers have devised innovative ways to incorporate these amenities into their designs.
Some models offer spaces for stackable units or compact portables, while others dedicate spaces for a full-size washer and dryer.
So, don't let the limited space of a travel trailer deter you from having the luxury of on-the-go laundry.
With the best travel trailers with washers and dryers on the market, you can have it all—convenience and comfort on the road.
👇 Check Out Our YouTube Video Below! 👇
10 Best Travel Trailers with a Washer and Dryer
Whether you're looking for a compact model or a full-size solution, check out these top picks for the best travel trailers with a washer and dryer.
1. Grand Design Reflection 315RLTS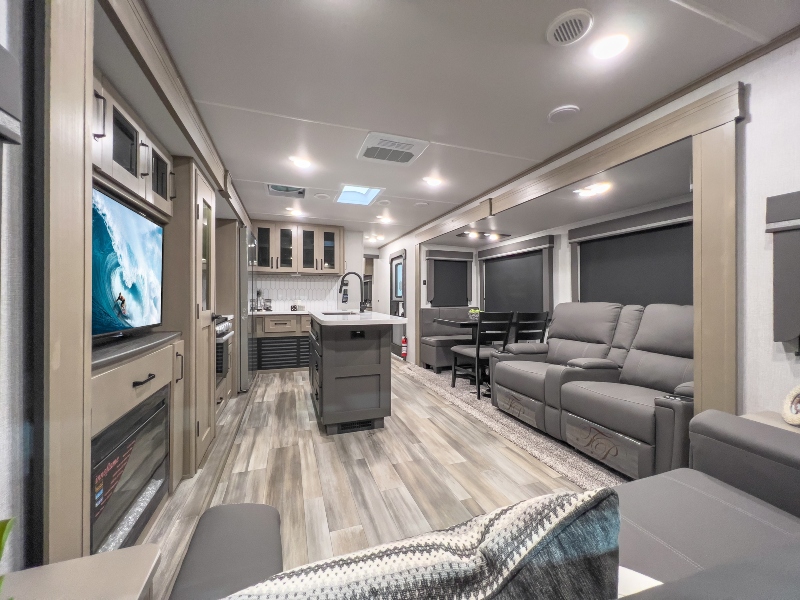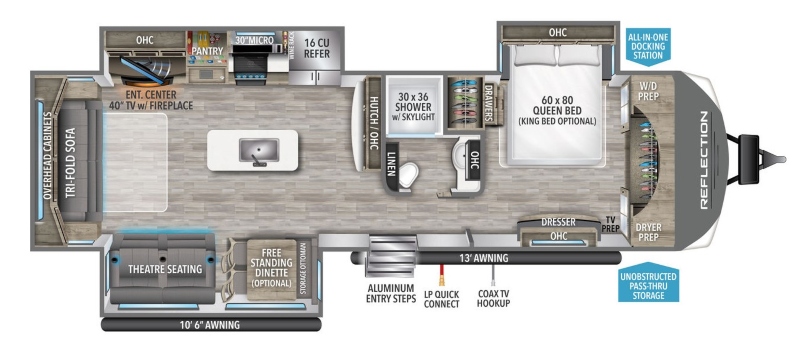 Our Pros and Cons
✅ Washer/dryer prep tucked inside the large bedroom closet
⛔ The optional king bed removes the nightstands
Length: 37.11 ft.
UVW: 9,443 lbs.
GVWR: 11,295 lbs.
CCC: 1,852 lbs.
Tongue Weight: 1,099 lbs.
Sleep: 5
Although the Reflection 315RLTS fifth wheel doesn't come with a pre-installed washer and dryer, it comes with the ultimate convenience—a washer and dryer prep inside the bedroom full-wall wardrobe.
The good news is there's no closet space sacrifice, as the separate units are tucked sideways under the hanging bar. The bad news is you must purchase your own washer and dryer and install them.
But the Reflection 315RLTS isn't just about practicality; it's also about luxury.
This RV boasts a spacious rear living area with a tri-fold sofa and theater seating, a large gourmet kitchen with a residential refrigerator and pantry, and a front bedroom with a king-size bed.
With all these top-of-the-line features, the Reflection 315RLTS truly gives you the best of both worlds—luxury and convenience.
2. Coachmen Catalina Legacy 343BHTS (2 Queen Beds)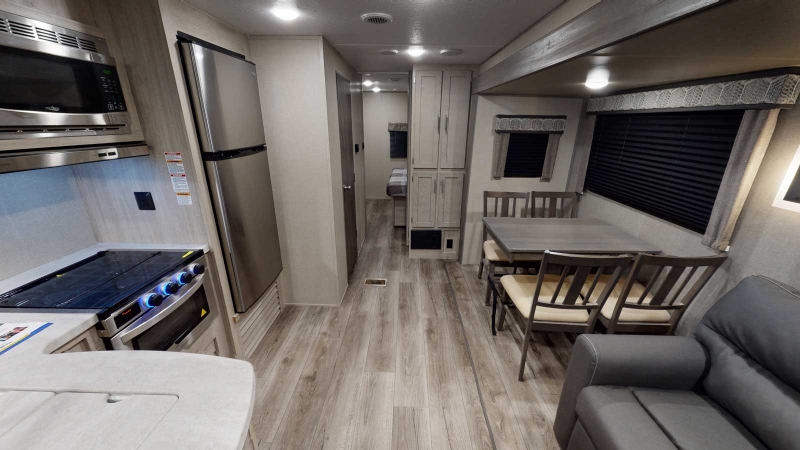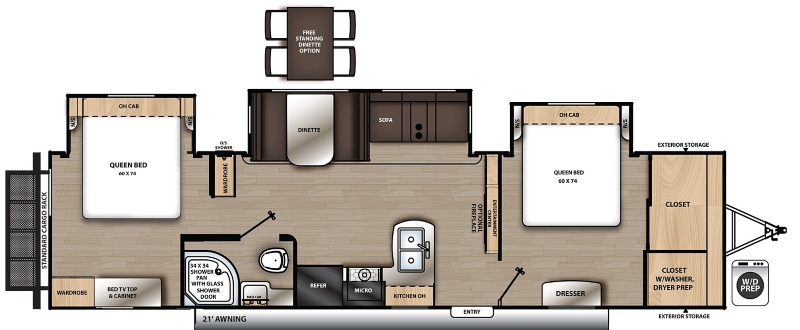 Our Pros and Cons
✅ This model also comes as a rear bunkhouse
⛔ Heat vents are on the floor, so keep your pet's nails trimmed
Length: 38.6 ft.
UVW: 8,620 lbs.
GVWR: 10,800 lbs.
CCC: 2,180 lbs.
Tongue Weight: 1,252 lbs.
Sleep: 10
Like the Reflection fifth wheel, the Coachmen Catalina Legacy 343BHTS travel trailer also includes a washer and dryer prepped area inside the front bedroom.
However, the small closet that fits a stackable washer/dryer is in addition to a more oversized closet, providing the flexibility to use the space as needed.
And if you want to sleep in a different bedroom away from the washer and dryer, why not sleep in the second bedroom in the rear?
Yes, the Catalina Legacy has two queen-size bedrooms, a rare find in the travel trailer market.
With three total slide-outs, an L-shaped kitchen counter, and a booth dinette, the Catalina Legacy 343BHTS gives you the room to relax, entertain, and make memories with family and friends.
3. Forest River Salem 33TS

Our Pros and Cons
✅ Many of the features are oversized for a large family
⛔ The bathroom is next to the bunkhouse instead of the master bedroom
Length: 38.9 ft.
UVW: 9,276 lbs.
GVWR: 11,288 lbs.
CCC: 2,012 lbs.
Tongue Weight: 1,088 lbs.
Sleep: 10
A lot is going on in the Forest River Salem 33TS ultimate bunkhouse travel trailer for flexibility and convenience.
With three slide-outs, a large private bedroom, and a bunkhouse that sleeps up to 10 people, this RV is ready for your family's next vacation.
And with so many people, doing laundry on the road can be a challenge. That's why the Salem 33TS is prepped and ready for a stackable washer and dryer in the primary bedroom closet.
Everything about this travel trailer is to provide the best experience for large families, including the oversized refrigerator and outdoor kitchen.
4. Jayco Eagle HT 312BHOK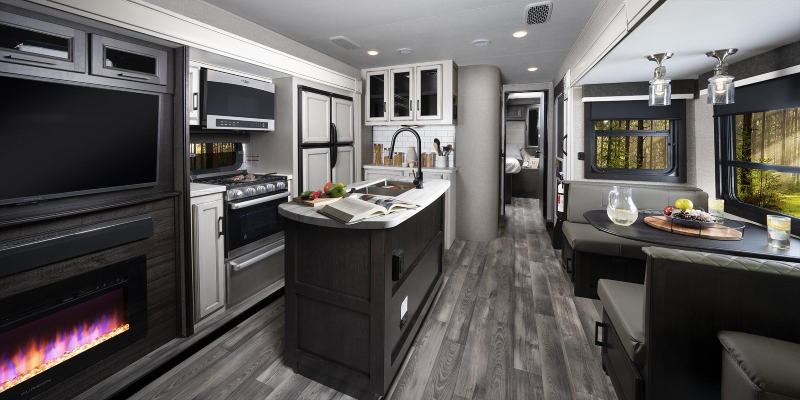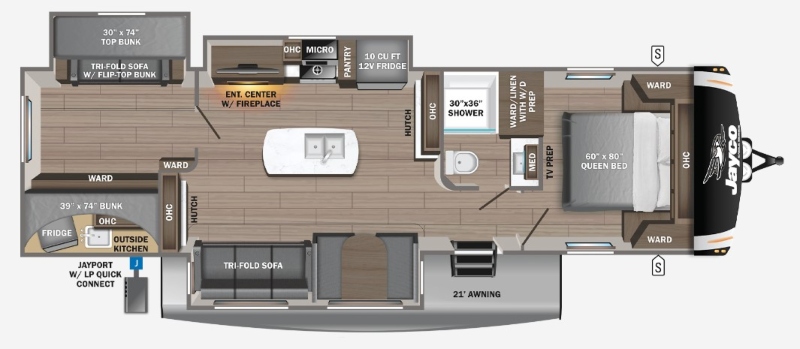 Our Pros and Cons
✅ This travel trailer has an excellent fifth wheel floorplan
⛔You will need a 2500 series truck to pull this "half-ton" RV safely
Length: 38.9 ft.
UVW: 9,500 lbs.
GVWR: 11,300 lbs.
CCC: 1,800 lbs.
Tongue Weight: 1,140 lbs.
Sleep: 9
Soaring high and wide, the Eagle HT 312BHOK provides the convenience of a lightweight travel trailer combined with the luxurious features of a fifth wheel.
Life on the road has never been easier with an abundance of sleeping spaces and the option of having a washer and dryer in a bedroom closet. Enjoy clean clothes daily without thinking about laundromats or packing extra items.
With a kitchen island, two hutches, and an outside kitchen, there is plenty of room to make all your favorite meals.
After mealtime, relax in the cozy living area in front of the fireplace and entertainment center.
5. Keystone Cougar Half-Ton 33RLI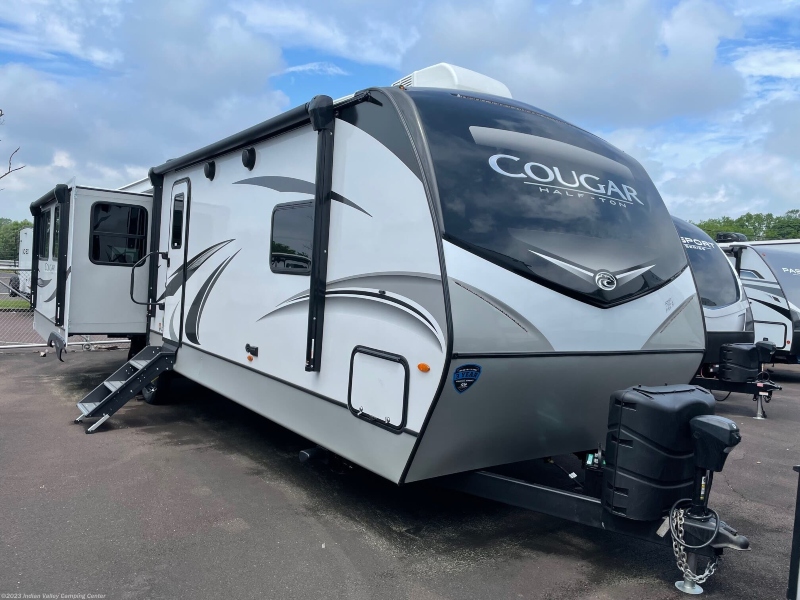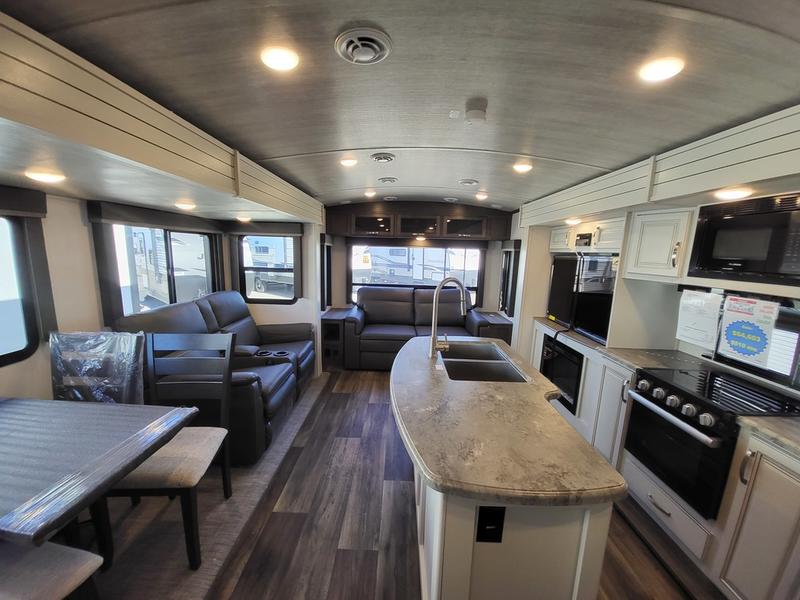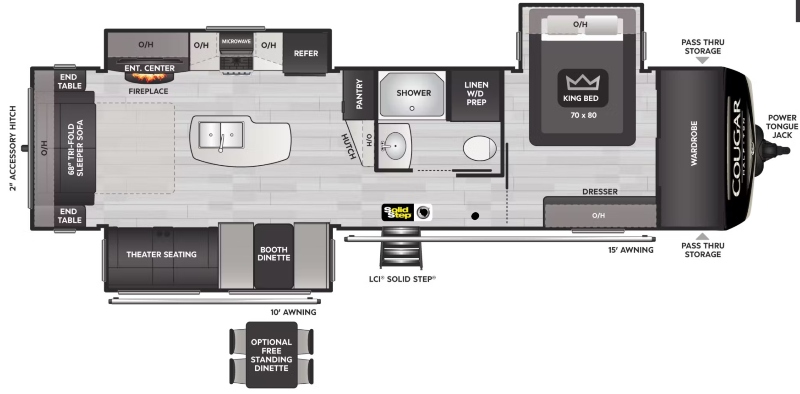 Our Pros and Cons
✅The front cap wardrobe gives full-width storage since the washer/dryer is on the opposite wall
⛔ Large dog kennels can sit in the dinette space if the free-standing dinette is unscrewed from the wall.
Length: 37.5 ft.
UVW: 8,690 lbs.
GVWR:
CCC: 1,810 lbs.
Tongue Weight: 1,215 lbs.
Sleep: 4/6
As the flagship brand for Keystone, this big cat series is a favorite by many. The Cougar 33RLI is a new model for 2023, and figured out the best way to maximize clothes storage and laundry day.
By placing the washer and dryer on the opposite wall, the full-width front cap wardrobe is usable to hang your clothes. The residential king-size bed is a good place to fold your clothes and organize everything.
When you're finished, the clothes at the end of the bed are ready to be stored in the 6-drawer dresser, and everything else is ready for the wardrobe.
Afterward, you can relax in the rear living room with a nice fire, your favorite movie, and those snacks you hid in the back of the closet-sized pantry.
6. Flagstaff Classic 832BWS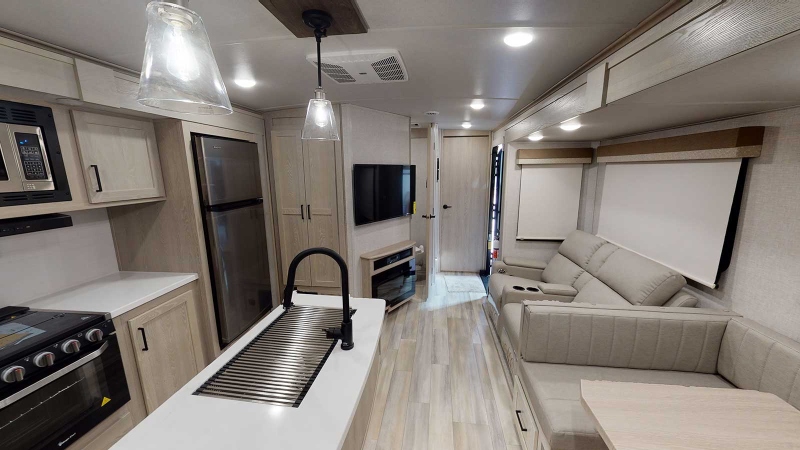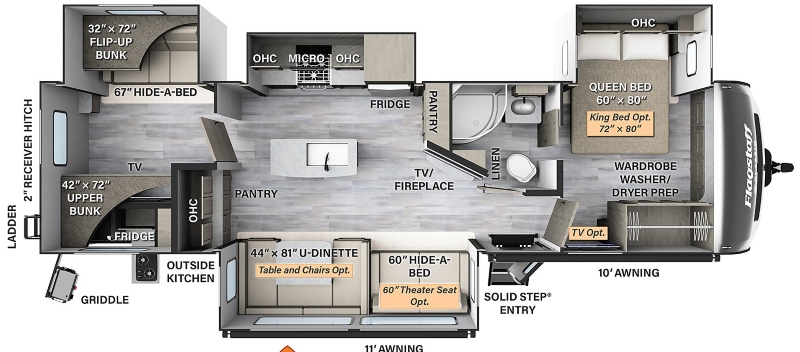 Our Pros and Cons
✅ Optional full-length sofa-sleeper replaces dinette and hide-a-bed
⛔ Only comes with washer/dryer prep
Length: 36.8 ft.
UVW: 9,669 lbs.
GVWR: 11,320 lbs.
CCC: 1,651 lbs.
Tongue Weight: 1,320 lbs.
Sleep: 9
Embark on the road to adventure with the Flagstaff Classic 832BWS by Forest River. Its four-slide bunk model provides plenty of room for the whole family, including a king-bed option in the primary.
The private bunkroom has a residential-type door, closed off from the main area, to give kids their own entertainment center.
Laundry isn't a problem thanks to the washer and dryer prep in the bedroom closet on the camp side of the trailer instead of the traditional cap closet.
There's a fully equipped kitchen with a refrigerator, stove, oven, and microwave and an outdoor RV kitchen for those inviting evening barbeques.
Together, these elements make the Flagstaff Classic 832BWS one exceptional trailer for enjoying life on the road with the whole crew.
7. Palomino Puma 30RKQS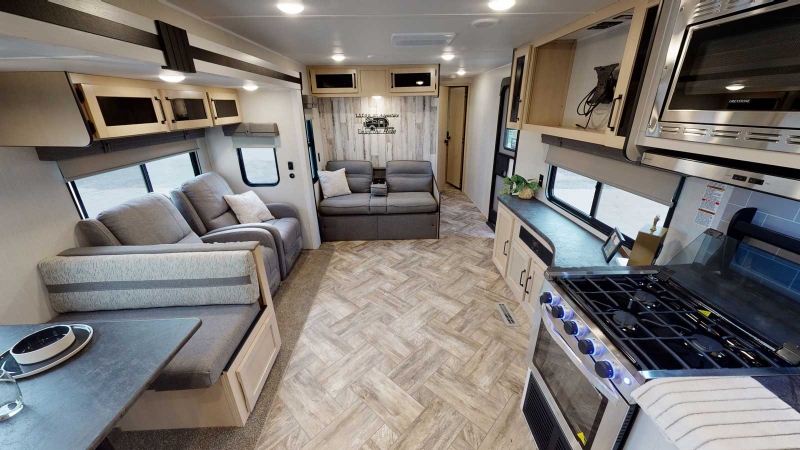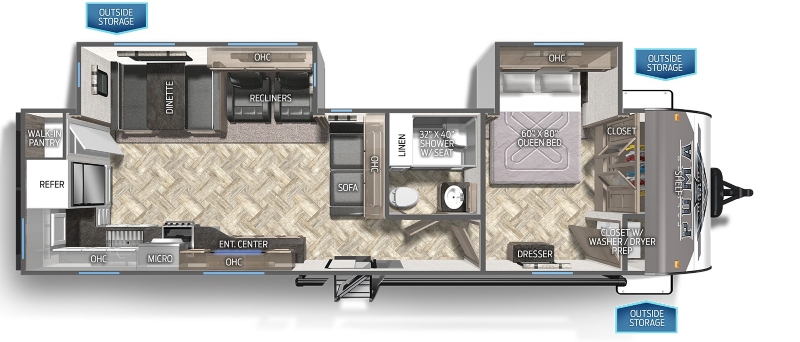 Our Pros and Cons
✅Big rear kitchen
⛔ Electric tongue and stabilizer jacks are optional
Length: 36.1 ft.
UVW: 7,974 lbs.
GVWR: 9,600 lbs.
CCC: 1,626 lbs.
Tongue Weight: 1,085 lbs.
Sleep: 6
The Palomino Puma 30RKQS is a prowling powerhouse of a travel trailer.
From its sleek exterior and spacious interior to its comfortable amenities and top-notch safety features, the Puma will have you romping the roads with luxury and style.
The designated washer and dryer closet on the front cap is more than a practical addition; it symbolizes the ultimate convenience you'll enjoy throughout the Palomino.
Never again having to endure the hassle of finding a laundry room or settling for less-than-fresh clothes.
As you move towards the heart of the RV, you'll discover the rear kitchen, a true feast for the senses. Imagine whipping culinary delights in a space designed with the RV chef in mind.
High-end appliances, ample counter space, and plenty of storage are here to unleash your inner chef and bring your culinary creations to life.
And when you're not cooking, you can lounge in the comfortable living area, sinking into the plush recliners, and watch your favorite shows on the large LED TV.
8. Highland Ridge Light 275RLS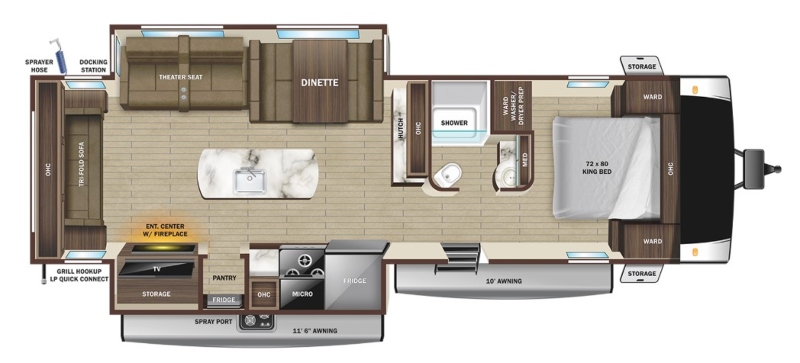 Our Pros and Cons
✅There's plenty of storage behind the TV and a huge pantry
⛔You won't be able to fit a residential king mattress comfortably
Length: 33.11 ft.
UVW: 7,195 lbs.
GVWR: 8,995 lbs.
CCC: 1,800 lbs.
Tongue Weight: 1,025 lbs.
Sleep: 6
Whether you're an avid camper or part-timer, the Highland Ridge Light 275RLS travel trailer is designed with you in mind.
For example, the washer and dryer closet, located at the foot of the primary bed, provides easy access to your laundry needs.
No more hauling heavy baskets to the other end of the RV. Instead, drop your clothes in and let the machines do the work.
The primary bedroom features an RV king-size bed, while the large rear living room is outfitted with plenty of seating to make guests comfortable.
And with a large pantry and storage behind the TV for all your active gear, you'll always have space for essentials.
Whether for camping, road trips, or comfortable weekends, the Highland Ridge Light 296BHS RV is an excellent choice for active RVers on the go.
9. Crossroads ZINGER 298FB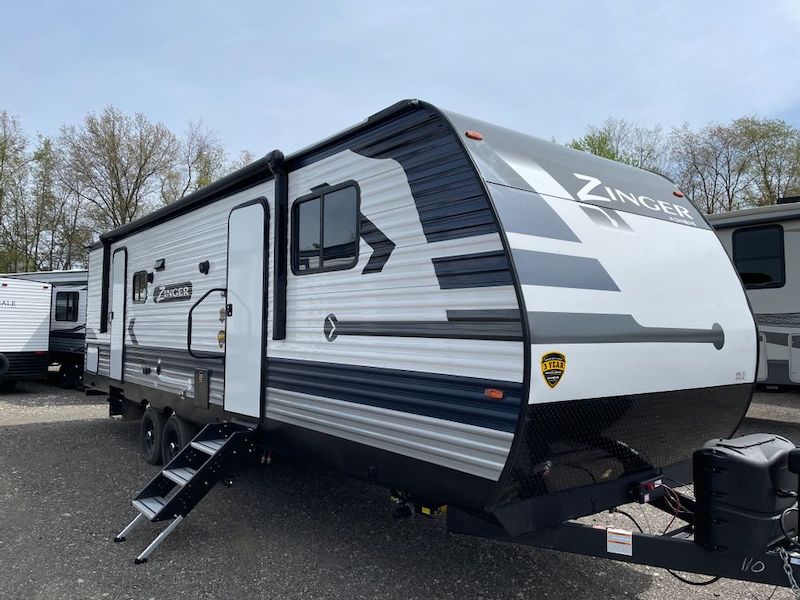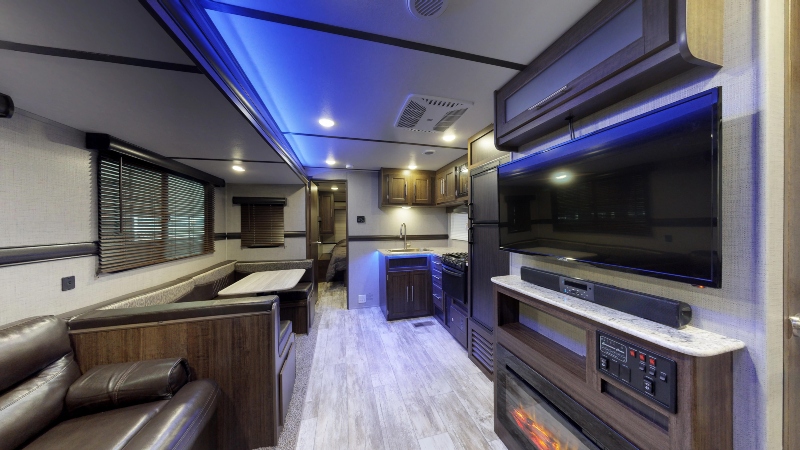 Our Pros and Cons
✅ Washer and dryer located in the front bathroom, away from the rear bedroom.
⛔ The Zinger is solar-prepped but doesn't come with an included solar panel
Length: 33.11 ft.
UVW: 6,680 lbs.
GVWR: 9,550 lbs.
CCC: 2,870 lbs.
Tongue Weight: 950 lbs.
Sleep: 6
Add some zing to your RV travels with the CrossRoads ZINGER 298FB couples travel trailer, the perfect blend of adventure and luxury.
Its unique and well-planned features add zest to your travels, such as the front bath, rear bedroom, and two entry/exit doors.
Because the washer and dryer are located in the front bathroom, you can enjoy the convenience of running that last load before you go to sleep without all the noise or extra heat raising the temperature in your bedroom.
The U-shaped dinette adds comfort and convenience to your travels, providing a cozy spot to gather with friends and family.
Additionally, the ZINGER 298FB has plenty of space for your camping gear and a large storage area for your belongings.
Another great ZINGER feature is the heated and enclosed underbelly, which helps keep the trailer insulated from cold temperatures.
It's also pre-wired for solar, making adding solar panels easy to increase energy efficiency.
Whether you're looking for a weekend getaway or an extended camping adventure, the ZINGER 298FB has all the features to make your vacation enjoyable and worry-free.
10. Heartland Pioneer BH330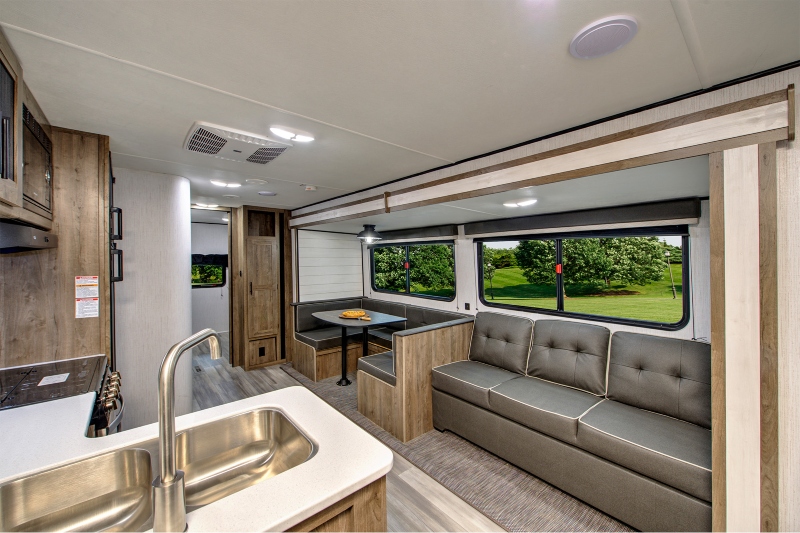 Our Pros and Cons
✅ Standard power tongue and stabilizer jacks
⛔ Electric awning and LED lights are an optional, not standard
Length: 37.7 ft.
UVW: 8,926 lbs.
GVWR: 10,400 lbs.
CCC: 1,458 lbs.
Tongue Weight: 794 lbs.
Sleep: 8
Welcome to the new 2023 Heartland Pioneer BH330 travel trailer, a premier RV with an array of luxury and convenience features.
One such feature is the washer and dryer prep area in the bedroom, which allows for easy installation of a washer and dryer without compromising on quality or space.
The bedroom also houses a full-size residential queen bed (60″ x 80″), full-length dual wardrobes with integrated lighting and USB charging, and CPAP-ready storage with full power access.
With its flip-down storage rack, you can store items like bikes, wood, and coolers like a true pioneer.
And the king-sized pass-thru storage, with its 52 cubic feet of space and LED lights, is like a veritable treasure trove.
RVers susceptible to allergies will love this carpet-free RV, with full linoleum on the main floor and no carpet in the slideouts.
The extra large cross-flow windows also open up, allowing cool fresh air to circulate for greater comfort.
And with the Pioneer Power Pack, you'll have power stabilizer jacks, a power tongue jack, and a power awning to set up camp easily.
To make things even easier, the EZ Camp Package comes equipped with a black tank flush, an outside shower with hot and cold water, an LP Quick Connect, and an outside TV hookup to enjoy the great outdoors in style.
Is it Worth Having a Washer and Dryer in Your Travel Trailer?
If you're a frequent RVer, having a washer and dryer in your travel trailer can be a great convenience.
Not only will it save you time and money when doing laundry while on the road, but it can also help keep your clothes looking their best during long trips.
While there are some considerations to make before investing in this type of equipment, it's worth considering as an option for your home away from home.
Foremost, you'll need to ensure the washer and dryer will fit within the confines of your trailer.
If you don't have the space, looking into alternative solutions, such as portable laundry machines, using campground laundromats, or finding a local one might be necessary.
It's also important to consider the garments you'll wash on your trip. Some washers and dryers handle only certain fabrics, so it's best to read up on the models you're looking at before making a purchase.
Finally, think about how often you'll be doing laundry and how much water you'll need. A large-capacity washer and dryer may not be necessary if you're only planning to do a load of laundry now and then.
Ultimately, whether to invest in a washer and dryer for your travel trailer is up to you.
Here are some pros and cons to consider before deciding if it's worthwhile for your RV life:
Pros:
Having a washer and dryer in your travel trailer means never having to leave home searching for a laundromat or suffering through weeks of dirty laundry.
You can save money by avoiding costly detergents at laundromats; instead, investing in bulk detergents that can last up to several months.
You won't have to lug heavy bags of clothes around, saving time and energy.
Some models provide additional features such as spin cycles which reduce drying times, saving even more time.
Cons:
A washer and dryer can be expensive, initially and in the future, with possible maintenance costs involved.
Installing a washer and dryer in your travel trailer takes up valuable space you could use for storage.
You must consider special plumbing considerations when setting up these appliances since they require access to water sources.
Power surges or lightning strikes can quickly damage an RV's delicate electrical system without careful maintenance, resulting in costly repairs or replacements.
What Is the Smallest Travel Trailer with a Washer and Dryer?
The New 2023 Highland Ridge RV Open Range Light 275RLS, at a mere 34 feet in length, has a washer and dryer prep in the bedroom. It's rare to find a travel trailer with a washer and dryer under 35 feet.
What Type of Washer and Dryer Can Fit in a Travel Trailer?
Size is one of the most important factors when choosing a washer and dryer for your travel trailer.
Full-size laundry units are unsuitable for most campers, as they take up too much room.
Instead, look for stackable or portable models that fit into smaller spaces. Most RV dealers can advise you on the size units best suited for your particular trailer model.
Here are a few examples of washer and dryer units that can fit in a travel trailer.
1. Traditional Side-by-Side
While traditional side-by-side washer and dryer units can be bulky for mobile dwellings, they are ideal for those who don't want to do multiple batches of laundry.
Plus, with a larger capacity, even the busiest of families can complete several loads in one go.
Yes, you may have to sacrifice floor space in your RV, but if you can clear a mountain of laundry quickly, it may be worth it.
2. Stackable
Stackable washer and dryer units for travel trailers are a must-have for any RV lover looking for an efficient, space-saving way to wash their light loads.
These cleverly designed appliances come in a stackable form allowing users to economize on floor space, much like living in a chic studio apartment.
As if their modern design wasn't enough, stackables are impressively energy efficient, designed with portability and convenience in mind.
The only tough decision you'll need to make before purchasing a stackable washer and dryer unit is whether you will use electricity or propane to power the machines.
3. Combo
Who wouldn't want the convenience of a washer and dryer in one compact unit?
That's what combo washer and dryer units for travel trailers offer—a space-saving solution with ample efficiency that's ideally suited for small living spaces.
Not only do these units save floor space, but they also typically require minimal energy to operate.
With their easy-to-use design, RVers love how convenient it is to have everything they need to keep their clothes clean in one place.
4. Portable
Portable washers and dryers are game changers for RVers who want to avoid hauling large appliances that add weight and bulk to their travels.
Not only do these units provide convenience, but there is a wide range of sizes, so even the tiniest RV spaces can accommodate them.
Portables come with various options, such as multi-stage drying systems, eco-friendly auto-sensing programs, and steam cycles that help reduce wrinkles and refresh clothes.
They are also incredibly energy efficient, using only a fraction of the electricity required by traditional washers and dryers. And many portable models allow for water conservation by using a "rinse and spin" cycle.
How Do You Power a Washer and Dryer in a Travel Trailer?
There are several ways to power a washer and dryer in a travel trailer, depending on the electrical systems in the trailer and the type of appliances you use.
Hooking up to shore power: If you have access to a power source while camping, such as an RV park with electrical hookups, you can connect your travel trailer to shore power to run the washer and dryer.
Generator: If you don't have access to shore power, you can use a portable generator to power your appliances.
Inverter: An inverter can convert the power from the battery in your travel trailer to the AC power required by the washer and dryer. However, this method may only be suitable for running the appliances for a short period as it can drain your battery quickly.
Solar panels: You can use solar panels to generate power stored in the travel trailer battery.
Propane: Propane-powered appliances are becoming increasingly popular in travel trailers, as they are energy efficient and easy to use.
It's essential to note the electrical requirements of washers and dryers can differ, so be sure to consult the manual or manufacturer for the specific needs of your appliances.
Do You Need to Vent Your Camper Washer and Dryer?
Vented dryers require an exhaust vent installed on your RV's outside wall or roof so that the hot air produced during the drying cycle can escape.
Non-vented dryers, also known as condensation dryers, don't require an exhaust vent as they use a built-in condensation system to remove the hot air created during the drying cycle.
Before installing your RV washer and dryer, double-check the manufacturer's instructions for specific venting requirements.
Do Travel Trailers Come with Hookups or a Pre-installed Washer and Dryer?
Whether a travel trailer comes with hookups for a washer and dryer or a pre-installed unit depends on the specific model and manufacturer.
Some high-end travel trailers may come with a pre-installed washer and dryer, but it's rare.
More often, travel trailers come with hookups for a washer and dryer but without the actual appliances. That way, you can choose the brand, type, and size of your washer and dryer to fit your needs.
Can You Use a Residential Washer and Dryer?
Yes, it is possible to use a residential washer and dryer in an RV. However, there are a few factors to consider when choosing appliances for an RV, as the electrical and plumbing systems in an RV differ from those in a residential home.
For example, the voltage of an RV is typically lower than that of a home, so you must choose washers and dryers compatible with your electrical system.
How Do You Do Laundry in an RV without a Washer and Dryer?
Doing laundry in an RV without a washer and dryer can be challenging. However, there are several options for cleaning your clothes without bulky appliances.
Laundromat: One of the most common methods people use when they don't have a washer and dryer is visiting a laundromat, whether at the campground or in town.
Hand Washing: Hand washing is an option for small loads of laundry. You can use a basin or sink to wash the clothes and hang them to dry. Hand washing is a good option if you're traveling in a remote area with no laundry facilities.
Campground shower facilities: Some campgrounds have shower facilities for washing clothes. Bring a bucket into the shower, fill it with soap and water, and use it to wash your clothes.
Would You Buy a Travel Trailer with a Washer and Dryer?
The decision to buy a travel trailer with a washer and dryer is one that many RVers take seriously.
Hopefully, this article has helped you decide whether a travel trailer with a washer and dryer suits your RV lifestyle.
In the end, it comes down to preference. Some RVers prefer the convenience of having a washer and dryer in their rig, while others like to do laundry on the go. Whichever option you choose, you can always change your decision down the road.
---
Related Reading:
1. 10 Best Travel Trailers With a Bunkhouse
2. How to Stop Your Travel Trailer From Rocking
3. 12 Best Travel Trailers For Families
---
About the Author:
Mike Scarpignato is an avid RVer who owns a Class C RV and a Class A RV. He loves to travel with his wife Susan and write blog articles about the RV lifestyle.
Mike and Susan also make YouTube videos on the RVBlogger YouTube channel.