How can you stop your travel trailer from rocking? Apart from the *ahem* obvious reasons your trailer might be rocking, there are plenty of "other" reasons that your trailer is unstable.
It could be you haven't leveled your trailer correctly. You could also be parked on unlevel ground or soft ground. Do you have a lot of people in your RV running around? Maybe you need to consider if your stabilizers are doing their job.
Let's investigate some of those reasons and more to determine what's going on and how to stop your travel trailer from rocking.
5 Reasons Why Is My Travel Trailer Rocking?
There are many reasons why your trailer is rocking, but you might want to revisit your setup to ensure you take care of the following concerns.
1. Unlevel Ground
Let's face it; not all campsites are created equal. The unlevel ground is a difficult factor to deal with. If you are able, you might want to find one that is on flatter ground. Take this factor into consideration before you unhitch your trailer. Instead of moving, you might be able to angle your trailer based on the level of one area over another.
2. Soft Ground
Like unlevel ground, soft ground in your campsite might also cause problems with trailer rocking. The best answer is to get out and walk around your spot. If there was a recent rain, you may have no choice but to park there. Using wood planks under your tires might help lessen the issue under that scenario.
3. Inadequate Stabilizers
Using Inadequate stabilizers will no doubt cause a problem and allow your trailer to rock. You can purchase high-quality aftermarket stabilizers, which will help the problem.
4. Uneven Weight Distribution
If you full-time RV like we did, you know you have almost everything you own in your trailer. Take time to investigate your storage areas for uneven weight distribution. This could also help the rocking problem.
5. Too Many People Inside
Too many people inside may be a factor that you can't cure. The rocking is probably temporary if you're having a big party and invited the whole RV park. You can stop your travel trailer from rocking when the five or six kids in your bunkhouse finally go to sleep.
How Do You Properly Level a Travel Trailer?
Properly leveling your RV will go a long way toward stopping your travel trailer from rocking. If you're new at RVing, it might take some practice, and you might need a checklist to ensure you do all the steps properly.
First, find the most level spot you can park your trailer. Once you've parked, before you unhook, get out and check your bubble levels to see how unbalanced your RV is and where you need to focus your attention.
Remember, the tongue jack will allow you to level your trailer from front to back once you're unhitched. Side-to-side leveling will be your concern at this point.
Most leveling is a trial-and-error process. Pull forward and add Lego-Style jack pads under the tire(s) if the trailer needs to come up on one side to be level. We used 1 X 4-inch wood planks that are long enough to go under both trailer tires.
Add one, depending on your need, and then check the level again. We also used Lego-Style blocks if we need to go more than one level.
This process may take some time, but you'll be happier with the results if you don't rush the process. Once the trailer is level, unhitch the trailer from the tow vehicle. Don't forget the wheel chocks. We forgot them once. It scared us enough that we never did that again.
Now, you can level from front to back. Once that's done, put down your stabilizers, and you should be ready to finish your setup. Remember, your stabilizers should not carry the weight of your trailer. Once you've been set up for a few days, you might need to readjust them.
The 7 Best Tools to Stabilize Your Rocking Travel Trailer
1. Leveling Jacks
Your RV's leveling jacks are used on your RV to help level and stabilize your camper. These'll give you a better feel when you walk around inside and help to keep your RV from rocking. Some RVs come with auto levelers, a quick and easy way to level your rig.
Leveling jacks, like the Libra Scissor Jacks, are vital to keeping your rig in great shape for years to come. An unlevel RV causes stress on door frames, plumbing, cupboards, chassis, and other long-term issues.
2. Leveling Blocks
Lego-style leveling blocks are also important in setting up your travel trailer. Leveling blocks are sometimes called jack pads, stacker blocks, or stabilizer pads. They help level your RV and keep your jacks from sinking into the ground.
Leveling blocks can be used under your leveling jacks for a more stable feel to your RV. They can also be stacked similarly to a ramp and used under your tires to level your RV.
The Camco Heavy Duty Leveling Blocks are a popular brand for many RVers. 
3. Wheel Chocks
An often overlooked piece of equipment is wheel chocks. These handy tools are made to be put behind and in front of your travel trailer wheels so, when unhooked, your RV doesn't roll away. Believe me; you don't want your RV to roll anywhere without your tow vehicle. Using X-chocks is a great way to keep your RV in one place and help with stabilization.
MaxxHaul's Solid Rubber Wheel Chocks are a great example. You can purchase wheel chocks, or you can make your own. Just don't forget to use them.
Other companies make wheel chocks that connect to their jack pads or leveling blocks. It allows you to keep your chocks in place better and raise your RV up a few inches for better leveling.
4. Stabilizer Jack Pad Blocks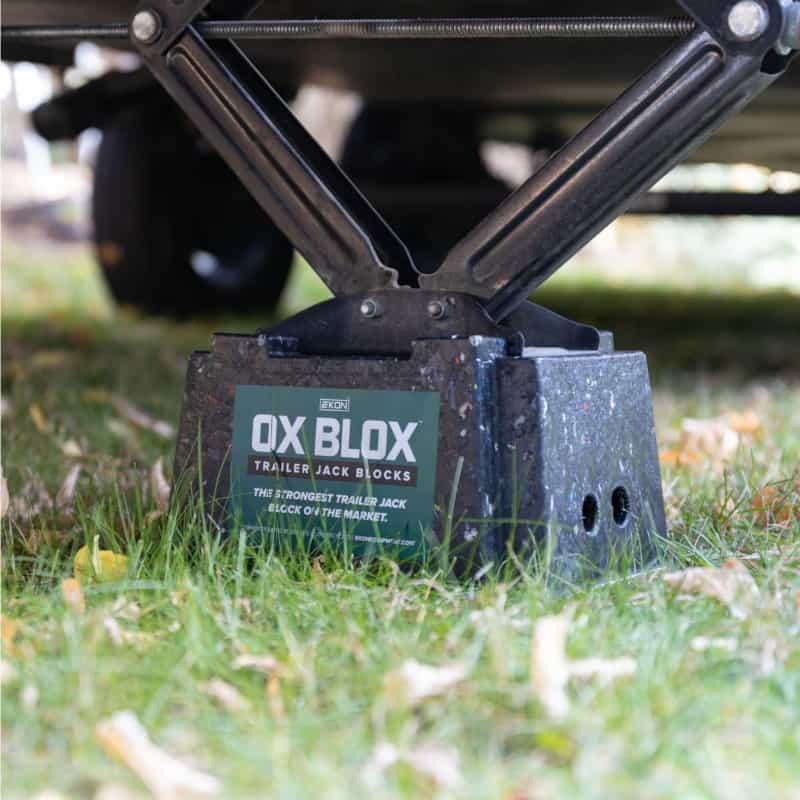 Sometimes you need more than a little bit of a lift to keep your RV level. If you get stuck on a piece of land that's unlevel, save your leveling blocks and use a jack pad block. Ox Blox by EKON has a 10,000-pound capacity. They'll work on virtually any travel trailer and fifth wheel stabilizer jack.
Stabilizer jack pads can protect your jacks and make stabilizing a little easier and more secure. They can also help if you're parked on softer ground or grass as well.
Jack pads also stabilize better because you don't need to extend your jacks. That'll help make the jacks provide more stability than they would when fully extended.
5. Portable Tire Inflator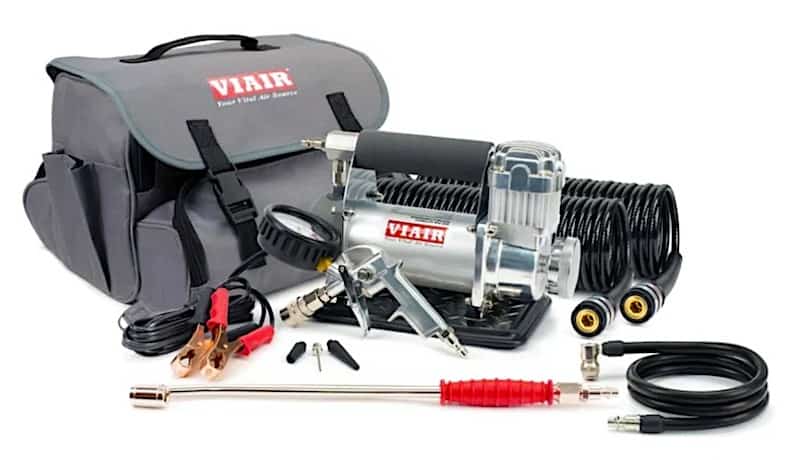 Part of your overall trailer maintenance list is to ensure that your tires are properly inflated. A portable tire inflator can help you do that and, in turn, help prevent tire blowouts from improperly inflating your tires.
Any time your RV has been sitting for a time, either in storage or at a campsite, you should check your tire inflation before departing. Make it a part of your departure checklist.
The VIAIR Tire Inflator is a great item to put on your RV purchase list. 
Travel Trailer Pro Tip: Not all of these portable tire inflators have the ability to give you the air pressure you need. Before you purchase, make sure the device delivers the PSI you need. You don't want to be on the side of the highway and find out your portable air compressor can't fully fill your tire – Editor's Experience. Check out this video about the VIAIR Tire inflator.
6. Bubble Level
A bubble level is another must-have for your RV. Of course, this little tool will ensure your RV's level, and everything stays in good working order.
Bubble levels come in all shapes and sizes, but all you really need is a handful of the sticker bubble levels placed strategically around the outside of your RV.
As you adjust your stabilizer jacks, you can watch these levels guide you to the perfect plumb flat. Like the Hopkins Never Fade Stick-on Levels, look for quality bubble levels that won't deteriorate in the sun or weather.
7. Slide-Out Supports
Slide-out supports are made to do just as the name says. They support your slide-outs and prevent damage from too much weight on the inside.
There is some controversy about whether slide-out supports are really needed. Read below on the pros and cons of slide-out supports. Check out the Dumble Heavy-Duty Slide-Out supports if you believe you need them.
4 FAQs About Handling a Rocking Travel Trailer
1. Do You Need Stabilizers for Your Slide Outs?
There are different schools of thought on whether you need slide-out supports. Some say RV slides can handle moderate amounts of weight without concern over sagging or damage. Yet you risk damage if you misuse the supports.
Others say you should use them if you plan to stay in one place for an extended period. But ensure that you aren't changing the weight enough so the weatherstripping can seal itself against the slide-out box. Otherwise, you'll lose a lot of inside temperature control and risk insect intrusion.
Most slide-outs can hold anywhere from 600-1500 pounds without the supports. Make sure if you use them, you follow manufacturer guidance and install and use them properly.
2. Is It Normal for My Camper to Shake When I Walk?
A little bounce in your camper when you're walking is normal. Excessive bouncing isn't normal, so you must check a few things. Make sure your camper is level, and your stabilizers are set correctly. Make sure your wheel chocks are in place.
If you're already set up and have done all the above, you might need to readjust your stabilizer jacks.
3. Are Single Axle Campers Less Stable Than Double?
The trailer's weight determines the number of axles on a camper mostly.
A dual-axle camper offers improved weight distribution because it sits on four tires. Its suspension system would probably be considered more stable.
Single-axle campers are lighter and can be easier to maneuver in tight spaces or sharp corners.
4. Is a Rocking Camper Dangerous?
A rocking camper isn't likely to be dangerous unless you are in high winds. Most RVs can withstand winds up to 75 miles per hour. So your children or pets stampeding through the rig aren't likely to do any damage.
If you're parked on dirt or grass, there may be some instability after heavy rain. If you think it might be rocking more than normal, take some time to check it over. Find better ground if you find the campsite is too unstable for your comfort level.
Don't hesitate to leave for a more solid site in a different campground if necessary.
Is It Worth Taking the Time to Level a Travel Trailer Properly?
Yes, leveling your travel trailer properly is absolutely worth the time. First and foremost, you don't want to feel like you're walking uphill or sliding downhill every time you move. Sleeping with an unlevel bed could also be a problem.
Also, your 2-way/3-way refrigerator will be susceptible to cooling issues if your RV isn't level. An unlevel fridge can cause the ammonia/water solution not to flow properly and accumulate at low points of the system. Also, ammonia crystals can form inside the refrigerator piping system, creating flow barriers.
Taking the time to level your travel trailer is all a part of your RVing experience. Don't be in a hurry to do anything in your RV—whether getting to your campground or set up. You'll enjoy your time camping a lot more when you ensure you're properly set up on your site and the rocking in your RV is minimal.
---
About the Author:
Terri Nighswonger and her husband Todd have been RVing and work camping for five years with their Cavalier King Charles Spaniel, Newton, and their Minnie Australian Shepherd, Remi.
They originate from the Midwest but plan to enjoy the West for a few years, wintering in Arizona and summering wherever the road may lead. Writing is Terri's passion, but she also loves hiking, kayaking, walking her dogs, and anything she can do outdoors.