For those looking for travel trailers for couples that are ready to explore our great country, there is nothing more exciting than planning a journey that could lead to untold excitement and adventure.
From camping with friends to embarking on an epic road trip across the country, there is no limit to what you and your partner can do when traveling in a travel trailer.
With so many travel trailer models on the market, it can take time to know which is best for your needs.
Whether you're looking for a two-person model with enough storage and living space or something more significant to accommodate family and friends, there's sure to be a travel trailer you'll love.
Check out these 10 best travel trailers for couples to enjoy the great outdoors together.
What to Look for in Travel Trailers for Couples
When searching for the perfect travel trailer to take on your adventures as a couple, there are some features you want to consider.
First, look for one offering enough space to lounge and entertain, plus enough storage to bring everything necessary for your road trip.
Also, determine if you need an extra bed should family or friends join you along the way.
Finally, aim for features like air conditioning, heating, and outdoor entertainment areas for maximum comfort and enjoyment.
Quality and reliability are also crucial when selecting a travel trailer for your getaways.
Check the reviews and ratings on the model you're interested in, being sure it has all the bells and whistles to make your camping trip genuinely spectacular.
Consider the trailer's weight and towing capacity, which will depend on the vehicle you have or will need.
10 Best Travel Trailers for Couples
Whether you're an experienced camping couple or just looking to explore nature, having the right travel trailer makes the experience much easier.
Here are the ten best travel trailers for couples who want to hit the open road in style.
1. Grand Design Imagine 2600RB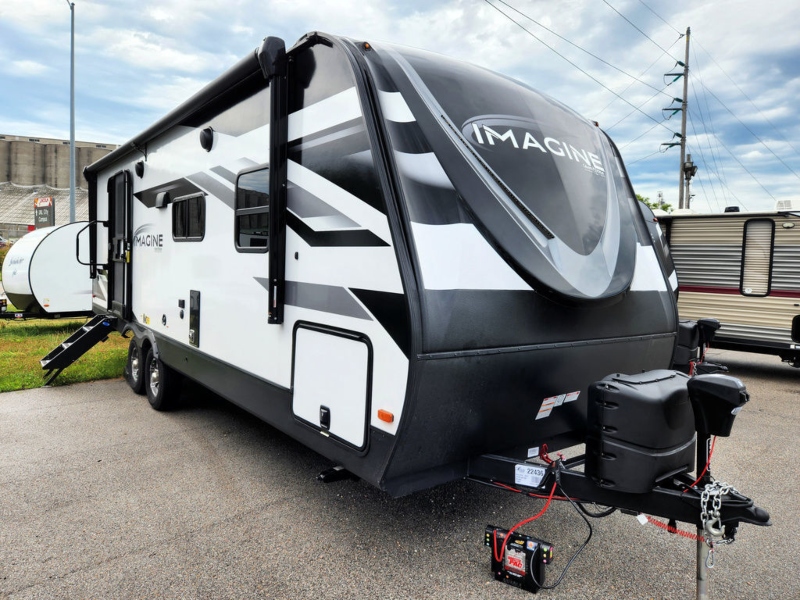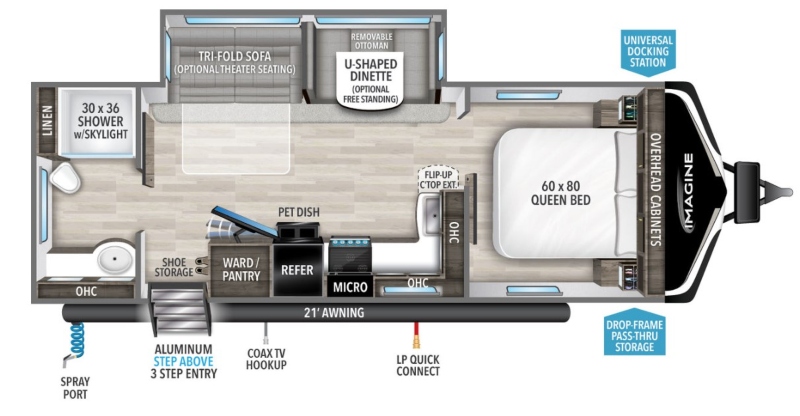 Our Pros and Cons
✅ Sliding cargo tray in pass-through exterior storage
⛔ Open linen cabinet shelving
Length: 29.8 ft.
UVW: 5,795 lbs.
GVWR: 7,850 lbs.
CCC: 2,055 lbs.
Tongue Weight: 594 lbs.
Sleep: 2-6
Ready to take your camping game up a notch? The Grand Design Imagine 2600RB is the ideal travel trailer for your next big adventure.
The Imagine is pet-friendly, so you can bring your furry friend with you. You and your pup or kitty will love the convenient pet food dish drawer and pantry closet to store all your supplies.
You'll love all the features this travel trailer offers, like the primary bedroom suite featuring a residential 60" x 80" queen bed and a large bathroom.
Plus, there's a tri-fold sofa for guests or kids as your family grows.
And when you're ready to hit the open road, this trailer is easy to tow behind your large SUV or 1500 series pickup truck.
2. Cherokee Alpha Wolf 28FKK-L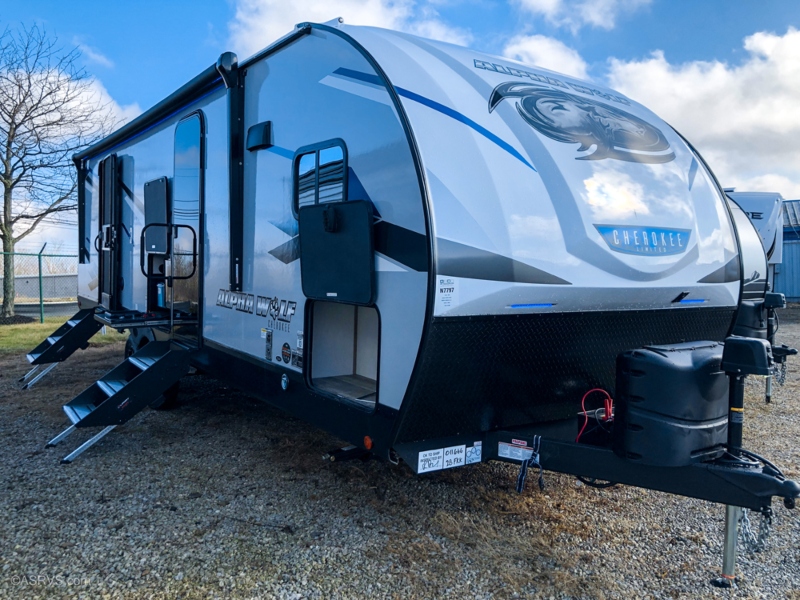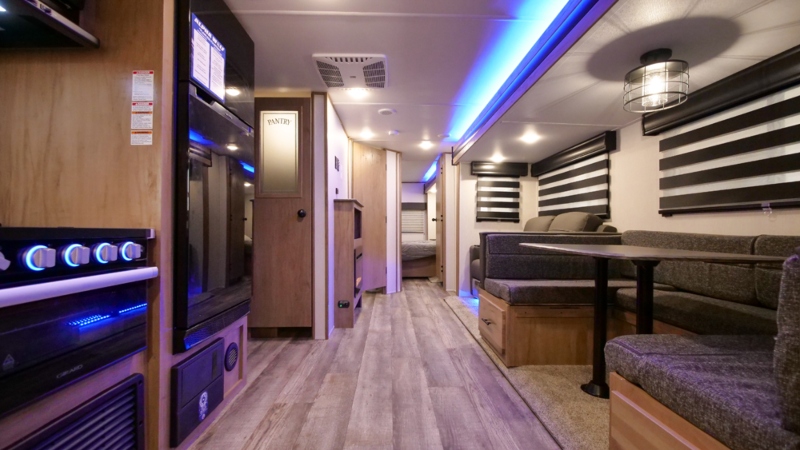 Our Pros and Cons
✅ Full-width front kitchen
⛔ Limited external storage
Length: 32.7 ft.
UVW: 6,603 lbs.
GVWR: 8,554 lbs.
CCC: 1,951 lbs.
Tongue Weight: 830 lbs.
Sleep: 2-5
It's easy to feel like a royal couple when camping in the fantastic Forest River Cherokee Alpha Wolf 28FKK-L travel trailer.
As soon as you step inside, you'll be presented with the space and cozy interior ambiance of a luxurious one-bedroom apartment.
With its state-of-the-art appliances, comfortable furnishings, and plenty of storage, this trailer provides everything needed for a home away from home.
The Alpha Wolf is a touring paradise with dual entries providing convenience and privacy when entering or exiting the RV.
The kitchen is upfront, befitting a chef's dreams, with features such as a four-burner cooktop, a deep farm-style sink, and a seamless countertop that stretches across the entire width of the trailer.
The living area is bright and inviting, with colored indirect LED lighting atop the big slide-out, Zebra shades over the windows, an electric fireplace for added comfort, and a large flat screen TV to keep you entertained on those lazy days inside.
Enjoy the deluxe RV outdoor kitchen to make those delicious camp meals while enjoying nature. And the dual-entry bathroom makes it convenient for guests to use without having to pass through the bedroom.
3. Cruiser RV Shadow Cruiser 215RBS
Our Pros and Cons
✅ Big pantry and refrigerator
⛔ Rear desk just fits a laptop
Length: 25.7 ft.
UVW: 5,264 lbs.
GVWR: 7,714 lbs.
CCC: 2,418 lbs.
Tongue Weight: 714 lbs.
Sleep: 2-4
Couples who need to work on the go will love the ultra-light Shadow Cruiser 215RBS travel trailer for the rear desk, which is a rare feature in trailers of this size.
The built-in workspace with underneath storage faces a window making your work day feel like a vacation.
This couple's coach also has a U-shaped dinette opposite the TV in front of a fantastic picture window to admire breathtaking views while sipping morning coffee or during virtual meetings.
A king-bed slide system offers plenty of sleeping space in front of the trailer. The kitchen features a large single-bowl sink, plenty of counter space, and an extra pantry to keep your snacks fresh.
4. Coleman Light 2715RL
Our Pros and Cons
✅ Rear Recliners
⛔ The recliners may be too far away from the TV for some
Length: 31.11 ft.
UVW: 6,318 lbs.
GVWR: 9,680 lbs.
CCC: 3,362 lbs.
Tongue Weight: 723 lbs.
Sleep: 2-6
The Coleman Light 2715RL travel trailer is the perfect choice for couples looking for an easy-to-tow, well-designed laminated RV.
With its lightweight frame and interior amenities, this intuitively designed trailer is ready to hit the road.
For those who enjoy taking it easy, the 2715RL offers two rear recliners for comfort and relaxation.
The rear window provides a magnificent view of the outdoors, or curl up in the living area for quality entertainment with a cozy fireplace.
The kitchen has plenty of counter space, and the entertainment center swings out to reveal a full-length pantry for all your food storage needs.
Another unique feature is the walk-through bathroom into the bedroom, allowing a ton of room for the bath area.
The 2715RL also has some nice touches, such as the powered stabilizer jacks, power tongue jack, and an outdoor shower with hot and cold water connections.
And when the sun goes down, you can enjoy a great night's sleep in the comfortable queen-size bed with dual-drawer nightstands. The private bedroom has its own entry/exit door you can use instead of walking through the bathroom.
5. Highland Ridge Range Lite Air 16FBS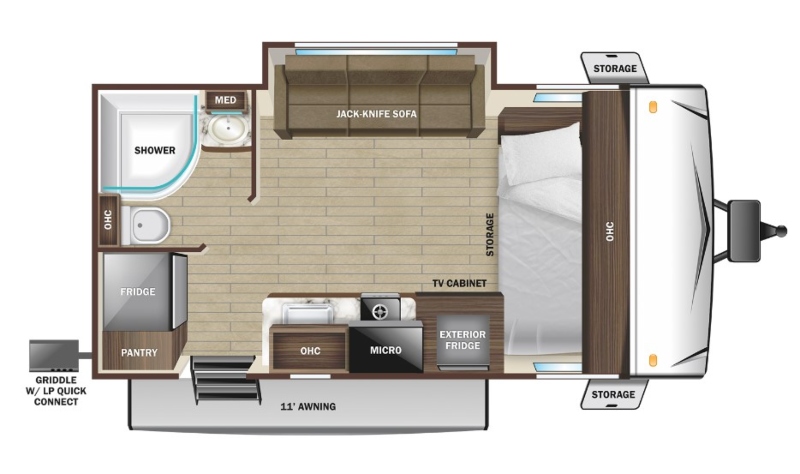 Our Pros and Cons
✅ Under 5,000 lbs.
⛔ The cap-side sleeper may wake the interior-side sleeper to get out of bed
Length: 20 ft.
UVW: 3,795 lbs.
GVWR: 4,995 lbs.
CCC: 1,200 lbs.
Tongue Weight: 470 lbs.
Sleep: 2-4
The Range Lite Air 16FBS travel trailer is a great choice for couples looking for an entry-level RV. At under 5,000 lbs, it's easy to tow and maneuver, making it an excellent option for those new to RVing.
One of the standout features is the slide which creates plenty of room to move around comfortably.
The Lite Air comes with TuffShell walls for superior insulation and durability. The Thermal Barrier Protection System keeps the interior temperature consistent.
Inside, you'll find a cozy living area, including a jackknife sofa and an 80″ bed to provide comfortable sleeping arrangements.
The Range Lite Air 16FBS travel trailer is a superb choice for couples just starting their RV journey. With its lightweight design, comfortable interior, and durable construction, you will enjoy many happy camping trips.
6. KZ Sportsmen Classic 181SS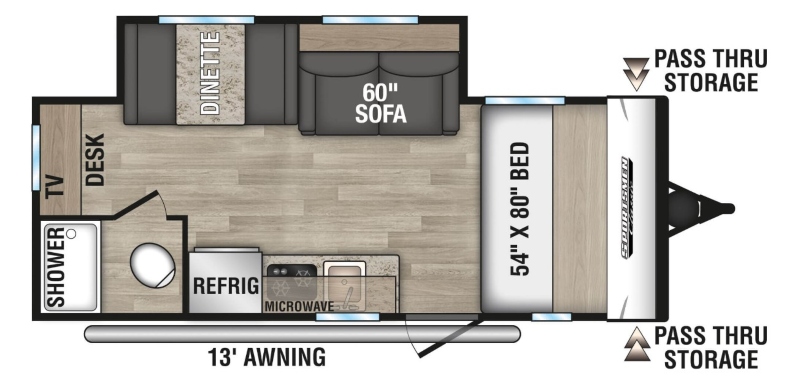 Our Pros and Cons
✅ Another travel trailer with a rear desk
⛔ The sofa does not fold out
Length: 22.2 ft.
UVW: 3,520 lbs.
GVWR: 4,400 lbs.
CCC: 880 lbs.
Tongue Weight: 500 lbs.
Sleep: 2-4
Welcome to the brand-new 2023 KZ Sportsmen Classic 181SS ultra-lightweight camper. Couples love this easy-to-tow conventionally built travel trailer since it's under 4,500 lbs.
The 181SS modern design and sleek exterior offer great value and functionality built with utility in mind. And its combination of affordability and top-quality engineering makes it an ideal selection for couples of all skill levels.
Exterior upgrades include a superior corrugated aluminum shell to better protect from weather and a large LED light awning covering the camp side.
The screen door now has a protector to prevent pets from damaging it and automatically closes by itself for easy entry and exit.
Inside, there's a queen-sized bed with plenty of room for two people, plus a jiffy sofa that folds down into a bed. The kitchen has tons of storage space with removable drawers to take outside to the picnic table.
The efficient 12V refrigerator is 8 cubic feet that relies on the house battery. You can easily convert it to lithium for a power upgrade. In addition, the large dinette booth includes underneath storage and an RV office space with a great work surface for your laptop and printer.
7. Rockwood Geo-Pro 19FDS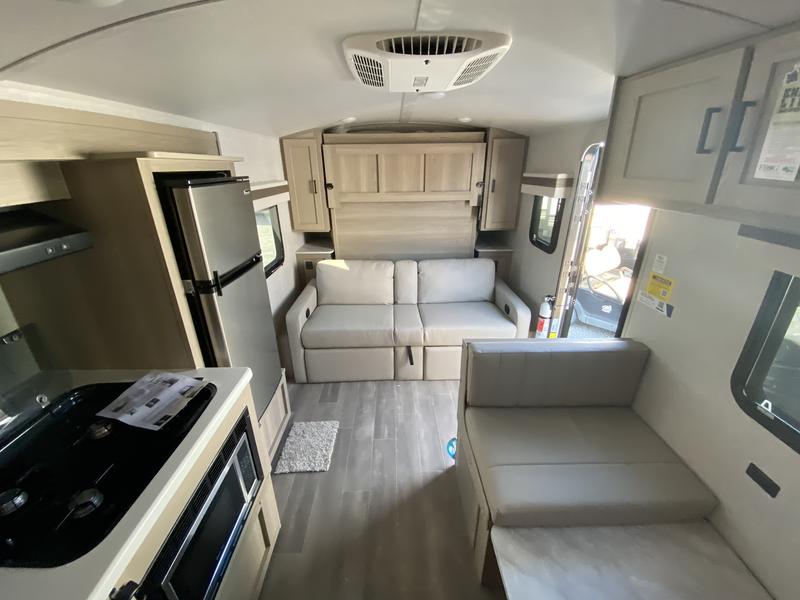 Our Pros and Cons
✅ Energy-producing solar power package
⛔ The dinette is suited for 2 people, not 4
Length: 20.2 ft.
UVW: 3,360 lbs.
GVWR: 4-452 lbs.
CCC: 1,092 lbs.
Tongue Weight: 452 lbs.
Sleep: 2-3
The Rockwood Geo-Pro 19FDS is a must-have for couples who love boondocking. Equipped with everything you need for effortless camping, the Geo-Pro by Forest River handles even the most rugged terrain with its durable construction and off-road capabilities.
With the Rockwood Geo-Pro 19FDS, you feel you live large in a small space. This dynamo is only 20 feet from tip to tail, but it has enough room to sleep 4 comfortably.
The simulated cinema seating area folds into a murphy bed—pure genius.
Boondocking enthusiasts appreciate the factory-installed Power Package that provides three 190-watt solar panels, a 400 amp-hour Mastervolt MLI lithium-ion battery, and a 3,000-watt Mastervolt Combimaster Inverter for all the energy you need to keep your adventures going.
Plus, it's constructed with heavy-duty materials such as galvanized steel framing. It can withstand rough terrain and harsh weather, so you can rest easy knowing your investment will last through years of trailblazing.
8. Casita Freedom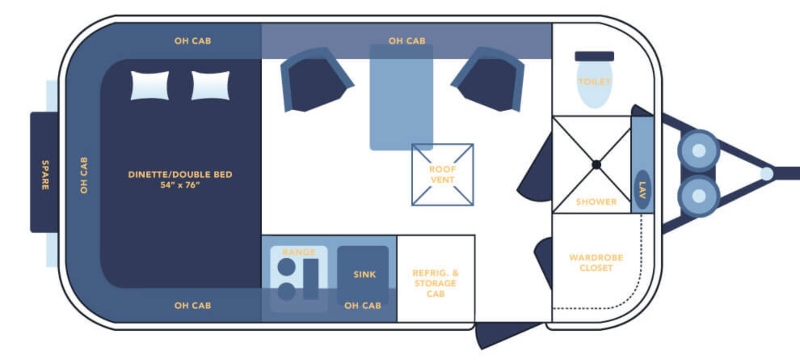 Our Pros and Cons
✅ Upgrade packages or a-la-carte options
⛔ No longer comes in the 16-ft. size
Length: 17 ft.
UVW: 2,480 lbs.
GVWR: 3,500 lbs.
CCC: 1,020 lbs.
Tongue Weight: 525 lbs.
Sleep: 2-4
It doesn't get easier with the sweet little Casita Freedom. The Casita travel trailers ordered directly from the Rice, Texas manufacturing facility are built with couples in mind who want to enjoy their outdoor adventures without the hassle of a large RV.
With its sleek, aerodynamic shape, lightweight design, and easy maneuverability, the Casita Freedom requires minimal setup and can be towed with most mid-size SUVs.
Casitas are remarkably resilient, withstanding water leaks and wind, thanks to their easy-to-clean fiberglass construction and steel frame.
The interior is light and airy, with updated aesthetics that create a cozy atmosphere. Panoramic views are a treat, thanks to the large screened windows bringing in natural light and fresh air.
There's plenty of space, including a double bed that instantly transforms into a seating/dining area for four. And the Freedom model boasts a unique seating area with two swivel chairs providing more comfortable seating than a dinette.
There are many add-ons and upgrades, such as opting for the deluxe version that comes with a wet bath instead of front bunk beds. You can also choose from other customizing options, including awnings, solar panels, and an outdoor shower.
When you're ready for your next adventure, the Casita Freedom is ideal for couples who want to make the most of their time away from home without the burden of lugging around a larger RV.
9. Winnebago Micro Minnie FLX 2108DS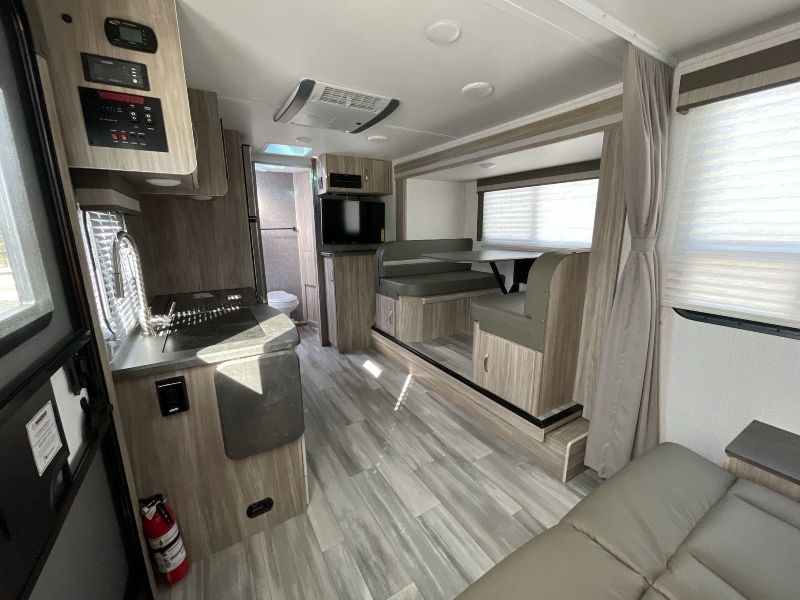 Our Pros and Cons
✅ Choose between a dinette or sofa in the slideout
⛔ The TV is far away from the Murphy Bed
Length: 22.5 ft.
UVW: 4,364 lbs.
GVWR: 5,500 lbs.
CCC: 1,136 lbs.
Tongue Weight: 404 lbs.
Sleep: 2-3
RVing couples seek a new level of flexibility and adventure, and the Winnebago Micro Minnie FLX 2108DS is the ultimate solution.
Not only does it come with all the amenities couples need for a comfortable home-away-from-home, but you can take it off-grid for up to five days.
Winnebago equips the FLX version with off-road suspension and tires, enabling couples to escape the beaten path and discover their secluded camping oasis.
There are generous storage options, including a pass-through storage bay.
And thanks to its Comfort Tech Package that includes a heated underbelly, you can stay warm and cozy even on the chilliest fall nights.
Plus, its aerodynamic design helps reduce drag on the open road, which increases fuel efficiency.
Winnebago designed the interior for maximum comfort and functionality, with a practical layout that efficiently uses space.
And with the option to switch out the dinette for a sofa sleeper and attachable table, the living room transforms into a cozy and inviting area.
But this travel trailer is not just a vehicle; it's a lifestyle that empowers couples to break free from the beaten path and embark on a journey of self-discovery and adventure.
The Winnebago Micro Minnie FLX 2108DS offers a balance of convenience and luxury, providing couples the freedom and flexibility to explore and create memories together.
10. Prolite E-Volt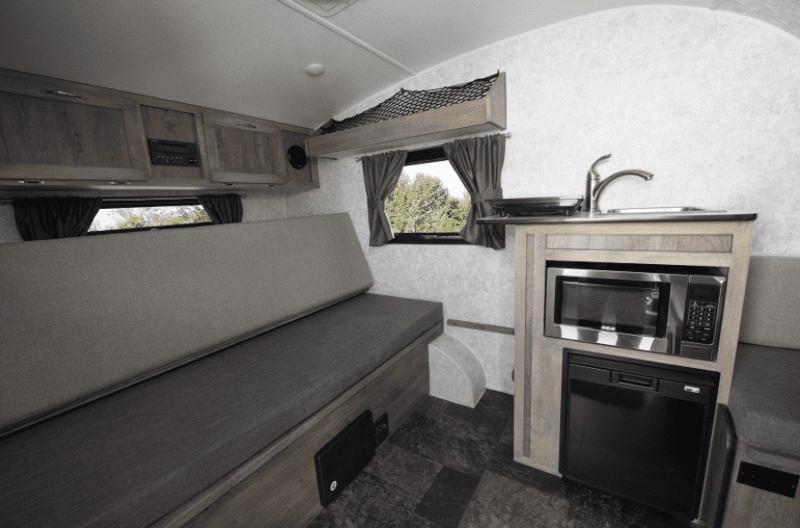 Our Pros and Cons
✅ All-electric and comes with solar panels
⛔ Small water heater
Length: 16.9 ft.
UVW: 1,990 lbs.
GVWR: 3,500 lbs.
CCC: 1,510 lbs.
Tongue Weight: 300 lbs.
Sleep: 2-3
Our last best travel trailer for couples is the all-electric Pro-lite E-Volt, the ultimate eco-friendly travel trailer. As an independent Canadian RV manufacturer, Pro-lite has designed the solution for those looking to hit the road while minimizing their carbon footprint.
The Pro-lite E-Volt is fully equipped with 400w solar panels, a 3,000w inverter, and 250w lithium-ion batteries, so you can travel off the grid without needing LP. And because it's a travel trailer under 3,000 lbs, it's easy to tow and maneuver.
Imagine waking in the middle of nature, surrounded by beautiful views and fresh air, while committing to sustainability without sacrificing comfort.
The E-volt interior is sleek and modern, with plenty of windows for natural light. The kitchen has a refrigerator, an electric stove, a microwave, and plenty of countertop space.
The bathroom has a shower and toilet, so you'll never have to leave the comfort of your trailer. And the couch converts to a large bed.
The Prolite E-Volt is ideal for the adventurous couple who want to explore the great outdoors and make a difference.
Choose the Best Travel Trailer for Couples for You
👇 CLICK on the video below to see some more awesome travel trailers for couples! 👇
Choosing the best travel trailers for couples is a highly personal decision. With the right travel trailer, you can look forward to many comfortable and memorable adventures on the road.
Make sure you take the time to find the one that best fits your lifestyle and needs so you can explore America in style.
Whether it's the Pro-lite E-Volt for its all-electric feature, the Rockwood Geo-Pro for its built-in boondocking abilities, or the Casita Freedom for its lightweight and towable design, there are plenty of travel trailer options available for couples.
---
Related Reading:
---
About the Author:
Mike Scarpignato is an avid RVer who owns a Class C RV and a Class A RV. He loves to travel with his wife Susan and write blog articles about the RV lifestyle.
Mike and Susan also make YouTube videos on the RVBlogger YouTube channel.