It might surprise some people that a modern-day Ford F-150 can tow what the F-250s and F-350s of yesterday could. Of course, we're not talking about last year's 250 and 350 models—more like a couple of decades ago.
Depending on your package, a 2023 Ford F-150 can tow up to 14,000 lbs. A 2000 Ford F-350 Lariat 4-Door Crew Cab with 4WD had a towing capacity of 12,500 lbs. It's a prime example of technological improvements over the years.
Simply put, modern-day engines can breathe more, are more efficient thermally, and have better fuel injection systems. Of course, there's also the Ford Lightning, which we'll cover as well. If you're curious as to how much that shiny new Ford F-150 can tow, stick around for the details!
What Is The Ford F-150 Towing Capacity?
A 2023 Ford F-150 has a towing capacity between 8,200 lbs and 14,000 lbs, depending on the engine and other parts. The high end of 14,000 lbs comes courtesy of the 3.5L V6 Ecoboost engine, which is higher than its 5.5L V8 version, which has a maximum towing level of 13,000 lbs.
To take advantage of the 14,000 lbs towing capability, you'll have to purchase the Heavy Tow Package option that comes from the factory. The Ford F-150 is classified as a half-ton truck, and today's models tow more than most people realize. While you won't see a Ford F-150 steaming down the interstate with a 47' fifth wheel behind it, it's capable of holding its own with travel trailers.
Also, it's a good idea to remember that these Ford F-150 tow capacity numbers don't include passenger weights and cargo. While it may be classified as a truck with a 14,000 lbs towing capacity, things change when you have four people in the truck, including whatever might be stored in the cargo bed and in the RV itself. 
What Is A Heavy Tow Package On A Half-Ton Truck
A heavy tow package on a half-ton truck is almost a different truck entirely. While it may look and feel like a standard F-150, it will also have an upgraded suspension system, a reinforced chassis, a maxed-out rear axle gear ratio, a beefed-up radiator, an upgraded transmission radiator, and an engine radiator.
The Ford F-150, 3.5L GTDI V6 (SuperCrew version), at 19,500 GCWR, is the heaviest tow package you can get. There are a lot of variables that go into a heavy tow package. Even simple things you don't associate with towing (such as a reconfigured crew cab) may play a role in a heavy-duty package offering.
Ford calls it the Max Tow Package, which you will see on most online brochures and at dealerships. It's also labeled 53C in the manuals, and some of the online dealerships will also label the Max Tow Package as 53C. Whatever it's called, it's Ford's beefiest tow package.
How Do I Know If My F-150 Has A Heavy-Duty Tow Package?
If you purchase an F-150, brand new, you'll know whether or not you're getting a heavy tow package because you'll have to ask for it. Usually, these are special order vehicles, and it's rare to find one on the buyer's lot unless the dealership just happens to have one out there on their lot.
If you've purchased a used F-150, it's easy to miss that little nugget of information unless you're specifically searching for it. If you purchase it from a dealership, you only need to ask. Sometimes, even the manual doesn't come outright and say it.
The manuals will often include the standard F-150 information, but when it comes to features, it will read something like, "if applicable." It doesn't hurt to check, though. The dealership you buy it from should know due to the required preparation they need to do to sell it correctly. You can always contact the dealership where the vehicle was originally purchased and find out.
Contact the original dealership
Have a conversation with the original owner (if its a private purchase)
Look for the sticker on the bumper
Look for the "53C" label
36-gallon gas tanks are included in the 53C package (not applicable with PowerBoost or XL models)
If your F-150 is equipped with an Integrated Brake Controller, you have the heavy-duty package
If you want a solid answer without jumping through hoops, a sticker label on the hitch should indicate whether you have a heavy-duty towing package. The reinforced receiver should read "14,000 lbs," assuming you're dealing with a very recently used Ford F-150.
Heavy-Duty tow packages in the F-150 lineup are labeled "53C," so look for that in the literature as well. They will also have a 36-gallon, extended-range gas tank unless it's an XL cab or a PowerBoost.
Can An F-150 Tow A Fifth Wheel Trailer?
While an F-150 can tow a fifth-wheel trailer, it's not often recommended. The fifth wheel cannot exceed the Ford F-150's tow capacity and most fifth wheels are heavier than what the truck can safely tow. It also cannot exceed or should not come close to exceeding the payload capacity. 
There are fifth wheels out there that are specifically made for hauling with a half-ton truck. You should seek those travel trailers out specifically. However, you have to be careful here as well. Some fifth-wheel travel trailers are advertised as "half-ton fifth wheels."
Just because it's advertised as such doesn't mean it's okay for you to haul it around in your F-150. This is why reading the literature on the weights, both for your F-150 and whatever you're hauling, is so critically important.
For instance, Keystone Cougar RVs are labeled as Half-Ton fifth wheels but will exceed your F-150's weight limitations once hooked up. Remember, just because they're advertised as lightweight doesn't mean it's lightweight enough for you to tow.
It can't be said enough: check the numbers, check the numbers, then, as a side note, check the numbers again. The last thing you want to do is sink thousands into a fifth wheel only to discover you can't haul it legally or safely.
Your best bet is to look for fifth wheels with a GVWR that's 9,000 lbs or below. Sure, that's 5,000 below what the F-150's Ecoboost turbocharged V6 can tow. However, once you factor in the payload of the F-150, the CCC (Cargo Carrying Capacity) of the fifth wheel, like luggage, and passenger weight, you're pressing the weight limit.
Can An F-150 Really Tow 10,000 lbs?
Yes, certain F-150 packages are capable of towing 10,000 lbs. Carrying over from our above point, you have to consider all of the extra weight. In a bubble, a Ford Lightning can haul 10,000 lbs, and so can a couple of other Ford F-150s.
But once you factor in the weight of the passengers, any new furniture you've added, those kayaks in the passthrough storage or the garage of the toy hauler, food, full tanks, extra propane, extra batteries, the new solar panels installed on the fifth-wheel, etc., you're no longer towing what you thought, in terms of weight.
The F-150 has come a long way compared to what the same series' old capabilities were. An F-150 in the 90s was an entirely different animal. Since it appeared in the mid-1970s as Ford's sixth-gen truck, the F-150 has evolved into a pretty hardcore powerhouse when it comes to towing.
Not only can you tow 10,000 lbs with a Ford F-150, but you can also tow up to 14,000 lbs with an F-150 V6!
Which F-150 Engine Is Best For Towing
Any F-150 can tow, it just depends on what you want in a truck and what you want to tow. If you're looking to tow the Spacecraft 57' fifth wheel, we have some sad news for you. No Ford F-Series truck will tow it. The Spacecraft RV requires a diesel truck used to tow cargo since its design is based on 18-wheeler cargo trailers.
If you want to drag along with beefy teardrop weighing 3,000 lbs, the F-150 with a 3.3L Ti-VCT V6 can cope with it, along with most of the baggage and extras you want to bring along for the ride.
If you're looking at a Cruiser Stryker or Airstream Cloud, the Ford Lightning or the 3.5L EcoBoost V6 F-150 is capable of towing these travel trailers. In fact, we included a list below for some perspective.
In other words, it just depends on what travel trailer you have or are looking to buy. That even includes some of the fifth wheels as long as you have that 14,000-lb Max Towing Package on your bright and peppy F-150. For a better idea, check out the list below for comparison's sake to make a more informed decision.
So What Is The Towing Capacity Of The Ford F-150?
As you can see, that is a ton of options. Ford is nothing if not agreeable to many trim and towing package options. The good news is, that gives you the ability to pick out the perfect Ford F-150 and tow package for your needs.
While the list breakdown is highly informative, don't forget to pay attention to the fine print below each box graph. It's a good idea to take that information to heart. It's nothing more than Ford reinforcing our above warnings to not press your luck by towing something very close to equaling the weight of your towing capability.
The biggest thing you need to know about the chart is GCWR versus GVWR versus Towing Capacity. GCWR stands for Gross Combined Weight Ratio, while GVWR stands for Gross Vehicle Weight Ratio.
GCWR: Combined maximum allowable weight of the loaded towing vehicle (your F-150) and the loaded travel trailer it's hauling
GVWR: Maximum total weight of the vehicle (your F-150)
Towing Capacity: Simply the maximum weight the vehicle (your F-150) can safely pull
Very simply put, the axle ratio is how many revolutions the driveshaft and pinion take before completely rotating the axle shaft once. The more spins, the more it can tow. For instance, in the very first block at the upper left, the 3.3L PFDI V6 has an axle ratio of 3.55.
Below that, an improved version of the same engine has an axle ratio of 3.73. You can see the towing capacity improvements based on an axle ratio increase of 0.18.
What Can The F-150 Lightning Tow?
The F-150 Lightning tows up to 10,000 lbs, as shown in the chart below. Surprised? You shouldn't be. If you aren't very familiar with electric vehicles (EVs), they often have much more torque than their gasoline and diesel counterparts.
EVs are able to provide instantaneous torque and power to the wheels without any need to worry about the engine getting too hot. As mentioned several times above, having a towing capacity of 10,000 lbs is not the same as hitching a 10,000 lb travel trailer to the hitch and riding off into the sunset.
However, a Ford Lightning can handle light travel trailers, teardrops, and even some of the larger, more streamlined travel trailers that aim for more space without adding weight. There are only two drawbacks to EVs, such as the F-150 Lightning, at least right now.
The first is that the payload capacity is below average. It's simple physics. Much of the F-150 Lightning's payload capacity is significantly reduced because the battery is so heavy. The 2023 Ford Lightning has a payload capacity of 2,000 lbs.
The second is the vehicle's range. It's just fine on its own, but if you hitch up a 7,500-lb travel trailer on the hitch, you significantly reduce the range. Motor Trend's testing of the Lightning revealed that the addition of a 7,218-lb travel trailer reduced Ford's range to just 90 miles.
Fortunately, Ford is working on this very issue, and it will be interesting when they combine the raw instant power and torque of the Lightning with an extended-range battery. For now, the Lightning is perfect for close-range camping near your home.
How Big Of A Travel Trailer Can I Tow With The F-150?
If there's one thing to love about travel trailers, fifth-wheel or hitch-mounted, they sure do have some variety. That kind of thing leaves prospective RVers so many options, even if they don't have a tank that can tow thousands upon thousands of pounds.
As promised, we compiled a number of travel trailers that run the gamut of what Ford has available in its F-150 line of trucks. All of the below RVs pair with the Ford F-150 Supercrew version with four different engine specs.
We figure a solid review of each would give you a good idea of where to start. Or, maybe you'll consider one of the four. They're outstanding travel trailers, after all. With that being said, there are some good tidbits in here as to why they make good travel trailers and are well-paired with their respective F-150s.
1. Keystone Bullet Crossfire 1700BH
Our Pros And Cons
✅Offers SolarFlex 200 and SolarFlex 400i packages
⛔The Vent fan is a little on the low-performance side
Length: 21'4″
UVW: 3,806 lbs.
GVWR: 5,000 lbs.
CCC: 1,194 lbs.
Tongue Weight: 525 lbs.
Sleep: 6
F-150 Pair Up: 2.7L V6 (7,800 lbs. Towing Max)
You get a travel trailer that one of the lower-spec Ford F-150s can tow, and you can also opt for the additional solar panels without adding a ton of weight to the RV. The Keystone Bullet is one of the more popular travel trailers in Keystone's vast lineup.
It pairs up great with the 2.7L V6, standard Ford F-150 tow package for a number of reasons. It's one of the more lightweight travel trailers for its length on the market. Fully packed, you don't want to exceed 4,000 lbs, and the 2.7L is capable of handling up to 7,800 lbs.
This leaves plenty of room for additional luggage, passengers, and even some recreational craft if you have the racks to carry them. As a bunkhouse, you're getting an incredibly lightweight option that is capable of accommodating a large family.
The pale interior colors add a sense of spaciousness, and Keystone has packed quite a bit within. This includes a full kitchen, fridge, dinette, dry bath, and plenty of cabinetry. You'll get excellent gas mileage with the 2.7L F-150 combined with this featherweight.
The Crossfire 1700BH is beautiful in terms of its simplicity. You don't have to do fancy footwork to hitch, unhitch, or set up camp. It's designed for ease of use and easy setup of things like power stabilizers and tongue jacks.
2. Jayco Jay Feather 24RL
Our Pros And Cons
✅Passthrough bathroom with a private master bedroom door
⛔Bunk bed mattresses are stiff and could do with a thick mattress liner
Length: 28'7″
UVW: 5,325 lbs.
GVWR: 6,600 lbs.
CCC: 1,275 lbs.
Tongue Weight: 660 lbs.
Sleep: 6
F-150 Pair Up: 3.3L V6 (8,000 lbs. Towing Max)
In case the name didn't give it away, Jayco's Jay Feather lineup attempt to pack a lot into a lightweight frame. The good news is Jayco succeeded admirably. "Lightweight" often means "sacrifice" in quality. However, the interior of the 24RL is quality craftsmanship.
As you can see, the GVWR jumps nearly 3,000 lbs over the Keystone 1700BH. That necessitates a jump in the engine and towing capability to the F-150's 3.3L V6. It's a good upgrade because it's a more powerful engine and still leaves you room for packing in more weight.
Jayco cuts weight by utilizing an aluminum framework and fiberglass exteriors. The floors, walls, and roof are laminated and vacuum bonded. The kitchen, dining, and entertainment areas combine into one large, spacious room.
Jayco even managed to pack in a queen-size bed on the forward end, with walk-around space and two small nightstands on each end. There's a standup shower, sink, and toilet in the center and doors to shut off the master bedroom from the rest of the RV.
The outside features all of your basic connections, with an LP quick-connect underneath a 20' awning. Not at all bad for a travel trailer that weighs well under 7,000 lbs before you start packing in your belongings for a trip or life on the road!
3. Grand Design Transcend Xplor 265BH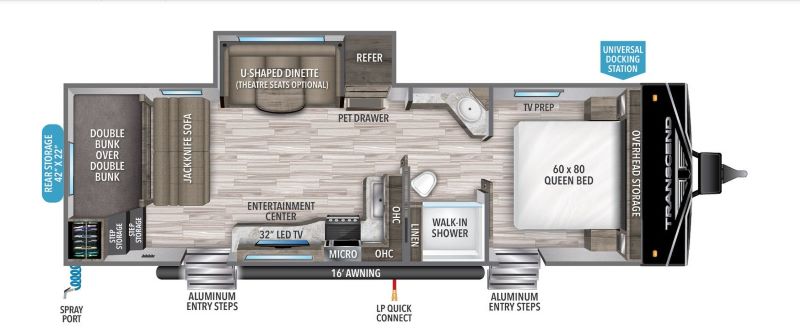 Our Pros And Cons
✅Roof-mounted quick-connect plugs for additional solar options
⛔Oven is on the small side for an RV that sleeps 8
Length: 32'9″
UVW: 6,327 lbs.
GVWR: 7,995 lbs.
CCC: 1,668 lbs.
Tongue Weight: 658 lbs.
Sleep: 8
F-150 Pair Up: 3.5 V6 (10,000 lbs. Towing Max)
You're probably following our pattern of going a little larger each travel trailer, with a slightly more powerful Ford F-150 tow capability. The difference between this one and the previous two travel trailers is that the Lightning can also be a choice (it can tow up to 10,000 lbs), especially if you're only camping locally or making short trips.
The Transcend Xplor offers a few nice features that separate it from travel trailers in the same class. For example, they packed a lot of extra cargo space into the 265BH, especially under the bed and a large cargo bay in the back.
Like the Jayco Feather, Grand Design uses a vacuum-bond sealing process on the interior. However, they go the extra mile by going with a four-step process that maintains the seals much longer than many of their rival competitors.
The Xplor 265BH is wood-framed, with aluminum exteriors, maintaining that lighter weight we're looking for. They also placed their furnace vents in the overhead cabinets. Since this is a bunkhouse, which typically means little kids, this will go a long way toward keeping the vents clean and unobstructed.
While some RVers are against the whole "bathroom running the width of the RV," it actually creates an excellent buffer between the master bedroom and living spaces, reducing sound drastically.
4. Wildwood Heritage Glen Hyper-Lyte 25RBHL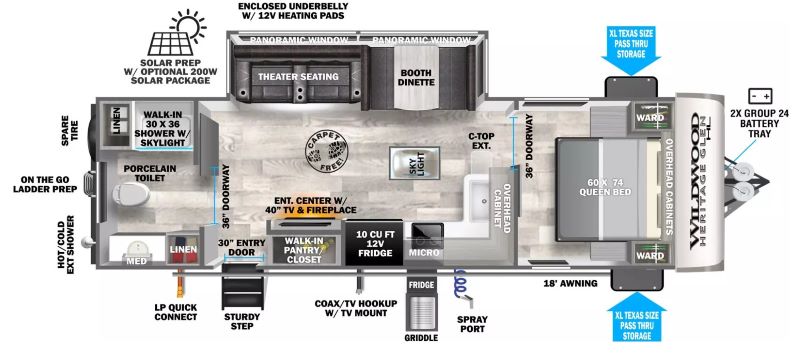 Our Pros And Cons
✅Very large bathroom for a rig of this size
⛔Kitchen tank has a separate dumping point from the gray and black tanks
Length: 31′
UVW: 6,038 lbs.
GVWR: 7,640 lbs.
CCC: 1,602 lbs.
Tongue Weight: 640 lbs.
Sleep: 3-5 with optional trifold sofa
F-150 Pair Up: 3.5L V6 (10,000 lbs. Towing Max)
You can use the same Ford F-150 tow package to pull the Wildwood Heritage as you can for the Grand Design Transcend Xplor. Of course, this also means you can jump on board with the 5.0L 4-Valve V82 or the 3.5L GTDI V6 turbocharged.
Like the Transcend Xplor, the Glen Hyper-Lite is also manufactured in solid but lightweight materials. It features substantial storage and also a "spread-axle." This means the Hyper-Lite is much more stable and easy to tow on the road, thanks to the axles being farther apart.
The bathroom is enormous, especially for an RV in this class. It features a walk-in, 30" x 36" shower with a skylight, plenty of "moving around" space, a sink with counter space, a ward, and a linen closet, all in the same room at the back of the RV. Not bad!
The Wildwood Heritage is also extremely spacey throughout, with enough room to establish boundaries between the kitchen (with an L-counter) and the entertainment portion of the same room. The kitchen even features a walk-in pantry.
The queen-bed leaves enough space to walk around three sides of it, with storage on either side. The sliding door leading into the master bedroom is also a nice touch. It's different than a regular swinging door (saving some space) and gives the master bedroom some privacy.
Final Thoughts On How Much Travel Trailer An F-150 Can Tow
As it turns out, an F-150 can tow quite a bit, especially if you get yourself one of the high-end models with a heavy-duty towing package. If you have an F-150 and are looking to jump headlong into the RV lifestyle, hopefully, this article will show you just what kind of options you have.
It's also indicative of the RV market as a whole. You can find travel trailers that an F-150 can handle, and the variety is incredible. Just the four RVs on the above list represent everything from a couple's retreat to a sizeable family.
Whatever your persuasion, there's something here for you. As for the Ford Lightning, it didn't get a ton of love in this article. However, it's definitely an option and will be featured more as Ford works to extend the Lightning's range seriously.
You don't need to upgrade to a Ford F-250 or a diesel F-350 to haul a nice travel trailer around. You'll find that an F-150 is more than up to the task, whether you just want the occasional camping trip in a nice RV or want to become a full-time RVer and travel the country!
---
Related Reading
---
About the Author:
Thomas Godwin is a full-time freelance writer with a BFA in Creative Writing, a U.S. Marine, and an avid outdoorsman.
When he's not writing, he's raising chickens and Appleyard ducks. Thomas also constructs teardrop campers (attempting to anyway) and kayaks the Blackwater River with his wife, two daughters, and his Dobermans.