How big of a camper can I pull with a half-ton truck? Answering this question is vital. Ensuring that your tow vehicle can pull your travel trailer or fifth wheel is critical to your whole camper/trailer setup. If you don't crunch the numbers and do things right from the very beginning, not only is your safety in jeopardy, but also the life of your truck.
Never tow more than 80% of your truck's max towing capacity. This leaves horsepower and torque for your gear, passengers, and keeping up with the traffic on the road. You can't crawl down the highway without impeding other traffic and killing your MPG. You can also ruin your transmission if you are over your towing capacity.
In our discussion, we'll show you how big of a camper you can pull with a half-ton truck. You'll also learn about the different types of RVs you can tow or haul and what the towing capacities are for the most popular 1500 series pickups. So if you're shopping for an RV or the right truck to pull your ideal camper, you'll learn everything you need to know.
How Much Can You Tow with a ½ Ton Pickup Truck?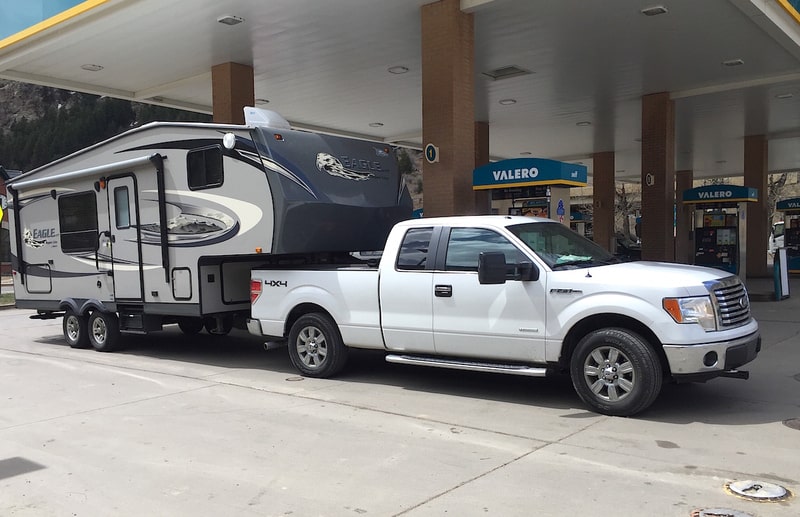 How much can you tow with a half ton truck? In general, a half-ton pickup truck can tow between 8,000-10,000 pounds. But, many factors can bring that number up or down.
The amount your vehicle can safely tow is specified by the manufacturer and is usually found in the driver's handbook or on a sticker attached to the vehicle. This is the safe towing limit and should not be exceeded.
Truck manufacturers also produce trucks with heavy-duty towing packages. Things such as upgraded brakes and axles, a larger radiator, a larger gas tank, a trailer brake controller, and even an upgraded hitch package are added to trucks to pull more weight.
Can a ½ Ton Truck Pull a 5th Wheel Camper?
If you stay within the towing capacity of your half-ton truck, you can pull a fifth-wheel camper. You may have to stick with a shorter model, but it's possible. Your RV dealer can help point out which fifth-wheel campers are truly half-ton towable.
You should also have some knowledge of your Gross Vehicle Weight Rating (GVWR) and what that term means. The GVWR is the maximum amount of weight a vehicle can hold. This must include the dry weight of the camper plus any cargo.
This doesn't take into account the hitch weight, the payload of your truck, and other factors.
How Much Weight Can You Haul in a ½ Ton Truck?
The term ½ ton comes from older model trucks that had a payload capacity of 1,000 pounds. Although trucks still go by that term today, it's more of a classification rather than a weight limit. They can and do exceed that weight.
Today's best half-ton trucks have a payload capacity between 1,500 and 3,000 pounds. Light-duty pickup trucks are a great option for a truck camper. Just make sure you don't exceed your payload capacity, or you could wear out your tires, cause a blowout, overwork the engine, or ruin your chassis.
What Size Truck Do You Need to Pull A 10,000-Pound Camper?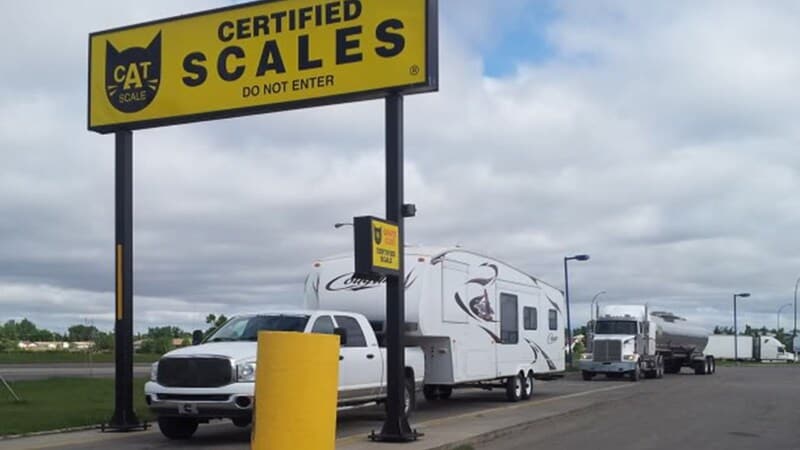 If the GVWR is 10,000 pounds, you can't pull a 10,000-pound camper with your half-ton truck. Towing the RV for short distances can be dangerous to your truck, so use a 3/4 or one-ton vehicle for this camper. Check out the chart below for some ½-ton pickups that can easily pull a 10,000-pound camper.
You do need to make sure your tow capacity is in line with the weight of your camper. It's not just the weight but the power you'll need to haul gear and people while maintaining highway speeds.
A heavy-duty tow package is also an option to pull a heavier trailer. These might be more difficult for your dealer to find, or you might have to have one special ordered. The Ford F-250 with a tow package that we purchased to pull our Grand Design travel trailer had to be delivered from Texas. We were in Arkansas at the time.
The maximum towing capacity of your truck is one number that can't be ignored. Exceeding the weight that your vehicle was designed to tow can strain your engine and transmission, accelerate brake wear, damage your tires, or even warp your chassis. Don't take any chances with the safety of your family. Too much weight could damage your vehicle or even cause serious personal injury.
Once you have purchased your trailer and the correct truck to pull the weight, make sure you don't overload the RV with too much gear. A CAT scale can provide you with an accurate weight before you head down the road.
Can A Half-Ton Truck Pull A 30-Foot RV?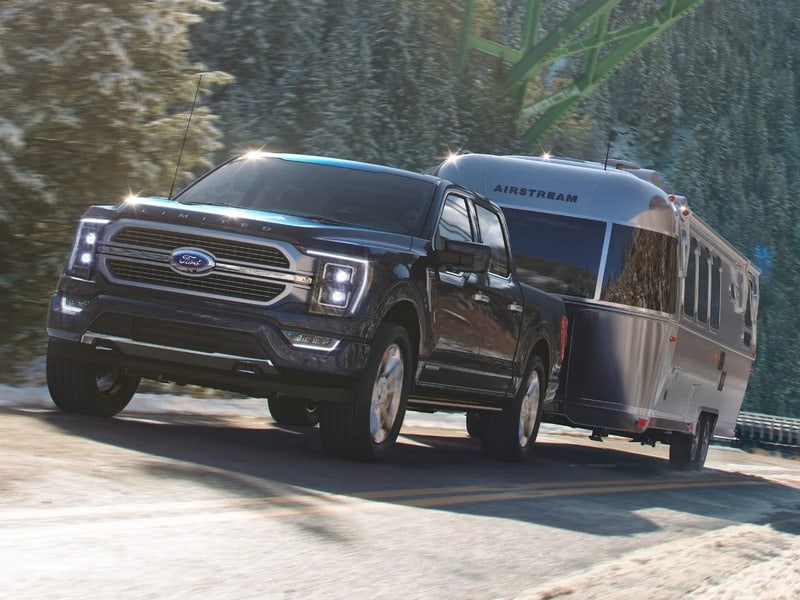 Yes, a half-ton truck is a great option to pull a 30-foot RV as long as the weights line up. Plenty of lightweight trailers are available that provide all the amenities you could want for an RV trip. There are even some lightweight trailers that you could pull with an SUV.
What's The Most Powerful ½ Ton Pickup for Towing?
Everyone has their own preferences when it comes to a particular brand of truck. The most powerful ½-ton trucks might change from year to year because of several factors. Competition between manufacturers, fuel efficiency standards, and towing capacities can change from year to year.
Check out this chart on popular models of half-ton trucks and their towing capacities.
| | | |
| --- | --- | --- |
| Truck | Standard Tow Package (lbs) | Heavy-Duty Tow Package (lbs) |
| Chevrolet Silverado/GMC Sierra 1500 | 9,500 | 13,300 |
| Dodge RAM 1500 | 8,240 | 12,750 |
| Ford F-150 | 12,300 | 14,000 |
| Nissan Titan | 9,323 | N/A |
| Nissan Titan XD | 10,900 | N/A |
| Toyota Tundra | 8,300 | 12,000 |
Note: Not all truck packages have these towing capacities. Check your owner's manual to learn your truck's towing capacity.
Can I Increase My Pickup Truck Towing Capacity?
Yes, you can increase your pickup truck's towing capacity, but you'll need some major upgrades such as frame reinforcements, better suspension, brake upgrades, and engine modifications. These upgrades will likely only get you an added 1,000-3,000 pounds.
Anything over that could cause problems in the future, and damage from your modifications might not be covered by your insurance.
What Is the Best Half-Ton Truck for Pulling a Camper?
The best 1/2-ton truck for pulling a camper is the one that provides the best towing capacity for the particular camper that you purchase. Your safety on the road is so important, particularly when you have family along for the adventure.
Your due diligence to make sure your vehicle can carry your load safely is on you. Never cut corners or compromise with your tow vehicle.
Fortunately, today's half-ton pickup trucks are fuel efficient and comfortable to drive. No matter which one you choose, you'll have a great family vehicle as well as a great truck to pull your RV on camping adventures.
---
Related Reading:
---
About the Author:
Terri Nighswonger and her husband Todd have been RVing and work camping for five years with their Cavalier King Charles Spaniel, Newton, and their Minnie Australian Shepherd, Remi.
They originate from the Midwest but plan to enjoy the West for a few years, wintering in Arizona and summering wherever the road may lead. Writing is Terri's passion, but she also loves hiking, kayaking, walking her dogs, and anything she can do outdoors.