While it might seem like nearly all the travel trailers on the market have slideouts, that's far from the case. In fact, there are plenty of awesome travel trailers without slideouts available, with lots of different features and configurations.
Let's take a closer look at slideouts, why you might want a trailer without one, and the best travel trailers without slideouts you can find right now.
What is a Slide Out on a Travel Trailer?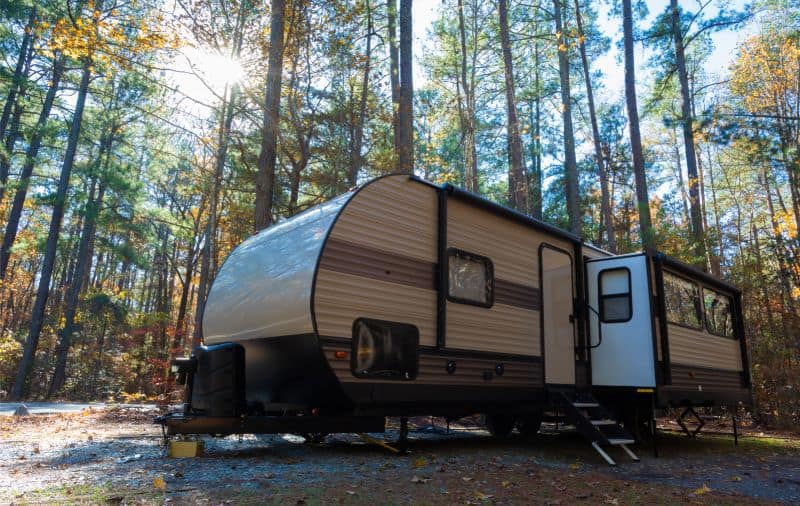 A slideout is essentially a room extension in a travel trailer that expands outward to increase your living space. They're a common feature in many travel trailers and other kinds of RVs. They typically expand and retract at the push of a button.
A travel trailer slideout lets you have extra space when stationary and still has the trailer stay a road legal width for transport. A travel trailer's slideout usually contains furniture, kitchen appliances, and/or cabinetry.
What's the Benefit of Having a Travel Trailer Without Slideouts?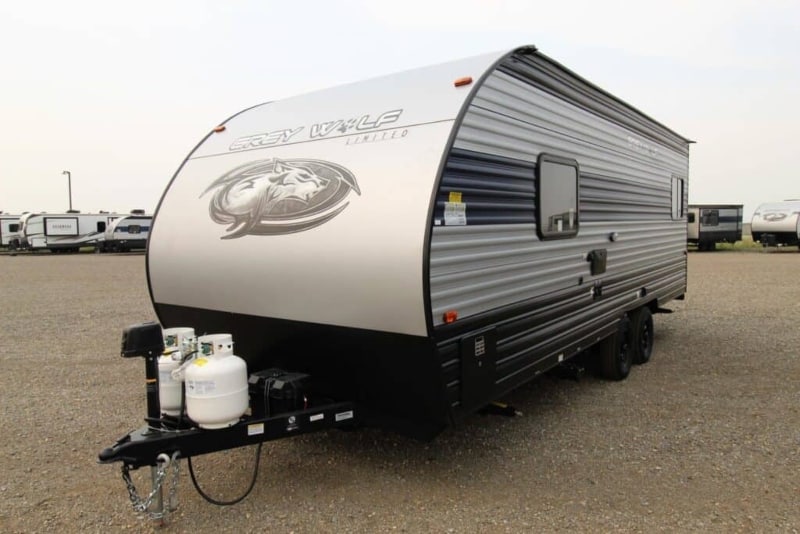 While travel trailer slideouts are convenient, there are definite benefits to getting a trailer without one.
Less Maintenance – slideouts are an extra item in the trailer that needs to be maintained – and an extra point of failure. Fixing a broken slideout can be costly, and they're a common source of leaks and insulation issues in many travel trailers. If you get a trailer without a slideout, you won't have to worry about any of that.
Less Weight – Not having a slideout also means your trailer weighs less (typically), making it easier to tow. Slideout-less trailers are often cheaper than travel trailers with a slideout.
Lower Price – travel trailers without slideouts are typically less expensive than those with slideouts. If you want to see some less expensive trailers, check out our article called 10 Best Travel Trailers Under $25,000.
Check out this YouTube video below that shows some great travel trailers without slides!

8 Best Travel Trailers Without Slideouts
Now that we know a bit more about slideouts and the benefits of owning a trailer without one let's look at the 8 best travel trailers without slideouts you can buy right now.
1. Jayco Jay Feather Micro 173MRB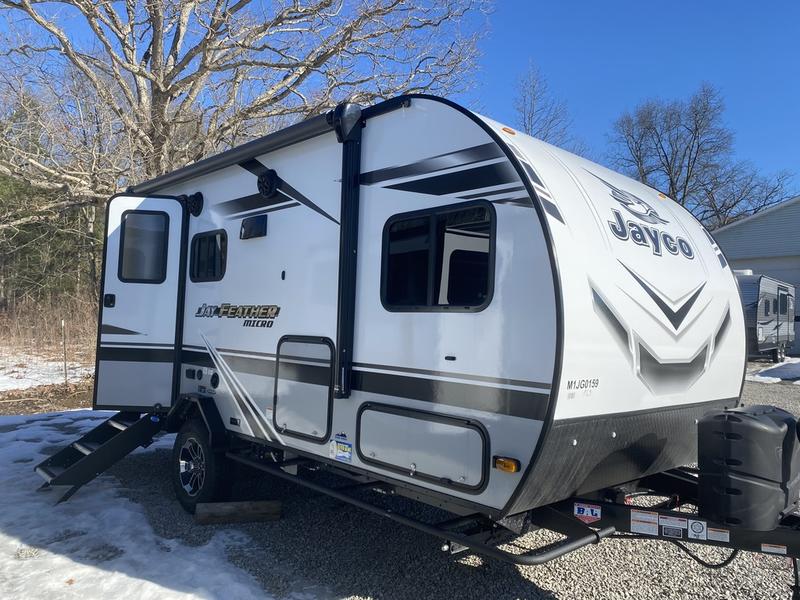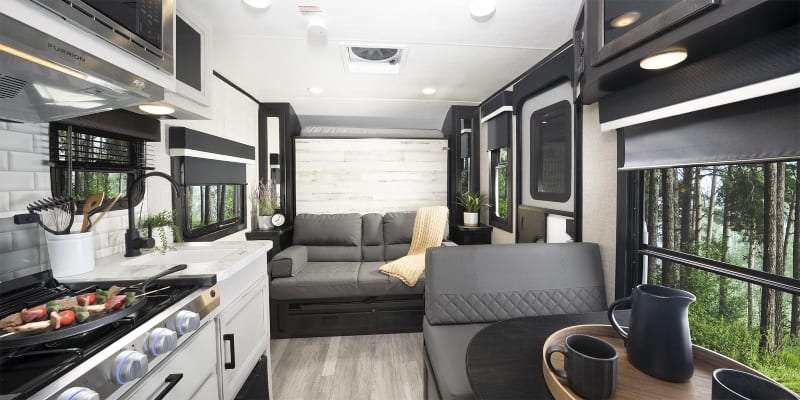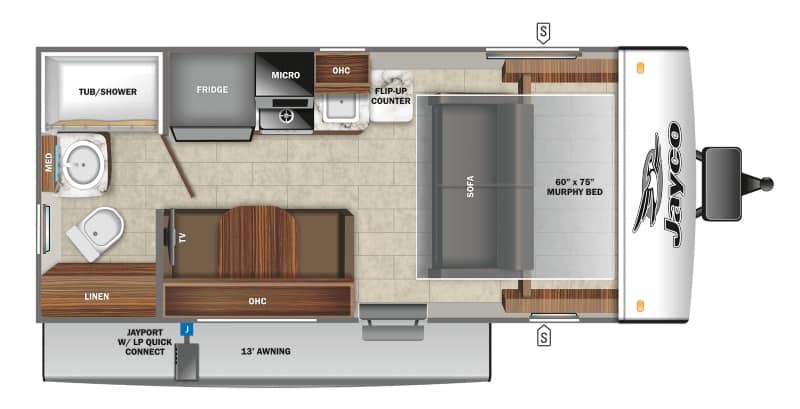 Our

Pros and Cons
✅ This Jay Feather Micro has a non-folding mattress, so it's replaceable!
⛔ Some may prefer a sofa instead of a dinette.
UVW: 3,980 lbs.
Tongue Weight: 440 lbs.
Length: 20.10 ft.
GVWR: 4,995 lbs.
CCC: 1,015 lbs.
Sleep: 2-3
Thanks in part to being a travel trailer without a slideout, the Jayco Jay Feather Micro 173RMB is the lightest trailer offered by Jayco. It features a combination sofa and Murphy bed, as well as a dinette providing seating and sleeping space for a small family.
Also in the trailer is a kitchenette with a three-burner stove and microwave. There's a flip-up counter for more prep space. If you love outdoor cooking, this trailer includes an exterior Jayport system with a 17-inch griddle.
Other notable features include a spacious full bath, a 32–inch" LED TV, and a 13-foot awning. Multiple solar packages are also available for the Jay Feather Micro 173MRB, allowing you to go off-grid with ease.
2. Travel Lite Rove Lite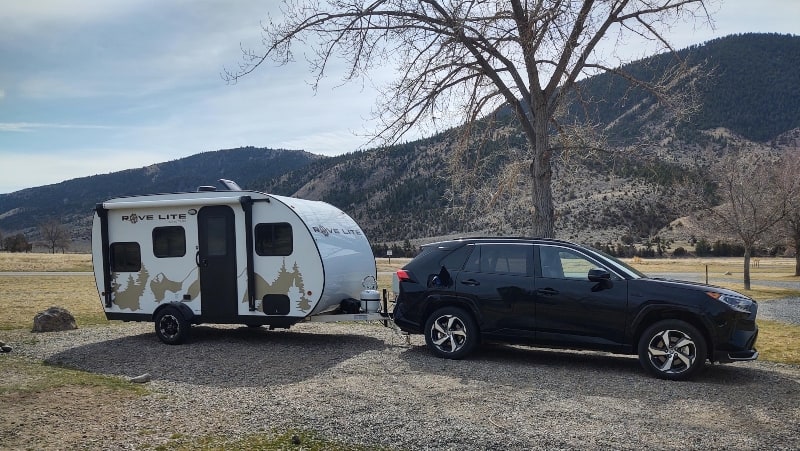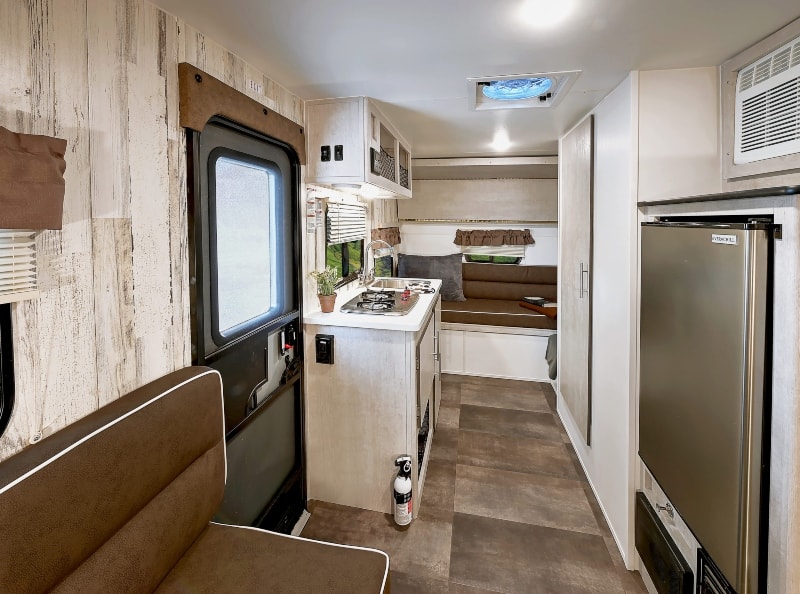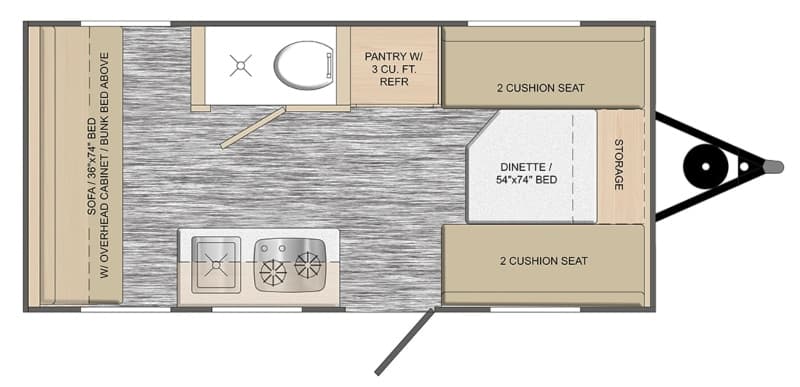 Our

Pros and Cons
✅ The Rove Lite has a lot of space for a travel trailer this size!
⛔ You may want to bring a TV table or 2 for extra counter space.
UVW: 1,702 lbs.
Tongue Weight: 188 lbs.
Length: 16.5 ft.
GVWR: 2,500 lbs.
CCC: 798 lbs.
Sleep: 2-4
The Travel Lite Rove Lite is an ultra-lightweight, compact, and affordable travel trailer without a slideout. The trailer can be easily towed by smaller vehicles like SUVs or Jeeps, providing sufficient space for two people to live comfortably inside.
Choose from various floorplan options, with convertible sofa beds and a front dinette for sleeping and sitting. All floor plans include a kitchen with a two-burner cooktop and a wet bath.
Optional equipment includes a power tongue jack, stabilizer jacks, an electric awning, and a 32" HDTV.
3. Casita Heritage Standard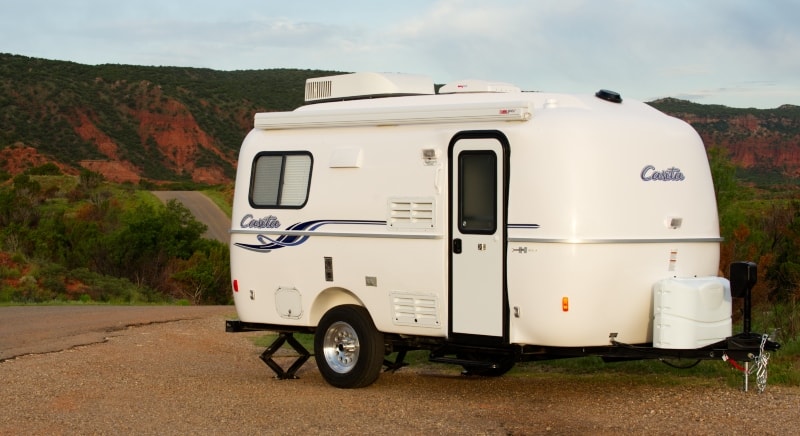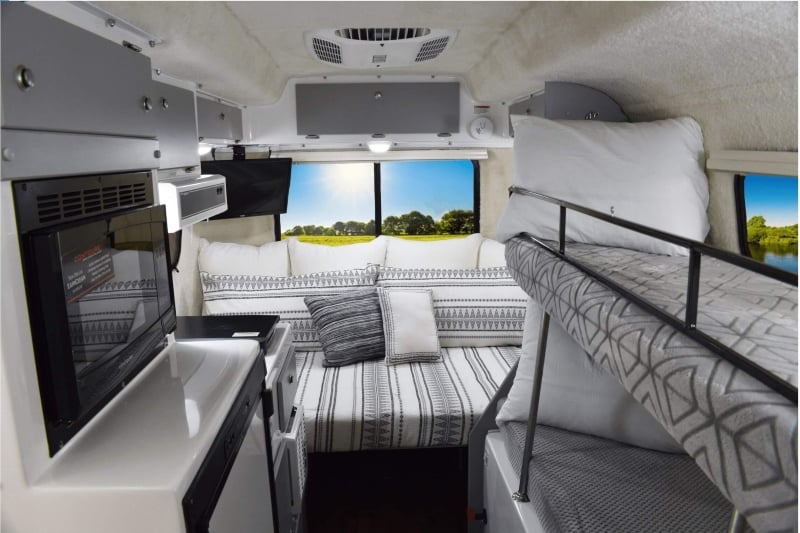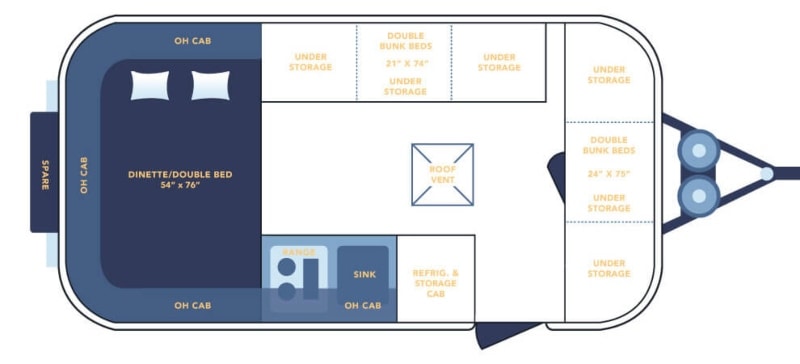 Our

Pros and Cons
✅ The front bench and side dinette have bunk attachments to sleep 6.
⛔ The Deluxe package sacrifices the front bench for a wet bath and full closet.
UVW: 2,210 lbs.
Tongue Weight: 295 lbs.
Length: 17 ft.
GVWR: 3,500 lbs.
CCC: 1,290 lbs.
Sleep: 2-6
If you need a travel trailer with no slideout but have a big family or want to travel with a large group, it's hard to beat the Casita Heritage Standard. Despite lacking a slideout, this compact trailer can sleep up to 6 people thanks to its dinette double bed and two sets of bunk beds.
This trailer also packs in a kitchenette with a fridge and two-burner stove, plus plenty of storage, so there's space for everybody's gear.
Plenty of optional add-ons are available, like a furnace to keep you warm in the winter months, a microwave for quick lunches, solar panels for off-grid, an HD TV for easy entertainment, and an outdoor shower to keep the dirt outside.
4. KZ Escape E18 Hatch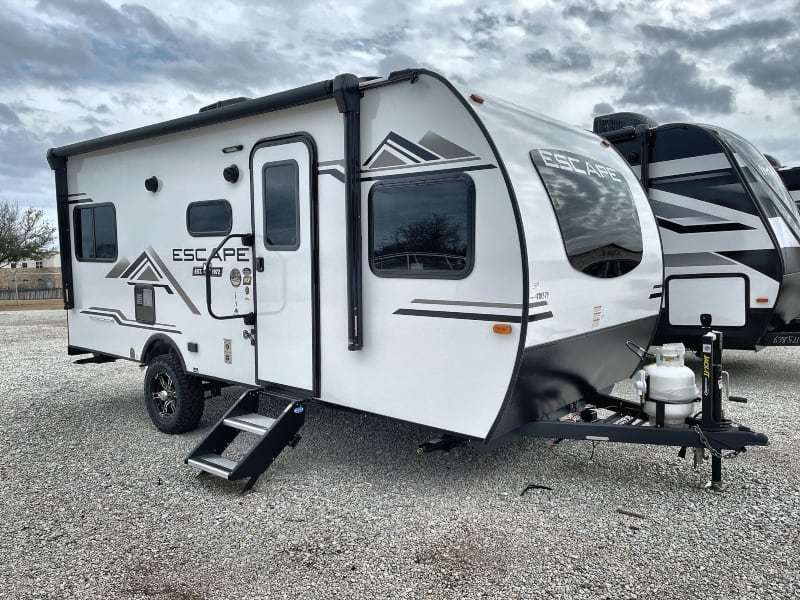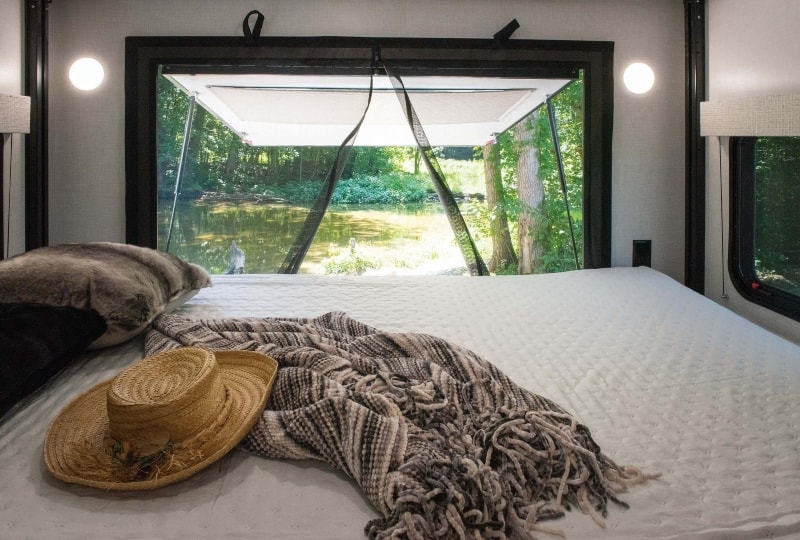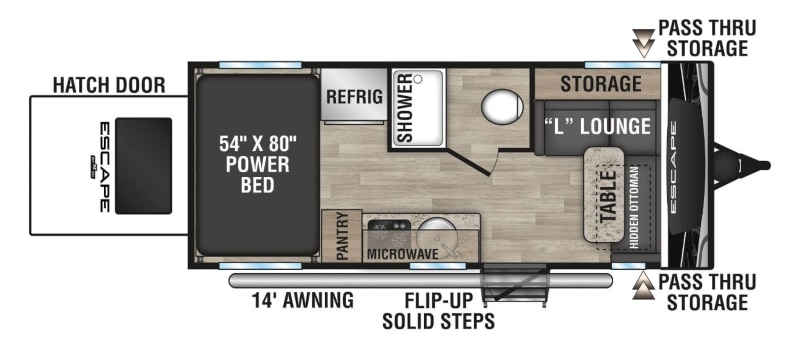 Our

Pros and Cons
✅ The hatch door makes the Escape Hatch perfect for non-motor toys!
⛔ The bathroom sink is sacrificed for more commode space.
UVW: 3,490 lbs.
Tongue Weight: 560 lbs.
Length: 22 ft.
GVWR: 4,220 lbs.
CCC: 2,930 lbs.
Sleep: 2-4
The KZ Escape E18 Hatch is a unique travel trailer with a hatch door that opens up and out from the rear of the trailer. The 54×80-inch power bed that raises and lowers makes the Escape E18 Hatch a toy hauler, with easy rear access to gear like kayaks and more.
The E18 Hatch has a dry bath and a well-equipped kitchenette with a fridge, microwave, and two-burner stove. Plus, the convertible L lounge in the front of the trailer provides a dining space during the day and extra sleeping space at night.
5. Lance 2075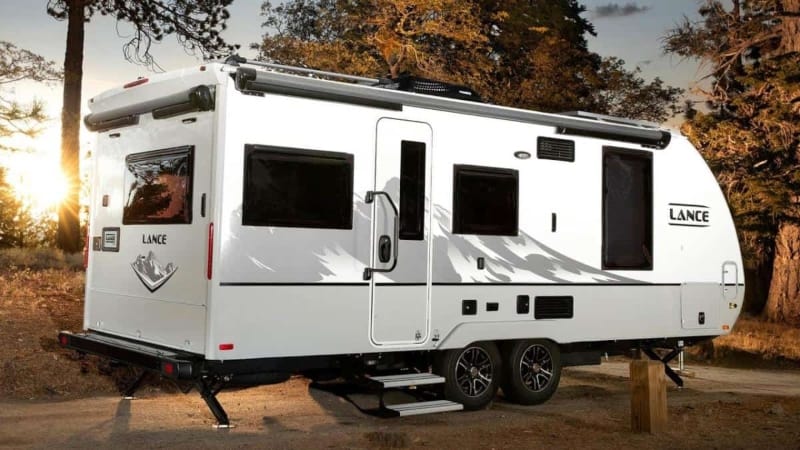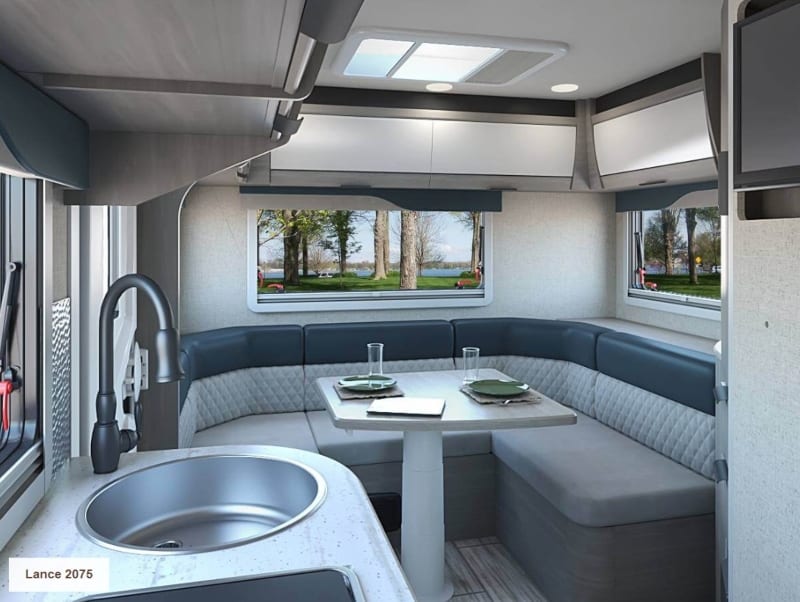 Our

Pros and Cons
✅ The 2075's rear RV outdoor kitchen is excellent for RV tailgating!
⛔ This travel trailer is heavy for its length.
UVW: 4,930 lbs.
Tongue Weight: 530 lbs.
Length: 25 ft.
GVWR: 6,800 lbs.
CCC: 1,870 lbs.
Sleep: 2-4
With both an interior kitchen and a fold-out RV outdoor kitchen in the rear, the Lance 2075 travel trailer is perfect for anyone who loves to cook. Boasting a modern, chic interior design, the Lance 2075 is a cozy trailer without a slideout – but with many great features.
Thanks to the deluxe queen bed and convertible dinette, the Lance 2075 comfortably sleeps up to 4 people. You'll find a spacious full bath midship, with a Shower Miser to save on water and keep you camping longer.
Other great standard features include a JBL portable speaker, a JBL AM/FM stereo with a subwoofer, and a 24-inch TV. You can also add on great optional features, like up to 380 watts of solar or a second TV.
6. Cherokee Grey Wolf 26DJSE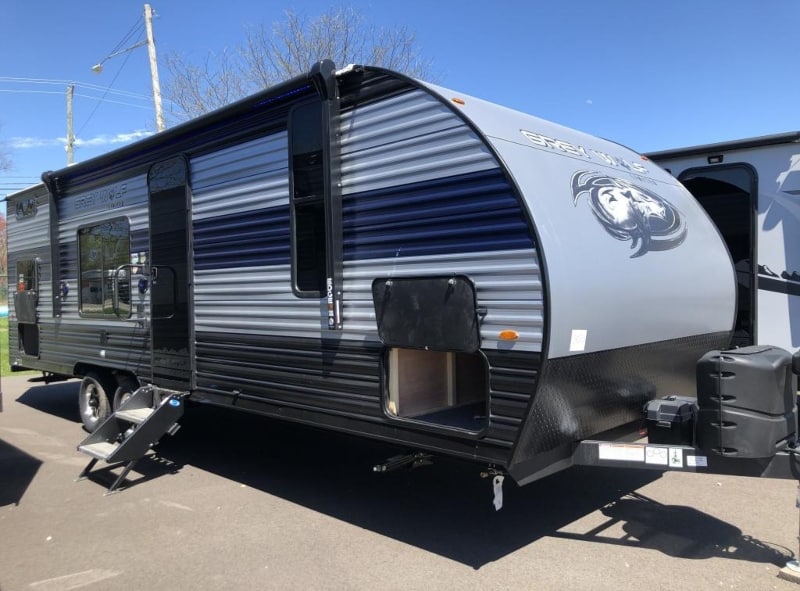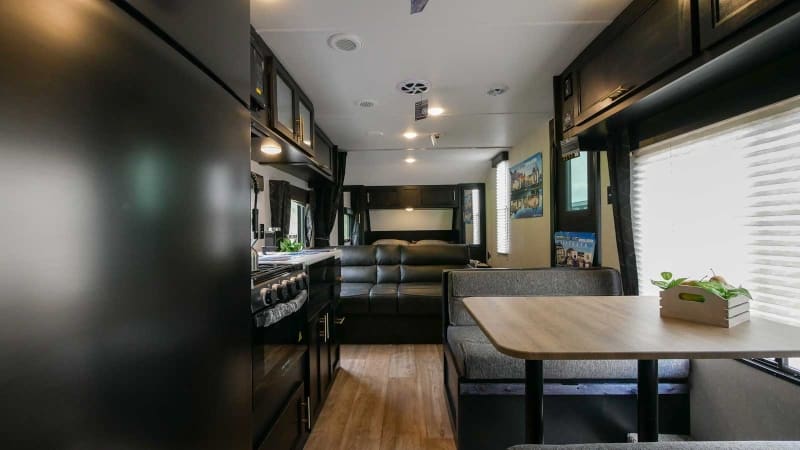 Our

Pros and Cons
✅ Forest River's Cherokee Brand is excellent with "stick and tin" construction!
⛔ You may want to replace the shower curtain with something more solid.
UVW: 4,596 lbs.
Tongue Weight: 574 lbs.
Length: 29.6 ft.
GVWR: 7,574 lbs.
CCC: 2,978 lbs.
Sleep: 4-9
Do you want a travel trailer without a slideout that still has space for the whole family or even for entertaining? The Cherokee Grey Wolf 26DJSE gives you just that, thanks to a queen bed, rear double bed bunk beds, a dinette, and a sofa.
Cherokee is popular with their conventional-built (stick and tin) travel trailers that use wood frames and corrugated aluminum as the shell. Their Grey Wolf Line is their most popular series.
The kitchen is equipped to feed everyone with a four-burner stove and oven, a microwave, and a fridge. You'll find a full bath with a combination tub/shower in the back with bunk beds. You'll find a TV mount, a 15' awning, and access to the exterior storage outside the trailer.
7. Cruiser RV Stryker ST2313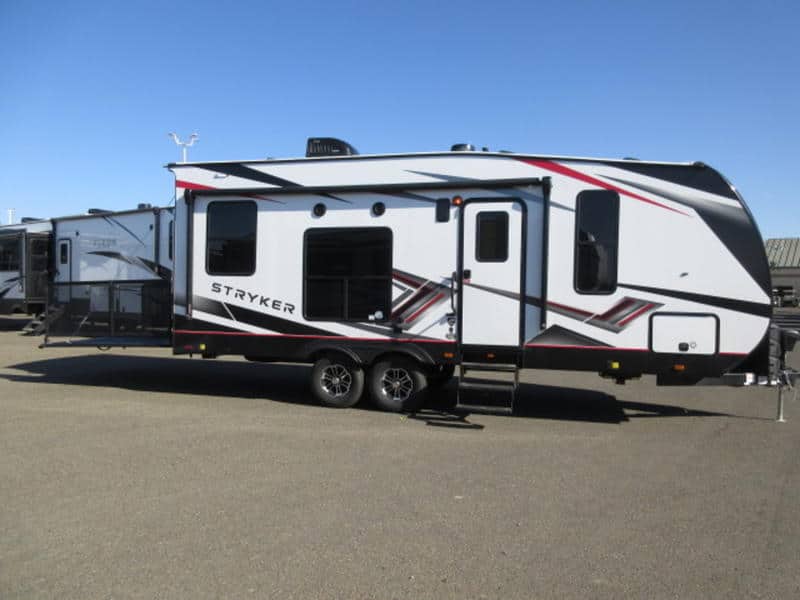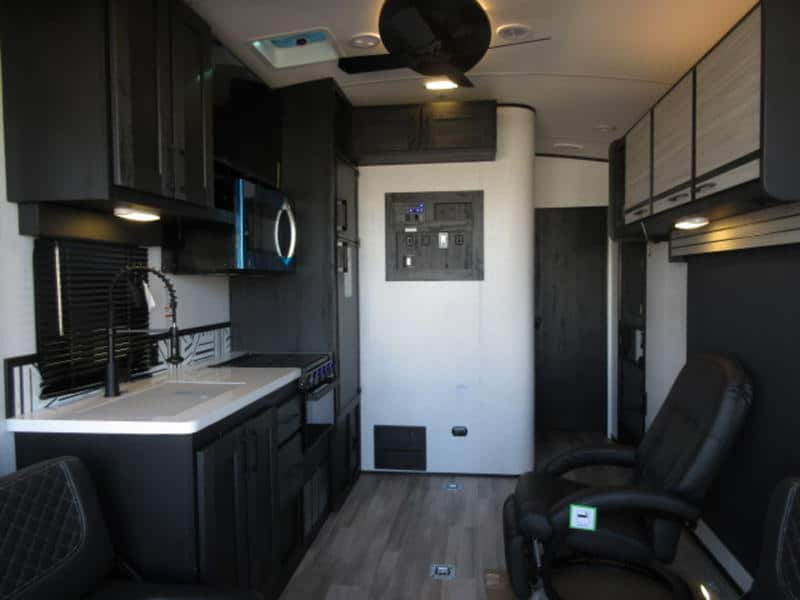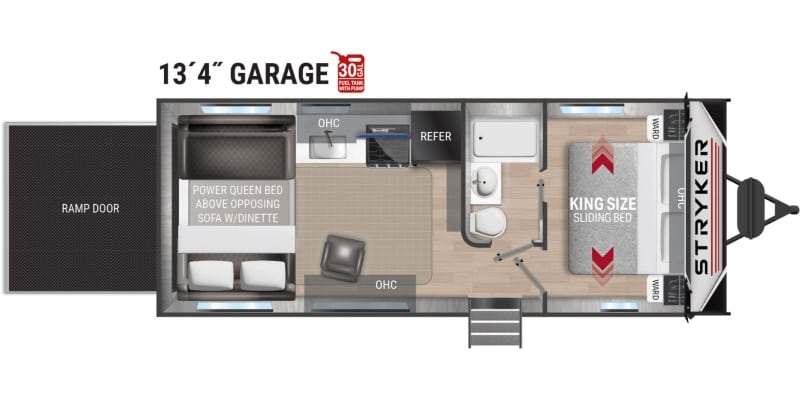 Our

Pros and Cons
✅ Cruiser RV's sliding king bed makes the most out of storage and sleeping space!
⛔ Make sure you strap down your adventure toys tight, so they don't ruin the oven controls.
UVW: 6,740 lbs.
Tongue Weight: 860 lbs.
Length: 27.6 ft.
GVWR: 11,260 lbs.
CCC: 4,472 lbs.
Sleep: 2-6
The Cruiser RV Stryker ST2313 is a toy hauler with no slideout but plenty of sleeping space. This unit features a king bed up front in the enclosed master bedroom, plus a power queen bed that lowers down in the rear garage. Below the power bed, you'll find opposing sofas with a dinette, which can be stored away to make room in the garage for your gear.
In the main living area, you'll find the kitchen with a three-burner stove, oven, microwave, and fridge, as well as a swivel recliner. This trailer also features a full bath, accessible from the master bedroom and the main living area.
8. Airstream Classic 33FB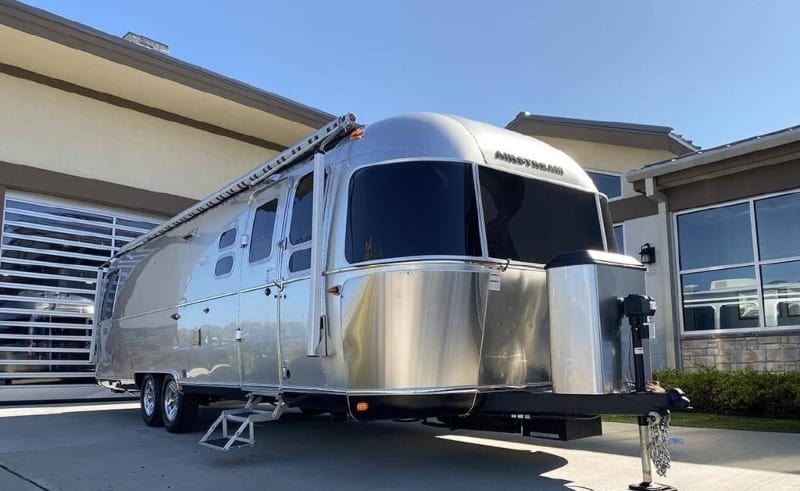 Our

Pros and Cons
✅ You'll enjoy the RV office space and projector TV!
⛔ You'll need a 1/2 ton truck with a heavy-duty tow package or bigger to pull this one.
UVW: 8,375 lbs.
Tongue Weight: 1,000 lbs.
Length: 33.3 ft.
GVWR: 10,000 lbs.
CCC: 1,625 lbs.
Sleep: 2-6
Airstream is the biggest name in the world of travel trailers without slideouts, and the Airstream Classic 33FB is one that's made to impress.
This luxurious trailer features a comfortable and contemporary interior design, with plenty of space to lounge and sleep. The main living area features a powered dinette, a reclining lounge, and a spacious kitchen with the best residential-like appliances.
In the front of the trailer, you'll find the master bedroom with a power queen bed that adjusts so you can sit or sleep elevated. In the rear, a super spacious full bath provides extra luxury with a heated towel rack and a heated floor in the shower (perfect for chilly fall RVing).
Are you a digital nomad? The 33FB has a media cabinet, and an RV desk space gives you the perfect workplace. At the end of the day, kick back and enjoy a 60" projection TV screen that raises and lowers.
Understanding Travel Trailer Slideouts
Let's take a closer look at travel trailer slideouts, their advantages and disadvantages, and the essential information to know about them.
What's the Advantage of Having a Travel Trailer with Slides?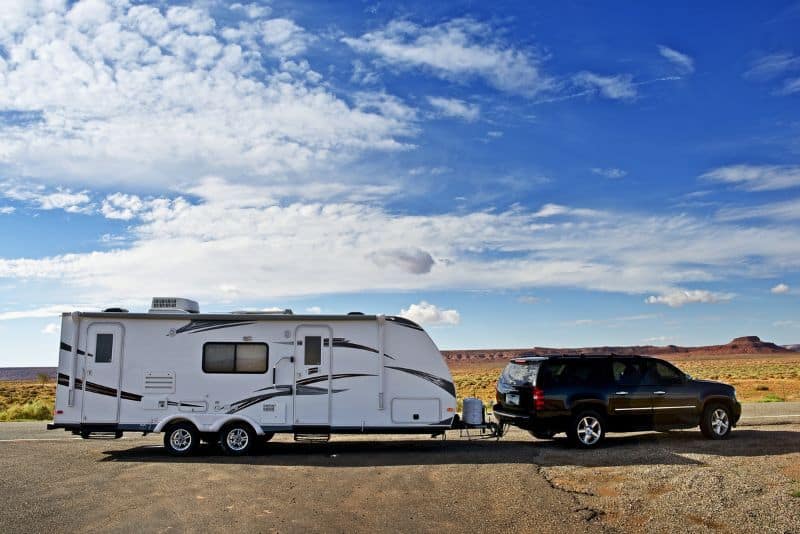 Travel trailers with slides have advantages. While they're not without downsides, a slideout lets you have extra space in your trailer while still being compact enough to transport easily. Having a slideout can mean having larger furniture, wider floor space, or other components that otherwise wouldn't fit in the trailer.
Are Travel Trailers Without Slides Small?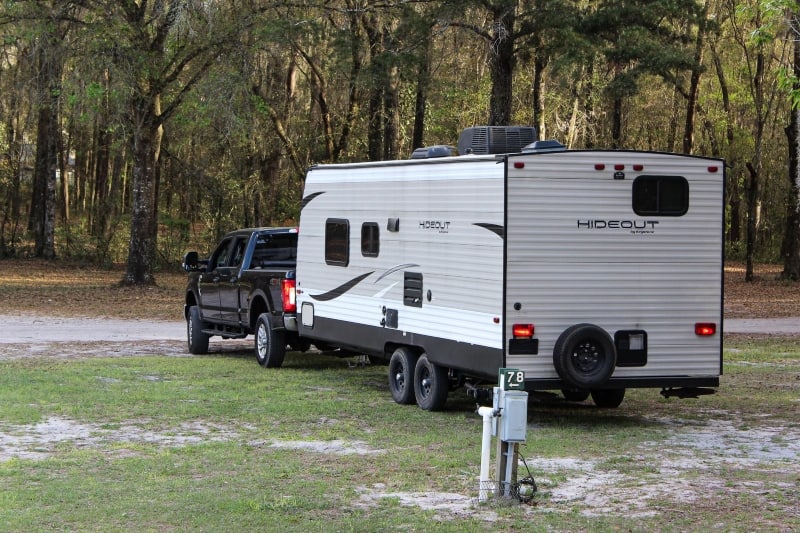 While a travel trailer without slides can sometimes have less space, that doesn't mean they're small. In fact, plenty of travel trailers without slides are quite large. The Airstream Classic 33FB comes in at a whopping 33 feet and 3 inches long – that's not small!
That said, there are also plenty of super compact trailers without slideouts. These trailers are perfect if you have a light-duty tow vehicle, like an SUV. The Travel Lite Rove Lite comes in at only 16 feet and 5 inches long.
Do Slides Often Cause Problems on Travel Trailers?
While proper maintenance can help you avoid problems with your slideout, just like with any other moving part on your RV, they can still cause issues. Mechanical issues in your RV are inevitable.
A broken motor or other malfunction can leave you with a slideout that doesn't open or close, resulting in a trailer you can't properly use. Slideouts are also common points for leaks to occur in an RV.
Does an Awning Count as a Slideout?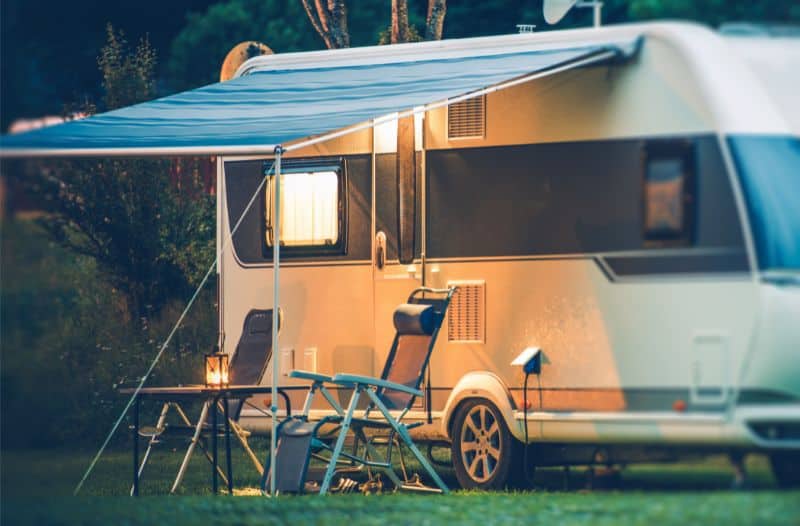 No, an awning isn't considered a slideout. However, slideouts have their own awnings (known simply as "slideout awnings") attached to the top, protecting them from the elements.
Do Travel Trailer Slideouts Need Support?
Most travel trailer slideouts don't need extra support and are designed to be supported by the trailer itself. Slideout stabilizers can be a good idea, especially if camping on uneven ground.
Stabilizers can provide more stability, prevent sag, and potentially improve the lifespan of the slideout.
The problem with travel trailer slideout supports is that the rubber seals rely on the weight of the slideout box's weight to keep a tight seal. By distributing the slideout box weight on these supports, you could inadvertently loosen the seals around your slideout.
Only use a travel trailer slideout support if you see significant sag and not with Schwintek mechanisms. For more info about different types of slideout mechanisms check out this article from RVBlogger called 5 Best RV Slide Out Mechanisms Today.
Are RV Slideouts Dangerous?
While RV slideouts rarely cause any dangerous issues, it's not impossible. Improper use of the slide can lead to it breaking, potentially injuring anyone inside.
Slides can affect the weight balance of your trailer, potentially making an accident more likely if your trailer weight isn't properly distributed.
That said, with proper care, you're unlikely to face any extra danger from your trailer slideout. Simply be sure to balance your weight properly and stay on top of maintenance.
What Happens if you Leave Your Camper Slideout While Driving?
One of the only times a travel trailer slideout is 100% guaranteed to be dangerous is if you leave it out when driving. Doing so puts extra strain on your RV, leading to mechanical damage to the slide and the trailer in general.
Leaving your slide out also makes you too wide for the road and makes your tow vehicle harder to control.
What Happens if you Leave Slides out During Storage?
While some people leave their slides out during storage, it's not recommended.
Leaving the slideout extended means more pressure on the slide mechanisms. This means increased wear on the slideout, leading to a sagging slide, leaky seals, and even pest intrusion into the RV. Because of this, you should always leave your slides in during storage.
What Are the Most Common Problems with RV Slides?

The most common problems with RV slides include:
Lubrication issues, such as lubrication drying up
Motor burnout
Power issues
Leaky seals
Foreign objects in the mechanism
You can fix most problems on your slideout yourself. But sometimes, you may have to pay a professional for repairs.
Do Travel Trailers Without Slides Last Longer?
A travel trailer without a slideout should theoretically last longer than one with a slideout box. While many more factors go into trailer longevity, not having a slideout means your trailer has one less point of failure and one less thing that needs maintenance.
Do Travel Trailers Without Slideouts Hold Their Value Longer?
Like any RV, a travel trailer without slideouts will hold its value longer with proper maintenance and kept in good repair.
Back in the 1990s, when slideouts first appeared, travel trailers without slideouts had bad resale values because RVers only wanted RVs with slideouts.
Today, RVs with slides are becoming popular again. So if you can keep yours in the best shape possible, you'll get a good price when you sell.
Are Travel Trailers Without Slideouts Self-Sustaining?
A self-sustaining travel trailer has a bathroom and a holding tank system. At some campgrounds and for programs like Harvest Hosts, having a self-sustaining or self-contained trailer is a requirement.
Whether or not your travel trailer has a slideout doesn't directly affect if your trailer is self-sustaining. Slideout or not, as long as your trailer has both a bathroom and a holding tank system, you're good to go.
Is it Worth Buying a Travel Trailer Without Slideouts?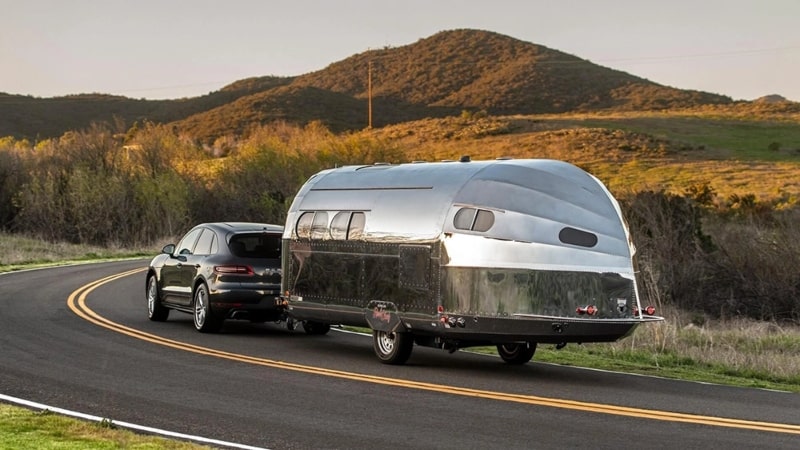 It's definitely worth it to buy a travel trailer without slideouts. If you get a travel trailer with no slideout, you can often save some money and get a trailer that's lighter in weight.
Not having a slideout means one less point of failure, meaning less maintenance and less worry.
There are plenty of great options for trailers with no slideouts, from the compact Travel Lite Rove Lite to the super spacious Airstream Classic. Whatever your needs, one of the trailers on our list will be the right fit for you.
---
Related Reading:
– Do Airstreams Have Slide-Outs?
– 8 Best Pop-Up Campers with Slide-Outs
– Why Do RV Slides Have Carpet?
---
About the author:
Jennifer Jennings is a full-time RVer and part-time van lifer. She is one half of DashboardDrifters.com and the founder of RVSpotDrop, a web service for full-time RVers.