In the camping industry, you don't often hear the words Airstream and slide-out in the same sentence. These campers are iconic, in large part, because of their consistent look and timeless design. But the question remains, do Airstreams have slide-outs?
Airstream Travel Trailers are known for their shiny aluminum shell, aerodynamics, and iconic style. Slide-outs, while a spacious option, is not a prevalent feature on these RVs.
Still, it's no surprise that a camper manufacturer that has been around for almost ninety years would be interested in mixing things up every now and again. Over the last few decades, Airstream has dabbled in travel trailer construction that includes slide-outs. While they don't currently offer such a travel trailer floorplan, they do have a drivable RV with a slide.
As consumer demand is ever-changing, we wouldn't be surprised to see Airstream roll out a new travel trailer with a slide floor plan in the near future. In the meantime, diligent consumers can still find Airstream travel trailers with slide-outs on the used market.
The Truth About Airstreams and Slide-Outs
Like any RV company, the primary consideration when selecting a product lineup is economics. It's a supply and demand game, and the truth about Airstreams and slide-outs is that there just isn't that much demand.
Every time Airstream has rolled out a travel trailer with slide-outs, they simply haven't sold enough to justify continuing production. In fact, it's said that between 2001 and 2009, Airstream only sold 84 travel trailers with slide-outs.
While they may be great travel trailers, these models never seem to stay on the market long because so few people are interested in Airstreams with slide-outs.
Why Don't Most Airstreams Have Slide-Outs
Airstreams are known for their upscale features and sleek all-aluminum bodies. Slide-outs are a nice feature that expands the usable space within any travel trailer. But, in an RV brand that has built its reputation around being sleek and having the best features, slide-outs almost seem counterintuitive.
Maybe that's why every time Airstream has launched a travel trailer with slide-outs, it's never met with as much enthusiasm, especially from the die-hard Airstream fans, as the manufacturer hoped.
Which Airstream Models Have Slide-Outs
Although no longer in production, in the past, Airstream has offered several options with slides. These travel trailers were perfect for RVers looking for Airstream's classic look with the modern convenience of a slide-out. If you're lucky, you might just be able to find one of these unique campers on the secondary market.
1. 2009 Airstream Classic Limited 30SO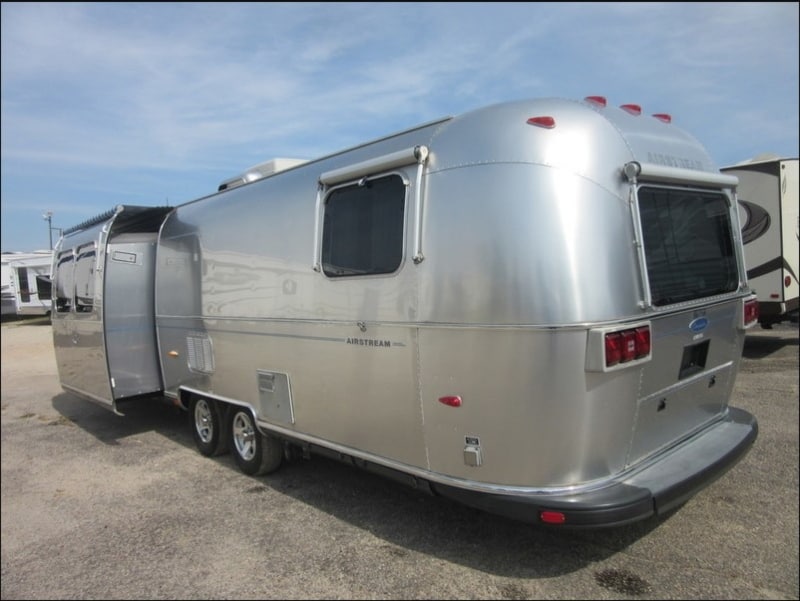 Length: 31.0 ft.
UVW: 7,940 lbs.
GVWR: 10,300 lbs.
CCC: 2,360 lbs.
Tongue Weight: 1,050 lbs.
Sleep: 2-6
The Airstream Classic Limited 30SO has a great floor plan for families. This travel trailer can sleep six because of the dinette bed located in the slide-out and the front sofa bed. You'll also find a rear bedroom with flexible sleeping configurations. Choose from one large bed or two twin beds to customize this RV to meet the needs of your travel party.
Speaking of versatility, the Classic Limited 30SO has a great bathroom layout for large groups sharing a small space. The bathroom spans the entire width of the camper, making it extra spacious. The walkthrough design separates the toilet and shower areas, effectively making it possible for two people to get ready simultaneously.
The Classic Limited 30SO is a large camper that can accommodate a crowd.
2. 2004 Airstream Safari 28SO
Length: 25.11 ft.
UVW: 5,066 lbs.
GVWR: 7,000 lbs.
CCC: 1,934 lbs.
Tongue Weight: 860 lbs.
Sleep: 2-5
A slightly older and more compact, but equally unique, Airstream with a slide-out is the Safari 28SO. The floorplan is similar to the 2009 Classic Limited 30SO, as seen above.
You'll find the same rear bedroom options, walk-through bathroom, and front dinette slide in this layout. It's worth noting that the sofa on this model doesn't pull out to accommodate two but instead sleeps just one because of the limited distance between it and the dinette.
While some sacrifices are necessary for a more compact Airstream with a slide-out, you won't find evidence of that in the Safari 28SO's kitchen. This camper boasts an L-shaped counter space, a three-burner stove, and a dedicated pantry, in addition to the extra storage immediately adjacent to the refrigerator.
For an Airstream with a slide-out that weighs 7,000 pounds, the Safari 28SO fits a lot into a small space.
3. 2001 Airstream Classic Limited 34
Length: 34 ft.
UVW: 9,050 lbs.
GVWR: 10,500 lbs.
CCC: 550 lbs.
Tongue Weight: 1,250 lbs.
Sleep: 2-4
The Airstream Classic Limited 34 is a different floorplan than we've seen in other models with slide-outs. Instead of the slide-out housing a dinette, in this travel trailer, you'll find an oversized sofa lounge. This large sofa contributes to the luxury feel of the expansive living space in the Limited 34.
This large front living room even includes one of the first ever on-the-road office spaces. Next to the computer desk is a large entertainment center with overhead TV and an optional fireplace. The living space also includes two bar stools nestled under an extension of the kitchen countertop. This is perfect for eating or socializing.
While the Classic Limited 34 doesn't accommodate as many people as other Airstreams with slide-outs, we think that this floorplan is a great travel trailer for couples.
4. 1996 Airstream Integrity 36 Fifth Wheel
Length: 36.4 ft.
UVW: 11,400 lbs.
GVWR: 14,000 lbs.
CCC: 2,600 lbs.
Hitch Weight: 2,800 lbs.
Sleeps: 2-4
If you're lucky enough to find an Airstream Integrity 36 Fifth Wheel you'll be impressed by the spacious interior. This fiver offered 2 or 3 slide-outs and was the pinnacle line when Airstream was experimenting with the laminated fiberglass market.
There is a large bedroom slide-out, which makes the owner's suite even more spacious on this rig. The living room slide-out also houses a large sofa that converts to a bed for additional sleeping space.
While the interior upholstery and curtains don't mimic the residential designs that we see today, this RV does actually have several residential-like features. In addition to the ample square footage, the Integrity 36 sports a massive kitchen and traditional dining table with chairs.
Although rare, the Integrity is a great fifth wheel that boasts the Airstream quality and all the spaciousness of a fifth wheel with 2 or 3 slide-outs.
What's the Newest Airstream Model with Slides?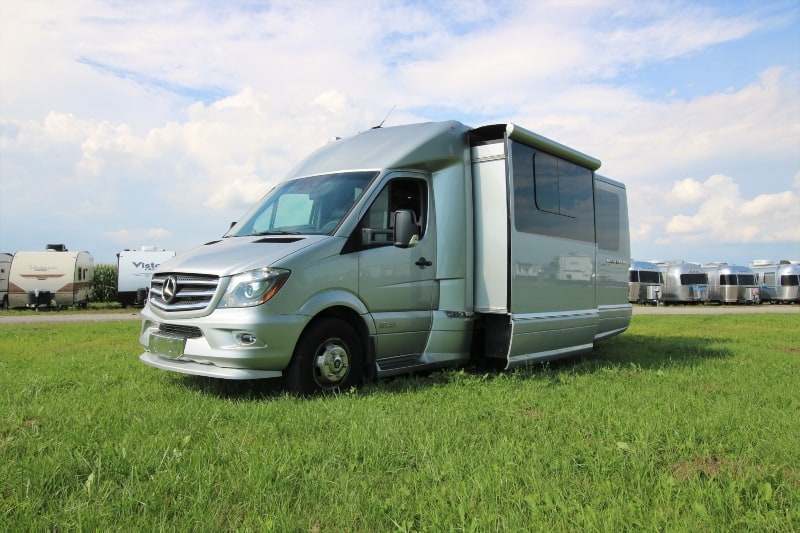 The Atlas is the newest RV in Airstream's fleet to boast a slide-out. This Class B motorhome built on a Mercedes Sprinter Chassis is a far cry from the quintessential Airstream travel trailers.
That's not to say the Atlas isn't a great little drivable camper; it is. But, unlike other Airstream RVs, you wouldn't recognize the Atlas as an Airstream just by looking at it.
Why Did Airstream Bring Back Slide-Outs in the Atlas?
Airstream has played with slide-outs in their floorplans on and off for years. The Atlas is just their newest floor plan to incorporate this feature. The reason for the slide-out is to allow room for the Murphy bed to work. Without the slide, the Murphy bed would hit the cabinets across from it.
While the Atlas is a driveable RV, it begs the question of whether or not we can expect to see Airstream roll out a newer version of their aluminum-sided travel trailer that includes a slide-out.
The Pros of Having Slide-Outs in Your Camper
Slide-outs can add valuable square footage to any camper floor plan. By opening up the main living space, your interior will feel more spacious and residential-like. Slide-outs are an especially great option for full-time living.
Slide-outs also offer flexibility when camping. If you need to fit in a tight space, many campers are fully functional, even if you choose not to extend the slides. When you park somewhere with plenty of space, slide-outs expand your living area in an impressive way.
The Cons of Having Slide-Outs in Your Camper
One disadvantage of having a slide-out in your Airstream is that a slide-out automatically increases the UVW of any camper. More moving parts also mean more potential pieces that could break down over time and need repair.
Slide-outs also introduce seams and, therefore, a potential point where leaks could develop in what is otherwise a notoriously water-tight body.
Should Airstream Start Making Campers with Slide-Outs?
Historically, Airstream travel trailers with slide-outs haven't been their best sellers. Most of Airstream's clientele seem drawn to these RVs because of their iconic look and sleek design.
Those enticed by the classiness of Airstream tend to shy away from the less-traditional slide-out models. Taking this to heart, recently, Airstream has decided to forgo slide-outs in their travel trailer campers in favor of lighter-weight floorplans. This change seems to be more universally appealing to their customers.
In recent years, the camping industry as a whole has experienced a boom. With so many new-to-the-camping industry RVers, will we see a renewed demand for these classic campers with the modern convenience of a slide-out? Only time will tell.
5 Airstream Travel Trailer FAQs
1. Would Slides Make Airstream Trailers Better?
If you were to ask if slide-outs would make Airstream Trailers more spacious, then, of course, the answer is yes. But more space isn't necessarily better. A large family might appreciate the extra square footage, but it's important to note that even the addition of a slide-out rarely adds sleeping capacity.
Furthermore, the lightweight floorplan of a non-slide-out model will be more desirable for RVers looking for something easy to tow and maintain.
Better is all in the opinion of the individual consumer.
2. What Is So Special About Airstream Trailers?
Airstream is one of the oldest and most reliable RV brands. These iconic travel trailers have an easily recognizable aluminum shell that is notoriously durable and relatively maintenance-free. While the average travel trailer lifespan is usually around 15-20 years, Airstreams have been known to last two to three times that.
The body of each Airstream trailer is also designed for optimal aerodynamics. This makes them easy and less expensive to tow.
There is a lot to desire in the classic design of an Airstream.
3. Would Slide-Outs Make Airstream Trailers Heavier?
As with most additional features, slide-outs do add weight to any travel trailer. There is added weight to each additional component that makes up the slide-out.
Unlike other types of campers, loyal Airstream enthusiasts may "bulk" at this added weight more than most. Especially since Airstreams are known to be lightweight for their size.
4. Can You Live in an Airstream Full-Time Without Slides?
Of course, you can live full-time in an Airstream without slide-outs. Airstreams are quality campers with a reputation for luxury interiors.
An Airstream, even without slide-outs, has the quality and durability you need in any camper intended for full-time living. Naturally, the smaller the camper, the more difficult full-time RVing will be. However, with efficient use of space and minimalistic living habits, you could live well in any Airstream travel trailer.
5. Why Are Airstreams So Expensive?
Given their long life spans, Airstream campers have a larger initial sticker price but a lower per-use cost than other comparable RVs.
The aluminum construction and high-quality components contribute to the initial sticker shock. But for almost a century, Airstream has been honing its craft. Their impeccable reputation and dedication to quality and luxury mean you get what you pay for any time you purchase an Airstream.
Check out RVBlogger's video below, where they interview a long-time industry pro to understand why Airstreams are so expensive.
Would You Buy a Brand New Airstream Trailer with Slides If They Made One?
It's no doubt that Airstream is a quality camper manufacturer. It's hard to go wrong with anything that rolls off their production line. That being said, many flocked to this brand, in large part, because of the unique and streamlined design. These RVers don't necessarily desire the added weight and maintenance of a slide-out.
While an Airstream with a slide-out won't be everyone's cup of tea, certainly some consumers will find this feature desirable. As the RV industry evolves, it will be interesting to see if there is a renewed demand for Airstreams with slide-outs.
---
Related Reading:
– Why Do RV Slides Have Carpet?
– 8 Travel Trailers With The Best Resale Value
– 8 Best Travel Trailers Without Slideouts
– 6 Best Airstream Alternatives to Save Money
---
About the Author:
Laura Tyrell is a part-time RVer and full-time mom of three.  Long-time campers and RVers before children, Laura, and her husband have fallen even more in love with the RV lifestyle since becoming parents to a child with food allergies. 
Having her own kitchen on wheels makes her RV trips amazing. Laura is passionate about finding ways to make traveling with young children fun, easy, and attainable.