Labeling specific brands as travel trailers with the best resale value is kind of misleading. Even non-RV enthusiasts can probably name some of the major brands out there.
Many top travel trailer brands have great track records when it comes to durability, longevity, and resale values that are above average. 
A poorly maintained travel trailer that's considered "best in class" will have a poor resale value at the end of the day. Less expensive travel trailers that are "babied" from day one will ultimately eclipse a travel trailer with a solid resale value track record.
In other words, travel trailers with the best resale value are the ones you take care of the most. But if you're looking for name-power with great structural integrity, there are specific travel trailer manufacturers with an excellent track record.
Why is Travel Trailer Resale Value So Important?
On average, a travel trailer loses about 20% of its overall value in the first year alone. Now, that may sound pretty drastic, but it's not a matter of specific travel trailer brands. It's a reflection of the industry as a whole. You can take steps to minimize or offset the depreciation, but you can't stop it.
A travel trailer's resale value is so important because it will ensure you get the most for it if you decide to sell or trade it in at some point.
The level of maintenance and upkeep you put into a travel trailer won't halt the depreciation, but your efforts will provide you with leverage and a higher price point in the future.
How Much Do Travel Trailers Depreciate When They Leave the Lot?
The above depreciation percentage in the first year is a reflection of what the travel trailer loses the moment you drive it off the lot—about 20.5%. That's why it can be a good strategy to hunt for a used RV— it takes advantage of the original owner eating the depreciation loss.
Now, that loss in value is pretty much concrete, and you won't be able to stave it off with maintenance. That doesn't mean you shouldn't take care of your travel trailer (far from it). What you do now will do much to reflect the future price point.
What Type Of Travel Trailer Holds Its Value Best?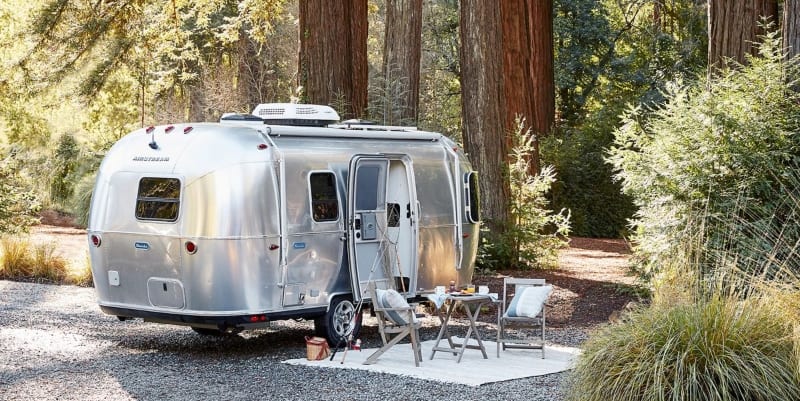 Travel trailers tend to hold their value better than other RVs, mostly because there's no motor to deal with or the associated components. You also have iconic brands that have sizable followings. They're also the most sought-after of all the different classes of RV.
That kind of attention and loyalty affects a travel trailer's value, regardless of whether it's better or worse than other manufacturer offerings. When it comes to holding value, it's not just a brand issue—it's a "type" matter.
Teardrop travel trailers hold their value better than any other travel trailer in terms of percentage and nothing else. They're far more affordable and simply have a lot less on them that has the potential to go belly up.
For example, like all travel trailers, teardrops lose about 20% of their value right off the lot. However, they depreciate slower, on a year-to-year basis, than other travel trailers. They're lower maintenance, come with a smaller price point, and their extreme popularity artificially props up their resale value.
8 Top Travel Trailers With The Best Resale Value
Much of the value here isn't because "my RV is better than your RV—nanny, nanny, boo-boo." These are popular brands that hold their resale value better than others, mostly because of their followings and immense support. At the end of the day, the best travel trailer resale value is the one you take care of, regardless of brand.
1. Bowlus Terra Firma
Our Pros and Cons
✅ The front hitch entrance maximizes interior space!
⛔ Bowlus has never made a travel trailer with a slide out, so don't ask.
Best Construction Features
Aircraft-grade construction
Aerodynamic and lightweight
HEPA Filter
Run A/C off Batteries for 6-8 hours
Pet-Flex Friendly
The "kind of looks like an Airstream but isn't an Airstream" Bowlus Terra Firma is virtually a juggernaut of a travel trailer. It sort of resembles a metallic blimp combined with an Airstream. One thing is for certain, it's a work of art on the inside and built exceedingly well.
The 2024-T3 aluminum is the highest-grade aluminum in the world, and the entire travel trailer is built using aircraft specs. It also features HEPA air filtration and a two-stage water filtration system.
All of the Bowlus' wiring is put together inside the shell and is sealed off, negating access from vermin, water, dust, and other debris. The interior features a stainless steel-centric design, with almost all of the appliances, cabinetry, and counters manufactured with it.
All of the high-grade aluminum is riveted onto an aluminum framework, with polystyrene insulation filling in the gaps. Bowlus travel trailers are designed with everything serving a dual purpose, and the lasting value cannot be underestimated.
Travel Trailer Pro Tip- Never Openly Ask Which Came First: Bowlus Or Airstream: Airstream and Bowlus have a rivalry that dates back to their origins. Did Airstream copy Bowlus, or is it the other way around? The answer is neither. In the 1930s, there were over 400 different RV manufacturers.
Using his experience with building the "Spirit of St. Louis," Hawley Bowlus found that aircraft-grade aluminum paneling was perfect for RV shells. So, he created his first aluminum-sided travel trailer in 1934.
2. Airstream Classic
Our Pros and Cons
✅The Classic is the longest-running model in Airstream's history
⛔You'll need a heavy/super-duty truck to pull the Classic
Best Construction Features
All aircraft aluminum shell
Semi-mono cock aluminum superstructure
No wood in the structure
Hydronic heating flows through the entire structure
Top residential brand appliances
The Airstream Classic is a very popular travel trailer, and its iconic "silver bullet" aesthetic is instantly recognizable. Out of the two classic designs, the 33FB is the most popular, but both floorplans are fantastic representations of the brand in their way.
According to Airstream, between 60% and 70% of all Airstreams are still on the road today, and a glance at Airstreams on the used market points to a solid and prevailing resale value that holds for a very long time.
The aluminum body is corrosion-resistant and encapsulates a frame known for longevity and a high degree of durability. It's also difficult to ignore Airstream's track record for outstanding travel trailer designs.
The aerodynamic properties are a bigger boost than most realize. Wind, like water, has a long-term damaging effect. Give wind and water long enough, and they'll destroy mountains. Airstream designs minimize the overall impact over time, extending its life and saving fuel in the process.
3. Grand Design Imagine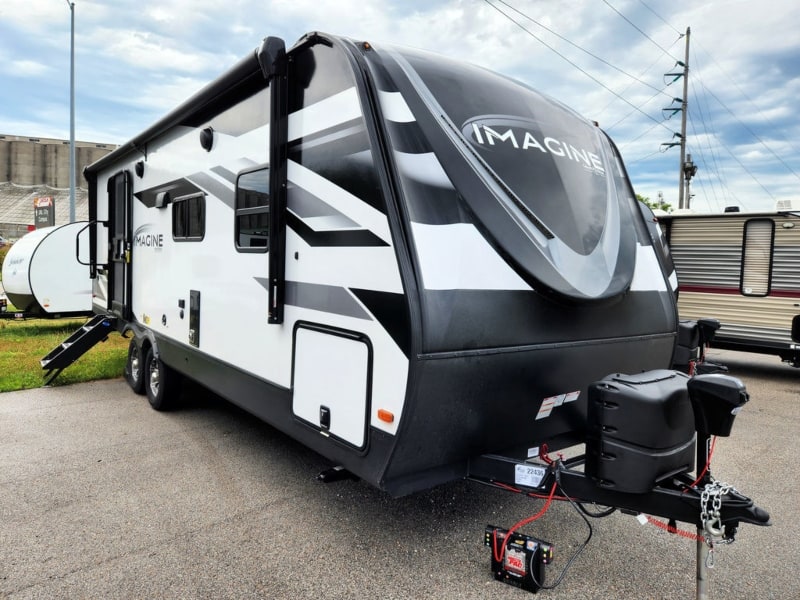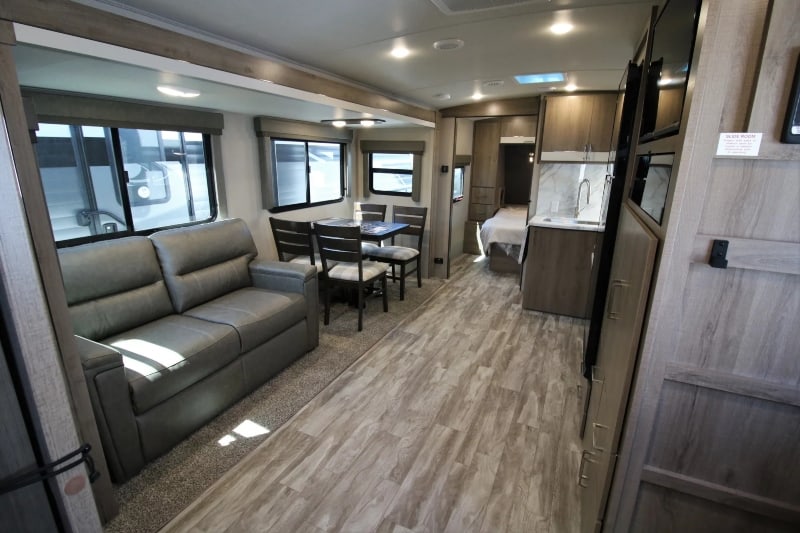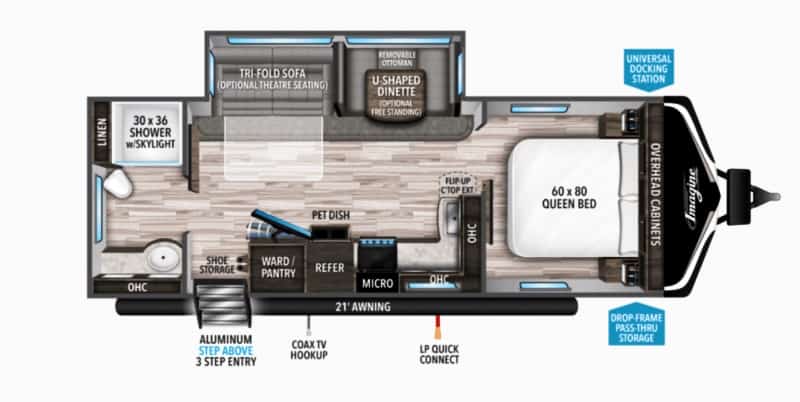 Our Pros and Cons
✅ There is plenty of storage behind the TV and other features.
⛔ Some may not like the bathroom at the opposite end of the RV.
Best Construction Features
300-point inspection before delivery
All walls and slides use rigid foam insulations
Double insulation floor and walk-on roof
Enclosed underbelly
Aluminum framed With a Steel Chassis
Grand Design offers twelve product lines with multiple floorplans in each, so it's safe to say they have a pretty extensive lineup. Though they operate independently, Grand Design is owned by Winnebago, a respected name in the RV industry. Even before the buyout, Grand Design had one of the best quality reputations in the RV industry
One of the things that set Grand Design apart from other RV manufacturers is its 300-point inspection process. Before delivering each travel trailer to the dealership, the product has to go through an extensively rigorous inspection process. This procedure eliminates minor issues before each RV ever hits the lots.
The Grand Design Imagine Travel Trailers (both standard and XLS) are the most popular in the lineup, and they both feature lightweight aluminum frames with Luan laminated construction.
To this point, there are no known repetitive issues with Grand Design travel trailers. The Better Business Bureau's customer reviews are overwhelmingly positive.
4. Lance 1965 Travel Trailers
Our Pros and Cons
✅ All Lance RVs come All-Weather capable
⛔ The slide out sits above the main floor
Best Construction Features
Dual-layer Azdel construction
Crowned roof with ducted air vents
4 Seasons Comfort Technology
TPO Gravel Guard & Propane Cover
Dovetail storage drawers
Lance has been around since 1965, but they don't stick to the old-school ways of manufacturing a travel trailer. Instead, the company embraces 3D software design models for precision accuracy and utilizes CNC machines for precision cutting.
Lance is nothing if not innovative, which is part of the reason the travel trailers in its lineup hold their resale value so well. The Lance 1985 is one of their more popular models, and it represents Lance's tendency towards precision and quality design.
The LanceLock feature is just another example of this. It's a patented system that's manufactured to piece together like a puzzle. Not only are the panels held together through traditional means, but they're also locked together through machine-cut extrusions.
The interior construction is just as precise and methodical, using Euro-Lite plywood that's strong, long-lasting, and lightweight. That's why you'll find so many older models still on the road today.
5. Scamp Trailers 16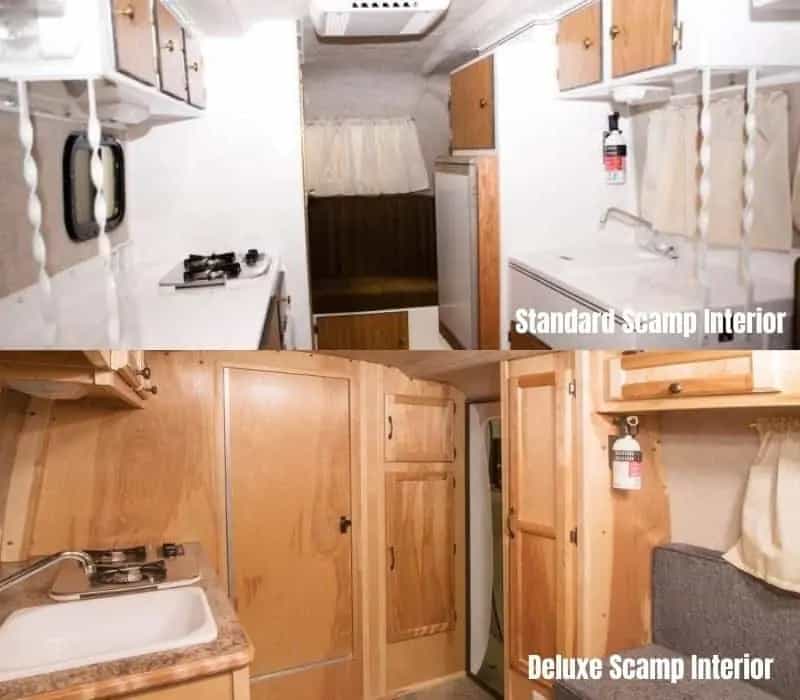 Our Pros and Cons
✅ 3 floorplans have the front bench and the wet bath.
⛔ New order wait times can be long.
Best Construction Features
Lightweight and very maneuverable
Hard shell fiberglass construction
Based on the original Bolar Fiberglass Molds
Excellent insulation
Aerodynamic design advantages
You have to love Scamp trailers. They're just too darn cute not to. You also have to love them for their powerful build designs and immense popularity, which drives up value and retains it for the long haul. The Scamp 16 model is one of the more popular versions, but Scamp has something for just about everybody.
Economically speaking, it's difficult to leave Scamp out of the conversation. You can tow one with almost any kind of vehicle. Its fiberglass construction is very lightweight and highly durable. Scamp is well known for producing travel trailers that last for decades and are still on the road today.
The fiberglass shell encapsulates the steel framework, with an aluminum belt securing the joint where the two fiberglass shell halves are joined. This little camper is designed to take punishment and just keep on going.
They also feature two layers of insulating material and, with a white shell, have no problem shrugging off the heating effects of sunlight absorption.
6. Casita Campers
Our Pros and Cons
✅ Buy factory direct with your favorite features
⛔ Now only comes in the 17′ length
Best Construction Features
Two-piece, molded marine-grade fiberglass
Many floorplans for almost every RVing family
Another Bolar descendent
Multiple interior design choices
Dedicated consumer following
We've mentioned the invaluable effect of a dedicated consumer following, and Casita travel trailers are a model example of that effect. A sizeable percentage of resale value comes from consumer loyalty, and Casitas are highly sought after.
Like Scamp trailers, Casitas feature an entire fiberglass body, with two pieces molded together and reinforced with aluminum belting. Not only does this make them extremely durable, but it also makes them as close to air and watertight as you can get.
Water damage is a big deal in RVs, and it's a major factor when considering the value of a used RV. Water leaks in Casitas are rare exceptions. They also hold a lot of appeal in terms of aerodynamics and fuel efficiency because you can pull them with most vehicles.
Casita offers five models—Spirit, Independence, Heritage, Freedom, and Liberty. Each targets a different RV consumer, but all have great optional features. Add some luxury, make your Casita boondocking-friendly, or sleep the whole family!
7. Oliver Elite II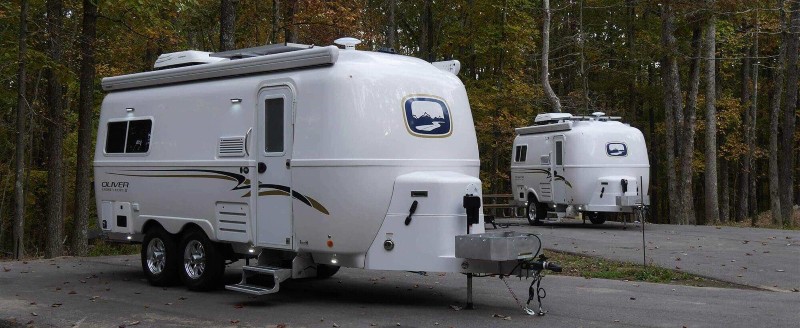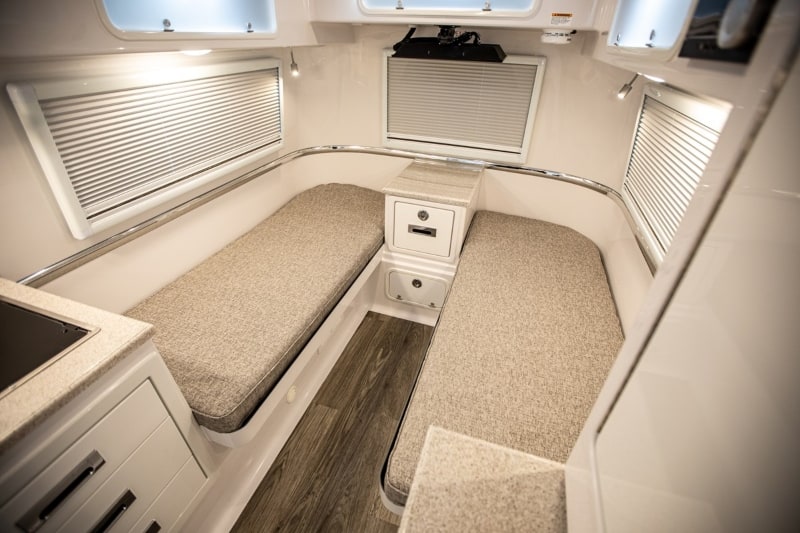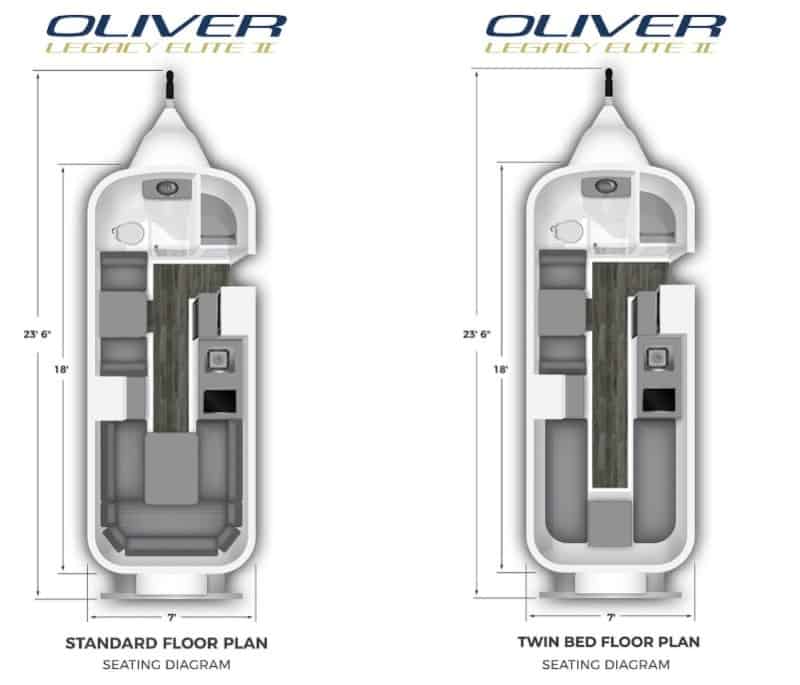 Our Pros and Cons
✅ Oliver provides two popular floorplans with easy-to-tow weights
⛔ Oli has a good entertainment package, but you don't buy one to stay inside.
Best Construction Features
Custom molded and insulated interior and exterior shells
Plumbing and tanks enclosed between shells with heat
Quad shocks on Dexter E-Z Flex Suspension
Heavy Duty box tube aluminum frame
Black rock guard wheel well lining
Want a travel trailer under 7,000 lbs that's built so well, your grandkids can pass it down to their grandchildren? Take a look at Oliver Travel Trailers. Like most fiberglass travel trailers, you can custom order your Oli with all the features you want to camp your way.
If you're worried about quality, it takes over 400 hours to build each doubled-hulled unit, whether it's the 18.5′ Elite I or the 23.6′ Elite II. They also come with a wet bath, road side two-person dinette that converts to a twin bed, and a good-size kitchen for long trips.
Both versions come with a rear dinette that converts into a bed for two. What makes the Elite II unique is this one has a second-floor plan that makes the rear dinette a dual twin with a shared nightstand.
When you do search for used Oli's for sale, the few that you'll find are going to have high asking prices. If you search for Oliver Elite II on RV Trader, the few you'll find have prices close to brand new costs. Why? Most Oli's are kept and passed down to the next generation. Yes, they last that long.
8. Escape Trailers 19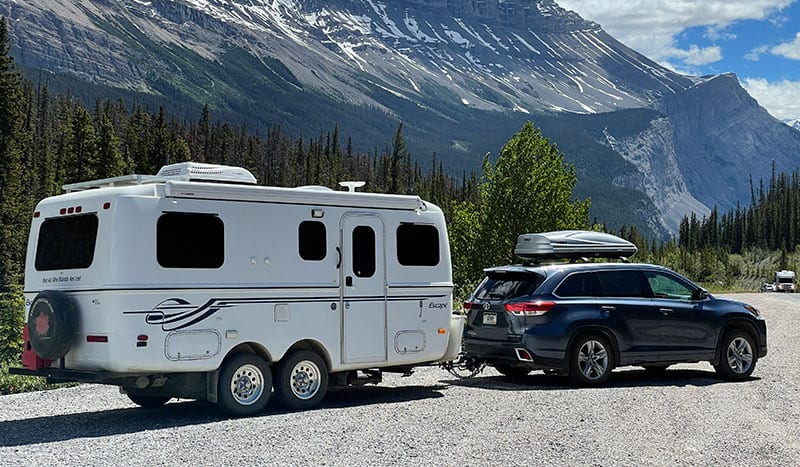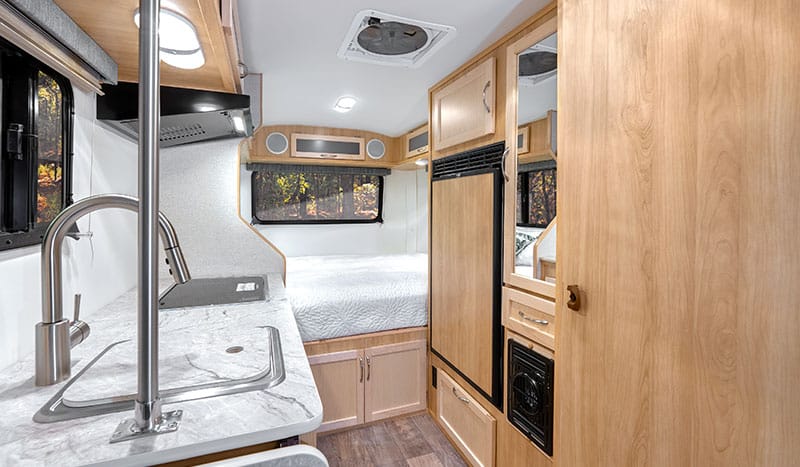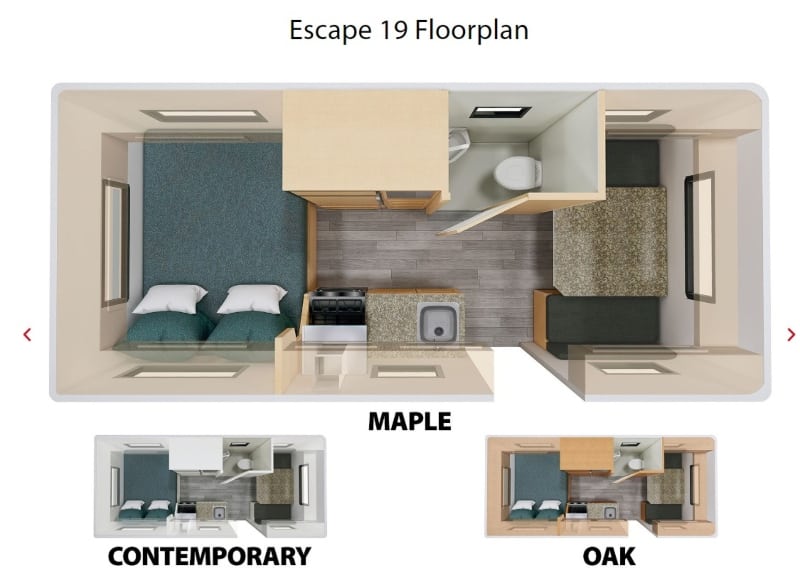 Our Pros and Cons
✅ Escape offers an interior design choice for virtually everybody!
⛔ The master bed is an inch shy each way of a residential queen (79″L x 59″W)
Best Construction Features
Box steel tube frame
Torsion axle suspension
Thermal double-glazed framed windows
Electric brakes
Formica Counter & Tabletops
Escape Trailers is another travel trailer with a resale value that's up there with a great following. When owners do want to sell, they'll post their ads on Escape's website instead of third-party sites.
Escape Trailer owners know the quality, value, and where their potential buyer is looking. Like all the other fiberglass molded travel trailers, Escape offers superior construction and features for long-term ownership.
The trailer has a spacious wet bath, storage, and a big refrigerator on the road side. The kitchen sits on the camp side behind the entry door. At 5,000 lbs GVWR and 19.6 ft, this layout is perfect for families or couples.
As long as the RV's caulk is kept up and other maintenance, it's easy to see how this travel trailer could last decades. Many used buyers come to that same conclusion as well.
How Long Do Travel Trailers Last?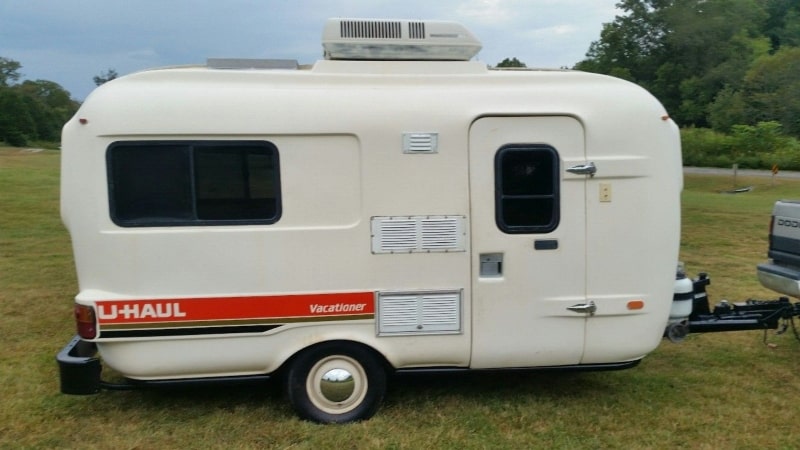 Travel trailers last as long as how well they're maintained. The best Airstream in the world won't hold up against an aluminum-sided, wood-framed trailer that goes undergoes a regular maintenance routine.
Fiberglass RVs also have well-recorded longevity. You can find early Scamps and even Bolars still on the road today. If you look hard enough, there are even some who are hunting down the fiberglass U-Haul rental trailers from the 1980s and bringing them back to life. To over-simplify, all they really need is a good scrubbing.
At a minimum, you should get 10-15 years out of your wood or aluminum-framed travel trailer, regardless of brand. There are countless examples of this on Facebook Marketplace, Craigslist, and other online, used RV resources. When you take care of your travel trailer, you'll get top dollar for it when it's time to sell.
Is it Economically Better to Buy Used or New Travel Trailers?
One thing you will save money on (if you decide to buy used) is the depreciation value over that first year. You'll most likely miss out on most or all of the warranty coverages, but there's a lot to be said in support of buying used. This is especially true within the first five years.
You'll typically get better loan terms on a new RV, however. Plus, you always have to consider the potential for repairs and/or renovations in a used model. No matter what way you decide to go, it's worth the time and patience necessary to make an informed decision.
7 Factors that Accelerate Travel Trailer Depreciation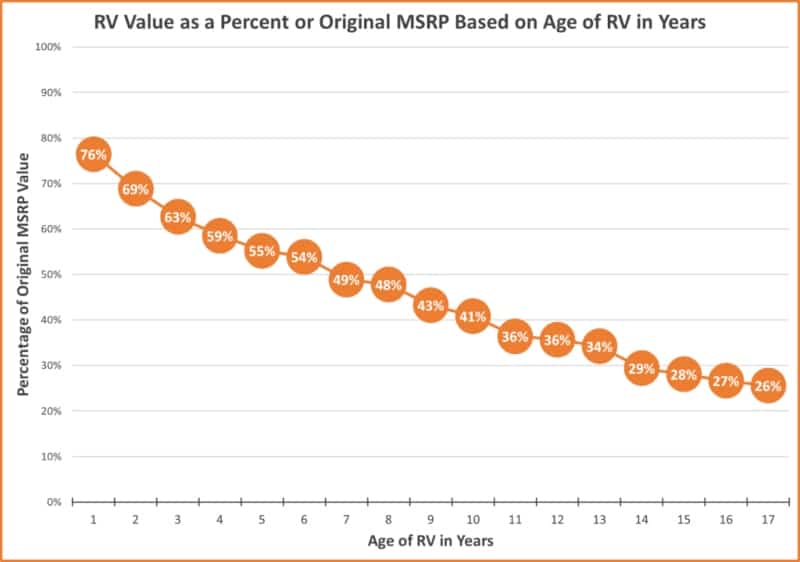 1. Age
On average, you'll lose the aforementioned 20.5% just in the first year. By the time year five rolls around, you're looking at a total of 39.37%. Travel trailers with the best resale value tend to buck the trends and can sell on the upper end of the depreciation spectrum.
2. Wear and Tear
Wear and tear is one of the most obvious depreciation factors. Nothing stays new forever. That's why it's so important for you to take care of your RV. Keep receipts for all repairs, maintain and clean it well, and take advantage of replacing old appliances with new and upgraded ones.
3. Water Damage
We've spoken about water damage numerous times, and it's for a good reason. Water damage is common in travel trailers, and it's the reason some of the above travel trailers lose their value slower. They resist leaks and water damage better than some others.
4. Old Windows and Doors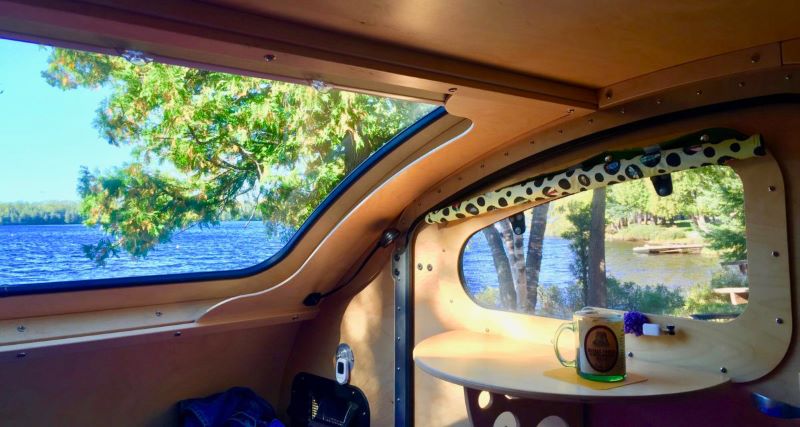 Points of ingress and egress get old, and they tend to leak. Stay on top of those seals by keeping the caulking well-maintained, and replacing the windows and doors if necessary.
5. Outdated Interior
This one's hard to help. After all, no one controls what the latest fad will be on any given day. However, you can upgrade some of the bigger features. Flooring, backsplashes, and some built-in features.
6. Cheap Construction and Materials
Entry-level travel trailers have occasional issues when it comes to craftsmanship. However, when it comes to depreciation, these travel trailers are often measured on historical trends. If you can show that you've updated some of these features, you can command a higher price point on resale.
7. Power and Safety Features
Every year, new models are released with upgrades in power and safety features. Make sure your travel trailer is routinely serviced, and you keep up with updating the maintenance records. There are a lot of ways to update and modernize power and safety features, so take full advantage. 
4 FAQs About Travel Trailers with the Best Resale Value
1. What is the number one selling travel trailer?
The Jayco Jay Flight is the number one selling travel trailer on the market. Much of that comes from resale value and the reputation of the brand. Travel trailers with great resale value are often just extremely popular brands, with demand driving the value more than special components or features.
2. What is the most reliable travel trailer?
We could list a hundred travel trailer models here, and none of it really matters if they aren't maintained. The most reliable travel trailer is the one that's taken care of best. Take care of it, and it will take care of you.
3. Which travel trailer brand holds its value the best?
The travel trailer brands we featured above generally hold their value best. We're not endorsing these specific RV manufacturers, but statistical evidence and historical evidence support our list.
4. Is a travel trailer a good financial investment?
Never purchase a travel trailer as an investment because they depreciate like passenger vehicles. What they are is a fantastic personal investment for yourself and your family. 
Final Thoughts on Travel Trailers and Resale Value
Poorly maintained travel trailers lose more value, regardless of brand or model. All of them depreciate. It begins as soon as you pull it off the RV lot. There's no getting around that. However, when the time comes to sell your travel trailer and upgrade, you'll always get the most for a well-maintained RV.
If you're interested in the value of your travel trailer, visit the J.D. Power Value Guide (formerly NADA). It can't be stated often enough, no matter what brand you own—take care of your travel trailer, and it will take care of you.
---
Related Reading:
---
About the Author
Thomas Godwin is a full-time freelance writer with a BFA in Creative Writing, a U.S. Marine, and an avid outdoorsman.
When he's not writing, he's raising chickens and Appleyard ducks. Thomas also constructs teardrop campers (attempting to anyway) and kayaks the Blackwater River with his wife, two daughters, and his Dobermans.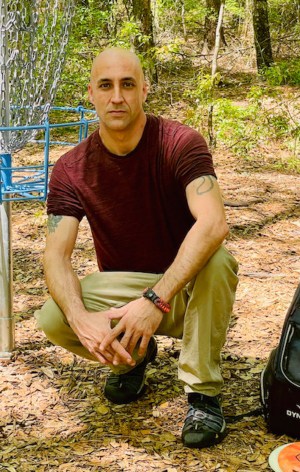 Recent Posts