Travel trailers have two main warranties: the factory or manufacturer warranty and an extended camper warranty. Why is there so much fine print, and are travel trailer warranties transferable?
For the most part, not all factory travel trailer warranties are transferable. However, that doesn't mean none of the others aren't. For the most part, you'll only deal with the manufacturer warranty and an extended warranty, assuming you choose to purchase the latter.
It's worth your time to sift through all the fine print in the manufacturer's warranty. After all, you never know. Most importantly, you need to find out if the factory travel trailer warranties are transferable before you purchase your new RV before purchase.
What is a Travel Trailer Warranty?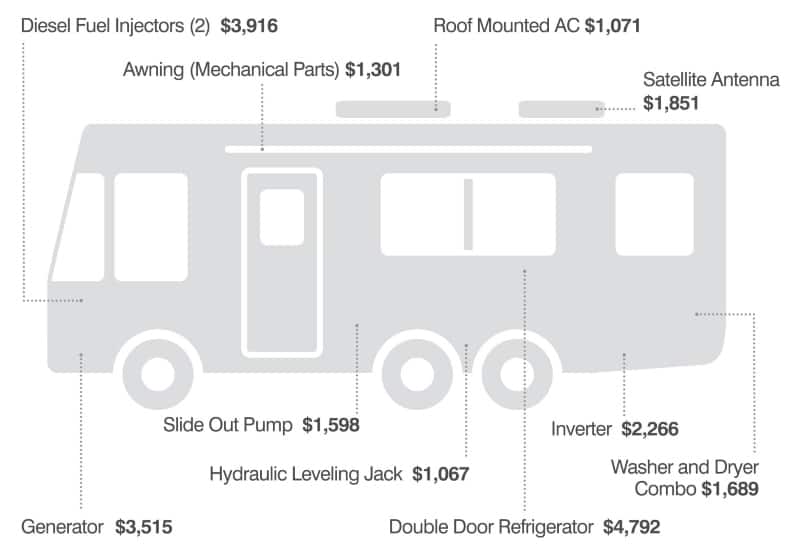 The typical travel trailer warranty is the one you get when purchased brand new. It's usually a limited warranty from the manufacturer that covers the travel trailer for faults or deficiencies from the manufacturer's end. Typically 1-2 years is the most coverage to expect from a factory warranty.
Not every warranty is the same either, which is why we mention the "fine print." For instance, you may buy a travel trailer from one brand and discover that the warranty coverage from the chassis is from another brand.
Those are the complexities you should sort through before you purchase a travel trailer. RV Dealer warranties are additional services when you purchase from a certain dealer. They may or may not be transferable and often cover more specific items than a manufacturer's warranty.
What's the Difference Between a Manufacturer and an Extended Warranty?
A manufacturer warranty is the one that comes with the travel trailer when you purchase it. An extended warranty is one you buy on your own through an RV extended warranty company.
Extended warranties are the ones that often transfer with ownership, so long as you take certain steps. For instance, when you sell a travel trailer to a new, private owner, the extended warranty doesn't automatically go with it. On the positive side, extended warranties tend to cover more.
Are Travel Trailer Manufacturer Warranties Transferable?
For the most part, manufacturer warranties aren't transferable. If you search around long enough, you may find a few brands that do. Jayco is a bit controversial about this thing (more on that below).
Jayco offers a fairly solid, limited warranty that lasts 2 years or 24,000 miles. Of course, if you live on the road, you'll blow through 24,000 miles in no time. But for "every now and then" camper types, that's a pretty good warranty.
Jayco, like many others, offers an even longer period for specific things, such as the frame (5 years with Jayco). While we're merely using Jayco as an example here, it's a pretty good example as it relates to the industry as a whole.
Are Travel Trailer Extended Warranties Transferable?
You're in luck if you purchase a used travel trailer and the prior owner purchased an extended warranty. For the most part, extended warranties are transferable, so long as you take the time to make a few phone calls and fill out some paperwork.
Many owners purchase extended warranties—in addition to the manufacturer warranty—the same day they purchase the travel trailer. There are a few reasons why.
Extended warranties cover more.
Extended warranties last a lot longer.
They are often worth the cost in terms of what's offered.
Some salespeople are really persuasive.
Peace of mind.
RV warranty costs go up on the first of each year.
As the new owner of a used travel trailer, you may be able to take advantage of the extended warranty that the previous owner purchased, so long as it hasn't run out.
If the previous owner purchased a 5-year extended warranty and they sell you the travel trailer in year 4, you have a year left unless you can negotiate something better.
Is Jayco's Warranty No Longer Transferable?
Once upon a time, Jayco's 2-year limited and 3-year limited structural warranties were transferable. Unfortunately, that's no longer the case. Once the time is up on this warranty or when the travel trailer is sold to a new owner, the warranty stops.
It doesn't end there, however. The chassis warranty with all Jayco travel trailers is not Jayco's. It's a 5-year warranty that is transferable. The process requires the seller and the buyer to contact Jayco to discuss the details.
There are several other warranties on Jayco travel trailers that may or may not transfer. If you are purchasing a Jayco travel trailer, you should write all of these down and contact Jayco for a definitive answer on whether or not the following is transferable:
Huber (decking)
Shaw (vinyl flooring)
Tredit (aluminum wheels)
Intervac (central vacuum system)
Standard Technologies (fuel pump system)
Congoleum (flooring)
Onan (generators)
MORryde (rubber pin box)
Winegard (antenna)
Samsung (refrigerator and digital inverter compressor)
BGS Graphics
Dicor
This is the case with several travel trailer manufacturers since most of them outsource some of the interior and exterior manufacturing.
Can You Transfer Travel Trailer Warranties When Selling?
When it comes to extended warranties, purchased when you buy the travel trailer or once your standard warranty expires, you can transfer to a new owner. Every business has its own methodology, but it's not too difficult to do. In general, the following steps take place:
Both parties sit down, fill out, and sign a transfer form
The buying party submits the transfer fee (if applicable)
The buyer receives a copy of the original contract
The buyer receives a copy of service and maintenance records over the life of the travel trailer
That's usually all there is to it. However, every business is different, and you should call and talk to the manufacturing company for the travel trailer you want to buy. Do it before money exchanges hands, not after.
Types of Travel Trailer Warranties
Mostly, there are two and sometimes up to four types of travel trailer warranties, as we pointed out in the beginning. It can get a lot more complicated than that. If another manufacturer puts together various travel trailer parts, you may have a second warranty buried in the first warranty paperwork.
That's why it's always important to carefully read your warranty before, during, and after the purchase.
Manufacturer Warranty
The manufacturer warranty is the basic warranty the manufacturer (Original Equipment Manufacturer or OEM, like Jayco, Forest River, or Winnebago) provides for their travel trailers.
There may be more than one part the OEM uses in the construction of their RV that they purchased instead of producing it themselves (third-party vendors like Lippert chassis, Dometic refrigerators, or Suburban furnaces) to minimize costs and streamline RV construction.
Each of these third-party vendors usually has separate factory warranties on their products that you can find in your RV owner's manual binder.
Extended Warranty
Extended warranties are purchased entirely of your own volition. You don't have to have it, though you should purchase one. These warranties often cover much more than the manufacturer's warranty.
How Do RV Warranties Work?
So long as you are within the timeframe of the warranty, whether it's the manufacturer or an extended warranty, certain parts or components of a travel trailer are covered. Manufacturers guarantee the quality of their work for a specific timeframe, usually 1 to 3 years.
If one of the parts fails due to a deficiency in workmanship or a critical failure that wasn't supposed to happen, you file a warranty claim with the brand you purchased your travel trailer. They will inspect the component and determine if replacement or repair is warranted, free of cost.
Does the Warranty Cover the Second Owner?
The standard warranty usually does not cover second owners in most cases. However, nothing is ever set in stone, and you should contact the travel trailer manufacturer to be sure. Worst case scenario, you will have to pay for the repair yourself. In the best-case scenario, you get coverage.
Don't get your hopes up unless you have an extended warranty. In many cases, even if you did not go through the extended warranty transfer with the original owner, you can still take advantage of it. That is assuming the original extended warranty isn't expired.
Yes, reading legalese for half an hour is no one's cup of tea, but you might save yourself a lot of money and heartache by doing so.
How Do You File a Claim Under Warranty?
In almost every scenario, the claim will be handled where you purchased the travel trailer. If you're the second owner, you'll go to the dealer that originally sold it. This is true with extended warranties as well as standard warranties.
It's just like going to the doctor's office. You get fixed, and they do all the back and forth with your health insurance provider.
Go to the dealer and lay out the issue.
The dealer will document and possibly photograph the damage.
The dealer will be the one to submit the evidence to the manufacturer or the extended warranty company.
Hopefully, you get a fast response.
The dealer will take care of the parts once the claim is approved.
Once the parts arrive, the dealer will repair the damaged part.
It's a fairly simple process but be prepared for frustration. It's common for the wrong parts to come in the first time, so there may be a long wait. 
Best Extended Warranties You Can Buy for Your Travel Trailer
Extended warranties are a dime a dozen. Honestly, there are a lot of them out there. Most are halfway decent. They wouldn't be in business if they were garbage, after all. A few stand out above the rest, however.
Wholesale Warranties
Wholesale Warranties has been in business for a decade and a half. Though they provide coverage for many vehicles, their primary focus is RVs. All of their extended warranty offerings are completely transferable, and they offer three extended warranty options and two optional add-ons.
Good Sam Extended Service Plan
What Good Sam has to offer is more like insurance than a warranty, and like insurance, you pay a monthly rate. Fortunately, it's well worth it, with a vast array of parts on your travel trailer covered. The plan also transfers to the new owner if they choose to take up the payments.
America's RV Warranty
There are a lot of benefits to choosing America's RV Warranty. Their coverage is transferable, they pay actual costs on original parts, and they don't require you to pay the costs for third-party inspectors to come in and confirm the damage and repair costs.
Are RV Warranties Worth It?
RV warranties are more than worth it, and you should never travel without a warranty as long as you can stretch them. At the very least, a monthly payment plan like Good Sam offers should be applied to your travel trailer. But we highly recommend Wholesale Warranties for any new or used travel trailer.
The reason is simple—travel trailers are not cheap to repair. Even minor damage adds up quickly, especially if you want original parts to replace them and not some third-party knock-off. 
Wholesale Warranties are transferrable, which also makes your trailer more valuable and easier to sell.
Keeping a warranty on your travel trailer is probably one of the most important things you can do for the camper's life. It will save you time and, more importantly, give you some peace of mind on those long road trips.
---
About the Author:
Thomas Godwin is a full-time freelance writer with a BFA in Creative Writing, a U.S. Marine, and an avid outdoorsman.
When he's not writing, he's raising chickens and Appleyard ducks. Thomas also constructs teardrop campers (attempting to anyway) and kayaks the Blackwater River with his wife, two daughters, and his Dobermans.