SpaceCraft Manufacturing makes a 57-foot fifth wheel. Yes, you read that correctly, a fifth wheel that stretches across one-sixth of a football field. It's epic. It's gigantic—ludicrous and simultaneously awesome in every way imaginable.
And here I am, waking up in the morning with thoughts on how to expand the space availability in my teardrop concept, which happens to be on a 5 x 8 trailer platform. These are the moments when the ant discovers the boot, and my teardrop seems like a bedbug standing alongside Superman.
Words simply cannot convey the megalithic proportions of this 57-foot fifth wheel god, born of an epic manufacturing conglomeration between mother and son, otherwise known as SpaceCraft Manufacturing. If you're interested in something even more incredible—these puppies are custom-made, per individual buyer.
Who Makes a 57-Foot Fifth Wheel for Sale?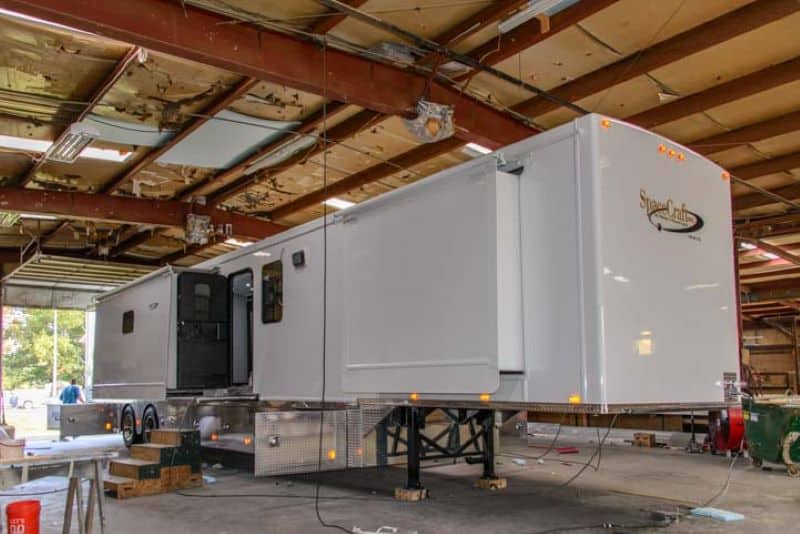 SpaceCraft Manufacturing makes a 57-foot fifth-wheel, and they're quite good at it. After all, the company gets most of its customers from traveling performers and local fairgrounds. Those outfits put a beating on their trailers, and SpaceCraft is more than happy to manufacture huge, highly durable fifth wheels for them.
They manufacture between 10 and 15 units per year. Not all of them are of the 57' variety, but SpaceCraft is not known for being miniature in their forward thinking. 
The reason you may not have heard of SpaceCraft is that they don't pay for marketing. Business is booming in "SpaceCraft town," and not a peep can be heard in magazines, websites, or commercial breaks while binge-viewing Everybody Loves Raymond. Although, you may run into them at some of the bigger RV shows.
In short, SpaceCraft Manufacturing is a phenomenal success story, which is why they can manufacture a 57' fifth wheel, and you have to get in line to buy any trailers from them—a full year in advance.
What is SpaceCraft Manufacturing?
SpaceCraft Manufacturing was a family owned business, operated entirely by mom and son duo—Marsha and Wyatt Trautman until the company was purchased by Greg Wallman in 2018. The business kicked off in the late 60s, mostly constructing campers for traveling performers and businesses. 
Understanding that it's just as likely there will be a tiger or a platoon of spider monkeys in the dry bath as a human being, SpaceCraft emphasizes durability and longevity. Of course, a premium focus is applied to comfort for those who just want a phenomenal fifth wheel and not a place to hide their dancing orangutans.
Absolutely everything is started and completed in-house, with a major emphasis placed on the finest details, both with interior and exterior craftsmanship.
What Features Come in the 57-Foot Fifth Wheel?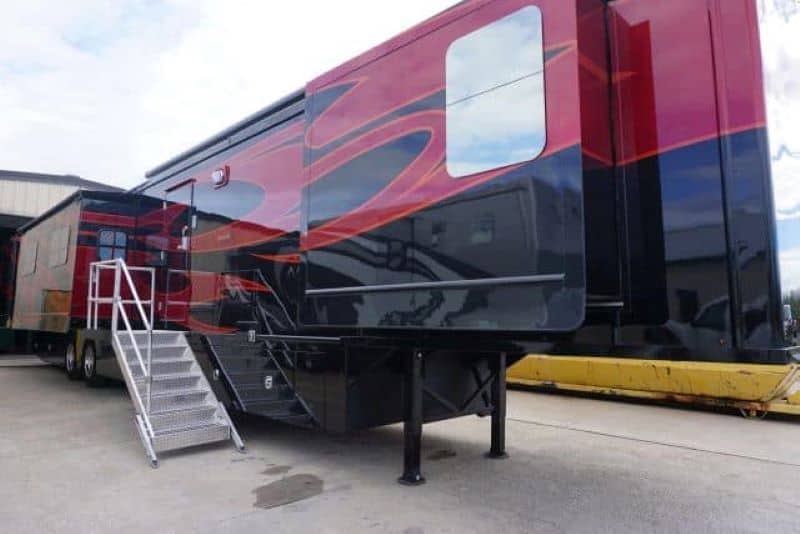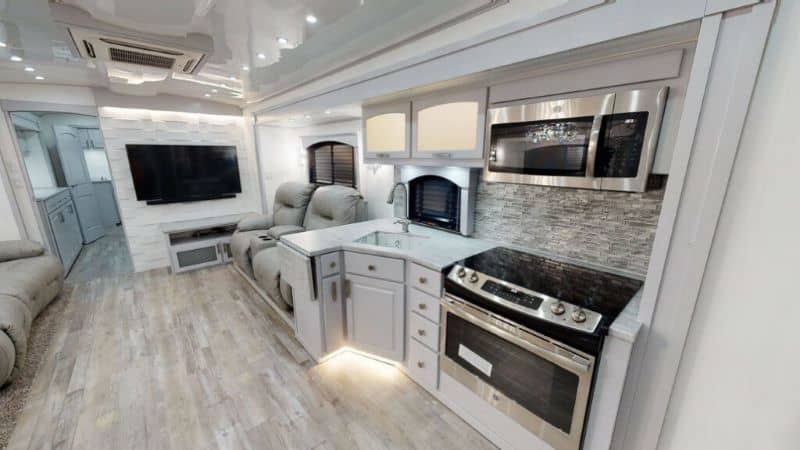 The features that come in a 57-foot fifth wheel are just about what you would imagine, which is to say, everything. There's so much room in this magnificent, giant of an RV that SpaceCraft can install the finest.
Of course, SpaceCraft allows their customers to design their fifth wheels from the ground up, with a hand in the cookie jar from day one until the day of completion. If you want extra office space, that's easy. Want three bedrooms and a king-size master bed? Not a problem.
The features begin with you, and SpaceCraft's process starts with the customer choosing the number of bedrooms (up to three), the overall length of the RV—up to 57 feet, and the number of slides. After that, the features can get pretty extensive.
Large kitchen with all of the residential-size appliances
A ton of storage space
Up to three bedrooms
Large shower and toilet
Granite countertops
King-size bed in the main (bed size is optional)
Molded, fiberglass ceiling
Up to eight slide-outs
Your choice of an office (including your choice of desk size)
Two entryways
A full living room
65" HDTV
Due to the needs of their customers, this level of customization has become "par-for-the-course" since SpaceCraft's buyers have diverse needs. The exterior is just as feature-filled as the interior, especially if you opt for the maximum that SpaceCraft has to offer.
Possum Belly Basement Storage
Massive holding capacities for the designated galley's freshwater, general freshwater, greywater, and blackwater tanks
22.5" tires
Air brakes and suspension
Tandem, dual-air ride axles
Molded fiberglass roof
Polystyrene insulated walls
Entry step assist bar
Dual-pane frameless windows
Roof ladder
Specs
As you might imagine, the specs are every bit as huge as the rest of this fifth-wheel RV.
Length: 57.5'
UVW: 37,375 lbs. (manufacturer estimate 650 lbs x length)
GVWR: 45,000 lbs.
CCC: 7,625 lbs.
Tongue/Hitch Weight: 11,000 lbs.
Sleep: 2- 12 (based on floor plan)
How Much Does a 57-Foot Fifth Wheel Cost?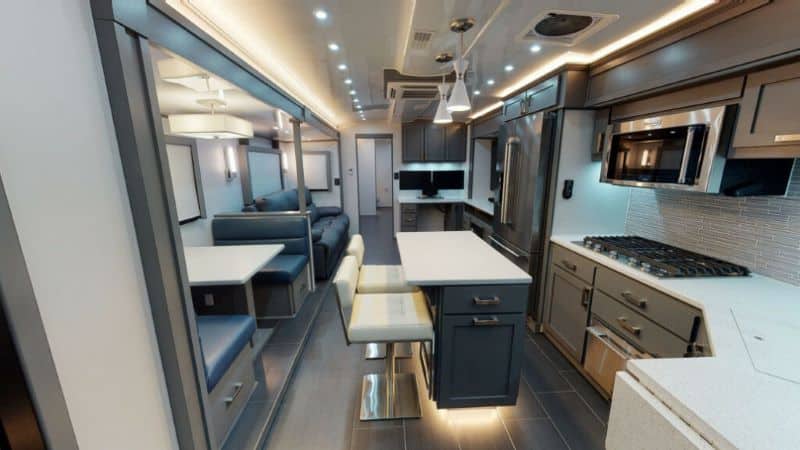 A 57-foot fifth wheel isn't going to cost pennies on the dollar. The minimum amount for one of these gigantic fifth wheels is well over a quarter million, typically around $350,000. Keep in mind, that's on the lower end.
It's difficult to peg a precise number because of the level of customization that goes into one of these. Starting from the bottom up, the customer chooses what goes where and how. SpaceCraft itself suggests a retail price of $5,500 per linear foot.
Part of what makes SpaceCraft RVs so expensive (aside from the size of this particular one), is the level of customization involved and the hand-crafted nature of everything within and without.
SpaceCraft doesn't outsource anything, except for necessary items, such as generators and batteries. Like a naval shipyard, they have their own welders, electricians, painters, insulators, fabricators, etc.
These fifth wheels are manufactured in a massive, on-site warehouse. Because not all of their fifth-wheel models are massive, there's often room for multiple RVs at a time. Unfortunately, that also means you'll be put on a waiting list if you want to buy one.
Not only that, but SpaceCraft doesn't traditionally sell their RVs already built. Many of the ones they manufacture are handed down within the family, sold within the family, or sold to very specific clients.
What Vehicle Can Tow a 57-Foot Fifth Wheel?

Semi-tractor trucks are the only vehicles that can tow a 57-foot fifth wheel. You could probably tow it with a tank, but since purchasing one is probably more expensive than the fifth wheel (not to mention tanks aren't road legal, and it's illegal to buy one), you'll have to settle for a semi.
Big rig truck owners are perfectly positioned for purchasing a 57' fifth wheel, but, in most cases, you'll have to purchase a semi separately from the SpaceCraft RV. When you think about it, stacking a big rig in front of a 57' fifth wheel creates its own problems.
For one, you'll have to do a lot of homework about where you are going and where you want to stay. You can count out most RV campgrounds simply because they won't have campsites that can accommodate an RV and semi that long.
Then there's the matter of certain highways not allowing anything over 60', which a semi, combined with the 57' fifth wheel, will exceed. You'll mostly be limited to the interstate, major highways, high-end RV resorts, and boondocking. The latter is where the semi will really come in handy.
Most long-haul truck drivers never cut their engine for most of the trip, using the diesel to power their cab and the living space behind it. You better believe that a 57' monster will need all the juice it can get if you take it off the grid or boondock.
Do SpaceCraft RVs Need a CDL?

Driving SpaceCraft RVs may require a CDL or a different kind of CDL (non-commercial CDLs). Things get very complicated here because we have fifty states, and each one has its own variation on driving non-commercial semi-trucks. Each must still comply with the Federal Department of Transportation's laws, but that just adds to the complexity.
In many states, you can get a non-commercial CDL license for anything weighing over 26,000 lbs (of which the SpaceCraft, 57' fifth wheel certainly qualifies). In others, you may have to get a CDL. For instance, the following states require a CDL license, as long as certain stipulations are met:
Arkansas: Weight exceeds 26,000 lbs
California: Only if you are towing more than 10,000 lbs
Connecticut: Single vehicle or combined vehicles exceed 26,000 lbs
Hawaii: Single vehicle or combined vehicles exceed 26,000 lbs
Kansas: Single vehicle or combined vehicles exceed 26,000 lbs
Michigan: Weight exceeds 26,000 lbs
Nevada: Single vehicle or combined vehicles exceed 26,000 lbs
New Mexico: Single vehicle or combined vehicles exceed 26,000 lbs
New York: Weight exceeds 26,000 lbs
North Carolina: Pulling multiple vehicles with a combined weight that exceeds 26,000 lbs
South Carolina: Single vehicle or combined vehicles exceed 26,000 lbs
Washington D.C.: Single vehicle or combined vehicles exceed 26,000 lbs
Wisconsin: Your vehicle is longer than 45'
Wyoming: Towing vehicle is above 26,000 lbs, and the towed vehicle is above 10,000 lbs
Travel Trailer Pro Note: Hawaii doesn't allow a combined length of 65′ anyway, so with your semi-tractor and 57-foot SpaceCraft RV, more than likely the port authority probably won't let you off the transport ship anyway.
Non-Commercial CDL States
Some states don't require a CDL, though you still have to obtain a non-commercial CDL:
California: Vehicle is over 26,000 lbs or longer than 40'
Maryland: Your vehicle is over 26,000 lbs
North Carolina: Your vehicle is over 26,000 lbs
Nevada: Your vehicle is over 26,000 lbs
Pennsylvania: Your vehicle is over 26,000 lbs
Texas: Class B if you're towing anything over 10,000 lbs
Wyoming: Your vehicle is over 26,000 lbs
New York, Michigan, and Nevada require an endorsement on your license for RVs. However, New York and Nevada don't apply to this particular situation. Michigan requires a double R endorsement if you're hauling a fifth wheel.
As you can see, it gets quite complicated. For the most part, the state in which you register your RV (state of residence/domicile) is the law that applies to you.
If you plan on traveling out of state, as long as you are following your state's laws and checking ahead in the state you want to travel to, you'll be alright.
Final Thoughts on the SpaceCraft 57-Foot Fifth Wheel Trailer
A 57-foot fifth wheel manufactured by SpaceCraft Manufacturing is a phenomenally massive trailer, built with excess, luxury, and a high degree of durability in mind. It's hard to imagine these gigantic homes on wheels come from a relatively small, family-owned business.
Since SpaceCraft caters to a specific industrial category (namely performers and businesses), you'll have a good shot at seeing one of these massive constructs if you go to the circus.

Otherwise, the line is quite long for people itching to get their hands on a SpaceCraft fifth wheel. If you're looking for a massive, portable house, have a large family, and have the money to put down, what are you waiting for?
---
Related Reading: (Thomas, Don't mess with this)
---
About the Author:
Thomas Godwin is a full-time freelance writer with a BFA in Creative Writing, a U.S. Marine, and an avid outdoorsman.
When he's not writing, he's raising chickens and Appleyard ducks. Thomas also constructs teardrop campers (attempting to anyway) and kayaks the Blackwater River with his wife, two daughters, and his Dobermans.