Fifth wheel campers are a great way to experience RV life without being tied to a motorhome. These larger-sized travel trailers give you plenty of room and a separate vehicle for outings. But how do you move a 5th wheel without a truck?
There are plenty of reasons you might need to move a 5th wheel without a truck. Perhaps you've just acquired a 5th wheel from a family member, or maybe you had a truck, but it no longer runs. Or maybe you want to rent one before you buy a 5th wheel, and you don't have a truck to move the rental.
Whatever the case, there are ways to move your 5th wheel without a truck. Stay with us as we look closer at the ways you can move a 5th wheel even if you don't own a truck.
Can You Pull A Fifth Wheel Without A Truck?
The answer to this question is more complicated than just a simple yes or no. There are ways to move your 5th wheel without a truck. However, if you own a 5th wheel and intend on using it frequently, a truck is a must.
If you really need to move a 5th wheel without a truck, there are ways to accomplish this task. Most of the time, when a 5th wheel is moved by an owner that doesn't have a truck, it's a temporary arrangement or an emergency.
There are also times when you may need to move your 5th wheel just a short distance. In this case, there are ways to move your 5th wheel without a truck that are safe for you and your camper.
Regardless of the situation, one thing that you do need to keep in mind is safety. If you're using a service to haul your 5th wheel or a trailer dolly, make sure that you're following the instructions in your owner's manual. Proper connections and load distribution are important for protecting you and your trailer.
Why Is It Hard To Pull A 5th Wheel Camper?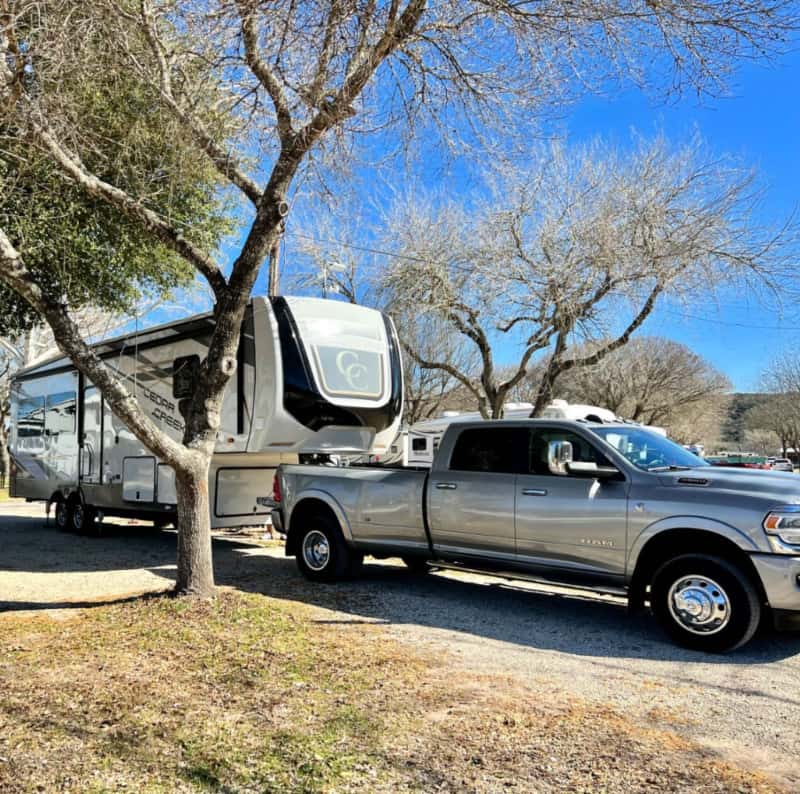 A 5th wheel camper can be hard to pull. It's not the ideal solution for everyone.
The idea of a 5th wheel camper is really attractive to a lot of people. This larger-size camper gives more living space, storage space, and in some cases, can haul your recreational toys.
They're really a nice solution for the family that wants to camp, have the comforts of home, and a vehicle for excursions. However, 5th-wheel campers don't tow the same way as a bumper-pull trailer.
If you are considering a 5th wheel, you should be aware of some of the challenges of towing.
1. Size of 5th Wheel Campers
This is one of the most daunting parts of a 5th wheel camper. Most fifth wheels are quite large. If you've never pulled a large trailer before, your first 5th wheel can be scary and challenging.
2. Turning Radius of a Fifth Wheel Camper
Fifth wheel campers have a wider turning radius. This can make pulling into tight camping spots challenging or even impossible. This also means that you have to give yourself more room for left and right-hand turns when traveling.
3. Buying Fuel When Towing a 5th Wheel
Your rig is going to be very long when you consider the length of your truck plus the camper. This means that you'll need to utilize larger-sized gas stations when possible. Truck stops that have pull-through spots for semis, or RV lanes are often a better option than a normal gas station.
4. Limited Views Around Your Fifth Wheel
You have to be mindful of what's happening around you when pulling a 5th wheel. This can be difficult since the RV blocks your rear and side views. You may need to add extension mirrors to your truck and utilize an RV camera system for easier lane switching and driving in reverse.
Where To Rent A Truck With A 5th Wheel Hitch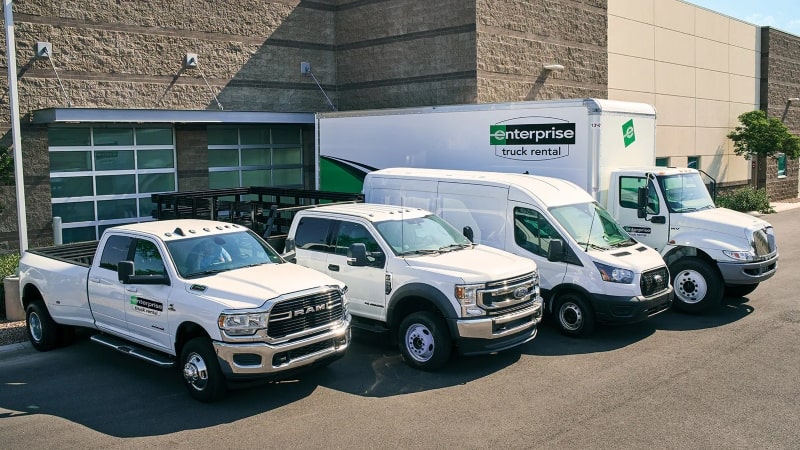 Not everyone needs a truck all the time, so if you just need one to pull your 5th wheel now and then, you can rent one. If you have never rented a truck that comes with a 5th wheel hitch, you may not know where to start.
There are a few different places where you can rent a truck with a 5th-wheel hitch.
1. Car/Truck Rental Companies
This is not the best place to rent a truck with a 5th-wheel hitch. But, if you give some advanced notice and work directly with a person at a car rental agency, you can get a truck with a 5th-wheel hitch.
You'll pay quite a bit per day for a larger truck, and some rental agencies may only provide a heavy-duty truck with a long-term rental period.
2. Construction Equipment Rental Companies
Rental companies that rent out construction equipment can be a great option for a truck to pull your 5th-wheel trailer. These businesses often have trucks with larger engines and pre-installed hitches. So, all you have to do is hook up your trailer and go.
3. Truck Dealerships
Some dealerships have rental programs. You may be able to rent a truck from a dealership. However, it may be hard to find a truck with the hitch already installed.
4. RV Dealerships
There are some RV dealerships and peer-to-peer RV rental companies that may have 5th-wheel trucks with hitches for rent.
What Are The 5th Wheel Moving Services Near Me?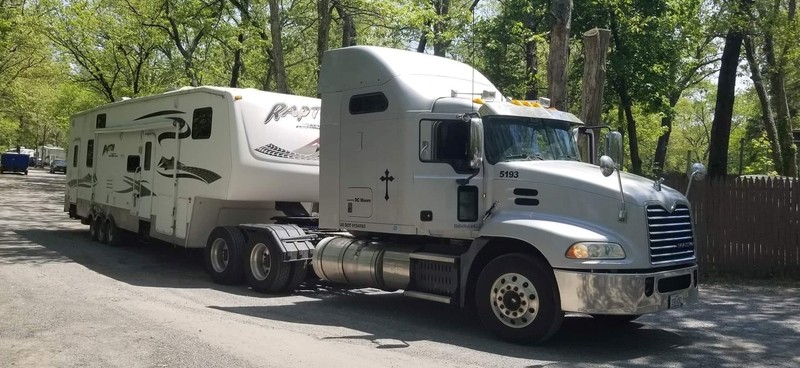 If you just need to move a 5th-wheel camper from point to point, but you aren't looking to invest in a truck for a single move, consider a moving service. There are plenty of businesses that will move a 5th wheel or other RV from one place to another for a fee.
These businesses are much like those used to transport cars and trucks. They're out there, but this service can be difficult to find in some areas. Depending on the individual company, you may find that some can be more expensive than other options.

1. RV Dealer Transport Service
If you are purchasing a 5th wheel in one location and want it moved to another, your RV dealership may transport it for you. This service is a great option if you buy an RV out of state and want to get it home.
If the 5th wheel that you want is located across the country, your local dealer can usually make the deal for you instead of you flying out to where the RV is located.
Once the paperwork is in order, to get your 5th wheel home, the RV dealer can have the fifth wheel transported to their dealership. Your home dealer can even bring it to your house, RV storage facility, or campground you chose.
2. RV Transportation Company
RV transportation companies are private businesses that specialize in hauling your RV. This is a great option if your RV dealer doesn't have a transport service. This can also be ideal if you're moving across the country and need to move your RV along with the rest of your belongings.
RV transportation companies can be more affordable than dealer transport services if you're just having your 5th wheel shipped. You do need to be careful in selecting your RV transportation company. Make sure to carefully read their terms, ask for proof of insurance, and check for references.
3. RV Valet Service/ Shipping Marketplace
RV Valet Services are a great option if you want more than just having your 5th wheel moved. These businesses often provide other services when they move your trailer.
Many RV Valets will pick up your 5th wheel, provide detailing, and dumping services. They can also store your 5th wheel camper in some cases.
These services are great if you don't want to hassle with moving your 5th wheel into storage. This can also be a nice option if you get stuck on the road without a truck, and you need your 5th wheel sent home empty and clean.
4. Borrow A Friend's Truck
Perhaps the easiest and most affordable of the options to move your 5th wheel without a truck is to borrow one. If you have a friend or family member that has a truck with a 5th-wheel hitch, they may be willing to lend it to you to move your 5th wheel.
It's a good idea when you are borrowing a vehicle to get insurance. This may mean getting temporary coverage on your auto insurance. It could also mean having your friend or family member add you as a driver temporarily to theirs.
As a courtesy, make sure that you return the truck with a full tank of gas or diesel. Take good care of your friend's vehicle, and if you happen to cause damage, even if it is minor, let them know. It also doesn't hurt to send a little cash your friend's way.
5. The Person Who is Renting You a 5th Wheel Can Move It for You
Susan and I rented a 5th wheel to try it out because we were trying to decide between a Class A motorhome or a 5th wheel for our 3/4 time travel.
But we don't own a pickup truck big enough to haul a 5th wheel. So we went on Outdoorsy, which is a peer-to-peer rental company like Airbnb for RVs.
The 5th wheel owner moved delivered the 5th wheel right to our campsite, helped us get all set up, and then picked it up when we were done!
You can learn more about this option by reading our article on RVBlogger.com, called Are There RV Rentals with Delivery and Setup to My Campsite?
Best Way To Move A Fifth Wheel Without A Truck?
There are times when you need to have a good way to move a fifth wheel camper just a short distance. There are better options for this type of moving than a truck.
Knowing the easiest way to move a fifth wheel without a truck in these instances is helpful. It can also be time and money-saving as well.
1. Use A Trailer Dolly
Trailer dollies are a great option if you need to move your 5th wheel just a short distance. These handy tools come in electric or hand crank options. They're small enough that you can even bring them with you when you travel.
Many people with 5th wheel campers like using a trailer dolly to set their camper in the correct position in a camping space.
When considering a trailer dolly, make sure that the one you select is rated properly for your 5th wheel camper. Buying a lightweight, inexpensive dolly might seem great for your wallet, but it may not be sturdy enough to move your 5th wheel.
2. Move A 5th Wheel With a Tractor
Moving a 5th wheel camper with a tractor is a legitimate way to pull your camper. Of course, this method is only for moving your camper a short distance. You shouldn't travel down roads or highways pulling your 5th wheel camper with a tractor.
Keep in mind, if you're going to move your 5th wheel with a tractor, it needs to have the proper hitch and weight capacity. Tractors are pretty beefy. Many pieces of construction equipment like skid steers, forklifts, excavators, and front-end loaders are ideal for moving 5th wheel trailers a short distance.
Sometimes you can use farm tractors to move a 5th wheel camper. However, these aren't as powerful, and often don't have the necessary hitch.
Can You Haul A 5th Wheel With A Car?
This seems like a novel idea – moving a 5th wheel camper with a car. However, someone thought of this idea and found it to be a disaster.
In the 1970s, when 5th wheel campers became more accessible, carmakers considered ways to haul using cars. This seems like a great idea. Many of us would love to pull a camper with our car, instead of investing in a truck. Volkswagen was one of the first carmakers to experiment with the roof-mounted hitch.
They placed a gooseneck ball hitch on the top of the VW Bug. Not surprisingly, the idea didn't catch on with the populous, so VW didn't produce many.
Other car makers experimented with hitches on sedans and other family cars. There were problems with this idea, and these vehicles didn't sell well.
Cars today aren't made to haul 5th wheel campers. The use of lightweight bodies and frame materials makes this idea very dangerous. A 5th wheel camper would crush your car, as well as cause substantial damage to the frame and chassis.
Besides damaging your car, attempting to use a car to pull your 5th wheel, would likely damage your camper. Your car isn't strong enough to support the gross weight of your camper. This could lead to damage to your camper that may be expensive to repair.
Final Thoughts On Moving A 5th Wheel Without A Truck
There certainly are ways to move a 5th wheel without a truck. There are options that are safe, and there are other options that you shouldn't even consider. Your 5th wheel camper is a big investment. It should be treated right and moved in a cautious and responsible way.
The best way to move your 5th wheel without a truck is to use a moving service for long-distance relocations. Or, if you're only moving your 5th wheel a short distance, use a dolly or tractor.
Never move a large 5th wheel camper using a group of people. This is dangerous and can cause bodily harm. If you need to move your 5th wheel without a truck, do your research and find the best option that's safe for you and your camper.
---
Related Reading:
---
About the author:
Jason Gass is a full-time freelance writer and part-time RVer whose goal is to share great stories around a campfire with good friends.
When he's not working, he spends most of his time camping, searching for the best breweries, and road-tripping in his teardrop trailer with his wife, daughter, and two dogs.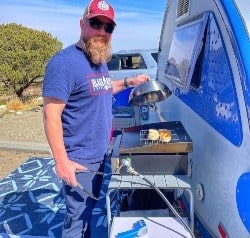 Recent Posts