A fifth-wheel trailer is a great way to enjoy an RV vacation. To tow them, you'll need the right hitch in your truck's bed. There are plenty of fifth-wheel hitch options, including the Anderson Ultimate Hitch. Unfortunately, the Andersen Ultimate Hitch failures have tarnished the reputation of this product for many RV owners.
Many fifth-wheel owners select the Andersen Ultimate Hitch because it is lightweight and easy to install. These features are a great selling point. The Anderson Ultimate Hitch is a great product for the right fifth-wheel owner.
So, what is wrong with the Andersen Ultimate Hitch? Follow along with us as we examine the why and how of the Anderson Ultimate Hitch failure problem.
Do Andersen Hitches Fail?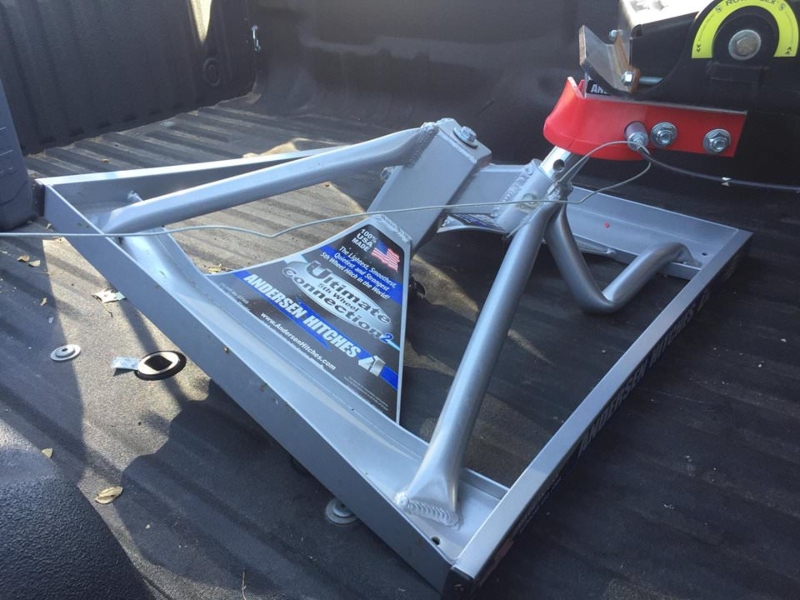 The Andersen Ultimate Hitch is a lightweight, easy-to-install fifth-wheel hitch, which is attractive to many RV owners. Across the internet, there are numerous stories of the catastrophic damage that Andersen Ultimate Hitch failure causes to 5th wheel RVs and trucks.
Certainly, there are times that the Andersen Ultimate Hitch has held up when the owner did everything right. Just like any other brand or model of hitch, the Andersen Ultimate Hitch failures have many causes.
The key to minimizing the risk of Andersen Ultimate Hitch failures is really about the proper installation and not overloading its weight capacity.
It is hard to know exactly how frequently Andersen Ultimate Hitch failure occurs. There are accounts of this hitch failing in dramatic fashion. However, when digging further into the conversation, you quickly learn that user error is frequently the cause of the failure.
Why Is the Andersen Ultimate Hitch So Bad?
The Andersen Ultimate Hitch really isn't a bad hitch. The source of the common Andersen Ultimate Hitch failures seems to lie more with RV owners. The Andersen Ultimate Hitch is a popular hitch, and for many owners, this hitch is a perfect solution for hauling their fifth-wheel travel trailer.
The Andersen Ultimate Hitch really sells itself. It is lightweight, easy to install, and even easier to attach to your fifth wheel trailer. For the right trailer, when the Andersen Ultimate Hitch is installed properly, it is a great hitch.
One of the great features of the Andersen Ultimate Hitch is its versatility. Those needing to tow both goose-neck and fifth-wheel trailers can use this hitch since it comes with a ball hitch. When a fifth-wheel hitch is needed, the hitch comes with an adapter to fit a fifth-wheel pin.
Therefore, whether you need a hitch to tow a utility trailer, a farm-related trailer, or an RV, the Andersen Ultimate Hitch does it all.
Yet, some RV owners may look at the 4,500 lbs hitch rating and 24,000 lbs maximum gross trailer weight rating without considering the many other factors involved in fifth-wheel towing.
Factors like sudden stops, the mass of longer fifth-wheel travel trailers, and other big-picture considerations are necessary to determine if this is the right hitch for towing.
These RV owners learn quickly that Andersen Ultimate Hitch failures may have nothing to do with the hitch. It is only a bad hitch when combined with the wrong trailer.
6 Common Andersen Ultimate Hitch Failures and Problems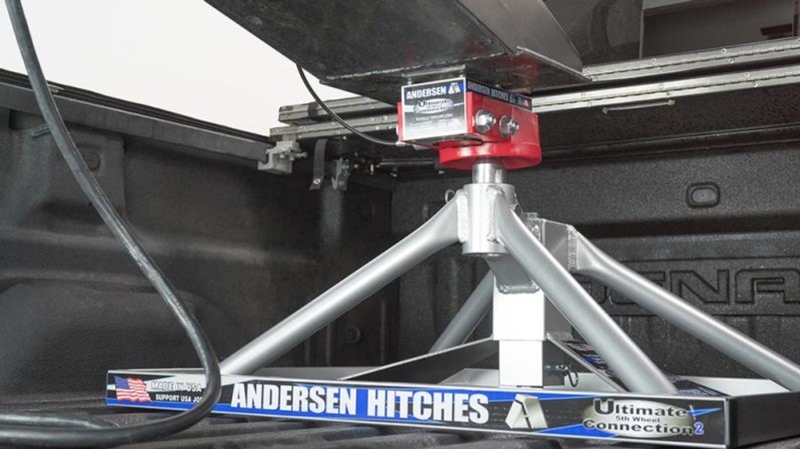 Any fifth-wheel hitch failure can be dangerous to you and the passengers in your vehicle. They can also lead to accidents that can harm others on the road around your RV and truck.
If you are considering an Andersen Ultimate Hitch, you should be aware of the types of failures and problems that are most common with this hitch.
Remember that most of the failures with Andersen Ultimate Hitches occur when the pin has been overloaded.
1. Damaged in Emergency Stop
The most frequent cause of catastrophic failure of the Andersen Ultimate Hitch is hard breaking or emergency stops.
The aluminum construction of the Andersen Ultimate Hitch may not be able to handle the force created by your 5th wheel if you have to stop quickly. This is particularly true if you are pulling a trailer with more than 4,500 pounds of tongue weight.
During emergency stopping, the Andersen Ultimate Hitch can buckle or separate from its base, causing the tongue of your RV to collapse. This can cause significant damage to your truck and the trailer.
Also, the Anderson Ultimate Hitch is designed to collapse during an accident. While your truck and RV may take damage, again depending on the circumstances, by collapsing, it takes the brunt of the force, giving some protection to your RV from the sudden stop.
Another way to avoid the Andersen Hitch from failing is to make sure you don't exceed your hitch weight. Overloading your pin weight can decrease your control over your RV, put a lot of stress on the hitch, and make the fifth-wheel unstable when towing. This can be dangerous to other motorists.
2. Lightweight Aluminum Construction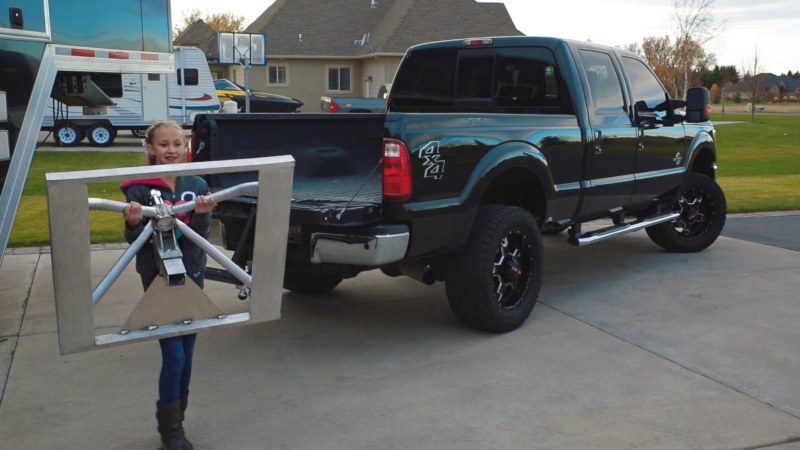 One of the biggest selling points for the Andersen Ultimate Hitch is the use of lightweight aluminum instead of steel. However, aluminum is not sturdy enough to handle the weight and force of larger fifth-wheel RVs.
The hitch is rated for a maximum tongue weight of 4,500 pounds. When connected to the proper size RV, the aluminum construction isn't a problem. If you are not sure if this hitch will work for your fifth-wheel, check out Andersen's compatibility tool before you buy.
3. Twisting and Bending
Some owners of RVs and Andersen Ultimate Hitches have reported that the Andersen Ultimate Hitch can easily bend or twist on the bed, even without unusual driving conditions.
If the Andersen Ultimate Hitch twists or bends while you are in motion, this can cause your RV to become unstable, and it may detach from your truck or sway erratically.
4. Hitch Bed Damage
You are going to be attaching your hitch to the bed and frame of your truck. If you overload the pin or do not properly distribute the weight in your RV, you can damage the bed of your truck and hitch. As with any type of hitch, if you do not install the Andersen Ultimate Hitch properly, hitch bed damage is almost certain.
5. Not Good for Short Hitch Beds
Andersen Ultimate Hitches only come in one configuration, and it isn't great for short truck beds. This single configuration makes the Andersen Ultimate Hitch a poor choice for small truck bed tow vehicles.
The most common Andersen Ultimate Hitch failure that occurs in short bed trucks is a broken back window. Before you buy an Andersen Ultimate Hitch for your truck, use the compatibility tool to make sure your truck is right for the Andersen Ultimate Hitch.
6. Noise Issues
Noise is one of the most common complaints with the Andersen Ultimate Hitch. You'll notice chucking and bucking noises when you are pulling your trailer. This is generally caused by the ball moving around in the hitch.
You can tighten the coupler to reduce this movement. Keep in mind that if you overtighten the coupler, the ball may get stuck. Chunking and bucking may also be caused by uneven weight distribution in the RV.
Will Andersen Cover Hitch Problems Under Warranty?
If your Andersen Ultimate Hitch should fail while it is under warranty, it is comforting to know that it comes with a limited warranty. Problems or failures of the hitch, when properly installed, are covered under Andersen's limited warranty. However, if you fail to install the hitch correctly or attach your RV correctly, the warranty may be voided should the hitch fail.
Should your Andersen Ultimate Hitch fail, and you have done everything right, Andersen will replace the product at no cost. Andersen does have a great reputation for quality customer service. While they aren't likely to fix your truck and trailer if their hitch fails, your insurance should help with the cost of those repairs.
Could Any Fifth Wheel Hitch Fail in the Same Way?
There is a risk with any type of hitch that failure will occur. It is important to ensure that your fifth-wheel hitch is properly installed and that you fully understand the capabilities and limitations of the hitch product you've selected.
Every fifth-wheel hitch on the market is rated for a particular GTW (Gross Trailer Weight) and tongue weight. For safety reasons, you should always select a hitch that matches your trailer specifications without exceeding them.
To avoid failures related to user error or poorly balanced trailer loads, make sure that you take your time to connect and load your RV properly.
Are There Enough Incidents to Label the Andersen Hitch Unsafe?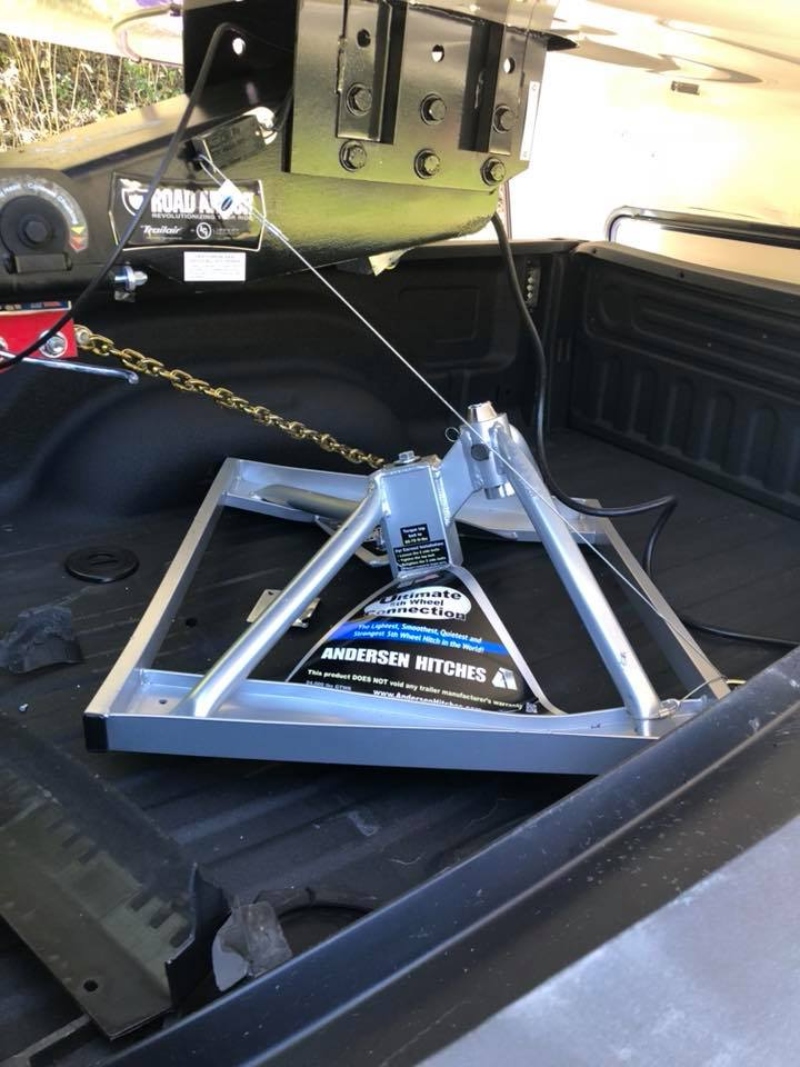 There certainly have been documented Andersen Ultimate Hitch failures, but that doesn't make them unsafe. Many Andersen Ultimate Hitch owners have never had a problem.
However, after doing our research, the Andersen Ultimate Hitch is only good for some types of trucks, RVs, and travel conditions. If your truck or RV is not ideal for the Andersen Ultimate Hitch or if you travel off-pavement or less traveled roads, the Andersen Ultimate Hitch may not be suitable for your needs.
Could Andersen Hitch Failures and Problems Be Operator Error?
As with any hitch out there, the Andersen Ultimate Hitch failure can, and very often is, caused by user error. You should always carefully read the instructions for the installation of the hitch and how to connect your trailer. These instructions will help you avoid damage to your truck or trailer caused by operator error.
Also, it is never a good idea to tow any trailer near the hitch's maximum weight. Like your tow vehicle, you want to allow 10-20% less than the max for additional stress due to road conditions, cargo weight, and other factors.
3 Better Alternatives to the Andersen Ultimate Hitch
If you are looking for an alternative to the Andersen Ultimate Hitch, there are some good products to consider. These products fit a range of vehicles. They are also well-known products with good safety track records.
1. B&W Companion Fifth Wheel Hitch
The B&W Companion fifth-wheel hitch is specifically designed to work with the Ford OEM hitch platform. However, it also works well with other truck beds. The Companion is easy to install but also provides a strong connection to your truck bed.
The cam-actuated latch is easy to connect and disconnect, and you do not need to be on level ground for it to work. The Companion also has an articulating head, which gives a smooth and quiet ride. The B&W Companion is rated for a 20,000-pound GTW.
2. Curt Q24 Fifth Wheel Hitch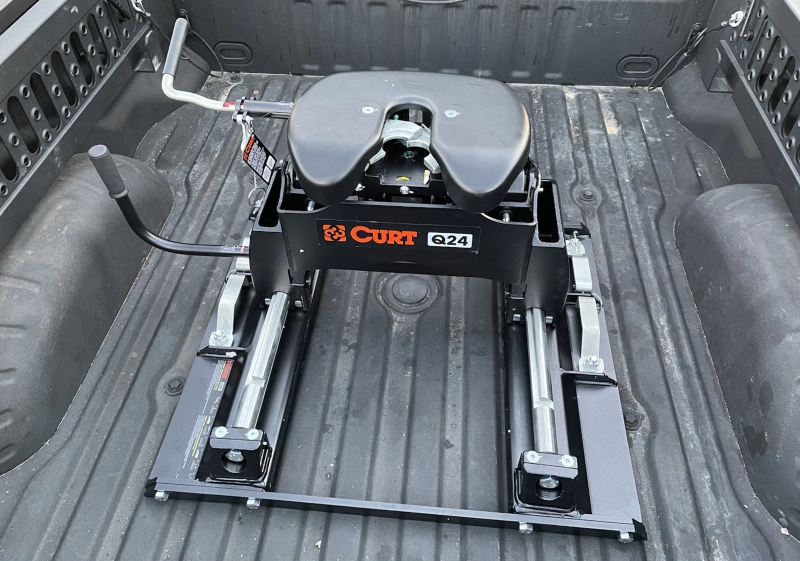 Another good alternative to the Andersen Ultimate Hitch is the CURT Q24 Hitch. If you don't like the price of the B&W Companion, the CURT offers a great product at a slightly lower price point.
The CURT is rated for 24,000-pound GTW. It comes with a ton of safety features so you can tow your rig with confidence. Two of the safety features that stand out to us are the coupling indicator and the locking short-throw handle.
These two features make it easy to attach your RV to your truck and know with certainty that it is properly attached. One thing to point out about the CURT is that you will need to buy base rails for this hitch.
3. Reese 30132 20K Fifth Wheel Hitch
The Reese 30132 20K Hitch is ideal if you are looking for an easy-to-install and easy-to-remove hitch. This robust hitch comes included with the rail kit necessary for installation in the bed of your truck.
The rails are compatible with many truck beds. The Reese is a simple-to-use hitch as well. Instead of a fancy locking mechanism, the Reese uses a basic double jaw locking system that completely surrounds the kingpin.
This reduces wear and creates a secure connection. The Reese is rated for 20,000 pounds GTW.
4 Ways You Can Make an Andersen Ultimate Hitch Safer If You Have One?
If you already own an Andersen Ultimate Hitch, there are ways that you can make it safer. Some of these solutions are simple; some are a bit more extreme. You'll have to decide which is the best for you.
1. Add Safety Chains
Andersen makes a set of safety chains specific to its hitch. These chains will help keep your trailer with your truck if the hitch should become disconnected. They are not a complete solution, but they will give you time to stop your vehicle if there is a problem.
2. Only Travel On Smooth Roads
Stay on main roads and highways. They are usually maintained better and don't have a lot of bumps and sharp turns. Many Andersen Ultimate Hitch failure incidents occur on rough or curvy roads.
3. Give Plenty of Space
Don't travel too closely to other vehicles, especially if you are traveling at higher rates of speed. This will reduce your potential for an emergency stop. Many Andersen Ultimate Hitch failures are the result of hard emergency stops.
4. Buy a Lighter Fifth Wheel
Even though the Andersen Ultimate Hitch is rated for 20,000 pounds GTW, it really does best with a lighter GTW trailer. If you can, consider a lighter-weight camper instead of testing the Ultimate Hitch to its full capacity.
Should You Avoid Buying an Andersen Ultimate Hitch?
For the right truck and travel trailer, there is no reason to avoid the Andersen Ultimate Hitch. Though there are cases of Andersen Ultimate Hitch failure, many are due to owner error and overloading the hitch. For smaller trailers and the proper-sized truck, the Andersen Ultimate Hitch can be a great product.
Failure isn't just a problem with Andersen Ultimate Hitches. Any fifth-wheel Hitch can fail, particularly if you overload the hitch, improperly install the hitch, or travel at excessive speeds.
If you are considering an Andersen Ultimate Hitch, the best way to avoid potential failure is to do your research and make sure that it is the right hitch for your truck and your RV. And make sure that you drive safely, so you and your family can enjoy your travel adventures.
---
Related Reading:
---
About the Author:
Jason Gass is a full-time freelance writer and part-time RVer whose goal is to share great stories around a campfire with good friends.
When he's not working, he spends most of his time camping, searching for the best breweries, and road-tripping in his teardrop trailer with his wife, daughter, and two dogs.