If you're considering camping with young children, you've probably wondered if a pack-and-play fits in an RV. Pack and plays are some of the most popular travel beds for babies. As such, they're an obvious choice for young families embarking on an RV adventure.
Fortunately, many pack and plays work well in RVs. But it's also important to note that not all are created equal. We'll take a look at which pack-and-plays are best suited for RV life. We'll also examine features that may be of particular importance to families on the move.
Does a Pack and Play Fit in an RV?
Most pack-and-plays will fit in an RV. But some are better for RV travel than others. When choosing an RV pack-and-play, sometimes less is more.
Many pack-and-plays boast tons of features and larger footprints, but these extras take up more space. Given the limited square footage in RVs, the most basic pack-and-plays are the ones that work the best.
Where Can You Put a Pack and Play in an RV?
The size of the pack-and-play you have will determine where it can fit in your RV. A narrow pack-and-play may fit right beside the parent's bed in the master bedroom. This is great for middle-of-the-night wake-ups as well as for keeping things quiet while your baby sleeps.
A bunkroom is a similarly great place to set up a pack-and-play. You'll appreciate the ability to shut a door and turn off a light in your baby's room. This allows the rest of your travel party to enjoy the main living area in the camper even after your baby has gone to sleep.
Another option is to remove the dinette table or sofa and place the pack-and-play in that space. You could also set a pack-and-play up on top of one of the beds. (If you go this route, be sure that the pack-and-play is far enough away from the edge that it won't fall.)
A final option is to simply place the pack-and-play in the main living space. This isn't ideal, but in small RVs, it may be the only option.
Almost every type of RV has at least enough space for a small pack-and-play. You might just have to get creative about where you put it.
Could You Fit a Crib in an RV?
Although a pack-and-play fits in an RV, full-timers may desire a more traditional nursery. Fortunately, there are a lot of ways to DIY space for a proper baby crib in an RV.
One popular DIY hack is removing and replacing a lower bunk with an actual crib. We've also seen entire dinettes removed and replaced with cribs. Some RVers choose to remove all of the furniture in the slide-out in order to create a pseudo nursery in a camper without a secondary bedroom.
A final crib option is to build a crib rail across the entrance to an already existing bunk. If you decide to go this route, be sure to remove all bed linens and purchase a firm, baby-specific mattress.
What Else Can a Baby Sleep in When in an RV?
If you're worried about giving up square footage to a crib or a pack-and-play, never fear. There are other options available to create a safe place for your baby to sleep in your RV.
A Moses basket-style on-the-bed baby bassinet is one of the most popular options. These are favorites among co-sleeping parents. They're also huge space savers since they fit right in the middle of an adult bed.
Where Should You NOT Put a Baby in an RV?
Always follow the American Academy of Pediatrics Safe Sleep Guidelines when deciding where your baby will sleep in your RV. Make sure that you choose a sleeper with the proper safety ratings. It's also important to register each product so you'll be notified in the event of future safety recalls.
On a similar note, it's crucial that you do your research before purchasing a used baby sleep product. Buying second-hand can make it difficult to know if an older product is still considered safe.
8 Best Small Pack and Plays and Sleepers to Take in an RV
1. Graco Pack 'N Play On-the-Go Playard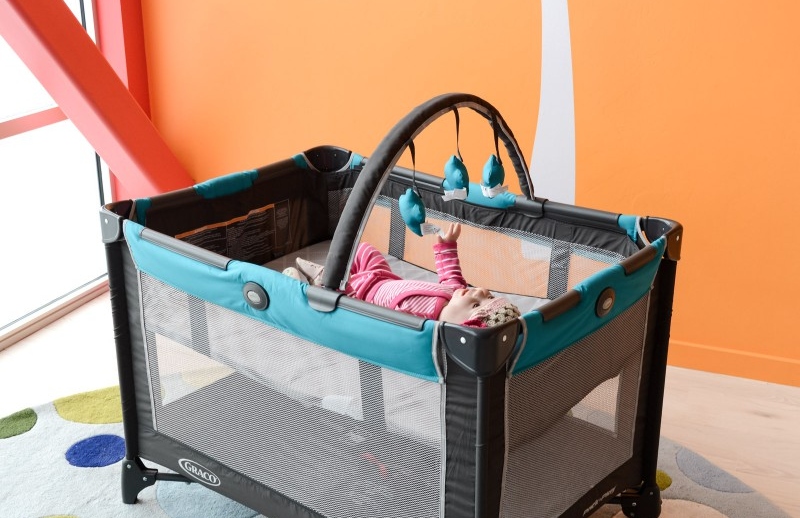 Open Dimensions: 39.5″ L x 28.25″ W x 29″ H
Product Weight: 21.21 lbs.
Child Max Weight: 44 lbs.
Graco has long been a trusted name in the baby gear industry. Therefore, it's no surprise that their compact Pack 'N Play On-The-Go Play Yard makes a great choice for RVers with young children.
This particular model is the exact pack-and-play we've used in our RV. After three babies and countless trips, I can testify that this small pack-and-play withstands the test of time.
This pack-and-play comes with a removable bassinet feature which is especially convenient when traveling with very young infants. The folding feet and wheels are another easy-to-travel feature of this compact sleeper.
2. Pamo Babe Portable Crib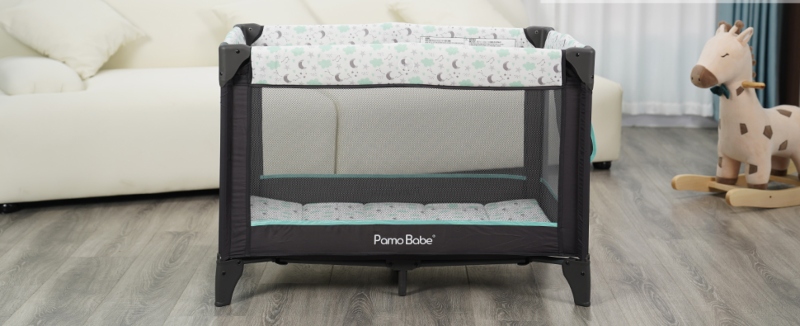 Open Dimensions: 39.4″ L x 27.6″ W x 25.6 H
Product Weight: 17.6 lbs
Child Max Weight: 33 lbs.
The Pamo Babe Portable Crib is a similar design and size to the Graco playpen. You'll love the breathable large mesh windows that provide maximum visibility. This pack-and-play is well suited for an RV because it doesn't have wheels, so it won't roll around as you travel.
This play yard also comes with a sturdy carrying case with long over-the-shoulder handles. If you need to take the pack-and-play with you, it's easy to carry to the beach, on the trail, or wherever your adventures take you.
3. Dream on Me Travel Light Playard
Open Dimensions: 40.5″ L x 27″ W x 26″ H
Product Weight: 13 lbs.
Child Max Weight: 36 lbs.
Perhaps the easiest pack-and-play to take along in your RV is the Dream On Me Travel Light Playard. Unlike other play yards, this model folds flat for easy travel. It also has a sturdy aluminum frame which makes it exceptionally lightweight.
The walls of this pack-and-play are also fully mesh. No matter where you set your pack-and-play up, you'll always be able to see your baby.
4. Baby Trend-E Nursery Center
Opened Dimensions: 35.4" L x 28 "W x 32"H
Weight: 20.5 lbs.
Open Dimensions: 35.4″ L x 28″ W x 32″ H
Product Weight: 20.5 lbs.
Child Max Weight: 30 lbs or 35″
Bassinet: 15 lbs or 25″
As all RVers know, storage space is incredibly important. The manufacturers of the Baby Trend Trend-E Nursery Center value storage space as well. This pack-and-play is perfect for your RV because it comes with a very large detachable parent console. You can conveniently store wipes, diapers, and all your baby essentials right on the side of the Trend-E Nursery.
The Trend-E Nursery pack-and-play is also great for RVs because its wheels have built-in brakes to prevent sliding. You'll also appreciate the one-handed locking mechanism and bassinet features that make set-up and tending to the baby a breeze.
5. Joovy Room-Playard Nursery Center 
Open Dimensions: 39.5″ L x 28.5″ W x 32.5″ H
Product Weight: 32.4 lbs.
Child Max Weight: 25 lbs. or 35″
The Joovy Room-Playard Nursery Center has more bells and whistles than most of the other pack and plays on our list. It features both a bassinet level, a changing table, and a detachable nursery storage center.
This pack-and-play also comes with a self-inflating mattress pad and waterproof sheet for extra comfort and convenience.
The many bonus features make this one of our list's heaviest and most expensive pack-and-plays. Still, frequent RVers will find that the all-in-one nature of the Joovy Room is worth the extra cost.
6. Graco My View 4-in-1 Bassinet
Open Dimensions: 33.5″ L x 23.19″ W x 32.25 H
Product Weight: 25.7 lbs.
Child Max Weight: 50 lbs.
Another excellent compact pack-and-play for use in an RV is the Graco My View 4-in-1 bassinet. This pack-and-play is unique because it can be used in four different modes.
The raised bassinet mode is an ideal height for parents with small infants. A crib-level bassinet fits perfectly next to mom and dad's bed and works well for older babies.
You can also detach the bassinet from the base, which allows you to take your baby with you wherever you go. Finally, the bassinet is completely removable, which makes this pack-and-play great for toddlers too.
7. Baby Joy 4-in-1 Pack and Play Bedside Sleeper
Opened Dimensions: 40"L x 28.5"W x 31.5"H
Weight: 31.5 lbs.
Open Dimensions: 40″ L x 28.5″ W x 31.5″ H
Product Weight: 31.5 lbs.
Child Max Weight: 33 lbs.
Another excellent 4-in-1 pack-and-play for RVers is the Baby Joy Pack and Play and Bedside Sleeper. Perhaps even more valuable than the Graco detachable bassinet feature is the Baby Joy's drop-side co-sleeper option.
You can easily secure this pack-and-play to an adult bed with the included safety straps. Once secured, you can choose from three different sidewall heights.
This pack-and-play is not just a co-sleeper but also a changing station and an activity center too. The multi-purpose nature of the Baby Joy keeps all of your baby's things in one place. This consolidation is great for RV living.
8. Mika Micky Baby Bassinet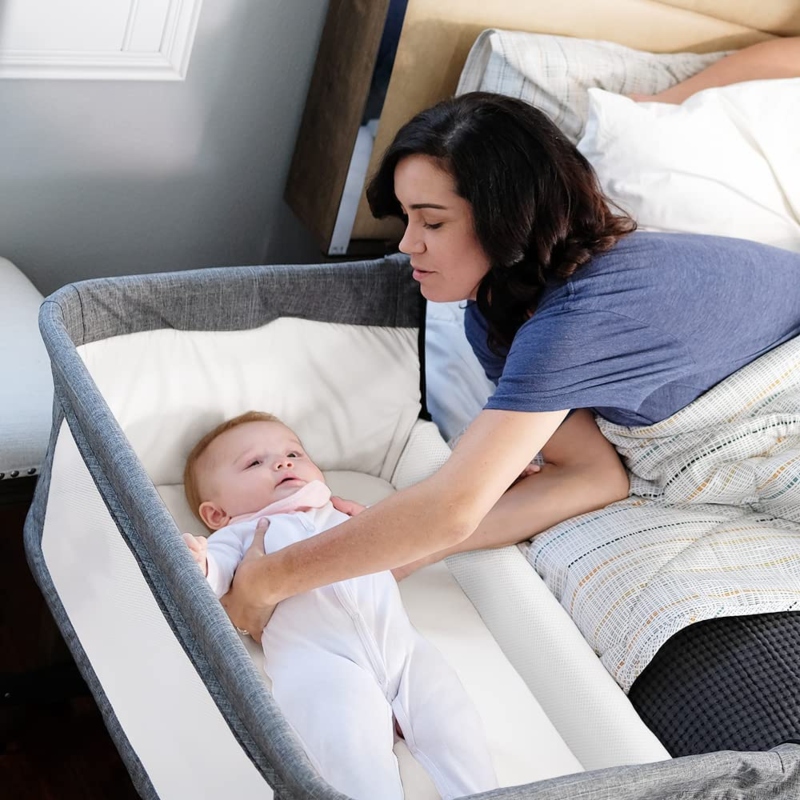 Opened Dimensions: 36" L x 22" W x 32.7" H
Weight: 20 lbs.
Open Dimensions: 36″ L x 22″ W x 32.7″ H
Product Weight: 20 lbs.
Child Max Weight: 33 lbs.
Another excellent co-sleeping pack-and-play for RVing is the Mika Micky Baby Bassinet. This sleeper offers seven mattress height settings, an easy-to-open side panel, and two fastening straps for comfortable co-sleeping.
The Mika Mickey also has a unique two-leg design. This means that it takes up less floor space than similarly sized pack-and-plays.
One disadvantage of this pack-and-play design is that it must be disassembled before it can be transported. Still, the Mika Micky is well suited for RVers who can leave the bassinet set up even in between camping trips.
3 FAQs About Taking a Baby RVing 
1. Can You Fit a High Chair in an RV?
To travel with a baby, you'll need more than just a safe place for your little one to sleep. One of the other essential baby items you'll want is a high chair. There are many portable high chairs and some residential ones that fit in an RV. 
2. How Can You Help a Baby Sleep in an RV?
As all parents know, a new environment threatens to throw off any child's sleep schedule. Sleeping in an RV with a baby is no different. To help your baby adjust, be sure to bring comforts from home like a sound machine or a nightlight.
Having a dedicated space for your child to sleep can also be very helpful. If you don't have a separate bedroom in which to place your baby's bed, consider creating one.
Many parents have used ceiling hooks to hang light-blocking curtains. You can also consider removing furniture in a slide-out to create a space specifically for your little one.
3. How Do You Transport a Baby in an RV?
RVing with young children is fun, but you must take a few extra precautions when traveling with youngsters. One of the most important things to consider is where your child will ride as you travel down the road.
If you're towing a travel trailer, everyone should be buckled properly in the tow vehicle. Riding in a travel trailer is less safe than riding in a car.
It's illegal to travel with occupants riding in the travel trailer while moving. Always buckle your children into age-appropriate car seats installed properly in the rear seat of your tow vehicle.
If you're driving a motorhome, you won't have a tow vehicle. It's important to find a safe place to secure your child's car seat within the motorhome itself. You'll find seat belts usually on the dinette and sofa, but child seat restraints aren't always offered.
Fortunately, Jayco and Thor have both made huge advancements in the area of car seat safety. Now both companies offer child restraint latches in the forward and rear-facing dinette backs.
Both brands even offer anchors for the top tethers on forward-facing car seats. These child safety restraints are connected to furniture that is directly connected to the RV's frame. Therefore these child seat restraints are very safe.
Many other RV manufacturers are following the lead of Jayco and Thor. Child restraints are becoming increasingly common in RVs. It's important to choose an RV that has the appropriate seat belt and car seat anchors so that you can properly install your child's car seat.
Is It Worth Bringing a Pack and Play in an RV?
It can be cumbersome to lug a big item like a pack-and-play on your RV trip. But pack-and-plays are an easy way to provide your little ones with a safe sleep and play space while camping.
If you choose a compact pack-and-play well-suited for travel, it doesn't have to get in the way. When RVing with babies and toddlers, having a pack-and-play onboard is far more beneficial than not.
---
Related Reading:
---
About the Author:
Laura Tyrell is a part-time RVer and full-time mom of three.  Long-time campers and RVers before children, Laura, and her husband have fallen even more in love with the RV lifestyle since becoming parents to a child with food allergies. 
Having her own kitchen on wheels makes her RV trips amazing. Laura is passionate about finding ways to make traveling with young children fun, easy, and attainable.