Hosting an outdoor movie while camping is a fun way to enjoy the great outdoors. Often RVers like to ditch screen time in favor of outdoor time, but an outdoor camping movie night can be a great exception to that rule.
Simply hang a movie screen up under the stars and kick back in your favorite outdoor chair. You're sure to love watching an outdoor movie while camping.
How Do You Do Outdoor Movie While Camping?
An outdoor movie night while camping is easier to pull off than you may think. We'll walk you through what you need to be successful. With the right supplies and a few tips and tricks, you'll be hosting the best outdoor movie night in the campground.
7 Things You Need for Your Outdoor Movie Camping Night
You'll first need to gather the necessary supplies for the perfect outdoor movie night. We've compiled a list of the seven essentials to get you started.
1. Portable Camping Movie Projector
You must have a portable camping movie projector to show your movie, but which one? Here are a few popular brands with great customer reviews.
I. BIGASUO Mini Video Projector
The BIGASUO Mini Video Projector is a great all-in-one device for your camping outdoor movie needs. With this device's built-in DVD player and tripod, you have a great starter package without purchasing individual accessories. It's also Bluetooth-enabled, allowing you to sync up with your external speakers.
With this projector, you can display a movie image measuring up to 200 inches. Also, use the zoom feature to adjust the image size without moving the projector. No matter the size, the image shouldn't cause strain on your eyes since this projector is designed to filter blue light.
II. Groview 9500 Projector with WiFi and Bluetooth
The Groview 9500 movie projector is another excellent option for setting up an outdoor movie while camping. This projector has an easy zoom feature allowing you to adjust the screen size from 50 to 300 inches with ease.
The projector is WiFi compatible so that you can stream the movie directly from your mobile device.
This projector is also Bluetooth compatible. Whether you send audio to outdoor speakers or individual headphones, you'll enjoy the theater-like sound quality.
III. XNoogo Outdoor Movie Projector with 4K Support
The XNoogo Outdoor Movie Projector has an impressive 450-inch display. That's by far the largest display area of any other projector we found. With 1080p resolution and 4k video capability, you don't sacrifice image quality for display size.
Like other projectors on our list, the XNoogo Outdoor Movie Projector is Bluetooth and WiFi enabled. You can connect to an outdoor speaker, but you may find there's no need. The two powerful built-in 5W speakers and a surround sound system may be all you need to achieve your desired sound quality.
2. Source of Power For Your Outdoor Movie While Camping
No matter which projector you choose, you'll need some way to power it before you can enjoy an outdoor movie while camping. Here are some ideas for how to run your projector when RVing:
Shore Power (Electrical Outlet)
Shore Power is one of the easiest and most obvious ways to power an outdoor movie projector. Simply run an extension cord directly from the campsite electrical hookup box.
Generator
If you're boondocking, a generator may be a good option to power your outdoor movie projector. The downside to a generator is, of course, the noise and carbon footprint it creates.
However, if you set your generator up a safe distance from your movie viewing area, you'll be able to hear the movie over the generator and avoid the fumes.
Car Battery
Another option to power your movie projector is to use your car battery. Many minivans and SUVs have backseat AC power outlets. But if you aren't lucky enough to have one of these, you can buy a car power inverter.
Once you convert DC power to AC power, you'll be able to power a movie projector. Just be careful not to run off a car battery for too long; you don't want to drain it completely.
Batteries
Using a portable power station, also known as an RV solar generator, can be a safer option to power your projector rather than using your car battery.
Portable power stations are great because they have power outlets and power indicators to let you know how much battery life you have left. When you're getting low, these power stations can easily be recharged with solar panels, AC 110v, or DC 12v.
RV House Battery
You can also use your RV's house battery to power an outdoor movie projector. Simply plug your projector into any outdoor plug on your RV. Even if you aren't plugged into shore power, your RV house battery can be used to power your projector.
3. 3 Outdoor Movie Screen for Your Campsite
Another outdoor movie camping essential is a movie screen. There are many different types of screens, but they are all just basically a blank slate on which to project your movie. The main thing to consider when camping is the ease of setup and transport. Here are a few popular outdoor screens.
I. Mdbebbron 120in Portable Projection Screen
The Mdbebbron 120-inch projection screen is a great option for your outdoor camping movie screen. This screen can be suspended from your RV awning or even hung on the side of your RV.
It's a great option for viewing a movie before dark since the awning will block some sunlight. Therefore it'll be easier to see the screen's image during daylight.
This movie screen is also easy to transport. Its unique design allows it to be folded while still avoiding wrinkles and creases. If you do get a crease, it can easily be ironed out.
II. GT GETCO TECH 100in Foldable Portable Movie Screen
The GT Getco Tech Foldable Portable Movie Screen is another lightweight, portable outdoor camping movie screen. The screen has a frame that applies slight tension to eliminate creases. The included wind kit makes this screen easy to keep in place.
The screen is even made with special fabric designed to increase the image's brightness. All of these upgrades make this screen a great option.
III. KHOMO GEAR Jumbo 20-Foot Inflatable Outdoor Theater Projector Screen
The Khomo Gear Jumbo screen is an impressive outdoor movie screen. Partnered with a projector capable of displaying across a large area, the screen will make you feel like you're in a theatre.
You may think such a large screen would be difficult to set up, but it's not. Simply flip a switch or open a zipper to set up or take it down in five minutes. Don't worry; the blower is situated behind the screen, so the noise won't interfere with the movie audio.
Of course, there's is always the DIY option to consider. Although the image may not be as crisp, and the setup isn't as easy, a white sheet is a good option. We have a white blanket that we use as a movie screen and as spare bedding in our RV.
4. 3 Speakers For Your Outdoor Movie Camping Set Up
You also need a way to hear the movie you're watching. Some projectors have built-in speakers, but consider upgrading your speaker to drown out background noise and get the full movie experience. 
I. Monster Rockin' Roller 270 Portable Indoor/Outdoor Wireless Speaker
The Monster Rockin' Roller 270 Outdoor Wireless Speaker is an awesome choice for your camping movie night. The rugged wheels and durable weather-resistant construction make it perfect for the great outdoors.
The wireless speaker's 100-hour battery life means you can make it through most camping trips without needing to recharge. You can sync two of these powerful speakers together for a real movie-theatre-like experience.
You'll also love that you can connect this speaker via Bluetooth and control it wirelessly with your smartphone.
II. Bose SoundLink Flex Bluetooth Portable Speaker
The Bose SoundLink Portable Speaker is a compact Bluetooth speaker option perfect for your outdoor movie camping setup. This speaker has a 12-hour battery life and is easily rechargeable.
It's dust and debris resistant as well as waterproof. It even floats! Not only that, but this speaker is great for campsite movies and other excursions.
III. SIMOLIO 4-Pack Wireless Headphones
You'll be able to watch an outdoor camping movie well past quiet hours with the SIMOLIO Wireless Headphones. The over-the-ear design is perfect for small children and adults alike.
You won't disturb your campground neighbors, and you won't be disturbed with these headphones. Just don't forget you'll need to purchase a separate transmitter to use these headphones wirelessly.
5. Great Movies to Watch On Your Outdoor Movie Camping Set Up
In addition to the equipment, you'll also need a good movie to watch. Be sure to choose a movie that appeals to a wide audience.
A camp or RV-related movie is an added bonus. We like to watch comedies, but dramas and even spooky movies can be a hit.
6. 3 Ways to Watch the Movie
A projector, movie screen, and speaker won't get you very far if you don't have a way to watch a movie. You need some way to tell your projector what to play. There are a few different ways to do this; let's take a look at each.
I. DVD/Blueray Player
You can hook a DVD/Blu-ray player directly up to your movie projector with an HDMI cable. Simply pop the movie in and push play.
II. Laptop
Similarly, you can often plug your laptop directly into an outdoor movie projector. If your laptop doesn't have a disc drive, you can always download and save movies directly to your device.
III. Streaming from Phone
A final option is to stream from your smart device. This is one of our favorite options because it has a lot of flexibility. You can watch almost anything if you subscribe to streaming services. You may even be able to mirror your phone directly to your projector if they're on the same WiFi network.
7. Snacks and Drinks!
Just like when you go to the movie theatre for a show, you'll want snacks and drinks for your outdoor movie camping night. We love to make popcorn over the fire.
6 Ways to Get the Most out of Your Outdoor Movie Night While Camping
1. Get Comfortable
Use campfire chairs, inflatable couches, blankets, or even portable hammocks to create cozy seating for your outdoor movie camping theatre.
2. Wait for the Right Time of Day
Unless you have a projector with incredibly high lumens, you'll need to wait until dusk or dark to watch a movie. That's because the natural daylight will drown out the projected image and make it more difficult to see.
Since the mosquitos are worse in the evenings, have plenty of bug spray or a mosquito repellant device on hand. This is by far the best mosquito repellant we have ever found and we highly recommend you try it out for yourself.
3. Choose a Good Location at the Campsite
Remember to position your projector and, if necessary, your screen within close proximity to your power source.
Choose a shaded area of the campsite to avoid unnecessary light on the screen, especially if you plan on watching while there is still daylight.
4. Be Considerate of Those Around You
It's also a courtesy to avoid setting your movie screen or speakers too close to the edge of your campsite. Be considerate of your campground neighbors by keeping the volume down or by using headphones.
Avoid offending anyone with your movie choice. Steer clear of things like profanity, violence, and other sensitive subject matters.
Finally, consider inviting others to your campsite. Outdoor movie nights while camping can be a great way to get to know fellow RVers.
5. Download Your Movie Ahead of Time (If Streaming)
If you plan on streaming, it's a good idea to download your movie ahead of time. Relying on campground WiFi, cellular data service, or satellite networks can be spotty for a number of reasons.
6. Set Up Before It Gets Dark
One final tip for the best outdoor camping movie night is to set up before it gets dark. Running extension cords, assembling the screen, and positioning the projector will all be easier if you don't need a flashlight.
4 Fun Movies to Watch While Camping
Now that you have your outdoor movie camping checklist, it's time to choose your movie. If you need help deciding, take a look at a few of our favorites.
1. The Long, Long Trailer (1954)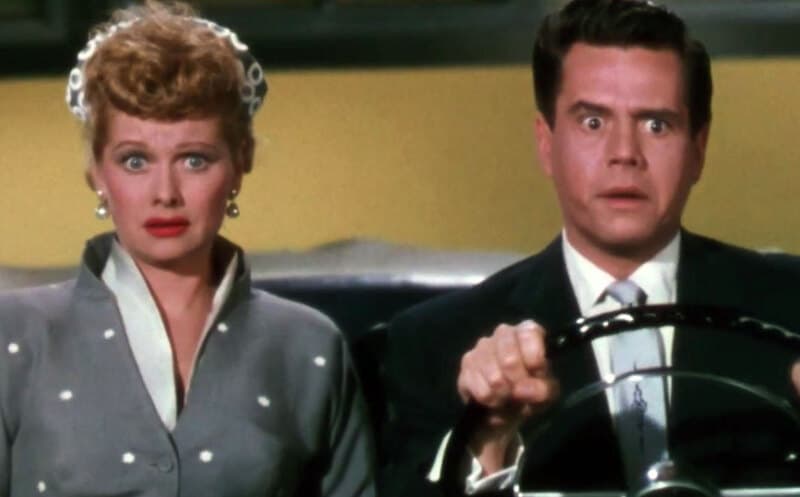 The Long, Long Trailer is another classic camping movie. Anyone who has ever struggled to tow a camper will relate to Nicky and Tacy's first-timer RV experience. Played by the hilarious Desi Arnaz and Lucille Ball, you'll be rolling with laughter with this classic RV movie.
2. National Lampoons Christmas Vacation (1989)
Although untraditional, Nation Lampoons Christmas Vacation is a fantastic outdoor camping movie choice. The hilarity of Uncle Eddie's RVing incompetence, combined with the unspoken family tension, will have the entire campground laughing.
3. RV (2006)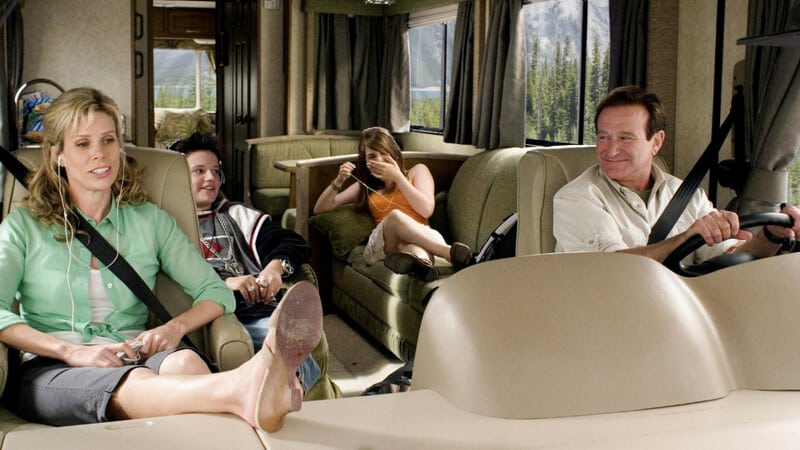 RV with Robin Williams has become a new classic among RVers. Everyone that lives the RV lifestyle can relate to the trials and tribulations of camping with their family. This hilarious movie plays off those challenges in a funny way. Rated PG, this is a movie the whole family can enjoy.
4. The Addams Family 2 (2021)
The Addams Family 2 is relatively new but has become a camping outdoor movie classic. In an attempt to become closer, the Addams family boards a humungous and ghoulish RV. Their adventures are entertaining and relatable.
You may remember the commercial that featured real RVers. If you want to learn more about that Go RVing commercial experience, check out the July 2022 edition of RV Camping Magazine. We interviewed Tiffany from Where is Tiffany, who participated in the commercial.
Other Uses for My Outdoor Camping Movie Setup
One of the great things about hosting a camping outdoor movie is that you can use the same technology to watch sporting events or picture slideshows.
We love to use our outdoor movie projector to stream live football games while tailgating in our RV.
We've also seen a projector set up to display a picture slideshow during a family reunion-style camping trip.
There are so many creative uses for an outdoor movie setup you won't regret investing in the necessary equipment.
Camping Outdoor Movie Night FAQ
How Much Does It Cost to Set Up an Outdoor Movie While Camping?
A projector is the largest expense you'll incur. Generally, a good projector costs between $100 and $200.
When you add in a screen and speakers, the cost goes up. But even so, you should be able to host a great RV camping outdoor movie night for less than $500.
You can keep costs even lower with hacks like using a sheet as a screen and your phone as a projector.
Can You Use a Projector in a Tent?
Yes! You can set up a projector in a tent and project the movie right on the inside of the tent. Remember that the picture may lack clarity without a white backdrop.
Can You Stream Movies While Camping?
If you have data on your phone or access to WiFi, you can stream movies, television shows, or even sporting events while camping.
Can You Project a Movie Outside without a Projector?
Yes, you can use a shoe box, a magnifying glass, and some DIY ingenuity to turn your smartphone into an outdoor movie projector. Gardenia Organic has a good tutorial.
Just remember, the image quality won't be nearly as good as it would be with a traditional projector. You may find that the effort isn't worth the reward.
How Do You Watch a Movie While Camping with Neighbors?
Be courteous by keeping the volume down, the movie appropriate, and your campsite open to fellow movie-loving RVers.
Does It Matter What Kind of Projector I Use for an Outdoor Movie?
You can have a fun outdoor camping movie night with just about any projector. However, the higher the projector's lumens, the more resistant to light interference the image will be, resulting in a better image.
Choose a high-lumen projector if you want to project movies in the daytime or early evening.
Don't forget to choose a projector rated for outdoor use since these will be the most durable and weather-resistant options.
Is It Worth Buying a Good Movie Screen, or Is a Sheet Good?
A sheet is fine, but a good movie screen is better. A sheet is an okay choice if you're looking to save money and don't anticipate hosting a camping movie night often. But proper outdoor movie screens will provide you with a clearer image.
With the right screen, you won't have to worry about wrinkles or creases. You can also project from the front and back of most outdoor screens.
Some even have ambient light rejection technology to improve the image. If you want to make an outdoor movie a regular occurrence, it's best to invest in a good screen.
Make Outdoor Movie Night a Camping Tradition
An outdoor movie night while camping can be a lot of fun. Campers of all ages will enjoy curling up under the stars and watching a movie.
A movie can also be a great way to get to know your campground neighbors.
Once you've invested in the projector, screen, and speakers, you'll have everything you need to host an outdoor camping movie night again and again.
We love the idea and think everyone should have their own outdoor movie camping tradition.
---
About the Author:
Laura Tyrell is a part-time RVer and full-time mom of three.  Long-time campers and RVers before children, Laura, and her husband have fallen even more in love with the RV lifestyle since becoming parents to a child with food allergies. 
Having her own kitchen on wheels makes her RV trips amazing. Laura is passionate about finding ways to make traveling with young children fun, easy, and attainable.