It's funny how meaningful travel trailers with a king-size beds are. Finding a perfectly sized RV with a gigantic mattress is often so challenging. Who doesn't love an enormous bed? Especially those who have to fight their significant others for a scrap of space on the edge or accommodate the family dog.
Whether you have a large family, are a couple just starting off, or are long-term RVers, our list of travel trailers with King sized beds should cover everyone wanting a king-size bed. Whether you have dogs or you just like to sleep diagonally, this article is just for you.
15 Best Travel Trailers With King Beds
1. Cherokee Wolf Pack Gold Series Toy Hauler 23GOLD15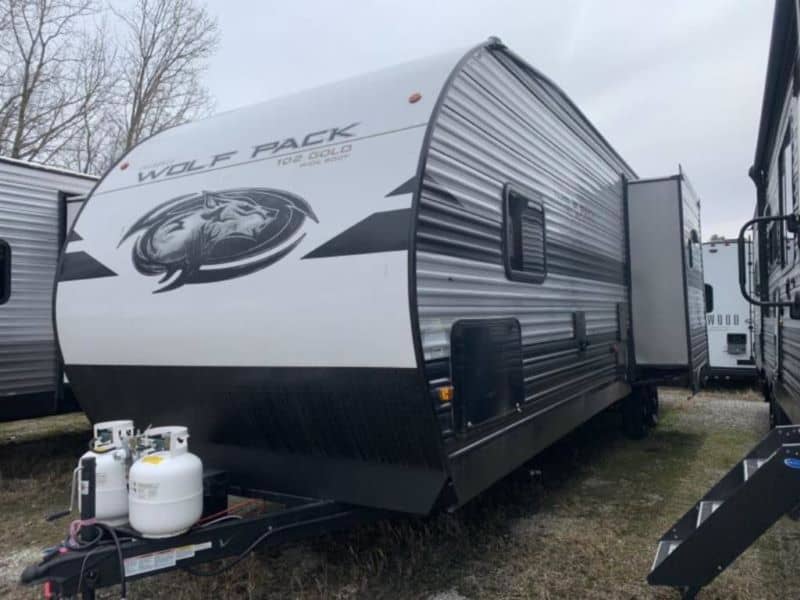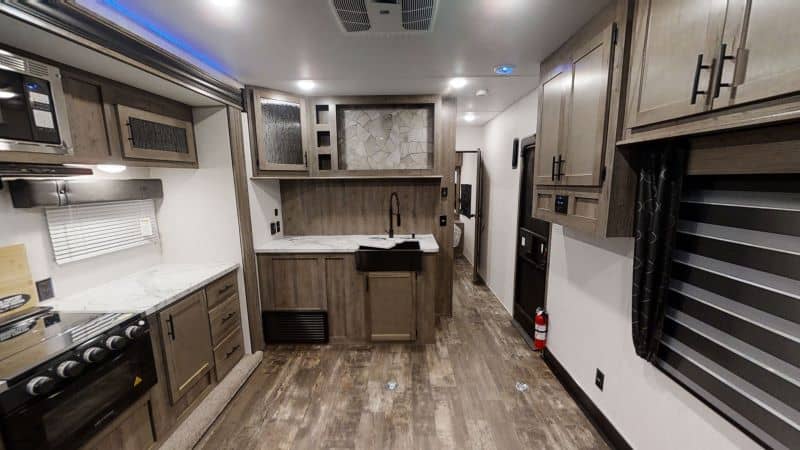 Our Pros and Cons
✅Dual-roll-over sofas in the garage beneath a rising bunk
⛔Bathroom cabinetry isn't very deep
Length: 33′ 5″
UVW: 6,806 lbs
GVWR: 11,352 lbs
CCC: 4,546 lbs
Tongue Weight: 1,152 lbs
Sleep: 6
It's not often you get to see toy hauler travel trailers with a king-size bed. The garage space takes up a lot of space, with the rest of the RV subject to the constraints of what's left over. However, the Cherokee 23GOLD15 is an example of how a king bed can be successfully added to a toy hauler RV.
This Gold-Series Cherokee toy hauler also has 15 feet of garage space, a rear canvas screen, and a patio deck railing system for a party patio conversion. The forced air-heated underbelly creates a layer of heat that will prevent the cold from seeping up into the king-size bed, which will help keep you warm on those cold nights.
No concessions were made in the bathroom either, and it's as sizeable as many of the larger RV bathrooms with a surprisingly large shower. Speaking of showers, if you need to wash the mud off your boots after parking the four-wheeler in the garage space, there's an exterior 'garden shower' as well.
2. Coachmen Freedom Express Ultra Lite 259FKDS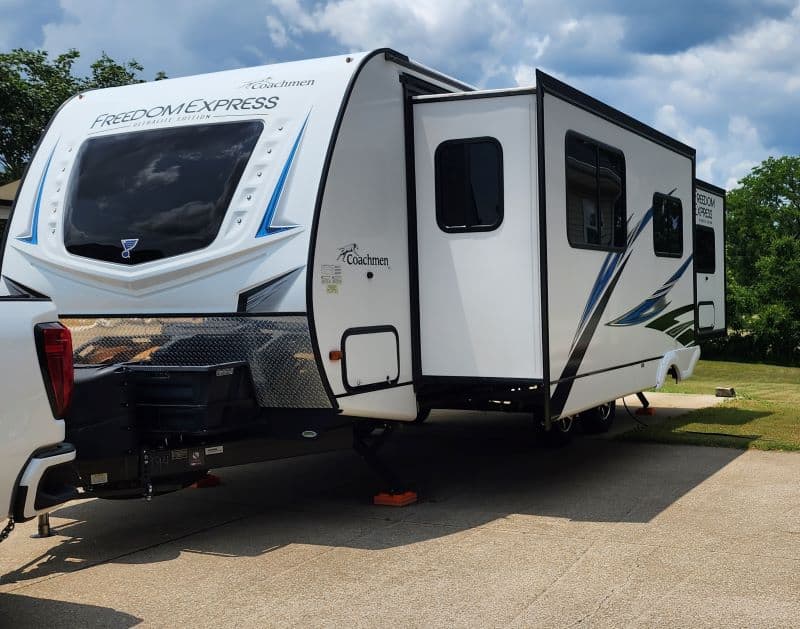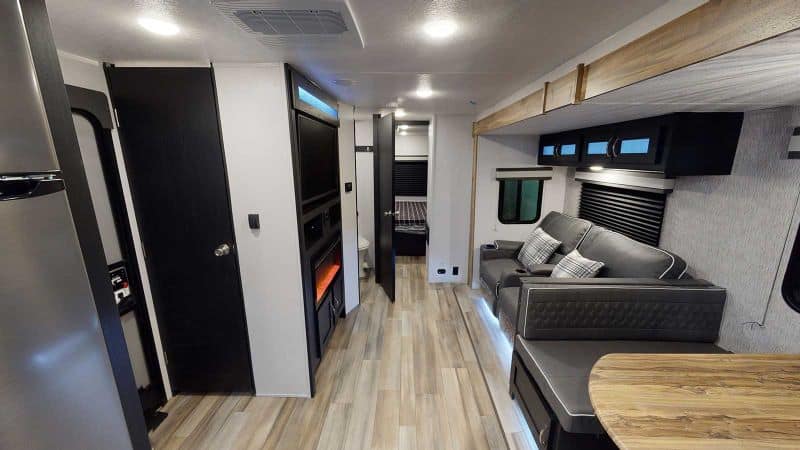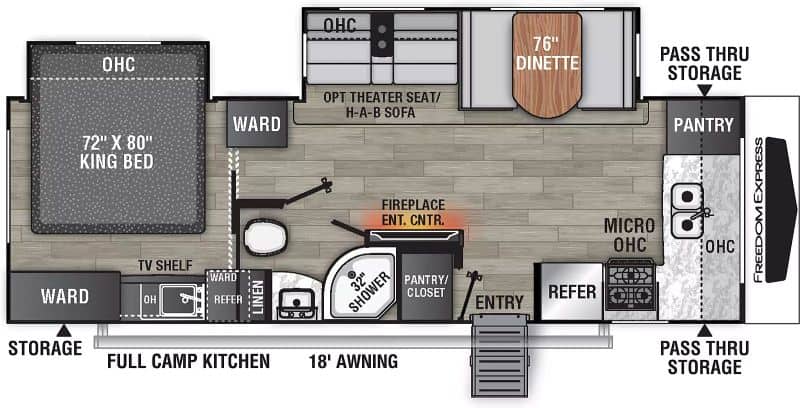 Our Pros and Cons
✅ The front kitchen has plenty of counterwork space
⛔ The elbow room on the commode may be tight for some
Length: 29′ 10″
UVW: 6,494 lbs
GVWR: 9,000 lbs
CCC: 2,506 lbs
Tongue Weight: 752 lbs
Sleep: 6
Sub-30-foot travel trailers with a king-size bed aren't common, and the Coachmen Freedom Express Ultra Lite 259FKDS pulls it off in style. It makes sense to place the kitchen up front, naturally flowing into the dining and entertainment areas, making the living room large. There's even room to walk around the king, with even more space for a TV shelf, two large wards, and overhead compartments.
In fact, Coachmen is known for being meticulous and unique about their storage placement, and there's hardly a place on the RV where there isn't some kind of storage space. With over 2,500 lbs of cargo carrying capacity, you definitely have the freedom to store a ton of stuff.
The exterior features a 'full camp kitchen' with an 18′ awning, rear storage, and front pass-through storage. There's a reason that the Coachmen Freedom Express series is extremely popular in the RV market, and it's not all about the storage capabilities.
3. Cruiser RV Radiance R-25BH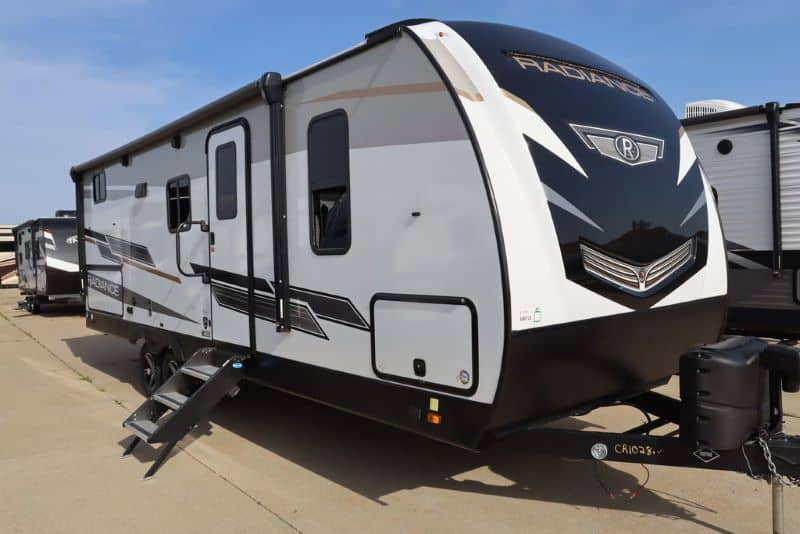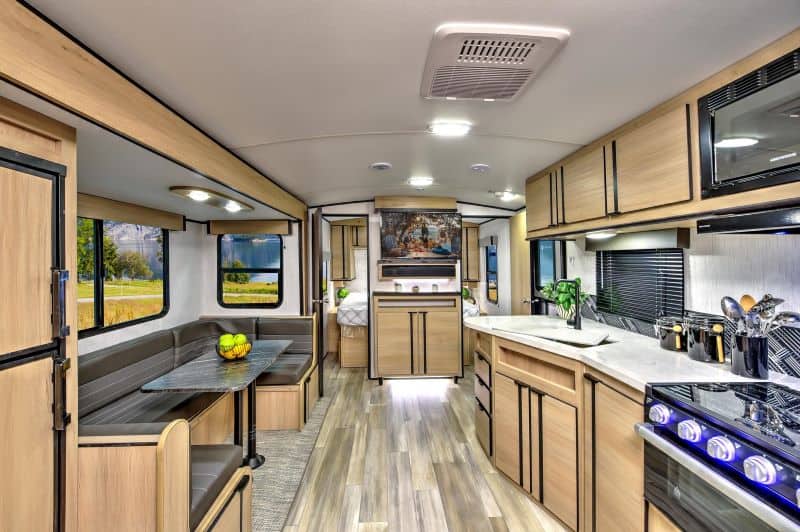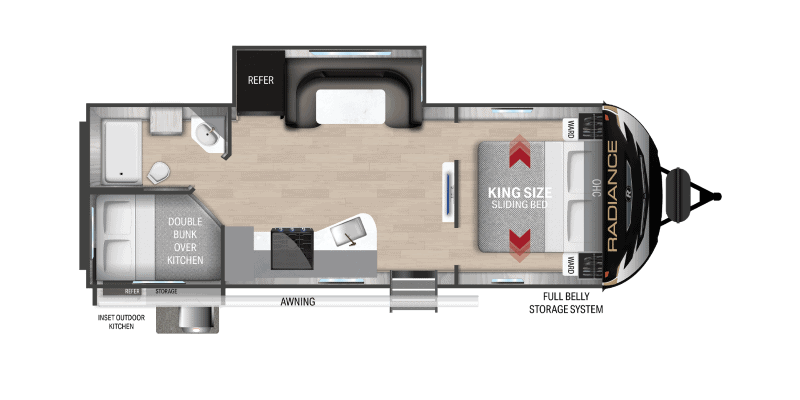 Our Pros and Cons
✅Double over double rear bunks
⛔ The pull chords on the windows are a little aggravating
Length: 29′ 11″
UVW: 5,727 lbs
GVWR: 7,736 lbs
CCC: 1,961 lbs
Tongue Weight: 736 lbs
Sleep: 7 to 8
The Cruiser RV Radiance R-25BH is known for its luxurious features at an affordable price. The fact that it's one of the travel trailers with a king-size bed on our list means it's already halfway there. The tri-tone, gloss-dipped, Azdel sidewalls, plywood floor, and aluminum roof make for a sealed, highly durable environment. As another sub-30-foot travel trailer with a king bed, this Cruiser takes it to the next level with a sliding king bed feature.
They already accomplished much through maximizing space and cramming in a king. However, Cruiser installed a patent-pending king bed slideout to exploit the master bedroom's space fully. They also went with plywood flooring over the OSB material, improving the impact and vibration resistance of the rig.
The Fully open Belly feature frees up more space on the interior by providing their RVers with a viable and large storage option in the underbelly of the RV (which his also heated). Pretty nifty. The dual-ducted air conditioning is highly convenient for simpler temperature control.
4. Flagstaff Classic 832RKSB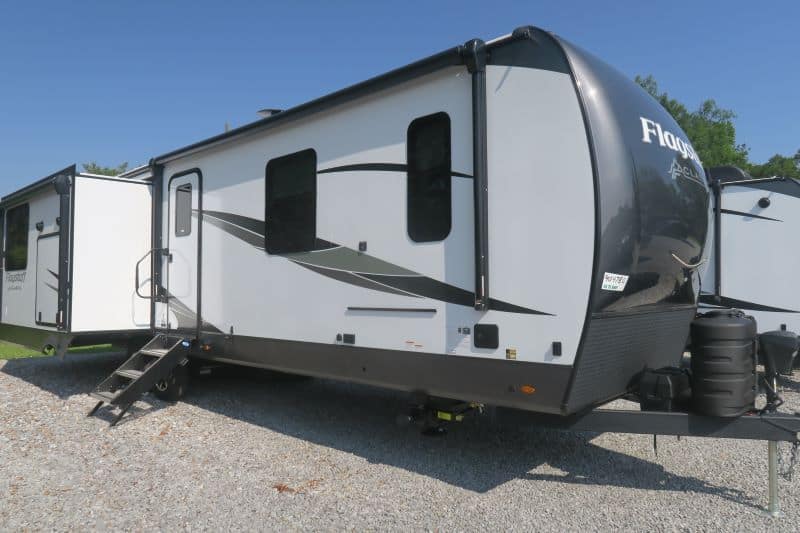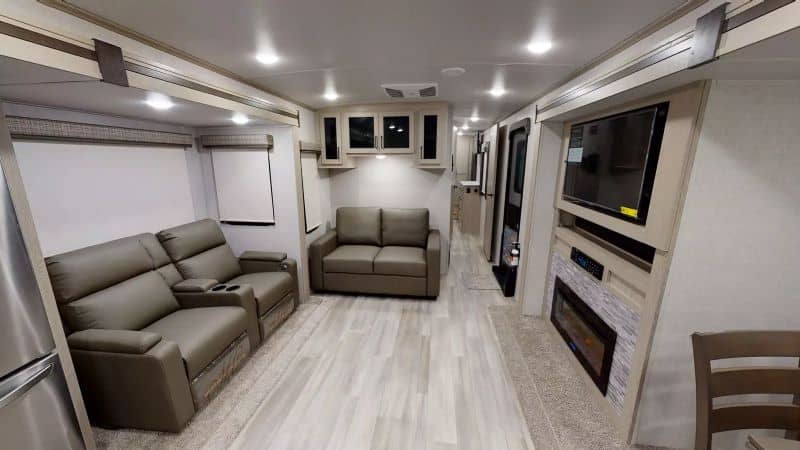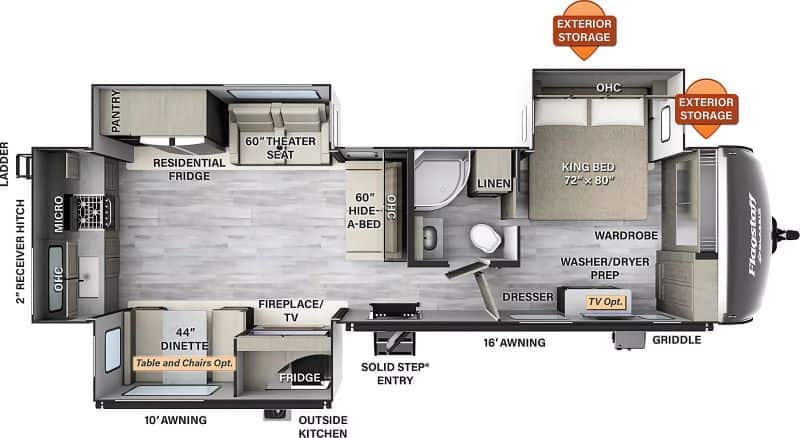 Our Pros and Cons
✅Perfectly situated entertainment/TV setup
⛔Glossy, exterior grill is a dust magnet
Length: 36′ 8″
UVW: 9,444 lbs
GVWR: 11,130 lbs
CCC: 1,686 lbs
Tongue Weight: 1,130 lbs
Sleep: 6
The Flagstaff Classic 832RKSB is the perfect travel trailer for couples living the full-time RVer lifestyle. The kitchen in the rear is incredibly spacious, with the ideal theater seating and entertainment center setup for evening leisure time. It helps that two of the three slides are in the rear and directly opposite each other.
Thanks to the forward slide-out, you get a large, king-size bed in the master bedroom, with enough additional space for a washer/dryer combo, a dresser, and a sizeable wardrobe. The dual-access bathroom is also fairly spacious and includes a linen closet.
In addition to the excellent interior space, there are plenty of reasons to enjoy the outdoors as well, with a nice outside kitchen, an adjacent slide-out grill, and two awnings (10′ and 16′) for plenty of shade on hot afternoons.
5. Grand Design Reflection 315RLTS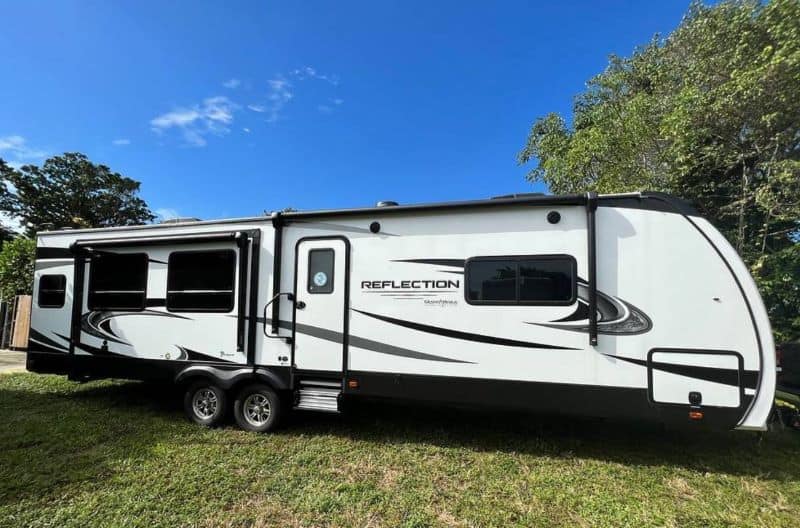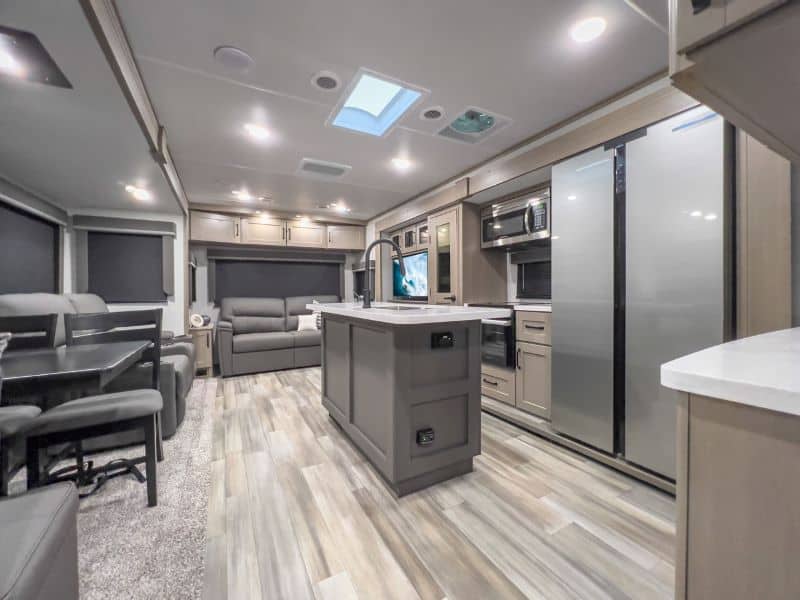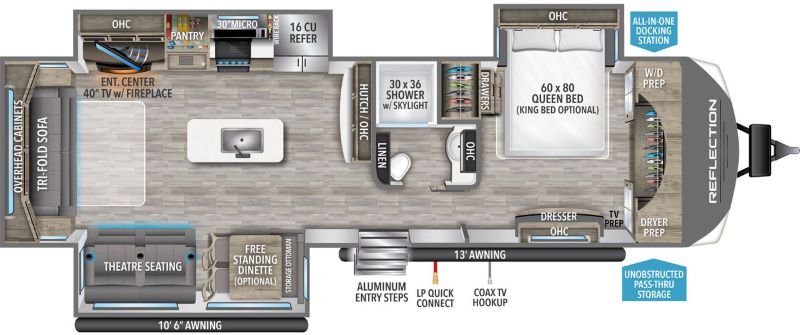 Our Pros and Cons
✅Excellent control panel layout with bypass valve and water control
⛔Dinette could use a little more cushioning
Length: 37′ 11″
UVW: 9,443 lbs
GVWR: 11,295 lbs
CCC: 1,852 lbs
Tongue Weight: 1,099 lbs
Sleep: 4
Grand Design RVs are some of the most popular in the country, and, of course, any trailer with a king-size bed will appease the bigger is better crowd. As far as Grand Design is concerned, why not have the best of both worlds? Out of the travel trailers with king-size beds, the Grand Design Reflection 315RLTS is one of the most acclaimed. It also comes factory-ready with a 165-watt solar setup.
Theater seating adjacent to a tri-fold sofa and a swiveling HD TV is part of an exciting package. Throw in a free-standing dinette, a large pantry, and you can see a pattern of spacious design intentions. Even the kitchen island, which sits almost directly in the middle of everything, doesn't detract from the roomy and luxurious-feeling interior.
Regarding the king bed, it's important to mention it's not a standard feature from the factory. But, Many RV dealers do order the Reflection 315RLTS with the King Bed from the manufacturer. So you may be able to locate the Reflection 315RLTS at an RV dealer in your area.
6. Heartland Mallard M251BH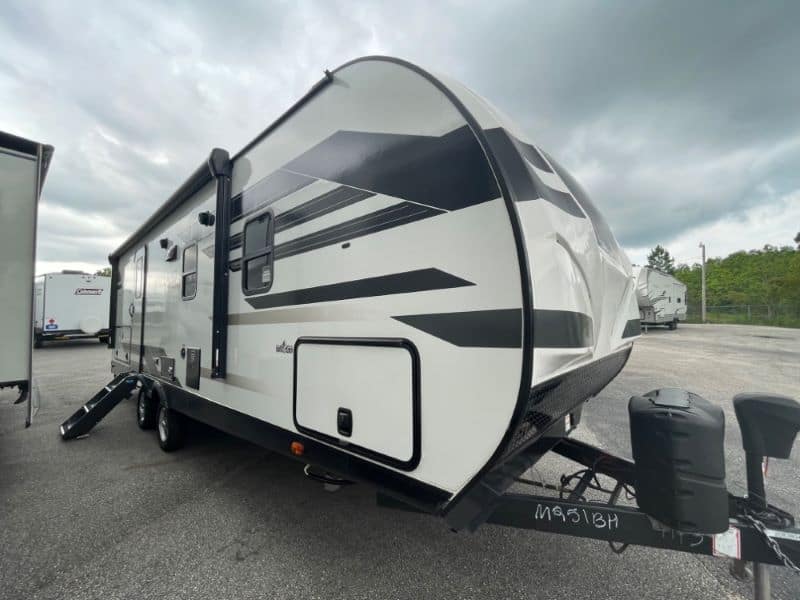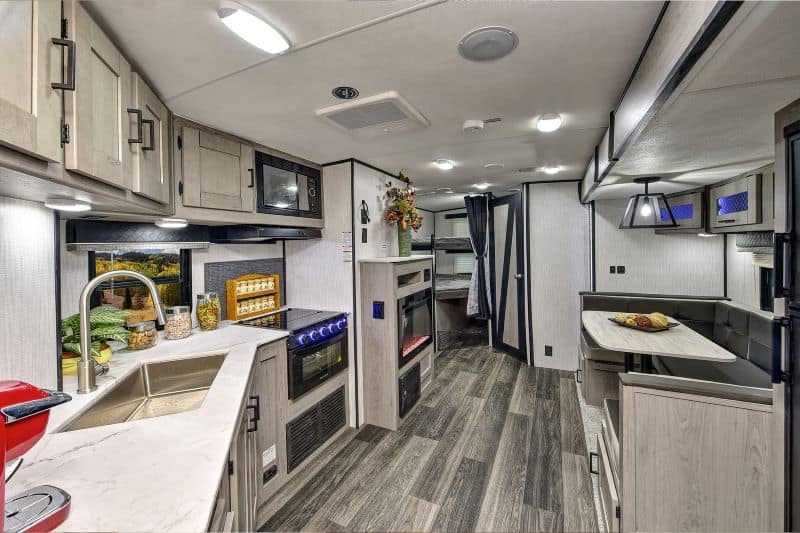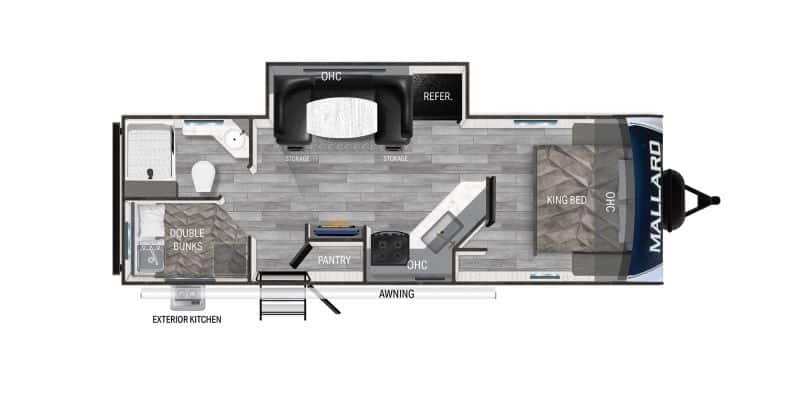 Our Pros and Cons
✅Hideaway storage in redesigned entertainment center
⛔Glow feature in the cabinetry is a little too dim
Length: 29′ 7.5″
UVW: 6,040 lbs
GVWR: 7,820 lbs
CCC: 1,780 lbs
Tongue Weight: 820 lbs
Sleep: 5 to 6
This Heartland Mallard M251BH features a rare combination in the RV industry—two full-size bunk beds with a king mattress in the master bedroom. Usually, if you see two doubles, you get a queen in the master to save some of that crucial space. Heartland saved space and gave RVers the best of both anyway.
Better yet, the double bunks are directly adjacent to a surprisingly large bathroom with a shower that offers plenty of standing room. The U-shaped dinette is luxury personified, with thick, black cushioning around a table more than large enough to accommodate a large family.
The kitchen has plenty of counter space, and the pantry is exceptionally large, big enough to walk into. The hideaway storage is really nice and can be used as a gear storage closet since the door is next to the RV's entry door.
7. Jayco Eagle 330RSTS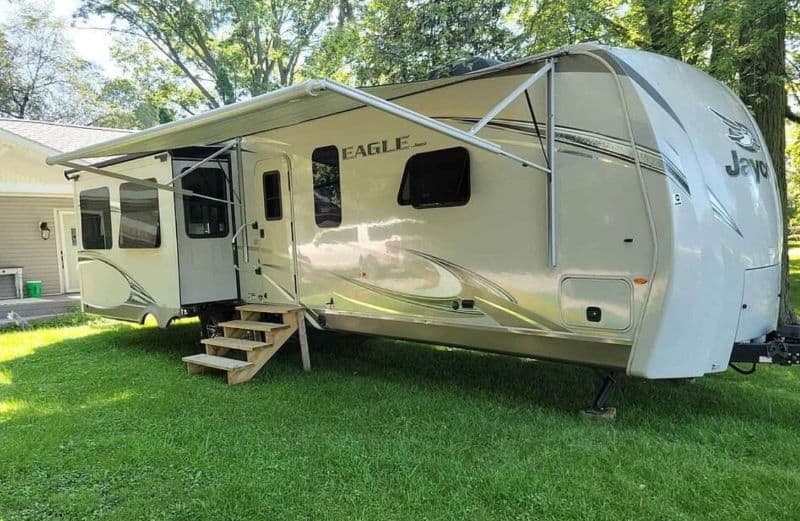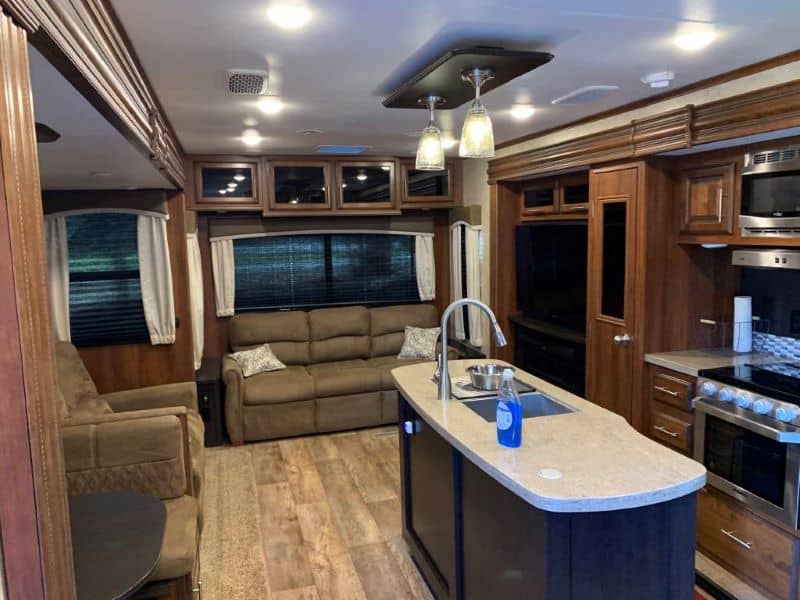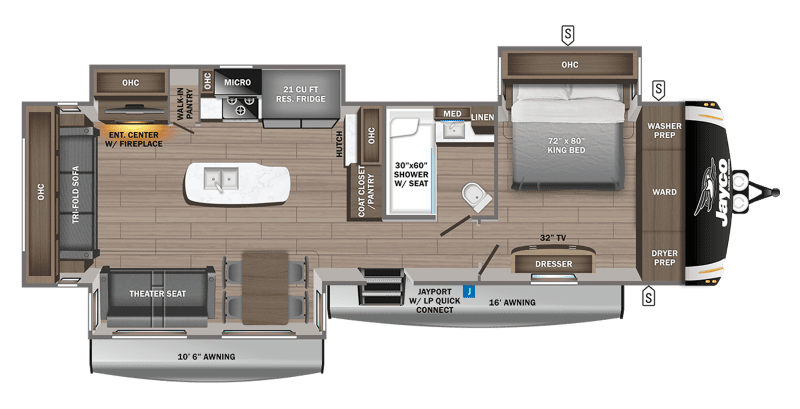 Our Pros and Cons
✅Standard, dual whisper-ducted A/C at 30,000BTU total
⛔Dinette is smallish for a 6-sleeper travel trailer
Length: 40' 1"
UVW: 10,665 lbs
GVWR: 12,250 lbs
CCC: 1,585 lbs
Tongue Weight: 1,360 lbs
Sleep: 6
The Jayco Eagle 330 RSTS is one of the more laid-back, relaxing, and luxurious travel trailers on the list. With the king-size bed being a part of the slide-out, the amount of space in the master bedroom is fantastic. It's about as close as you can get to the feeling of being in a master bedroom in a residential home.
Even the shower has a seat, surrounded by a fairly large bathroom. The 330RSTS feels even more open thanks to several overhead storage compartments—one over the tri-fold sofa, one over the kind bed, and one over the entertainment center.
Jayco also focused on durability and longevity in the manufacturing of the 330RTS. A magnum truss roof rests on top of Stronghold VBL laminated walls. The tech is just as nice as the comfort, including the JayCommand Smart RV System, a Helix Cooling System, Climate Shield weather protection, and LED illuminated universal docking station.
8. Keystone Cougar Half-Ton 30BHS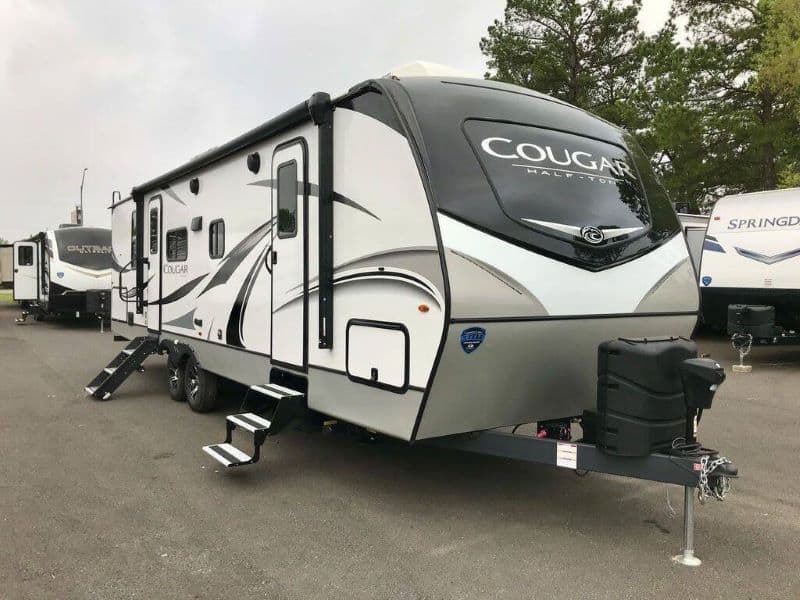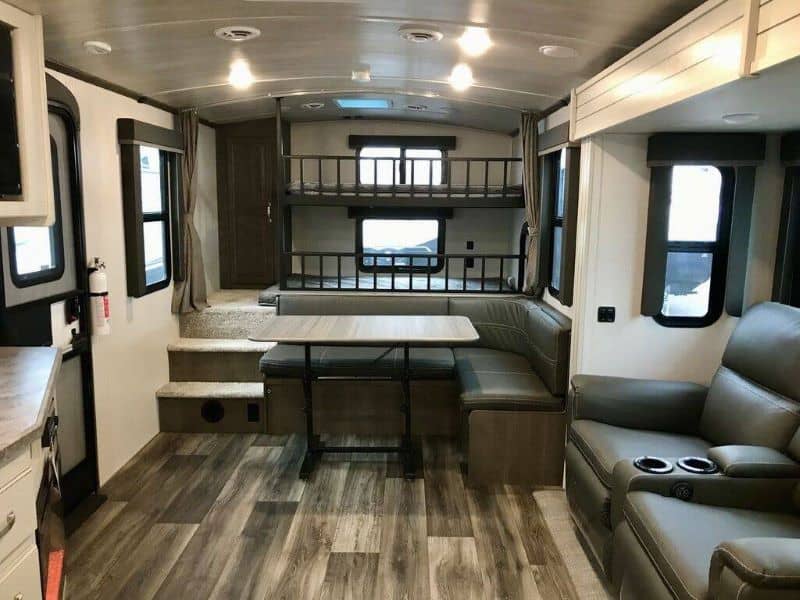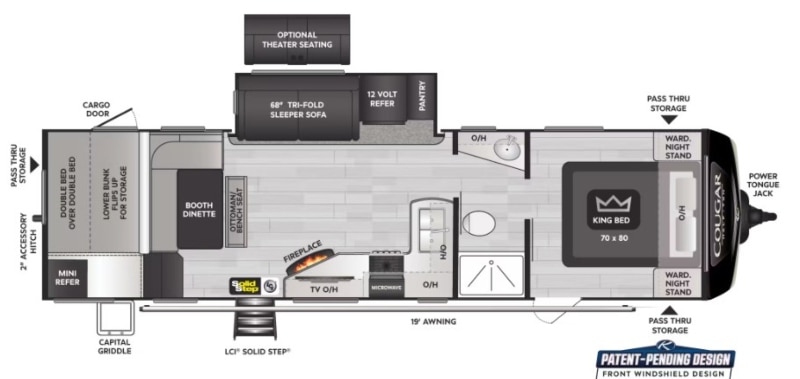 Our Pros and Cons
✅Hyper deck flooring (high-performance, water-resistant)
⛔Too much RV for a true, half-ton truck
Length: 34' 5"
UVW: 7,339 lbs
GVWR: 9,500 lbs
CCC: 2,161 lbs
Tongue Weight: 790 lbs
Sleep: 10
Outside of the 'half-ton' moniker (it won't take much in the way of additional weight to make it un-towable with most half-ton trucks), the floorplan on the Keystone Cougar Half-Ton 30BHS is excellent. It can easily accommodate 6 to 7, both space-wise and for sleeping.
As one of the mid-size travel trailers with a king-size bed, the Cougar half-ton offers plenty of space around the bedroom. You don't have to turn sideways to walk around three sides of the bed.
The rear bunk section is designed to flow into the living room/kitchen area without a problem. If you have a child on each bunk and another sleeping on the convertible dinette, the kids can still have their own spaces near each other.
The dual-entry bathroom is large, spacious and acts as a separator between the master bedroom and the rest of the RV. With two sliding doors, the kids can use the bathroom at night, while mom and dad can keep their door locked on their side. This way, privacy can be maintained.
9. KZ Connect C292RDK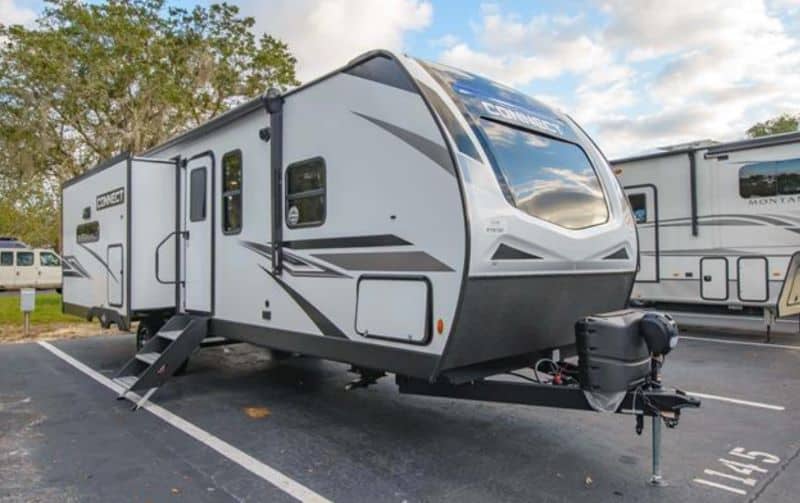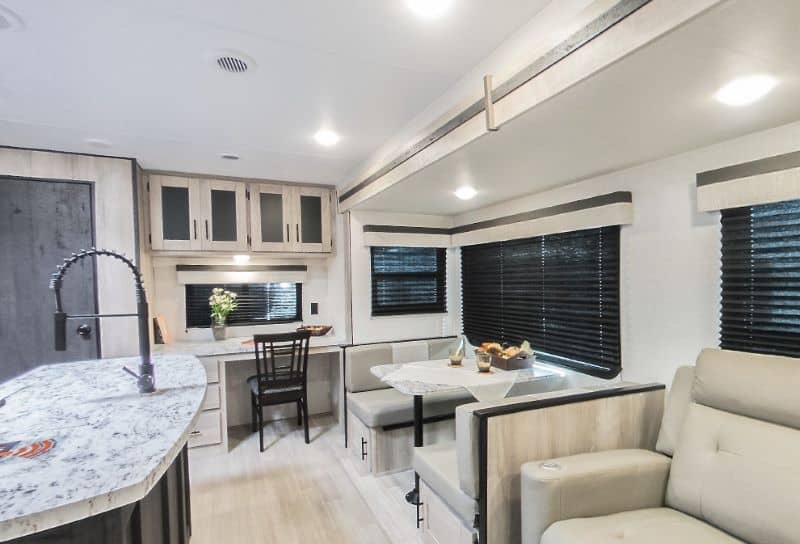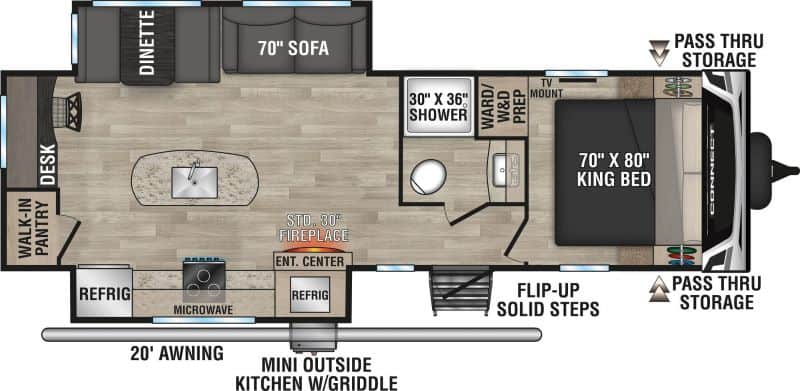 Our Pros and Cons
✅Large desk for a work-from-home office
⛔Desk is at a 90° angle from the dinette, creating a potential space issue
Length: 32' 5"
UVW: 7,170 lbs
GVWR: 9,175 lbs
CCC: 2,005 lbs
Tongue Weight: 790 lbs
Sleep: 5
The KZ Connect C292RDK has excellent counter space, especially when you include the island. This KZ Connect model also features a walk-in pantry and a decent-sized desk area for those who want to live and work remotely through the RV lifestyle. The dinette and a sizeable 70′ sofa are situated opposite the entertainment center, which is almost always the best arrangement.
The master bedroom is also very spacious, with enough room for two. The master bedroom has an opposing wardrobe with a washer and dryer prep installed. The dual-opposing slide-outs really add to the roomy feel of the living room area and galley.
If you prefer to take things outdoors, the 20′ awning offers plenty of shade over a mini-kitchen with a slide-out griddle. You also have access to pass-through storage on the exterior front of the RV. Though it's designated to sleep 5, there is still more than enough space throughout to host guests for dinners, get-togethers, or parties.
10. Lance 2465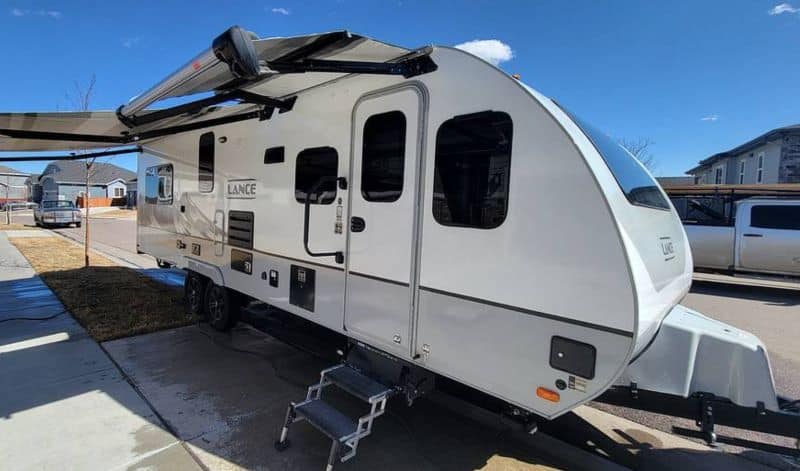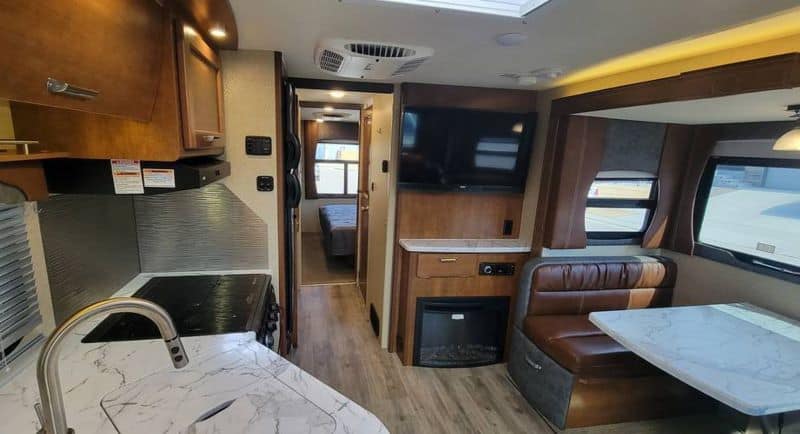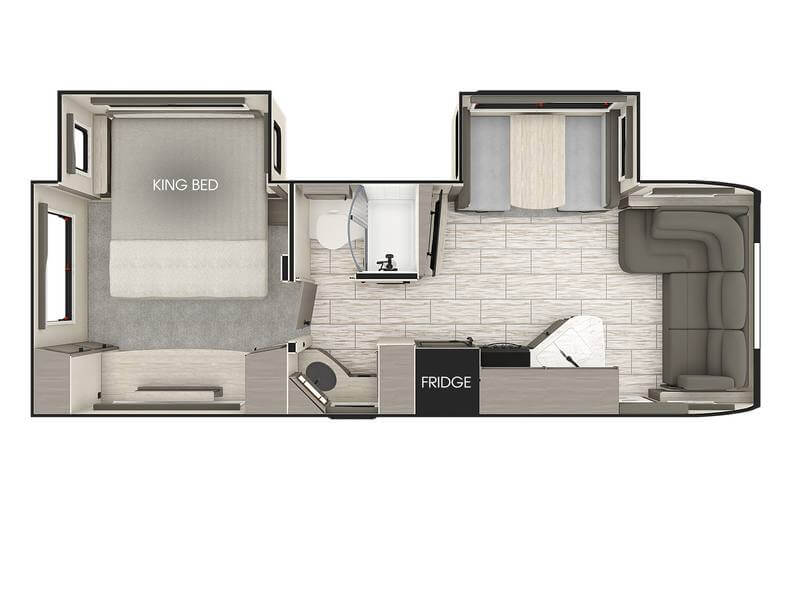 Our Pros and Cons
✅Incredible lighting potential with window placement and LEDs
⛔Tieback straps on the pocket doors could be a little stronger
Length: 29' 10"
UVW: 6,830 lbs
GVWR: 8,900 lbs
CCC: 2070 lbs
Tongue Weight: 930 lbs
Sleep: 5
If there's one thing that really extenuates space, it's light. The Lance 2465 has a lot of natural light going for it, thanks to the windows. This is especially true in the J-lounge, a nice, J-shaped couch surrounded by windows, specifically a very large front window. It's the perfect spot to relax and take a nap on a warm, lazy afternoon.
The mid-bathroom serves two functions—a place to go to the bathroom, and it separates the master bedroom from the rest of the RV. The middle bathroom not only grants privacy to the master bedroom but also adds a few extra layers of soundproofing.
The galley is perfectly integrated into the living space with a sizeable dinette, some decent counter space, and a TV that's strategically positioned to be out of the way. You won't have to worry about knocking yourself out when standing up from one of the cabinets.
For those that are looking for a great RV to work on the road, the Lance 2465 has an amazing desk in the master bedroom. It has both house-type 110V and USB outlets for your computer and all of your peripherals. You'll have plenty of daylight to work from with the window against the wall.
Remember to put your office devices away if you want to lay in bed later that night and enjoy the TV on the elevator rising from the back of the desk.
11. Palomino Puma 31FKRK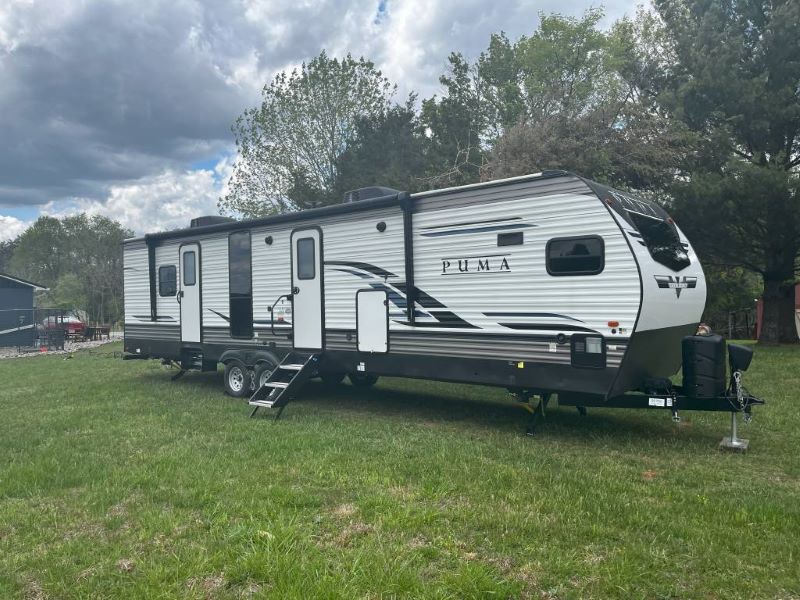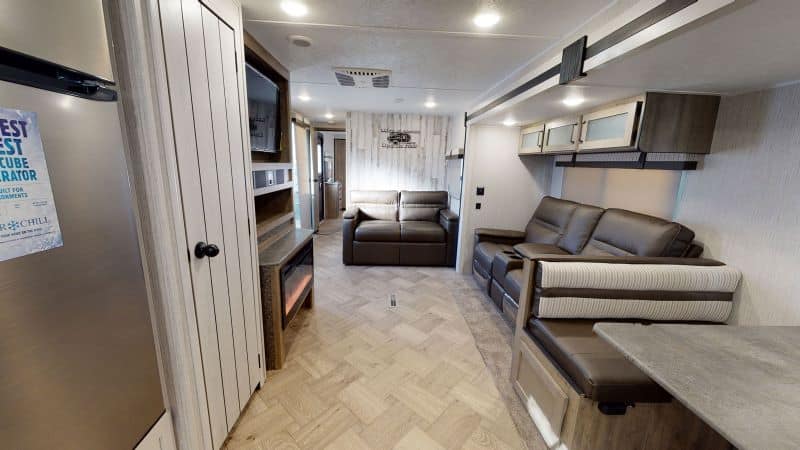 Our Pros and Cons
✅ Two entrances with LCI aluminum solid step system
⛔ Old school, non-digital thermostat
Length: 37' 10"
UVW: 8,693 lbs
GVWR: 9,995 lbs
CCC: 1,302 lbs
Tongue Weight: 1,195 lbs
Sleep: 4
Though travel trailers with a king-size bed are nice, that's not even the standout feature on the Palomino Puma 31FKRK. The counter space in the galley is fantastic. King beds as a part of the slide-out are always a good idea, adding much more room to the master bedroom.
In this case, there is plenty of extra room for a very large wardrobe, a washer and dryer prep area, and a dresser. Though the bathroom is located at the midway point, it doesn't entirely divide the master from the rest of the RV.
The dual recliners and the large dinette provide plenty of sitting and lounging spots, especially if you have an average-size family and want to host a few more guests. Speaking of guests, you can choose an optional exterior package that includes an outside kitchen with a griddle.
12. Prime Time Lacrosse 3375FE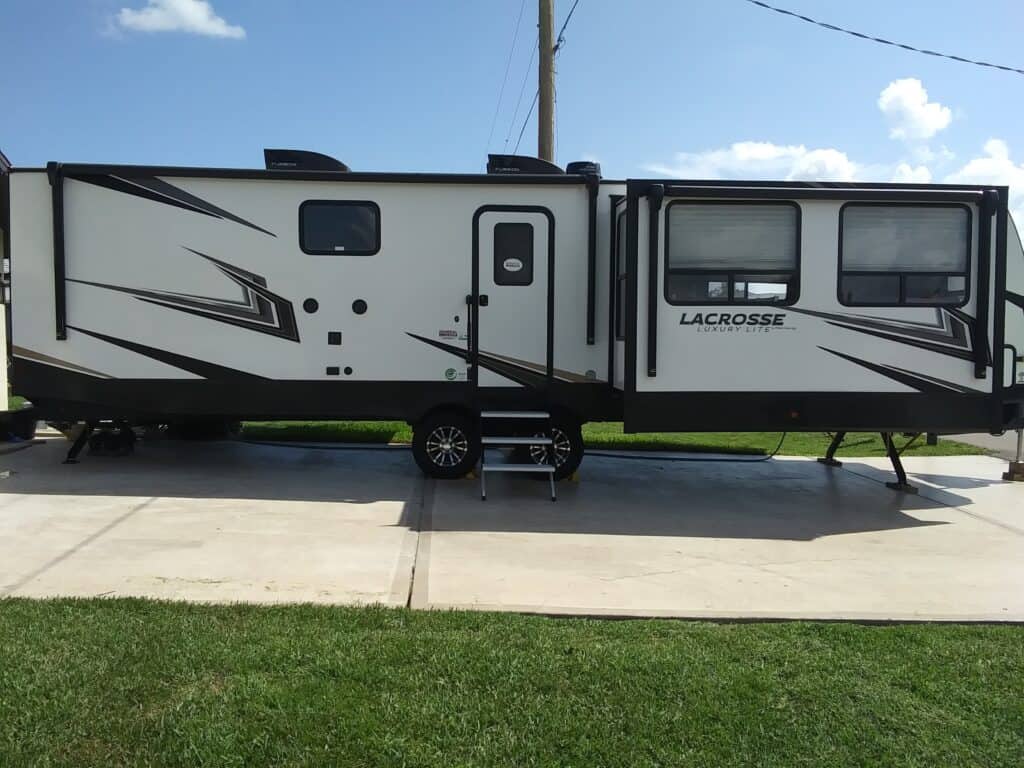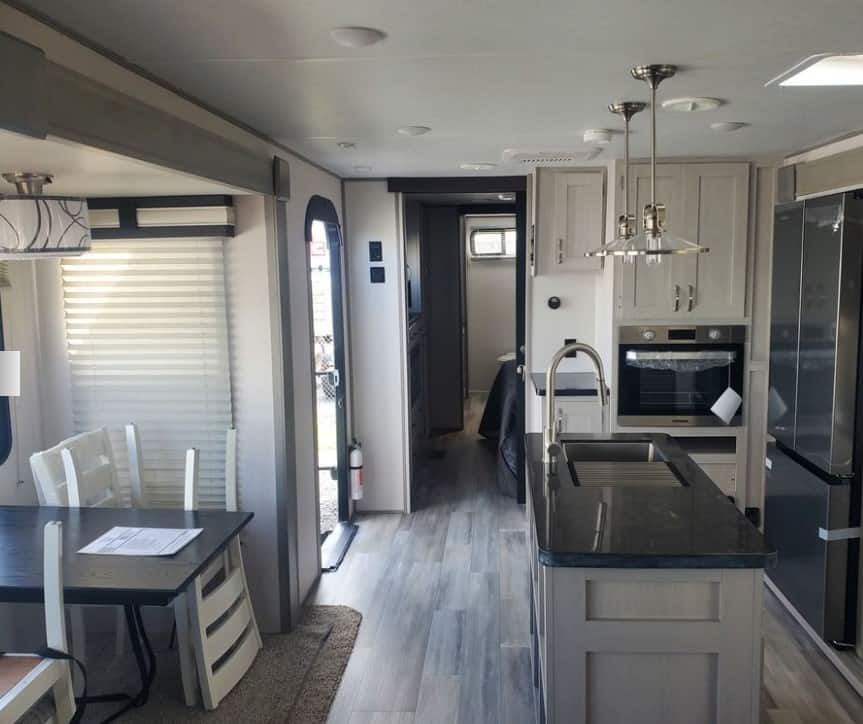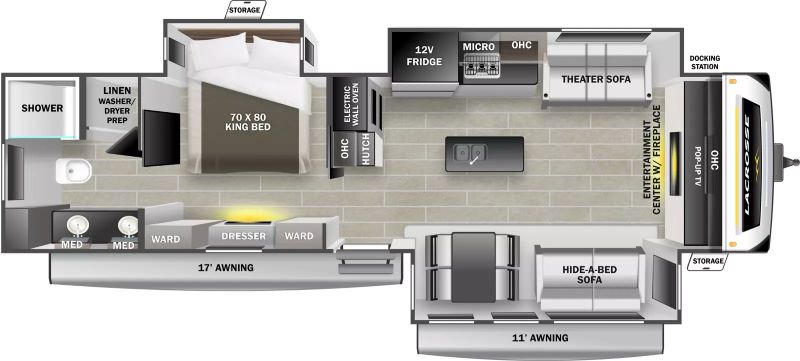 Our Pros and Cons
✅Large bathroom counter with dual sinks
⛔Entertainment seating is 90° from the TV
Length: 38' 2"
UVW: 8,839 lbs
GVWR: 11,280 lbs
CCC: 2,441 lbs
Tongue Weight: 1,080 lbs
Sleep: 4
Couples looking for a lot of space in a travel trailer will enjoy the Prime Time LaCrosse 3375FE. The dual sink is a huge draw for couples looking for the ultimate RVing experience. Two sinks in an RV bathroom are not very common, especially within the range of travel trailer sizes on our list. It's very convenient, especially for those couples who ignite world wars over sink space.
The entertainment area is exceptional, with a theater sofa opposite a hide-a-bed sofa and a large 50″ HDTV between them. Since the bathroom is on the end with the master bedroom beside it, the overall design caters to couples.
The kitchen space is roomy, with an island that features a dual-well sink. The dinette is fairly standard and straightforward, while the counter space is more than adequate.
13. Starcraft GSL 321BHS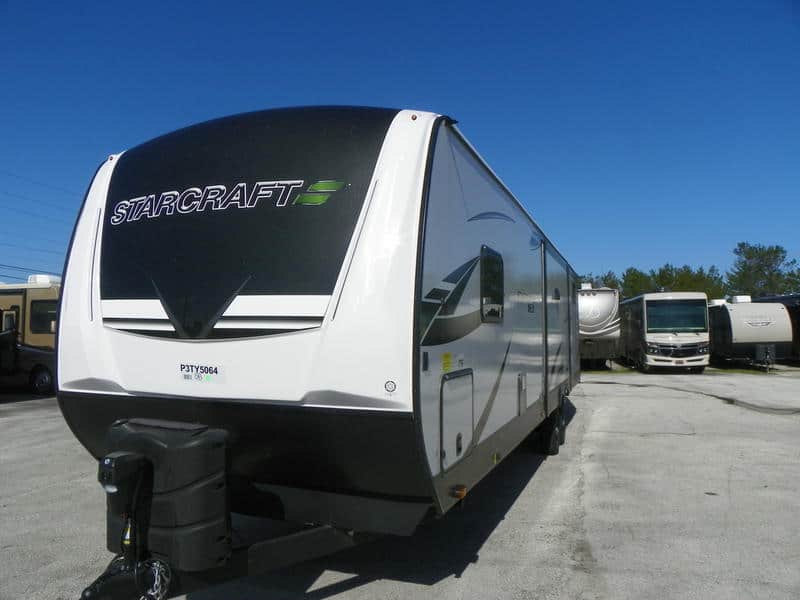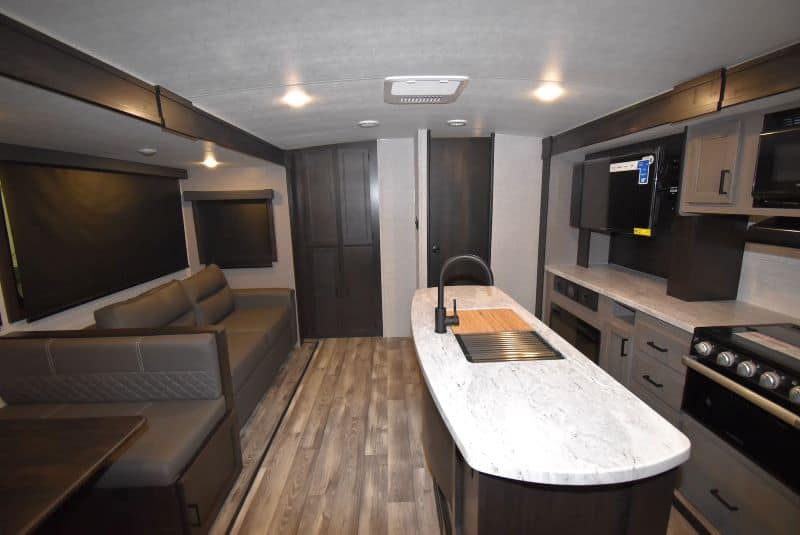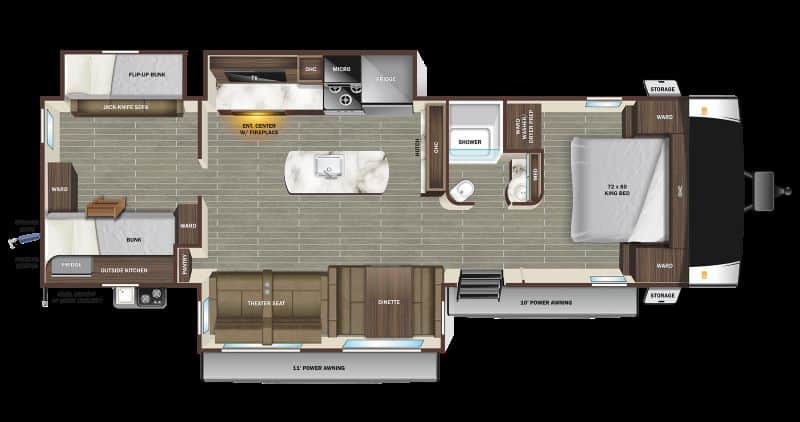 Our Pros and Cons
✅Dual-mode, dual-zone speaker system with Bluetooth
⛔Very dark aesthetic
Length: 38'
UVW: 8,445 lbs
GVWR: 9,995 lbs
CCC: 1,550 lbs
Tongue Weight: 1,005 lbs
Sleep: 8
If you love technology, arguing with the Starcraft GSL 321BHS is hard. This travel trailer features the TraveLINK Smart RV System, a dual-mode, dual-zone speaker system with Bluetooth, miZONE technology, and a JBL Aura Cube stereo. Some of those listed technologies are integrated, but each stands on its own.
With the TraveLINK Smart RV System, you have smartphone control over much of the RV, including the awnings, various music zones throughout and outside of the RV, the thermostat, the lights, and the slides. Its simplification through technology places most of the RV's major features in your hand.
If you like a visually dark aesthetic, you'll love the interior design, which is also very roomy, with enough to support up to 10 throughout the day and at bedtime. The master bedroom isn't a tight squeeze either, though it doesn't close off from the rest of the house.
14. Venture RV Sporttrek Touring Edition STT343VIK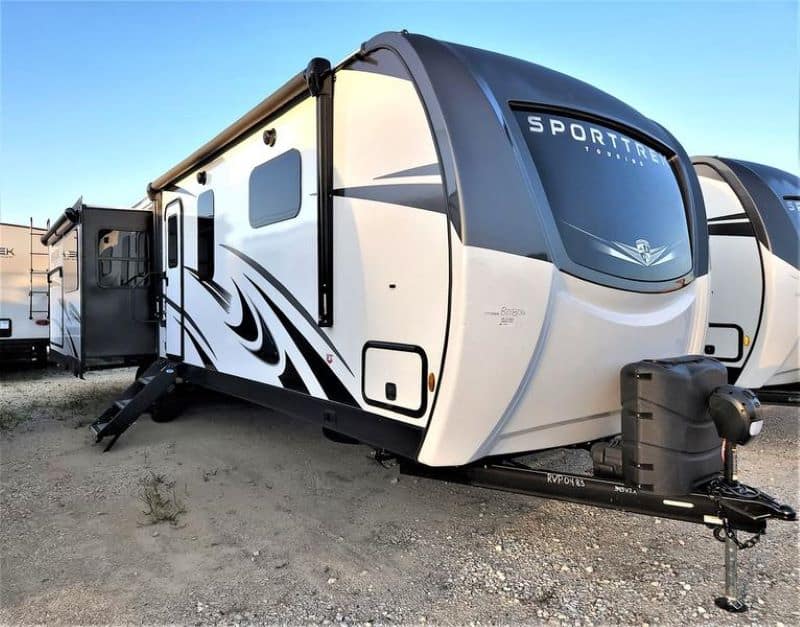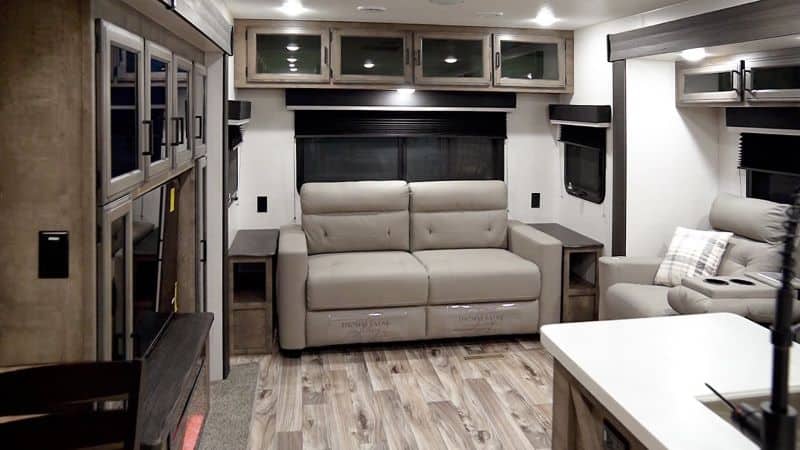 Our Pros and Cons
✅Full-blown exterior kitchen looks incredible
⛔The oven space in the kitchen is a little tight
Length: 37' 5"
UVW: 8,970 lbs
GVWR: 10,785 lbs
CCC: 1,815 lbs
Tongue Weight: 1,150 lbs
Sleep: 4
Venture RV Sporttrek Touring Edition STT343VIK is a pretty big name. Fortunately, we're covering travel trailers with king-size beds and not names. Besides, the STT343VIK has a lot to offer. It's one of those travel trailer designs where not a single square inch of space is wasted.
The high-strength, low-alloy construction material has one of the best strength-to-weight ratios in the industry. The kitchen and living spaces are large and roomy, with a natural, polished wood aesthetic that screams luxury design.
This is also another example of a king bed with extra space augmented by a third slide-out. It makes so much sense with beds these large and leaves a lot of room for other amenities.
15. Winnebago Voyage V3538BR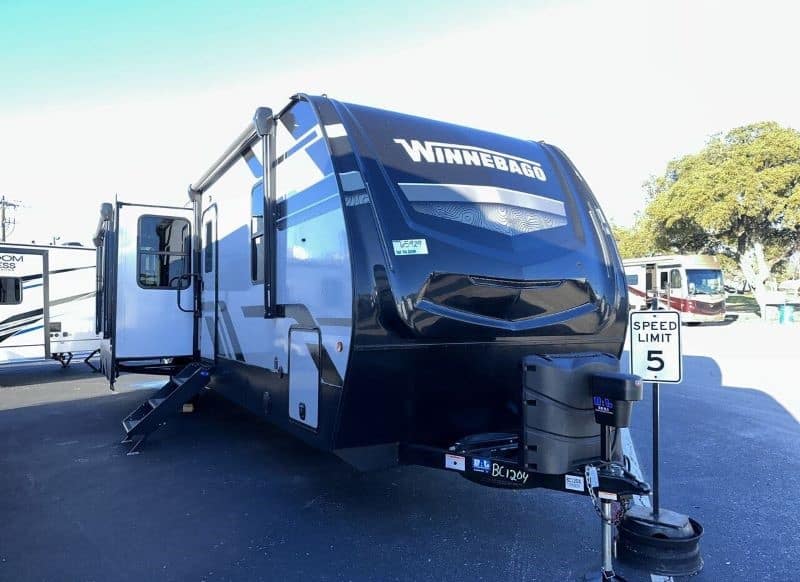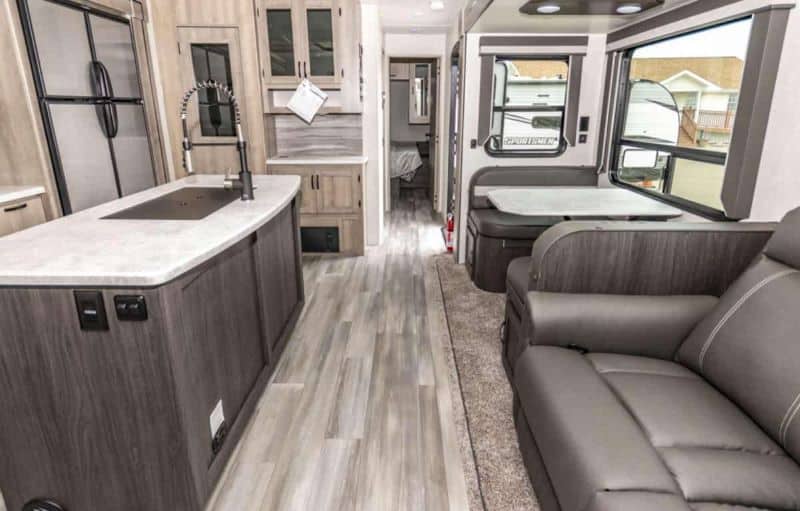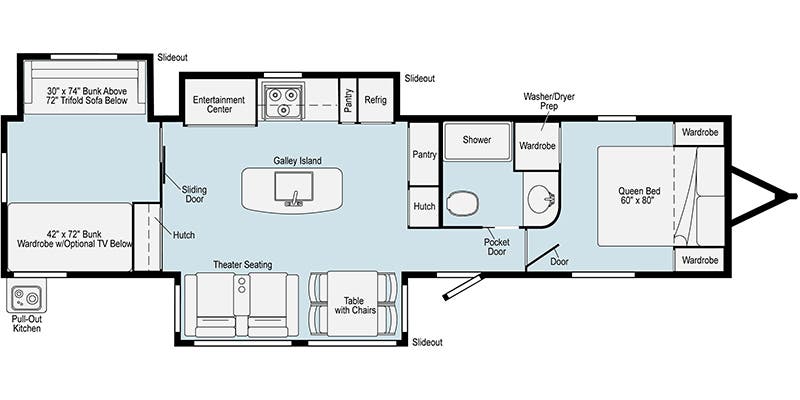 Our Pros and Cons
✅Full windows and a large dinette make for a spacey dining area
⛔Only two small windows in the bedroom
Length: 38' 11"
UVW: 9,582 lbs
GVWR: 11,000 lbs
CCC: 1,418 lbs
Tongue Weight: 1,018 lbs
Sleep: 8
Last but not least, in our list of the best travel trailers with a king-size bed, we have the Winnebago Voyage V3538BR. Winnebago has a long and illustrious history with the luxury side of RVs. The Voyage is a nice compromise among space, design strategy, and luxury.
As you can see, the above floorplan suggests a queen bed, but you can choose the king bed as an option as well. Wired for 50-amp service, the V3538BR includes a washer/dryer hook-up and multiple wardrobes in the master.
You'll also enjoy the fantastic storage or sleeping options in the bunkhouse. Use it for your family or turn it into an office space. The incredibly spacious kitchen has plenty of counter space for preparing meals. The living space and entertainment center are great for relaxing on the theater seats.
What is the Difference Between a Residential King and an RV King Mattress?
The difference between a residential king and an RV version is that the RV King and RV Short King can be shorter and narrower by a small amount. RV designers did this to make sure the mattresses fit in some of the more narrow slideout boxes or other narrower situations.
There are a few fundamental differences within that shorter versus longer spectrum. Just like residential kings come in standard and California kings, RV kings have differences too. There are four RV king mattress sizes:
RV Short King – 75″ x 72″
RV King – 80″ x 72″
Eastern King – 80″ x 76″
RV California King – 84″ x 72″
Can You Put a Residential King Mattress in a Travel Trailer?
In some cases, it's possible to place a residential king mattress in a travel trailer that uses an RV king or Queen mattress. However, you need to do a few things first. You have to measure how much additional space the new bigger mattress will take up in your RV's master bedroom and see if it will fit between the side furniture and still leave you walking space around it.
You may have to replace the platform that the mattress will lay on to support it. Modifying the existing one may work, but if the dimensions of the plyboard isn't wide enough, you will have to replace it.
This may also include adding stronger lift arms to hold the increased weight of the new mattress and a bigger platform. To give you an idea, here are the dimensions for all of the available residential king mattresses on the market.
Standard King – 76″ x 80″ (A.K.A. Eastern King)
California King – 72″ x 84″
Texas King – 80″ x 98″
Wyoming King – 84″ x 84″
Alaska King – 144″ x 84″
What is the Smallest Travel Trailer with a King-Size Bed?
The smallest travel trailers with a king-size bed are the Cruiser RVs (insert a variety of models here). They use a patented sliding system known as the King Bed Slide System. The only exception to the rule is Cruiser RV's slideouts, which don't need the sliding system.
Also, if you're looking into the smaller, teardrop-side of travel trailers, the Harriet 6 x 10, the Casita Liberty, and the Coachmen Clipper Classic 1285SST all feature king-size beds.
Is the Best Travel Trailer for Full-Time Living a King-Size Bed Model?
Well, the best travel trailer for full-time living comes with a bed that works for you. If you have a lot of dogs or a combative significant other that loves to wiggle and roll all night, a king should probably be in your RVer future.
However, queen beds are often quite enough. With no dogs and still, quiet sleeping, there's more than enough room for a queen.
What Kind of King Mattress Can You Get for Your Travel Trailer?
The kind of mattress you get for your travel trailer depends on your personal needs. For instance, a mattress is needed to help with spine or allergy problems. There are generally four types: Latex, spring, memory foam, and air. Each has its advantages and drawbacks.
Spring mattresses are often airier, but the springs are susceptible to rust in hot and humid regions, especially if your RV goes into storage and the mattress is unused for an extended period. Memory foam is great for lower back pain but isn't very airy. It's also heat-sensitive, so the elasticity will wear out over time. Even with the cooling foam technology, a stored RV that heats up can affect the elasticity.
Air mattresses are great economical choices, but all it takes is a single leak to ruin the experience. Latex mattresses are probably the most comfortable, but these mattresses are the most expensive of the four. People can also be allergic to them too.
Final Thoughts on Travel Trailers with a King-Size Bed
From small to mid-size travel trailers, a king-size bed is not out of the realm of possibility. There are even more offerings than what we've presented, but these travel trailers stand out as some of the best on the market today.
If there's one thing that's difficult to associate with king beds in travel trailers, it's space. The above travel trailers do a fantastic job of incorporating king-size beds without sacrificing everything else to the altar of space (or lack thereof). If you're looking for a little more comfortable room in your master bedroom, any of the above will do the trick and offer much more for the prospective RVer.
---
Related Reading:
---
About the Author:
Thomas Godwin is a full-time freelance writer with a BFA in Creative Writing, a U.S. Marine, and an avid outdoorsman.
When he's not writing, he's raising chickens and Appleyard ducks. Thomas also constructs teardrop campers (attempting to anyway) and kayaks the Blackwater River with his wife, two daughters, and his Dobermans.