A pop-up camper is pretty much just what the name implies. They start as rectangular or square boxes pulled behind your truck, SUV, or car. At your campsite, they then expand for sleeping, kitchen, dining, and other spaces inside the camper in a matter of minutes.
If you are an RVer like us, you might have started your camping adventures in a tent, moved to a pop-up, and then hit the big time with a bigger travel trailer or motorized RV.
For some reason, every time we tent-camped, it rained. With 4 kids in a tent on a rainy afternoon, it smelled like dirty socks, and we were forever yelling at one of them, "Do not touch the sides of the tent." The pop-up camper felt like Nirvana after all of that.
By the way, it still rains when we occasionally tent camp. The last time we camped in a tent, we ended up taking shelter in the campground's bathhouse during a tornado warning. That is why I love my RV.
In this discussion, for those of you who are looking to learn more about pop-up campers, we will show you what they are, why couples and families still love them, how easy it is to set them up, and more.
What is a Pop-Up Camper?
A pop-up camper, also known as a folding tent camper, is a towable RV that can be easily pulled by a smaller truck, SUV, or car. These types of campers collapse for easy storage and, when they are "popped up," have quite a bit of space for a family.
The one we had easily slept all 6 of us. Because of its size, you might not want to spend a lot of time inside, but getting outdoors is what family camping vacations are all about.
They are lightweight and usually weigh between 1,800 and 2,000 pounds. When closed, they can be stored in a small space such as a house garage.
What are the 2 Styles of Folding Tent Trailers?
Generally, folding trailers are divided into two styles; softshell and hardshell. Older softshell pop-up campers use canvas, but in the last few decades, RV manufacturers replaced the canvas with insulated vinyl sides. The second style is the hardshell type which has rigid walls.
Of course, the softshell can give you that tent feeling but has travel trailer features, and it is raised off the ground. When there is wind or rain, you will know it, and there is little to no real privacy (even though the beds come with privacy curtains). There are still a lot of positives with this camper, in particular its size when it is closed up.
The hard shell can come in several different forms, depending on the manufacturer. The A-Liner looks like an A-frame when set up and folds down into a square or rectangle, similar to the softshell pop-up.
There are other campers that essentially look like a travel trailers, but the beds pop out on the end. These are known as hybrid campers (we'll discuss these later).
What are the Benefits of a Pop-Up Camper?
There are many benefits to a pop-up camper. If you are not up to spending the money on a travel trailer or fifth wheel, a pop-up camper may be just right for you.
They are usually very affordable. If you can find a used one, you can find one within your budget. You might pay more for a bigger pop-up camper with a few more amenities, such as a bathroom or a more expansive kitchen.
Generally, pop-up campers are lightweight, and you can pull one with a fuel-efficient SUV, a small truck, or even a sedan, depending on the trailer's weight. There may be some that can be pulled with a van or other smaller vehicle. You will definitely save money on gas by pulling a pop-up camper.
Pop-up campers are easy to store in your own garage. Because of their small size, they are easy to pull and maneuver into campsites. You should have no trouble getting around most gas stations and parking lots during your travels.
Pop-up trailers are also easy to set up and tear down. Some might have a manual or electric crank to raise the roof. Either way, you will be enjoying your camper in a matter of minutes.
Editor's Note On Another Name For Pop-Up Campers: You may hear someone call a pop-up camper a "tent camper." Softshell pop-up campers gained this nickname due to their canvas or nylon walls. This name refers to the original tent campers that were popular in the 1920s and 1930s. Those were tents that were set up in two-wheeled metal trailers. Today's pop-up campers are nothing like their predecessors.
Pop-Up Campers Have Kitchens
It is more than likely that whatever pop-up you purchase will have, at minimum, a basic kitchen. Usually, they have a sink, counter space, a small refrigerator, and a cooktop. On ours, you could move the cooktop outside if you wanted to have that option.
Depending on the size and style, some larger pop-ups have a microwave and an oven.
How Much Storage is in a Pop-Up Camper?
You will find cabinetry within a pop-up camper to store your kitchen gear and other personal items. These campers may also have outdoor storage bays.
While the pop-up camper has many positives, the lack of storage space could be a negative. Some space is available even when the camper is closed. We found that we could store a cooler, soft-sided cases, and food in the remaining area.
You probably won't need as much storage for weekend trips, and you can always utilize your tow vehicle to store luggage, food, etc.
Some pop-up campers come with a storage box on the front and even a bike rack. You can also find creative ways to maximize the space that you have.
You Can Pull a Pop-Up Camper with a Car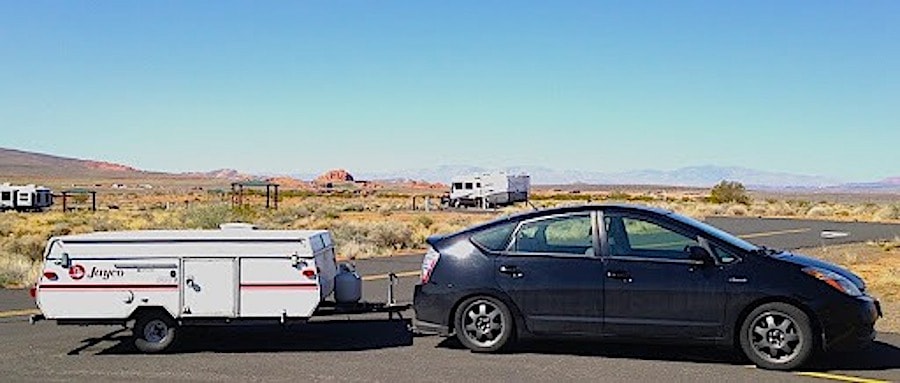 Generally, a standard passenger sedan can pull a pop-up camper weighing less than 1,500 pounds. Even a small 4-cylinder car can pull some pop-ups. A small pickup truck or SUV can certainly pull more. You will want to consider the trailer's weight and your vehicle's ability to pull it before you commit to a purchase.
Pop-Up Campers Have Queen & King-Size Beds
Pop-up campers often have standard queen beds, and some larger ones have king-size beds. Many will also have a jack-knife sofa or a dinette that converts to a bed.
Our Coleman had a king bed on one end, a queen on the other, and then a table and couch that converted to a comfortable bed for our youngest kids.
You may see some that refer to the couch as a "Gaucho." In the RV world, this refers to the couch turning into a sleeping space. Either it jackknifes or a platform underneath pulls out into the aisle space.
Owners then place the back cushion next to the seat cushion, making the furniture piece a full-sized sleeping space for 1 or 2 people.
Do Pop-Up Campers Come with Air Conditioning and Heat?
Most pop-up campers have had the option for air conditioning since the 1980s. Heat is standard on most models in the form of a propane furnace. Propane also will be your source for heating water and used for your stove.
Today's pop-up campers have some type of insulation, so your AC or heat will be contained. But they aren't 100% airproof, so some of this temperature control will leak out. A couple of space heaters might be enough to take the chill off a cold morning. Opening up the screens and turning on the air vent fan can get you a lot of airflow on warmer days.
Can You Shower in a Pop-Up Camper?
Some pop-up campers have a wet bath, including a regular RV toilet and a small black water tank.
Many tent trailers don't have a dry bath because it simply takes up too much space. A dry bath keeps the sink and toilet separate from the shower and other areas in the bathroom, like shelves or cabinets.
A more common bathroom option in a pop-up is a wet bath. This is where the entire bathroom fits into the shower. This isn't the most ideal option but will save you space. You also have the option of using the campground bathhouse for all of your personal needs.
You could utilize a cassette toilet which is a portable toilet with a removable cassette waste storage tank. These can be dumped at an RV dump station.
You might also find that an outdoor shower could also suit your needs. These are usually attached to your camper's exterior side. Using a privacy shower tent or setting up privacy curtains can make your outdoor shower pleasant.
Larger Pop-Up Campers Have Slide-Outs
Larger pop-up campers do have slide-outs. I'm not referring to the beds that pull out at the front and rear of the camper, but a slide-out generally associated with the dinette area on the camp or roadside area of the camper. These really do add space inside.
There are even some with multiple slides. While these are not electric like the ones on travel trailers or bigger motorhomes, they work like a drawer that you must manually pull out.
The slide-out typically expands the floor, walls, and softshell material overhead. You might have also heard of a "bump-out." This just expands the canvas portion of the pop-up.
Do Pop-Up Campers Have Electricity?
Pop-up campers will have a dedicated 30-amp, 12-volt system that runs off a 12-volt battery. This will run your lights, ventilation fans, small appliances, AC unit, and any other electronics.
You can use a gas generator with pop-up campers and install a solar system. If you do go solar, you will want to use 1 or 2 panels only since you have to be careful with how much weight you add to the roof.
Where Can I Store My Pop-Up Camper?
What's so great about a pop-up camper is it is small and easy to store. Most tent trailers will fit in your home garage. If you can't use that space, then, with a cover, it can easily be stored outside in your driveway. Of course, you can also find a storage facility with a garage or an RV storage lot.
4 FAQs About What is a Pop-Up Camper
1. Are Hybrid Travel Trailers Considered Pop-Up Campers?
A Hybrid travel trailer is not the same as a pop-up camper. When RV companies first started looking into lightweight travel trailer concepts, hybrids were developed. With a hybrid, the main body is considered a travel trailer that does not collapse.
So, the inside living space will be like other travel trailers. The difference with a hybrid is the beds hinge down and are surrounded by a vinyl softshell material.
Hybrids typically offer more storage than a traditional pop-up camper and generally have 2 or 3 queen-size beds on either end of the camper. Like a pop-up camper, there could be some security concerns when the beds are down.
2. Do Pop-Up Campers Leak?
A pop-up camper should not leak if the canvas material is properly maintained. You might need to seal edges and zippers with waterproofing chemicals. Check with your sales representative when you purchase your camper for the manufacturer's specifications.
We were lucky when we purchased our used pop-up. The former owner had all the canvas replaced and then decided to do a trade-in. We were the lucky buyers who got a great deal with all of the upgrade work already done.
Just like a hard-sided trailer, any water penetration is a breeding ground for mold. Make sure your canvas or vinyl is completely dry before you close it up. Rubber seals can also be a place for leakage. A good inspection before and after every outing will help keep these issues in check.
If you have to close up your pop-up camper when it is wet, make sure you open it back up when you get home to let it dry. You do not want mold or anything else to grow that can destroy the camper.
3. Is It Worth Renting a Pop-Up Camper First?
Whenever you consider purchasing an RV, renting before you buy is always a good idea. Take a tent camper out for a weekend trip. It is always best to decide if this type of recreational vehicle is right or wrong for you before you make the purchase.
Pop-up campers are not expensive to rent. Trying it out before you are locked into ownership can save you from a financing payment and having to sell it if you find out the pop-up camper lifestyle is not right for you.
We highly recommend checking out a peer-to-peer rental to try out a popup camper. Peer-to-peer rentals are like the Airbnb of pop-up camper rentals. When someone isn't using their popup camper, they will rent it out.
The best websites to find popup camper rentals are Outdoorsy, RVshare, RVezy, and RVnGo.
4. Where Can You Use a Pop-Up Camper?
Generally, pop-up campers are best used at campgrounds. You can boondock in one of these RVs, but you might not feel as safe from wild animals or other people when you only have vinyl walls for protection.
Remember too, if you have pets, they can more easily escape by tearing at the canvas. You would not want your pooches running through the campground while you are away sightseeing. I have heard of this happening, and some campgrounds will not allow pets in a pop-up camper.
Final Thoughts on What Is a Pop-Up Camper
Pop-ups have been around for a long time and are a great option for a family new to camping or just wanting to upgrade a little bit from a tent. You might be surprised to know that pop-ups are based on the original tent campers of the 1920-1930s, which were basically a tent set up in a small two-wheel trailer.
Some had a stove for heating and cooking. The first pop-up was the 1954 Hill Ranger. The concept didn't really catch on until the late 1970s and 1980s. Although I do remember my family, renting a tent camper for a vacation trip to the Upper Peninsula of Michigan in the mid-60s. It looked very similar to the ones you see today.
For my family, a pop-up camper allowed us to vacation as a family of six without the expense of having a larger RV or hotel room. We also pulled it with our Ford Explorer, so we didn't have to purchase a new tow vehicle and the camper's expense. There's nothing that says "ahhhh sweet" more than getting out of tenting with your four children.
---
Related Reading:
---
About the Author:
Terri Nighswonger and her husband Todd have been RVing and work camping for five years with their Cavalier King Charles Spaniel, Newton, and their Minnie Australian Shepherd, Remi.
They originate from the Midwest but plan to enjoy the West for a few years, wintering in Arizona and summering wherever the road may lead. Writing is Terri's passion, but she also loves hiking, kayaking, walking her dogs, and anything she can do outdoors.