The old and faithful pop-up camper has adorned the back side of vehicles since long before there were highways. Thanks to their small profile, they're also convenient for carrying additional items. But can you put a bike rack on a pop-up camper?
Pop-up campers can carry an installed bike rack, whether bumper, hitch, roof-mounted or any other installation method.
Their flat, clean surfaces make excellent transport vehicles for recreational toys, such as mountain bikes and kayaks. Most pop-up campers now come with a rear hitch receiver, which makes transporting bikes extra convenient.
We'll show you how to put a bike rack on a pop-up camper, some great examples, and what to look for when shopping for the best bike rack on your pop-up camper.
Is it Possible to Carry Bikes with Your Pop-Up Camper?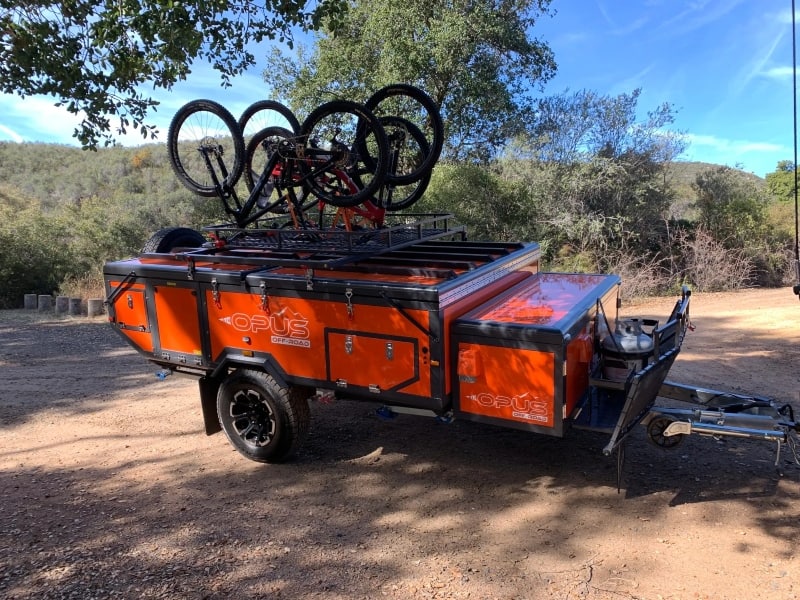 Pop-up campers are tailor-made for this kind of work. You're probably familiar with bike racks and how they function on the top and rear of a vehicle. Well, it's essentially the same thing with a pop-up camper.
There are several ways to install a bike rack onto a pop-up-style camper, and you can turn some of them into DIY projects. Thanks to the flat surface of the top, you can carry enough bikes to cover a medium-sized family or a small camping group.
8 Types of Bike Racks that Work with a Pop-Up Camper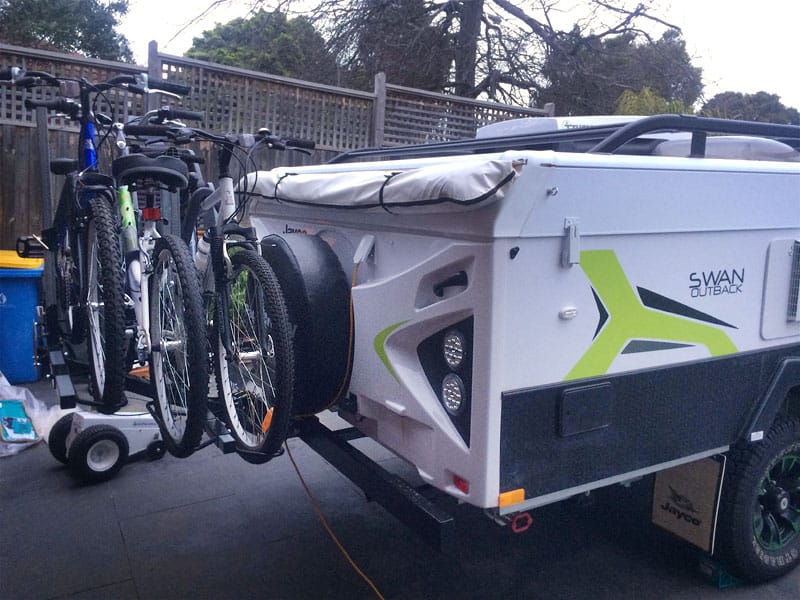 Surprised? There are many bike rack types, so your options are extensive. It also means you'll have a lot of leeway in deciding where you want to carry your bikes.
1. Pop-Up Camper Roof Rack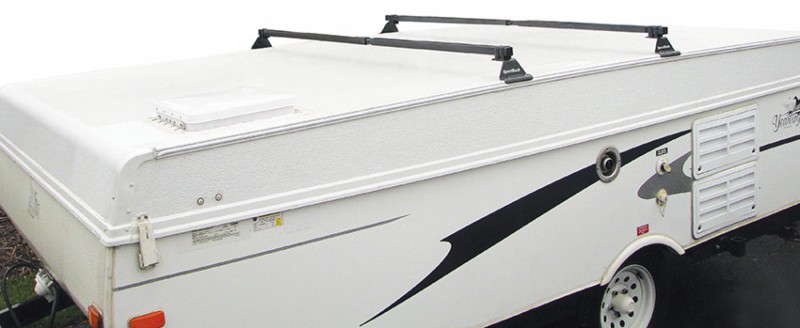 Some pop-up campers have a mounting system installed up top. There are third-party mounting systems for pop-ups on the market for those that don't, such as the Swagman Roamer RV Cross Bars Roof Bike Rack.
It's just two rails. If you've ever seen a standard mounting system on top of an SUV, you'll understand what they look like and how they work.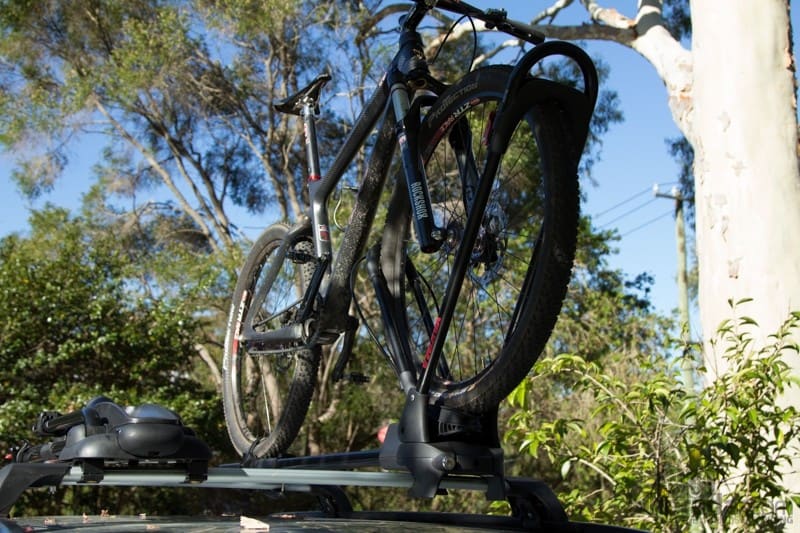 Another option is the Yakima High-Road Wheel-On Upright Bike Mount Rack (yeah, it's a mouthful) and it installs directly onto the rails.
The Yakima functions like a lot of bike racks. It attaches perpendicular to the vertical dual-rails, with a series of thick ratchet straps that tight down hard. Once you mount the rack, it's not going anywhere.
2. Tongue Mount Bike Rack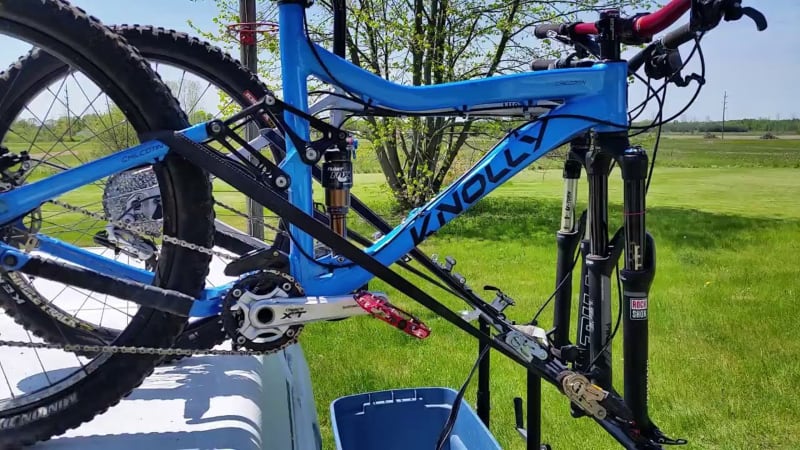 Bike rack manufacturers finally figured out what to do with the trailer tongue other than it looking pretty. Tongue mount bike racks mount directly to the V-section on the trailer tongue.
From there, the rack extends up in the shape of an upside-down field goal. It's an excellent mount for more than two bikes, though you must remove the front tires and store them elsewhere.
The ProRac RVPB -020-1 Two-Bike Carrier Tent Trailer Bike Rack is a prime example. This particular bike rack for pop-up campers may hold more than 2 bikes with its telescoping arms. You can contact the manufacturer or check the forums to verify this before purchasing.
3. Bike Towing Rack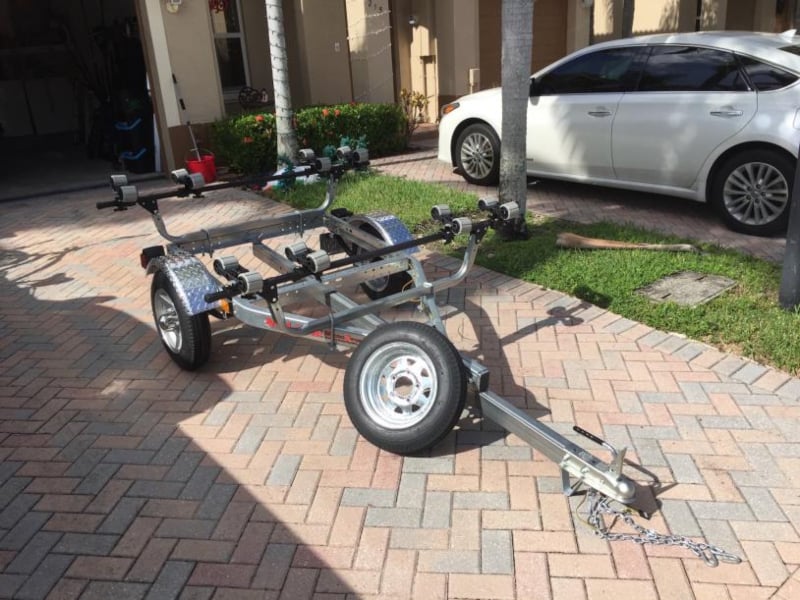 Many use the Malone Microsport XT Trailer for transporting kayaks. Yet the DOT lighting, built-in electric brakes, and sturdy crossbars are also ideal for your bikes. Remove or adjust the 65-inch load bar for storage or easier towing. at 800 pounds UVW, you could carry more bikes and ebikes than what the trailer can hold.
Malone does have their own accessories for holding various types of sport equipment, but you can attach virtually any brand of bike locking mechanism to it.
Since it's small, you don't have to worry as much about the added weight behind the pop-up camper, especially since we're not talking highway speeds. If you're going to triple tow by hitching this utility trailer onto your pop-up camper, find out if it's legal in your state.
4. Tow Vehicle Front Hitch Racks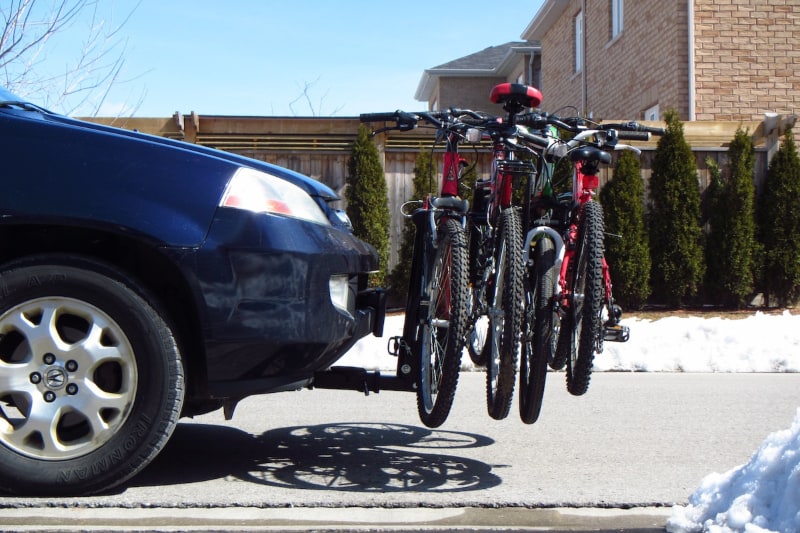 For those with front hitch receivers on their vehicles, installing a front hitch rack for your bikes only makes sense. Bikes are also a good choice since they won't block your radiator, causing your vehicle to overheat.
The Hollywood Racks Sports Rider for E-bikes checks all the boxes for a front hitch rack. It supports up to a 60-inch wheelbase, which means it can handle just about any bicycle you throw.
Front hitch racks add a layer of versatility to your hauling rig because they save you some room in the back by keeping your bikes in the front. Just don't run into anything.
5. Tow Vehicle Roof Racks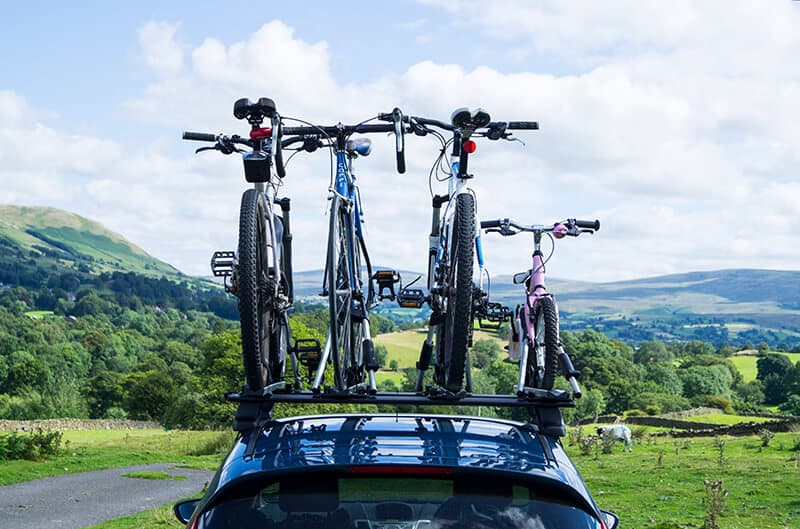 The good thing about tow vehicle roof racks is that they fit on your existing rail mount system on your car or can be modified to fit on top of your pop-up camper.
Remember, you need to have an existing rail system to install one of these. Most SUVs and similar vehicles have a rail system installed; they're not standard on all pop-up campers.
The Swagman Standard Fork Mount Rooftop Bike Carrier is simple and fits the bill for a single-bike mount.
Since they're narrow rails that run perpendicular to your existing rail mounts, you can purchase more than one and stack your bikes if you need to carry more.
6. Hitch Mounted Racks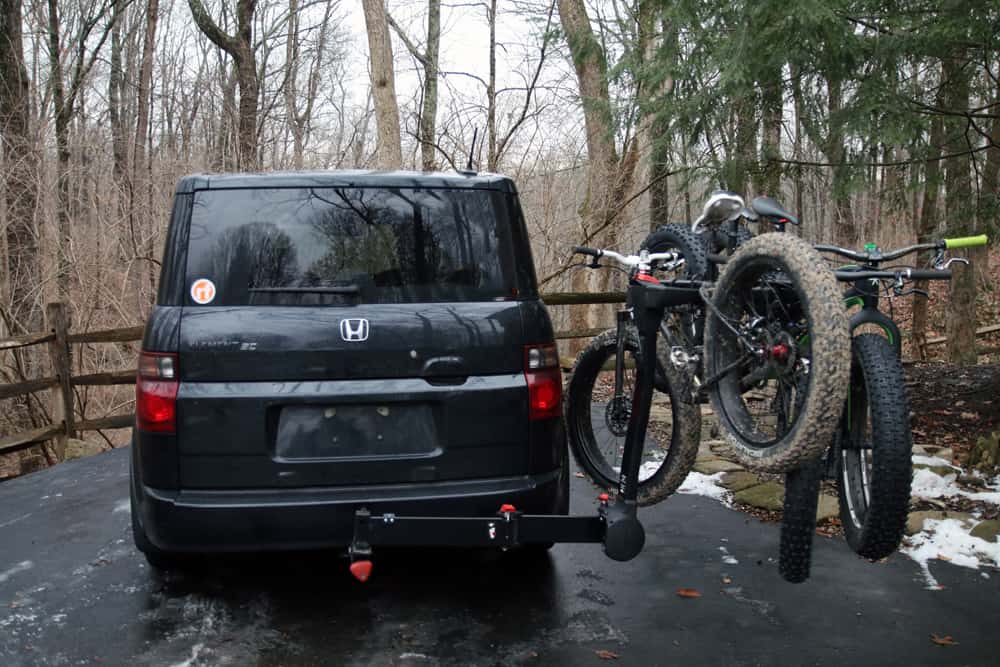 Hitch-mounted bike racks mount on your pop-up camper's rear hitch. Front hitch versions mount on the triangular frame of your camper's hitch above or in front of your propane bottles.
The Yakima FullSwing Swing-Away Hitch-Mounted Bike Rack (those long titles again) is an excellent choice. Not only can you stack four mountain bikes on this animal, but you can also swing the bikes over to the side of the vehicle. It holds a lot and is an excellent rack that doesn't take up much space.
7. Truck Bed Bike Rack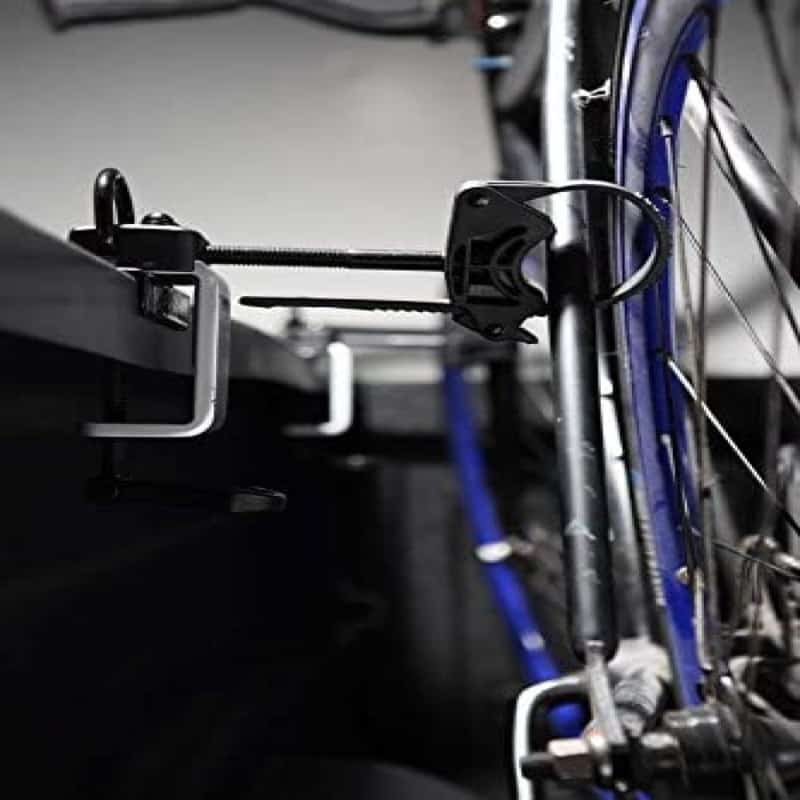 These are simple little tools that resemble C-clamps. They clamp to the rim of your truck bed, and the bolt extends out far enough (with a ratchet strap attached to the end) to grab your bike and hold it upright for the trip.
The only drawback to these racks is working them around the wheel well if you have a particularly large one. The INNO RT201 Truck Bed Bike Rack is a good example. They're simple and affordable.
8. Spare Tire Bike Racks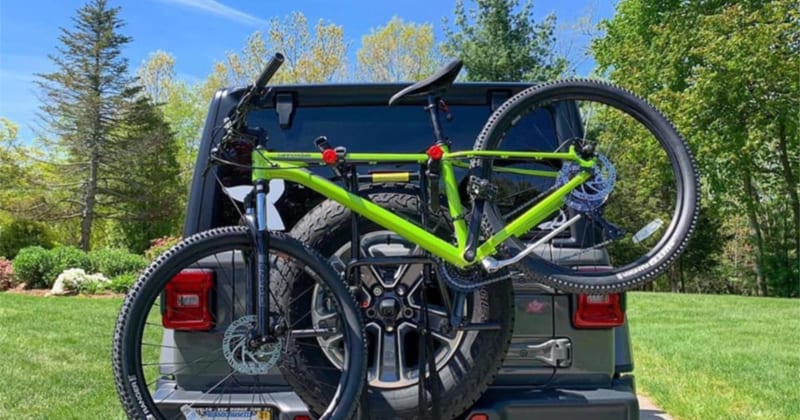 If you're hauling with a Jeep or another SUV that carries the spare tire on the back hatch, you're you can secure a bike rack to the tire.
Most of these are two-bike systems that attach by constricting down on the wheel at four points. Then you hang your bikes on it, and you're good to go. The Allen Sports Deluxe 2-Bike Spare Tire Rack is the perfect option for this kind of rack.
Which is the Best Type of Pop-Up Camper Bike Rack?
There always has to be one at the head of the pack, right? Well, the truth is, the best pop-up camper bike rack is the one you need. It doesn't matter how well a swing-open front hitch bike rack works if you don't have a front-end receiver.
What you do want is quality over quantity. A bike rack is no good to you if it holds four bikes and has a price that's too good to be true. That's the kind of bike rack that'll probably fail when you're going 65 mph down the interstate.
How Many Bikes Can a Pop-Up Camper Bike Rack Hold?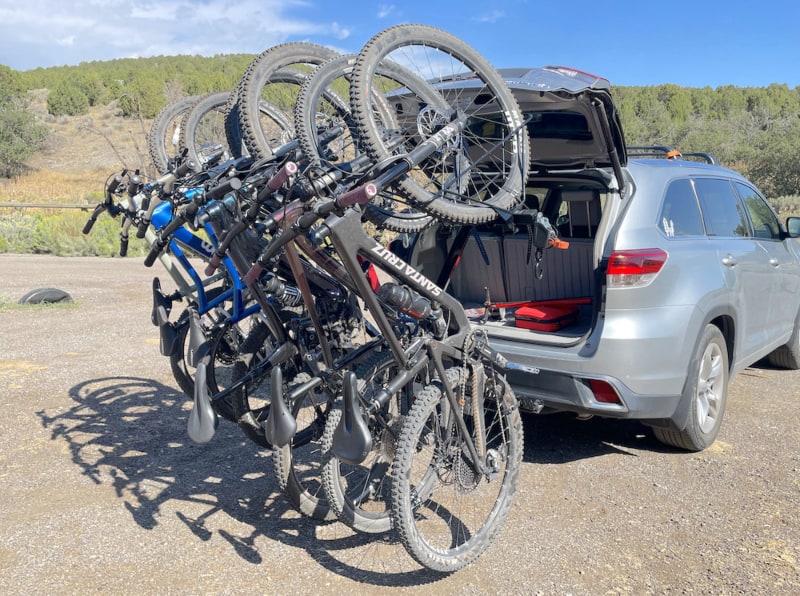 Typically, pop-up camper bike racks hold up to six or as few as one. It depends on the rack. But no one ever said you can't install more than one rack. For instance, the Swagman Standard Fork Mount Rooftop Bike Carrier is a single rail, and you can install several of them on a roof mount system.
So if you're going camping with a pop-up camper that sleeps 8 and bringing your whole family, using a rear mount, front hitch mount, and maybe a roof-top mounted bike rack for your pop-up camper is the way to go.
Advantages of a Bike Rack on Your Pop-Up Camper vs. Your Tow Vehicle
There are several good reasons you should opt for a bike rack on your pop-up camper rather than on your vehicle. This is especially true if you're trying to save some space.
Many of them can carry up to four bikes.
The right carrier won't interfere with your vehicle's fuel efficiency.
It's an affordable option.
Some hitch-mount racks are interchangeable between your pop-up camper and your tow vehicle.
You can find bike racks that are easily modified to fit pop-up campers.
Do You Need an RV Approved Bike Rack?
You should always ensure your bike rack is RV-approved if you want to mount it on your pop-up camper. The forces on a pop-up camper, or anything you tow, are different than when they're mounted directly on your vehicle.
You want one that can handle road vibrations, wind, and other conditions RV travel requires. Buying a good quality RV-approved bike rack for your pop-up camper the first time saves you money in the long run.
How Heavy Can a Pop-Up Camper Bike Rack Be?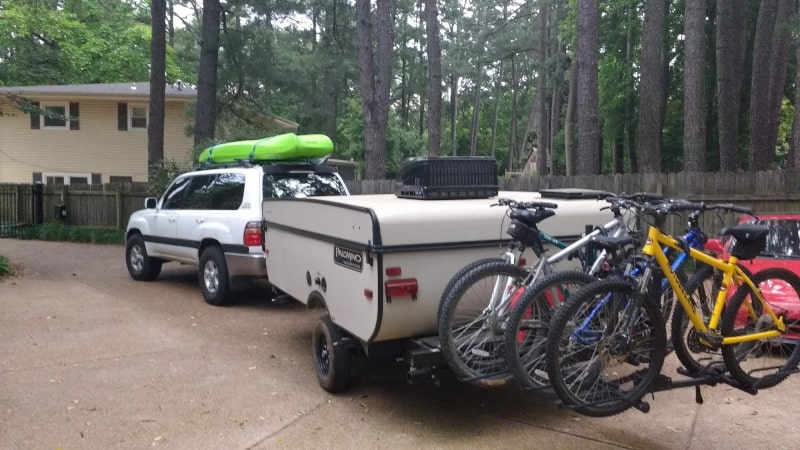 As long as it doesn't exceed the weight capacity of your pop-up camper or the towing capacity of your vehicle, you're fine. You should be okay if the bikes don't exceed your pop-up camper's Cargo Carrying Capacity (CCC) or the rear hitch's payload capacity.
Could the Pop-Up Camper Bumper Support a Bike Rack?
The bumper of a pop-up camper is not the ideal place to install a bike rack. Most bumper-style bike racks are made for vehicles.
A little ingenuity and a few modifications on your part are generally enough to make an adequate transition. The key is keeping it light since the bumper isn't made to carry much weight.
Since the framework of a pop-up camper bumper isn't the same as that of a car or SUV, you should stick to one or two bikes on a bumper bike rack for safety reasons.
How Much Does a Pop-Up Camper Bike Rack Cost?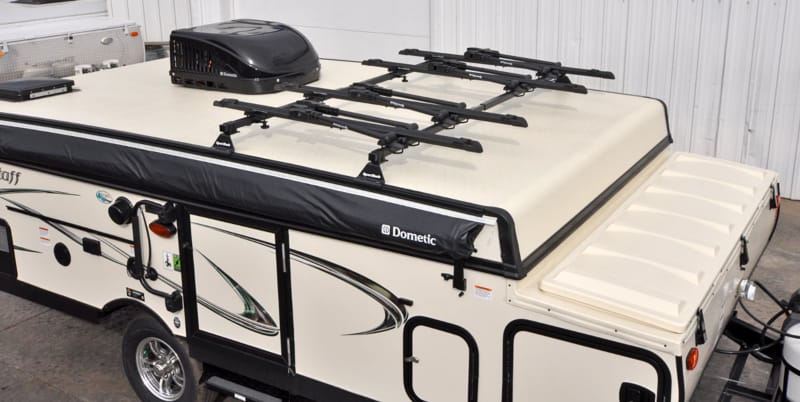 The price range varies depending on the type and extent of the bike rack. Typically, you'll find price ranges anywhere from $150 to $600. One thing is for sure; bike racks are not something you should compromise.
Do your research to learn which brands are the trusted quality brands. Money talks, but don't choose the most expensive one assuming it's the most durable bike rack for a pop-up camper. Learn the truth.
Will a Pop-Up Camper Bike Rack Affect Your Weight Distribution Hitch?
Pop-up camper bike racks count toward the Gross Trailer Weight (GTW) but have a marginal effect. So unless you have a set of very heavy bikes on the rack, your weight distribution hitch on your pop-up camper won't be affected.
In fact, if you install a bike rack closer to the rear of the pop-up, the tongue weight changes by becoming lighter, like balancing a seesaw.
7 Things to Consider When Buying a Bike Rack for Your Pop-Up Camper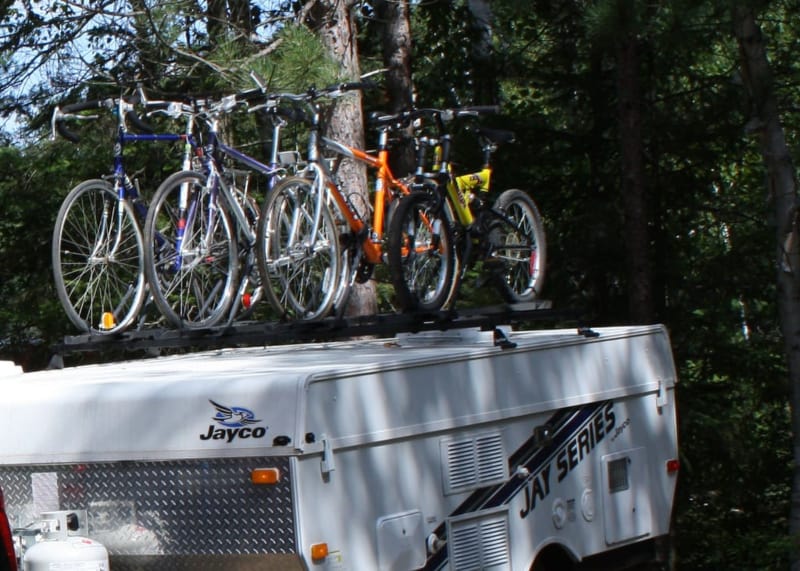 Before you jump on Amazon or head up to your local retailer, you should consider your needs in terms of the type of bike rack. They aren't cheap, so you don't want to end up with one that doesn't work for you.
1. The Number of Bikes You Have
This is where you should start. If you have three bikes, a two-bike rack obviously won't do. You may want to get more than one bike rack for your pop-up camper if you have many bikes.
2. Your Weight Restrictions
It's dangerous and illegal to haul anything that exceeds the weight limitations of your pop-up or your vehicle's towing capacity. You can find this information in the pop-up's user manual, specification sticker, and your tow vehicle's owner's manual.
3. Ease of Installation
Whether you install it as a DIY project—modding the original rack to fit a pop-up—or installing it anywhere else, the ease of installation is worth considering.
4. Convenient Access to Bikes
One of the problems with installing bike racks on top of pop-up campers is that they aren't always easily accessible. Bike racks should be easy to access, whether your pop-up is hitched or unhitched.
5. Compatibility with Your Pop-Up Camper and Tow Vehicle
The best way to ensure compatibility is to look for bike racks in RV categories. If you want to install it on your towing vehicle's front bumper, it's not such a big deal.
If you want your bike rack on top of your pop-up, you should look for bike racks in RV rooftop categories, which often include pop-up campers.
6. Durability
This is where the RV-approved aspect of bike racks comes into play. If it's RV-approved, expect it to have an added layer of durability for dealing with the challenges of the road.
7. Security and Safety
Security and safety are a combination of the above six factors. Keep it light enough to avoid exceeding weight limitations, install it in an easily accessible position, ensure that it's RV-approved, and make sure it can hold the right number of bikes.
Do You Have a Pop-Up Camper Bike Rack You Recommend?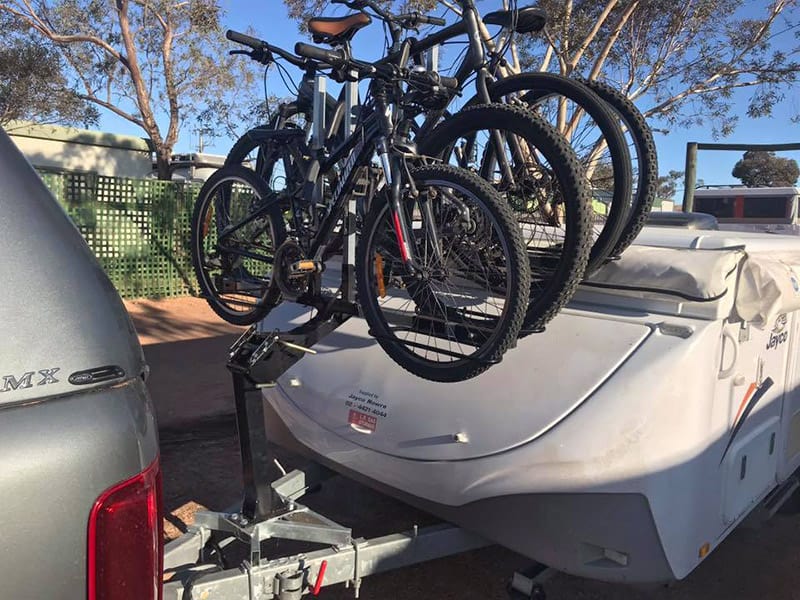 Pop-up campers are more than capable of hauling bike racks, especially pop-ups with installed rail mounts. Hitch-mounted racks are some of the most popular. If you have a pop-up camper bike rack you recommend, let us know in the comments below.
---
About the Author:
Thomas Godwin is a full-time freelance writer with a BFA in Creative Writing, a U.S. Marine, and an avid outdoorsman.
When he's not writing, he's raising chickens and Appleyard ducks. Thomas also constructs teardrop campers (attempting to anyway) and kayaks the Blackwater River with his wife, two daughters, and his Dobermans.