Many RV newbies choose pop-up campers for beginners because they offer the best tent and camper features. Pop-ups are also an affordable entry category to start the journey into the RV lifestyle.
The pop-up camper has evolved and offers minimalist basic models to luxury pop-up campers for glamping. Our list of the 10 best pop-up campers for beginners will appeal to everyone considering joining the camping lifestyle.
What Is a Popup Camper?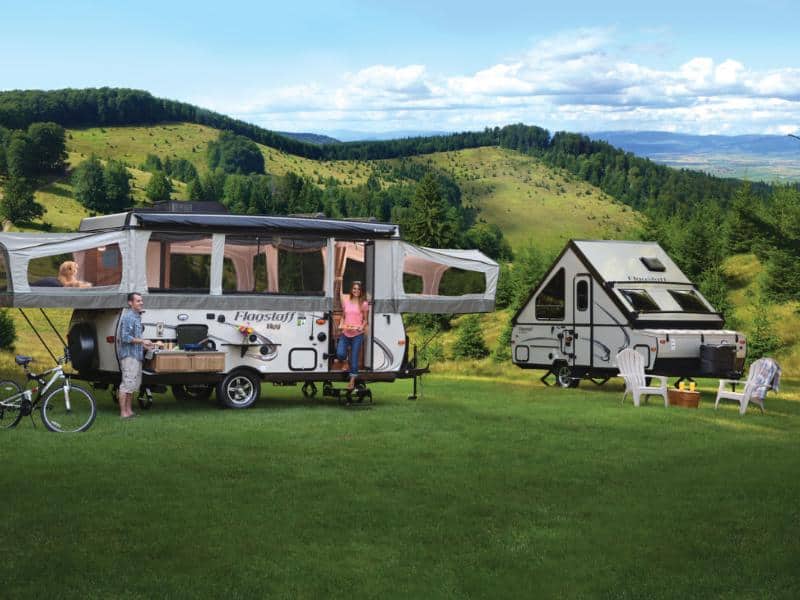 A pop-up camper is like the transformer of the RV world. These compact campers contain all the comforts of a travel trailer folded up in an easy-to-tow package. Oftentimes these campers are erroneously called tent trailers, as they frequently have both hard and soft sides.
However, over the last few years, pop-up campers have evolved, and many makers of pop-up campers offer hard-side-only options.
Pop-up campers are also very lightweight, making them ideal for towing with smaller SUVs, crossovers, and minivans. They're great options for people on a budget who want the comfort of a camper without the price tag of a travel trailer.
Are Tent Trailers and Popup Campers the Same Thing?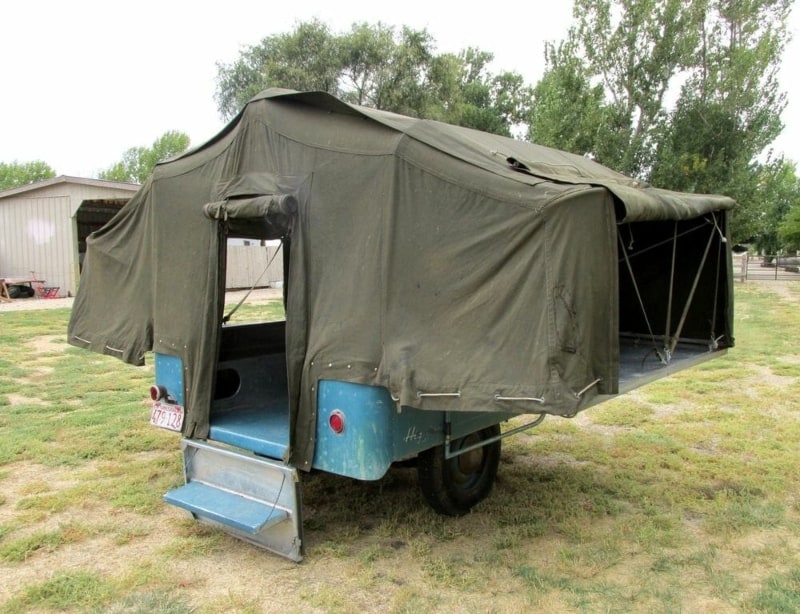 While pop-up campers can trace their origins to the original tent trailers of the Antique Era (1870-1939), they are vastly different. Tent trailers started as utility trailers holding support poles for canvas tents.
Some evolved where the deck would lift up and out to either side, creating twin beds, and a rear shelf for a portable Coleman stove, but that's if you were a "big spender."
Today's pop-up campers can trace their roots to the 1953 Ranger pop-up camper. In its heyday, the Ranger didn't sell too well at the height of the Canned-Ham travel trailer period, but the pop-up concept would be highly sought after in the 1970s and 1980s as a lightweight family camper.
Today's tent campers exist as vehicle add-ons. For example, tents can be enclosed around the rear of an SUV hatch, turning your vehicle into an instant overnight camper. Truck cargo toppers have expandable tops that create sleeping space with comfortable mattresses.
Are Pop-Up Campers Good for Beginning RVers?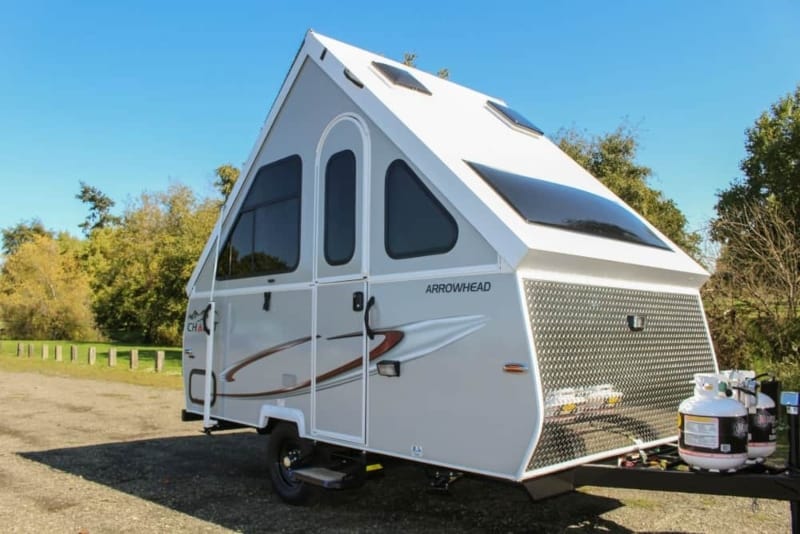 Popup campers are a great place to start if you're ready to ditch the tent but aren't quite ready to invest in a travel trailer or motorhome. Pop-up campers offer many of the comforts of a travel trailer in a more compact and lightweight package.
Beginners frequently select the pop-up camper because they're affordably priced and don't require the purchase of a new vehicle. Most pop-up campers can easily be towed with a full-size car, minivan, or fuel efficient SUV.
They are also great for beginners who have large families. Check out our article called 7 Best Pop-Up Campers That Sleep 8 for more info!
10 Best Popup Campers for Beginners
1. Coachmen Clipper 128LS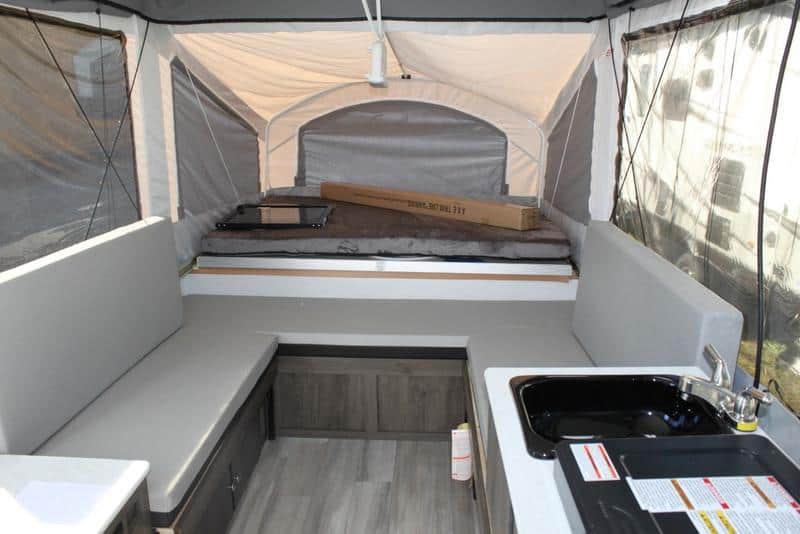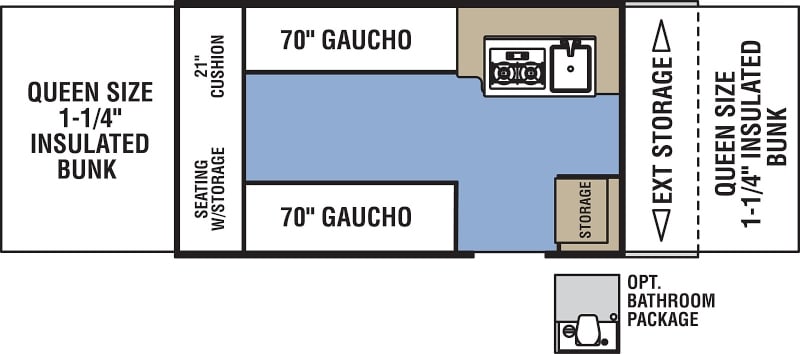 Our

Pros and Cons
✅ For a limited-series camper, there's a lot of storage!
⛔ Coachmen doesn't include a table, so you'll need to bring your own.
Open Length: 23.5 ft.
UVW: 2,204 lbs.
Tongue Weight: 223 lbs.
Bathroom: Optional wet bath
Closed Length: 17.9 ft.
GVWR: 3,223 lbs.
CCC: 1,019 lbs.
Sleep: 4-8
The Coachman Clipper 128LS is the perfect pop-up camper for families that want to spend their camping time a bit off the beaten path. This great travel trailer has many family-friendly options and a rugged exterior for getting off the paved roads.
If you're new to owning a pop-up, Coachman makes things simple for you. The Goshen Lift System makes opening your camper easy and quick. It can be operated with a hand crank or a drill. The dual extensions and 70-inch gaucho beds provide enough space to sleep eight people.
The Clipper 128LS also has some great optional features like an outdoor grill hookup with a propane quick-connect, an outdoor shower, and a wet bathroom package. One thing you'll need to make sure to pack is a table. This camper doesn't have a dinette.
2. Flagstaff MAC 206M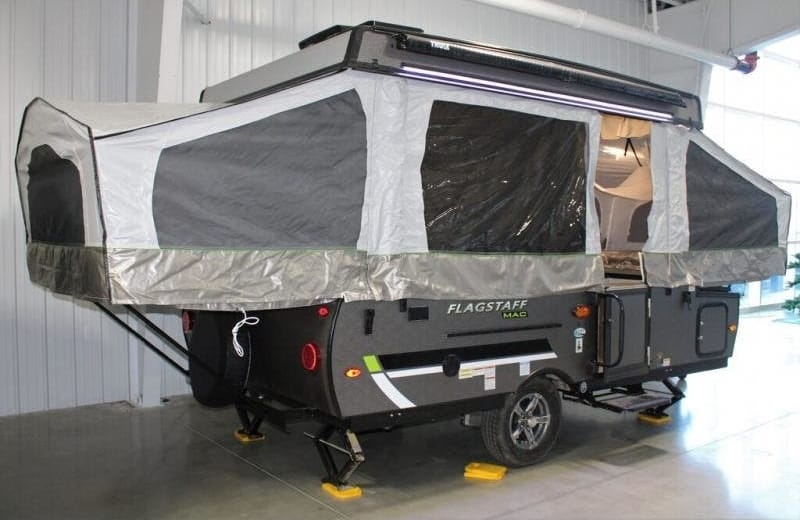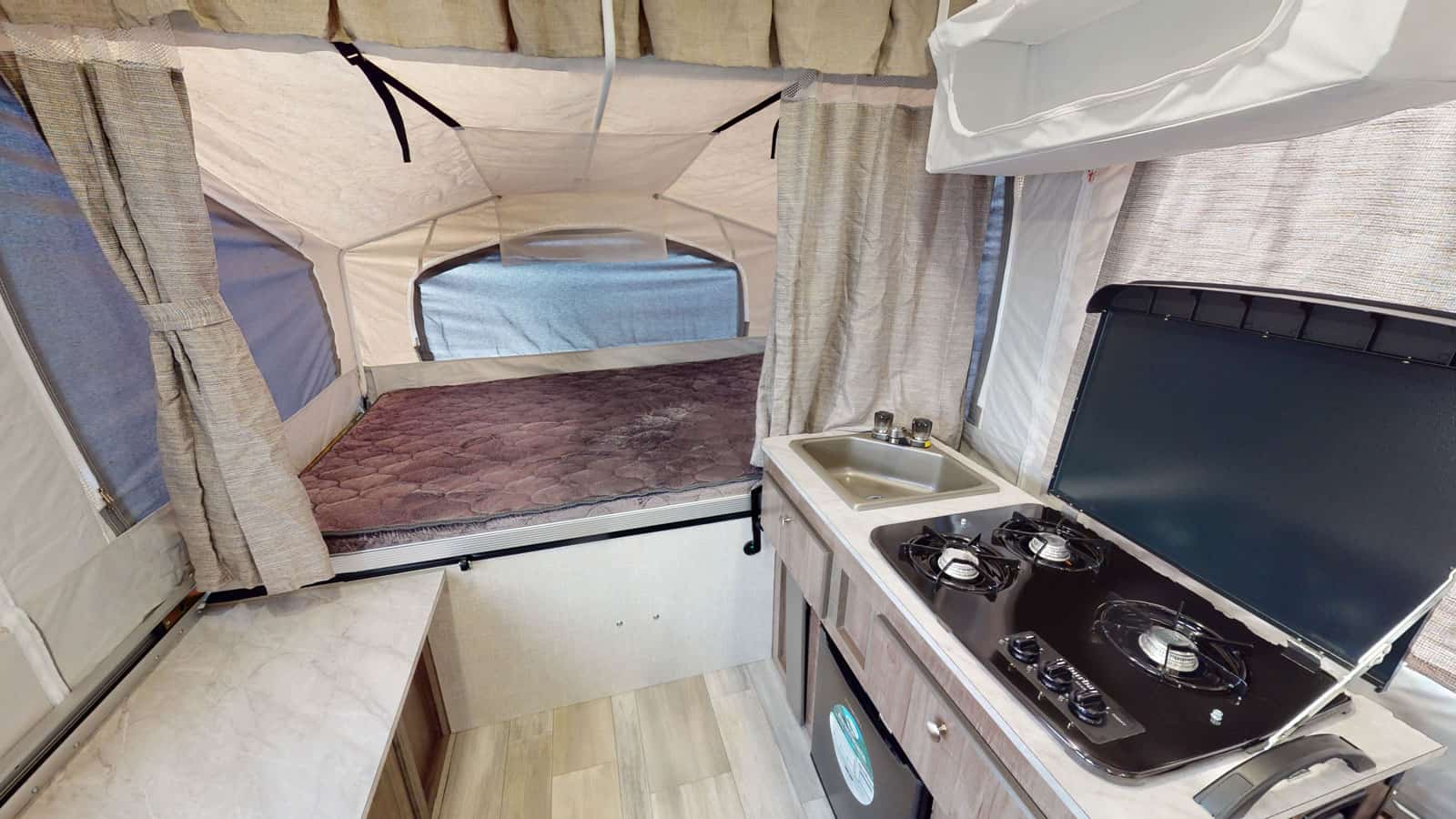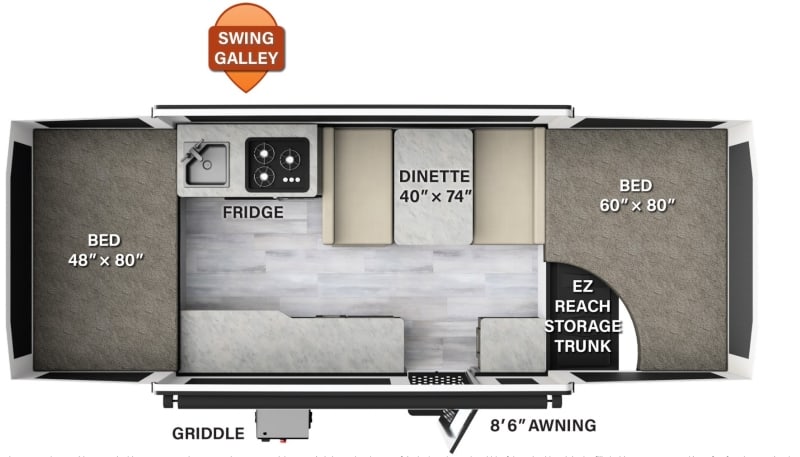 Our

Pros and Cons
✅ The 100w solar panel keeps your fridge cold without using up your LP!
⛔ The MAC 206M is a campground only pop-up camper.
Open Length: 20.2 ft.
UVW: 2,223 lbs.
Tongue Weight: 240 lbs.
Bathroom: No
Closed Length: 16.7 ft.
GVWR: 3,240 lbs.
CCC: 1,017 lbs.
Sleep: 2-6
The Flagstaff MAC 206M is another great pop-up for families. This one is perfect for active families that like to get away from civilization but really enjoy cooking great meals.
The upgraded kitchen in this model is one of the highlights of the Flagstaff MAC 206M. You'll enjoy a ton of counter space, nicer appliances, and even an outdoor griddle. The swing-down galley allows you to have a standard counter-height cooking area that tucks below the counter when the camper is closed.
All MAC series popup campers come standard with a 100w solar panel, allowing you to keep the fridge cold when traveling. It's a great feature since it'll save you on propane costs.
3. Rockwood Tent Freedom 2318G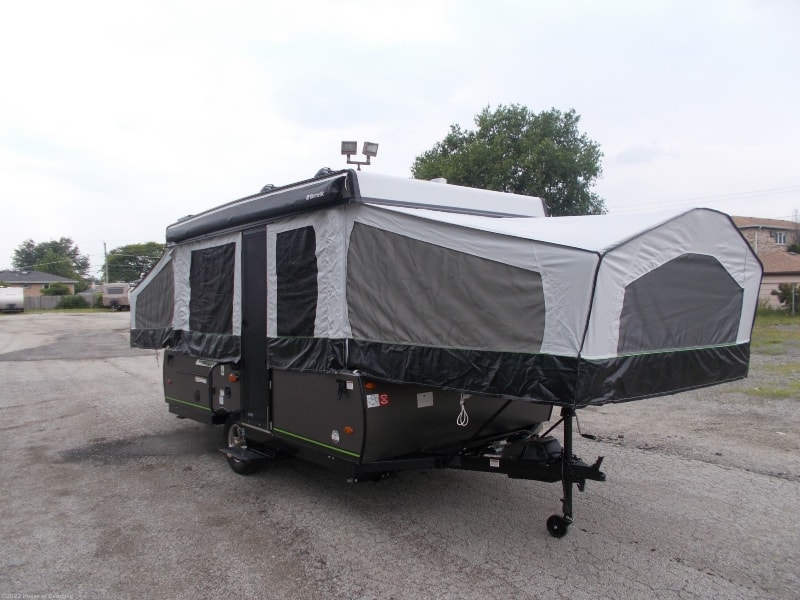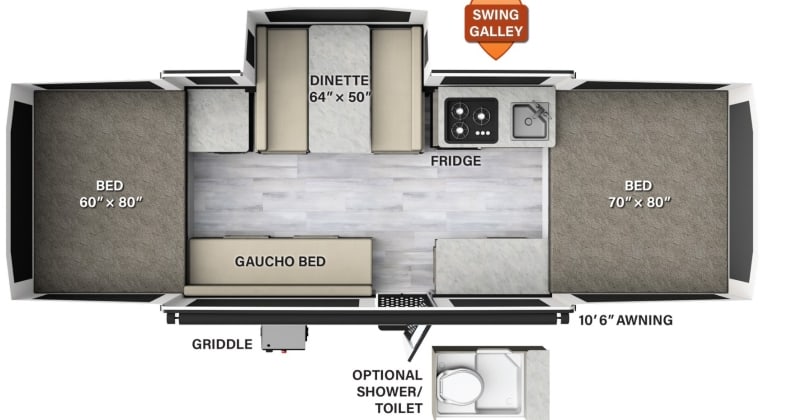 Our

Pros and Cons
✅ The slide-out dinette adds space to the center aisle!
⛔ You lose a lot of storage potential if you choose the optional wet bath.
Open Length: 23.11 ft.
UVW: 2,458 lbs.
Tongue Weight: 263 lbs.
Bathroom: Optional wet bath
Closed Length: 16.10 ft.
GVWR: 3,263 lbs.
CCC: 805 lbs.
Sleep: 2-8
Space was one of the complaints about pop-up campers for a long time. While the slide-out beds provide ample sleeping space, most pop-up floor space can be tight. The Rockwood Freedom 2318G has a great slide-out dinette that gives you more walkway space and a great place to enjoy a meal.
One of the best features of this pop-up is the optional add-ons. If you don't want to "rough it," the optional wet bath package with a shower and cassette toilet are awesome features.
If you choose to keep the storage cabinet instead of the wet bath, there's a big storage space in the front and additional storage below the slide-out.
4. Chalet Trailer LTW A-Frame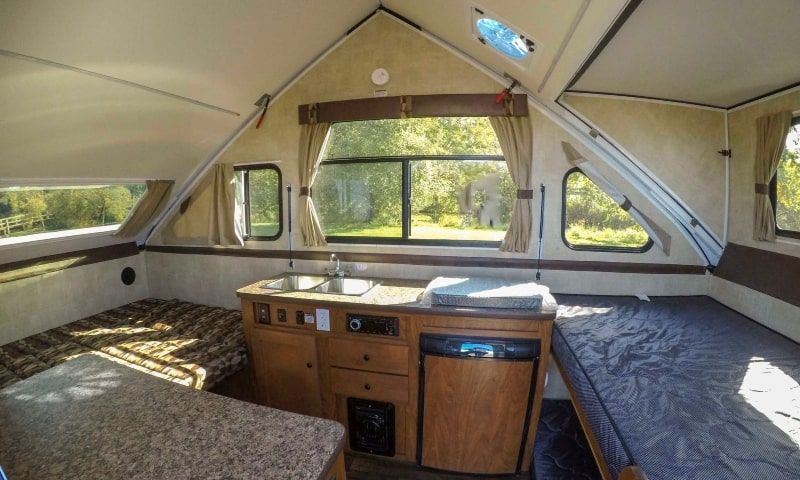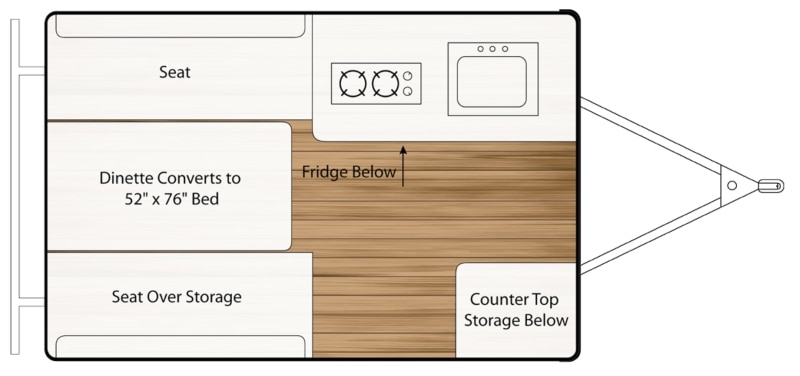 Our

Pros and Cons
✅ The Chalet LTW is wired up for boondocking features!
⛔ The XL series are the only ones with optional toilet add-ons.
Open Length: 12.9 ft.
UVW: 990 lbs.
Tongue Weight: 138 lbs.
Bathroom: No
Closed Length: 12.9 ft.
GVWR: 2,000 lbs.
CCC: 1,010 lbs.
Sleep: 1-2
This A-Frame hard-sided camper is perfect for couples that are ready to give up their tent but aren't quite ready to commit to a regular travel trailer. The Chalet LTW is a lightweight option that's easy to pull with smaller SUVs. The compact size of this pop-up makes it easy to pull and simple to park.
The pop-up hard sides provide a quiet and warm place to sleep. This tiny camper is perfectly sized for two people. You'll be surprised at the available storage in this pop-up, and the galley has an impressive amount of counter space despite the compact size.
The Chalet comes with an optional off-road package which turns this A-frame camper into an amazing option for boondocking or camping in more remote locations.
5. Coachmen Viking Express 12.0 TD MAX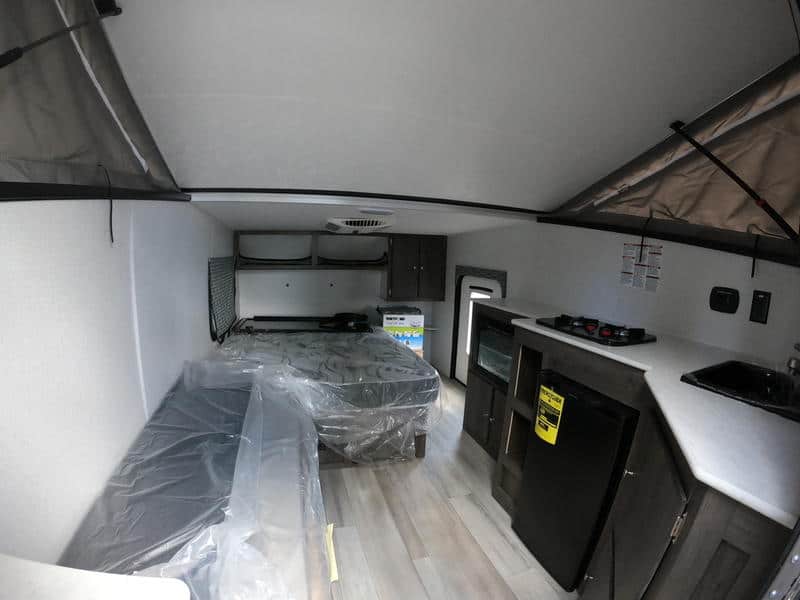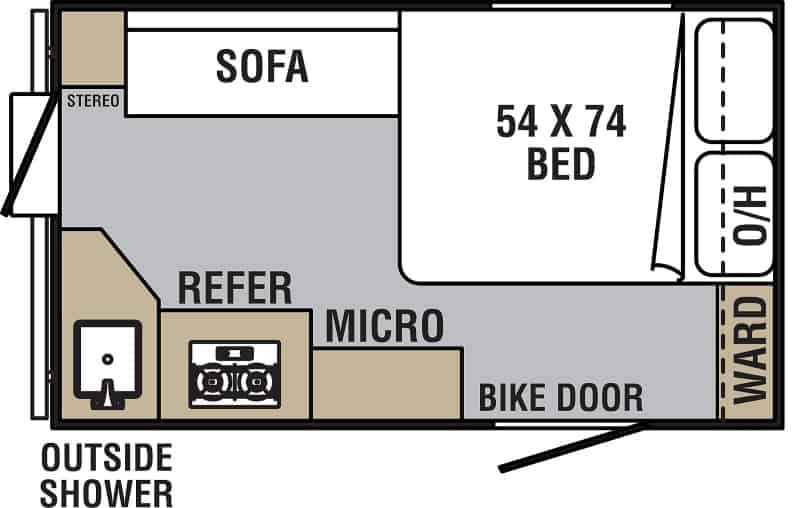 Our

Pros and Cons
✅ This pop-up gives you great utility, pop-up features, and a teardrop size!
⛔ The 12.0TD MAX is heavier than it looks, so double-check your towing capacity.
Open Length: 13,11 lbs.
UVW: 2,225 lbs.
Tongue Weight: 259 lbs.
Bathroom: No
Closed Length: 7.5 lbs.
GVWR: 3,259 lbs.
CCC: 1,034 lbs.
Sleep: 1-2
Coachmen get on the boondocking wagon with the Viking Express 12.0TD MAX. This small but mighty pop-up camper is made for off-road adventures and people who enjoy being active while on the road.
The name of the game with this camper is ease. This compact camper is one of the simplest to tow, open, and park. At the same time, it's got all of the comforts of home in a rugged exterior.
Made for active people, this camper has an outdoor shower for cleaning up after a day of activities and a bike door that makes storing your mountain bikes inside the camper easy and convenient.
The 12.0TD MAX popup does have a higher clearance and more robust tires, making it a great off-road camper. It's a bit heavier than other pop-ups, so you'll need a vehicle that can manage the 3,259-pound GVWR.
6. TrailManor 2518KB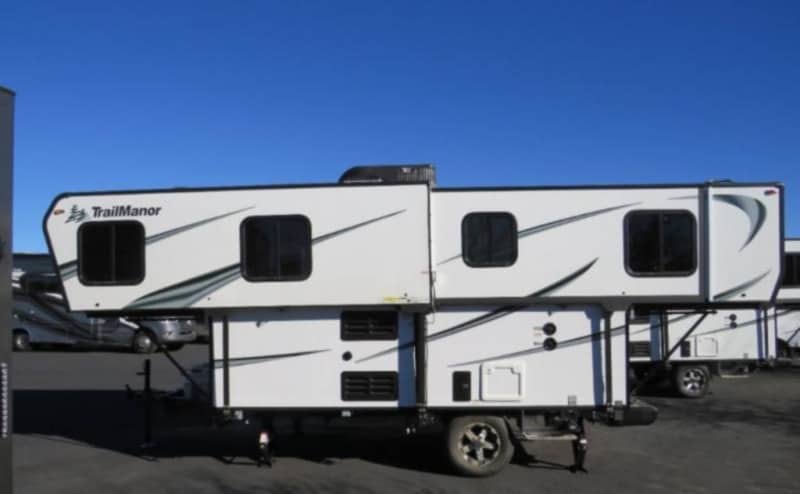 Our

Pros and Cons
✅ The 2518KB has the most sleeping space of the 3 layouts.
⛔ Keep an eye on your cargo weight since it's relatively low.
Open Length: 25 ft.
UVW: 2,580 lbs.
Tongue Weight: 295 lbs.
Bathroom: Dry bath
Closed Length: 18 ft.
GVWR: 3,300 lbs.
CCC: 720 lbs.
Sleep: 2-6
Perhaps you want a camper, but your existing vehicle limits your options. Or so you thought. The TrailManor 2518KB 18-foot closed-length hard-side pop-up is a lightweight but roomy camper that can be pulled with your minivan, compact SUV, or crossover.
TrailManor uses a range of ultra-lightweight materials to construct their hard-side pop-ups, but they don't skimp on the comfort features. In a couple of minutes, you'll have the camper fully expanded and ready to go.
This is a well-appointed camper with all the comforts of home. You'll find out why the 2518KB is the most popular model as you enjoy a two burner stove, kitchen sink with a large countertop, and a hard side bathroom.
7. Kimberly Kampers Karavan

Our

Pros and Cons
✅ There are many add-on features to enhance the interior living experience!
⛔ If you want an indoor kitchen, avoid Australian-style pop-up campers.
Open Length: 22.4 ft.
UVW: 2,531 lbs.
Tongue Weight: 530 lbs.
Bathroom: Waterless Waste-sealing toilet
Closed Length: 15.10 ft.
GVWR: 5,500 lbs.
CCC:
Sleep: 2-8
Kimberly Kampers are built specifically for off-road adventures, making them the perfect camper for the couple who wants to experience the outback, American style.
The Kimberly Kampers Karavan camper is a hybrid of their tent camper and their Kruiser travel trailer. The push-button setup for this camper is a highlight. This camper opens from a compact trailer to a spacious pop-up in just minutes.
All Karavans come with a waterless commode, tons of interior space, and an awesome exterior galley. The front of the trailer holds all of the mechanics, including space for a generator and power converter for the standard 95-watt solar panels.
Traditionally, these campers have been hard to find in the U.S. Some RV dealers in California sell this trailer. Many customarily order from Kimberly Kampers and have their camper shipped here.
8. ALiner Campers Scout-Lite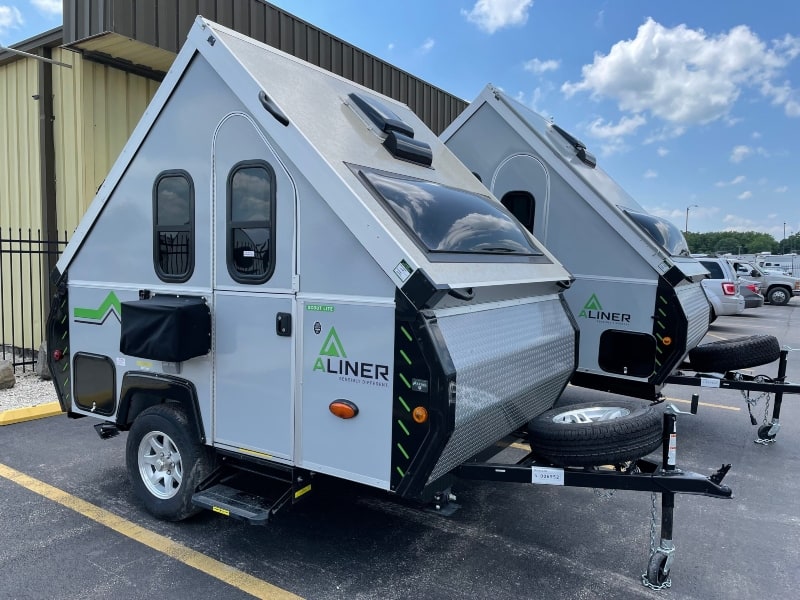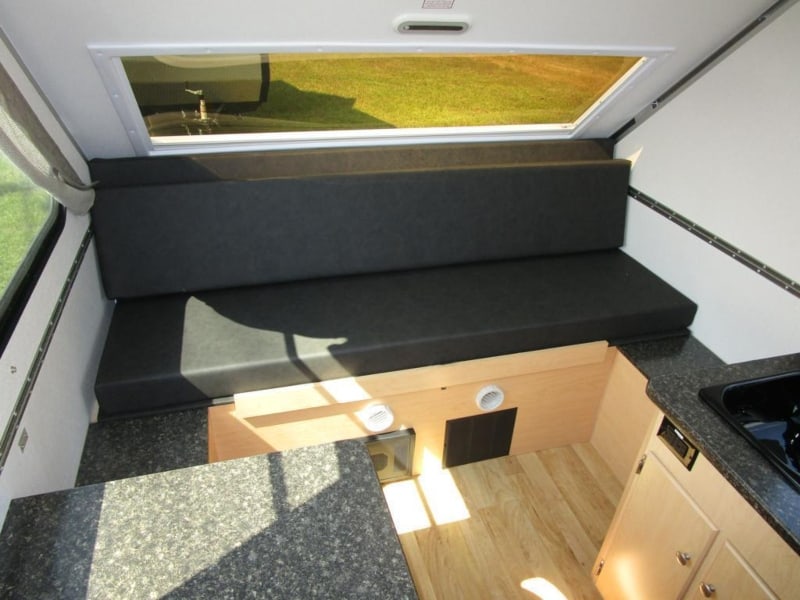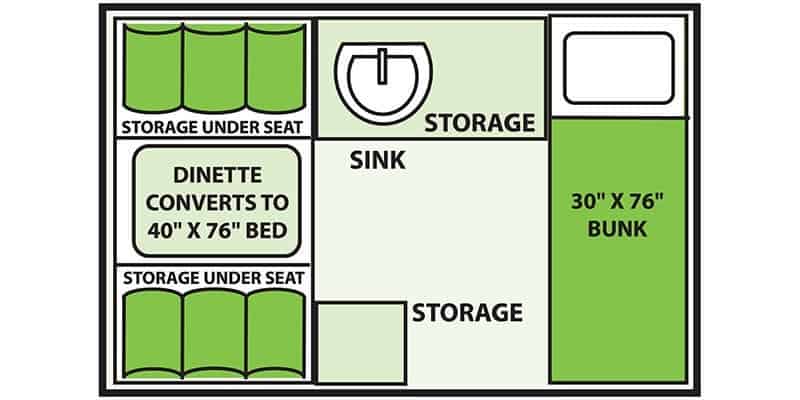 Our

Pros and Cons
✅ This A-frame pop-up fits great in your residential garage!
⛔ Many comfort features aren't included, but there's good storage.
Open Length: 13 ft/
UVW: 1,180 ft.
Tongue Weight: 130 lbs.
Bathroom: No
Closed Length: 13 ft.
GVWR: 3,000 lbs.
CCC: 1,820 lbs.
Sleep: 3-4
The ALiner Scout-Lite is the perfect popup for the couple or family that enjoys the simplicity of tent camping but is ready for a more comfortable place to sleep.
The Scout-Lite hard-side pop-up is about as basic as they come. The interior features a convertible dinette and a twin-size bunk bed. The dinette seats have plenty of storage, perfect for storing the rest of your camping gear. The interior sink is great for washing dishes or brushing your teeth.
You'll need to bring your camp kitchen supplies (stove, table, cooler, etc.). This small trailer doesn't have a full galley.
Besides being perfectly simple, this lightweight camper is easily pulled with smaller SUVs and pickup trucks. The compact size also allows you to store it in a standard-size residential garage.
9. Opus Lite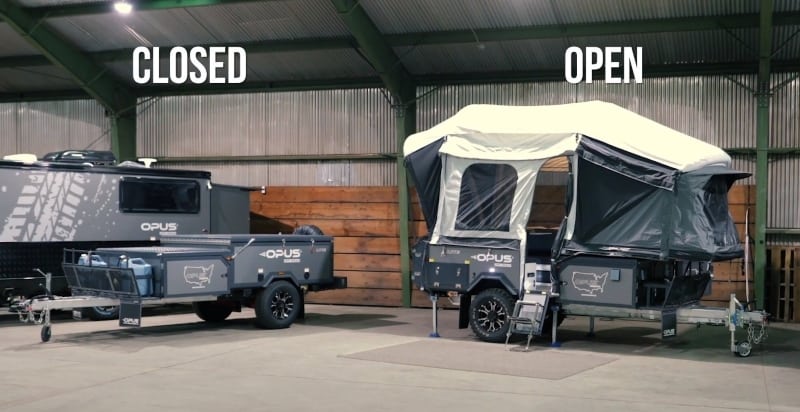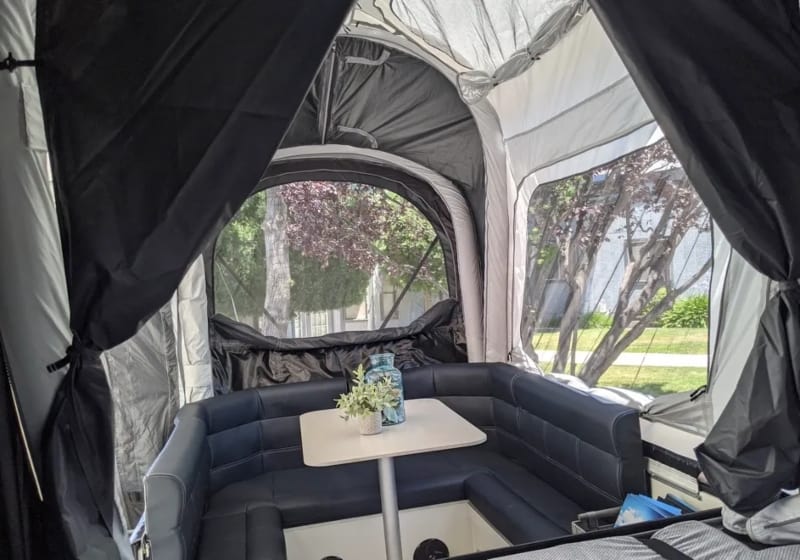 Our

Pros and Cons
✅ Inflate the soft shell in less than 90 seconds!
⛔ Opus is another Australian RV company where the kitchen is outside.
Open Length: 17.2 ft.
UVW: 2,380 lbs.
Tongue Weight: 209 lbs.
Bathroom: Cassette commode
Closed Length: 17.2 ft.
GVWR: 3,527 lbs.
CCC: 1,147 lbs.
Sleep: 2-6
Weekend warriors will love this pop-up. The Opus Lite is a rugged, compact camper made for off-road adventures. It's also made for those that want to spend time adventuring, not setting up their camper.
The air inflation technology used in Opus tent campers makes setting up your pop-up fast and easy. Your camp is ready to enjoy in less than 5-minutes. When you're ready to head home, the tent deflates automatically and quickly stores back in the trailer.
Our favorite feature of this pop-up is the complete outdoor galley. You don't have to settle for typical camping meals with this kitchen. The four-burner stove, running water, and refrigerator allow you to enjoy gourmet meals even in the most remote locations.
10. SylvanSport GO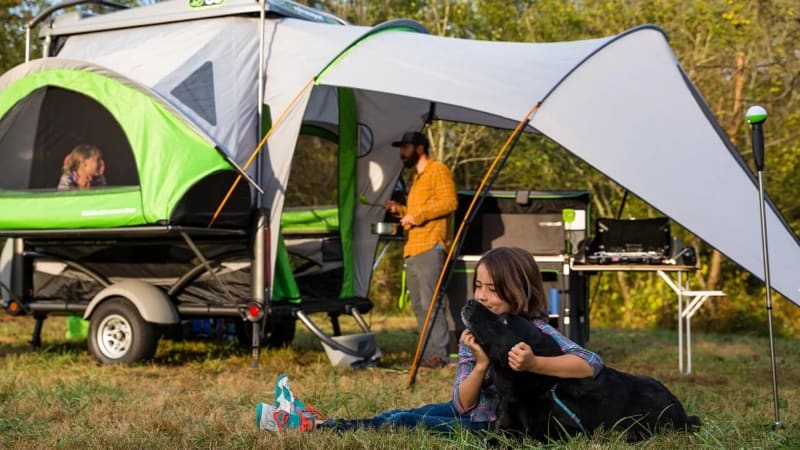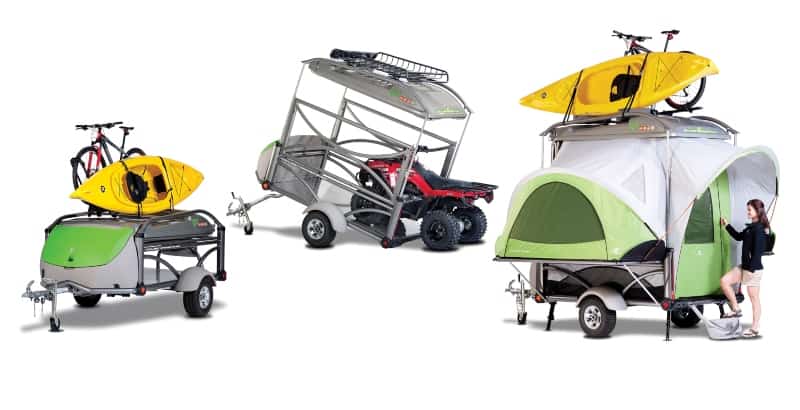 Our

Pros and Cons
✅ The trailer is as versatile as the camper!
⛔ SylvanSport offers additional products for the kitchen and other features.
Length: 11.67 ft.
UVW: 840 lbs.
Tongue Weight: 85 lbs.
Bathroom: No
Open Width: 10.34 ft.
GVWR: 1,650 lbs.
CCC: 810 lbs.
Sleep: 2-4
If you still love to tent camp but sleeping on the ground is starting to bum you out, this is the pop-up camper for you. This tent camper trailer is a four-person tent set on a compact, lightweight trailer.
This isn't your everyday tent. The SylvanSport tent sets up quickly and offers over 6-feet of headroom. The interior offers a variety of sleeping and dining arrangements. The SylvanSport GO is a great pop-up teardrop camper for small families or couples.
The trailer has plenty of storage space for coolers, gear, and other camping equipment. The roof rack of the tent pod is perfect for bikes, boats, skis, or just additional gear storage. Use the front storage box for storing items that need to stay dry.
A Beginner's Guide to Pop-Up Campers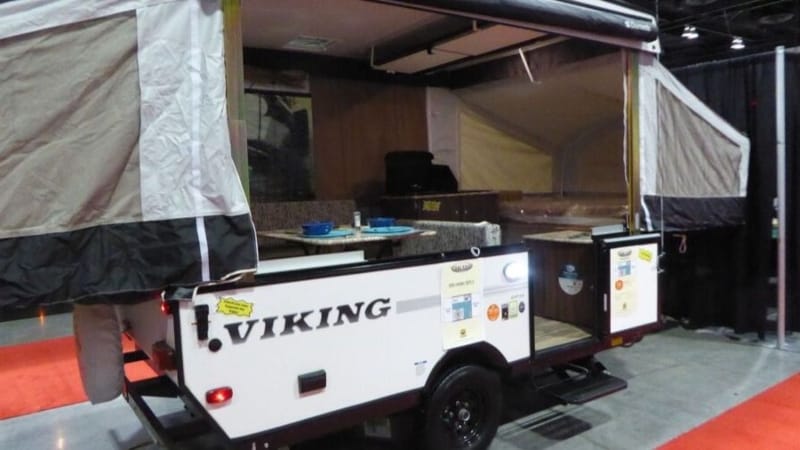 Are Popup Campers Just for Beginning RVers?
While pop-up campers are often a favorite of RV beginners, they're also popular with experienced RVers and overlanders who want the comfort of an RV or travel trailer but in a more compact and easier-to-store option.
Overlanders and boondockers frequently prefer pop-up campers because they are lightweight and easily fit in difficult-to-reach campsites. Many manufacturers of overlanding trailers utilize the pop-up because they're also easy to modify with suspension lifts, rugged axles, and more robust tires.
Should Beginners Avoid Popup Campers?
We wouldn't say that beginners should avoid pop-up campers, but certainly, they should be aware of the pros and cons of a pop-up camper. As with any RV or travel trailer purchase, research is important.
Beginners should take the time to carefully research the features of pop-up campers and compare those to their individual needs. A pop-up camper isn't the right option for every RV beginner, but for others, it can be the perfect transition from a tent to a camper.
What Is a Hard-Sided Popup Camper?
A hard-sided popup camper is a popup camper that utilizes hard, solid materials for the entirety of the camper construction. Hard-sided pop-ups do not have any canvas or soft "tented" areas. Hard-sided pop-ups also often utilize mechanical means for opening and closing the camper.
What Is a Canvas Popup Camper?
A canvas pop-up camper is also often called a tent trailer or tent camper. These pop-ups have a hard-side center that's used as the "storage" area for the soft-sided canvas features that expand the size of the camper. Often the canvas portions of these pop-up campers cover the sleeping areas.
Today's pop-up campers no longer use canvas. Softshell pop-campers mainly use a multi-layer version of weather-resistant vinyl that's lighter than canvas.
Pros and Cons of Hard-Sided Popup Campers
If you're considering a hard-sided A-frame pop-up camper, you should consider some pros and cons.
Pros:
Easy to tow
Quick set-up
Perfect for couples, small families, or individuals
Lots of natural light
Better insulated
Simple to store in the off-season
Cons:
Not great for more than 4 people
Limited storage space
No privacy
Noisy in windy weather
Pros and Cons of Soft-Sided Popup Campers
Like the hard-sided version, soft-sided or canvas popup campers have pros and cons that should be considered before making the investment.
Pros:
Easy to tow
Great for large families
Good for boondocking
Affordable
The tent experience without sleeping on the ground
Cons:
Noisy during just about any weather condition
Not quick to set-up
Difficult to heat or cool even with a heater and A/C
Must be stored dry to avoid mold and mildew development
How Do You Set Up a Popup Camper
Hard Sided
Setting up a hard-sided popup camper is a bit different than setting up a canvas popup camper. Depending on the make and model of your hard-sided camper, your set-up could be manual or automatic.
Park your camper in the most level area of the campsite.
Chock the wheels of the camper.
Remove from the tow vehicle.
Level the camper if needed.
Unhook any latches securing the roof.
Push up both sides of the roof. The springs on the roof panels do the heavy lifting.
Open the bottom and top parts of the door.
Hinge up the sidewall and lock it into place on both roof panels.
Do the same on the road side sidewall.
If you have dormers, push them up into place and lock them into position.
Soft Sided
Park your camper on the most level area of the campsite and
Chock the wheels of the camper.
Remove from the tow vehicle.
Level the camper if needed.
Unhook the roof latches.
Using the provided crank and port, begin raising the camper roof.
Locate the handles for the bed supports and pull until the bed is fully extended.
Install bed supports to the camper frame.
Install the frame and supports for the vinyl canopy over each bed.
Unhook and lower the door from the ceiling and secure it in place.
Lift the camper's kitchen into position and set up the dinette.
What Tow Vehicle Do I Need for a Pop-up Camper?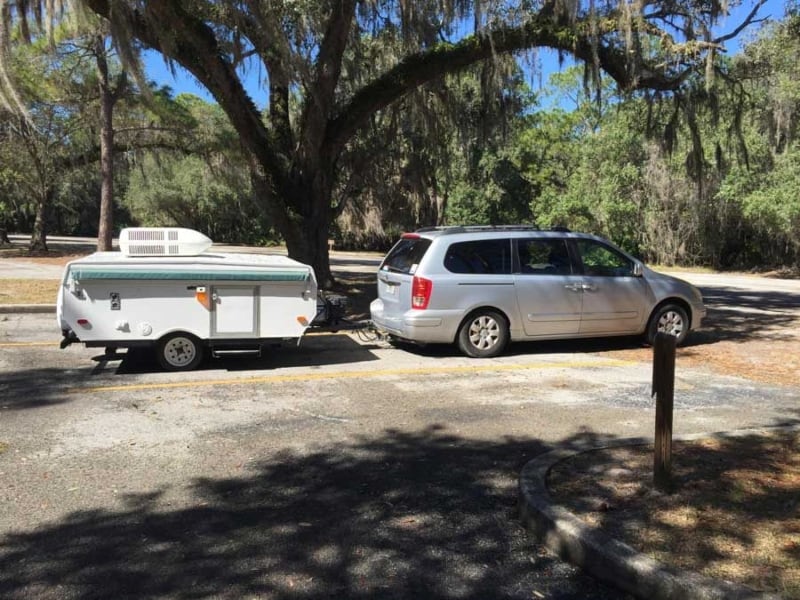 Pop-up campers generally require a small SUV or pick-up truck for towing. There are some exceptions to this rule. You should pay careful attention to the Gross Vehicle Weight Rating (GVWR) to ensure that your vehicle is able to tow the popup you are considering safely.
Tow vehicles with a 3,500 tow capacity match well with most A-frame and soft shell pop-up campers.
Is It Difficult to Tow a Popup Trailer?
If you've never towed a trailer before, towing your pop-up trailer may be a bit challenging for the first time. However, because they're so compact and lightweight, pop-ups are fairly simple to tow.
Remember, as with other travel trailers, you don't want to drive at excessive speeds. This can cause trailer sway, which can be dangerous. Spend a few weekends driving around town and take a cruise on some local highways to get a feel for towing your pop-up camper.
Does It Feel Like You're Sleeping in a Tent?
A soft-sided pop-up is probably not the ideal option if you don't want to feel like you're sleeping in a tent. The vinyl sides are thicker, but you'll still get that tent-like experience of hearing everything.
The positive is that you'll sleep on a mattress, not on the ground, which is certainly more comfortable than a tent. Don't even bother turning on your sleep machine if it's raining that night. Hearing the rain hit the top of the vinyl roof will have you sleeping in minutes!
How Long Do Pop-up Campers Last?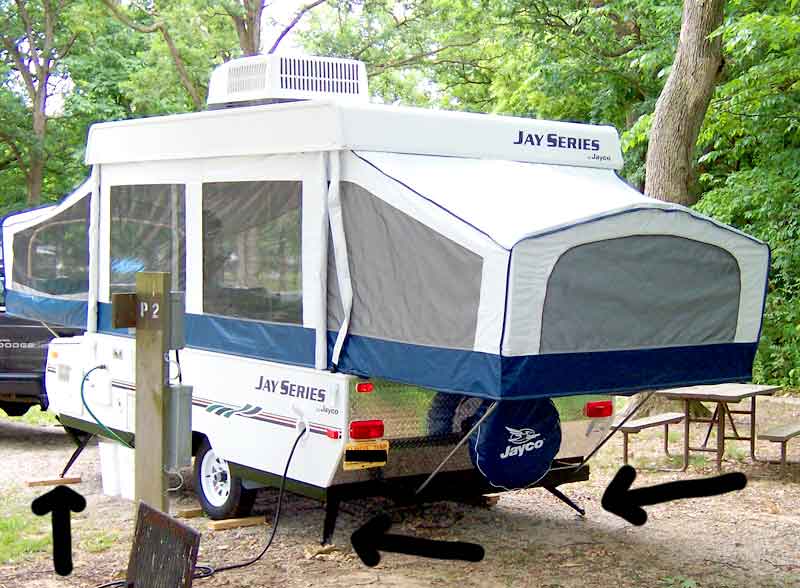 Most pop-up campers are designed for about 15 years of life. However, it really depends on your level of care and maintenance. Pop-up campers require more maintenance than travel trailers.
The biggest areas to focus on are regreasing the wheel bearings annually, inspecting the vinyl for tears or mold, and ensuring the wood platforms under the beds are in good shape.
When Would You Want to Upgrade from a Pop-up Camper?
Many people never upgrade from a pop-up camper. They enjoy the simplicity and ease of the pop-up lifestyle.
However, if you've been in a pop-up camper and are ready for less effort to set up camp, need more space, or just want to enjoy a more luxurious camping experience, it may be a good time to upgrade.
Do Pop-up Campers Hold Their Value?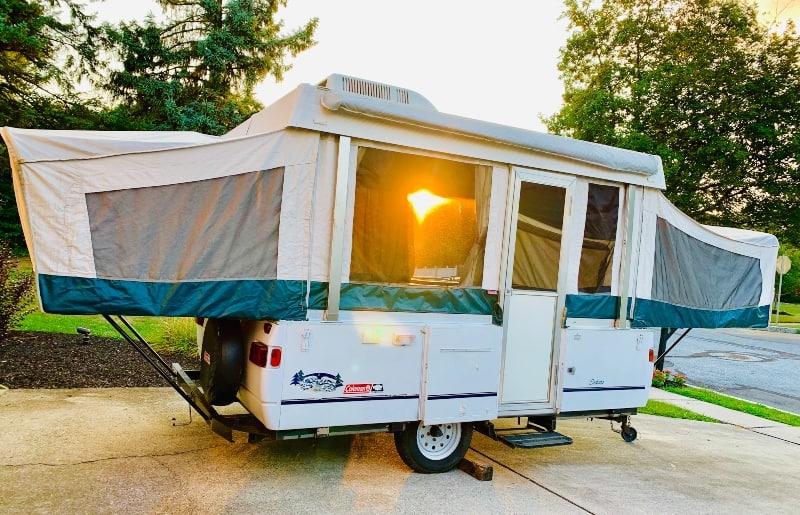 This is probably one of the biggest downfalls to buying a pop-up camper. While other travel trailers and RVs tend to hold their value fairly well, pop-up campers tend to depreciate worse than other RV categories.
What Beginners Should Look for When Buying a Popup Camper
When you are looking to buy a new popup camper, here are some things to be on the lookout for:
GVWR – Can your vehicle tow your camper?
Hard side vs. soft side.
On-road vs. off-road capability
Trailer length
Process for set-up and packing up (manual vs. automatic)
Sleeping capacity
Storage space
Optional equipment
Seams, seals, and water damage
The functionality of all mechanisms and systems
When you buy any new or used RV, you want to see all of the repair and maintenance paperwork. RVers are usually honest folks, but if you don't have documented proof that something was done, once the title is in your name, it becomes your problem.
Is Buying a Pop-up Camper Worth It for Beginner RVers?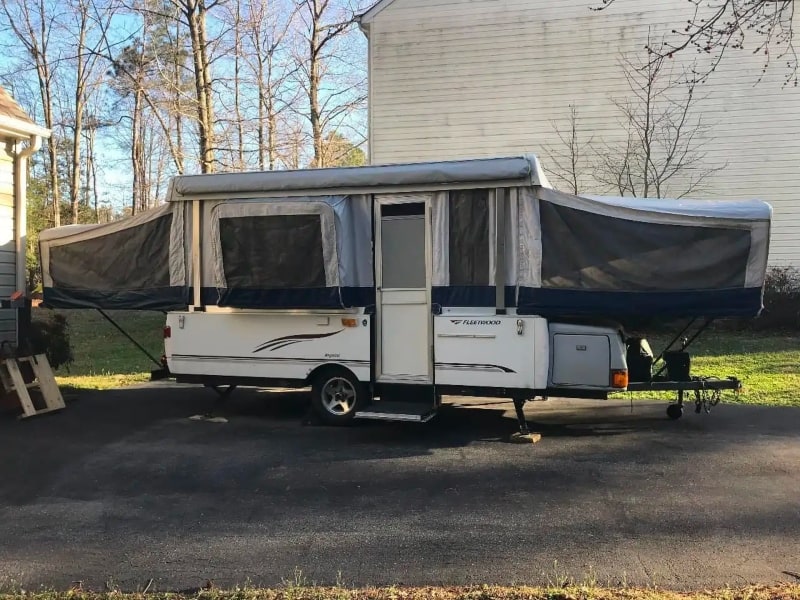 A pop-up camper can be a great investment for RV beginners. With a huge range of pop-up campers, beginners really have the ability to pick the perfect trailer for their needs. Our 10 best pop-up campers for beginners are just a small peek at the options available.
Remember to do your research if you're considering a pop-up camper and are a beginner RVer. This will ensure that you're the first pop-up camper you choose is the right one, and you can feel confident using it. You'll also ensure that your first RV camping experience is amazing.
---
About the Author:
Jason Gass is a full-time freelance writer and part-time RVer whose goal is to share great stories around a campfire with good friends.
When he's not working, he spends most of his time camping, searching for the best breweries, and road-tripping in his teardrop trailer with his wife, daughter, and two dogs.