Greasing travel trailer wheel bearings is an important part of RV maintenance. Yet wheel bearing upkeep is often overlooked. Many RVers don't know that they need to grease and repack their wheel bearings on a regular basis. Others may be aware but unsure of when or how to perform this task.
We'll unpack some of this ambiguity so you can easily grease your travel trailer wheel bearings.
Why Do You Need to Grease Travel Trailer Wheel Bearings?
Wheel bearings are the part of the wheel that allows it to turn freely. The wheel bearings also carry the entire weight of the camper. This very important part of your rig requires grease in order to function properly.
Grease breaks down over time, so periodically repacking travel trailer wheel bearings with grease is a must. Failing to do so can result in the wheel bearings drying out and seizing up as you travel down the road. The friction created can cause serious damage to your camper.
How Often Should You Grease Travel Trailer Wheel Bearings?
You should grease a travel trailer's wheel bearings annually or every 10,000 – 12,000 miles, whichever comes first. Even with low mileage, grease can still dissipate over time, so both benchmarks are important.
Failing to regularly grease your travel trailer's wheel bearings is a big risk-small reward situation. If you skip this maintenance, you chance a wheel literally falling right off your travel trailer.
What Are the Signs That Your Travel Trailer Wheel Bearings Need Grease?
A temperature check is a quick way to tell if it's time to grease your travel trailer's wheel bearings. Next time you park, walk to each tire and hover your hand close to the center of the lugnuts.
Be cautious because particularly dry wheel bearings can cause enough friction to burn. If the area isn't too hot to touch, let your hand rest there for a minute. You're in good shape if you can comfortably keep your hand there.
Perform this check on each tire. They should all be cool enough to touch and feel like they're around the same temperature. If one wheel is significantly warmer than the others, you'll want to grease that wheel's bearings.
Visible grease on the wheel or screeching/grinding sounds while driving are additional indicators of concern. If your RV wants to veer towards one side while being towed, that indicates that your travel trailer wheel bearings need to be serviced.
How to Grease Your Travel Trailer Wheel Bearings
Some newer pop-up campers and travel trailers now have an easy lube axle feature that allows you to inject new grease into the travel trailer wheel bearings through a designated tube. Your RV's owner's manual or local RV service center can give you more information about this feature.
The easy lube feature is great for emergencies, but you should still follow the steps below to ensure you've correctly greased your travel trailer's wheel bearings.
1. Consult Your Owner's Manual Before Adding Grease to Travel Trailer Wheel Bearings
Always reference your owner's manual before greasing your travel trailer's wheel bearings. The manual will have critical information like where to place a car jack to access the trailer wheels safely.
The manual should also give you any camper-specific information about wheel bearing maintenance on your rig. If your travel trailer is only compatible with certain products, your manual will tell you that too.
Travel Trailer Pro Tip on Jacks: Your travel trailer's stabilizer jacks aren't a substitute for a car jack. Stabilizer jacks prevent your RV from rocking when you're inside. They can't support the weight of the rig. car, truck, and heavy-duty hydraulic jacks have the capability to lift and hold the travel trailer's axle up while you're working on the tires.
2. Gather Your Equipment Before Beginning to Grease Your Travel Trailer Wheel Bearings
Greasing travel trailer wheel bearings is a messy business. Gather all your equipment before you begin. This avoids fumbling through your toolbox with grease-covered hands.
Things you will need include:
Car jack(s)
Clean rags
Disposable nitrile gloves
Flat head screwdriver
Grease
Kerosene, acetone, or mineral spirits
Pliers
A small pan
Wrench or tire iron
Things you may need:
Additional wrenches
Brake cleaner
Hammer or mallet
Thread loosener
A wooden dowel
3. Jack Your Trailer Up to Grease Your Travel Trailer Wheel Bearings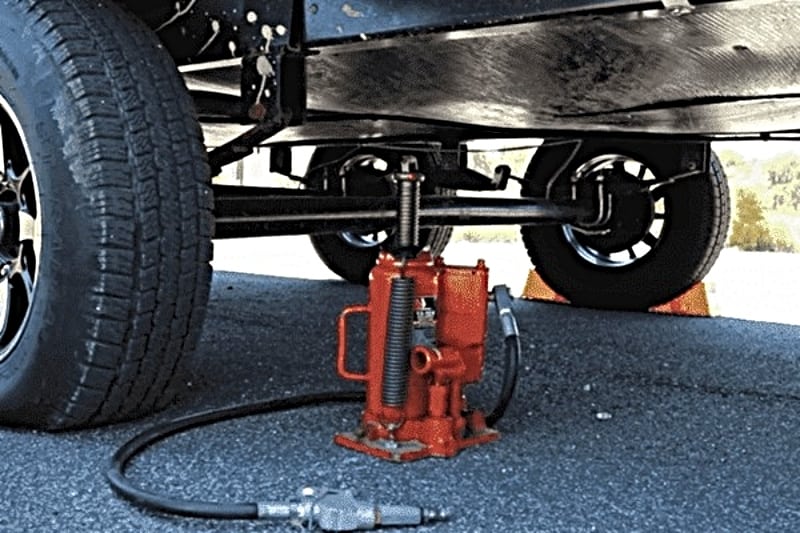 Once you have your materials ready to go, it's time to lift the trailer for easy wheel access. Always start by placing a wheel chock in front of the trailer wheels to prevent rolling.
Reference your owner's manual for the optimal place to position a car jack on the frame of your camper. In many cases, a best practice is to place one car jack on either side of the wheel.
4. Remove the Dust Cap and Wheel to Grease the Travel Trailer Wheel Bearings
Use a tire iron or wrench to remove the lug nuts. Pull the wheel towards you until it slides off. Set the wheel and lug nuts off to the side for safekeeping while you finish greasing your travel trailer's wheel bearings. You may want to keep them in a plastic bowl so the "RV gremlins" don't walk off with them.
If the lug nuts are rusted, you may need to spray them with a thread loosener. Similarly, if the tire is stuck, you may need to tap it with a mallet to break it free.
You'll also need to remove the dust cap. Slide the tip of your flathead screwdriver between the hub and the lip of the dust cap. Then, gently wiggle the screwdriver around the edge until the dust cap slips off.
5. Access the Bearings
Once the dust cap is off, you'll see the spindle nut and, if equipped with one, the cotter pin securing this nut. Use pliers to remove the cotter pin. Then remove the spindle nut by hand, or use your screwdriver to pop it out.
Next, remove the wheel hub. The wheel bearings are inside the wheel hub. Be careful because they may come loose and fall out on their own.
6. Remove and Clean Everything Before Adding Grease to the Travel Trailer Wheel Bearings
If you need to remove the bearings manually, push them out by hand or gently pry them out with a screwdriver. If the bearings are dry and stuck, use a wooden dowel and gently tap the front of the hub until the bearings come free.
Fill the bottom of a small pan with 2-3 inches of kerosene. If you prefer, you could choose acetone or mineral spirits instead. Whichever cleaner you choose, soak the greasy bearings and the spindle nut for about ten minutes. As an optional way of ensuring your bearings are extra clean, you can spray them with brake cleaner after soaking.
While the bearings are soaking, use a clean rag to wipe any visible grease from the inner and outer races. If you need to, you can dip your rag in the kerosene to help remove stubborn grease.
Be sure to inspect the clean bearings and the races for any damage. You'll need to replace the damaged part if you see scratches, dents, pitting, or discoloration.
7. Repack the Travel Trailer Wheel Bearings with Grease
When you repack the wheel bearings, you'll want to use fresh grease and new grease seals. You may want to put on disposable nitrile gloves before beginning the repacking process, as it can get messy.
Start with about a tablespoon of grease. Gently push the grease into the bearings, rotating the rollers as you go. Ensure you coat the entire bearing thoroughly, including the bearing's interior.
8. Tune Up the Brakes After Adding Grease to the Travel Trailer Wheel Bearings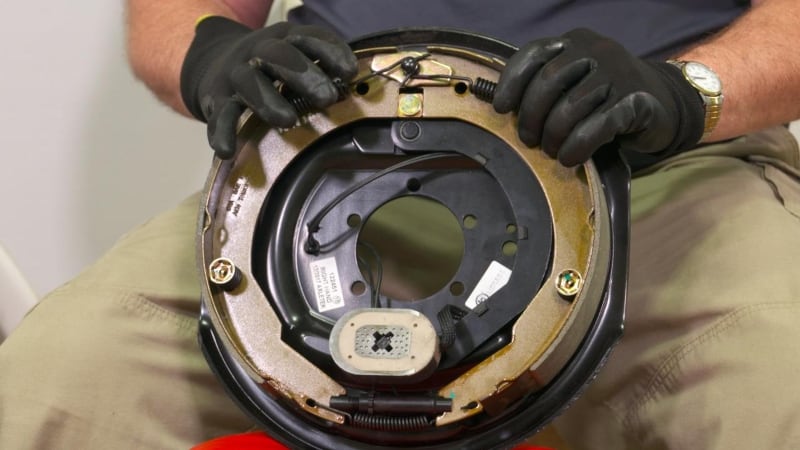 Be sure that grease hasn't come into contact with the trailer brakes. Grease is a flammable lubricant and, therefore, extremely incompatible with the friction generated from braking. If grease has gotten on your brake pads, you'll need to replace them.
9. Reassemble, Greasing Everything Along the Way
Place the bearings back into the hub. You may need to tap it with a wooden dowel and hammer to get the bearings to set properly into place.
Next, you'll need to reassemble the pieces you've removed carefully. This should be done in the reverse of how they were taken apart. Be sure to grease everything as you reassemble.
The greasing process ends when you pop the dust cap back into place. You may need to tap it with a hammer to ensure it's secure.
Finally, put the wheel back on and secure the lug nuts. Once the wheel is in place, you can safely lower the jacks, so your travel trailer rests on its tires once again.
How Much Grease Should You Use on Travel Trailer Wheel Bearings?
If you grease and repack your wheel bearings yourself, a good rule of thumb is to use about a tablespoon of grease per wheel.
You can over-grease travel trailer wheel bearings, so proceed with caution. If there's too much grease, the rollers will slide rather than roll. Excess grease is also more likely to make its way to your brake pads, damaging them.
The goal is to pack the wheel bearings and apply a thick grease coat to the races. Any more grease is unnecessary and could be damaging.
Campers and travel trailers with easy lube technology are particularly susceptible to over-greasing. If your rig has a tube within its wheel components specifically designed to inject grease, this feature is intended to be used on an emergency basis only. Inject just one squirt of grease at a time, or you could do more harm than good.
Should You DIY Grease Your Travel Trailer Wheel Bearings or Hire a Professional?
Unlike other RV problems, you can fix yourself; greasing travel trailer wheel bearings is a fairly complex DIY project. If the inner mechanics of a wheel hub are unfamiliar to you, this DIY can be downright intimidating.
You'll need patience and finesse to carefully take apart, clean, inspect, and reassemble all of the small pieces involved in repacking travel trailer wheel bearings. Not surprisingly, this task takes several hours to complete and involves getting very dirty.
With patience and care, an above-average DIYer can save a few hundred dollars by re-greasing their travel trailer wheel bearings themselves.
But with literally the entirety of your travel trailer riding on your handiwork, if you aren't 100% confident in your skills, it's best to leave wheel-bearing maintenance to the professionals.
5 Best Travel Trailer Wheel Bearing Grease Products
If you decide to tackle greasing your travel trailer wheel bearings yourself, you'll need the best product. While most RV maintenance shops buy grease in bulk, we've compiled a list of the best grease for DIYers.
1. Lucas Oil Red 'N' Tacky Grease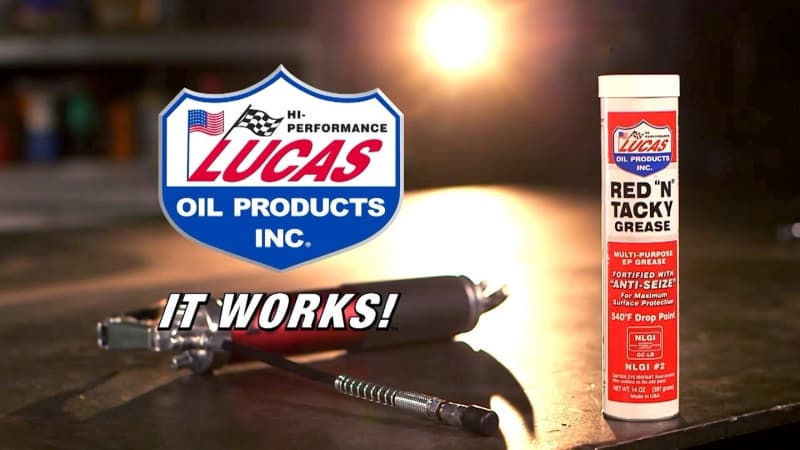 Lucas Oil's Red 'N' Tacky grease is a superb multi-purpose grease that's also perfect for travel trailer wheel bearings. This grease has both rust and oxidation inhibitors.
It's also thicker and stickier than other similar products. This means that it stays just where you want it to, which helps protect other components of your camper.
2. STAR BRITE Wheel Bearing Grease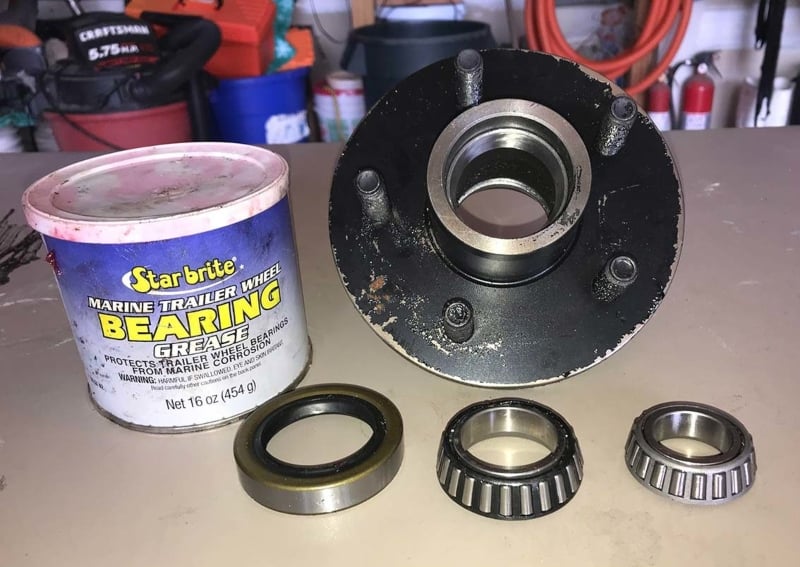 Star Brite Wheel Bearing Marine Grease is engineered to protect against rust, corrosion, water, and extreme temperatures.
Although this grease was designed for boat trailers, its resilience and ability to protect against salt air and salt water make it especially well-suited for beach-loving RVers.
3. Red Line 80401 CV-2 Grease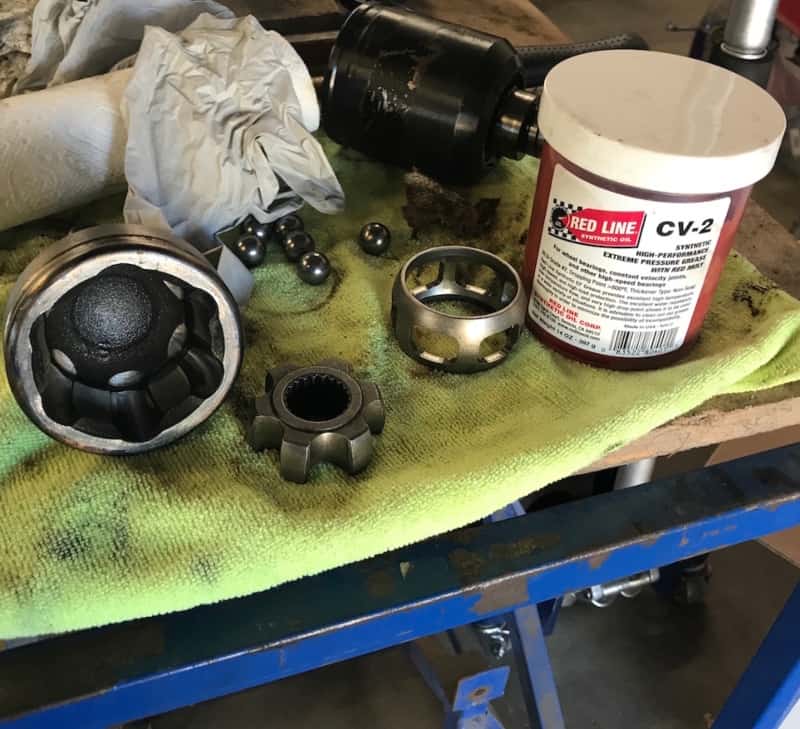 Red Line 80401 Grease has great high and low-temperature stability. It also boasts extreme pressure protection, which makes it well-suited for heavy loads.
It's great at preventing oxidation and corrosion. Red Line Grease also is water resistant, promotes temperature stability, and doesn't fail in heavy load-bearing situations. All of these properties make it an excellent choice for RVs.
4. Green Grease 101 Synthetic Grease
Green Grease 101 has a temperature rating of 500° Fahrenheit. It also has additives that make it both waterproof and extraordinarily capable of bearing heavy loads. These characteristics mean that it's uniquely well-suited for travel trailers. This grease is a great option for extreme climates and heavy campers.
5. Valvoline VV985 Moly-fortified Full Synthetic Grease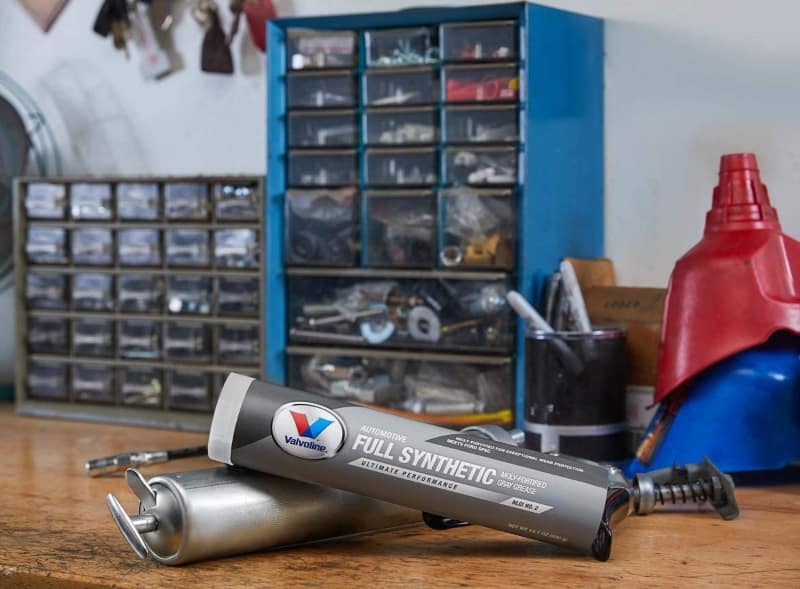 The compounds that make up the moly-fortified Valvoline VV985 full synthetic grease are superb at protecting metals against wear. The lithium complex means this grease retains its protective capabilities in temperatures as extreme as -60° or as hot as 425° Fahrenheit.
Although it's not 100% waterproof, it remains the preferred grease of both Ford and GM. Motorhome RVers may want to use this for their Ford and Chevy chassis.
Keep Up with Wheel Bearing Maintenance
Forgetting to grease your travel trailer wheel bearings can be a big mistake. This routine task is crucial to prevent damage to the wheel hubs. A dry wheel bearing can seize and cause an accident while traveling down the road.
Keeping up with wheel bearing maintenance is crucial to your RV's health. Although it requires time, patience, and skill, you'll prevent aggravation down the road. Whether you tackle this project yourself or leave it to the professionals, be sure to add this task to your RV maintenance routine.
---
About the Author:
Laura Tyrell is a part-time RVer and full-time mom of three.  Long-time campers and RVers before children, Laura, and her husband have fallen even more in love with the RV lifestyle since becoming parents to a child with food allergies. 
Having her own kitchen on wheels makes her RV trips amazing. Laura is passionate about finding ways to make traveling with young children fun, easy, and attainable.