Travel trailers with no dinette have become a popular floor plan option for small and midsize towable trailers.
Many (if not most) travel trailers come with a dinette to provide a dining area and an extra bed. But what if you want a travel trailer with no dinette?
Maybe you want something else, like a sofa or an extra bed. Or maybe you just don't have a need for a dinette. Either way, there are plenty of options for travel trailers with no dinette.
Let's take a closer look at travel trailers with no dinette and the best examples you can buy right now.
What is a Travel Trailer Dinette?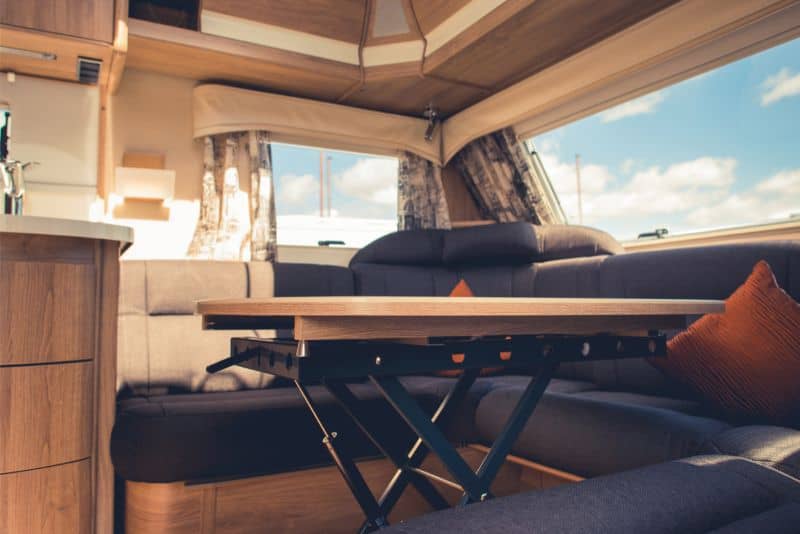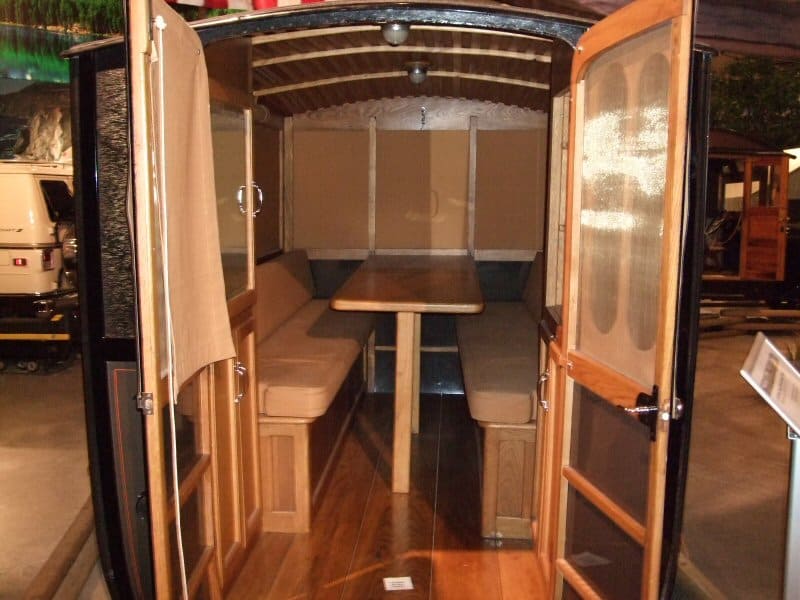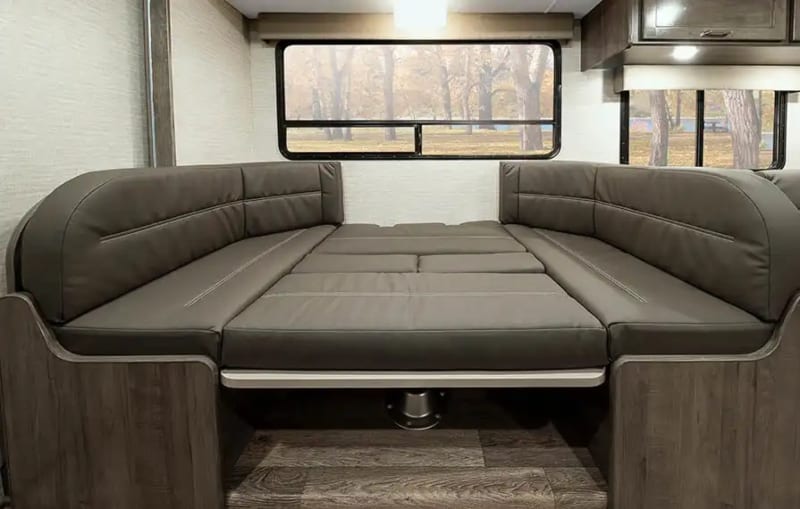 A travel trailer dinette is basically a dining booth like you might see in a restaurant, with two booth-style seats facing each other with a table in the middle. This is the most popular type of dining area for travel trailers and most RVs in general.
In many cases, RV dinettes convert into an extra sleeping space by lowering the table and placing the booth pillows on top of it. This concept dates back all the way to the Antique Era (1873-1939) and has been a staple feature in both the towable and drivable sectors.
2 Reasons You Might Want a Travel Trailer with No Dinette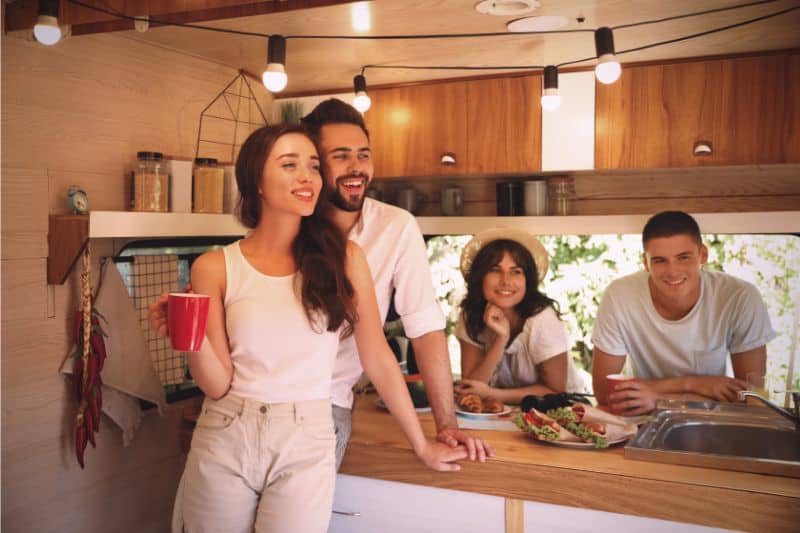 While a dinette is convenient, there are plenty of reasons someone might prefer a travel trailer with no dinette.
1. More Space
Removing the dinette frees up precious space in the RV for other things. You can replace the dinette with an extra bed, a sitting area, or an office space. Alternatively, removing the dinette could also free up space to add a bathroom or simply make the camper a bit less cramped.
2. Different Eating Areas
Another reason you might get a travel trailer with no dinette is you prefer a different eating area. You might prefer bar seating or a more standard table and chair arrangement.
8 Best Travel Trailers with No Dinette
Now that we know a bit about travel trailers and dinettes let's look at the 8 best travel trailers with no dinette.
1. Grand Design Imagine AIM 16ML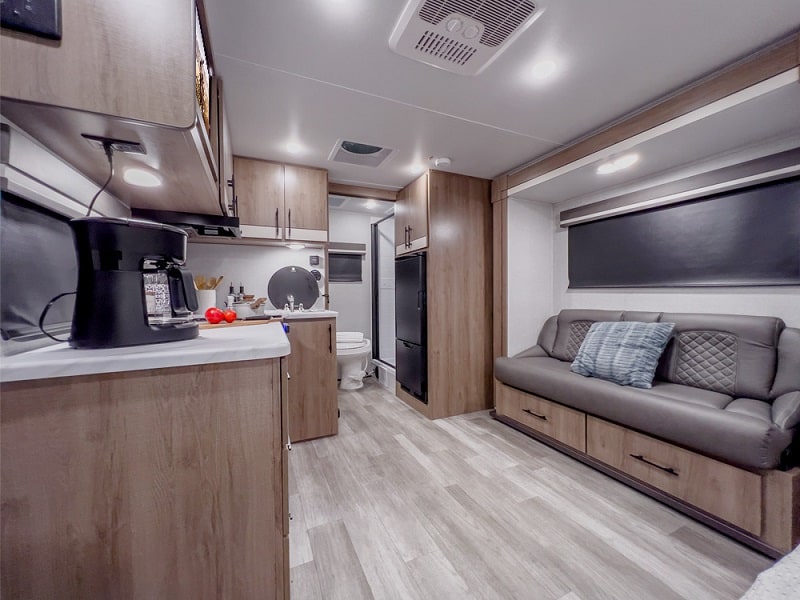 Our Pros and Cons
✅ The freestanding, removable table can be used inside and out!
⛔ You'll have to keep the elevator down if you need the counter space for meal prep.
UVW: 3,768 lbs.
Tongue Weight: 412 lbs.
Length: 20 ft.
GVWR: 4,795 lbs.
CCC: 1,027 lbs.
Sleep: 2-4
The Grand Design Imagine AIM 16ML is a lightweight, compact travel trailer with no dinette. In lieu of the dinette, the Imagine AIM 16ML includes a cozy sitting area, a roll-over sleeper sofa, and a movable table.
This travel trailer has a residential queen bed and a well-equipped kitchen with a 2-burner cooktop, microwave, double-door fridge, and plenty of counter space. If you prefer to cook outdoors, you'll also find an outdoor griddle on the trailer's exterior and a 12.6 ft. awning.
Enjoy the extra space freed up from not having a dinette with a super spacious bathroom. The whole rear of the trailer is dedicated to a large, comfortable full bath, which features a skylight in the shower.
2. Starcraft Super Lite Maxx 16FBS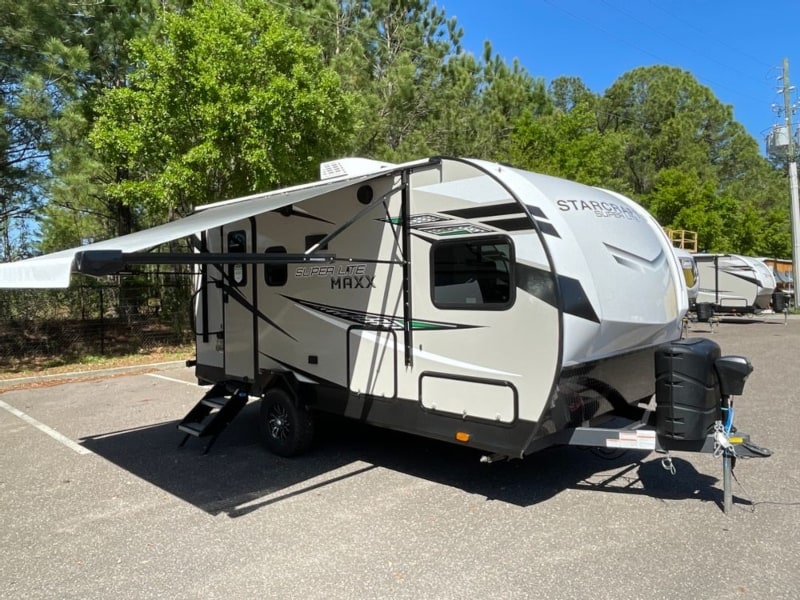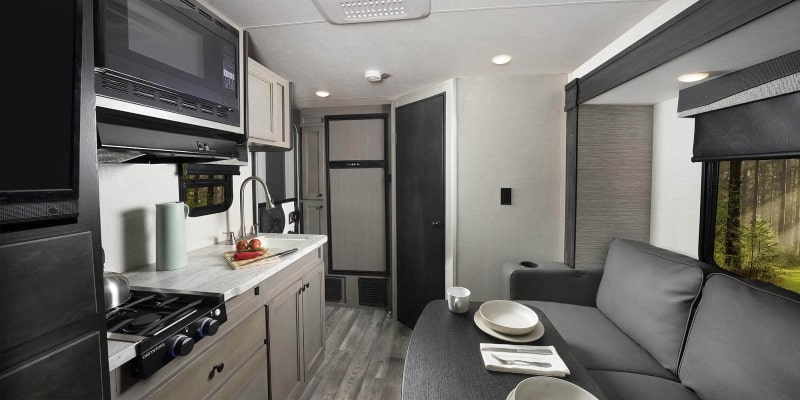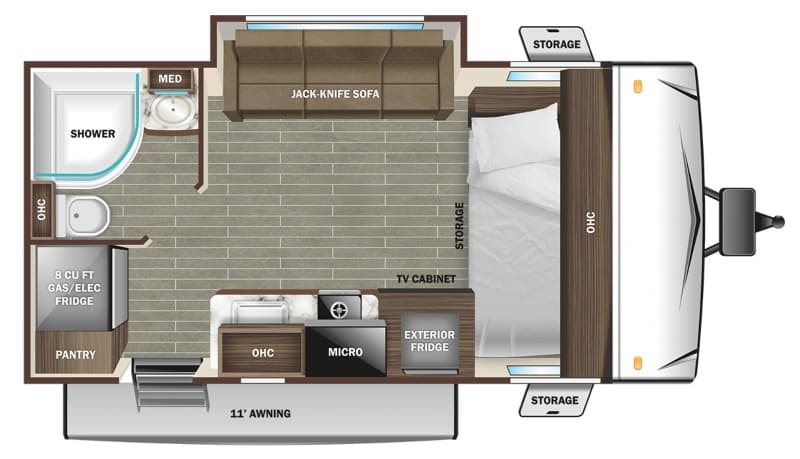 Our Pros and Cons
✅ Boondockers will love the 55-gallon fresh tank and the XL-level CCC!
⛔ The Jayco Jay Feather Micro 166FBS sister model has those extra luxury touches.
UVW: 3,830 lbs.
Tongue Weight: 440 lbs.
Length: 20 ft.
GVWR: 4,995 lbs.
CCC: 1,165 lbs.
Sleep: 2-4
The Starcraft Super Lite Maxx 16FBS is a fun and easy-to-tow trailer with plenty of floor space thanks to its open floor plan. This travel trailer has no dinette; replacing it with a jackknife sofa for comfortable seating and extra sleeping space.
The kitchen features a convection microwave, a 2-burner stovetop, and an interior fridge. The RV outdoor kitchen refrigerator will keep the drinks cold as you enjoy the shade under the 11' awning.
The Jayco Jay Feather Micro 166FBS, the sister model to this Starcraft trailer, may have those extra luxury touches, but that's okay. Instead, the Super Lite Maxx 16FBS uses that extra weight to give owners a larger Cargo Carrying Capacity to hold more gear, yet still has a nice interior.
3. Keystone Passport Solo 15FK
Our Pros and Cons
✅ Keystone's new floorplan gives owners a full-width kitchen and bathroom!
⛔ The kitchen sink has a shallow basin, so be ready with a towel when doing dishes.
UVW: 4,825 lbs.
Tongue Weight: 615 lbs.
Length: 23.1 ft.
GVWR: 6,430 lbs.
CCC: 1,605 lbs.
Sleep: 1-2
The Keystone Passport 15FK is one of Keystone's latest travel trailers, designed to be compact, lightweight, and loaded with features. Since it's a travel trailer with no dinette, the 15FK has a Murphy bed, which converts into a seating area with a table and a unique swiveling entertainment center.
Inside this travel trailer, you'll also find a spacious full bath, a kitchen with a fridge, a 2-burner stove, and a ton of valuable RV counter space. If you'd rather cook in the fresh air outside this RV, you'll also find an outdoor kitchen and a 10-foot awning to protect you from the elements.
4. Venture Sonic Lite 150VRB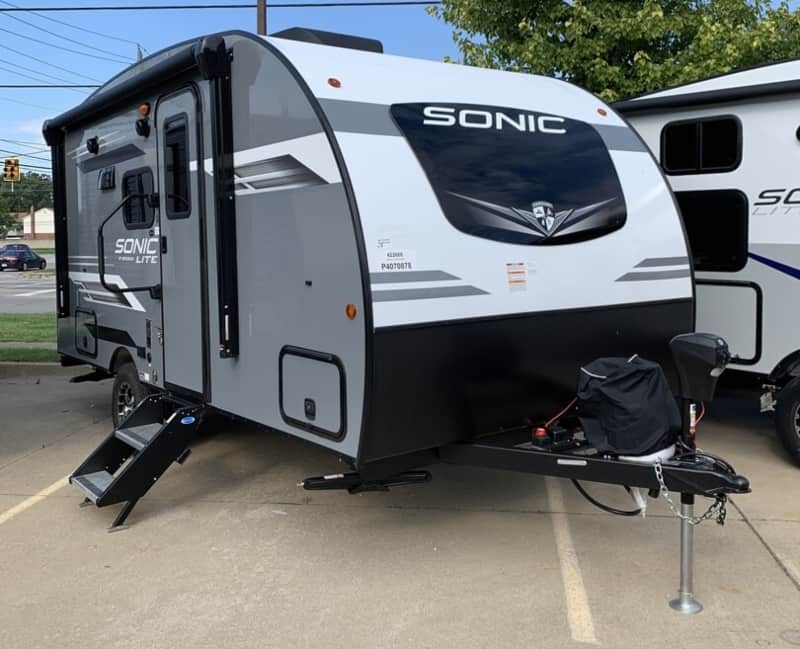 Our Pros and Cons
✅ You'll love the large fridge and elbow space in the dry bathroom!
⛔ While small, this small travel trailer is a 1/2 ton truck or full-size SUV towable.
UVW: 3,680 lbs.
Tongue Weight: 396 lbs.
Length: 23.1 ft.
GVWR: 5,496 lbs.
CCC: 1,816 lbs.
Sleep: 1-2
Known for its unique floor plans, Venture RV designed its smallest Sonic Lite 150VRB as a part-timer half-ton towable. The tradeoff is that this entry-level travel trailer with no dinette is wide open in all the places that matter.
Even with the freestanding table that sits in front of the murphy bed sofa, there's room to get up without knocking everything off of it. Around the RV short queen murphy bed, you'll find wider than average walkway space.
The full-width rear dry bath has a commode that gives plenty of elbow room on both sides of the commode. You'll also find ample storage in the full-size wardrobe in the bathroom and in the pass-through front exterior bay.
Unlike most entry-level small travel trailers, this one has an 8 cu. ft. refrigerator that'll give you enough food storage for a week-long trip or more. If you're looking for an entry-level small travel trailer that feels midsize, the Sonic Lite 150VRB should be on your shortlist.
5. Cruiser RV MPG 2100RB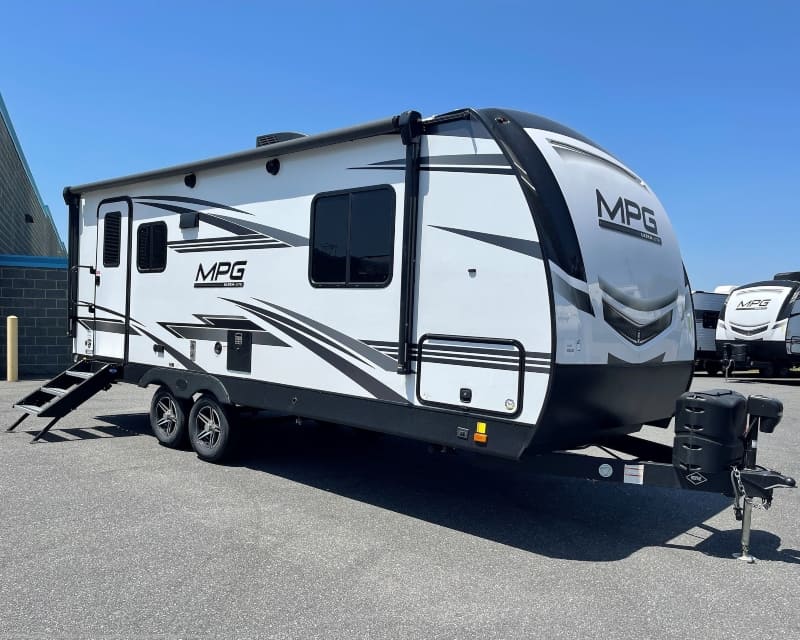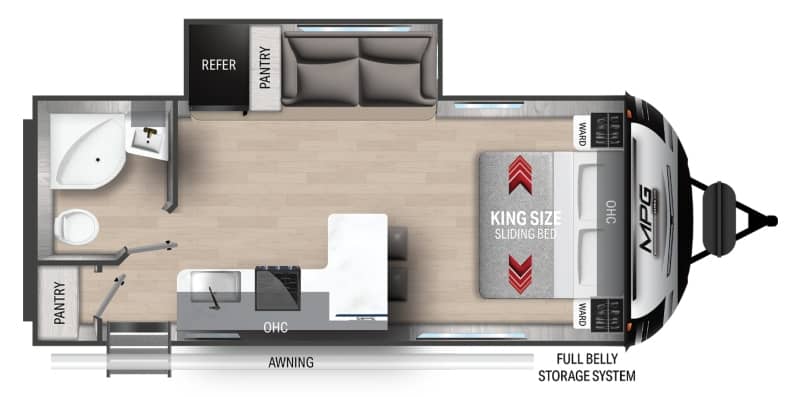 Our Pros and Cons
✅ Cruiser RV's sliding king bed gives you the biggest bed and the most storage!
⛔ The freestanding table is optional. It may be cheaper to buy your own.
UVW: 5,268 lbs.
Tongue Weight: 686 lbs.
Length: 25.11 ft.
GVWR: 7,686 lbs.
CCC: 2,386 lbs.
Sleep: 2-4
The Cruiser RV MPG 2100RB is designed to be easy to tow and reduce your environmental footprint due to its eco-friendly construction. This great, lightweight trailer has plenty of floor space thanks to its slideout and open floor plan.
The MPG 2100RB has a king-size sliding bed in the front to provide sleeping space for two. You'll find a comfortable sofa, a pantry, and a fridge in the slideout.
The kitchen has everything you need to whip up dinner after a day of adventuring. Instead of a dinette, the kitchen has bar-style seating for two to create a cozy dining area. You can purchase a freestanding table as an optional feature, but using your own may be more cost-effective.
6. Forest River Salem Cruise Lite 251SSXL- Southwest Edition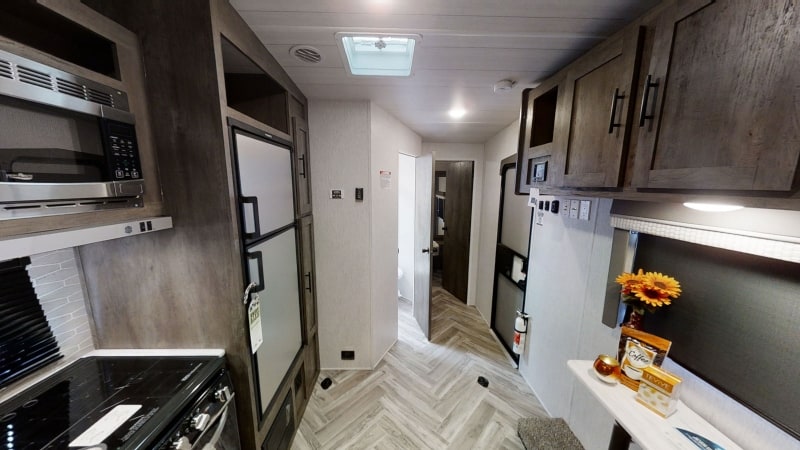 Our Pros and Cons
✅ Even without a slideout, this toy hauler has plenty of room!
⛔ Tie down your adventure toys tight to avoid damaging the kitchen appliances.
UVW: 5,721 lbs.
Tongue Weight: 835 lbs.
Length: 29.5 ft.
GVWR: 8,635 lbs.
CCC: 2,914 lbs.
Sleep: 2-6
Want a travel trailer with no dinette that's also a toy hauler? The Forest River Salem Cruise Lite 251SSXL is a southwestern region lightweight travel trailer toy hauler that has you covered.
This travel trailer features a 96 x 96-inch ramp door that doubles as a "party patio." The extra large garage for your off-road adventure toys or watersport gear will have plenty of room for all of your motorized adventure toys.
A flip sofa, a power drop bed, two swivel chairs, and a table make up the furniture in the garage. The kitchen has RV-level appliances for cooking your favorite meals, with a fridge, microwave, and stovetop.
The Salem Cruise Lite 251SSXL sleeps 6 between the front bed, the convertible rear sofas and table in the garage, and the rear power-drop electric bed system.
7. Rockwood Signature 8262RBS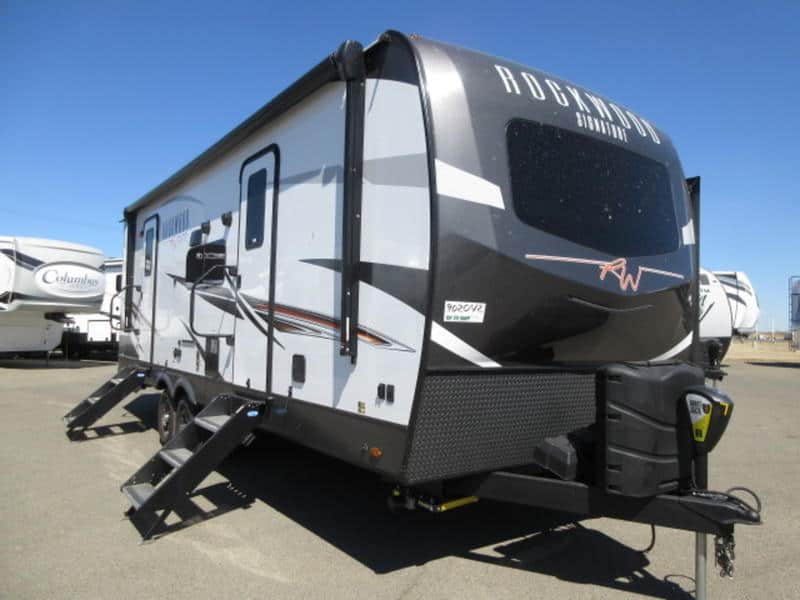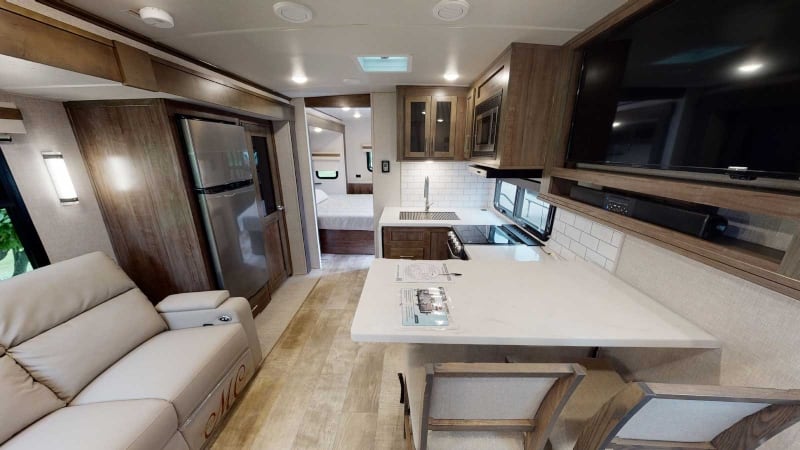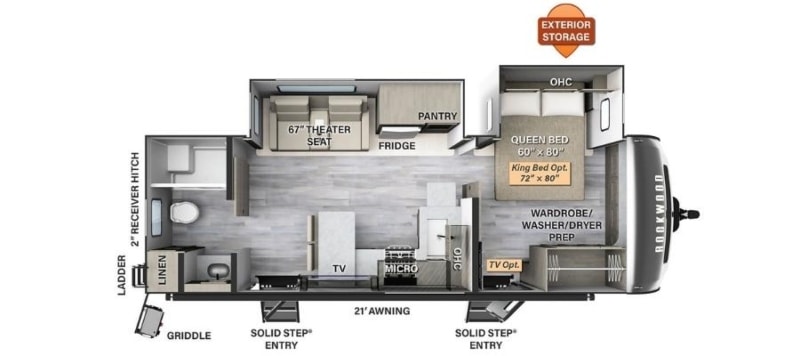 Our Pros and Cons
✅ The breakfast bar and theater seats allow dining for 4 people!
⛔ The optional king bed removes the nightstands.
UVW: 7,709 lbs.
Tongue Weight: 1,070 lbs.
Length: 29.11 ft.
GVWR: 9,870 lbs.
CCC: 2,161 lbs.
Sleep: 1-2
The Rockwood Signature 8262RBS is loaded with great features and is an excellent couple travel trailer with no dinette.
Up front, you'll find the incredibly spacious master bedroom, with a 60 x 80-inch queen bed in a slide-out (upgradeable to a king). The master bedroom has a closet for all your clothing, washer-dryer prep ready to go, and an optional TV.
When you're done adventuring for the day, curl up in the theater seating with adjustable lumbar support.
The spacious kitchen includes a gas oven for your baking or roasting needs, a 3-burner gas range, a microwave for easily heating leftovers, a generous-sized fridge, and plenty of counter space.
The kitchen features bar-style seating to create the dining area – perfect for enjoying a glass of wine with the chef.
Another great feature is the large full bath, which even has space for a linen closet.
8. Heartland Fuel F260

Our Pros and Cons
✅ Virtually half of the RV is garage space with only 2 recliners to move around your large gear.
⛔ Each axle has a 6,000 lbs. weight limit, so be mindful of that.
UVW: 7,553 lbs.
Tongue Weight: 1,225 lbs.
Length: 30.11 ft.
GVWR: 12,800 lbs.
CCC: 5,199 lbs.
Sleep: 2-6
The Heartland Fuel F-260 is a big and spacious toy hauler trailer with no dinette. At over 30 feet long with a 14-foot garage, this travel trailer has plenty of space for all your toys and the whole family.
The garage features a power drop-down queen bed, plus opposing flip-down sofas for when it's time to relax.
Next to that, you'll find two recliners and the kitchen, which includes a 4-burner cooktop, oven, microwave oven, and fridge. Also included in the spacious living and kitchen area is a 50" TV with JBL speakers.
At the head of the trailer, the master bedroom has a king bed, a wardrobe, and a dresser with plenty of closet space. Between the master bedroom and the rest of the trailer, you'll find a bathroom with one of the most spacious showers you'll find in an RV.
Outside the RV, enjoy your RV site under the sizable awning, and enjoy your meals outside with the RV outdoor kitchen.
Where Would You Eat If There's No Dinette in Your Camper?
If you have a travel trailer with no dinette, that doesn't mean there's nowhere to eat. Travel trailers that don't have a dinette usually have somewhere else you can eat. Common options include bar-style seating in the kitchen, a sofa and table arrangement, or a freestanding table and chairs.
Even if your travel trailer doesn't have a dedicated dining area, there are still options. One great idea is a set of lightweight folding chairs and a folding table. That way, you can set up outside to enjoy a meal under your awning or even inside the trailer if you have floor space to spare.
What Goes in Place of a Dinette?
When a travel trailer floor plan foregoes a dinette, there are plenty of options RV manufacturers use that space for instead.
A travel trailer with no dinette will usually have some other piece of furniture that's a multipurpose function. A common option is a sofa, which may fold out into a bed, and some even have a coffee table. In other cases, the travel trailer might have another bed in lieu of the dinette.
Travel trailer manufacturers will often use the extra space from removing the dinette to expand other parts of the trailer. Travel trailers with no dinette commonly have extra-large bathrooms or extra-large kitchens.
Is a Travel Trailer with No Dinette a Good Option for Families?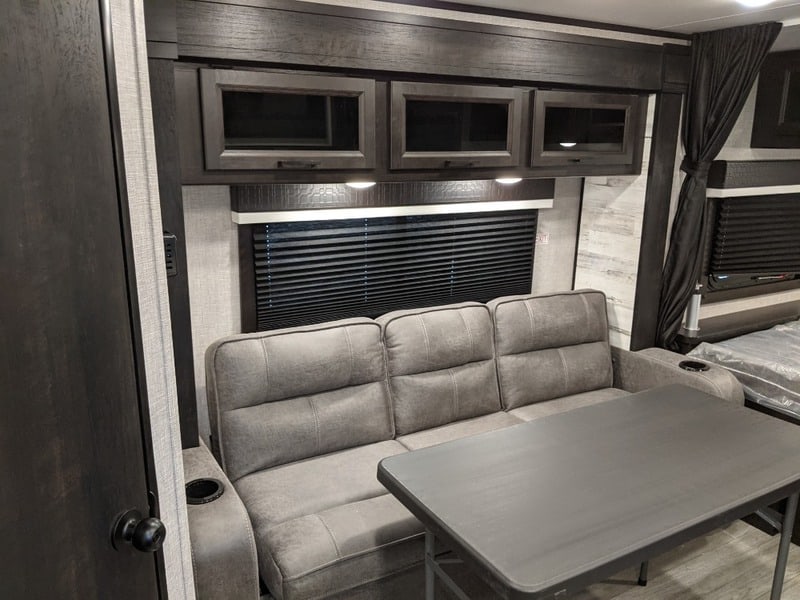 A travel trailer with no dinette can be a good option for a family, but it depends on your family's needs. The lack of a dinette can open up more space for the family or provide more sleeping space. But it might also mean that not everyone in the family has a place to eat comfortably.
If you get a travel trailer without a dinette and you're traveling with a family, consider getting additional folding chairs so everyone can sit around the table.
Should You Get a Travel Trailer with an RV Outdoor Kitchen?
Getting a travel trailer with an RV outdoor kitchen is a great idea and has many benefits!
Many Australian-style travel trailers place the RV kitchen in pull-out drawers outside the coach to maximize interior space. However, this has a downside: it's harder to cook in inclement weather.
Many American-style travel trailers feature both an indoor and outdoor kitchen. An outdoor kitchen provides a perfect space for grilling and other outdoor cooking applications when the weather is nice. It's also perfect for cooking recipes with strong smells or which produce lots of heat and smoke.
Where Will You Set Up Work without a Dinette?
For many who work remotely from their RV, a dinette is a perfect space to set up. An RV dinette isn't the only option for an RV workspace.
As mentioned, some RV manufacturers will replace the dinette with a different type of seating arrangement. A table and chairs or bar-style seating area works as a desk for your work from the RV arrangement. But even if you don't have those spaces, you're not completely out of options.
If you're at an RV park, many have spaces that you can use as a workspace. To get a break from the RV, you could leave your coach and head to a nearby cafe or other space to work. To learn even more about office space in travel trailers, check out our 12 Best Travel Trailers With Office Space article.
Can You Have Extra Beds Without a Dinette?
You can definitely have extra beds, even if your travel trailer has no dinette. Pull-out couches, Murphy beds, and even beds on platforms that drop from the ceiling are options for extra beds.
Is Theater Seating or a Sofa Better?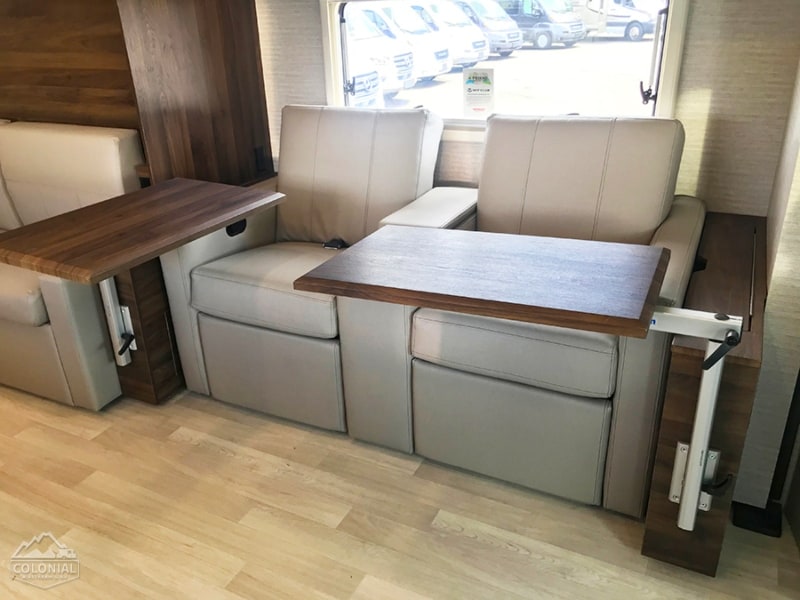 Both sofas and theater seating are common in travel trailers. Which is better depends on your needs or preferences.
A standard sofa can fit more people in the same space and frequently folds into an extra bed. If you have more people or just want a more versatile option, a sofa is likely the pick for you.
Meanwhile, theater seating is more luxurious and lets you recline, put your feet up, and put your drink somewhere in the convenient cupholders. Many RV brands have swivel tables connected to the armrests. DIYers can even add swivel tables themselves easily.
Theater seating is a good option if you'll only be traveling with two people in your trailer and want a bit of extra luxury.
Can You Remove the Dinette in Your Travel Trailer?
If your travel trailer does have a dinette, it's possible to remove and replace it, provided you research it first. You'll need tools such as wrenches, screwdrivers, and a drill. Some heavy lifting may be required.
Would You Want a Sofa And a Dinette in Your Travel Trailer?
A lot of travel trailers often include both a sofa and a dinette. While this can take up a lot of space in the trailer, this arrangement also has some benefits.
Plenty of Seating
If you're traveling with a larger group, you'll want space for everybody to sit. A couple of people can lounge comfortably on the sofa while the rest set up in the dinette.
More Variety
A sofa and a dinette provide extra variety and comfort to your trailer. You won't always be relegated to the same seating area. Also, everyone can pick the spot that better suits the wants and needs of the moment.
Will the Dinette Regain Popularity?
Dinettes have long been a popular feature in RVs since before they were motorized. While there may be more furniture variety in modern RVs, the dinette remains is still a standard feature in every category. Due to their versatility, we may even see them become more popular in the future.
Is It Worth Buying a Travel Trailer with No Dinette?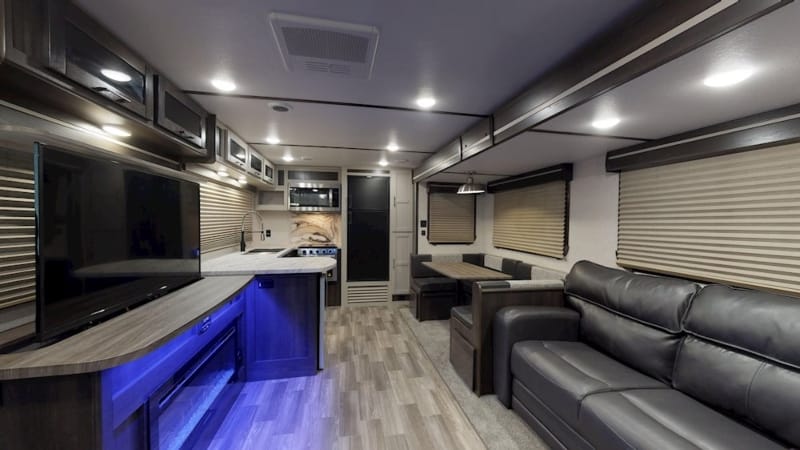 It's worth buying a travel trailer with no dinette if it fits your needs. By getting rid of a dinette, you can get a trailer with a sofa, theater seating, an extra bed, or a different dining area.
These alternative arrangements can help create a more spacious trailer or better suit your needs if there aren't many people using the RV.
---
Related Reading:
– 12 Best Camper Trailers Under 25 Feet
– 10 Best Travel Trailers For Couples
---
About the author:
Jennifer Jennings is a full-time RVer and part-time van lifer. She is one half of DashboardDrifters.com and the founder of RVSpotDrop, a web service for full-time RVers.