RV skid wheels, or casters, are a great solution to an issue that occasionally confronts RVers—scraping the bottom of your rig on the ground when navigating uneven surfaces and steep grades. Having a steep driveway or spending a lot of RV time off-road are not uncommon scenarios.
If every speed bump that comes along sends your anxiety through the roof, it's time to consider skid wheels (rollers). This article covers what they're all about, who they're for, benefits and potential drawbacks, and a secondary but similar option.
What are RV Skid Wheels or Casters?
RV skid wheels are just like those heavy-duty, 360° spinning wheels you often see installed on large, load-bearing pallets. It's the exact same concept with a different application. Skid wheels are designed to protect the back end of your travel trailer by acting as auxiliary wheels for the back end of your travel trailer or motorhome rather than scrape up the chassis on steep inclines on the road.
RV casters are very similar, but they swivel, unlike skid wheels. Skid wheels typically install in primary impact areas. Casters often bolt to the frame in the very rear or on the hitch as well.
How Do I Keep My Trailer from Dragging On the Ground?

When you come up to a steep incline, you want to slow down to keep your trailer's back end from dragging on the ground. As the trailer's suspension system adjusts, the backend of the RV may bounce up and down in what the RV world calls a "Dolphining" effect. As the RV bounces down, this is when your travel trailer or motorhome can make contact with the road.
Once the suspension stops bouncing, you may find that the back end is very close or is dragging on the ground. As you continue forward, the frame and/or underbelly can become damaged from scraping on the road.
RV skid wheels and casters absorb the impact of your rig initially hitting the road on those steep inclines. They then roll, keeping your underbelly and frame from getting scraped up. The average skid wheels or casters will extend about 6" below the undercarriage of your RV. That's more than enough to keep it off the ground and protected.
Even if the impact of your RV's back end hitting the ground is so severe that it damages or warps the wheel, It's better to sacrifice a relatively inexpensive wheel than it is to rebuild or repair the underside of your RV. Whether you own a luxury RV or a teardrop, the kind of damage that can happen underneath is expensive.
Will RV Skid Wheels Help Me Drive an RV Down a Steep Grade?
RV skid wheels will help you drive down a steep grade. Whether you're approaching a steep grade going downhill or approaching the same steep grade going uphill, the angle is still the same. The point where the underbelly of your RV impacts the ground going up will be the same point going down.
Placing skid wheels on the rear of your RV's frame will help to avoid damage and may also prevent getting stuck in ditches or other situations since you'll have rolling wheels under the rear end.
In cases where you have to negotiate steep, angled terrain, it's a good idea to follow a few rules of thumb in addition to skid wheel placement.
Always ensure your RV trailer load is balanced and not overly cumbersome
Install skid wheels accordingly
Feel free to get out and have a look before you navigate the steep grade
Make sure your RV is "towing level"
Skid wheels will help in a number of situations, but they won't save your RV from everything. For instance, let's say you have non-swivel skid wheels or casters installed on the rear bumper, and part of your angle requires a turn.
Your skid wheel will contact first and roll, keeping your back end off the asphalt. However, once you start the turn, the skid wheels don't swivel. The harder the turn, the more likely you are to place additional strain on the frame and chassis of the RV as the skid wheel starts sliding rather than rolling.
Swivel variations are a trade-off since they are inherently weaker than a skid wheel with a solid frame. The point is they certainly help, but they won't solve every problem. If you take your RV off-road a lot, you'll need to consider more than just skid wheels.
Will RV Skid Wheels Help Get My Trailer Up a Steep Driveway?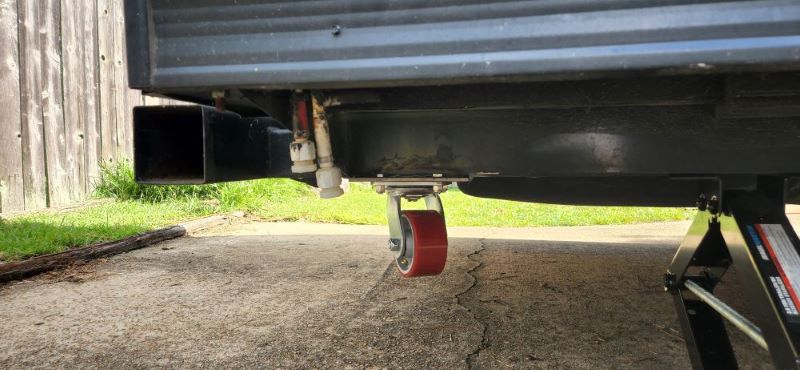 RV skid wheels will certainly help get your trailer up a steep driveway, but there are a few factors worth considering as well. After all, RV skid wheels or RV casters aren't the end-all-be-all solutions to keeping your RV's undercarriage free and clear from the ground. Here are some other points of consideration:
The severity of the angle
How gently do you drive into the angle
Whether or not your skid wheels swivel
The operating level of your existing suspension system and the springs
Where your skid wheels are located in relation to the angle
Whether or not the skid wheels lift the frame while axles adjust to the driveway angle
That's quite a bit to consider, but there are a lot of intangibles, including the towing vehicle, the length of the travel trailer, the hitch, the angle, and so much more. Remember, the primary point of the skid wheels/casters is to help protect the frame. But they won't prevent every possible danger.
Since we're discussing traveling up a steep driveway, let's consider the dynamics. Once your tow vehicle is past the axis of the angled grade, the rear of the vehicle is at its lowest point. When the rear of a truck is low, the front of the trailer is low too.
Install RV Skid Wheels On The Front Hitch
The ideal solution is to install a skid caster on the front hitch to keep your RV from impacting the road. However, what if the grade is steep enough that the skid caster ends up lifting the front of the trailer? This would also have the undesirable side effect of forcing the rear of your truck up.
Since RV skid wheels and casters are small enough, they will slightly lift your tow vehicle's rear end, but not enough to affect your towing power. The skid or castor wheels will protect the hitch point from making contact on the road. They'll also help your RV's ball hitch from undo stress if the angle of the road is extreme.
3 FAQs About RV Skid Wheels and RV Casters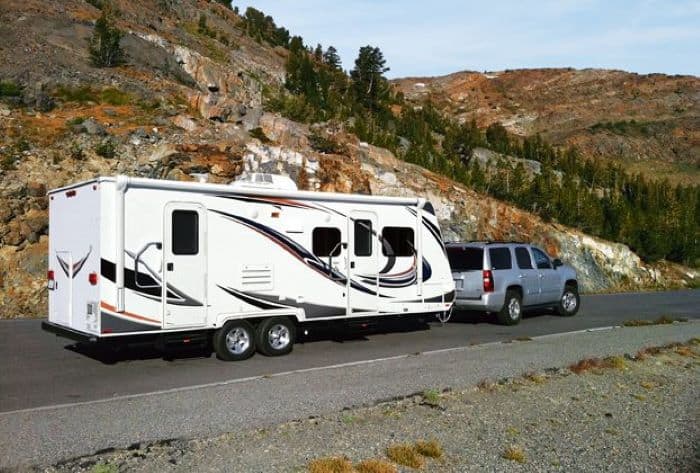 1. Do RV skid rollers also work on the receiver hitch?
Skid rollers definitely work on a receiver hitch, and it's a great idea if you have a steep incline driveway you have to negotiate often. It also helps to also approach a steep incline from an angle, which will reduce the hitch dip and avoid putting too much strain on the receiver hitch and skid roller.
2. Do RV skid wheels protect my RV?
Skid wheels do a great job protecting your RV, especially if you have a steep driveway or spend a lot of time off-road. They won't protect your RV from every scenario, but they will help in many situations.
3. Are RV casters or RV skid wheels better?
RV casters or RV skid wheels aren't necessarily better or worse than the other. Some casters have the ability to rotate. Skid wheels can take on heavier weight and have a more basic construction. Have a conversation with your RV service technician to help you make this decision.
Let them know about your individual camping style and when you think you'll need the casters or skid wheels the most. Your service tech may have some points that you haven't thought of yet.
If you would like to order the Ultra Fab Rollers in this video here is the Amazon link. You need to order two because they come with just one in the box.
Final Thoughts on RV Skid Wheels and RV Casters
RV skid wheels and RV casters are designed to protect your RV. After all, your RV is an investment, especially if you're a full-time RVer. This is one of those very affordable and simple solutions that add another layer of defense when towing your RV around town or even in your driveway.
Sure, they won't solve every problem, but there are other things you can do as well. You can improve your RV's suspension to minimize your RV's back end from dragging on the road, but these rollers and wheels add another layer of protection. If you have a recurring issue with your RV scraping, you should strongly consider installing skid wheels and/or casters.
Not only will they add a strong layer of protection for your RV, but they'll also give you some peace of mind.
---
Related Reading:
1. Why You Must Understand Tongue Weight When Towing
2. How To Insulate An RV Underbelly
3. How To Stop A Trailer Hitch From Squeaking
4. A Closer Look at Andersen Ultimate Hitch Failures and Problems
---
About the Author:
Thomas Godwin is a full-time freelance writer with a BFA in Creative Writing, a U.S. Marine, and an avid outdoorsman.
When he's not writing, he's raising chickens and Appleyard ducks. Thomas also constructs teardrop campers (attempting to anyway) and kayaks the Blackwater River with his wife, two daughters, and his Dobermans.