If you're looking for the best size generator for a travel trailer air conditioner, there are several factors involved in choosing the right one. But generally speaking, you'll need a generator for your travel trailer's A/C with at least a 2,000-4,000 watt capacity.
You will also want to consider the power output, noise level, fuel type, portability, and price.
Of course, it will all depend on your needs and how often you'll use your generator for your travel trailer's A/C. Let's look at some of those factors before purchasing one.
What Size Generator Will Run a Travel Trailer A/C?
You'll need a generator for your travel trailer's A/C with at least a 2,000-4,000 watt capacity. Smaller wattage generators will have a difficult time balancing the power needs of your RV's air conditioner and other electronics when running simultaneously.
Yet a 25-foot couples travel trailer with an 8,000 BTU A/C will have lower power needs than a 40-foot bunkhouse travel trailer with two 15,000 BTU A/Cs.
For clarification, running watts are the continuous power load needed to keep items running. Starting watts are the initial power levels needed for an electronic device to activate. RV air conditioners have significantly higher starting wattage needs than their running levels.
Ultimately, you want to find a generator for your travel trailer's A/C that balances energy and fuel efficiency.
Why Do the BTUs and Wattage Matter in A/C Units?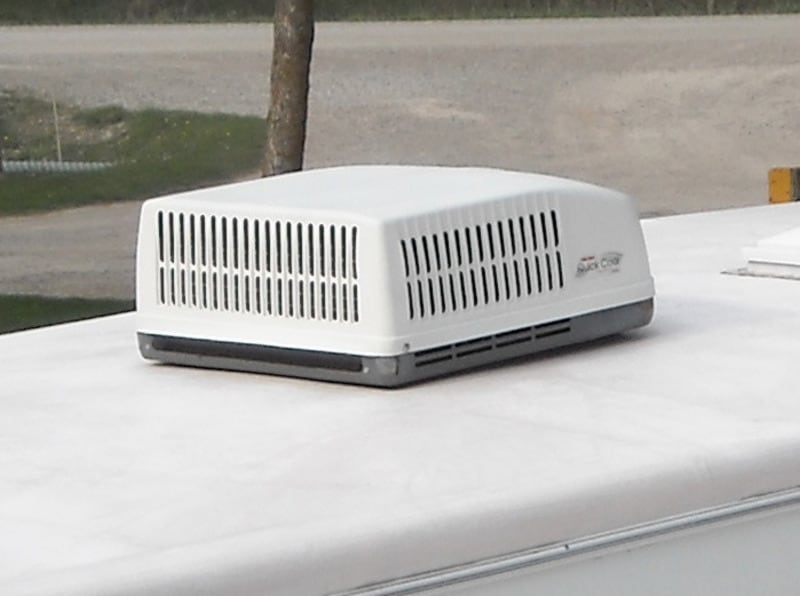 A generally accepted measurement of heat is BTU (British Thermal Units). Each BTU shows how much heat it takes to raise a pound of water by 1°F.
The BTU measurement system, simplistically, works for heating and cooling because you're transferring heat one way or another.
It takes about 20-35 BTUs to cool each square foot of your RV space. Higher BTU cooling systems adjust a room's temperature faster but also boost humidity and will allow more wear on your unit.
Low BTU air conditioners won't be powerful enough to cool your RV space and will constantly run. You need to strike a balance when determining the correct BTUs for your RV travel trailer A/C.
How to Calculate What Size Generator For a Travel Trailer A/C
You can start your calculations by determining what you want to run along with your A/C. The fewer electronic appliances and devices you run while the travel trailer's A/C runs, the smaller the generator you can use.
A little creativity, such as turning off the A/C while you run the microwave or coffee pot, can keep you from tripping breakers or overloading your generator.
To calculate what size generator you need for a travel trailer A/C, first, add the watts of all the items you anticipate using simultaneously.
The total of this calculation will be the minimum generator watt size you'll need. Whatever your total is, add some extra wattage to that as a safe buffer.
Running Watts Estimates for Common RV Appliances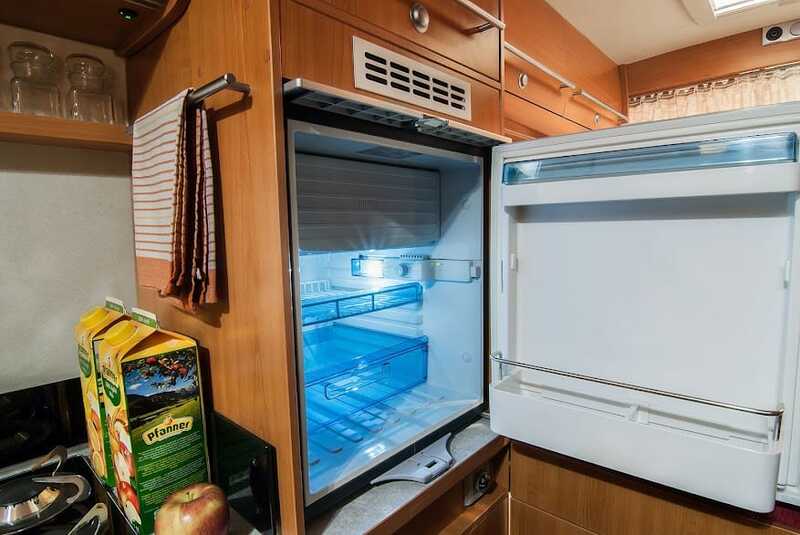 15,000 BTU A/C: 1,600 watts
Microwave: 800 watts
Residential refrigerator: 600 watts
RV Refrigerator (LP gas mode): 25 watts
Furnace: 150 watts
Water Pump: 50 watts
LCD TV: 120 watts
Coffee Maker: 1000 watts
Hair Dryer: 1250 watts
RV electronics: 100 watts
Laptop Charger: 100 watts
What Size Generator Do You Need to Run More Than Your A/C?
You will want to be conservative with the size of the generator you choose so you have some watts to spare. Give yourself extra wattage to prevent tripping circuit breakers, overloading, and possible damage to other equipment.
To determine the size of generator you need, add up all items you plan to use at the same time. This is the minimum generator size that will work for you and your RV.
Remember, you can always plan to run the generator with other minimal appliances and rotate those things you want at that time.
Also, you can turn the RV A/C off for a while you run high-wattage devices like the microwave. Between your RV's insulation and some radiant sheeting on your windows, you should be able to contain the ideal temperature for a while.
What Are Common Size Travel Trailer Generators?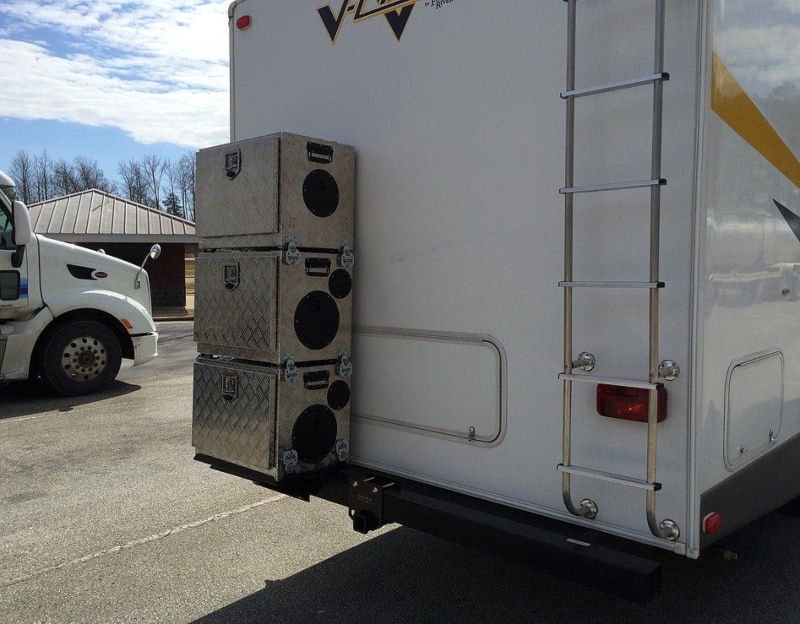 Common size generators for a travel trailer are 2,000, 3,000, or 4,000 watts. The larger wattage units are usually heavier and harder to move around but can be attached to the back of the RV or mounted onto a bracket at the front of the trailer.
What Size Generator for a 30 amp Travel Trailer A/C?
A generator for a 30 amp travel trailer A/C is going to be at least 3,000 watts with a 13,500 BTU air conditioning unit.
You'll have to determine what other appliances you want to run with your air conditioner to see if 3,000 watts is enough.
Small electronics with low wattages would be best. If you're a big TV watcher, you may be okay, but you may want to look into a 12v TV to run off of your house batteries to lighten the load on the alternating current (AC) side.
The generator does send power to your DC house batteries, but this can create a better electrical balance
What Size Generator for a 50 amp Travel Trailer A/C?
A generator for a 50 amp travel trailer A/C should be at least 5,000 watts depending on what appliances you want to use at the same time.
The best way to determine what size generator for your travel trailer's A/C and overall power needs is to ask around. What do your RV friends and neighbors use?
Check out some of the RV forums and Facebook pages like our RV Camping For Newbies Group. You can ask fellow RVers of all levels of experience what generator for their travel trailer A/C they use and how it works out for them.
8 Ways to Get More Out of Your Generator
1. Unplug Electronics When Not in Use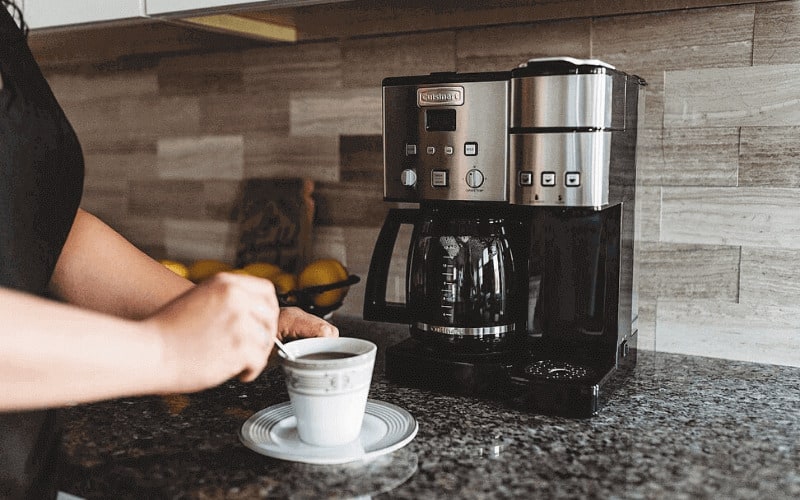 Appliances continue to use energy even if they're not in use. Unplugging them will stop the energy drain, so you can use them more efficiently.
2. Start Appliances and Electronics at Different Times
Start your appliances and electronics at different times. You might even want to turn off the A/C while you run your microwave or use something that needs a lot of wattage.
3. Only Run the Appliances You Need at the Time
The best way to keep your A/C running without tripping breakers is to run only the appliances that you need at that time. You can also shut off the A/C while you run the medium or higher-watt devices.
4. Keep Up With Generator and A/C Maintenance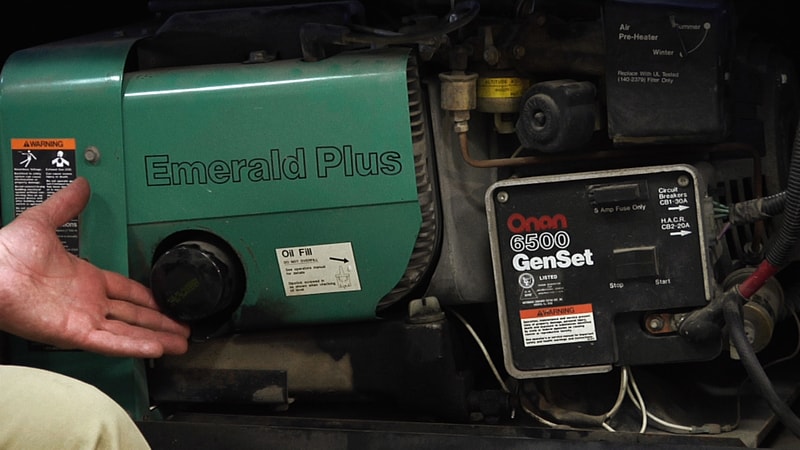 Regular generator maintenance includes keeping the unit clean, changing the oil every 25 hours of use, adding a fuel stabilizer, and other procedures.
A/C maintenance tasks include cleaning the filters, straightening the coils, and inspecting the rooftop units for any disrepair.
5. Use Fans and Open Windows (When Relevant)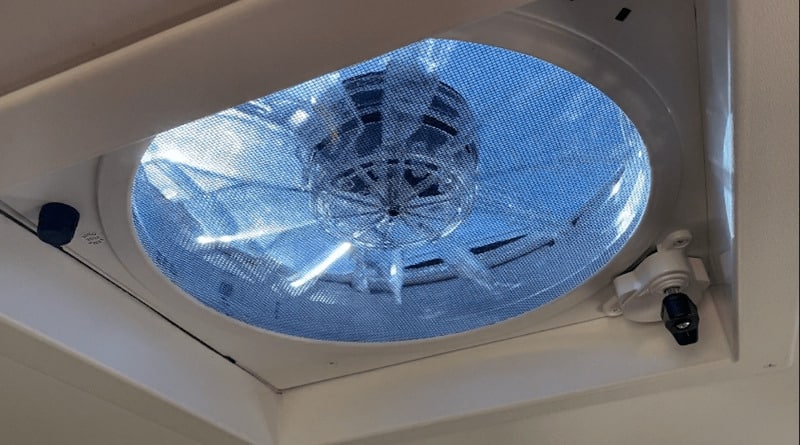 Opening windows and using fans when the weather permits is a great way to utilize your generator without A/C. It conserves wattage to run many of your onboard appliances.
6. Use Your A/C at High Power in Short Bursts
When you run your A/C at high power in short bursts, you may be causing damage to your unit. This is also called short cycling, during which the compressor turns on and off more than it should.
It stresses the compressor adding more wear and tear to the entire system. It can damage the system and prevent it from working efficiently.
Do your best to keep your RV's air conditioner on low cool. It will turn switch between the compressor and fan-only setting based on its design.
7. Use an RV Soft Start Device
Add an RV soft start device to your rooftop air conditioner. These devices reduce the start-up wattage needed for RV's A/C unit. They are proven technology and can give you that extra wattage to run your RV workspace with a lower wattage generator for your travel trailer's A/C.
8. Caulk and Update Weather Stripping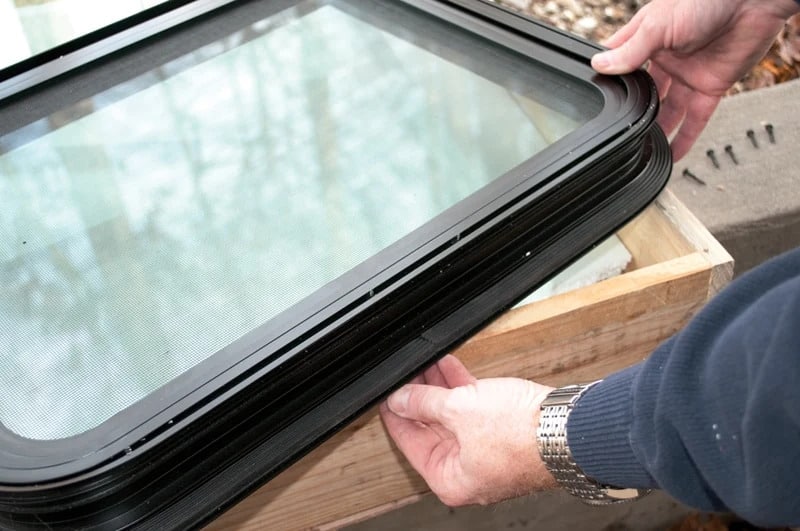 Make sure you caulk and update your weather stripping so your RV doesn't have air leaks. Caulking and weather stripping are generally DIY projects that are cheap and easy to accomplish.
Check out our recent article about Keeping Your Windows From Fogging on our sister website, Motorhome FAQs, which gives you more information on maintaining your window seals for your next RV adventure.
What Type of RV Generator Should You Use?
In the RV world, there are two types of generators: a built-in/onboard or a portable generator. An onboard generator is just like it sounds.
In a motorhome or fifth wheel, it's installed into one of the RV's exterior bays and gets its fuel from the RV's chassis fuel tank.
Portable Generator
There are many types and sizes of portable generators. You should find one that fits your energy needs, as well as "portability." Some sizes are heavy but come with wheels or skids.
Onboard/Built-In Generator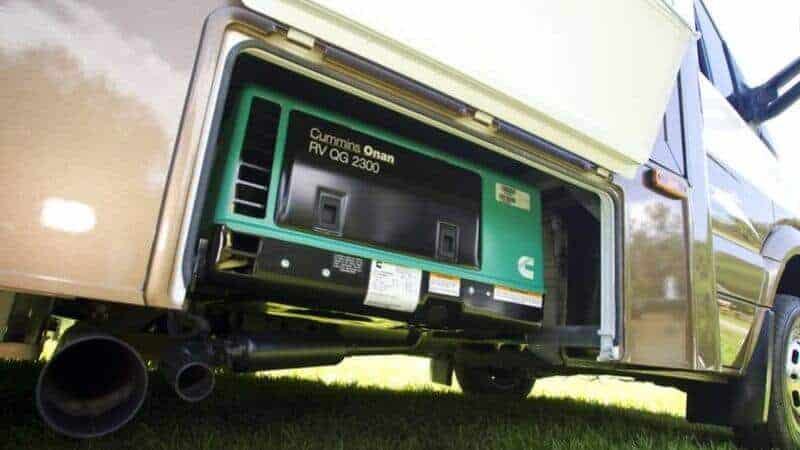 Fifth wheels and certain travel trailers have a generator bay. New RVs come pre-wired and plumbed to install the generator of your choice. Onboard generators are built differently, so it's best to use one of these instead of trying to make a portable generator fit.
4 Best Generators to Run Your Travel Trailer A/C
1. Westinghouse iGen4500 Super Quiet Portable Inverter Generator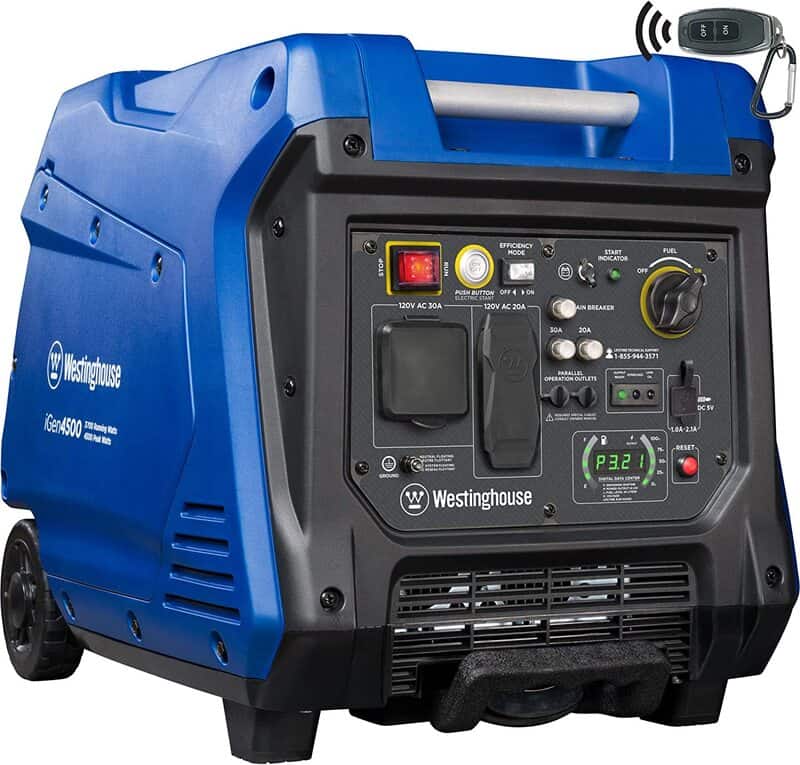 The gas-powered Westinghouse iGen4500 Super Quiet Portable Inverter Generator is extremely quiet with as little as 52 dBA noise output and up to an 18-hour run time on a 3.4-gallon gas tank. 
The model also features an "economy mode" for maximum fuel efficiency. Rated at 3,700 watts and 4,500 peak watts.
There are 3 ways to activate this generator. You can use the electric start button, the pull recoil, or the remote key chain fob.
An LED data center with a rotating digital display shows fuel level, power output, remaining run time, voltage output, and lifetime hours.
2. Champion Power Equipment 200988 Portable Inverter Generator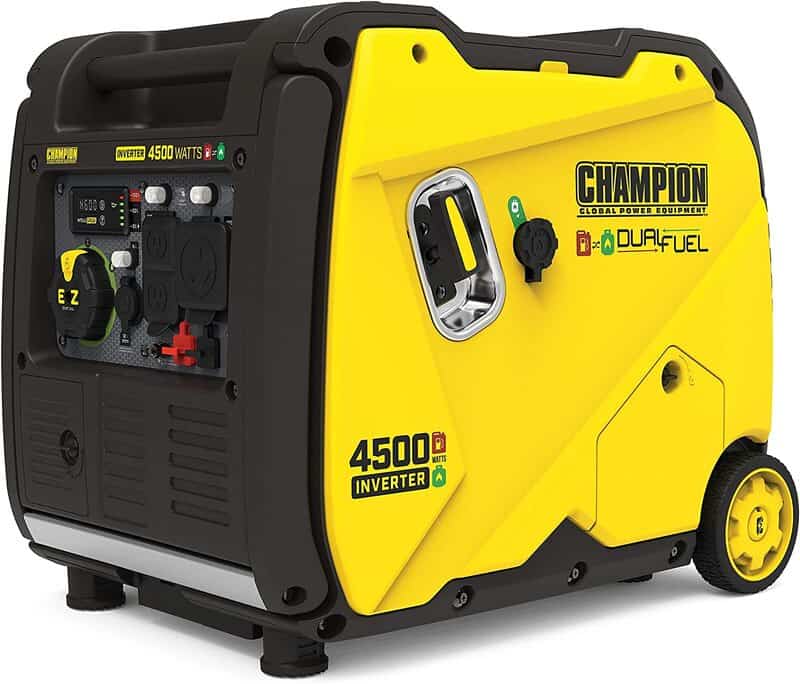 The Champion Power Equipment 200988 Portable Inverter Generator runs on either gasoline or propane. It holds 0.6 quarts of oil and has a low oil shut-off sensor. The quick touch panel allows you access to all your controls in one spot. 
This dual fuel generator runs quietly at around 61 dBA, perfect for RVing. It has 4,500 starting watts and 3,500 running watts with up to 14 hours of run time on gasoline.
3. DuroMax XP12000EH Generator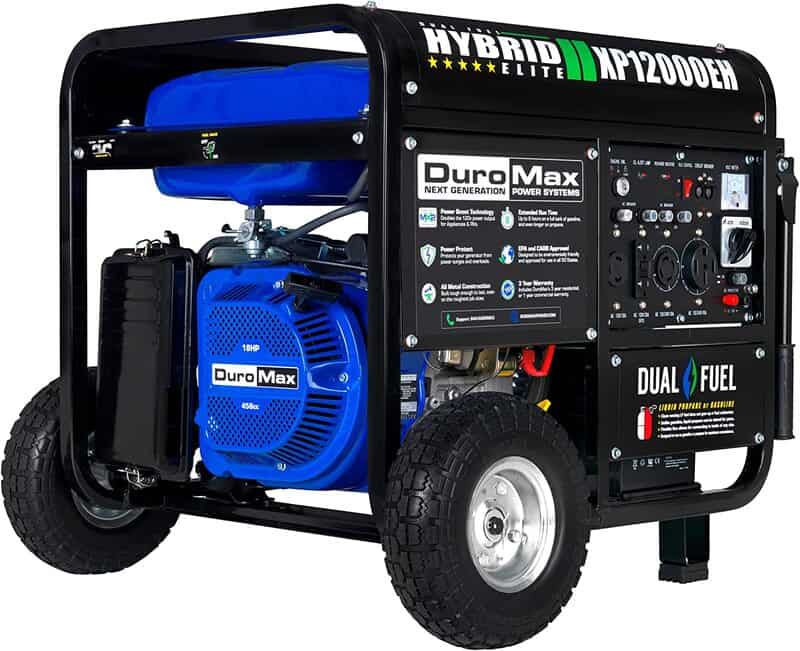 With dual-fuel technology, the DuroMax XP12000EH Generator can run on propane or gasoline, allowing you the flexibility of fuel choice. 
The generator also has an automatic shut-off when it senses the oil is low. It has plenty of power with 12,000 starting watts and 9,500 running watts. It can handle heavy loads with the DuroMax MX2 technology from each of the 120-volt receptacles.
Choose between operating the generator at both 120v and 240v simultaneously or at 120v only with full power.
4. Pulsar G12KBN Heavy Duty Portable Dual Fuel Generator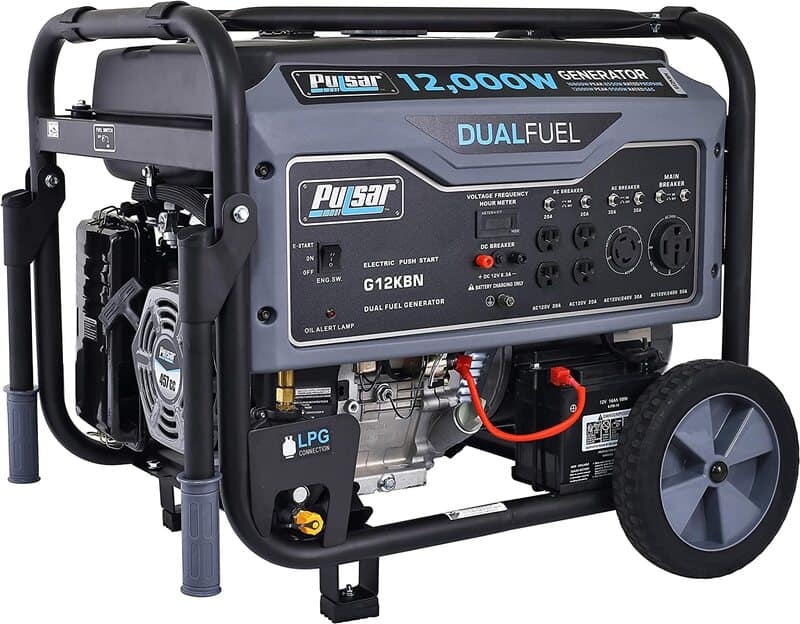 The Pulsar G12KBN Heavy Duty Portable Duel Fuel Generator provides 12,000 peak watts/9,500 rated watts (gasoline) and 10,800 peak watts/8,550 rated watts (propane).
The single-cylinder, 4-stroke, air-cooled, OHV engine with electric start has an 8-gallon fuel tank. The generator also has drop-down handles and 10-inch never-flat wheels.
You'll have up to 12 hours of operation at a half load of power usage when running on gasoline.
What Size Generator Runs Your Travel Trailer A/C?
Your own needs will ultimately determine what size generator will run your travel trailer A/C. You might want to consider the maximum number of appliances you might want to use while you run your A/C.
Start by checking the running watts of each of those items. From there, you can determine what size of generator you might need.
Don't forget factors such as power output, quietness, fuel type, weight, and price. For a used model, check the age, hours of operation, and any physical wear and tear.
A generator is a great option to add to your RV gear, particularly if you like to boondock. Don't discount the possibility of losing electricity or being forced to go "off-grid" at some point in your RV adventures.
---
About the Author:
Terri Nighswonger and her husband Todd have been RVing and work camping for five years with their Cavalier King Charles Spaniel, Newton, and their Minnie Australian Shepherd, Remi.
They originate from the Midwest but plan to enjoy the West for a few years, wintering in Arizona and summering wherever the road may lead. Writing is Terri's passion, but she also loves hiking, kayaking, walking her dogs, and anything she can do outdoors.