For RVers looking for a little more adventure on their camping trips, ebike camping is the perfect solution.
Whether you're searching for stunning views, exciting trails, or a unique outdoor experience, ebike camping will provide it all.
What Is an Ebike?
An electric bicycle, or ebike, is a pedal bicycle with an electrically powered motor that assists the rider in pedaling. A rechargeable battery powers the bike motor, reaching up to an average of 28 mph, making it easier to tackle challenging trails or take longer journeys.
Ebikes have become increasingly popular with RVers as ebike technology has improved and prices have decreased. There are now many types and styles of ebikes available to suit different budgets and needs.
How Does an Ebike Work?
An ebike uses a combination of pedal-assist and throttle-powered motor systems to work. The rider can control the level of assistance the motor provides, allowing them to cruise uphill easily or tackle tough terrain.
An ebike battery typically lasts up to 40 miles before needing a recharge. Therefore, ebike camping is an excellent option for RVers exploring the great outdoors.
11 Reasons You Should Take an Ebike Camping
From a quiet ride to eco-friendly fun, ebike camping offers countless benefits. Here are 11 reasons you should take an ebike camping.
1. Easy Way to Get Around the Campground
An ebike is a great way to get around the campground without walking or using your car. You can easily explore all the campground amenities in comfort and style.
2. Cleaner Form of Transportation
Using an ebike is much cleaner than a gas-powered vehicle. You'll be helping to reduce your carbon footprint and promote sustainability.
3. Less Exertion Than a Regular Bicycle
Ebikes make exercising easy without breaking a sweat. With the help of the motor, you can ride for longer distances and up hills without exhausting yourself.
4. Simple to Transport
Ebikes are lightweight and compact, making them ideal for RVers. They're easy to store in the back of your vehicle and even easier to take for a ride.
5. You Don't Need a Toy Hauler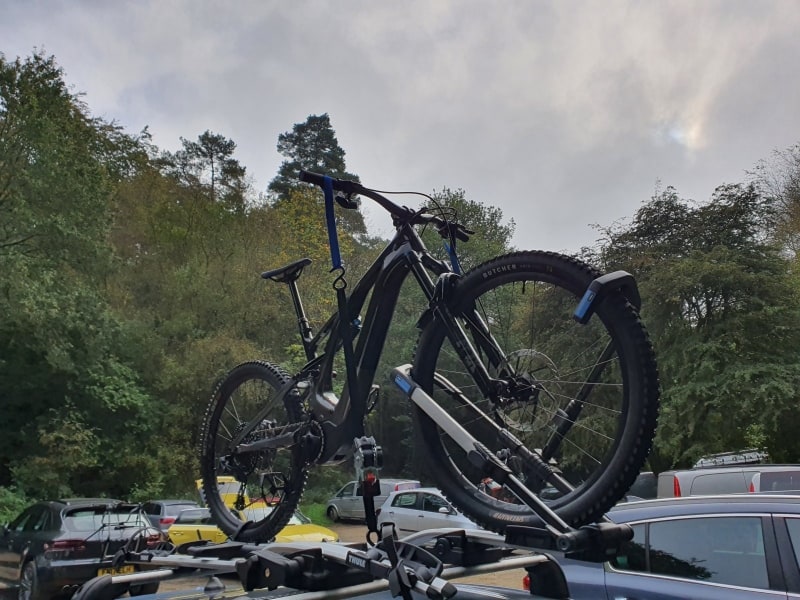 Many RVers think they need a toy hauler to transport ebike camping gear, but this isn't the case. Instead, you can easily store an ebike in your RV's cargo bay or bike rack without needing additional space.
6. Quieter Than ATVs
ATVs can be noisy and disruptive to the peace of a campground. With an ebike, you can enjoy your time outdoors without disturbing other campers.
7. Minimal Maintenance
Ebike maintenance is minimal. The electric motor requires no oil changes or tune-ups. All you need to do is keep the battery charged and take care of worn parts.
8. Excellent for Trail Riding
Ebikes are great for trail riding. The motor gives you the power to tackle challenging terrain and easily climb steep hills.
9. More Accessible Than ATVs
Ebikes are much easier to access than ATVs. You don't need a special license or registration; you can ride ebike trails in many National Parks.
10. Many Are Foldable
Some ebike models are foldable, making them even easier to transport. For example, you can fit a foldable ebike in the back of your car or RV for quick and easy trips to the campground.
11. Cheaper Than a Car or ATV
Ebikes are much less expensive than cars or ATVs. You can find ebike models at various price points to suit different budgets.
6 Different Types of Electric Bikes for Camping
There are many ebike models on the market, making it easy to find one that fits your needs. Here are 6 types of electric bikes for camping.
1. Class 1 Ebikes
If you love to travel in your RV and explore while camping, a Class 1 ebike may be a good choice.
Class 1 ebikes are pedal-assist only, meaning the motor will only assist when the rider is pedaling. However, the motor is powerful enough to assist the rider up to 20 mph.
Class 1 ebikes are an excellent option for RVers who want to explore their surroundings without worrying about pedaling up hills or over rough terrain.
In addition, these bikes are relatively lightweight and easy to transport, making them a convenient option for RVers who want to travel light.
2. Class 2 Ebikes
The significant difference between Class 1 and Class 2 ebikes is that Class 2 ebikes have a throttle.
A throttle allows the rider to get full power from the motor without pedaling. This can be helpful when starting from a dead stop or going up a hill.
However, the throttle ceases to assist when the ebike reaches 20 mph.
3. Class 3 Ebikes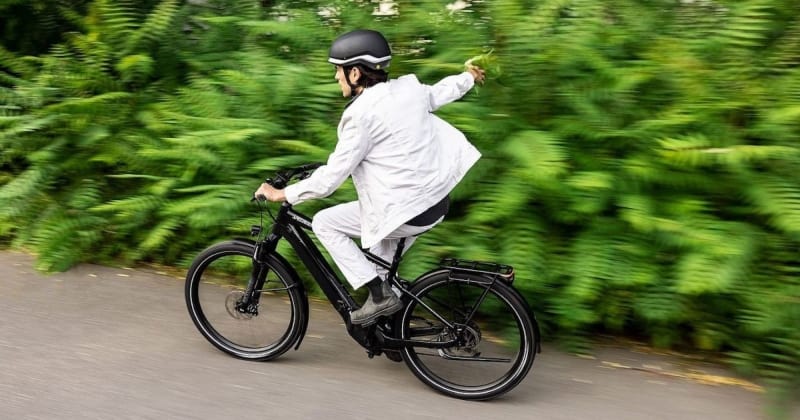 Class 3 ebikes have a motor and a throttle while providing pedal assist up to 28 mph. These ebikes are the fastest and most powerful ebike models available.
Although speed and power may benefit ebike camping, it's essential to note that some states have laws restricting ebikes on bike trails and roads.
4. E-Road Bikes
E-Road bikes are designed for speed and efficiency, with a lightweight frame and narrow tires that allow for easy pedaling on smooth surfaces.
RVers looking to cover long distances quickly or keep up with other ebike riders may find e-road bikes beneficial.
5. E-Hybrid Bikes
E-Hybrid bikes are an excellent option for ebike campers who want to tackle both paved and off-road terrain. E-hybrids combine the features of road and mountain bikes with a lightweight frame and firm suspension.
6. E-Mountain Bikes
For RVers who want to tackle challenging off-road terrain, e-mountain bikes are a perfect choice. E-mountains bikes have powerful motors and strong suspensions to help conquer steep hills and bumpy trails. These bikes also have knobby tires for increased traction on slippery surfaces.
Which Type of Ebike Is Best for Camping?
The best ebike for camping depends on your needs. If you're looking to explore off-road terrain, an e-mountain bike is a superb choice.
If you're looking for an ebike to help you cover long distances quickly, an e-road bike may be your best bet. For those who want the versatility of tackling both paved and unpaved paths, an e-hybrid is an excellent option.
Ultimately, the type of ebike right for you depends on where you plan to ride and how much help you want from the motor.
No matter which ebike model you choose, ebike camping can add a new level of adventure to your RV trips. With the power of electric motors and modern ebike technology, anyone can go farther than they ever thought possible on a bike.
13 Things to Look For When Buying an Ebike
If you're looking to buy an ebike to take camping, there are a few things you want to consider.
Ebikes are becoming increasingly popular, so many models are available on the market, making it difficult to decide which is right for you.
Here are thirteen things to look for when buying an ebike.
1. The Right Type of Ebike for You
Whether you're looking for a mountain bike, a road bike, or an ebike specifically designed for camping, make sure the ebike you choose suits your needs.
2. The Battery
The life of your ebike is one of the most important considerations. Look for an ebike with a long-lasting battery that can take you on long rides without needing to recharge.
3. The Ride Range
If you want to take your ebike camping, check the ebike's ride range which can vary widely depending on the type of ebike and the battery.
4. Motor Location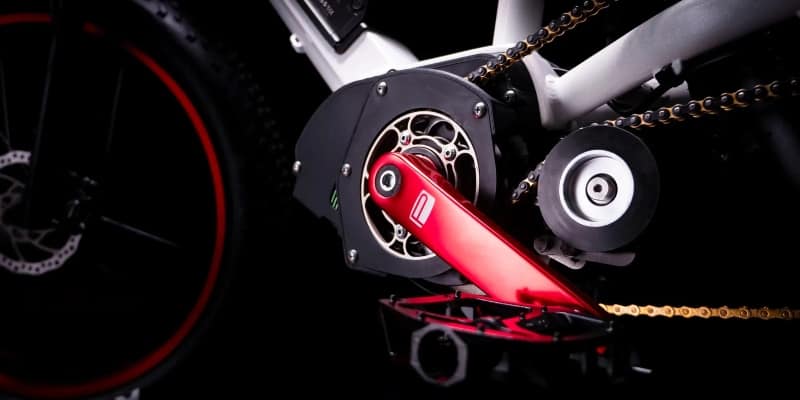 When shopping for an ebike, it is crucial to consider where the motor location. The motor should be in the middle or rear hub for the best ride. It won't interfere with your pedaling and provides a more natural riding experience.
5. Motor Torque
Ebikes come with different levels of motor torque, which determines how quickly the ebike will speed up. So make sure the ebike you buy has enough torque for your needs.
6. Speed Capabilities
Your ebike should be able to reach the speed you need for your camping trips. Check if the ebike you're considering has a top speed limit or if it can reach higher speeds.
7. Pedal-Assist Activation
When choosing an ebike, one of the essential features to look for is pedal-assist activation. This feature ensures the motor will only activate when you pedal, making it a more efficient and sustainable ride.
8. Tires
The type of ebike tires you choose will also affect your ride. Look for an ebike with broad and durable tires designed for the terrain you'll be riding on.
9. Integrated Accessories
Do you need lights, fenders, and a cargo rack for your bike? Look for an ebike with integrated accessories that are easy to install and use.
10. Lighting and Visibility Features
If you plan to ride your ebike in the dark, look for ebike models with lighting and visibility features to help keep you safe while riding.
11. The Right Fit for You
Make sure the ebike you choose fits your body and is comfortable to ride. The correct ebike fit will ensure you get the most out of your ebike and help reduce fatigue while riding. Look for adjustable components like the handlebar, seat, and stem to allow you to dial in the perfect fit.
12. Weight
The weight of the ebike you choose is important, especially if you plan to take it on camping trips. Look for ebike models with lightweight frames and components to make carrying your ebike easier.
13. Positive and Negative Consumer Reviews
Before you make your purchase, read what other ebike riders have to say about the ebike model you're considering. Positive and negative consumer reviews can help you decide which ebike suits you.
The 4 Best Electric Bikes to Bring Camping
1. Lectric Bike XP 2.0 (This is Our Recommendation!)
✅ Lectric Bikes are the Benchmark Industry Standard that's well-built!
⛔ Many have upgraded the seat due to comfort issues. We did!
Motor: 850W Peak Hub Motor
Battery: 48V Lithium-Ion Battery
Suspension: 40 mm Suspension Fork
Gearing: 7 Speed
Speed: 28 mph
Torque: 44 lb./ft.
Distance Rating: 45 miles per charge
Charge Time: 4-6 hours
Introducing the Lectric Bike XP 2.0, the perfect ebike for RVers who want to take their adventures to the next level. This lightweight ebike is easy to transport and set up, so you can hit the trails or explore new areas without worrying about packing a lot of extra weight.
The Lectric is a high-performance electric bike that combines advanced technology, beautiful design, and state-of-the-art components to deliver an unmatched experience.
With a powerful 850-watt motor and 20 x 30-inch fat tires for a smooth ride, the XP 2.0 can handle any terrain you might encounter.
And thanks to its built-in lithium-ion battery, you can ride up to a standard forty-five miles range or sixty-five miles on long-range capability. The battery can take between 4-6 hours to charge using the provided charger.
2. VELOWAVE Electric Bike
✅ The Velowave is a great outdoor bike that can handle wet environments!
⛔ You may find this bike a better ride off-pavement.
Motor: 750W BAFANG Motor
Battery: 48V/15Ah LG Cells Removable
Suspension: Hydraulic Suspension Forks
Gearing: 7 speed
Speed: 28 mph
Torque: 60 lb./ft.
Distance Rating: 25-50+ miles
Charge Time: 4 hr. fast charge
If you're an RVer looking to take an ebike camping, the Velowave Electric Bike is a great option. It's compact and lightweight, so it won't take up a lot of room on your rig and will give you the freedom to explore.
With a powerful 750W motor, this ebike provides a max speed of up to 28 mph, giving you plenty of power for your ebike camping trips. With 60 lb./ft. of torque, climbing hills will be almost effortless.
The VELOWAVE comes equipped with a powerful 48V 15AH lithium-ion battery, providing 4 hours of continuous ebike camping fun. And the battery is removable, making it convenient to charge your ebike on the go.
With its all-terrain 26-inch fat tires, hill-climbing power, and water-resistant design, the VELOWAVE ebike is ready to keep you pedaling for miles and smiling the entire way.
3. FREESky 7-Speed Electric Bike
✅ The FREESky is a good all-purpose hybrid e-bike that can take pavement and trails.
⛔ Don't let the tires deceive you; this isn't for mountain bike riding.
Motor: 750W BAFANG motor
Battery: 48V 14 Ah Samsung Battery
Suspension: Hydraulic Suspension
Gearing: 3 riding/ 5 pedal modes/ 7 speed
Speed: 32 mph
Torque: 63 lb./ft.
Distance Rating: 35-50 all motor/ 50-80 pedal assist
Charge Time: 4-6 hrs. fast charge
Head off to an ebike camping adventure with the FREESky 7-Speed Electric Bike. This electric mountain bike combines performance and fun with a 750w BAFANG motor, 48C 15ah Samsung battery, and seven speeds for optimum power transfer.
You'll be able to take on any terrain, from mountains to forest trails, with the ebike camping-friendly Step-Thru frame offering a comfortable and confident ride.
Plus, you'll never worry about running out of charge thanks to a reliable 15Ah battery that offers 35-50 miles in electric or 50-80 miles in pedal assist modes.
The FREESky is designed for maximum fun and comfort, featuring an adjustable stem and handlebar, soft rubber grips, hydraulic disc brakes, a removable battery you can charge on or off the ebike, and a Shimano drivetrain for the smoothest gear shifting.
4. SOHOO Folding Fat Tire Ebike
✅ This bike can carry up to 325 pounds without a problem.
⛔ The SOHOO is built more for muscle than speed.
Motor: 48V 500W Rear Motor
Battery: 48V 13Ah Lithium-Ion
Suspension:
Gearing:
Speed: 28 mph/ 3mph walk mode
Torque: Not Listed
Distance Rating: 30-40 all motor/ 55-65 pedal assist
Charge: 5+ hrs. at 10%
The SOHOO Folding Fat Tire Ebike is your new ebike camping companion. With its fat tires, adjustable shock absorbers, and 48V 500W motor, you can explore all your favorite e-bike-friendly camping destinations in comfort and style.
Its folding frame makes it easy to transport and store when not in use. And with its removable battery, you'll always have the power to keep the wheels turning.
The seat and handlebar are adjustable to find the right fit for you, and the ebike's LCD display shows your speed, distance traveled, remaining battery level, and other important information.
The SOHOO has four working modes:
Walk Mode
At a comfortable 3 mph, walking your ebike with you wherever you want is easy.
Throttle Mode
No need for an excursion; twist the throttle and enjoy the ride.
Pedal-Assisted Mode
In the pedal-assist mode, you can combine exercise with ebike riding.
Regular Bicycle Mode
If the power is off, this ebike functions like a traditional bicycle.
10 Common FAQs About Taking an Ebike Camping
1. How Fast Do Ebikes Go?
RVers that want to bring an ebike camping may wonder, "How fast do electric bikes go?" While the speed of an electric bike depends on many factors, such as the motor size, battery type, and terrain, most electric bikes can reach speeds of 20 mph. Some models can even reach speeds of 30 mph or more.
However, it is essential to note that the top speed of an electric bike is only sustainable for a short time.
Instead, electric bicycles are typically ridden slower for longer distances, making them ideal for RVers who want to explore campgrounds and other scenic areas without worrying about tiring themselves out.
2. Do You Still Have to Pedal on an Ebike?
Even though an ebike has a motor, you still need to pedal. However, you find it is much easier to pedal than a regular bike because of the motor. The motor boosts you, making it easier to pedal up hills or ride for an extended time.
3. Are Ebikes Good for Senior Campers?
Ebikes are ideal for senior campers that want to explore the outdoors. The electric motor makes it easier to pedal, so seniors can get around without having to worry about overexerting themselves.
Plus, ebikes have adjustable speeds, so you can control how much effort is required.
4. What Are the Disadvantages of Ebikes When Camping?
One drawback of taking an ebike camping is that you'll need to recharge the battery eventually, which can be a problem if you're far from an electrical outlet.
Also, ebikes are more expensive than regular bikes, so there may be better options for RVers on a budget.
However, ebikes can be substantial investments in the long run since they require less maintenance and are more durable than regular bikes.
5. Do Campsites Allow Ebikes?
Most campsites allow ebikes, but checking with the campground before you arrive is essential.
In addition, many National Parks and State Parks have ebike regulations, so be aware of the rules before bringing your ebike camping.
6. How Do You Charge an Ebike While Camping?
There are a few different ways you can charge your ebike while camping.
One option is to use a solar panel. Solar panels are a great way to generate renewable energy, and you can use them to power all kinds of devices, including your ebike.
If you have a portable generator, you can use it to charge your ebike. Just be sure to follow all safety precautions—and be mindful of any noise restrictions in the area.
Of course, you can also charge your ebike by plugging it into an RV's electrical system. You'll need to get an adapter, but it's a great option if you don't want to worry about finding an external power source.
7. How Much Do Ebikes Cost?
Ebikes can range in cost from around $1,000 to upwards of $3,000, depending on several factors, including the size and style of the bike, the battery type, and the level of assistance.
You can often find e-bikes on sale, so it's worth shopping around before you make a purchase.
Ultimately, the cost of an ebike will vary depending on your needs and budget. But with prices coming down and more options available, ebikes are becoming an excellent way for RVers to explore the outdoors in comfort and style.
8. Are Ebikes Good in the Snow?
Ebikes are quite good in the snow as long as you're prepared. The electric motor helps to propel you forward, even when the going gets tough.
Ebikes also have wider tires that can provide more traction on slippery surfaces.
Always check with your ebike manufacturer about any special instructions for riding in the snow, and wear safety gear when ebike camping in cold and snowy conditions.
9. How Do You Keep an Ebike from Being Stolen at the Campground?
Unfortunately, ebike theft happens. To keep your ebike from being stolen, it's essential to take some measures to protect it. Investing in a sturdy ebike lock is a crucial first step.
You can also look for e-bikes with built-in anti-theft features, like GPS tracking and alarm systems.
Some ebike companies also offer insurance plans to help you protect your ebike from theft or damage.
Never leave your ebike unattended for long periods. Instead, keep it inside the RV and lock it properly when not in use.
These precautions will help ensure your ebike stays safe and secure at the campground.
10. Can You Charge Ebikes with Solar Power?
Yes, you can charge e-bikes with solar power. By harnessing the sun's energy with a solar panel, ebike riders can charge their ebike on the go to extend their journey.
Not only do solar panels provide an eco-friendly way to enjoy ebike camping, but it also helps reduce the ebike's reliance on traditional power sources.
Is Bringing an Ebike Camping Worth It?
Yes, it is worth bringing an ebike camping. Not only does an ebike let you get around more quickly, but ebike camping also has other benefits.
For example, with an ebike, you can explore further and faster than walking or biking. You can carry heavier cargo with greater ease, allowing you to bring essential supplies like food and water.
E-bikes are also much quieter than motorized vehicles, so your ebike camping trip won't disturb the peace of nature.
Finally, e-bikes require very little maintenance — all that's needed is a regular battery charge from either an outlet or solar power source — making them hassle-free options for extended ebike camping trips.
---
About the Author:
Mike Scarpignato is an avid RVer who owns a Class C RV and a Class A RV. He loves to travel with his wife Susan and write blog articles about the RV lifestyle.
Mike and Susan also make YouTube videos on the RVBlogger YouTube channel.