During the life of your RV, you'll come to a point where you will need an RV window replacement or upgrade. RV window replacement is one of the more common maintenance and repair tasks that come along with owning an RV.
Replacing the windows is an easy way to give new life to an old RV. Whether you're updating your current RV or refurbishing a classic, new windows are a must.
Installing new RV windows can seem challenging. In reality, RV window replacement is fairly simple and manageable for most RV owners.
Can You Upgrade and Replace RV Windows?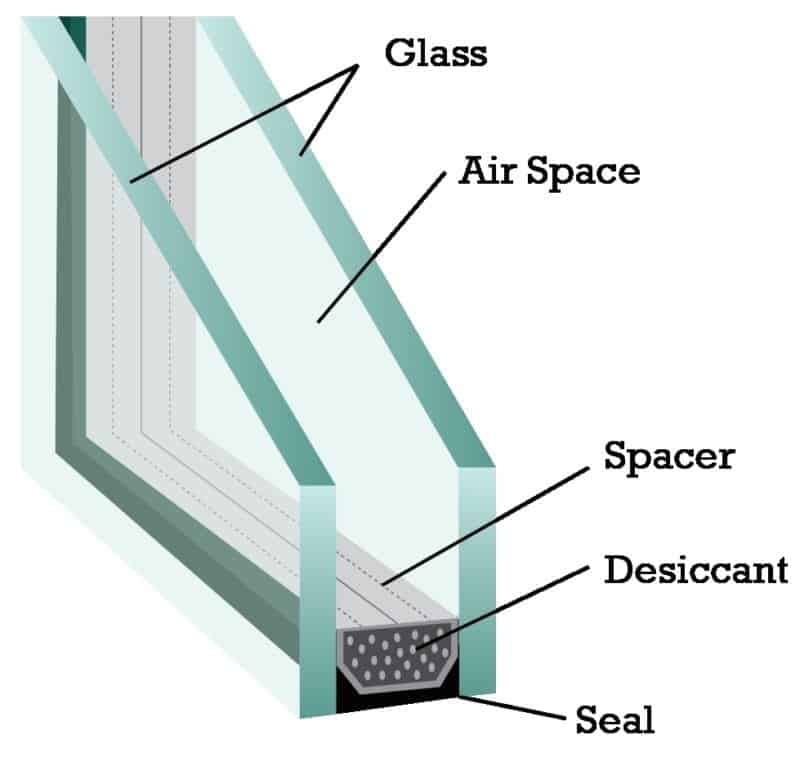 One of the big questions that many RV owners have is removing and replacing an RV window. You'd want to replace or remove your RV windows for many reasons.
Perhaps a window was damaged during a recent trip. Maybe your windows have started to leak. On the fun side, maybe you've found a great classic RV or travel trailer, and you're giving it new life. Whatever the reason, new windows are essential.
RV manufacturers know that RV window replacement is an eventuality for all RVs. RV window manufacturers sell replacements so RV owners can easily swap out old or damaged ones.
Upgrading or replacing your RV windows is much like replacing the windows in your home. You need to know the process and the pros and cons before you start tearing apart your travel trailer.
10 Things to Know About RV Window Replacement
1. Know the Signs It's Time to Replace Your RV Windows

There are a few obvious signs that your RV needs new windows. First, you may have distinct damage to a window. As you travel, rocks and debris can be tossed into the air by your RV tires and hit your RV's windows. Cracks, chips, and broken frame parts indicate that your RV window needs to be replaced.
Another sign that it's time to replace your RV windows is water entering your RV. Leaking windows tell you that your window's seals have started to fail. Not replacing your window in this situation can cause damage to other components in your rig.
Finally, you may not notice water leaking into your RV, but if sitting next to a window is like sitting in a completely different climate, it's probably time to replace your RV windows.
2. DIY vs. Hiring Out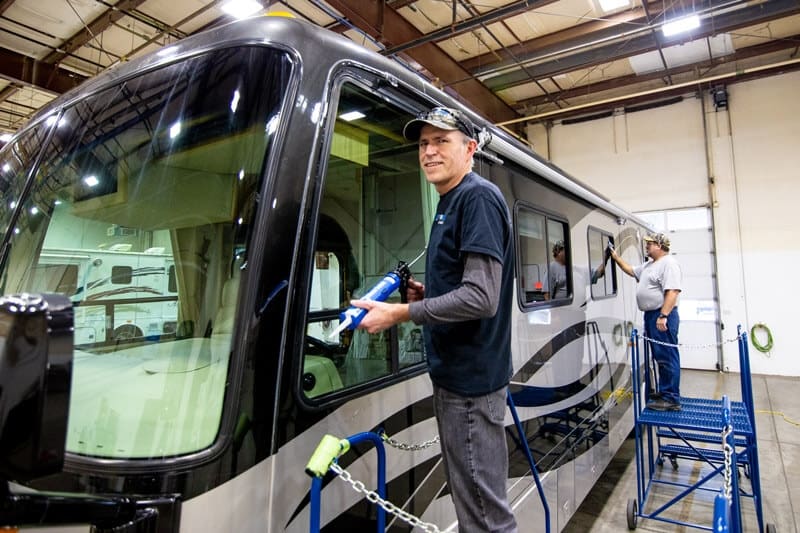 When it comes to RV window replacement, you can either DIY the project or have the work done by a professional.
The DIY option may be your best bet if you're confident in your RV repair and maintenance skills. Often, doing this kind of work can save you money and time.
On the flip side, the repair experts at your local RV dealership and repair facility always do this kind of work. You may have to wait for an appointment time, but they have all the tools and hardware that may be necessary to replace your RV windows.
If you're a full-timer or you can't wait, look up a local mobile RV repair technician in your area. Most of the time, they're less expensive, faster, and they come to you.
3. Measure Correctly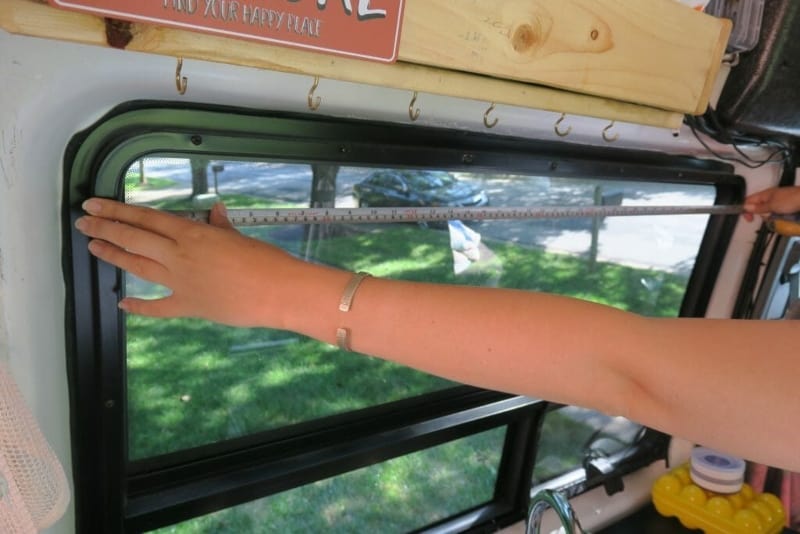 One of the most important steps in RV window replacement is properly measuring your windows. You'll want to gather a few different measurements that'll be necessary for ordering the proper window.
Window opening
Window sidewall thickness
Corner radius
If you're replacing windows on a newer RV, you may have window measurements in your owner's manual. If your RV is older, however, this step is essential.
One of the easiest ways to measure the window opening is to place a piece of string around the opening, cut the string, and measure the length.
4. Order the Right Window Type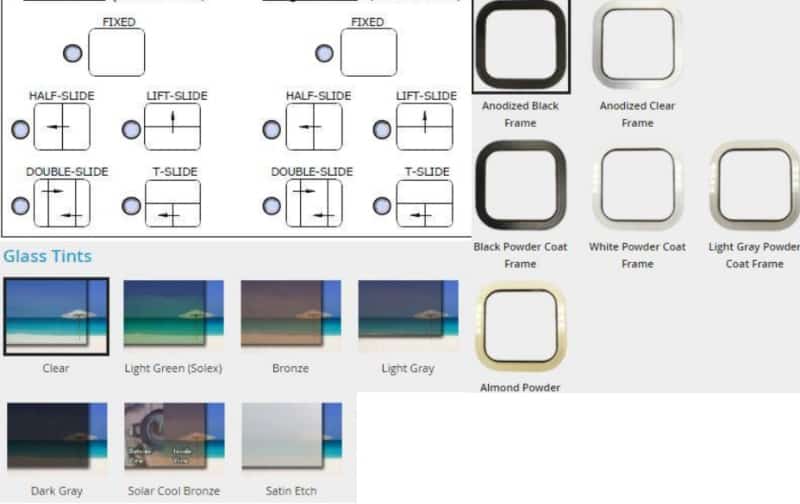 Even if you're considering upgrading your RV windows to multi-pane or tinted ones, you need to ensure that you get the right type of window. This is particularly important if the window you're replacing is designed for safety or an emergency exit.
I. Framed vs. Frameless
These are your two basic types of RV windows. Most RVs come with framed windows, like your home's windows. Lots of newer RVs are now coming with frameless windows. These provide an unobstructed view and push open on top or bottom mounted hinges.
II. Sliding
Sliding windows come in horizontal and vertical openings. Both are good options for leaving open while camping.
III. Single vs. Double Pane
Single pane windows are constructed using a single piece of glass. They're great if you want to let in a lot of light.
Double pane windows have two pieces of glass. The air or argon gas between the glass is an insulator that helps better manage your interior climate.
IV. Egress
Egress windows are specially designed to allow you to exit your RV in an emergency. These windows have special latches and breakaway features. The window will open easily and provide a safe exit point.
5. Choose Tint vs. Clear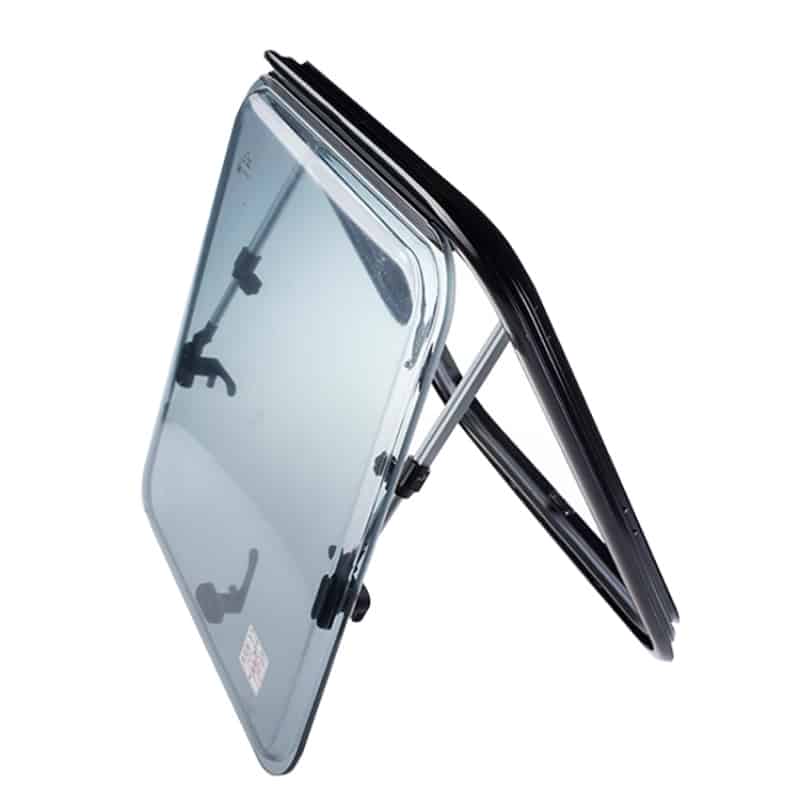 Clear windows provide you with a lot of light, so they're nice for the living room space in your RV. The downfall to clear windows is that they aren't as energy efficient.
Tinted windows provide you with more privacy and are perfect for windows in sleeping areas. Tinted windows reduce heat transfer, keeping your RV climate better controlled.
6. Consider Sun Shades with Replacement Windows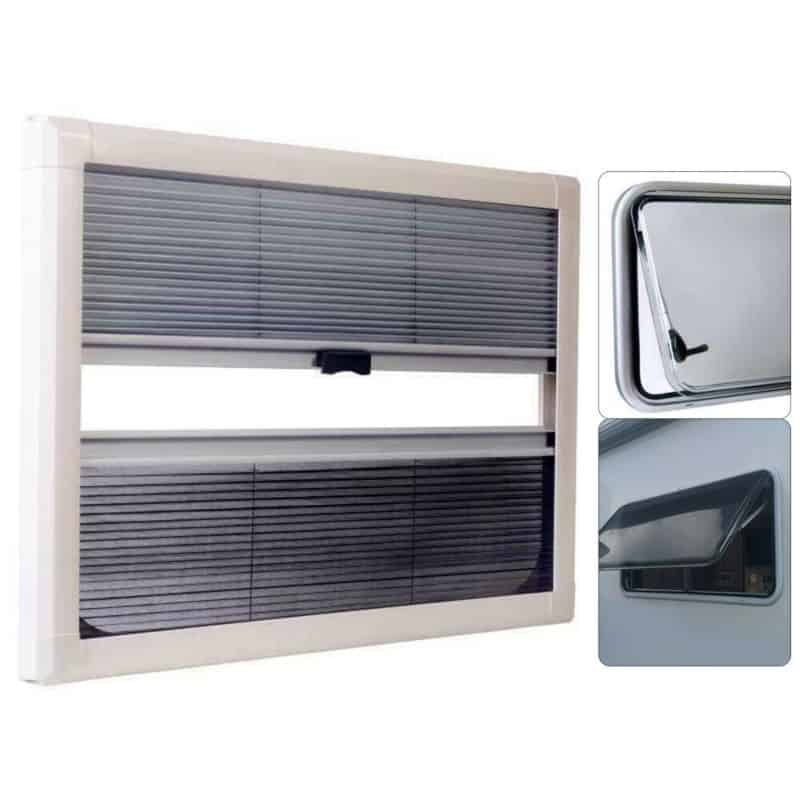 Some newer windows come with pre-installed shades. Sun shades reduce the amount of sunlight that comes into your RV. They help keep your RV cool in the summer and warmer if you travel in the winter. The day screens allow the breeze to flow through but keep the smallest flying insects from entering your travel trailer or camper.
7. Seal Windows Correctly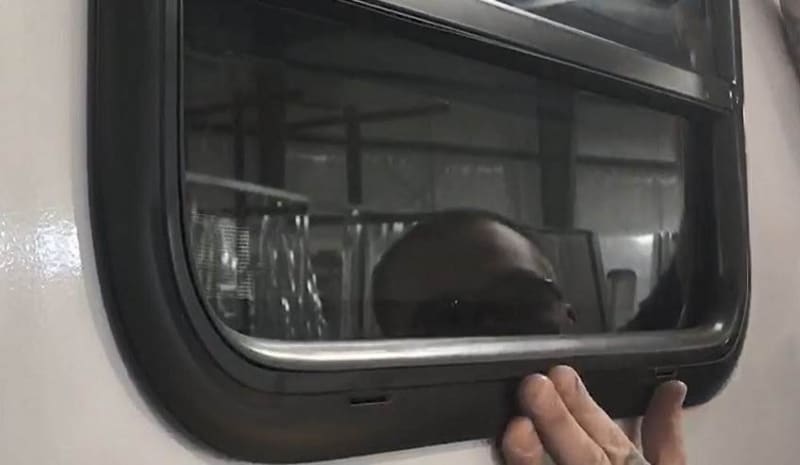 Your replacement window will come with instructions on properly sealing your new RV window. You should follow these directions very carefully. Failing to seal the window can result in leaks, causing substantial damage to your RV.
8. Window Quality Matters
Believe it or not, you can buy inexpensive replacement windows for most RVs online. While these options are value-friendly, many of them may have quality issues. Better quality windows will last longer and install better.
9. Insulate Properly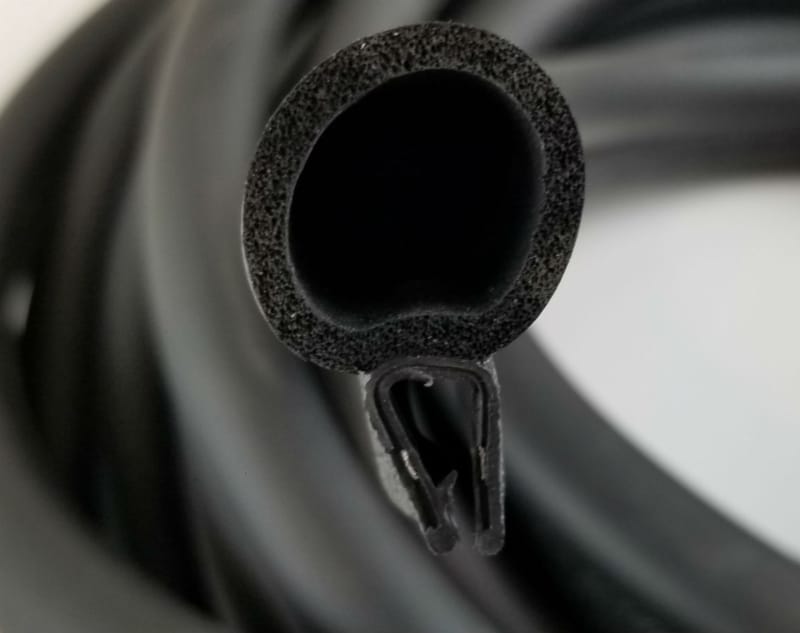 Weather stripping around your new RV window will help keep air and water from entering your RV. Rubber specialty companies like Steele Rubber Products provide weather stripping packages for RVs. These are packaged to fit your particular make and model of RV.
If you need to order individual seals or the company doesn't have your specific RV's measurements, you can order the specific lengths you need based on your measurements.
10. Look for Energy Efficiency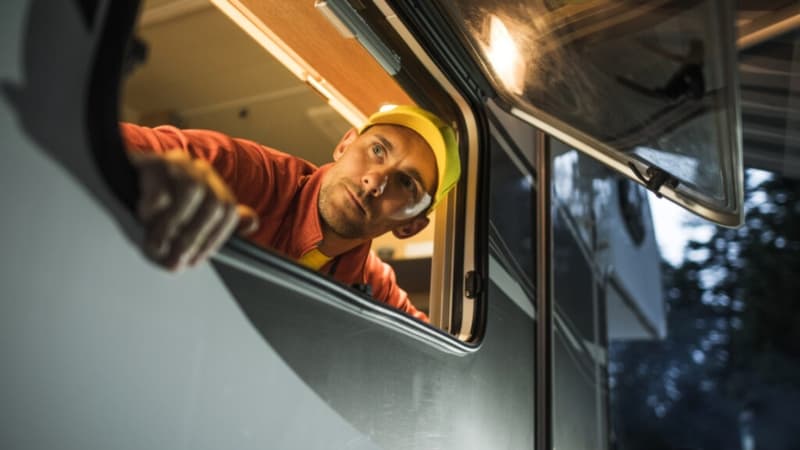 As with your home, improved energy efficiency in your RV will reduce the pressure on your RVs heating and cooling systems. New windows can improve energy efficiency and increase comfort in your RV.
Is RV Window Replacement a Good DIY Job?
RV window replacement is one of the larger repair jobs that can easily be DIY. There are plenty of resources providing instructions on how to complete the work. Once you successfully remove and install one RV window, you can follow the same process for the rest.
Is It Worth Installing Double Pane Windows in Your RV?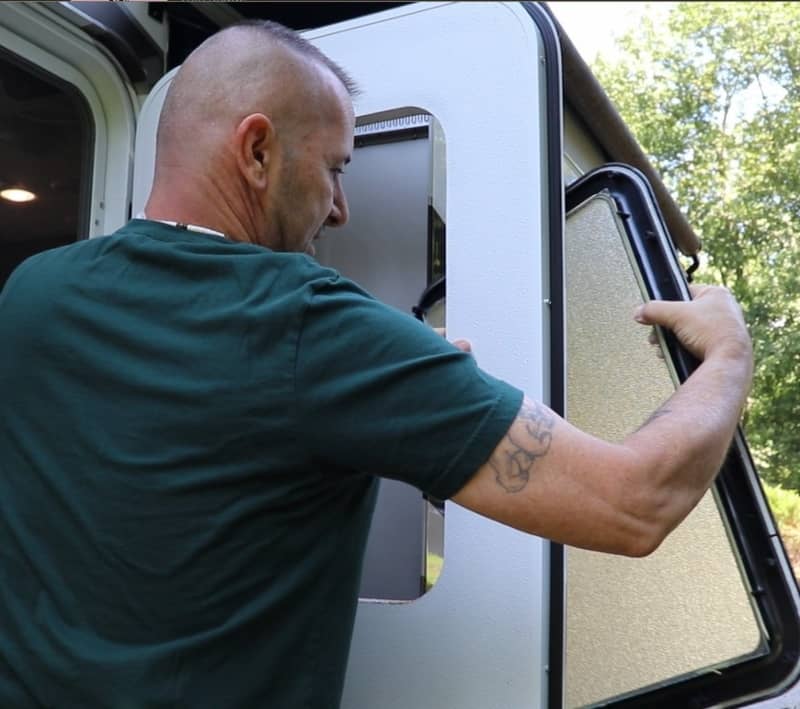 Double pane RV windows are typically more expensive than single pane windows. Upgrading from single pane to double pane should be done with a level of consideration.
If your RV is your home for most of the year, you may benefit from improving the interior climate and comfort of your RV with double pane windows. Single-pane windows may be fine if your RV is only used periodically for road trips and family vacations.
Another consideration is where you're camping. If you frequently boondock or camp without hook-ups, double pane windows will manage interior temperature better, requiring your heat or A/C to work less. This will keep your RV batteries charged longer.
Is RV Window Replacement Worth It?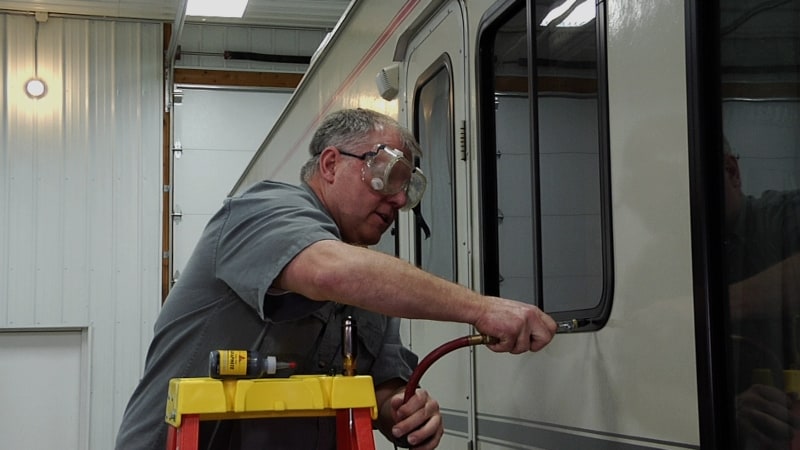 RV window replacement is often an essential task for RV owners. When windows get old or broken, you may have no choice but to consider replacing them. If you're considering replacing your RV windows for better energy efficiency, there are many things to consider, including cost and replacement time.
If you aren't using your RV regularly, you may want to hold out on replacing your RV windows. However, full-time RVers will find that window replacement is a great first step to making your RV feel like home.
---
Related Reading:
---
About the Author:
Jason Gass is a full-time freelance writer and part-time RVer whose goal is to share great stories around a campfire with good friends.
When he's not working, he spends most of his time camping, searching for the best breweries, and road-tripping in his teardrop trailer with his wife, daughter, and two dogs.