Teardrop campers, in one form or another, have been around since the 1930s and reached the height of popularity in the late 40s. Owning one is as "old school" as it gets. DIY teardrop camper build kits compound that throwback aesthetic with a sense of accomplishment and the exact camper you want.
Trying your hand at teardrop camper build kits leaves no room for error or miscalculation. Everything is right there for you. Some blogs will wax poetic about how easy it is as they try to sell you DIY teardrop camper build kits. It's not easy to build a teardrop camper, but it is a lot of fun.

Can You Actually Build a Teardrop Camper at Home?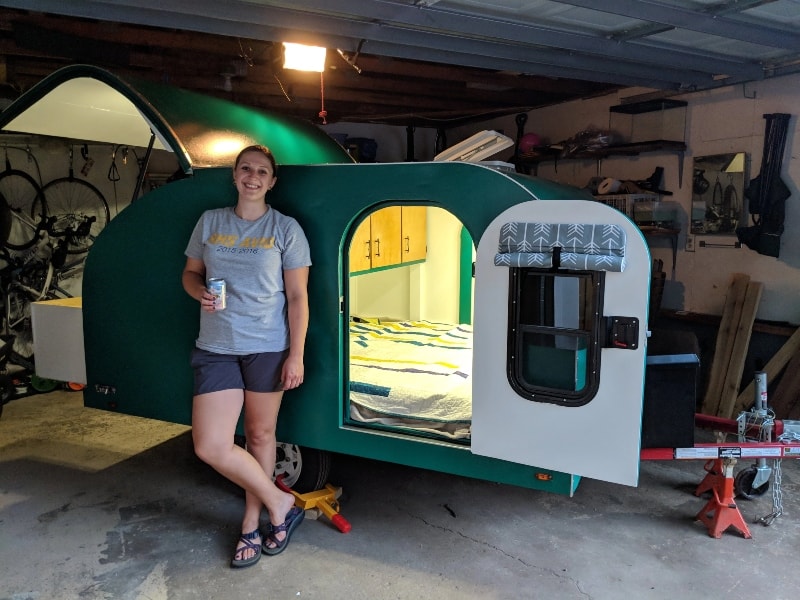 You can build just about anything at home as long as you have the right permits and licenses. Fortunately, you won't need anything like that for a teardrop camper. Many people build their own without the aid of a building kit.
The beauty of a building kit is how fun it is. Okay, the work part isn't all that much fun, but everything is there for you, complete with a guide on how to put it together. If you have a garage or a workshop, you only need a trailer frame to get started.
Of course, you can build it in your back or front yard as well, so long as you're cognizant of the weather and cover everything up when you need to, especially insulation.
Is it Cheaper to Build a Teardrop Camper?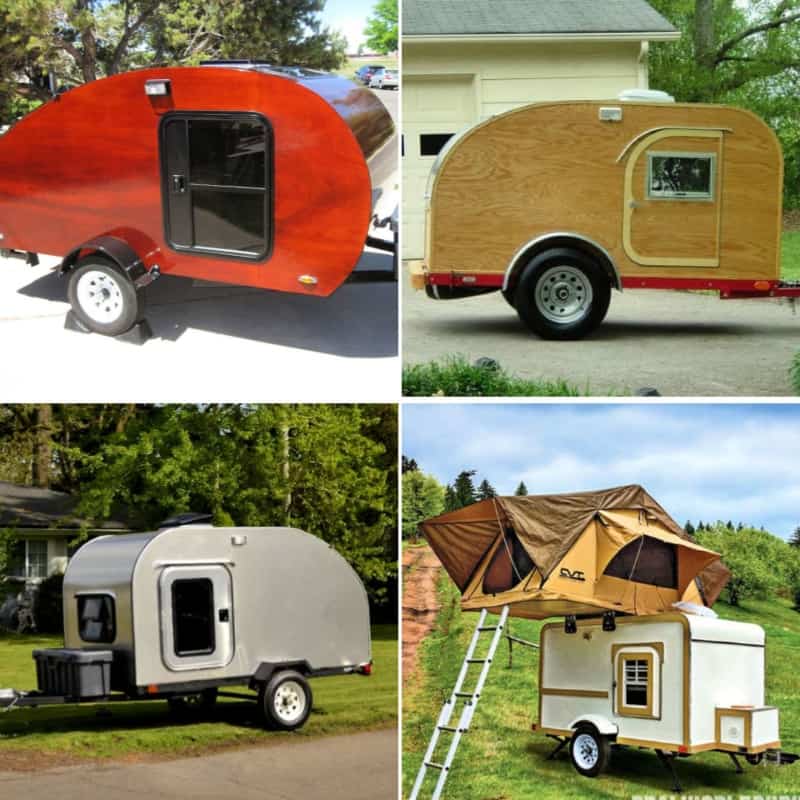 Generally, it's much cheaper to build a teardrop camper. You can build your own teardrop camper for a fraction of the cost. For example, the first teardrop camper build kit in the list below costs just over $1,000. Now, that may sound like a lot but consider this: bottom-range teardrop campers average $8,000 to $12,000.
Of course, you have to own your own trailer as well. A brand new, 4' x 8' trailer will cost around $1,200 to $1,400. However, jump on the Facebook Marketplace, and you will find plenty of used ones for far less. You don't need a brand-new trailer for this job.
You'll clean it and gut it before you start the work anyway. Even if you factor in the cost of a brand new trailer with the costs of DIY teardrop camper build kits, you're still sitting at ¼ the price of bottom-of-the-barrel teardrops on the market.
How Much Does it Cost to Buy a DIY Teardrop Camper Build Kit?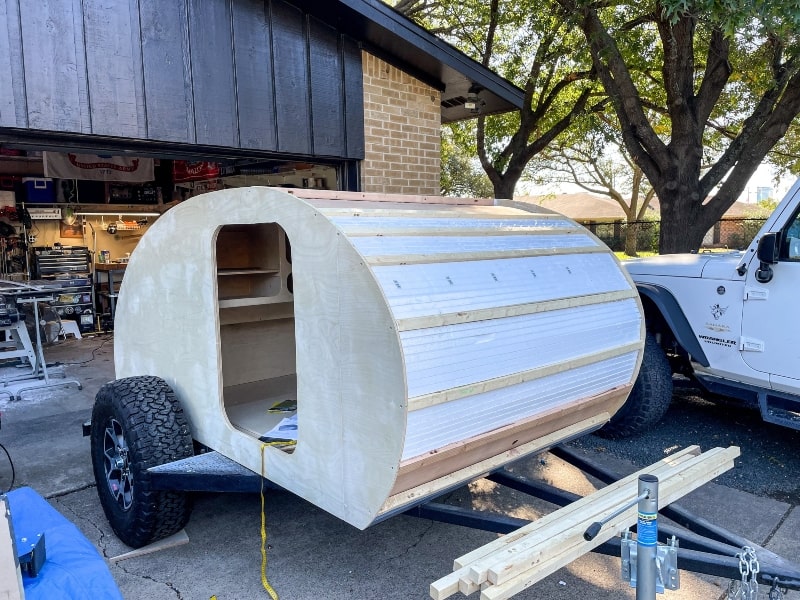 Teardrop camper build kit pricing depends on where you go and what you want. Some will cross that $8,000 limit we covered. However, if the kit is priced at $8,000, you better believe the fully manufactured version will be three times that.

The reason is labor. It's just like fixing your car. An alternator will run you $80 to $150, and it's free to install. Take it to a mechanic, who will run a diagnostic for $75 and put two people on the repair. The labor cost is $72 an hour, and it will take them three hours to finish.
That comes to $432, not including the diagnostic, additional service fees, and the price of the alternator. You're dealing with the same thing here. DIY teardrop trailer build kits will run anywhere from $1,000 to $10,000 and save you a ton of money either way.
Best DIY Teardrop Camper Build Kits
If you're interested in a true sense of ownership and want a teardrop camper that doesn't require you to take out a loan against your car to afford it, these 10 DIY teardrop camper build kits will get you there.
While most of these kits include everything you need regarding framework, wiring, shelves, and exterior compartments, the flooring and insulation will often be up to you.

1. Big Woody Teardrop Camper Ultimate Kit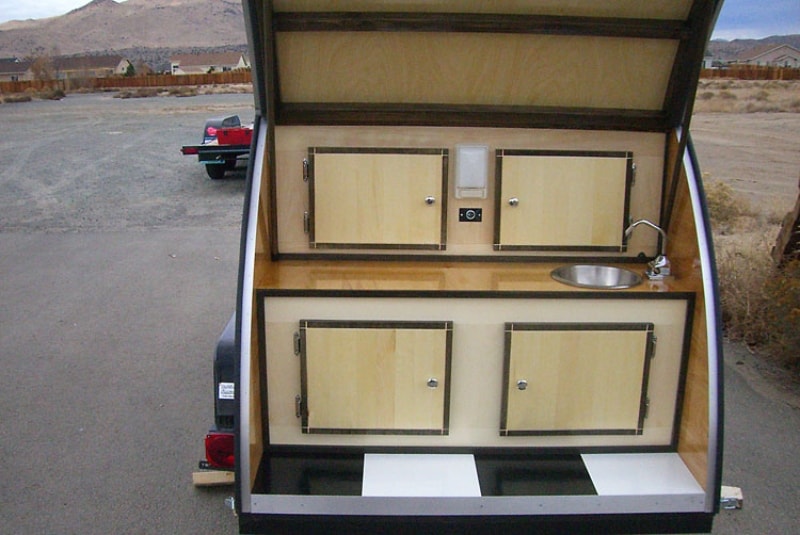 Our Pros and Cons:
✅ Incredibly detailed manual with free technical support
⛔ Delivery is slow at two to three weeks
The Big Woody Teardrop Camper Ultimate Kit is the ultimate kit for a great price. They manufacture kits based on the 1940s and 1950s aesthetics, attempting to bring back the good old days following World War II.
Most of their kits (including this one) come in 4' x 8' and 5' x 8' varieties, and you can stick with the basic, ultimate camper kit or go with a bit of customization. You may have to go the extra mile to preserve the exterior. The description doesn't specify the level of protective application on its exterior components.
The kit includes a massive and detailed manual with over 200 pictures, templates, and free technical support if you hit a snag. You'll have to supply your own trailer, and the underlying insulation and storage options are up to you.

2. HYK Outdoors Teardrop DIY Starter Kit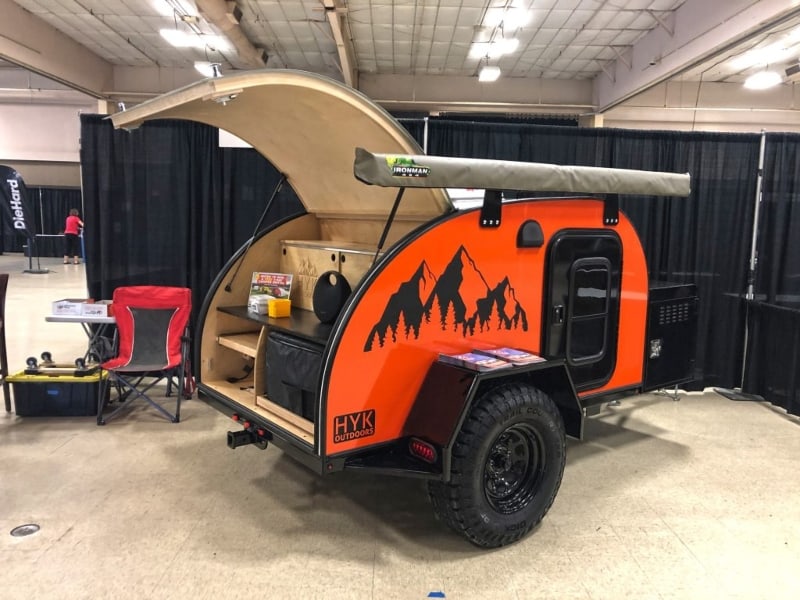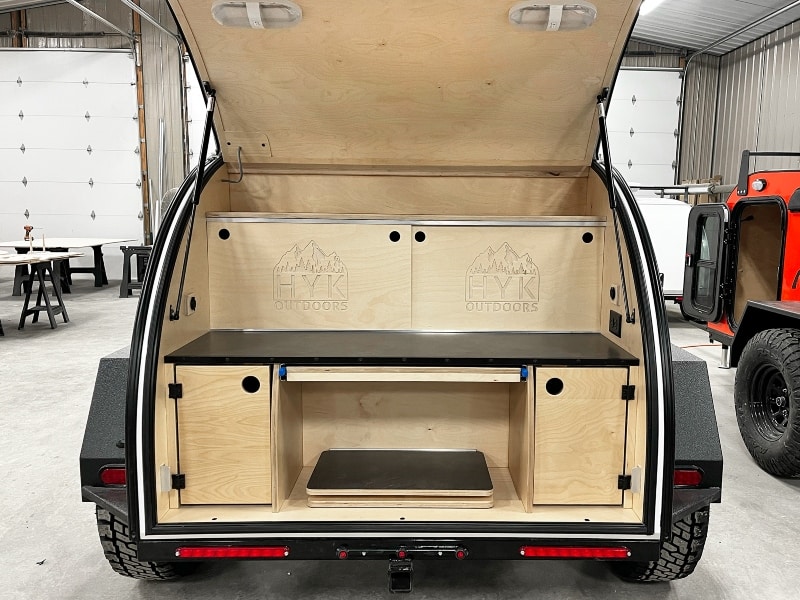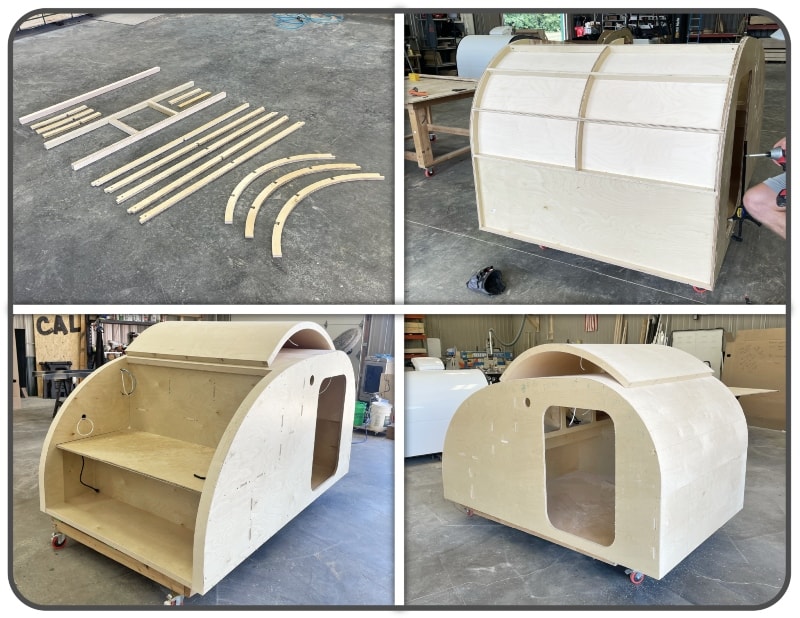 Our Pros and Cons:
✅ Complete shell starter kit or full build kit on offer
⛔ The full build kit may be pricey for some
The great thing about HYK Outdoors is that they offer the complete teardrop trailer or the starter kit for its most popular 5×8 model. This is the kit you want if you like the idea of doing all of your own wiring and prefer a high level of personal customization.
The starter kit includes the entire shell framework, cut from pre-finished birchwood and ready to assemble. This is their 5×8 model, so you will need a similar-sized trailer to get started.
The shell is simple enough to assemble, and according to HYK, you can have it done in a single weekend. HYK also partners with several accessories retailers you can dive into if you want to add a few components to the shell before HYK ships to your door.

3. Chesapeake Light Craft Build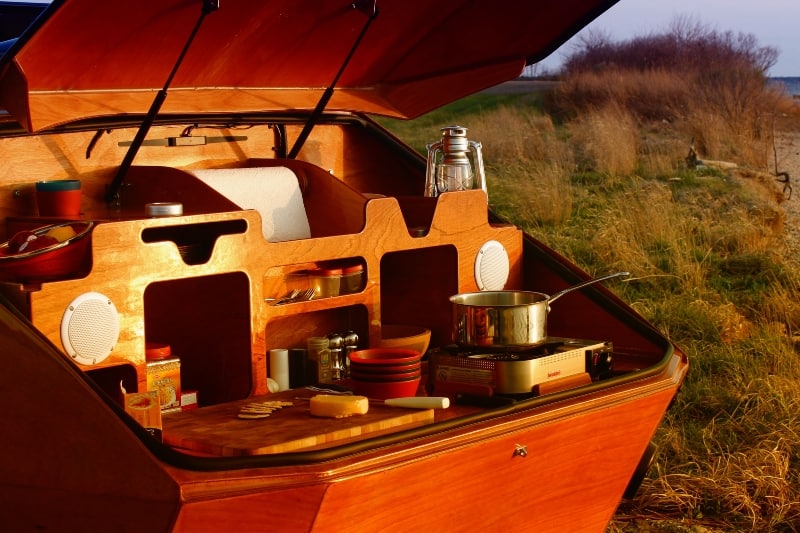 Our Pros and Cons:
✅ The "bolt-and-go" design will fit on almost any trailer
⛔ Shipping costs are on the high end
After making a name for itself as a boat-building kit company, Chesapeake Light Craft decided to try its hand at teardrop campers. The base kit ships with the entire shell and the trim framework for doors and windows.
The wood shell is heavily coated in bronzed fiberglass, which looks incredible. You have the option of adding a handful of additional components as well, including an electrical template. However, the trailer and the wiring are all on you.
This 5×8 model is designed to bolt down on any trailer, leaving your options wide open. If you enjoy exterior galleys, this is one of the most complex and intricate offerings on the list. The kit also includes glue and tacking hardware.

4. Birch Campers Sprig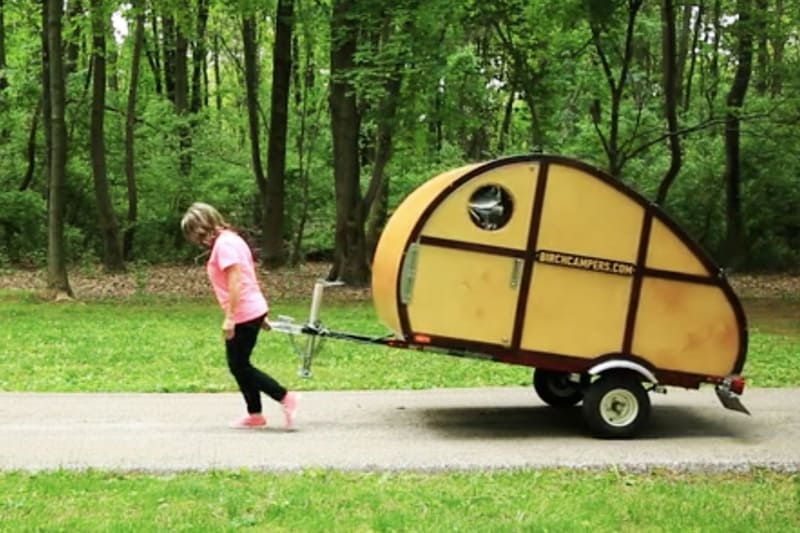 Our Pros and Cons:
✅ Their Baltic Birch build includes a complete stainless hardware kit
⛔ Local pickup is preferred, while shipping options are a bit vague
The ultra-lightweight Birch Campers brand offers two camper sizes—the BIGSPRIG and the SPRIG. Both include the CNC machined panels needed to fully construct the shell, which doesn't include the flooring or the trailer. The BIGSPRIG is designed to install on a 5×8 trailer.
The panels are made from Baltic Birch Plywood, and Birch Campers advises customers to purchase the same for their flooring. The entire kit includes the window and door trim, with included screens, along with the stainless hardware kit.
To put the build together, you'll need the glue and brads, along with a premium seal or stain to protect the shell. The BIGSPRIG also offers several optional components, including roof racks, vents, interior shelves, and hooks for additional storage.
Travel Trailer Pro Tip: The majority of wood used in travel trailers is baltic birch. This specific type of tree is naturally water and mold-resistant. It's also one of the lightest yet most durable wood materials. When RV manufacturers talk about marine-grade wood, they usually refer to Baltic Birch.

5. Teardrops NW Off-Road Kits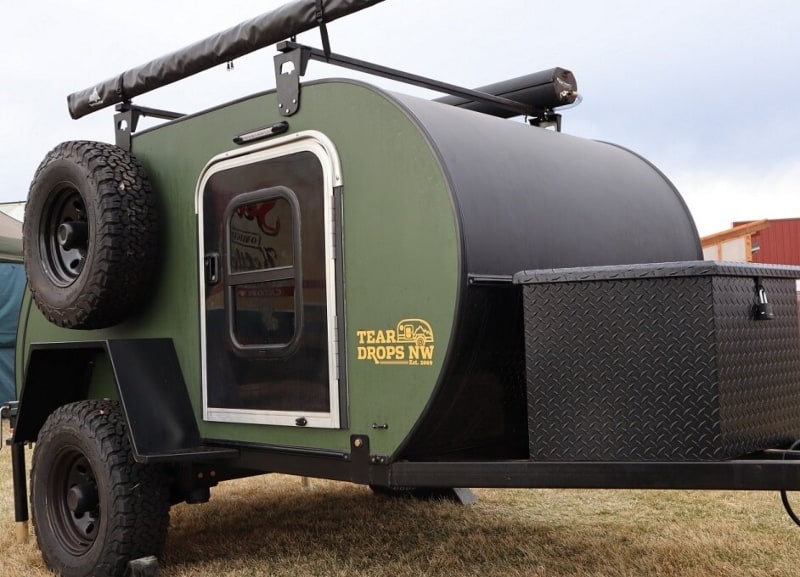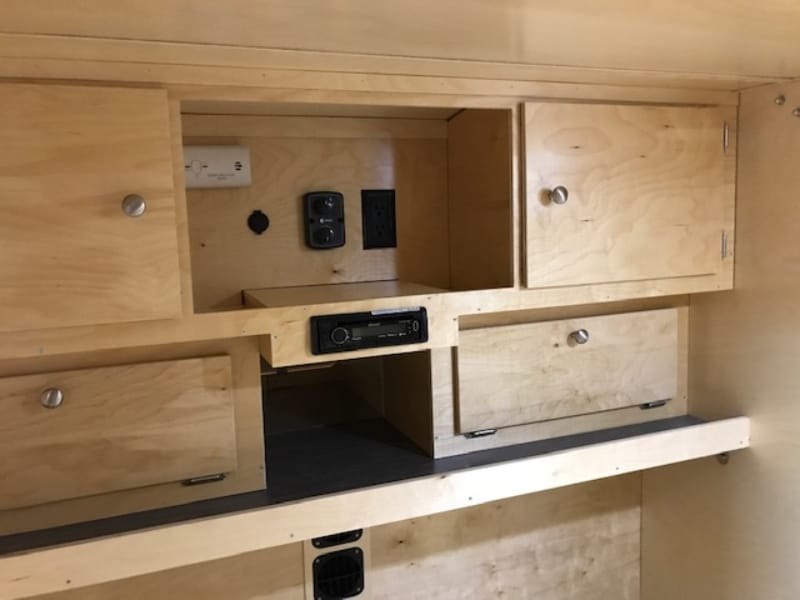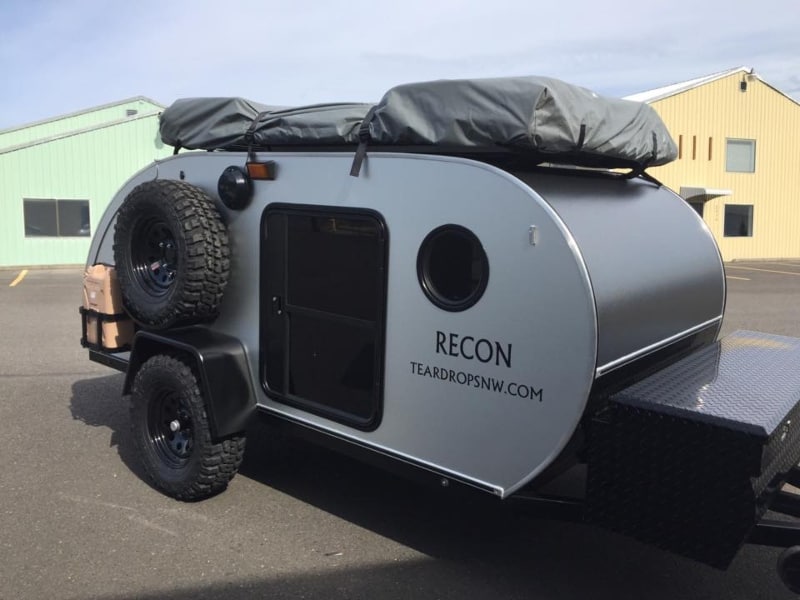 Our Pros and Cons:
✅ Broad level of interior customization options
⛔ DIY kits are currently slowed due to supply chain issues
Teardrops NW is like a cabinet maker that decided to design a full-fledged teardrop trailer. The number of the cabinet and interior storage options offered with its DIY kits is mindblowing. The precision-cut pieces are CNC machined, and their kits are generally sold in pieces.
Teardrops NW decided to sell their kits this way so you can essentially build your teardrop from the ground up before ordering the completed version at the end. There are many plans to choose from and financing options as well.
Whether you want a streamlined, short-travel teardrop or rugged tanks for blazing new trails through the wilderness, you will find what you want here. And the cabinets—did we mention the cabinets?

6. Overland Trailer Teardrop Trailer Kit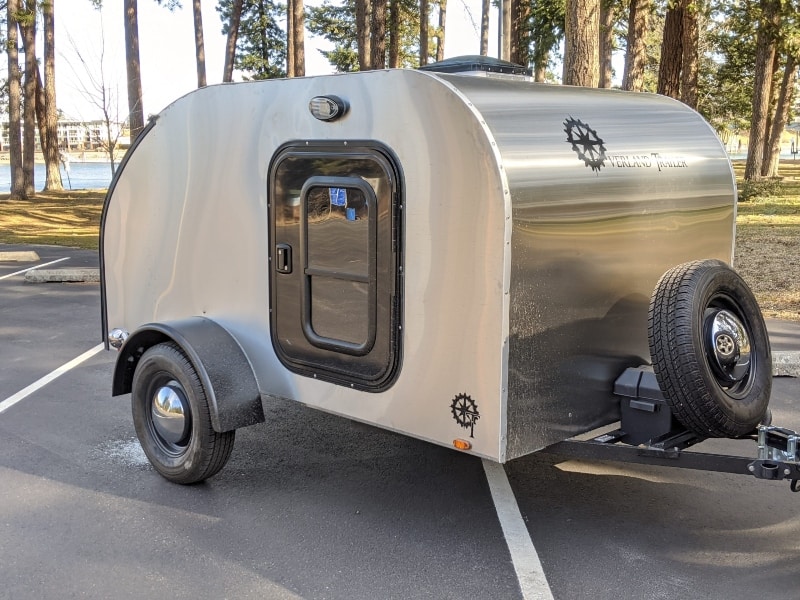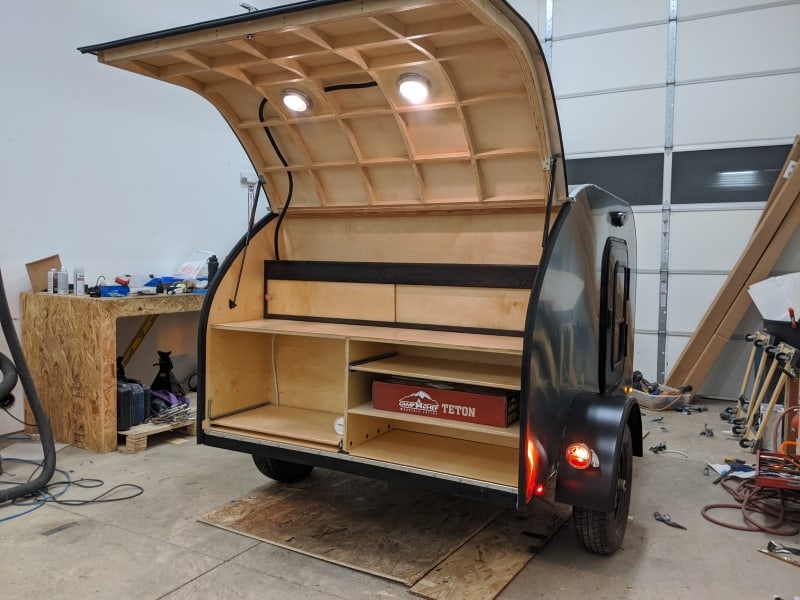 Our Pros and Cons:
✅ The metal skin kits are far more durable and impervious to the elements
⛔ Metal skins are pricier than their wooden cousins
Overland Trailer's most popular model is the 58 Heald. Instead of taking out a second mortgage to afford one, they are now offering the same design in a DIY kit for a fraction of the cost.
Though the full kit is a little costly, it's still better than the complete trailer, which is nearly three times the amount. You don't have to go with that option since Overland Trailer also offers an essentials kit.
The full DIY teardrop camper build kit includes the entire frame, CNC machine cut panels, doors, cabinets, and a full video walkthrough. The kit includes the aluminum skin and a wiring plan, though the wires and wiring are up to you. However, Overland does supply the electrical components.

Best DIY Teardrop Camper Plans
7. Kuffel Creek Teardrop Plans

Our Pros and Cons:
✅ Plans are incredibly precise, detailed, and well laid out
⛔ The components are entirely up to you since these are plans only
According to Kuffel Creek, their teardrop trailer plans are the gold standard in the DIY teardrop camper build kits industry. They may be right because they offer three kits that break down everything you need to manufacture a teardrop trailer in your backyard.
These plans also include aluminum skin installation options, though you can stain and seal the wood without adding the aluminum. The three plans include the small Benroy, the 5×8 Cubby, and the Comet, the largest at 10 feet.
Sometimes, you don't need all of those precision-cut panels. If you would prefer to purchase your hardware and put it together yourself, DIY plans are a better option than a teardrop trailer kit.

8. The Handmaid Teardrop Trailer: Design & Build a Classic Tiny Camper from Scratch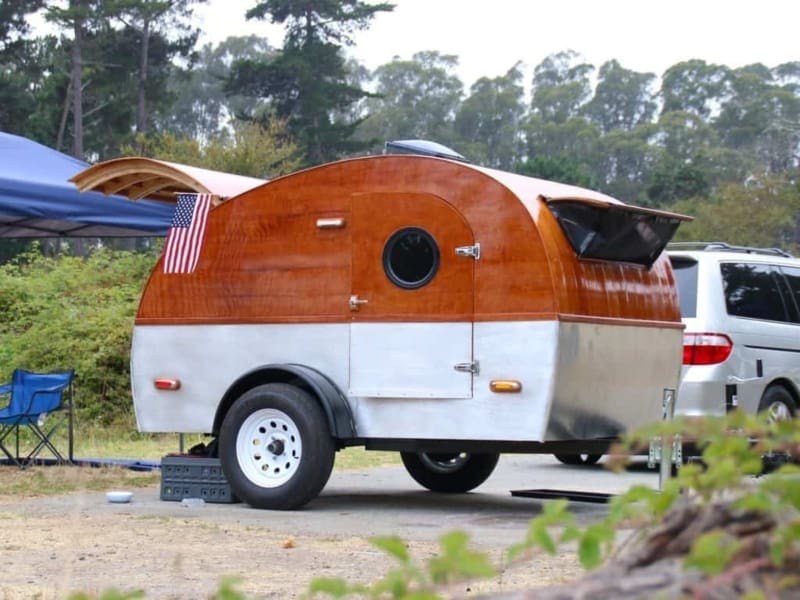 Our Pros and Cons:
✅ This book is incredibly detailed and easy to follow!
⛔ Adding self-contained plumbing components are not covered.

The level of detail this book provides is phenomenal. It provides you with every angle and screw placement you need, and it's also beautifully illustrated. It covers the tiniest of details while also allowing you to grow into your ideas as you go.
It also covers the "strategy" that goes into building a teardrop camper, with helpful suggestions on the best lumber, trim, and hardware for every nook and cranny throughout the build.

9. Building a Teardrop Trailer: Plans and Methods for Crafting an Heirloom Camper
Our Pros and Cons:
✅ The breakdown of the steps is excellently presented in the book.
⛔ If you want more of a round instead of an oval shape, converting the measurements are difficult.

Building a Teardrop Trailer is a 194-page breakdown and analysis of each individual step in the process, including materials and design. It also contains 221 pictures, so you can get a bird's eye view of how it all comes together.
It's broken down into chapters, with each one focusing on a particular element of the process, such as the wiring, plumbing, optional solar arrays, the galley, cabinetry, and more. The book's beauty is the singular focus on building each part as if it's the only part.
Ultimately, it all comes together in a mosaic of teardrop perfection.

10. The Teardrop Trailer Step-by-Step DIY Instruction Guide (Free)
Our Pros and Cons:
✅ This free guide gives a thorough step-by-step like the books!
⛔ If you want a hard copy, you'll need to print everything out.

Who said that "nothing in life is truly free?" This Teardrop Trailer Guide is as free as it comes, so long as you don't mind reading through it on a PC, laptop, or mobile screen. The guide is effective in its simplicity.
It breaks everything down step-by-step, just as the title implies. Unlike some guides, this one doesn't start in the middle, working its way out. It starts right where you need to start and covers every panel, every wire, and every trim, from beginning to end.

5 FAQs About DIY Teardrop Camper Kits

There's always an additional question or two. A DIY teardrop Trailer job is involved and can get pretty complicated as well. The worst question is the one unasked, after all.

1. How much is the average teardrop trailer?

On the low end, you're looking at between $8,000 and $12,000, increasing to $20,000 for mid-level models. Top-of-the-line, premium teardrops are almost always well above $20,000. Fortunately, the average cost of a DIY Teardrop kit is around $3,000.

2. Are DIY teardrop camper kits safe?
The kits themselves are safe unless you decide to brain your neighbor with one of the panels. What's not safe is ignoring the weight rating, the axle and tire rating, and failing to ventilate the trailer properly. Those things are on the builder of the kit, not the kit itself.
3. Can you build a teardrop camper without a kit?
You definitely can build a teardrop camper without a kit. In fact, the last three in our list of ten are nothing more than detailed manuals on how to build your own with your components. You get to decide everything, from the type of wood to the thickness of the insulation.
4. Do any DIY teardrop trailers have bathrooms?
You would be surprised at what you can cram into a teardrop trailer, including bathrooms. There are several models and kits on the market that include bathrooms. The iCamp Elite Trailer is a tiny little thing that still holds a shower, toilet, and sink.
5. How big are DIY teardrop trailers on average?
What constitutes a "teardrop" trailer today can be up to 14' long, so they get pretty spacey. However, the most common teardrops are built on 4×8 and 4×10 trailers. Add a foot to the length and width, and that's generally where most teardrops are in size.
Is a DIY teardrop camper kit worth it?
If you are jumping into it intending to save money while constructing an outstanding teardrop trailer, they are more than worth the money. Plus, you can't place a value on things you've wrought with your own hands and labor. That's what makes a DIY kit truly priceless.
However, they aren't as easy to put together as some websites suggest. At the end of the day, you're still constructing this thing yourself with precut materials. If you're not up to the job of putting it together, then a fully-built teardrop camper is the option for you.
---
About the Author:
Thomas Godwin is a full-time freelance writer with a BFA in Creative Writing, a U.S. Marine, and an avid outdoorsman.
When he's not writing, he's raising chickens and Appleyard ducks. Thomas also constructs teardrop campers (attempting to anyway) and kayaks the Blackwater River with his wife, two daughters, and his Dobermans.