Since the 1960s, fiberglass travel trailer brands have been the original ultra-lite towable RVs in the U.S. and Canada. You'll see these rounded square or oval-shaped towables in campgrounds and on the highways, but never at a dealer or show.
With so many options, deciding which of the best fiberglass travel trailer brands meet your needs can be difficult. We will break down the pros and cons of some of the most popular brands, so you can be sure to choose the right "egg-on-wheels" that's best for you.
What Is a Fiberglass Travel Trailer?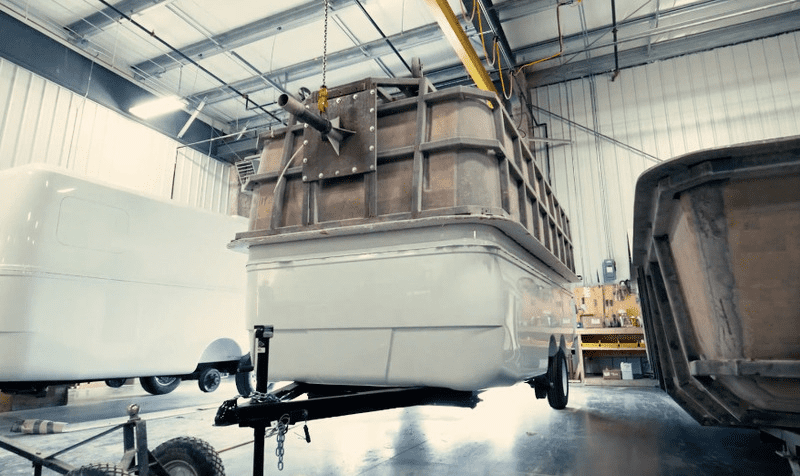 Bolar was the first of the fiberglass travel trailer brands to open its doors in the late 1960s. Ray Olecko revolutionized the RV industry with an ultra-lite double-hull travel trailer that was towable by the new 4-cylinder cars that were just hitting the Canadian roads.
With the soaring gas prices of the 1970s due to the Gas Crisis of 1973, the aerodynamics and fuel efficiency of these fiberglass "eggshell" campers quickly made them a hot commodity.
As time passed, fiberglass campers gave way in popularity to larger, more modern travel trailers. Sadly, Bolar closed its doors, but not before inspiring several fiberglass travel trailer brands.
Fiberglass Travel Trailer Brands After Bolar
Even if they weren't the most popular, the fiberglass molded campers on the road continued to prove that they were among the longest-lived and most reliable RVs on the market. With few seams, these fiberglass RVs are far less likely to leak. Similarly, they're inherently well-insulated and durable.
Not surprisingly, the fuel efficiency, longevity, and cool retro vibe have kept fiberglass travel trailers way before the 2020 RV Boom. Before 2020, the average wait time to receive a direct order camper from any of the fiberglass travel trailer brands was usually 6-9 months. During the RV Boom, that jumped to over a year.
How to Buy an RV From the Fiberglass Travel Trailer Brands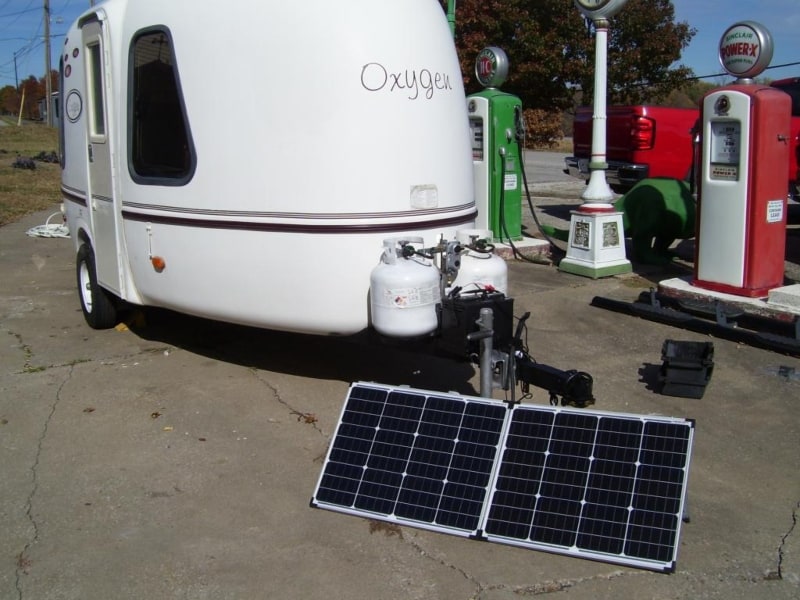 All fiberglass travel trailer brands use a mold to construct the shell of their campers. This manufacturing process creates a sleek and virtually seamless hull. Often sealed with epoxy or resin, these campers are leak and corrosion-resistant.
Virtually all fiberglass travel trailer brands sell their RVs through direct order and custom-make each camper for each client. One or two produce RVs for dealers, but it's done in a regional area.
The nature of this sales model means that there are no showrooms. Instead, if you're interested in purchasing a fiberglass camper, the manufacturer will arrange a walkthrough with one of their existing customers.
If you decide to purchase, you'll place your order by phone directly with the manufacturer. A sales representative will review options like the difference between deluxe models that include wet baths and standard floorplans that often don't.
The made-to-order nature of fiberglass campers also means you'll typically have to wait several months for your rig to be complete. Investing in a fiberglass camper isn't the turnkey experience that buying other RVs can be, but personalization is one that many customers value.
Are Fiberglass Travel Trailers Good?
Fiberglass campers are formed in a mold which results in a rounded, egg-like appearance. The curved lines mean they are more aerodynamic and fuel-efficient than other travel trailers. Seamless roofs and sealed exteriors also increase the longevity of these campers.
Despite their popularity, fiberglass trailer manufacturers still operate on a made-to-order basis. Each camper is perfectly handcrafted for its intended recipient.
10 Best Fiberglass Travel Trailer Brands
Let's take a look at some of the best fiberglass travel trailer brands and what makes each unique.
1. Scamp Trailers
Scamp Trailers is a direct descendant of Bolar. As such, it's one of the oldest and most reliable fiberglass travel trailer brands on the market. In fact, Scamp still uses the same tried and true original Bolar molds.
Even though Scamp has been on the travel trailer scene since the early 1970s, the innovative interior features and layouts have kept up with the times.
Currently, Scamp offers seventeen different floorplans across three different size campers. All models are lightweight travel trailers quarter-ton trucks can tow or, in many cases, a mid-sized SUV towable trailer.
Scamp's upgraded deluxe interiors offer a choice of oak or birch hardwood. While their travel trailers can be ordered in a standard or deluxe version, their fifth-wheel floorplans only come in deluxe.
In the standard 13-foot travel trailer model, you'll choose between a sofa and a wet bath. The deluxe model of the same size also has an additional dinette option.
16-foot Scamp travel trailers offer floorplans very similar to their 13-foot counterparts. The additional square footage also means you can choose two of the following features: a sofa, an extra dinette, or a bath.
All 19-foot fifth-wheel floorplans include both a wet bath and upgraded hardwood furnishings. You'll find size variations in the bathroom and kitchen between the 3 different floor plans.
Deluxe or standard, you can choose to customize any Scamp camper with an awning, furnace, hardwood interior, and/or air conditioner. Whether you prefer a small, ultra-lite travel trailer or a compact, fuel-efficient fifth wheel, Scamp could be one of the best fiberglass travel trailer brands for you.
2. Oliver Travel Trailers
One of the newer fiberglass RV brands on the market is Oliver Travel Trailers. Manufactured by Oliver Fiberglass Products and headquartered in Tennessee, the founders of this brand have been in the fiberglass industry for decades. In 2008, they expanded into RV production, and Oliver's first travel trailer debuted.
Longevity and rugged durability have been the emphasis of this brand since its inception. Today, Oliver's signature double-hulled shells are all built on an aluminum frame that's equipped with zinc anodes to help resist corrosion.
Each camper also has fully enclosed tanks, plumbing, and mechanical systems, all of which are heated to prevent freezing. Thermal pane sliding windows also come standard.
These are truly campers for all four seasons. But should you choose to put your RVing adventures on hold in the winter, Olivers offer an EZ winterizing system.
As far as floor plan options go, Oliver Travel Trailers keep it simple with just two model choices. The Legacy Elite is their basic model, and it measures just 18.5 feet long.
This camper has a rear dinette that converts to a bed. But the more notable feature is the fiberglass cabinetry molded right into the hull's interior.
The Legacy Elite II is the larger travel trailer floor plan that Oliver offers. This model comes with five more feet of length, the same sleek fiberglass cabinetry, and your choice of two distinct layouts.
Whether you choose the rear bed/dinette or the dual twin bed floorplan, the interior of the Elite II is spacious and modern.
Whichever Oliver Travel Trailer model you prefer, you can be assured that it was carefully constructed to "last a lifetime."
3. Escape Trailers
Escape Trailers is another Canadian-based fiberglass travel trailer brand. This fiberglass travel trailer brand has been on the RV scene since 1993. Best known for their extremely customizable interiors, it's no surprise that their slogan is "built for you."
Escape offers six different models, with a total of ten different floorplans. Their RVs come in many sizes, ranging from a 17.8-foot compact travel trailer to a more spacious 21.2 ft. fifth wheel.
All but one of the many different Escape fiberglass travel trailer floor plans includes a bathroom with a shower. Most floorplans offer a traditional bed in addition to a dinette. If a floor plan doesn't include a traditional bed, you'll find a second dinette for further seating and sleeping space.
In addition to the many different-sized trailers and floor plans, Escape prides itself on how you can customize your camper to fit your style. Cabinetry comes in three different options, and there are seven standard choices for countertops, upholstery, flooring, and trim.
Escape has you covered if the standard options don't strike your fancy. They've partnered with Formica to offer dozens of countertop colors. They also have a relationship with Mannington, Armstrong Flooring, and Shaw Flooring to provide even more flooring options.
Fabric choices are also plentiful. Most customers will choose a fabric from Sailrite or JT's Outdoor Fabrics because they ship directly to Escape. But Escape is happy to accommodate other options and will even allow you to mail a fabric of your choosing to them for installation in your RV.
The many models and floor plans, combined with the countless interior decor choices, mean thousands of ways to personalize an Escape. Of all the fiberglass travel trailer brands, Escape may be the one for you if you desire a one-of-a-kind fiberglass travel trailer.
4. Trillium Outback Trailers
Although a newer company, at least in terms of current fiberglass travel trailer brands, the founders of Outback Trailer Manufacturing have each been in the industry for more than twenty years. In fact, Outback uses the original Trillium molds to create their two-piece aerodynamic fiberglass shells.
Based on the popular Trillium trailers (Bolar's original competitor) of decades past, the owners of Outback are motivated to incorporate the latest technology into every trailer.
You can customize your Outback trailer with a solar power package to "go further and see more," which also happens to be Outback's slogan.
Other options include a TV installed over the extended counter and a Microwave installed in the extra closet space.
Outback can customize the interior of a travel trailer in terms of layout. A popular option is a front dinette. This third sleeping space is great for a child, and the table is an excellent extra workspace when not in use as a bed. Another must-have for most Outback owners is the flush toilet with an extended countertop option.
If the standard layout options aren't to your liking, Outback can custom-build a trailer to meet your needs. Trillium Outback Trailers is one fiberglass travel trailer brand that's worth a closer look.
5. Casita Travel Trailers
There are two Bolar legacy brands that are still in operation and are highly popular. Casita Trailers is the other surviving Bolar legacy fiberglass travel trailer brand that started using the same molds.
In 1981, Bolar's founder, Ray Olecko, asked for help expanding into the American market. Don Eveland stepped up (The same Eveland Family that owns Scamp), and he opened Casita campers using copies of the original Bolar molds.
Just a few years later, Eveland sold Casita to John Lang. The Casita fiberglass campers of today are a combination of Olecko, Eveland, and Lang's visions.
Still based on the same molds, modern-day Casitas have flexible floorplans with modern features. In true Casita spirit, they remain one of the market's most family-friendly fiberglass travel trailer brands.
When you look at the five different floorplans offered today, it's easy to see why Casita is popular with families. These fiberglass RVs boast more sleeping space than similar RVs, especially given their compact 17-foot floorplan.
Most Casitas have sleeping space for three to four people. Some even boast sleeping spaces for up to six. Deluxe models sport a front wet bath. But even standard floor plans have storage space built in for a portable toilet.
If you opt-out of the wet bath, you'll gain additional sleeping space in the form of front bunk beds. This is a great option when you can access campground bathrooms or separate portable restroom facilities.
Even if you decide that you need the wet bath on board, models like the Casita Heritage make space for both bunks and a bathroom. This combination of amenities is second to none in similarly sized small travel trailers.
The many sleeping arrangements, the ability to be towed behind most family vehicles, and the bathroom options in every model make Casitas an excellent choice in fiberglass travel trailers for families.
6. Snoozy II
The Snoozy II is under new ownership and not the same Snoozy fiberglass travel trailer brand of the past. These spaceship-like campers are aerodynamic, lightweight, and fuel-efficient. Measuring in at just under 20 feet, you might be surprised at the luxurious feel offered by this fiberglass travel trailer brand's standard package.
The exterior of each Snoozy II has a gel coat that is lighter and stronger than previous models. The frame even has a lifetime weld warranty. You'll also love the ample amounts of exterior storage, huge windows, and ¾ inch walls that provide excellent insulation.
Moving inside, you'll be impressed by the functionality of this floor plan. The rear entry and the ability to choose between a front queen bed or dual twin beds optimizes space.
The queen floorplan comes with a jackknife sofa for extra sleeping accommodations. The dual twin bed floorplan incorporates a slightly smaller sofa. Regardless of sofa size, this small travel trailer with no dinette has a table for dining or desktop space. Both floorplan options also come standard with a cassette toilet.
You can upgrade some amenities on the Snoozy II, but for the most part, there is little variation from one Snoozy II to another. This uniformity streamlines the manufacturing process, which is important to the brand as Snoozy II prides itself on its mere weeks-long delivery times.
Compared to other fiberglass travel trailer brands that take months or even a year to deliver a camper, Snoozy II is great for RVers who can't wait to hit the road.
7. Cortes Campers
Bursting on the travel trailer scene in 2021, Cortes Campers is one fiberglass travel trailer brand with big plans for the future. With years of experience in manufacturing offshore speedboats, Cortes plans to use much of the same technology in their camper designs.
Cortes uses fiberglass layers bonded to a honeycomb core and coats each camper with the highest-grade marine gel coat. They're also built on high-strength, low-alloy steel trailers. As a result, each Cortes travel trailer is ultra-resistant to UV rays and corrosion.
Currently offered only in bold color options, Cortes has a patent pending on an innovative aluminized fiberglass (silver) option that'll be even more resistant to deterioration.
Cortes campers are notable contenders in the fiberglass travel trailer brands market because of their interiors and exteriors. RVers who enjoy cooking will love the top-chef-inspired kitchen these RVs offer.
The stainless steel appliance, onboard oven, gooseneck faucet, and removable cutting board are features you don't often find in a 17-foot camper.
Although they currently only offer a 17-foot travel trailer, Cortes has five additional models in the works. In fact, the size range of the travel trailers Cortes plans to offer is sure to be a defining aspect of their brand.
In the near future, Cortes plans to roll out 14-foot, 27-foot, 32-foot, and 36-foot models. Not only will Cortes be the fiberglass travel trailer brand with the smallest and largest models on the market, but they'll also plan to introduce a fiberglass truck camper as well. With so many big plans, Cortes Campers will surely be a commanding force in the fiberglass RV market.
8. Bigfoot RV
Bigfoot RV is another fiberglass travel trailer brand that makes both truck campers and travel trailers. They offer both a 1500 series and a more luxurious 2500 series fiberglass truck camper. Each comes in multiple sizes to fit both short and long-bed trucks.
On the towable side, this fiberglass travel trailer brand's offerings have 3 towables. The lightweight single-axle B17 is a travel trailer under 5,000 lbs. the tandem axle B21 and B25 are both travel trailers under 7,500 lbs. Each towable series has at least 2 different floor plans to choose from, so you can decide which is right for you.
All Bigfoot fiberglass campers are extremely well-insulated and considered four-season RVs. The 1500 series truck camper has an option for R6 1" high-density EPS insulation. The upgraded 2500 series truck camper and the 2500 series travel trailer both come with R8 1 ½" EPS insulation.
Some models even have heated and enclosed tanks, making Bigfoot among the best four-season fiberglass campers on the market.
Being so well equipped for extreme temperatures, it seems only natural that Bigfoot rigs are also well-outfitted for boondocking. The 1500 series truck camper comes battery and is solar-ready. The 2500 series can be purchased with a generator-ready package with an auto transfer switch and a solar energy system.
Wherever you choose to camp, you won't have to sacrifice luxury in a Bigfoot RV. Skylights, electric jacks, simulated leather upholstery, porcelain toilets, and a rollaway shower door are all upgrades you'll appreciate in a Bigfoot.
If you plan to camp off the beaten path but aren't ready to forgo any creature comforts, Bigfoot could be the fiberglass travel trailer brand you've been wanting. The best part is that Bigfoot RV is one of the few fiberglass travel trailer brands that do sell on RV dealer lots.
9. Armadillo Trailers
Cute and easy to roll away like their namesake, Armadillo Trailers are another notable Canadian fiberglass camper brand. The founders of Armadillo have resurrected and restored some of the same molds that were produced by the original Armadillo fiberglass travel trailer brand of the past.
In fact, the BACKPACK model that Armadillo now offers is constructed using a vintage, never-before-used mold.
Both the Armadillo and the BACKPACK models are approximately the same size, measuring 13.5 ft. and 14 ft., respectively. The main difference is that the BACKPACK model is more square-like, allowing room for larger windows and more headroom.
All Armadillo-made campers are customizable with fun exterior colors. You also have your choice of cabinet, countertop, fabric, and vinyl colors. Other options include solar panels, a portable toilet, or an exterior shower.
There are several floorplan options to choose from in both the Armadillo and BACKPACK models. In addition to a rear double bed that also functions as a dinette, you'll have your choice of a front table for two, a couch/bench, or a triple bunk.
You can opt for a front kitchen with a small portable cassette toilet in the BACKPACK model. Another choice in the BACKPACK is a front bathroom with a flush toilet.
Armadillo Trailers are a tiny fiberglass travel trailer brand that packs a lot of punch.
10. Happier Camper
Happier Campers are also small yet mighty. As one of the most versatile fiberglass travel trailer brands, their innovative Adaptiv modular component technology sets Happier Camper apart from the competition.
You can choose a bed, bench, table, cubes with countertop lids, a cooler cube, or any combination for your Adaptiv components. All you have to do is set them on the grid-like floor where they'll rest securely, creating your perfect layout.
If you need to use your Happier Camper as a toy hauler, simply remove the components to reveal a garage space. You can even take your living space outside, as the Adaptiv components are for indoor and outdoor use.
This fiberglass camper brand offers four distinct models that range in size from 13.5 feet to 17 feet. The original and most basic model offered is the HC1. This is the smallest trailer in Happier Camper's fleet and boasts a completely customizable Adaptiv interior.
The HC1 Studio is similar to the HC1, but it offers a small built-in kitchenette and a built-in bath. For those business-minded fiberglass RV enthusiasts, there is the HC1 Venture. This model has a serving bar and a rear hatch concession window perfect for pop-up shops.
The largest and most luxurious trailer that Happier Camper offers is the Traveler. The bathroom and kitchenette are in the middle of this RV. These midship features create two distinct Adaptiv-ready living spaces.
The Happier Camper is unique, customizable, and the only fiberglass camper brand on our list that doubles as a toy hauler and works well as a mobile storefront.
4 Best Fiberglass Travel Trailer Brands FAQS
1. What Are the Pros and Cons of Fiberglass Travel Trailers? 
Fiberglass travel trailers are lightweight, aerodynamic, and relatively leakproof. This durability gives them a long life and great resale value.
The way in which the fiberglass travel trailer brands use dye molds to create their campers prevent them from stretching to full-length travel trailer sizes. This means that if there's room on board for a bathroom, something must be sacrificed.
2. Which Fiberglass Travel Trailer Manufacturer Is Most Reliable? 
It's hard to say which fiberglass travel trailer manufacturer is the most reliable. All fiberglass travel trailer brands construct their camper shells essentially the same way.
The seamless roof and curved corners make fiberglass campers leak-resistant. This leak resistance prolongs the average life of fiberglass campers over that of their traditional RV counterparts.
3. Which Fiberglass Travel Trailer Brands Are Most Affordable?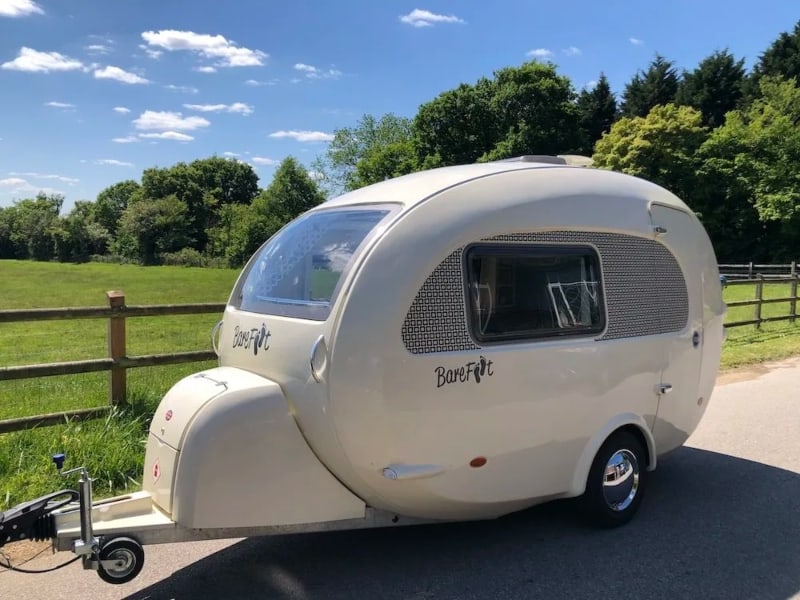 The most affordable fiberglass travel trailer brands depend on your budget. It's important to remember that with additional cost come additional amenities.
Size often influences price as well. Not surprisingly, larger models are more expensive. But if your family needs a larger space, the extra square footage may be well worth the additional cost.
Similarly, bigger may not necessarily be better if you're a camping duo. If garage storage and maneuverability are especially important to you, the most expensive and largest camper may not be the best fit.
4. How Long Do Fiberglass Travel Trailers Last?
The average fiberglass travel trailer lasts years longer than traditional towable trailers. Many owners pass them down to their children and grandchildren.
Keeping up with maintenance by using an RV checklist, these RVs can last much longer than that. If you ever go to a fiberglass RV rally, don't be surprised if you see a handful with a construction date from the 1970s or 1980s.
So, Which Fiberglass Travel Trailer Brand Is Best?
While there used to be just a select few fiberglass travel trailer brands, now there are many. It can be hard to decide which is best. Fortunately, all fiberglass travel trailers are molded in essentially the same way. Factors like fuel efficiency and durability are remarkably similar to the same basic constructions.
Some manufacturers have engineered gel coats or specialized fiberglass that make their models especially weather-resistant. Others have invented modular furniture or other innovative floor plans.
Scamp, Armadillo, and Happier Camper have focused on compact and versatile campers that can fit just about anywhere. Conversely, Cortes and Bigfoot have put more emphasis on creating spacious floorplans.
Each of the fiberglass travel trailer brands has its niche. Which fiberglass camper is best for you depends on your needs and preferences.
---
About the Author:
Laura Tyrell is a part-time RVer and full-time mom of three.  Long-time campers and RVers before children, Laura, and her husband have fallen even more in love with the RV lifestyle since becoming parents to a child with food allergies. 
Having her own kitchen on wheels makes her RV trips amazing. Laura is passionate about finding ways to make traveling with young children fun, easy, and attainable.