While RV-DE-FENDER won't prevent a trailer tire blowout, it will defend your travel trailer from the damaging repercussions of one.
Some call it a "first-of-its-kind technology to prevent trailer tire blowouts." It's an interesting adjective, and you hear something similar about every "as seen on TV" or other new products. However, RV-DE-FENDER is the exception to the rule—a new kid on the block with the goods to back the hype up.
RE-DE-FENDER is made with good old-fashioned steel, cold-rolled in a manufacturing facility in Utah. Cold-rolled steel is a process, and this particular manufacturing method calls for a cold-roll to achieve exacting specifications.
This is only part of RV-DE-FENDER's story, and our article will walk you through exactly what RV-DE-FENDER is. We'll show you why it's a game-changing technology you should have on your travel trailer.
What is RV-DE-FENDER?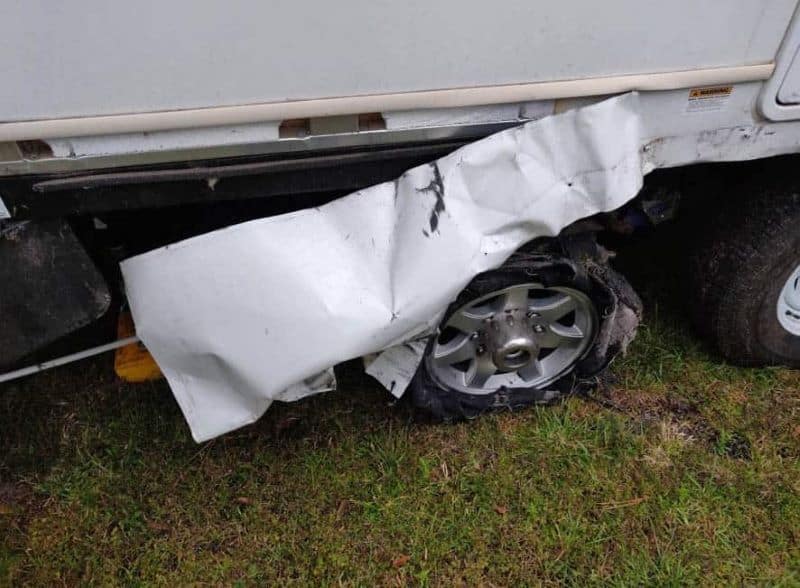 First and foremost, the RV-DE-FENDER is a safety device, designed to essentially shield your RV from an exploding tire, along with the chunks of rubber and steel cords that comprise the tire's belts.
Prior to RV-DE-FENDER, the idea of protecting an RV from a blowout was all but non-existent. There are things like tire monitors, and inspecting your tires before you head can prevent trailer tire blowouts.
But when a blowout occurs, there weren't any protection devices for RVs that would stop tire shrapnel from ripping through the wheel well, damaging the RV's structure.
Until September 2022, minimizing the damage from a blowout on a towable was a theoretical pipe dream. The device bolts around the axle, encapsulating one-half of the tire's circumference (the upper half, favoring the back side of the travel trailer).
This "encapsulation," if you will, negates any angle in which the debris from an exploding tire, or one that's coming apart at 70 mph, can feasibly strike the RV. It also features a triangular rear wall that defends the undercarriage.
What Problems Does the RV-DE-FENDER Solve?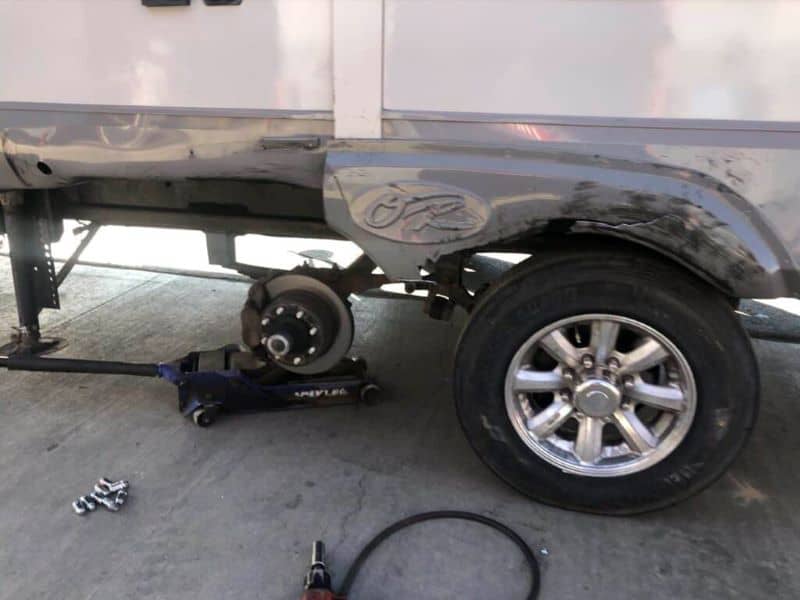 We covered some of the above information on what problems the RV-DE-FENDER solves, but that's not where it ends. It also solves insurance issues. If your tire blows out, and your rear quarter panel is damaged, you have to file a claim with your RV insurance company.
Such a claim may or may not be an easy process. Then, there's always the deductible. If the tire is the only thing damaged, all you have to do is replace the tire, a much more palatable scenario for everyone.
With TPMS sensors on your valve stems and RV-DE-FENDER on your axles, you have a know-it-all, do-it-all line of defense. You'll know when you're losing air, and you won't have to go through that sense of panic, trying to fight your way over to the shoulder at 5 o'clock coming-home traffic.
If your tire disintegrates because you couldn't pull over in time, your travel trailer is shielded, and you (and your insurance premium) will be just fine.
What is the Purchase Price of RV-DE-FENDER?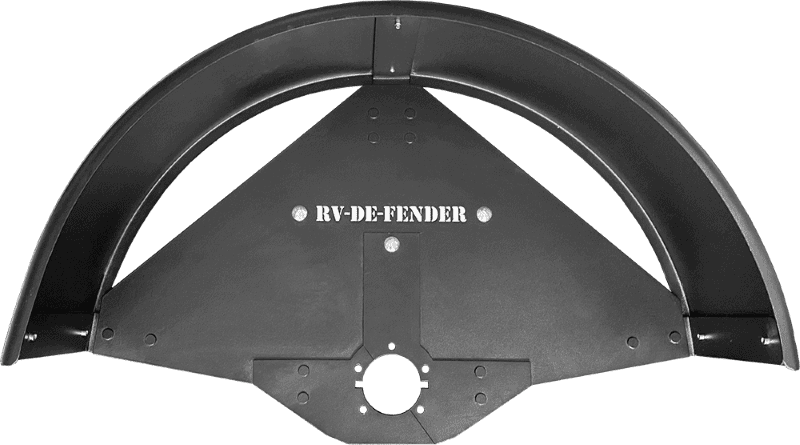 There is no absolute purchase price for an RV-DE-FENDER. Purchasing an RV-DE-FENDER isn't like strolling through the grocery store, picking out a bag of chicken rice because it's a BOGO deal. It's not even like buying a TV on Amazon.
To be honest, it's not the easiest online purchase you'll ever make because purchasing one requires exacting specifications. You'll come across RV-DE-FENDER in two different guises—the form method and the bulk buying method.
Remember, this is a very new product, and the patent on it wasn't even acquired until last year. With that being said, manufacturing, delivery, and shopping options are not yet the well-oiled machine of much larger enterprises.
When you visit the RV-DE-FENDER website, you'll notice the "Get Your Custom Quote Now!" tab. The tab is repetitive as you scroll down the page, so you can't miss it. Once you select the tab, the work of finding and (to answer the above question), pricing the RV-DE-FENDER begins.
Select the "Get Your Custom Quote Now!" tab
Select your number of axles
Select "Straight" or "Drop" axle
Select "Leaf Spring" or "Torsion Axle"
Select your brake type
Choose whether the spacing between the top of your axle to the trailer floor bottom is under 19.5" or over 19.5"
Answer whether or not there is anything above the tire that would impede the installation
Select the spacing between the back of the tire and the trailer frame
Select the number of lug nuts on your tire
Select your tire size
Select your axle weight rating (GAWR)
Fill out the form with your personal information
Receive your quote
There are more solid prices on bundles. For instance, the RV-DE-FENDER for the Triple Axle Trailer and Lift Kit Bundle is $2,349.00.
Does RV Insurance Cover Damage from Tire Blowouts? 3 Points To Know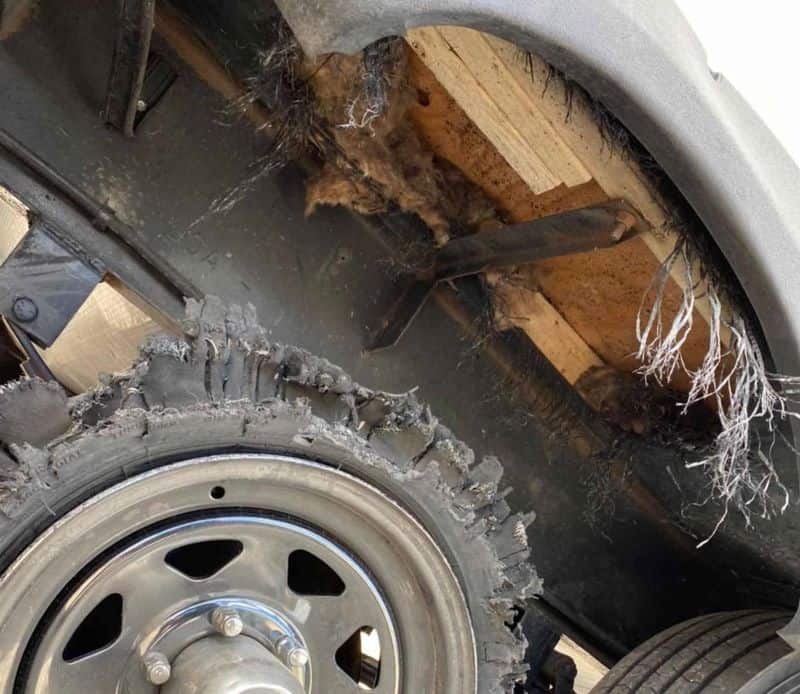 Whether or not RV Insurance covers the damage from tire blowouts on a travel trailer is difficult to answer. Everybody's insurance coverage is different, with varying coverages and exclusions.
The general rule of thumb, when it comes to insurance policies, is that if the damage is sudden, it's covered. If the damage occurs over time, it's not covered. Now, that's not a conclusive argument, but here are 3 points you should know.
1. Read Your Policy Or Speak With Your RV Insurance Company
Most RV insurance policies will not cover your blown tire. First, read through your RV insurance policy or check with your insurance company to ensure you are properly covered.
2. Check Your Tire's Warranty
Second, check into the tire warranty. If your tire is within warranty, and you had a blowout on the interstate, the RV tire and the damage to your RV may be covered. One thing's for sure; the tire will get covered. Like your insurance policy, you'll need to familiarize yourself with the warranty coverage and speak with the tire company's representative.
3. A Tire Pressure Monitoring System (TPMS) Issue
Third, if you are using a TPMS and it fails for any reason, that's worth looking into as well. Some of these systems have multi-year factory warranties. On the off-chance, it fails, you'll need to contact their warranty department for further instruction and read through the literature that comes with your device.
Four FAQs About RV-DE-FENDER
Will RV-DE-FENDER fit my trailer?
RV-DE-FENDER will fit your trailer, so long as you go through the above-listed bullet points and answer all of the questions correctly. This ensures that you purchase and the company provides you with an exact fit for your particular axle(s).
Can I install RV-DE-FENDER myself?
You can install the RV-DE-FENDER yourself, so long as you have the right tools. You'll need channel locks, small wire cutters, the right size wrenches, a hammer, a socket set, an Allen bit, and a drill. The RV-DE-FENDER installs in pieces, and there are small parts involved.
Set aside at least a couple of hours for the project.
I have TMPS sensors; Do I still need RV-DE-FENDER?
Yes, you should still get your hands on and install RV-DE-FENDER. All the sensors do is alert you when there is a pressure problem. After all, TMPS sensors won't defend or prevent trailer tire blowouts.
Can I remove RV-DE-FENDER from one trailer and move them to another?
It's not likely that removing your RV-DE-FENDER devices from one trailer and installing them on another would work. Unless, of course, you get lucky and your new travel trailer or motorhome has the exact same dimensions as your previous RV.
Final Thoughts on RV-DE-FENDER
While travel trailer tire blowouts on the road aren't exactly common, they do happen. The RV-DE-FENDER won't prevent trailer tire blowouts, but it will defend your undercarriage from getting obliterated by flying rubber and steel corded belts.
The RV-DE-FENDER is one of those devices that could save you a lot of grief and money in the long run. The ⅛" thick, cold-rolled steel is cold-rolled for a reason. It's the best way to achieve exact specifications. To top it all off, it's laser cut into the requisite pieces.
In short, the RV-DE-Fender is exactly what's needed to protect your travel trailer in the event of a blowout.
---
Related Reading:
1. How Often Should Travel Trailer Tires Be Replaced?
2. Should You Fill Your Travel Trailer Tires With Nitrogen?
3. Why You Must Understand Tongue Weight When Towing
4. How To Insulate An RV Underbelly
---
About the Author:
Thomas Godwin is a full-time freelance writer with a BFA in Creative Writing, a U.S. Marine, and an avid outdoorsman.
When he's not writing, he's raising chickens and Appleyard ducks. Thomas also constructs teardrop campers (attempting to anyway) and kayaks the Blackwater River with his wife, two daughters, and his Dobermans.