Rickety, unstable RV entry steps are unsafe and can become dangerous. Thankfully, there are several solutions to make them safer to climb.
Let's look at 9 methods to make your RV entry steps safer. Then, we'll cover how to know when your entry steps need to be replaced and what are the safest kinds of RV entry steps.
Can You Make RV Entry Steps Safer?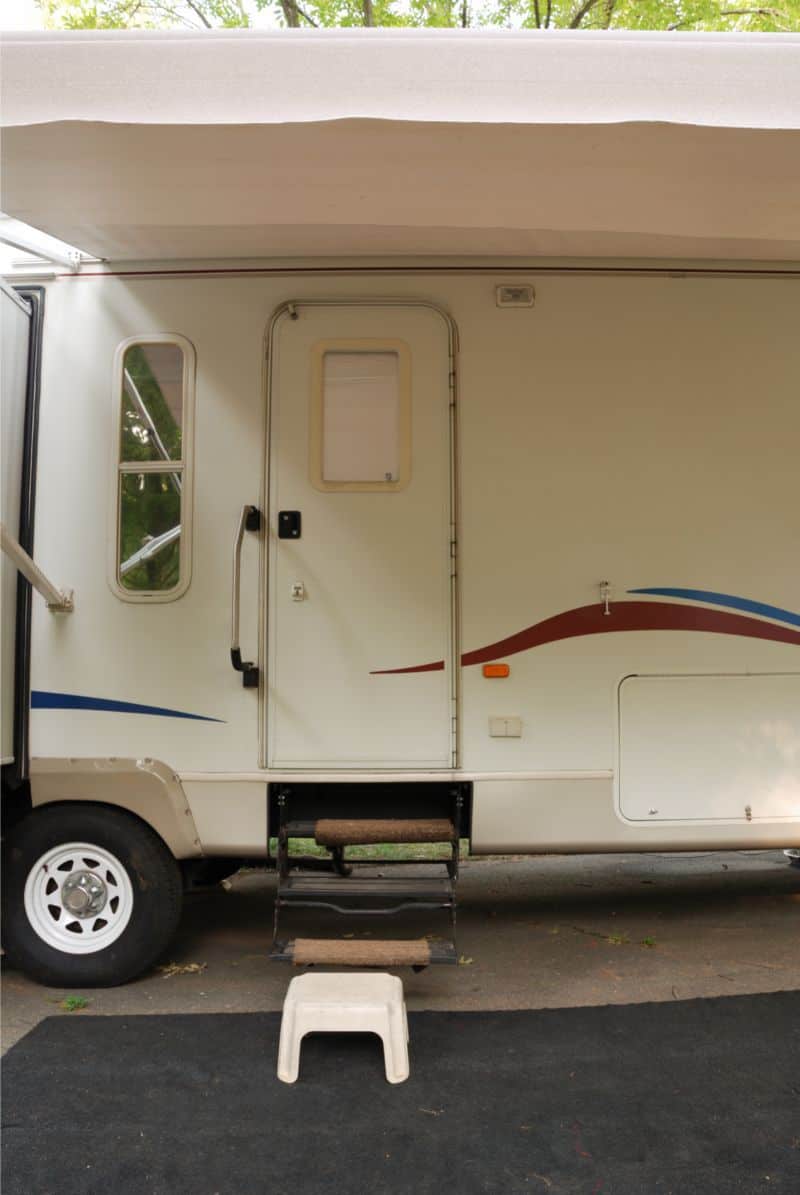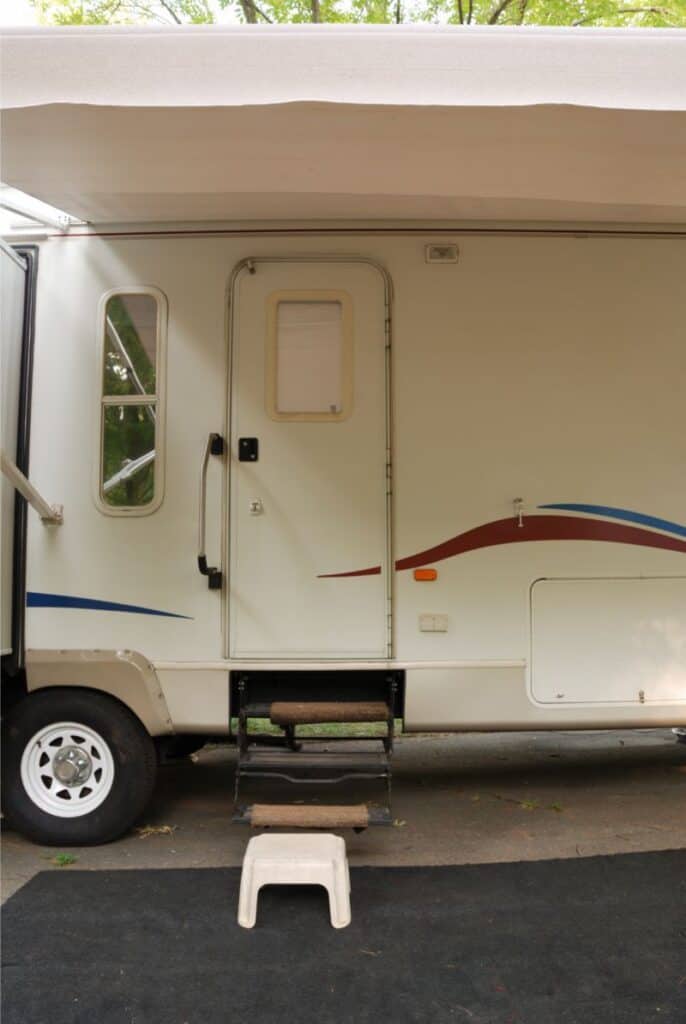 You can make your RV entry steps safer, and it's a great idea to do so. In fact, there are many different things you can do to make them easier to navigate. You can add extra safety features or replace them with sturdier entry steps.
9 Strategies to Make Your RV Entry Steps Safer
Let's look at 9 different strategies to make your RV entry steps safe.
1. Add Step Braces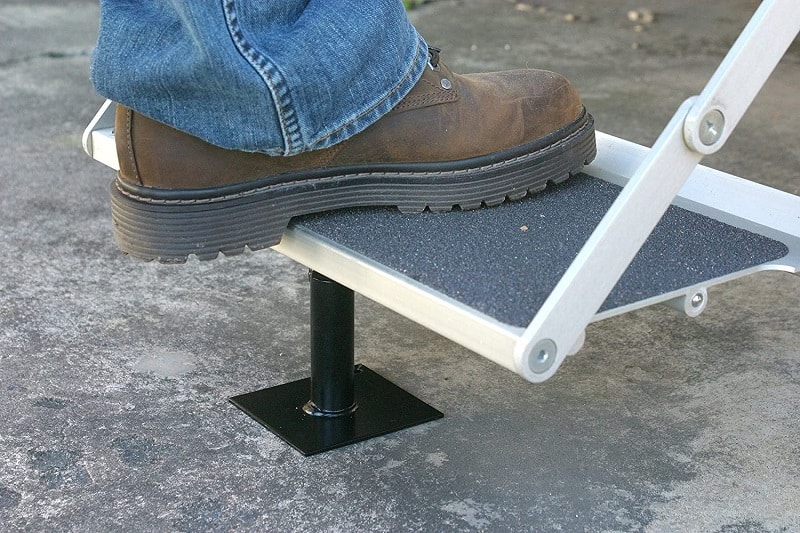 Step braces are placed under your RV entry steps to stabilize them. This extra stability makes the steps sturdier. Plus, these braces also help stabilize your RV in general. 
2. Add Another Step
Adding an extra step is another great way to make climbing your RV entry steps easier.
When there's a large gap from the ground to the first step, attach the additional step on your entry stairs to fill in the gap.
3. Replace Your RV Entry Steps
Another way to make your RV entry steps safer is to replace them completely.
Here are four options for replacing your RV entry steps:
I. Lippert 791573 Solid Step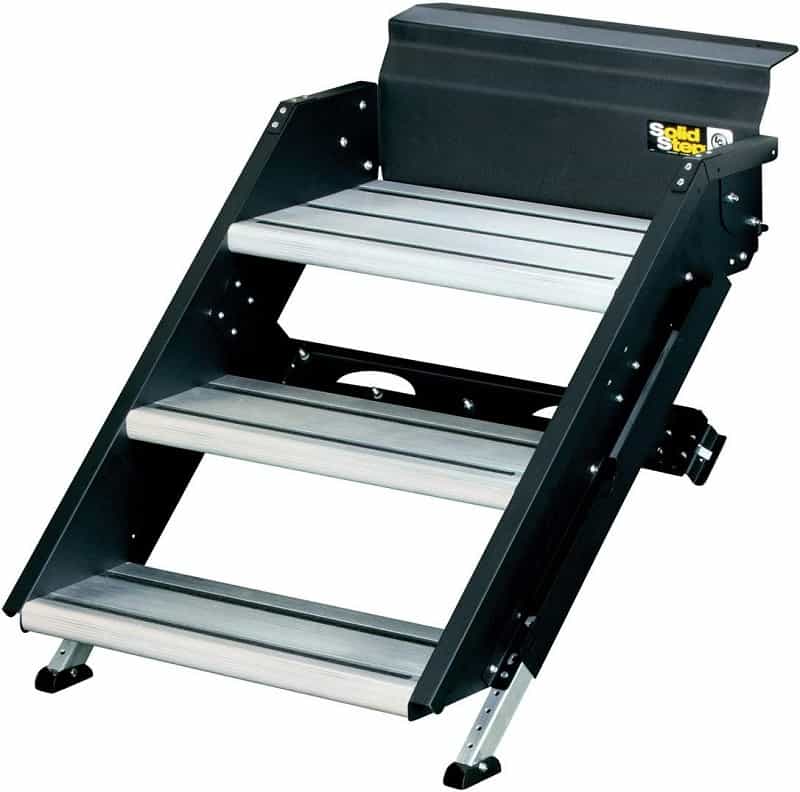 These RV entry steps from Lippert come in double, triple, and quad-step configurations. They have an extra-wide top step, aluminum step treads, and adjustable legs to provide extra stability and safety for all RVs. 
II. MORryde – STP-206 Step Above
MORyde's 2nd Generation RV entry steps are made with an industry-leading 500-lb weight rating for extra security. This version features three steps with an aluminum tread and adjustable legs. 
III. Buyers Products 3013658 Poly Step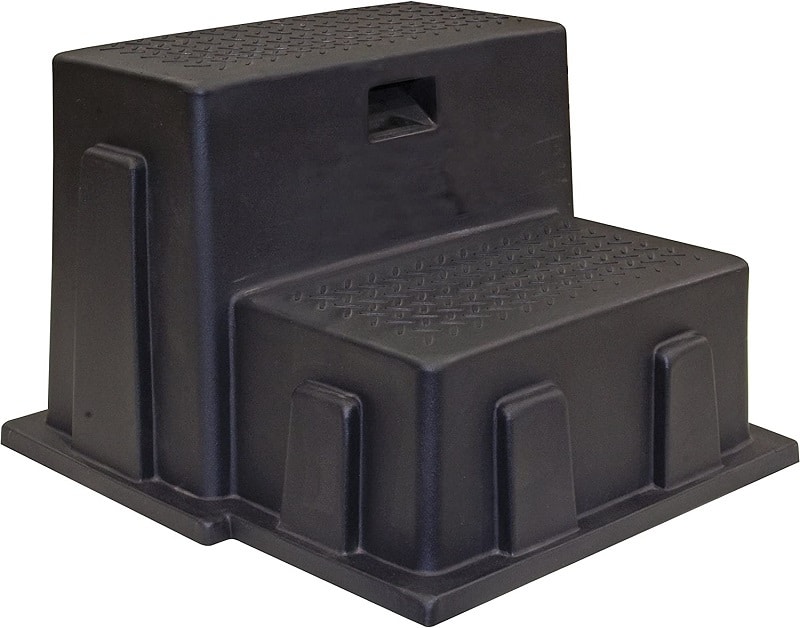 These plastic entry steps from Buyers Products provide an alternative option to fixed RV entry steps. The steps are lightweight and can be easily moved but sturdy enough to support up to 350 lbs. 
IV. Lippert 432687 24″ Radius Corner Manual Step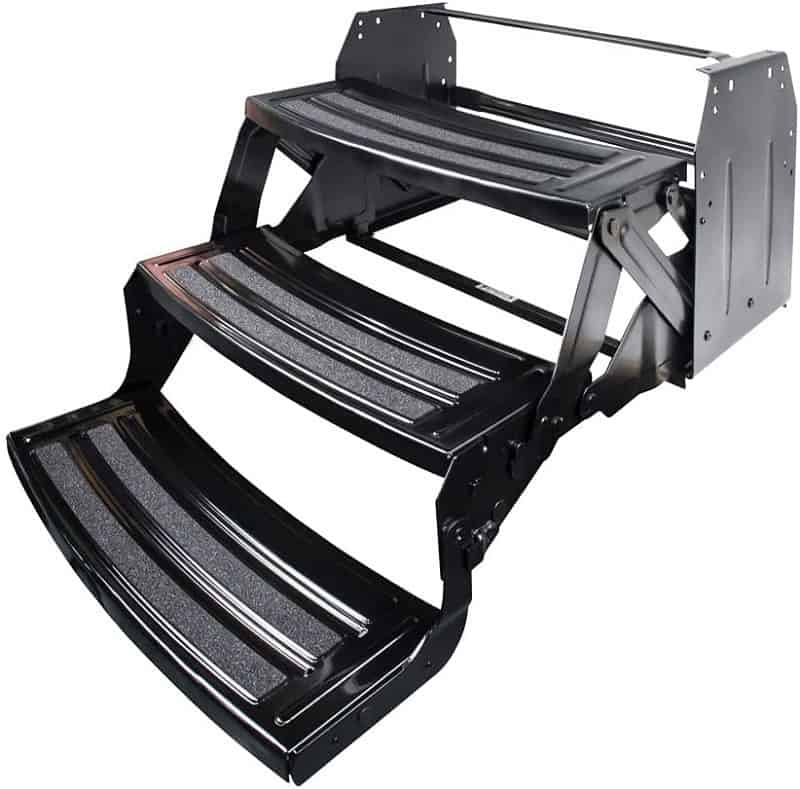 Lippert's 24-inch radius steel entry steps can be easily expanded and retracted with a single hand. They come with anti-slip skid tape to keep you from slipping. Plus, the rounded radius design eliminates sharp edges to save your shins.
4. Build Your Own Entry Steps
If you're the handy type, you can also make your own RV entry steps that can be transported on your adventures or become a fixture of your permanent campsite.
Before you head to the hardware store, check your Essential RV Spare Parts You Carry. You may have the hardware and some scrap material to reduce your shopping list. Just stay away from the "toy," we mean tool aisle.
5. Consider a Portable RV Ramp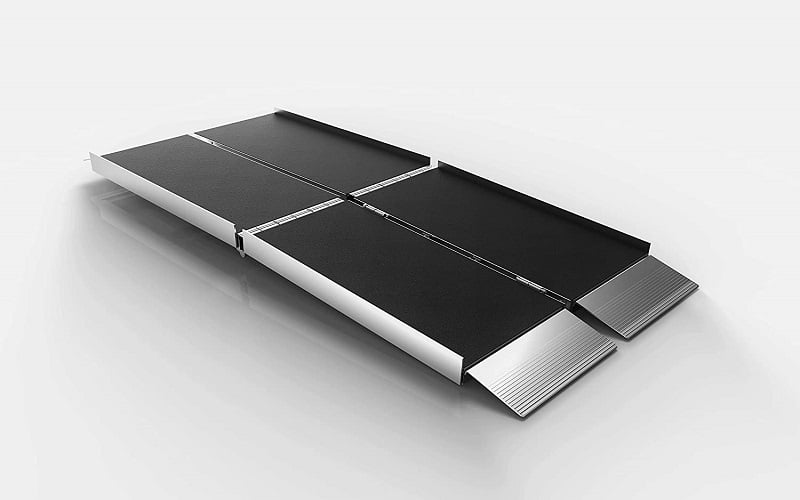 A portable RV ramp can be a safer option than standard RV entry steps, making RVing more accessible!
Traveling with a portable RV ramp is easy. The ramp folds up to be stored when unused and can be deployed whenever you're ready to use it.
6. Use a Platform RV Step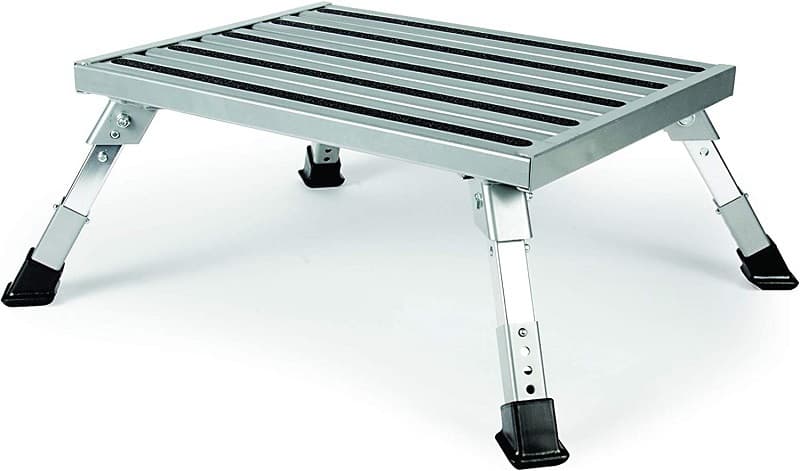 Instead of replacing your entire RV steps, use a platform RV step. This extra step is placed under the last step to give you a boost. This is another great way to make your RV entry steps safer if there's a large gap between the step and the ground.
The adjustable step folds up for easy storage whenever you don't need it.
7. Install RV Step Covers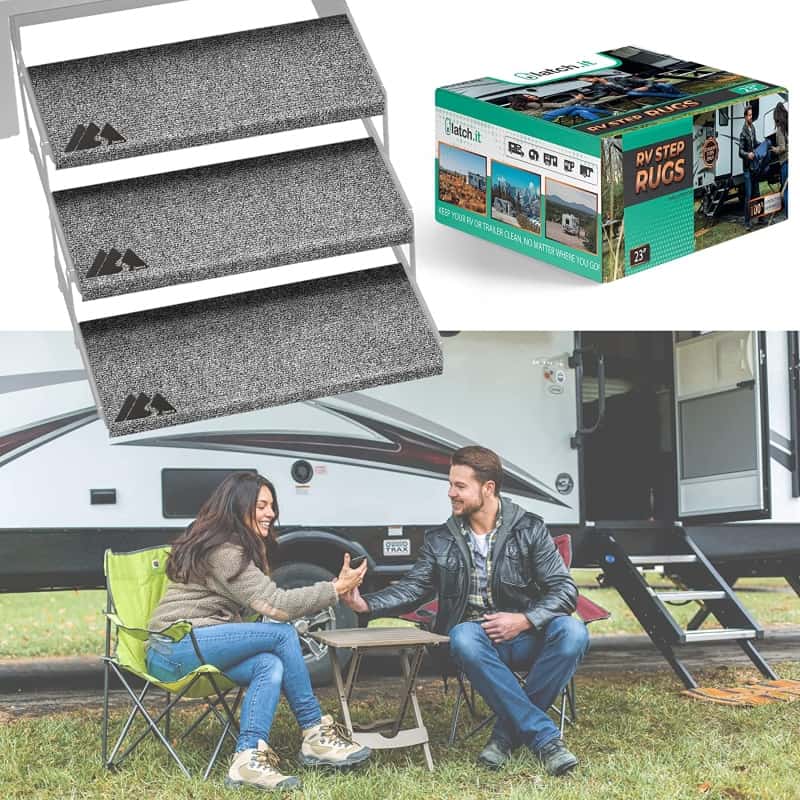 RV step covers slide over your RV steps and makes them safer by providing extra traction to prevent slips and falls. They also soften the sharp edges of your steps and keep them from getting searing hot in the summer sun. 
8. Add Grab Handles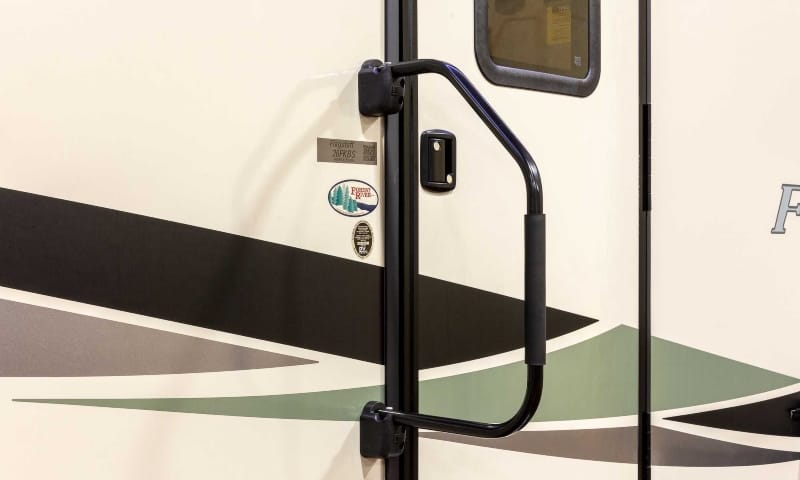 Adding a grab handle on the exterior of your RV works a lot like the banister on a set of stairs, giving you something to hold on to for stability. Once installed, a grab handle swings out when you need it, then back when you don't. 
Whether you need a grab handle for extra stability or not, they're good to have anyway. On a windy day or for those RVs that ride high, it's good to have something to grab onto for extra leverage.
9. Properly Maintain Your RV Steps
Properly maintaining your RV steps will go a long way to making them safer. RV entry steps should be cleaned regularly and lubricated periodically.
How Do You Know It's Time to Replace Your RV Steps?
There are several signs that indicate your RV entry steps are unsafe and need to be replaced.
One of the biggest signs is when your entry steps sag. If your RV steps hang lower than before, they're worn out and much more likely to break.
Worn-down entry steps will also be less stable. If you feel your steps moving excessively when you use them, they probably need to be replaced.
Signs You Need to Replace Your RV Entry Steps for Safety
Rusty, loose or missing hardware
Steps that don't easily retract and deploy
Safest Types of RV Steps to Look For
The safest RV entry steps are going to be a combination of the following:
Metal steps with extendable feet for stability
Minimal or easy-to-ascend space between the last step and the ground.
Tread or anti-slip skid tape for increased traction
Additional safety features like a grab handle for an extra layer of safety
What Size RV Entry Steps Do I Need?
To find the right size for your entry steps, you'll need to know the width of your door and the height of the bottom of the door from the ground. Door widths usually range from 24 to 32 inches and 25 to 42 inches off the ground.
Make Your RV Entry Steps Safer Before Disaster Strikes
Unsafe RV entry steps present a risk of slips and falls, especially if they're in poor condition. You can make your RV entry steps safer by adding safety features like braces and extra steps. Replacing them completely with better steps can be your best option.
About the author:
Jennifer Jennings is a full-time RVer and part-time van lifer. She is one half of DashboardDrifters.com and the founder of RVSpotDrop, a web service for full-time RVers.